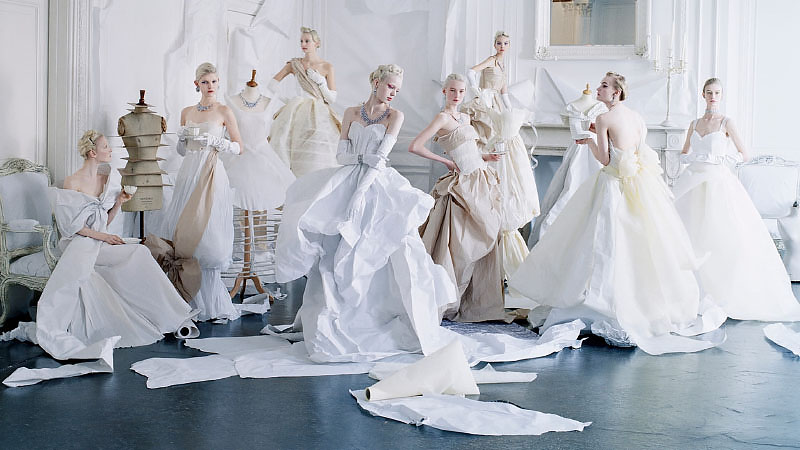 When little girls dream of getting married, they often turn to the likes of Cinderella for their inspiration. While trends come and go, some silhouettes stay timeless. When it comes to your big day, you must find a style that perfectly represents who you are as a person, as well as your dream look. With a cinched-in waist and an overflowing skirt, this is a design that will be in everyone's minds for years to come. It's flattering for all body types, and you have unlimited opportunities to find something that best suits you. If you're ready for a fairytale wedding, why not try one of these ball gown wedding dresses?
Lace Ball Gown Wedding Dress
Feel like a princess for your big day with a lace ball gown. With a nipped-in waist and full skirt, it creates a stunning silhouette for any body type. Choose from soft decorative patterns across the dress, or let the lacework sit across your shoulders. From tiny details to the fully-embellished bottom half, the options are endless. This is a feminine and tasteful choice that will make you shine like a star at your wedding.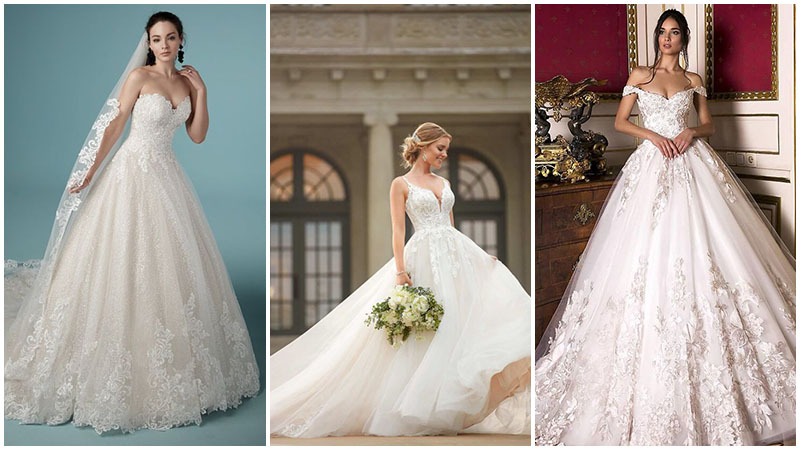 Get the Look
Long Sleeve Ball Gown Wedding Dress
Whether it's a winter wedding or an outdoor ceremony, these long-sleeved gowns are a fantastic option for your special day. These full skirts emphasize a small waist and elongate your legs, and the full-length cuffs will make your limbs look longer and have you feeling like royalty. Wear your hair in a low bun, and show off some skin with a backless silhouette. You don't need a lot of jewelry to make this dress looks spectacular – alone; you will make this entire outfit sparkle.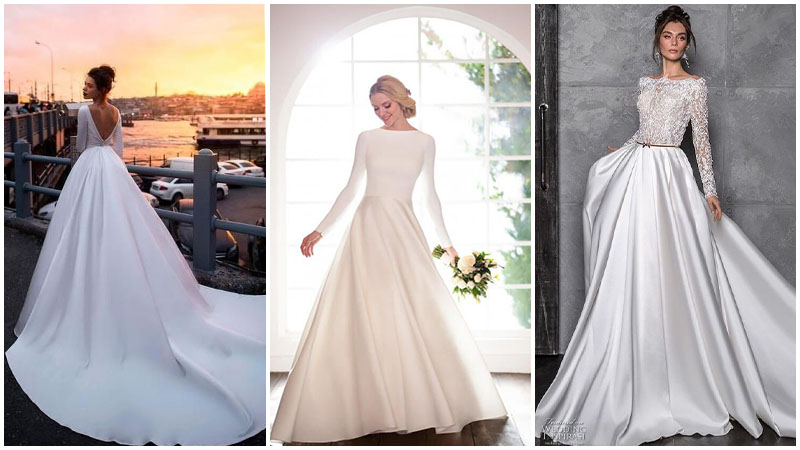 Get the Look
Off the Shoulder Dress
Showcase your collarbones with this off the shoulder wedding dress. The romantic style is a beautiful way to show some skin and look elegant at the same time. Opt for a gown with a tight waist and overflowing skirt – the symmetry between the top and bottom of the outfit will create an hourglass silhouette and accentuate your figure in all the right places. There are plenty of styles you can rock – something with long sleeves or a Bardot. It's an effortless choice for the chic bride.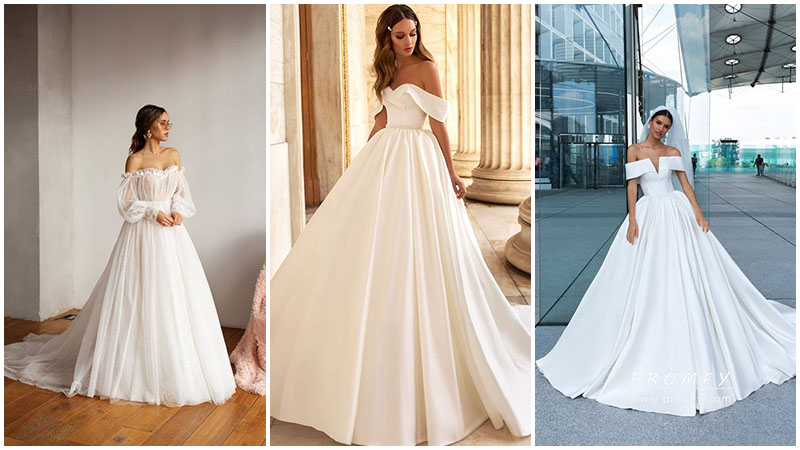 Get the Look
Mermaid Ball Gown Wedding Dress
If you'd like to show off your stunning figure but want a touch of drama in your dress, why not choose a mermaid ball gown? Small details such as lacing up the spine offer a subtle and sexy twist to the classic design. This choice provides the best of both worlds – you can showcase your body and complete it with a tonne of tulle. The silhouette's bottom half will have you feeling like a modern princess!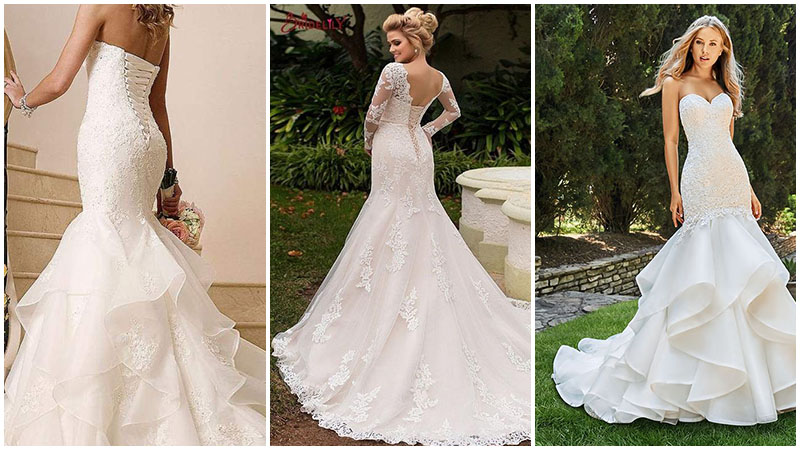 Get the Look
Strapless Ball Gown Dress
A ball gown has a lot of volume, so why not balance it out with a strapless neckline? These stunning wedding dresses will help elongate your body and create a unique silhouette. Choose from something simple with minimal trimming and wear jewelry or a veil for extra oomph. Another great option is a gown covered in lace; it offers a feminine touch that doesn't require additional accessorizing.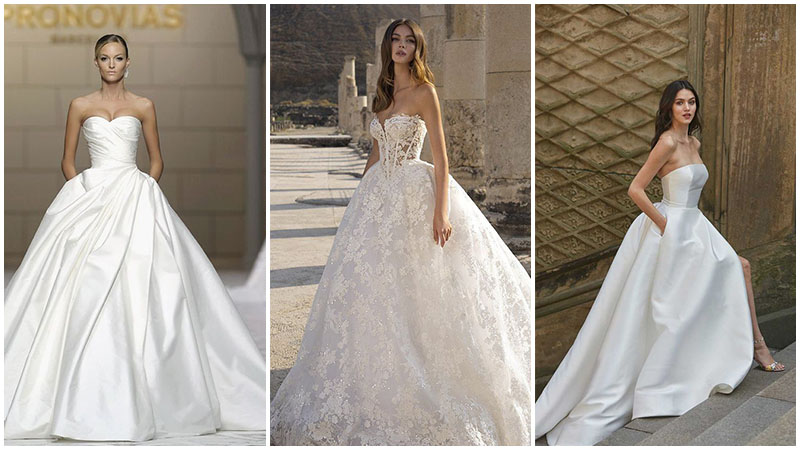 Get the Look
Plus Size Ball Gown Wedding Dress
Ball gowns are one of the most flattering styles a bride can wear. It creates an hourglass silhouette and makes everyone who wears it look like a princess. These plus size dresses are the perfect option for a wedding during any season. For the colder months, opt for long sleeves, but if the weather permits, try an off-the-shoulder number. Wear your hair in soft curls for a romantic touch, or keep it in a low chignon to showcase your decolletage. The options are endless, and it will emphasize your beautiful features, allowing you to truly shine on your wedding day.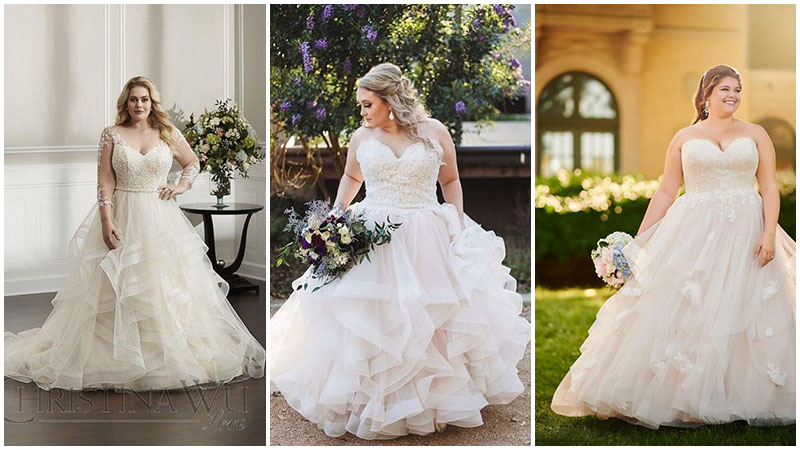 Get the Look
Black Ball Gown Wedding Dress
Not every bride wants to wear white on their big day – sometimes you want to cross over to the dark side. These romantic and high-fashion ball gowns play the perfect role on your wedding day. The voluminous skirt offers drama and timeless touch to the occasion. If wearing an entirely solid color dress isn't what you're interested in, opt for a subtle ombre in the bottom half, or feature shades of grey and white throughout the ensemble for a unique finish. These outfits call for minimalistic makeup – a simple red lip or a soft nude is all you need to look your best at your wedding.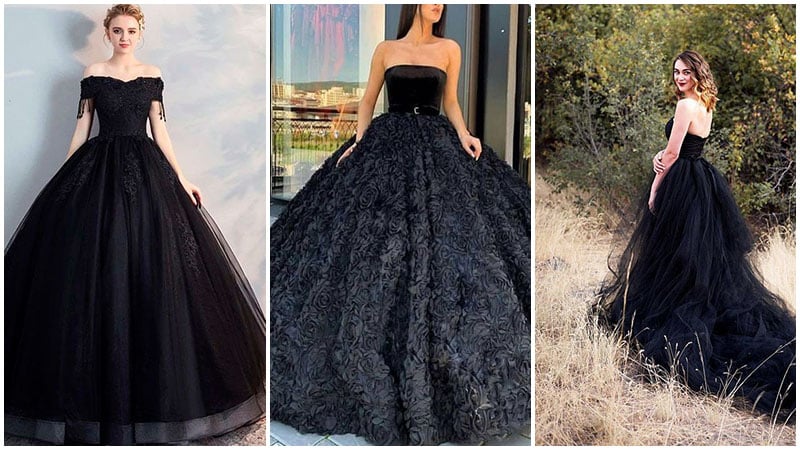 Get the Look
SUBSCRIBE TO OUR NEWSLETTER
Subscribe to our mailing list and get interesting stuff and updates to your email inbox.