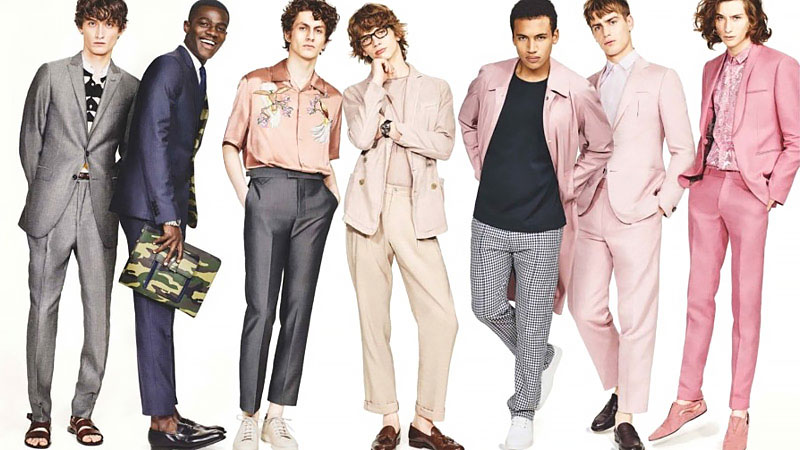 Summer isn't just an excuse for a bronze tan, it calls for a more open interpretation of clothing, where less is more and shoes are championed for relaxed ease allowing your feet to breathe. Light, easy and simple is what we are all looking for. Our go-to summer shoes are just that; relaxed but still super stylish. Below we take you through our top six men's summer shoes to try now.
1. Loafer
The loafer is one of the best staple shoe styles for any man, it reads dressy but still relaxed. For summer, we are encouraging you to find loafers in lighter colours for heightened vibes and greater versatility with other lighter tones that will no doubt be worn throughout summer. The loafer is the perfect option for more dressy occasions, where you don't want to wear something that will leave your feet sweaty. For a colour that can be worn again and again, opt for a great pair of beige loafers, which will work with practically any colour palette.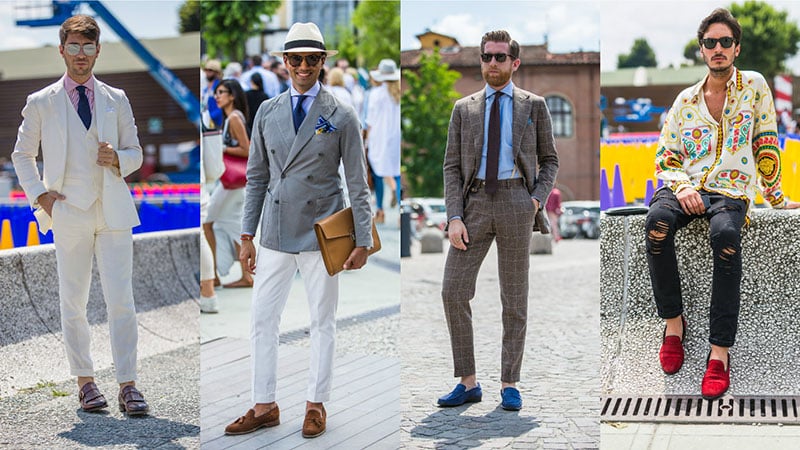 SHOP THE  LOOK
2. Boat Shoe
Forget the fresh mints, boat shoes are every fisherman's friend for nautically inspired days out. Typically made of rubber and leather boat shoes have a great durability. You will also be happy on warmer days when you are out battling the natural elements in your summer day get-ups. Perfect for business and smart casual outfits as well, boat shoes are relaxed and easy-going. They work well with a classic white shirt, but it needs to be done well. For a relaxed look, cuff your trousers as this allows your clothing choices to register easy-going and mature. Boat shoes work nicely with chinos, jeans and obviously above-the-knee shorts.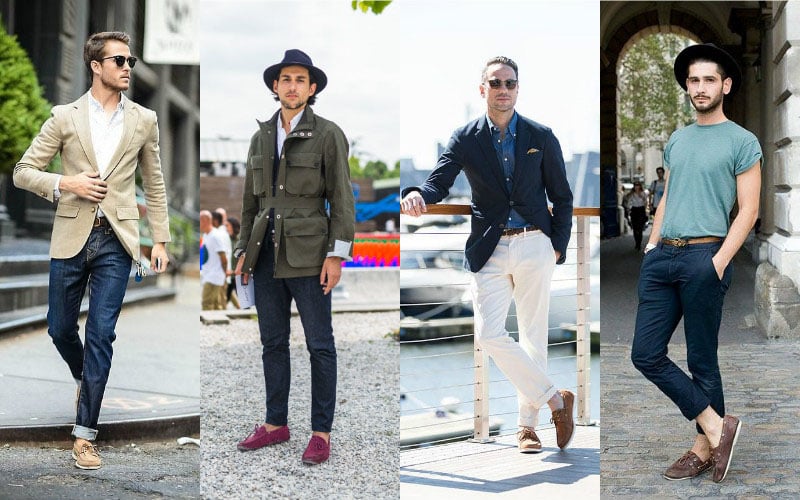 SHOP THE  LOOK
3. Suede Brogue
Elvis sung about blue suede shoes and we bet that he had a pair of brogues because this footwear staple is undeniably worth singing about. Simple, classic and traditional is what comes to mind when we think about the suede brogue; they are great shoes to work with for business casual and formal looks, as well as practically any venue that you are going to that requires a bit of a dress up. Why? Well, brogues done in suede offer more dimension to looks and don't read as harsh had they been done in leather. Suede is a great option because it transcends aesthetics and most dress codes- it just works really damn well. Pair this style with great fitting button downs (i.e., chambray shirts and denim numbers) and chinos for a failsafe go-to, and team it with a great pair of jeans for daytime style that can be worn countlessly.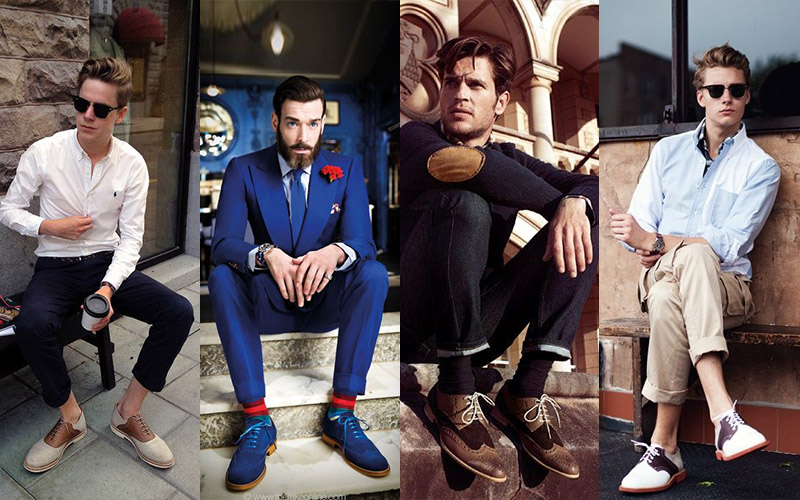 SHOP THE  LOOK
4. White Leather Sneaker
Talk about a revival. This old 80's and 90's favourite has sneaked back into mainstream popularity, popping up in street style across the globe. Yes, white leather sneakers are big news, but the trickiest part about donning these summer shoes is that you will need to make them look more modern. We recommend minimalist styles, with matching white laces and thicker soles. Also, tying in well with our recent street style trend report, white leather sneakers are the perfect accompaniment to some great light wash denim and pyjama-inspired pieces. Keep in mind that white leather sneakers can be dressed up for nights out, but you want to ensure your venue doesn't require a formal footwear.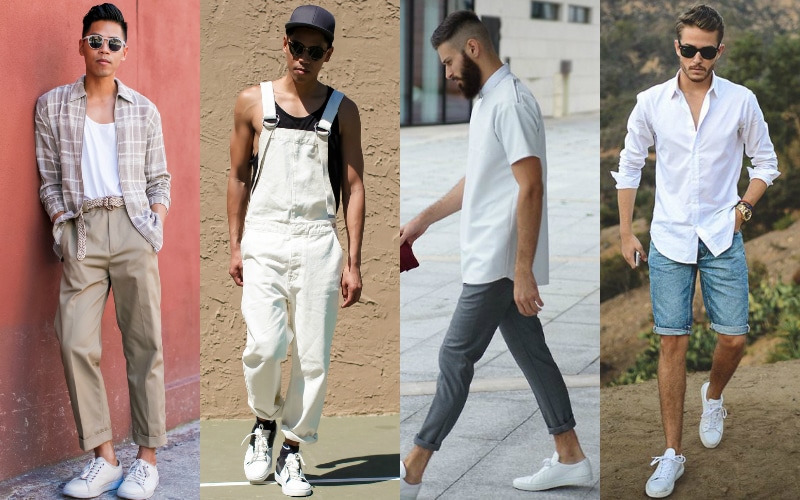 SHOP THE  LOOK
5. Espadrille
At the intersection of comfort and style, the Espadrille is the ultimate relaxed shoe. Despite being preferred for casual occasions, these beauties are worth the investment, and you shouldn't feel guilty about an Espadrille splurge. The key to finding the perfect espadrille is to find a pair (or multiple pairs for that matter) in the right shade. It is all about versatility, keep things conservative with a rusty navy pair or go earthy with muted khaki. Sandy beige, diluted black or dove grey are also worthy colours of choices. The espadrille is the perfect companion to a great pair of jeans, a well fitting pair of chinos and, more obviously, a pair of shorts. Cuff your trousers and wear them with ease.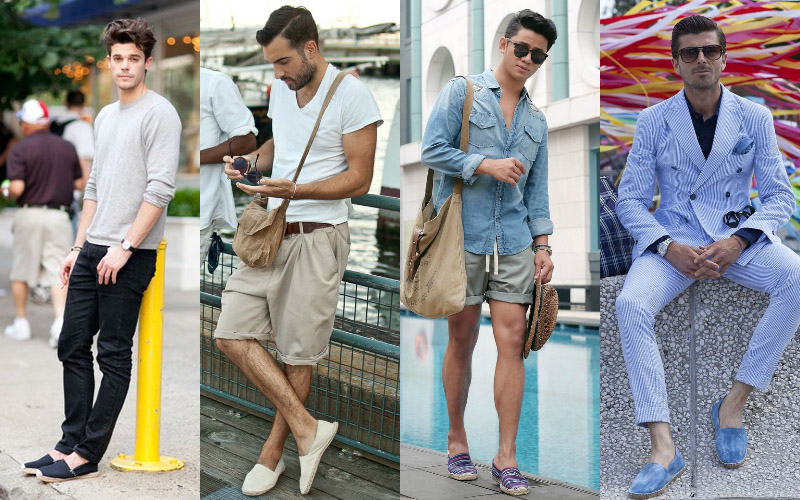 SHOP THE  LOOK
6. Leather Sandal
If you've always taken some style inspiration from the Ancient Romans, then this next summer shoe is worth a try. Get your gladiator on with the leather sandal, which has made numerous cameos on street style stars braving this Coliseum-worthy trend. Our tip is to work with very simple styles. A few straps will do the job well and will ensure that you don't look dated or like you have just come from a history convention at your local Museum. These shoes are also great for comfort, allowing your feet to breathe. Dark brown or black leather sandals are favourable, and will also enable a lot of versatility with other typical clothing materials and colours in summer.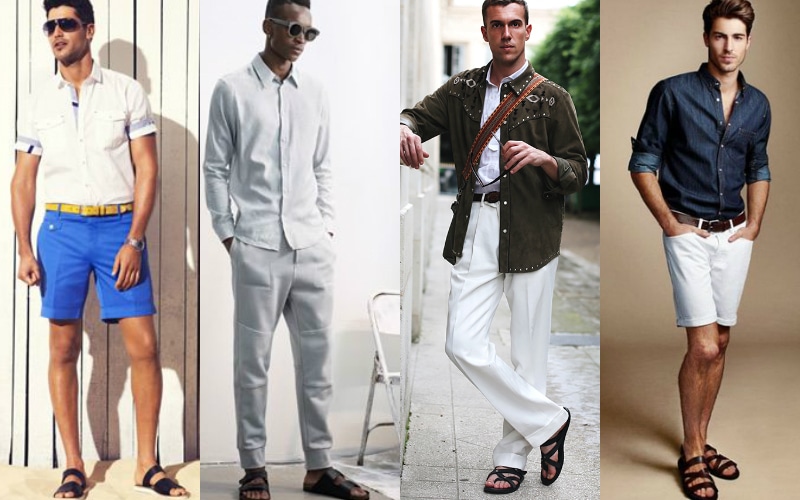 SHOP THE  LOOK
SUBSCRIBE TO OUR NEWSLETTER
Subscribe to our mailing list and get interesting stuff and updates to your email inbox.