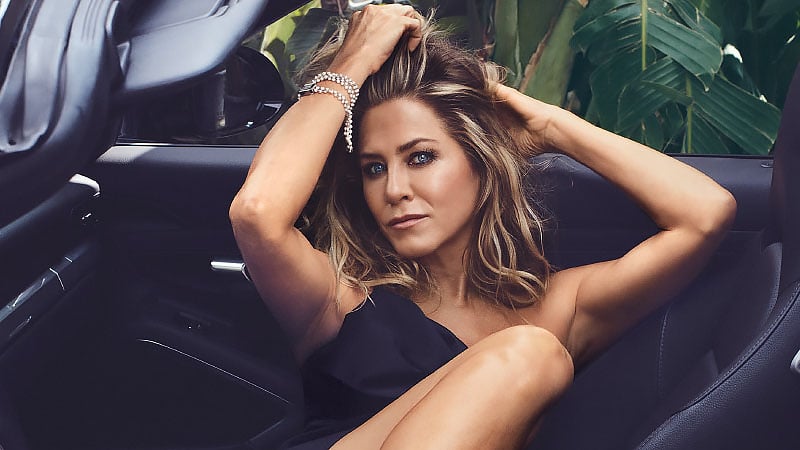 She's one of the most fashionable women in Hollywood, and it's not hard to understand why. From Friends to many other films, she has delivered inspiration looks for everyone to admire. Her signature hair and long legs look incredible at every event, and she knows how to work a great color combination. If you're ready to get some inspiration from this stylish Hollywood star, look no further. Here's how you can get Jennifer Aniston's style – perfect for any event.
1. Little Black Dresses
Every girl knows that a little black dress is a staple of any wardrobe. These chic, effortless styles Jennifer Aniston wears are easy to style and look great on everyone. Choose a sleek blazer dress with a pair of polka dot stockings, or showcase your pins with a mini tube dress and strappy heels. It is a versatile and timeless option for any event, and you'll turn heads as you walk by everyone.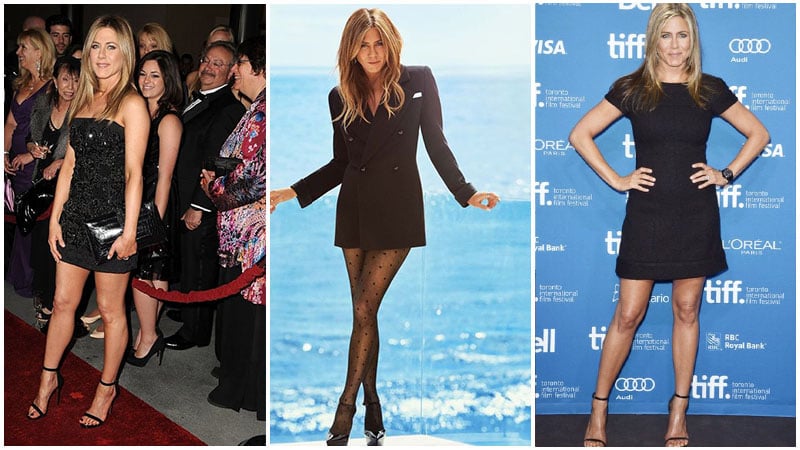 Get the Look
2. Suits with Flared Trousers
When it's time to look professional, take things one step further in a suit with flared trousers. Jennifer Aniston puts a high fashion twist on this classic ensemble by sporting no shirt under her blazer or adding a bustier for a sultry feel. The bottom of the pants elongate your legs and add a touch of sophistication to an already timeless outfit. Choose a bold color like ruby red, or stick to the simple black and charcoal shades – keep your hair in loose waves for a laidback aesthetic, or add a messy bun for a relaxed vibe.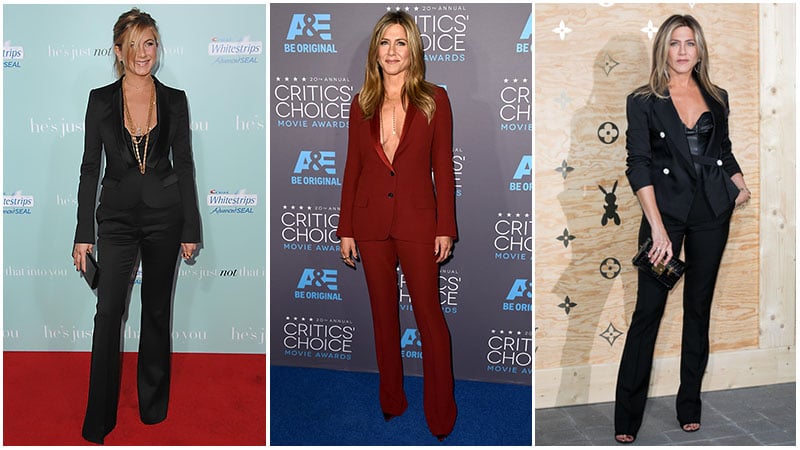 Get the Look
3. Grey Monochrome Outfits
Grey is a universally flattering shade, so why stop at one piece of clothing in this color? A monochrome outfit is a timeless and tasteful option for women of all ages, as Jennifer shows throughout her career. From a turtleneck and skirt combo to a T-shirt and trousers, there are plenty of combinations that work wonderfully for most events. To find the perfect shade for your skin tone, opt for a medium gray or something slightly darker – this is an opportunity to look chic and sophisticated while feeling modern and on-trend.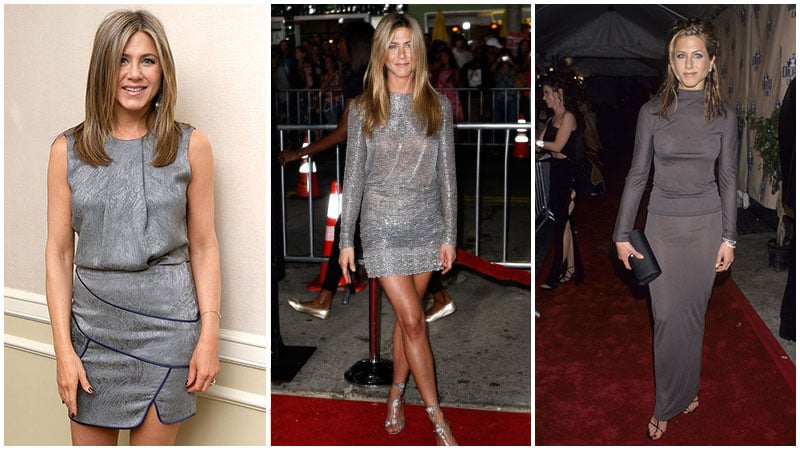 Get the Look
4. Sheath Dresses
These fitted, straight cut dresses are an excellent option for those who love minimalist looks. With no seam at the waist but tailored to fit your body, it's a flattering style for most body shapes. You can choose something that showcases your pins or focus the attention to your shoulders and arms. Take a leaf out of Jennifer Aniston's book by rocking beachy waves and clean makeup – you'll look stunning, just like the A-lister.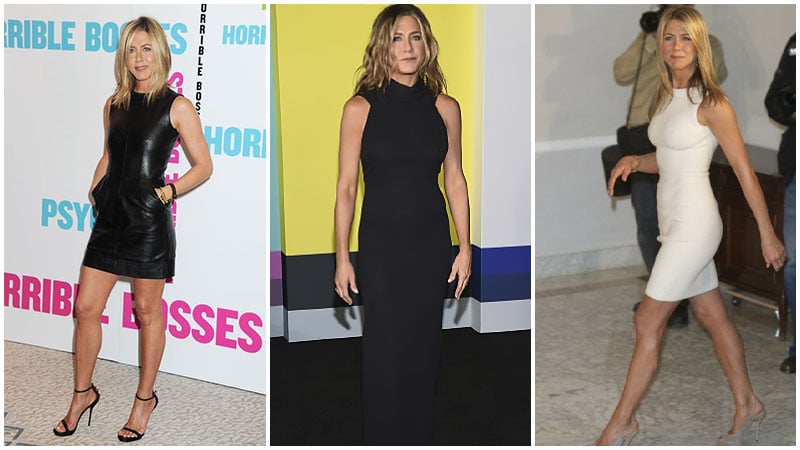 Get the Look
5. Sequin V-Neck Dresses
Add a dash of sparkle to your evening with one of these dresses. Featuring shiny sequins and a plunging neckline, you can style this for a fancy event or even just birthday drinks. Jennifer Aniston always puts a laidback touch to her looks, which is easy to replicate. Keep your hair out, and don't add too much jewelry – let your dress do the work! To finish off the look, pair the gown with strappy sandals, and you'll be ready to impress.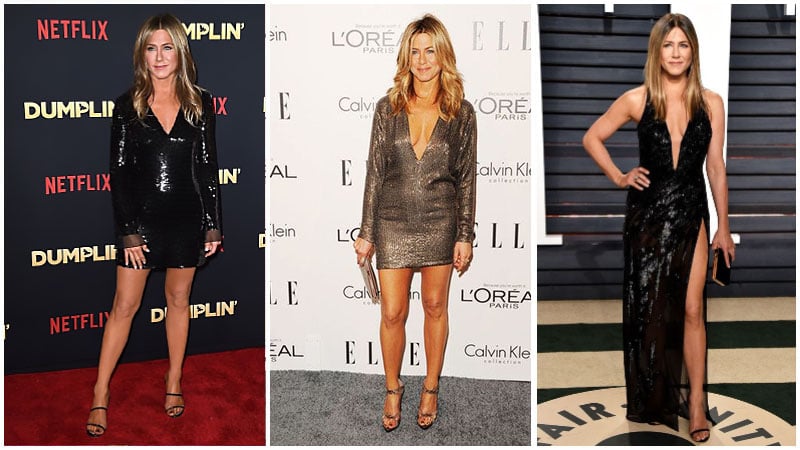 Get the Look
6. Stone Colour Maxi Coat
As one of the most on-trend shades of the season, Jennifer Aniston makes this color look incredible. Paired with jeans and a basic T-shirt or a set of striped trousers and a gold chain, this is an effortless addition to an outfit. It's an ideal piece of clothing to add to your wardrobe, and it works well with everything. Add an oversized print scarf during the colder months, or a brown leather bag with your casual outfit and you're ready for the day.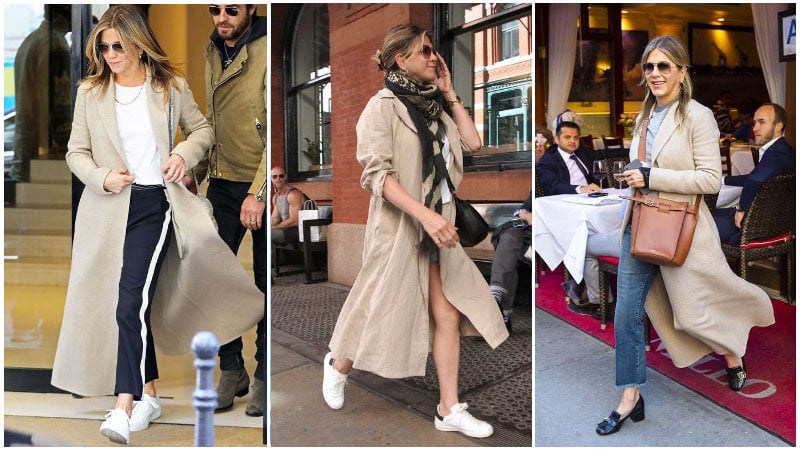 Get the Look
7. White Formal Gowns
Who said you have to save a white dress for the big day? The Friends actress has undoubtedly made this divine attire a part of her routine, and for good reason. Silk, lace, and satin floor-length gowns are a great option if you're on your way to a fancy night out. What's great about this choice is you don't need a lot of jewelry to make it look incredible. A pair of drop earrings or a statement clutch are all you need to complete this look – like every other hue contrast against the pale shade, why not rock a green, black or blue bag?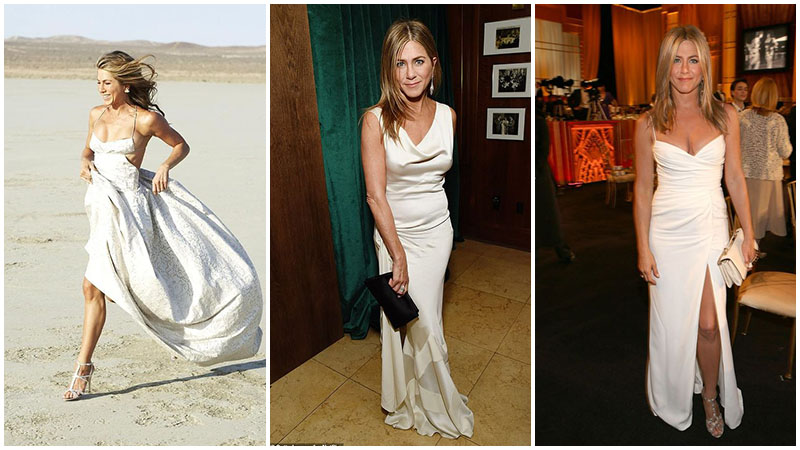 Get the Look
8. Rollneck Outfits
The humble turtleneck is a natural and timeless option for a cold day, and it is Jennifer Aniston's staple. Take a leaf out of the actress' role in Friends and choose a slinky number that sits close to the body – why not try a bold pattern or a shade like green? When the temperature drops, opt for a chunky knit that will keep you warm. Complete the look with a French tuck into your trousers – this adds depth to your outfit without looking frumpy.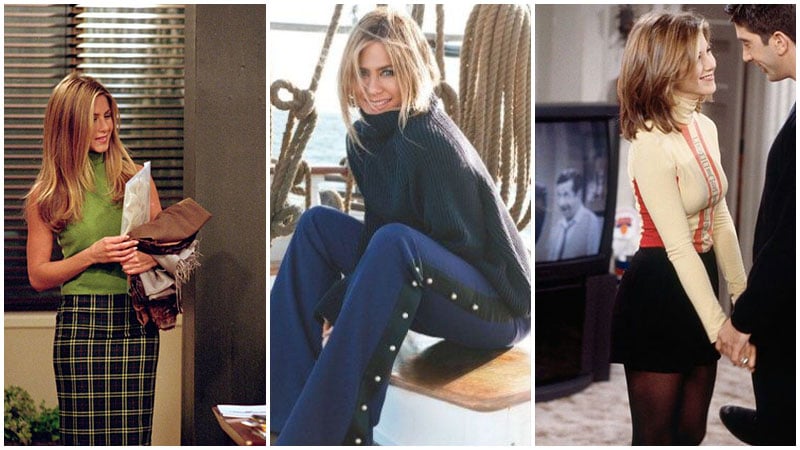 Get the Look
9. Sweater Dresses
As the perfect year-round outfit option, the sweater dress is a favorite with this A-lister actress. Unlike other pieces, you can style this up or down to flatter your event. Show off your legs by wearing nothing underneath, or keep yourself warm with a set of black tights and knee boots. If you're feeling fancy, a sequin number will outshine everyone else, and make you look like a Hollywood star. Choose a length that sits just above your knee for a sexy, yet sophisticated edge. Again, not much jewelry is needed to capture this aesthetic – let your hair out and watch the compliments fly in.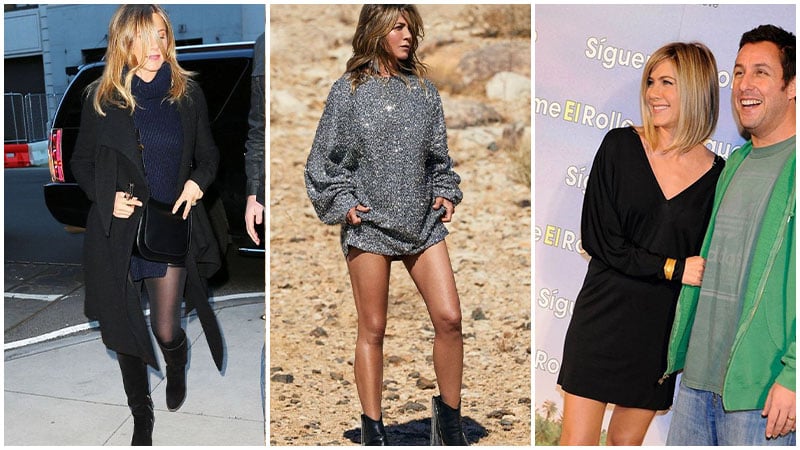 Get the Look
10. Winter Stocking Outfits
During the freezing winter weather, your best bet is stocking up on stockings. From opaque options to something slightly sheer, it's best to take inspiration from Jennifer Aniston. She rocks a mini dress with knee boots but stays warm with a sturdy pair of tights. This outfit elongates your legs and creates a clean silhouette for your entire outfit. Stick to short skirts or frocks with this choice – it will keep you looking chic without showing off too much skin in the cold temperatures.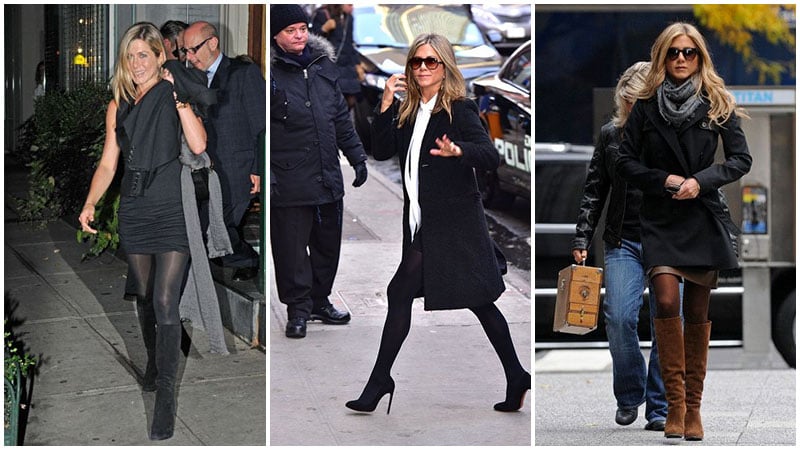 Get the Look
SUBSCRIBE TO OUR NEWSLETTER
Subscribe to our mailing list and get interesting stuff and updates to your email inbox.