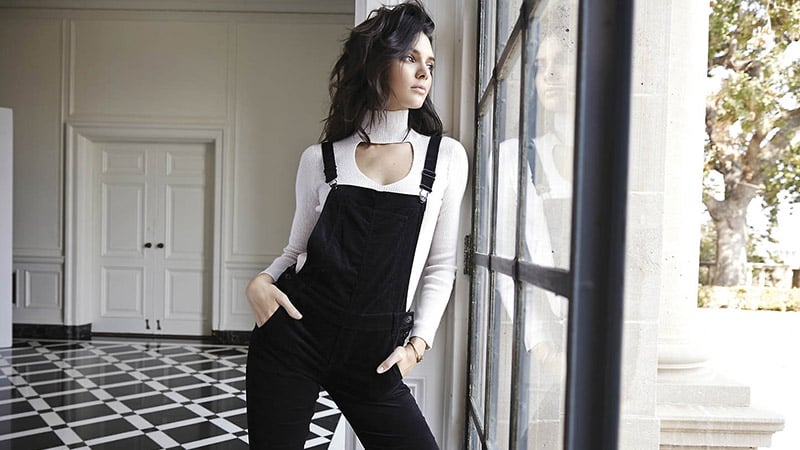 There's no denying it. Overalls are back and more stylish than ever before. Yes, the dungarees you rocked in your youth are cool once again. However, this time around, you don't need to be a kid to wear them. Don't believe us? Just look to your favorite A-listers for proof. Everyone from Kendall Jenner to Alexa Chung and even Sarah Jessica Parker are rocking overalls right now and looking amazing while doing so. So, if you're after an easy-to-wear outfit that's both cute and comfortable, just reach for a pair. Then, all you need to do is take a look at our celebrity style inspiration below to learn how to wear your overalls like a star.
Overall Outfits
Denim Overalls
When it comes to overalls, blue denim designs are the original and, quite possibly, the best. So, it's no wonder why celebrities like Ruby Rose, Sarah Jessica Parker, Hilary Duff, and Alessandra Ambrosio all own a pair. To rock the look yourself, start by finding your perfect fit. While slouchy styles are ideal for casual looks, skinny designs appear chicer and more polished. Of course, both options can be dressed up or down depending on the aesthetic you're trying to achieve.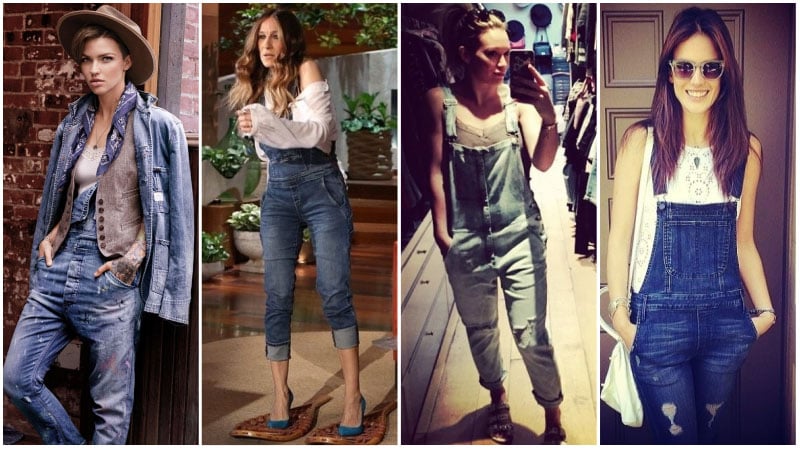 SHOP THE LOOK
Leather Overalls
For a sexy and edgy alternative to traditional denim overalls, you should consider investing in a leather style. Leather overalls create a striking yet stylish appearance that is sure to turn heads. So, if you're like Olivia Palermo and like a bold fashion look, be sure to give them a go. To keep your leather ensemble daytime-appropriate, try adding a soft, feminine touch. You can do so by pairing your overalls with an off-the-shoulder top, heels, and cat-eye sunglasses.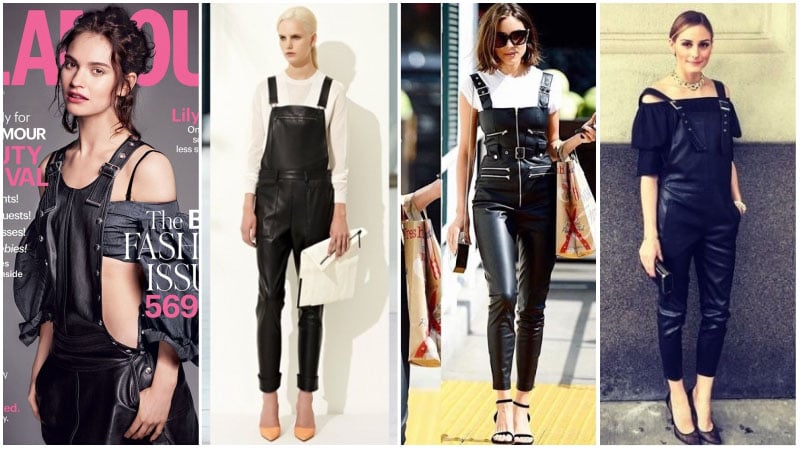 SHOP THE LOOK
Short Overalls
Overalls are ideal for any time of year, including summer. To rock them during the warmer months, opt for a short denim style. Short overalls are particularly cute and perfect for showing off tanned legs. To wear them without overheating, try adding a lightweight blouse or crop top underneath. Alternatively, consider rocking a bikini beneath your overalls for a fun beach ensemble. You can even add a straw hat and wedged espadrilles to complete the look in style.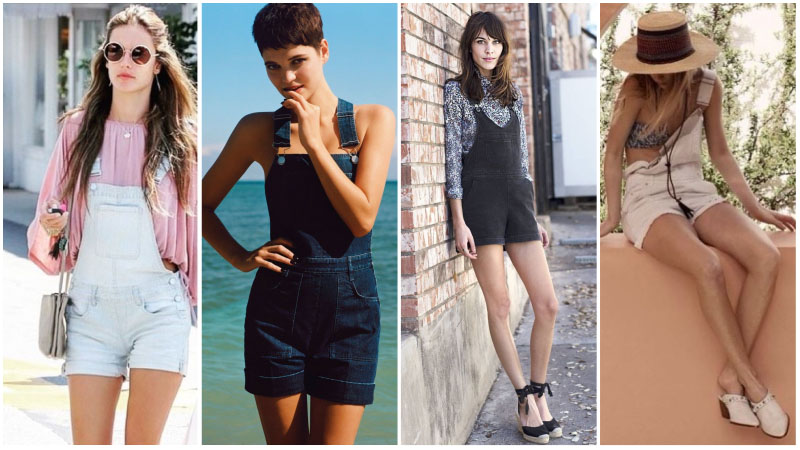 SHOP THE LOOK
Overall Dress
Another excellent alternative to traditional overalls is the overall dress. This pinafore style dress appears chic and youthful and can suit a variety of occasions. To wear one during the day, try pairing it with a fitted T-shirt and white sneakers. To wear one at night, such as to a bar or music gig, turn up the rockstar factor. To do so, channel model Hailey Baldwin with a high-neck crop top and heeled ankle boots. Then, complete the look with a black cross-body bag and smokey eye makeup.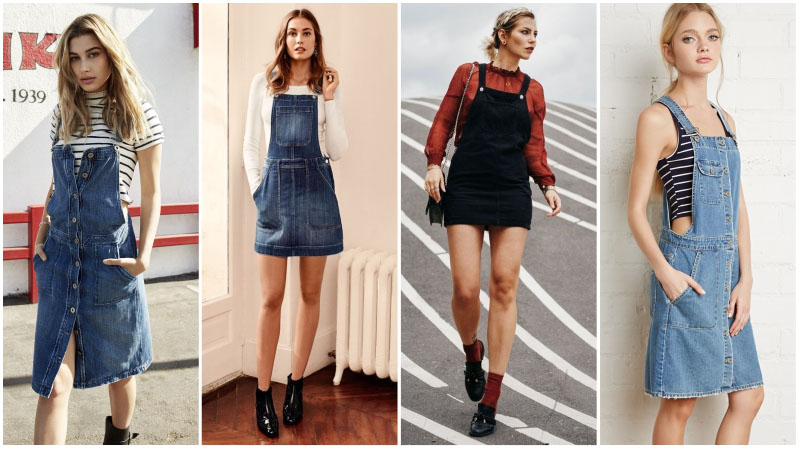 SHOP THE LOOK
Black Overalls
For ladies who like a slightly edgy appearance, black overalls are a worthwhile wardrobe addition. Thanks to their inky hue, black overalls project more attitude than standard blue denim designs, making them perfect for fashion-forward women. To rock a pair, try copying Kendall Jenner's incredible style. The model and reality star appears super chic in black overalls worn with a white turtleneck sweater for a fashion campaign shoot.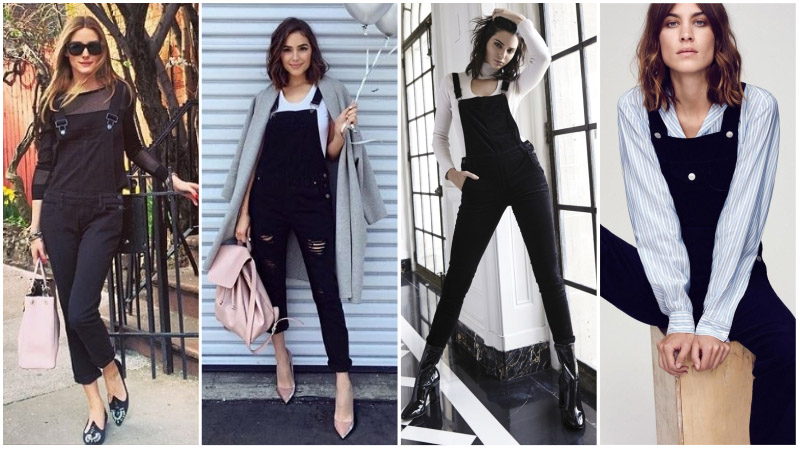 SHOP THE LOOK
White Overalls
If you're after a lighter and brighter alternative to blue or black overalls, consider investing in a white pair. Perfect for summer days as well as statement winter looks, white overalls appear incredibly chic and cool. To stylishly rock your own pair, look to model and beauty queen Olivia Culpo for outfit inspiration. The fashionista rocks her white overalls with a white top and heels for a fresh and statement-making style.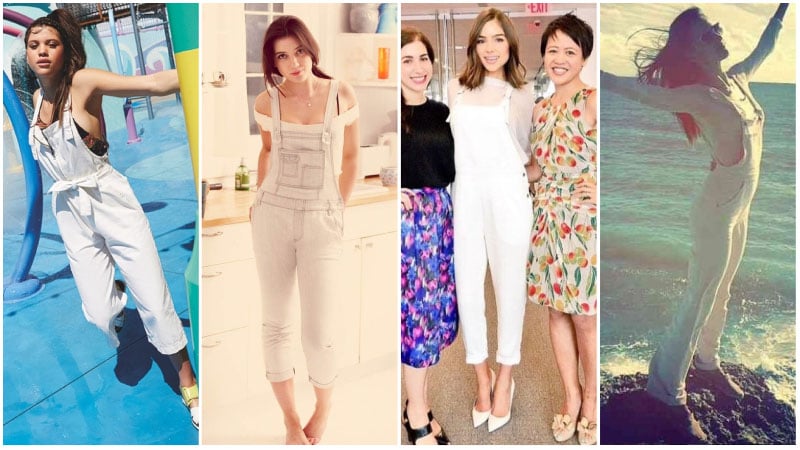 SHOP THE LOOK
Overalls with a Bra
When the weather heats up, make your style sizzle by wearing overalls with nothing but a bra underneath. The daring and sexy look has been worn by fashion stars like Karlie Kloss and is a seriously stylish summer outfit option. The trick to nailing the outfit is to keep your appearance casual and carefree. To do so, team a pair of loose denim overalls with a plain bra. Then, add a bohemian touch with embellished sandals and layered jewelry.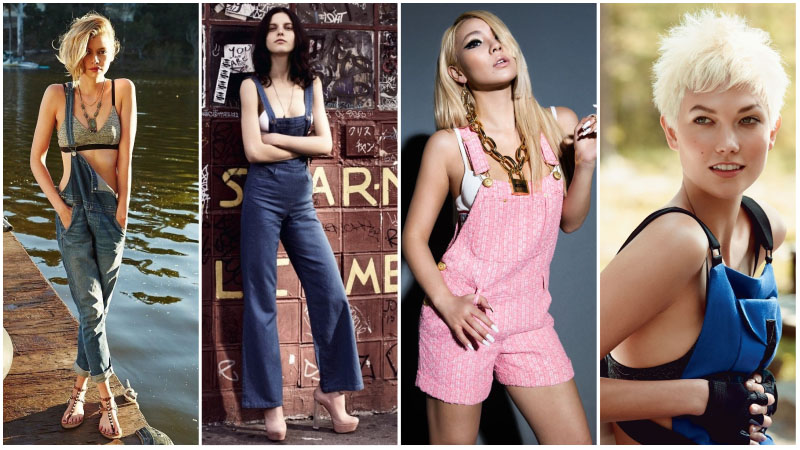 SHOP THE LOOK
Overalls with a T-shirt
It may seem basic, but overalls worn with a T-shirt can be a seriously fashionable look. Additionally, it can also be a highly versatile outfit option and can work well during both daytime and night-time. To wear overalls and a T-shirt during the day, make like Cara Delevingne and pair the look with casual sneakers. To rock the combination at night, channel Alexa Chung by swapping those sneakers for heels and adding a statement jacket.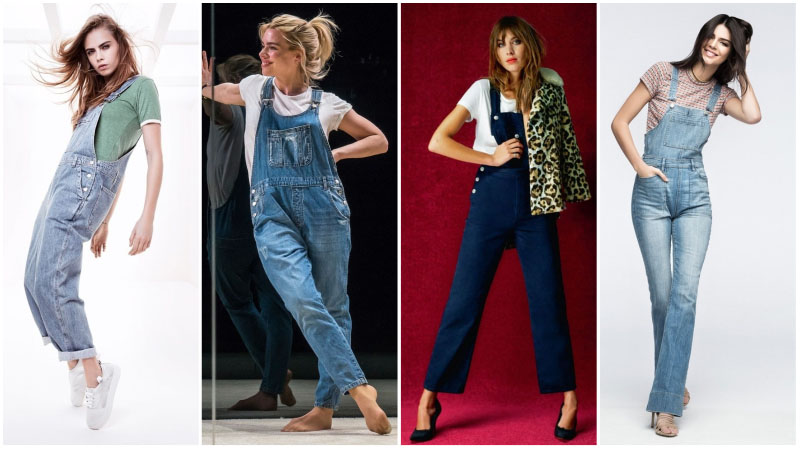 SHOP THE LOOK
Overalls with a Long Sleeve Top or Jumper
Want to channel Alexa Chung's signature "It Girl" style? Try wearing a pair of overalls with a long sleeve top or jumper. Perfect for winter, this A-list-approved ensemble will keep you warm while also making you look chic. To nail the look, try opting for a pair of black denim overalls. Then, either partner your overalls with a simple white long-sleeve top for a relaxed look or something bolder, such as a bright red sweater, for a more fashion-forward appearance.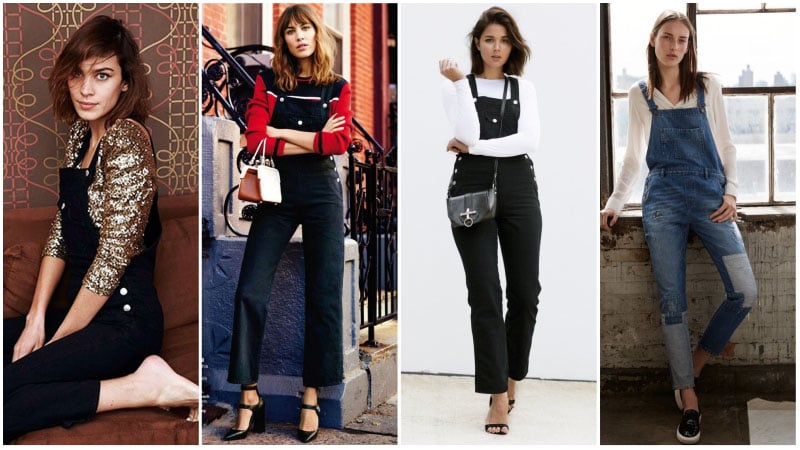 SHOP THE LOOK
Overalls with a Crop Top
While you can wear overalls in many ways, one of the easiest and most stylish options is to pair them with a crop top. By rocking a crop top and flashing a little skin, you'll instantly appear on-trend and chic. Additionally, the short length will work to balance out the bagginess of your overalls and keep you from looking swamped in denim. For an extra celebrity-approved touch, try wearing your overalls with just one strap, à la Selena Gomez.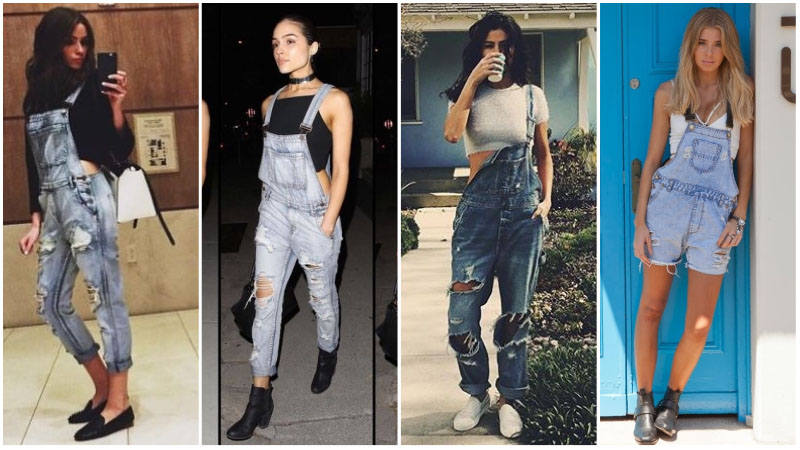 SHOP THE LOOK
FAQs
How can I look good in overalls?
Overalls may have once been a look reserved for workers or children, but they are a great garment for women and can be comfortable and stylish. Models and celebrities have embraced overalls and given us the inspiration we need to rock the look ourselves. Denim overalls are a popular choice; while slouchy styles are more casual, skinny designs have a more polished appearance. These can be worn with a white T-shirt or a button-down. If you want a sexy and edgy option, then leather overalls are great and can be worn with heels and an off-the-shoulder top. Short overalls are cute for summer and look good over a bikini or a lightweight blouse or crop top.
How do you wear overalls?
Overalls are comfortable and surprisingly versatile. One of the easiest and most chic ways to pull off this look is pair the garment with a fitted T-shirt. An off-the-shoulder design adds a little more femininity to the look, and if you want to dress it up, then wear them over a button-down shirt. There is also a wide range of colors, but solid neutral tones like black and white or denim are by far the easiest to mix and match.
Should overalls be tight or loose?
Deciding whether your overalls should be tight or loose is dependent on the look you want to create. If you want a more relaxed aesthetic, opt for a looser fit, and a polished and sophisticated look can be achieved with a skinny style. The hips, butt, and waist should also fit well, though, to compliment your body shape and avoid looking messy.
Do you wear anything under overalls?
There are few rules for choosing what to wear underneath your overalls because there are various styles of tops that are stylish and chic. A simple T-shirt is great for a relaxed look, while a more polished appearance can be greeted with a classic button-down shirt. You should remember not to wear anything too chunky underneath your overalls as this will affect the fit.
SUBSCRIBE TO OUR NEWSLETTER
Subscribe to our mailing list and get interesting stuff and updates to your email inbox.