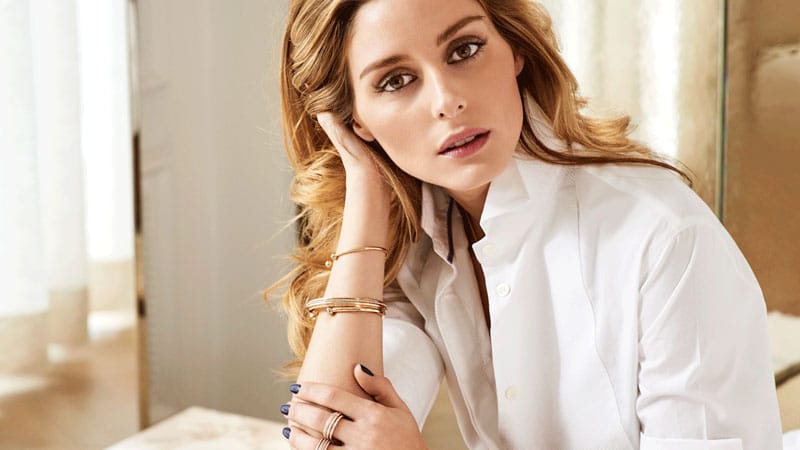 From sitting front row at fashion weeks worldwide to starring in global campaigns, the 31-year-old has cemented herself as an industry superstar. While she can go by many titles, including socialite, reality star, model, editor, creative director, and designer, Olivia Palermo is perhaps best known today for her impeccable personal style. With a closet that could make any woman envious and an eye for creating outstanding outfits, she's naturally become an icon and inspiration for ladies everywhere. To celebrate Olivia's incredible sense of style and help you dress with the same fashionable flair, we've rounded up her favorite looks for you to try.
Olivia Palermo Style
Olivia Palermo is a style icon for a good reason. Whenever the star steps out, she looks incredibly chic and stylish. Her sense of fashion celebrates the classics while embracing on-trend details. Her look is also seriously versatile, meaning that she can appear just as comfortable and gorgeous in a '70s-style maxi dress as she does in a smart suit. But, if there's one thing that all her outfits have in common, it's easy elegance.
Olivia Palermo White Shirts
Olivia Palermo knows the value of wardrobe basics. While the star often uses statement pieces to achieve a standout outfit, she grounds those highlight items with classic garments, such as a white shirt. Fresh and smart, a simple white shirt is Palermo's go-to piece for achieving a chic ensemble. Incorporate the garment regularly into your own closet to have fun experimenting with bold bottoms and jackets like Olivia.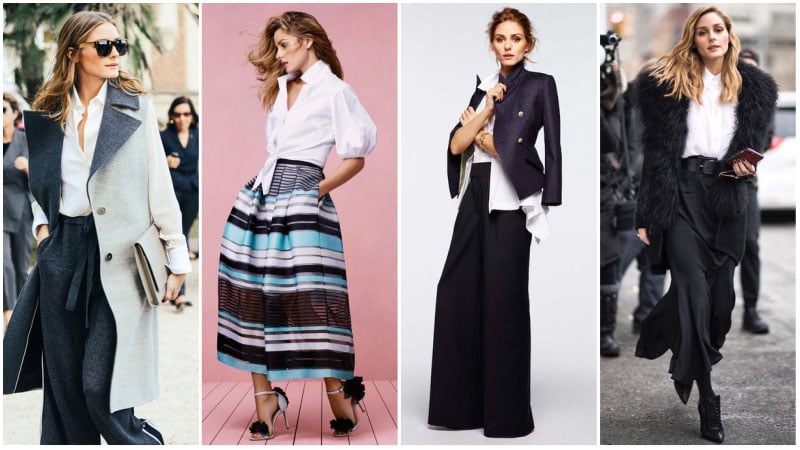 Olivia Palermo Ripped Skinny Jeans
We all have a favorite style of denim, and Olivia's is distressed skinny jeans. These chic pants are perfect for casual outfits and project a relaxed elegance that perfectly suits Palermo's style. While the slim silhouette creates a smart and sleek appearance, the rips add a nonchalant attitude. Olivia often partners her favorite jeans with a white button-up shirt and cute loafers for a fashionable and functional look.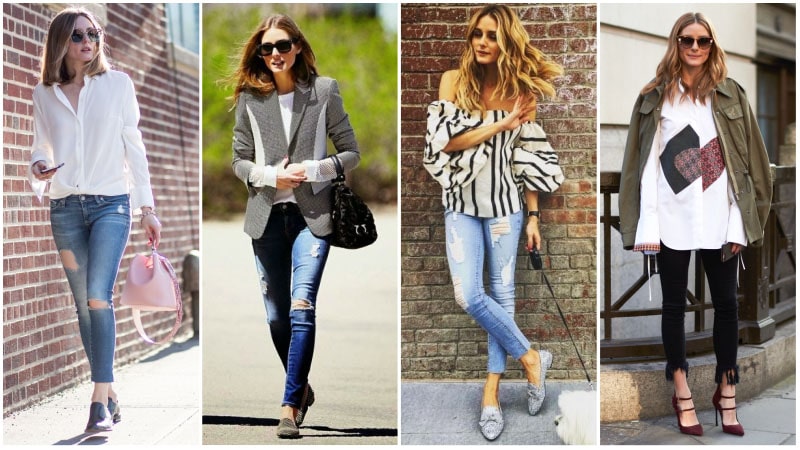 Olivia Palermo Heeled Black Booties
Regarding footwear, heeled black booties are a favorite for Miss Palermo. The chic shoes match her style perfectly and are versatile enough to suit her wide variety of outfits. In particular, Olivia likes to wear boots with a pointed toe and a stiletto-style heel. So, while her shoes are somewhat casual when compared to traditional heels, they are also sleek and seriously stylish. Try a pair for yourself to experience the fashionable boost that they can add to an ensemble.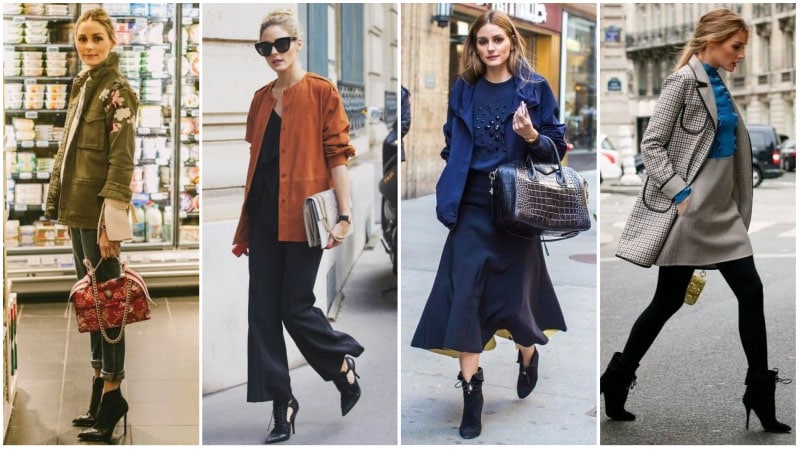 Olivia Palermo Bohemian Maxi Dresses
Olivia Palermo's style may be versatile, but it's always simultaneously elegant and down-to-earth. The way she wears a bohemian maxi dress displays this notion flawlessly. While the star loves to rock a flowing and free maxi dress, she does so in a chic and smart way. By just adding heels and a belt and keeping her makeup polished, Palermo turns this summer beach staple into a refined street style look.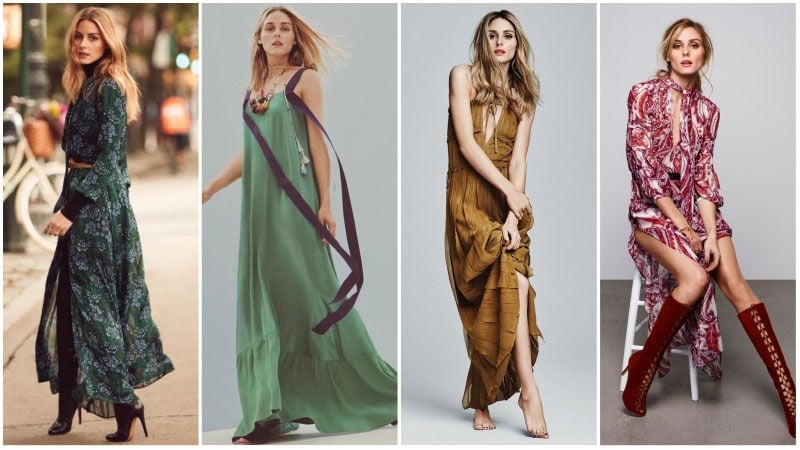 Olivia Palermo Suits
Want to know how to style a suit like a celebrity? Just look to Olivia Palermo for inspiration. The style star loves to rock a suit for special occasions and looks gorgeous doing so. Her trick for turning this boardroom basic into a fashion statement is to keep things fun and feminine. Palermo does this through color, details, silhouette, and more. Channel her chic suit style for yourself by selecting a design in a unique hue, such as pink or a contemporary shape.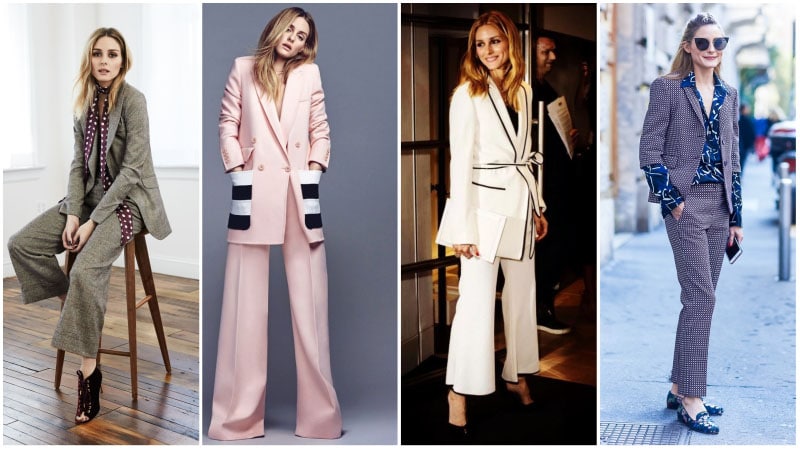 Olivia Palermo Roll-Neck Sweaters
New York can get mighty chilly during winter, so Olivia chooses to stay warm with the help of a roll-neck sweater. The star often wears these cute and chunky jumpers when she's running around the city and wants to feel comfortable while looking chic. You can try the look for yourself with a pair of ripped skinny jeans and booties for the perfect Palermo-approved weekend ensemble.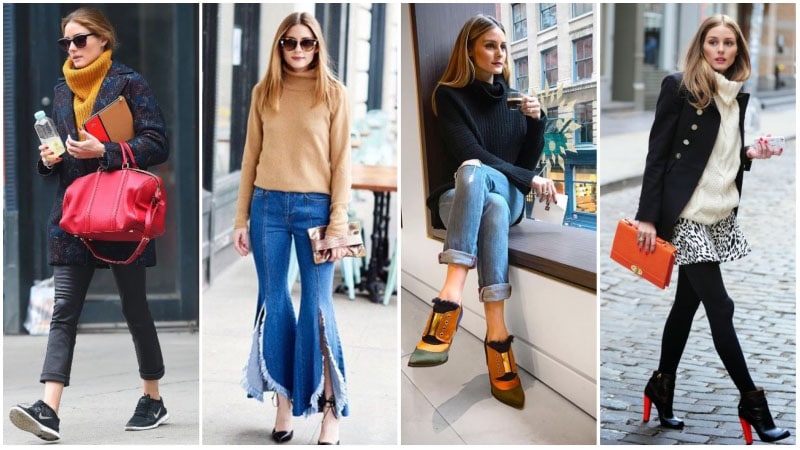 Olivia Palermo Leather Pants
Olivia Palermo's signature look may be chic and elegant, but the star isn't afraid to add an edgy touch to her outfits. Leather pants are a favorite for the New Yorker, who is often spotted sporting these trousers on the street and at fashion weeks. Of course, Olivia isn't the type to rock a grunge look with her leather-clad legs. Instead, the star keeps her outfits sleek with high-heeled ankle boots, a stylish top, and a smart coat or jacket.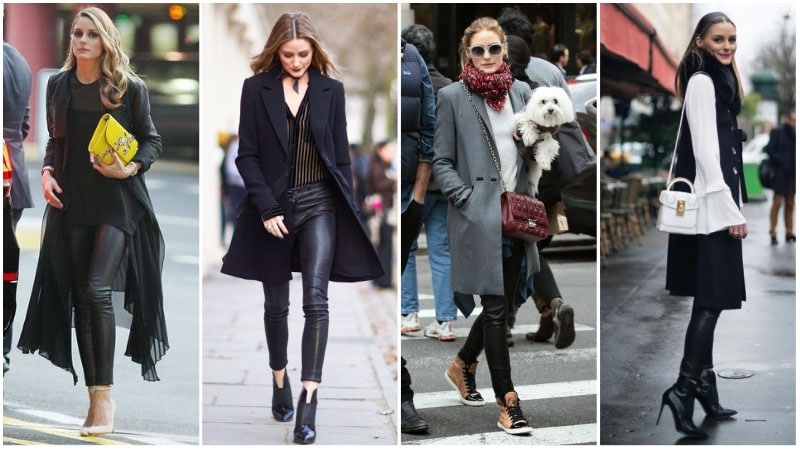 Olivia Palermo Black and White Prints and Patterns
No wardrobe can be considered complete without a touch of pattern and print, including Olivia Palermo's. Of course, the style star knows how to make these bold pieces work perfectly for her style. Palermo can inject fun into her outfits without compromising her essential elegance by sticking to monochromatic prints and patterns.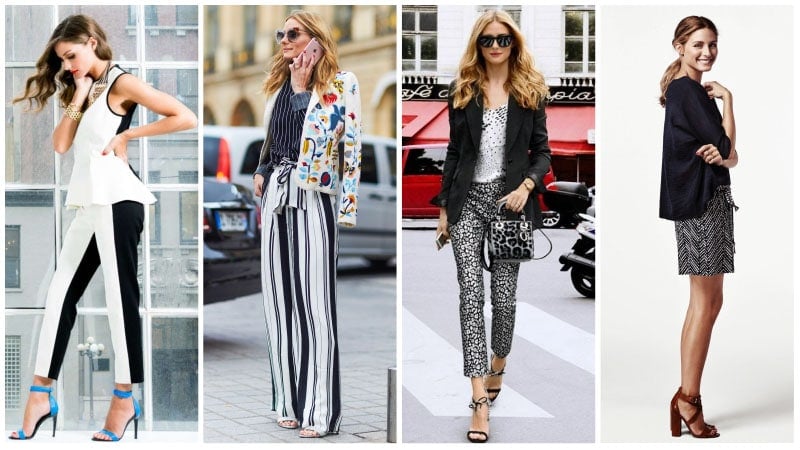 Olivia Palermo Hair
It may not technically be an accessory, but when it comes to creating an outfit, hair can certainly act like it is. Whether worn up, down, straight, or curly, your locks can dramatically change your look. Olivia Palermo recognizes this notion and is often snapped with a fresh style to suit her day ensemble. Of course, like any lady, Olivia wears a signature hairstyle more than not.
Mid-Length with Middle Part
Olivia's signature hairstyle is a golden brown mid-length cut with a middle part, which she wears blow-dried with a soft bounce. The result is healthy and smooth locks with a very subtle wave and ends that have been curled inwards. This look is perfect for Palermo and impeccably suits her refined yet relaxed aesthetic.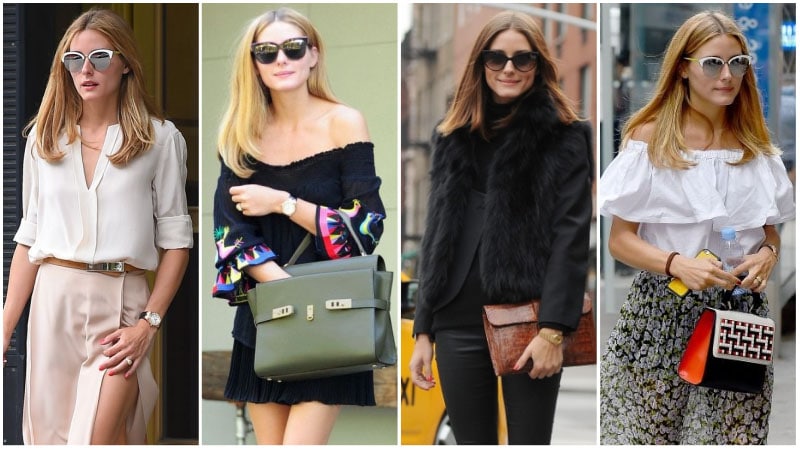 Olivia Palermo Makeup
There's no denying that Olivia Palermo is a natural beauty. But, like most of us, Miss Palermo likes to enhance her best features with the help of makeup. Like her fashion choices, the star keeps her makeup elegant, refined, and chic.
Natural Beauty
Olivia's signature makeup look is natural and understated. Instead of relying on statement colors to draw attention to her face, the star uses natural hues to highlight her stunning features. Brown eyeshadow is a particular favorite of Palermo's and helps to bring out her gorgeous, warm brown eyes. She often adds further definition to her eye area with a swipe of black liquid eyeliner, brown brow pencil, and mascara. She then typically chooses to keep the rest of her makeup minimal, including her lips, which she often coats with soft nude lipstick with a matte finish.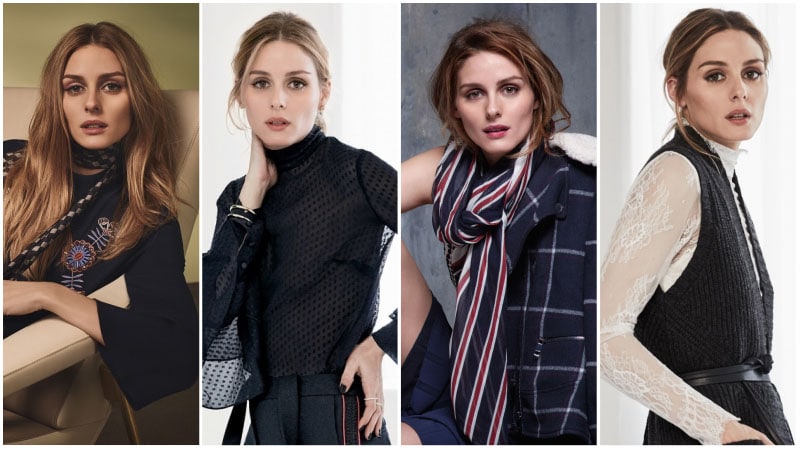 SUBSCRIBE TO OUR NEWSLETTER
Subscribe to our mailing list and get interesting stuff and updates to your email inbox.