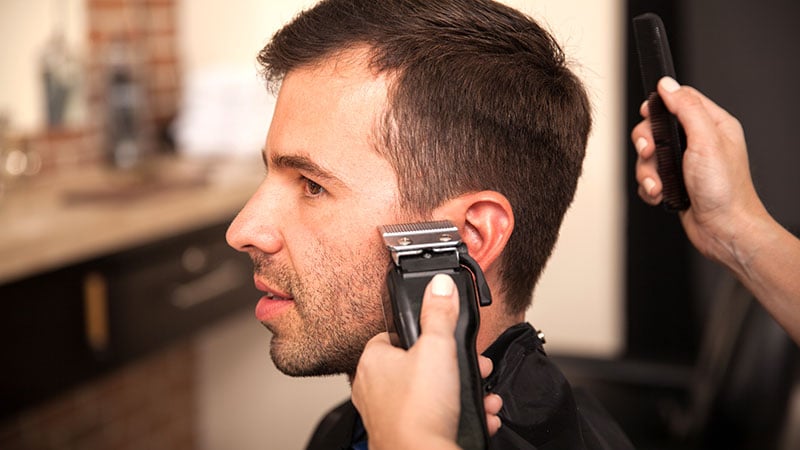 A symbol of masculinity and rebelliousness, sideburns have been seen on military generals, kings of rock, and Hugh Jackman's wild wolverine. Recently, this statement look has re-emerged as a strong facial feature for modern men. With a variety of shapes, styles, and lengths available, sideburns can balance out your facial features while enhancing rugged jawlines and cheekbones. From polished and sleek to tough and edgy, there are options for everyone. Before you grab out those clippers and get to work, find out which style is right for you and learn how to trim sideburns the right way.
When to Trim Sideburns
Sideburns can be a tricky thing to maintain. With everyone's hair growth rate being different, there's no universal rule for when to trim them. However, there are some things you can look for to determine when it's time for a trim. For those with thin and tapered sideburns, you might need to trim them up more frequently. Whereas those with wider and fuller sideburns may be able to go a bit longer between trims. If you start to notice your sideburns looking a bit fluffy before it's time for a haircut, it might be time for a quick trim to keep them looking well-groomed. Finding the right balance for your sideburns may take some time, but with a bit of effort, you can maintain a perfectly styled look.
How to Trim Your Side Burns
To prepare for trimming your sideburns, comb them in the direction of hair growth using a fine-toothed comb. Remember to follow the angle of hair growth, which can slightly angle toward the ears for some people. This ensures length, thickness, and evenness perspective and detangles hair for smoother trimming.
Select a clipper guard that matches the length of the surrounding hair. It's advisable to start by clipping the sideburns to the same length as the hair above, even if you desire shorter sideburns. If you're unsure about the correct guard to use, try a higher-numbered one such as #4 or #5. Clipper guards usually snap onto the end of the clippers and often have corresponding hair lengths marked on them, like 1/2 inch for #4. You can measure the surrounding hair with a ruler to determine the length and select the appropriate clipper guard.
To trim your sideburns evenly, start from the bottom using a clipper guard placed flat against the back of your upper cheek. While gliding the clippers upward, make sure the tip of the guard teeth is below your sideburn. Glide the clippers further upward, aligning with the top of your ear, before angling the trimmer up and away from your face. Repeat this process multiple times to ensure you don't miss any hair strands.
Tips for Trimming Sideburns
Maintaining your sideburns doesn't always require waiting until your next haircut. However, it's important to consider a few factors before using clippers on your face.
Sideburns shouldn't be cut higher than where the top of the ear connects to the head.
Trim sideburns so they're even with each other, not the ears.
Types of Sideburns
Long Sideburns
Go big or go home. Longer sideburns are great for framing the face and generally finish just below the ear. Before trimming, it is important to consider the shape of your face. Long, thin sideburns can be a great way to elongate the face; therefore, are perfect for men with broad, square, or round faces. In contrast, if your face is narrow or long, cut your sideburns wide to enhance your features. Finally, if you're looking for a faded beard shape up, long is the way to go. Let them grow down and trim accordingly to create a streamlined, rugged look.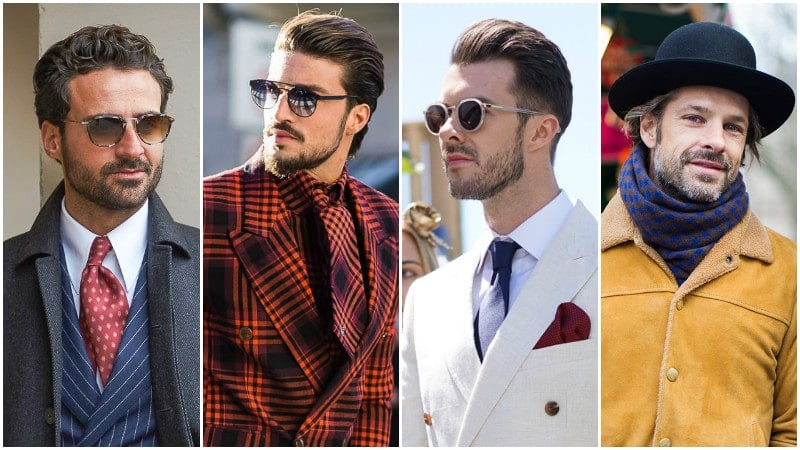 Short Sideburns
Short sideburns are great if your 9-5 job requires a formal look. This style works well with a clean-shaven face or minimal facial hair. Generally, to keep sideburns short and sharp, ensure the cut-off line stays above the bottom of the ear. If you're looking to change things up, play with the angles of the line or experiment with a short, tapered approach.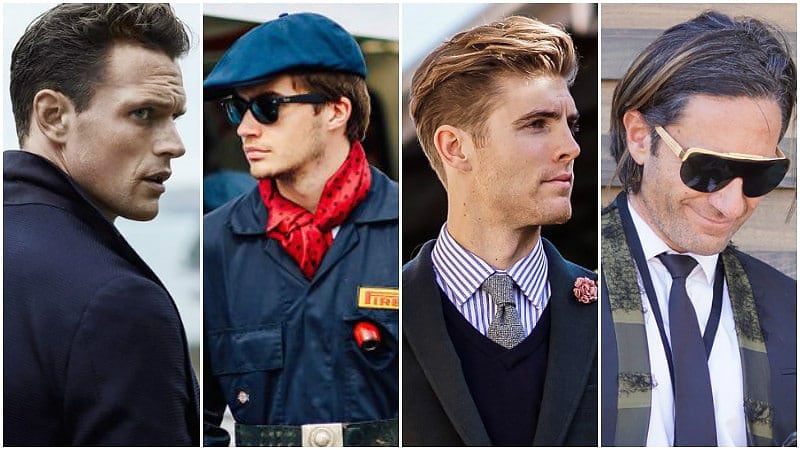 Tapered Sideburns
Tapered sideburns present a modern take on the classic sideburn. This faded effect is created by a gradual variance in hair length, with the thickest hair closest to the temples. Depending on how far down your face your sideburns extend and whether you are merging into a beard, the thinnest part will line up with a chosen section of the ear. Maintaining this look will require regular trims to ensure stray hairs don't transform your sleek look into a patchy mistake. Finally, this style can be great for men looking to disguise uneven hair growth.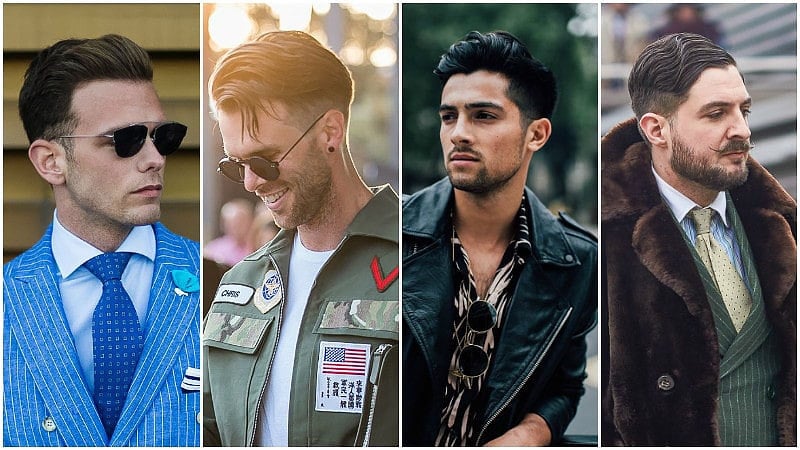 Skinny Sideburns
Polished and classic, skinny sideburns are the perfect sidekick for short, slicked-back hair. Regarding length, this style looks great, extended to the bottom of the ear or merged into a beard. When long, these skinny sideburns will draw the eye downwards and elongate the face. To create this look, use clippers to shape out your sideburns, then grab a razor blade for a sharp finish. Regular maintenance is required to remove any stray hairs, but the extra few minutes each day will be worth it.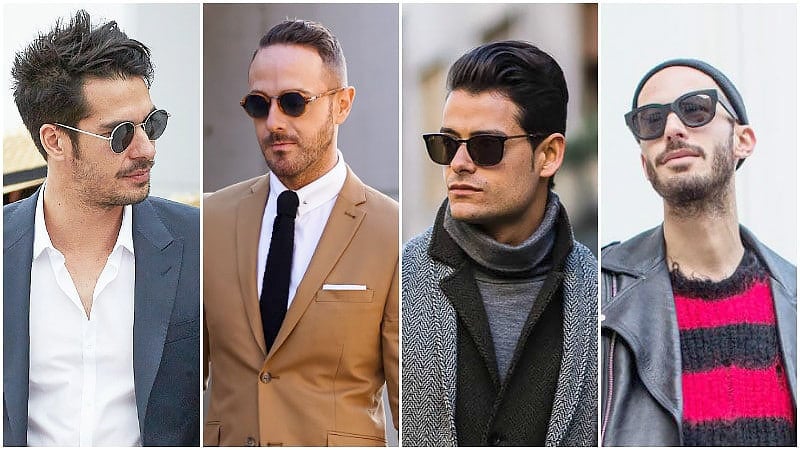 Mutton Chops
Mutton Chops are perfect for highlighting angular cheekbones and rugged jawlines. This Wolverine style consists of long, full sideburns that extend to the corners of the mouth and increase in width as they move down the face. To achieve this masculine look, let your sideburns grow out until they meet your beard. If you're a mustache man, feel free to incorporate this into your new mutton chops. Next, simply grab your clippers and sculpt out the shape. The key feature is a clean-shaven chin, however, leaving some hair on the neck underneath will slightly soften the look. This may be recommended if this is your first time! Finally, stay sleek by brushing the hair down with a comb.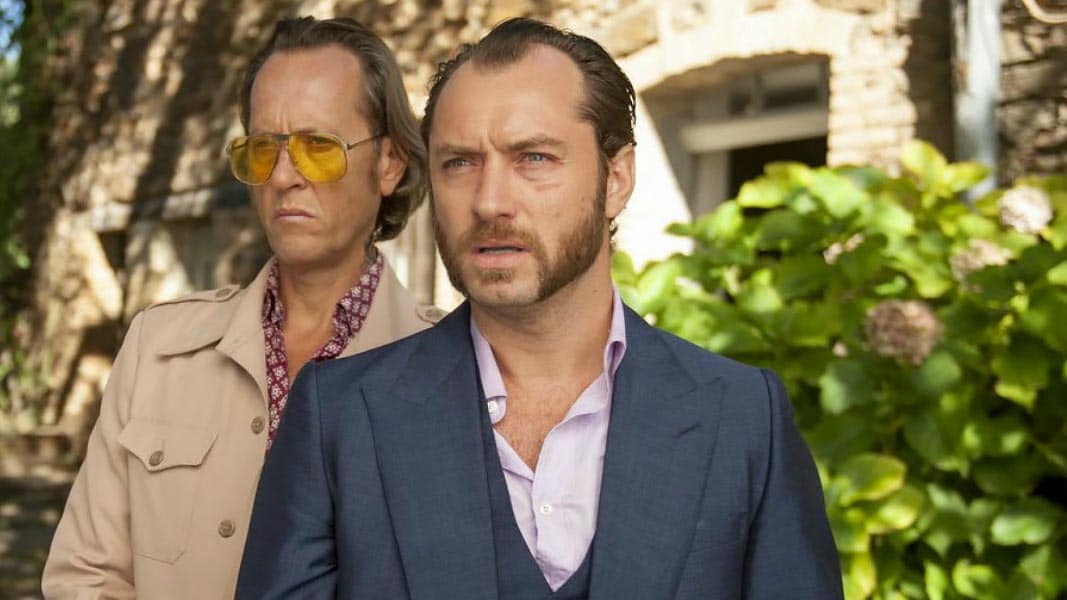 How to Trim Sideburns FAQs
Should guys have sideburns?
Sideburns are not the most popular hair choice, but they can symbolize rebellion and masculinity. There is also a wide variety of different styles to choose from, including tapered sideburns, long ones, and short ones, each of which lends itself well to a different look.
Is it OK to shave your sideburns?
If you prefer short hair, nearly trimming your sideburns is all you need. As a general rule, it is advised not to cut them higher than a quarter-inch from where your ear sits on your head. There is no need to shave your sideburns, and doing so could create a bigger problem for you, causing unwanted and prickly stumble.
Can you get your sideburns lasered?
You do not need to remove your sideburns, and doing so should only be because of personal preference. Laser hair removal can be done on many areas of the body, including your sideburns. It should be advised that this process will hurt, and you may find it uncomfortable that you can smell the hairs burning. That said, if you are looking for a more permanent form of hair removal, this is likely the way to go.
How long do sideburns take to grow back?
How long sideburns take to grow back depends on the process you used to remove them. That said, they should grow at a rate of around a quarter inch per month, although this can vary slightly from person to person.
At what age do sideburns grow?
For men, facial hair growth, such as sideburns, tends to grow around the age of puberty. In general, this could be around 15 or 16 years old. It may take some years more before they can grow a full beard.
Can anyone grow sideburns?
Anyone can grow sideburns. You can then decide whether you want to grow them into a beard and whether you want them long, short, tapered, thin, or thick like the mutton chops style, highlighting angular cheekbones and giving a rugged appearance to the jawline.
SUBSCRIBE TO OUR NEWSLETTER
Subscribe to our mailing list and get interesting stuff and updates to your email inbox.