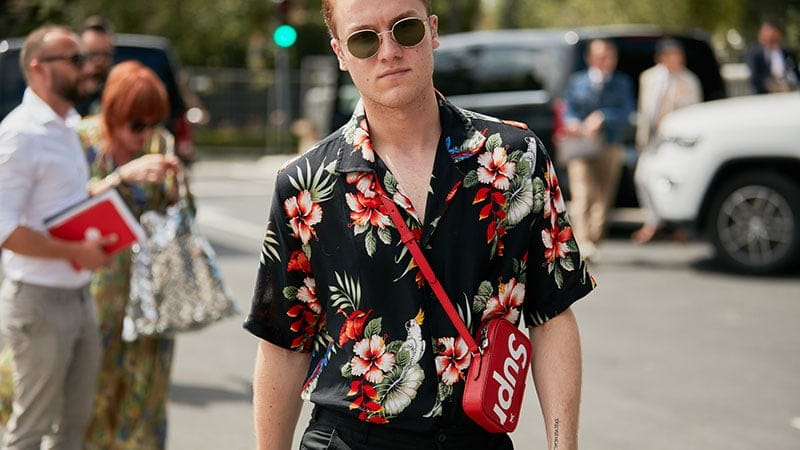 Hawaiian shirts have ebbed and flowed in and out of fashion, just like the Pacific tide on the shores of Oahu. It's a look that's appeared throughout pop culture, from Elvis Presley in Blue Hawaii and Tom Selleck in Magnum, PI, to Leo in Romeo & Juliet and Andy Samberg in Palm Springs. The style also regularly shows up in corporate offices on casual (or Aloha) Fridays and at every luau in Hawaii. Despite the fluctuations in popularity, they're currently very much on-trend and looking to hang about for quite a while. These fun, vibrant designs are the perfect way to embrace the spirit of Aloha and bring some tropical joy to your everyday wardrobe.
What is a Hawaiian Shirt?
A Hawaiian shirt, also known as an Aloha shirt, is a short-sleeved shirt with an all-over tropical print, usually featuring floral motifs such as hibiscus, palm trees, monster, and frangipani (plumeria). Often they also boast a relaxed camp (or Cuban) collar and button-up closure. Traditional cuts are loose and relaxed; however, more modern interpretations offer slimmer, more tailored shapes. The style was originally created by Chōtarō Miyamoto and sold in his store in Honolulu. After World War II, returned servicemen and women brought the shirts back to the mainland after being stationed in Hawaii, where they gained even more popularity.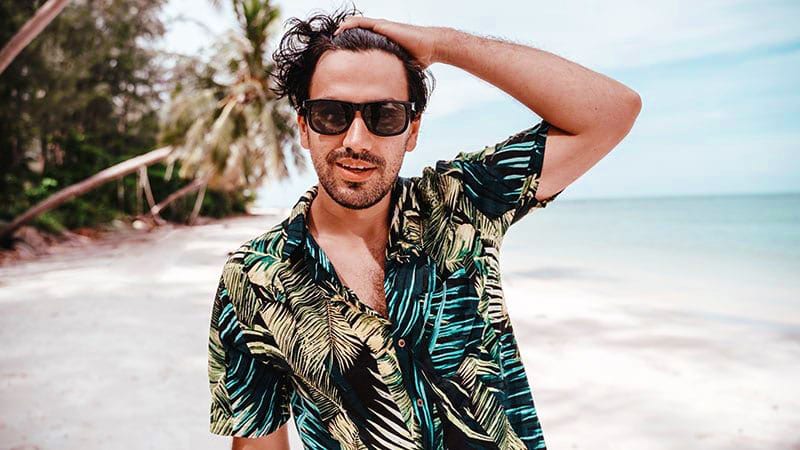 How to Wear a Hawaiian Shirt
The key to wearing Hawaiian shirts without looking like an over-indulged tourist comes down to a few fundamental rules. The first is fit. If you want to look stylish, opt for a more tailored straight or slim cut that flatters your frame. Secondly, you need to have some confidence, because people will recognize immediately if you doubt your look. If you're hesitant, start your Aloha shirt journey with a more subtle print. The final step is styling. Because the shirt makes such a statement on its own, keep the rest of your outfit plain. Work with the colors in your shirt to choose complementary shades for your lower half, and if in doubt, a neutral-colored pair of shorts or trousers will work in the majority of cases.
Hawaiian Shirt & Shorts
Shorts and a Hawaiian shirt is a classic summertime, vacay-vibe combination. These outfits look best with shorts above the knee, with a seven or nine-inch inseam ideal. Choose a single color from the print in your shirt, and find a pair of shorts that match that shade for a bright and fun take. Alternatively, if you want something a little more refined, a contrasting print such as navy and white paired with tailored navy shorts has a classic but cool feel. White and neutral shorts are also safe options. Avoid oversized shirts unless you're layering them over a plain t-shirt, as a straighter cut will look better. Finally, when it comes to choosing shoes, a pair of white sneakers like Common Projects or a pair of boat shoes in tan or navy are perfect. You'll look put together yet fresh and contemporary.
RELATED: The Best Shorts for Men (And How to Wear Them)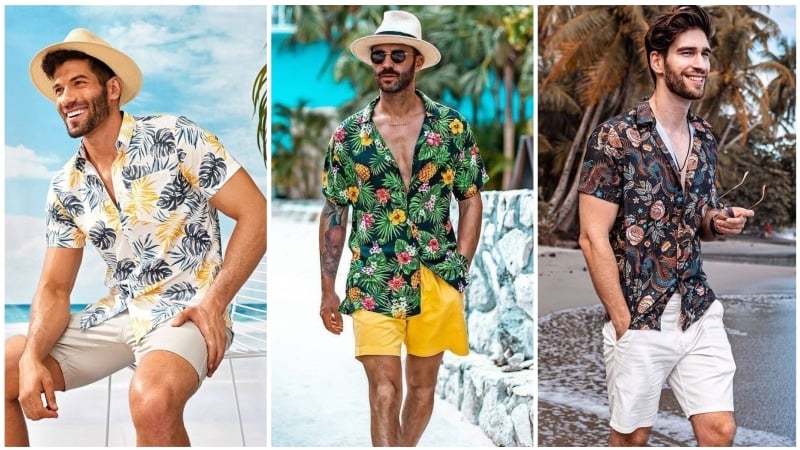 Hawaiian Shirt + Trousers/Jeans
Hawaiian shirts also look great with trousers for a smart-casual feel. However, similar to shorts pairings, it's best to keep your pants simple and let the shirt do all the talking. Try drawstring or pleated trousers for a casual yet easy look, or opt for flat-front trousers or chinos for the office. Avoid belts if you can to prevent too much visual noise, and select a slimmer cut shirt to suit the more tailored look. Tucked-in shirts are better if you want to look neat, although you can also wear them untucked depending on the situation. Alternatively, you can opt for an edgier, more urban Harry Styles vibe by wearing your Hawaiian shirt with skinny black jeans, black boots, and throw on a blazer if it's chilly. When it comes to shoes, sneakers, loafers, and boat shoes are your best bet.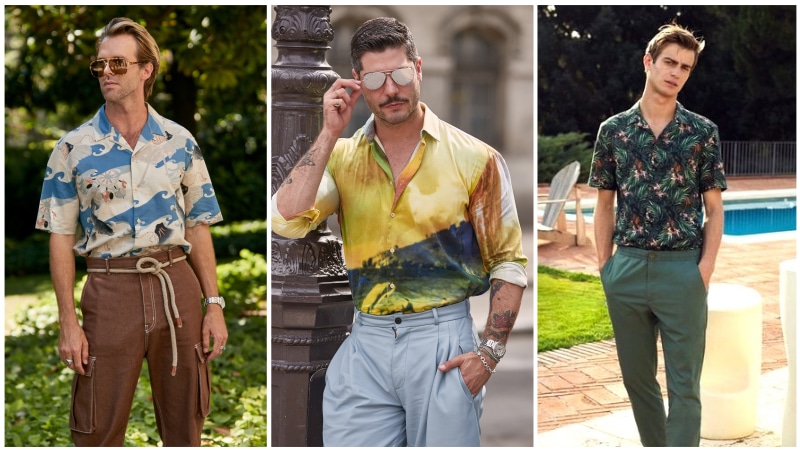 Best Hawaiian Shirts for Men
1. ALVISH Men's Flower Leaf Hawaiian Shirt
Embrace the tropical energy of this Hawaiian shirt from Alvish. The pattern features hibiscus flowers, banana leaves, and frangipanis (plumeria), all classic design choices for an Aloha shirt. It also has a camp collar and coconut buttons, adding to the relaxed vibe. If peach is not your color, you can get the same print with a different background, selecting from dark blue, mid-blue, and red. A classic cut makes it ideal for layering and regular wear, paired with a casual pair of shorts or light-colored slacks.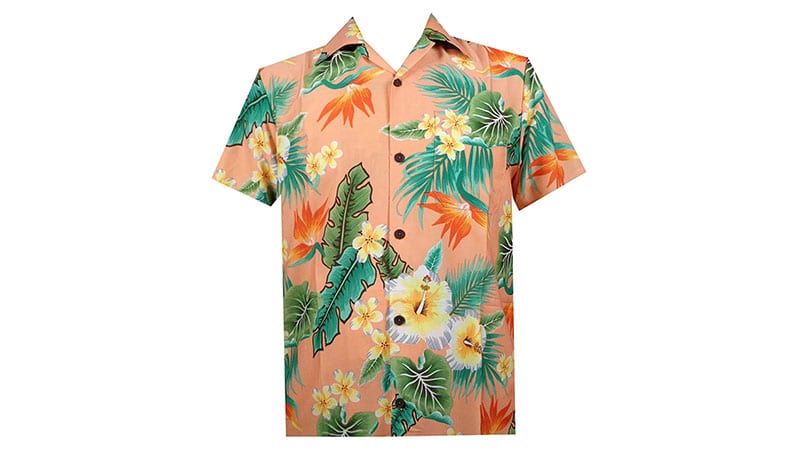 2. Hotouch Men's Hawaiian Aloha Shirt
Enjoy the comfortable fit of this Hotouch Hawaiian shirt. It's made from a polyester and spandex blend, so it has a bit of stretch for extra comfort and flexible movement. Match the stylish blue with a pair of navy chinos and loafers, or rock a more resort-wear vibe with white drawstring shorts and boat shoes. The soft camp collar ensures you look put-together without the restrictive feeling of a more structured garment. Meanwhile, the floral print featuring hibiscus, palm leaves, and monstera leaves is the perfect tropical vibe.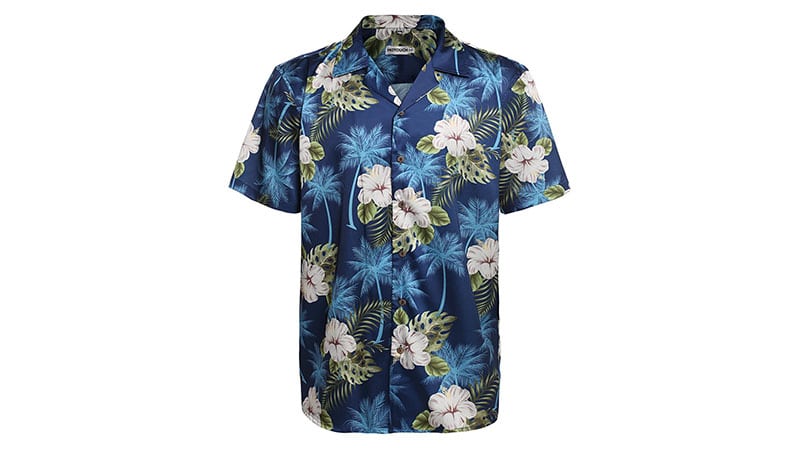 3. RJC Brand Tropical Parrots Men's Hawaiian Shirt
If you're not afraid of some loud color, then the tropical birds on this Hawaiian shirt from RJC brand are perfect! While they're bright and vibrant, the black background helps mellow out the pattern for a more sophisticated result. Let it do all the work with your outfit, and rock it Harry Styles-like with some tight black jeans and sleek black Chelsea boots. The shirt is made from 100% cotton, so it breathes exceptionally well, even on the hottest days. It also has a matching front pocket, coconut shell buttons, and a classic, soft camp collar. Best of all, it's handmade with love in Hawaii.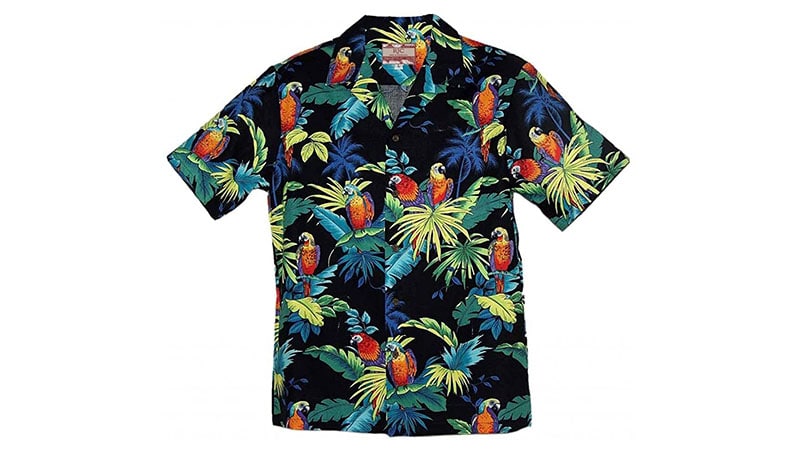 4. ALVISH Men's Aloha Beach Party Hawaiian Shirt
Get ready to party! Alvish knows how to make a fun shirt. Like other designs in the range, it boasts a camp collar, a perfectly matched front pocket, and coconut shell buttons. This particular Hawaiian shirt features pineapples, which, if you've ever had Dole Whip, will take you straight to the plantation on Oahu. Pick from the pink background, opt for an outlandish bright green or vibrant red, or tone it down with a navy or black background.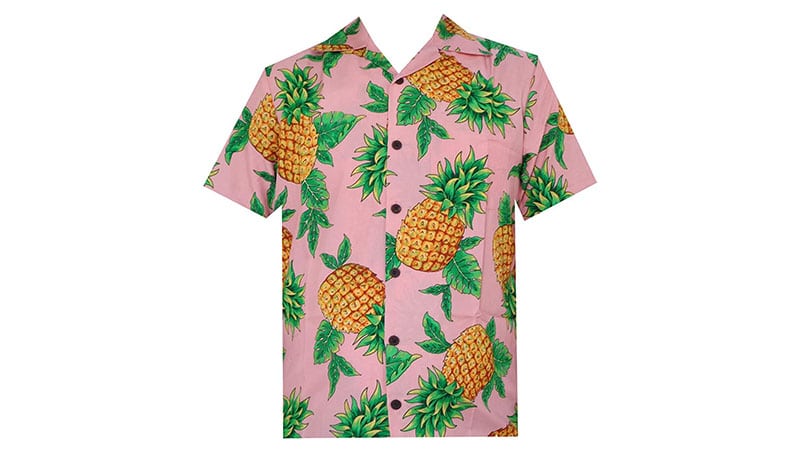 5. Hawaii Hangover Men's Hawaiian Aloha Shirt The New Classic
Most Hawaiian shirts are loud and proud. However, if subtlety is more your style, then this shirt from Hawaii Hangover is ideal. The vintage print is tropical with pineapples and hibiscus, but not over the top. It uses 100% cotton and is pre-shrunk, so you don't need to worry about it in the wash. Plus, it's a revamp of the brand's classic design and has a left chest pocket, coconut buttons, and camp collar. Because it's toned down, it will easily take you from the beach to a restaurant for dinner. Pair it with your favorite pair of white trousers and either boat shoes or loafers in tan or navy.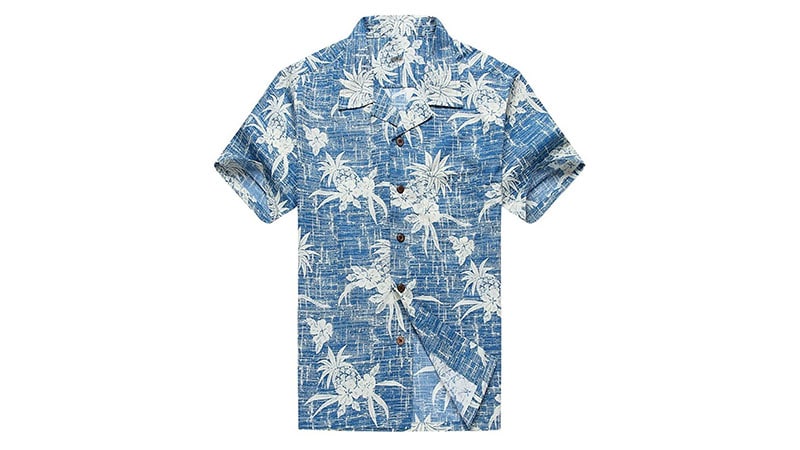 6. COOFANDY Men's Flower Shirt Hawaiian Sets
Go full festival vibes with a matching Hawaiian shirt and short set. This set from COOFANDY takes all the work out of choosing your outfit – just throw on some shoes and go. The best choices for footwear will either be classic white sneakers like a pair of Stan Smiths, casual loafers, or, if you're off to the beach, a pair of flip-flops. It uses an 80/20 cotton polyester blend for the perfect balance of breathability and stretch. Plus, it's quick-dry, water repellant, and incredibly lightweight. Other handy features include an elastic and drawstring waist, spread collar, and side pockets in the shorts. Lastly, the tropical print really channels the summer Aloha energy that comes with wearing a Hawaiian ensemble.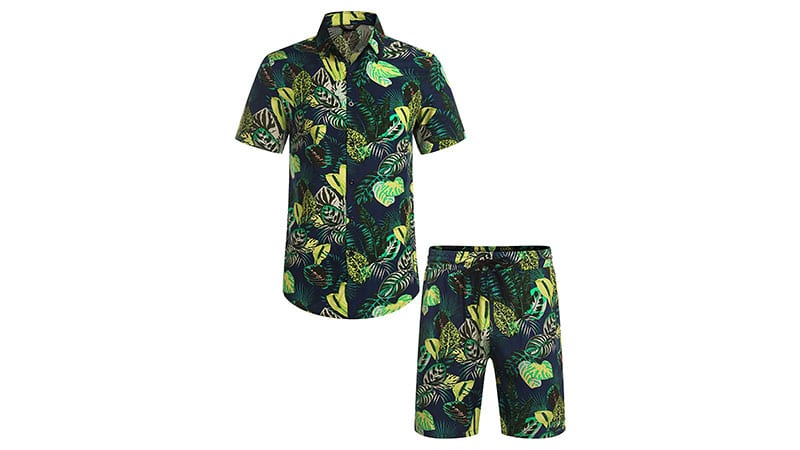 7. Amazon Essentials Men's Regular-fit Short-Sleeve Print Shirt
Keep it simple and easy with the regular fit Hawaiian shirt from Amazon Essentials. It's 100% cotton for the best in breathability and lightweight comfort and features a button closure, short sleeves, a patch pocket on the chest, and a spread collar. The light blue and white combination is fresh and universally flattering. Plus, it's easy to match. Rock it with some navy shorts, tan chinos, or even a light-colored casual suit for a beachside wedding. Best of all, like everything from Amazon Essentials, it's a great price, so even if you have a limited budget, you can still rock the Aloha shirt.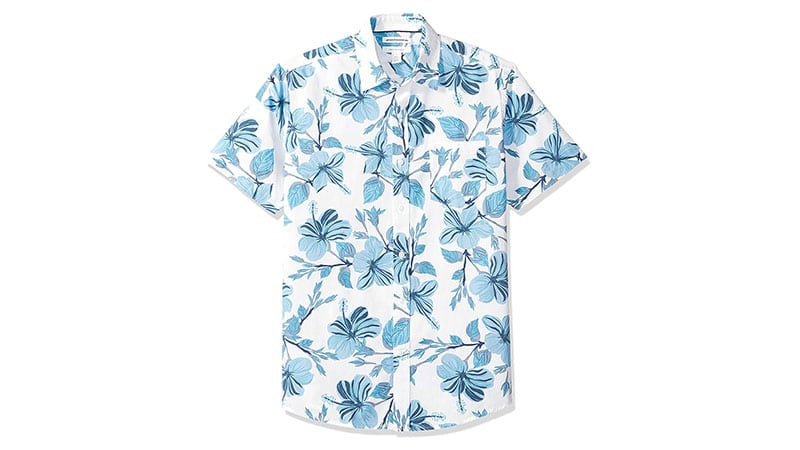 8. 28 Palms Men's Standard Fit 100% Cotton Hawaiian Shirt
The standard-fit of this Hawaiian shirt from Amazon brand 28 Palms suits most gents, with sizing ranging from XS to 4XL. It has room to move without being oversized and bulky. The light blue tropical print is also wonderfully versatile. Pick any color from the pattern for your pants to create an easy, put-together look. Try bright red swimming trunks for the beach, orange tailored shorts for sightseeing, or pick a pair of dark blue trousers for afternoon drinks followed by dinner. Lastly, 100% cotton makes this shirt lightweight and breathable, perfect for the summer months.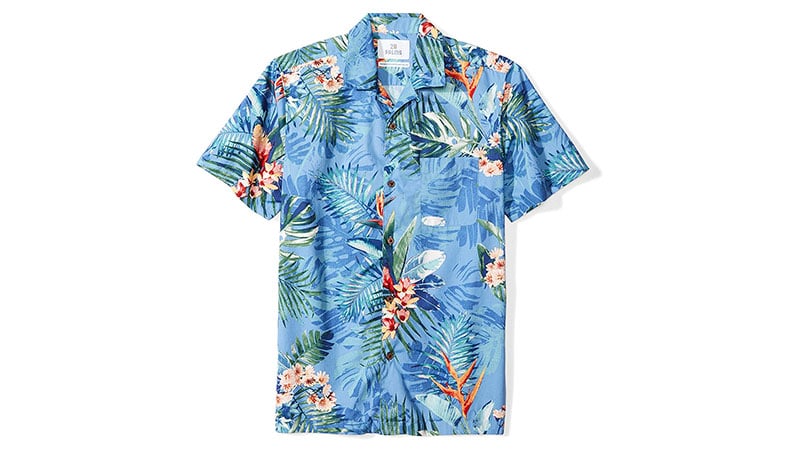 9. Goodthreads Men's Standard-Fit Short-Sleeve Printed Poplin Shirt
Take vacation vibes from the beach to home with this Hawaiian shirt from Goodthreads. It's made from poplin, a cotton fabric with a closed weave and distinctive texture that is lightweight with a nice drape. Combined with the standard-fit, tapered waist, and pleated back yoke, it's a flattering fit across the board. Other details include a button-down collar, patch chest pocket, and button closure. The more tailored fit means this shirt looks excellent tucked into black jeans matched with boots for a casual barbecue with friends. Alternatively, untuck it from your jeans and throw on some Converse for a more street-style vibe.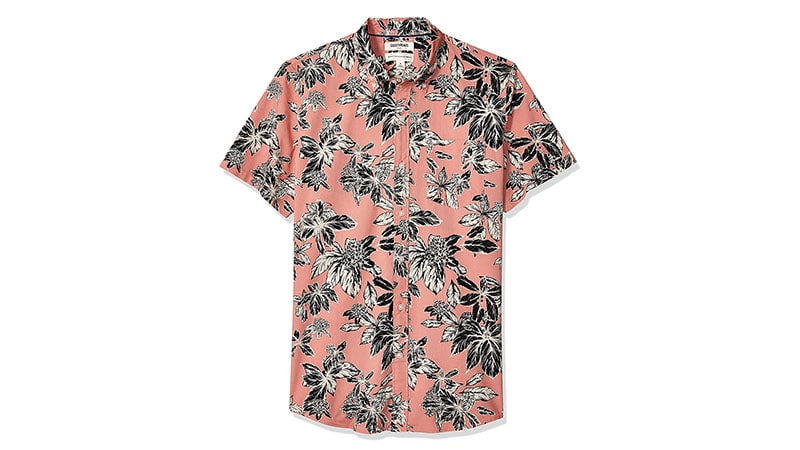 10. Alimens & Gentle 100% Cotton Regular Fit Short Sleeve Casual Hawaiian Shirt
You'll be looking hot like sunrise rocking this Alimens & Gentle Hawaiian shirt. The vibrant red print might have some serious Dad vibes, but paired with the right outfit, you'll be on-trend. Layer it over a crisp white t-shirt and firmer fitting black shorts, and add a pair of Common Projects Original Achilles Leather Sneakers in black. The shirt itself is 100% cotton, so it helps you sweat less and stay cool. It also features a soft camp collar, button closure, and comfortable, regular fit.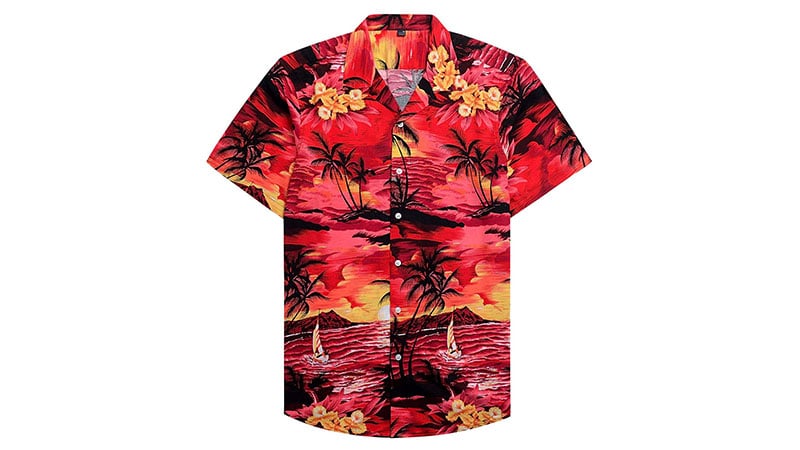 11. RJC Boy's Waimea Sunset Hawaiian Shirt
Little gents can get in on the Hawaiian shirt action too. This boy's shirt from RJC has the same styling as the men's option, including pocket, camp collar, and coconut shell buttons. It's made in Hawaii from 100% cotton, so it's super breathable and comfy for all the adventures little tykes go on. Select from three colors, including turquoise, navy blue, and orange. Each will look great matched with stone-colored shorts and mini Converse hi-tops!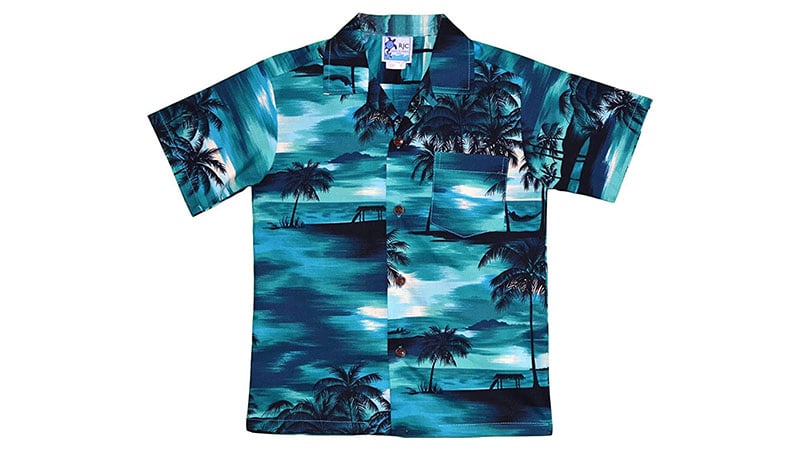 12. King Kameha Cherry Parrot Hawaiian Shirt
Enjoy the smooth feel of the fabric in this Hawaiian shirt from King Kameha. It uses 100% terivoile, a polyester woven to feel like silk but is much easier to care for. Consequently, it drapes amazingly for a flattering fit, is incredibly lightweight, dries quickly, and doesn't require any ironing. The cherry parrot adds an element of fun and an extra pop of color. Plus, you're not limited to just blue, as this design comes in a total of 11 colors, including hot prink, bright yellow, lemon green, petrol green, black, and navy, to name a few. It's the perfect tropical wardrobe addition to bring the vacation feels home.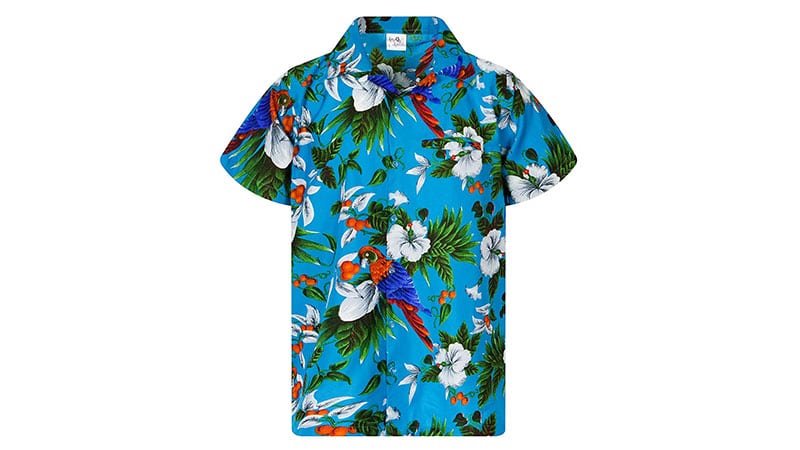 13. COOFANDY Men's Hawaiian Aloha Shirt
Channel your inner Elvis Presley from Blue Hawaii when you're rocking this shirt from COOFANDY's. The print, featuring pineapples, hibiscus, and ukeleles, is reminiscent of The King wooing the ladies on the beach with his dulcet tones in the iconic 1961 film. Enjoy soft, comfortable fabric with button closure and spread collar. The black background makes it easy to incorporate into urban style. Keep it sleek by pairing it with skinny jeans and black boots, or rock it for casual Fridays, matching a pair of sand-colored chinos and brown loafers for the perfect weekend-ready energy.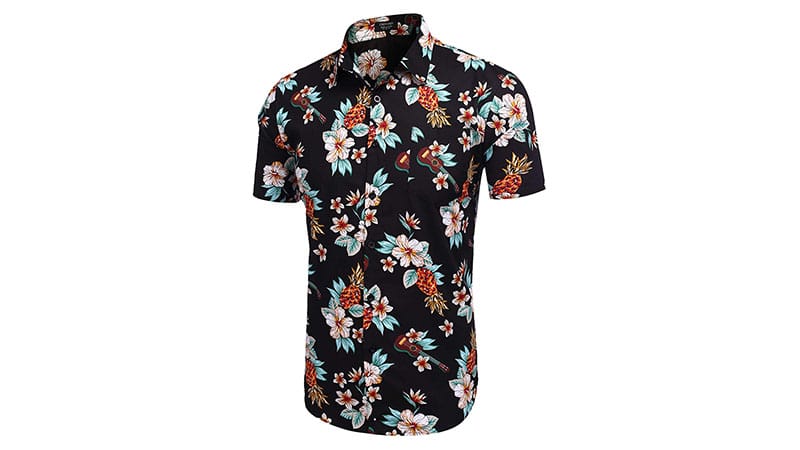 14. Brooklyn Athletics Men's Hawaiian Aloha Shirt
Brooklyn Athletics has a more modern take on the Hawaiian shirt. Despite the vintage effects and print, the silhouette takes inspiration from current East Coast surf and skate culture. As such, it features shorter sleeves, a crisp button collar, slim fit, button-down styling, and a scoop hem. It's retro yet contemporary at the same time. Wear it casually with a pair of shorts, or add a blazer and trousers for a relaxed night out. The material mixes 60% cotton and 40% polyester to balance breathability, durability, comfort, and performance.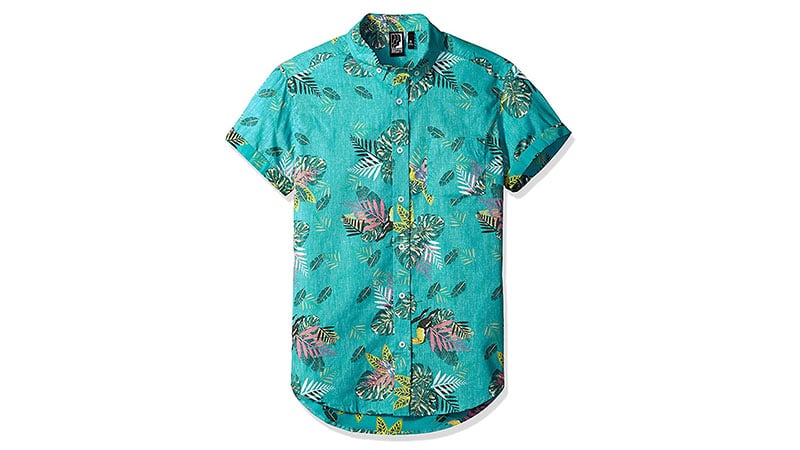 15. Bamboo Cay Men's Short Sleeve Hawaiian Casual Embroidered Woven Shirt
Keep it simple by rocking a palm tree embroidered Hawaiian shirt. This design from Bamboo Cay is on the more conservative end of the Aloha shirt spectrum, but it's great for making a more subtle island lifestyle statement. The relaxed fit lets the air move around your body, keeping you cool. Meanwhile, enjoy details like coconut buttons and smooth, soft fabric that's machine-washable. This is perfect for weekend barbecues with friends, date nights at a beachside bar, or casual days in the office.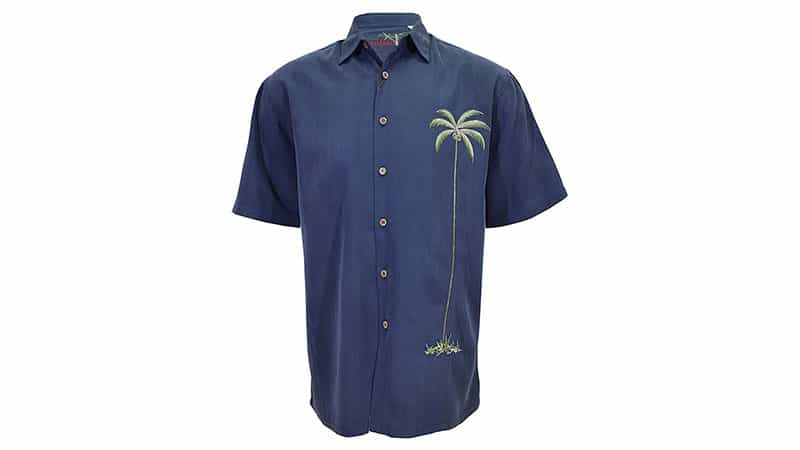 16. VATPAVE Men's Floral Hawaiian Shirt
Open buttons are a must on this festival-style Hawaiian shirt. The cuffed sleeves, relaxed fit, and modern print make it a great option when you want something fun but without too much noise. It also features a spread collar for a less uptight feel and a lightweight cotton-viscose blend that combines breathability with convenience. Wear this with skinny jeans, chukkas or vans, a pair of sunnies, and a fedora, and you'll be Coachella ready in no time!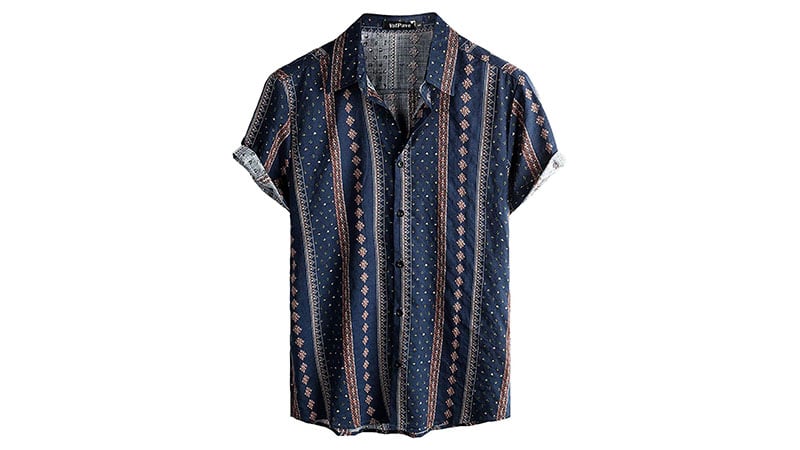 17. APTRO Men's 4 Way Stretch Hawaiian Shirt
Black and white is a classic combo for a reason. It's sharp, clean, and effortless — precisely what this shirt from APTRO also is. It uses a super comfortable polyester with four-way stretch for the ultimate flexibility that moves with you. Plus, it's also very lightweight, wrinkle-free, quick-drying, and UPF50. Keep your look monochromatic and refined by wearing it with black chinos and black loafers. Alternatively, a pair of white linen shorts and brown leather sandals will give you a fresh, resort-wear look.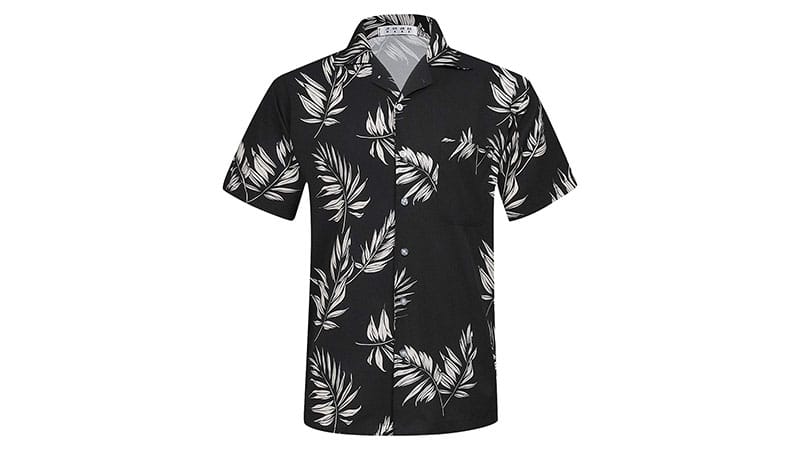 18. Reyn Spooner Men's Hawaiian Aloha Shirt
Clean, fresh styling is the goal with this monochromatic Hawaiian shirt from Reyn Spooner. The beauty of a black and white shirt is that it goes with anything. Try combining it with olive trousers and tan loafers, go dark with all-black for the rest of your ensemble, or pick a brightly colored pair of shorts to contrast. The Classic fit is a traditional Aloha cut, so you've got plenty of room for movement and comfort. Additional shirt features include a box pleat yoke, button-down collar, and expertly matched pocket. Lastly, it's made with the brand's traditional Spooner Kloth with cotton-polyester blend, reverse print vintage look, exclusive pattern designs, and, best of all, wrinkle-free finish.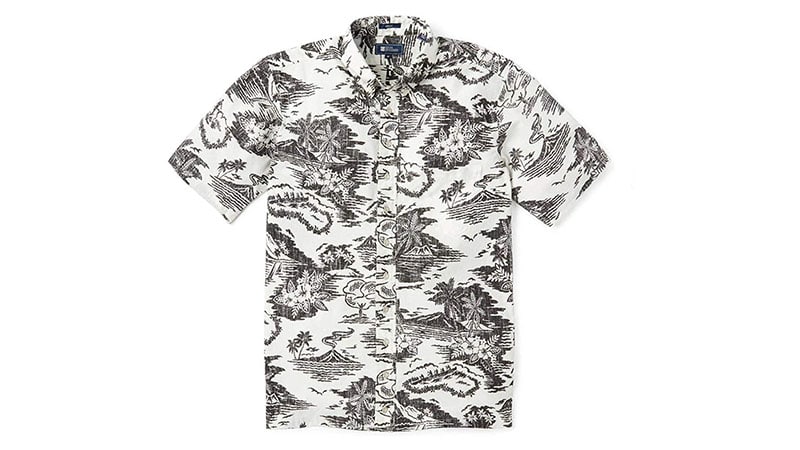 19. 28 Palms Men's Relaxed-Fit Silk/Linen Tropical Leaves Jacquard Shirt
Treat your skin to the soft and luxurious feel of silk and cotton. This relaxed fit Hawaiian shirt from 28 Palms combines both a comfortable cut with 55% silk and 45% linen for instant vacation relaxation vibes. The vibrant coral print, which utilizes different depths of the same shade, is fun without being ostentatious. Extra details include a convertible collar, left chest pocket, straight hem, and side vents. While this looks great buttoned-up with your favorite shorts, the generous cut through the chest wand wait also makes it ideal for layering over a crisp white tee.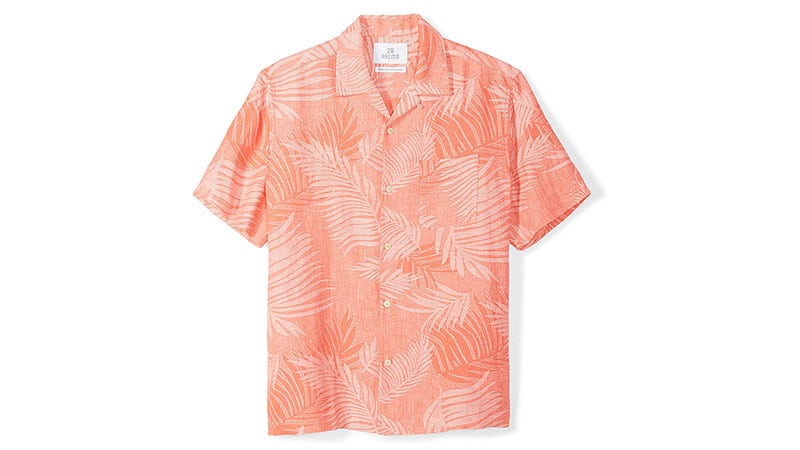 20. 28 Palms Men's Slim-fit Stretch Cotton Tropical Hawaiian Shirt
The earthy tones in this slim-fit Hawaiian shirt from 28 Palms work perfectly with shades like beige, tan, and olive. As such, matching it with shorts or trousers in these shades makes styling effortless. Throw in some loafers, suede sneakers, or even chukka boots, and you're ready to roll. Meanwhile, the slim-cut is very flattering and is perfect worn on its own, with no need to layer. Lastly, the mix of 97% cotton and 3% elastane provides just the right amount of stretch balanced with the breathability of natural fabrics.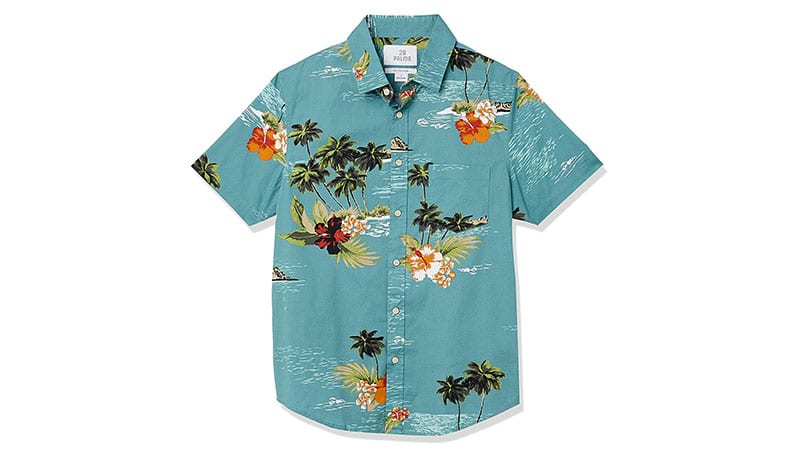 FAQs
What are Hawaiian shirts called?
Hawaiian shirts are also called Aloha shirts.
Do Hawaiians actually wear Hawaiian shirts?
Absolutely! The Aloha shirt is a staple of locals in Hawaii and a source of pride. The chilled, laidback vibe of the islands means they're regularly found in corporate offices, as part of uniforms, and in everyday wear. Plus, in some instances, they're also considered formal attire. Locals generally won't wear the bright, flashy touristy kinds, instead opting for sophisticated, stylish designs in natural fabrics such as cotton. 
Are Hawaiian shirts in Style?
Hawaiian shirts are definitely in style. Rock them with tailored shorts and a pair of boat shoes for a casual vibe, or pair them with chinos or skinny jeans for a dressier, more urban feel. 
Should I wear an undershirt with a Hawaiian shirt?
Wearing an undershirt is a personal choice. A plain color tee under a looser cut, unbuttoned shirt can look great. However, many modern styles feature a straight or slim cut design that's intended to be worn on its own, as the style is more flattering.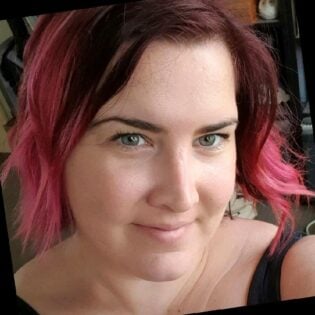 Alexandra Linde is an experienced writer holding a bachelor's degree in Journalism. She is the owner of Alexandra McKiterick Creative and has expertise in travel, fashion, fitness and lifestyle. Alex has previously written for Flightcenter, Travello, and Backpacker Deals.
SUBSCRIBE TO OUR NEWSLETTER
Subscribe to our mailing list and get interesting stuff and updates to your email inbox.