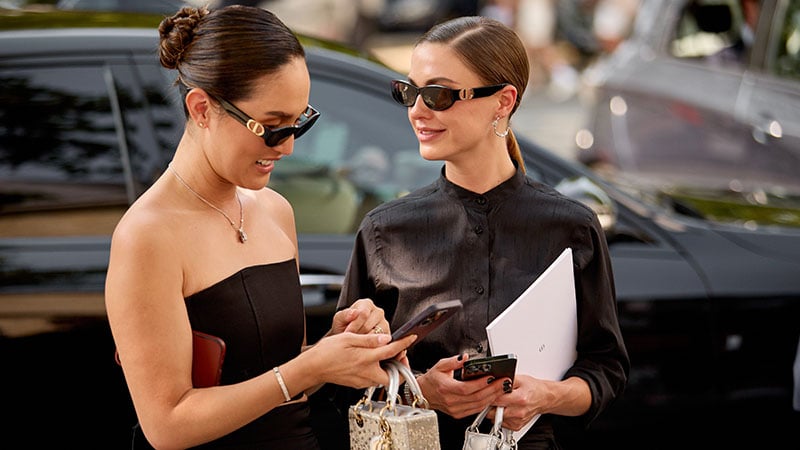 It's one of the most important events on the calendar, and this season's Paris Haute Couture Fashion Week Autumn/Winter 2023 certainly did not disappoint. Not only were the runways packed with creative, innovative, and beautiful designs, but the street style was also off the charts. With '80s-inspired silhouettes and, of course, Barbiecore, this season is sure to inspire you. Refresh your closet and embrace your inner fashion girlie with these top fashion trends from Paris Haute Couture Fashion Week AW23.
RELATED: The Best Street Style from Paris Couture Fashion Week AW23
1. Tiny Bags
Just when you thought micro bags were out, they're right back in. These tiny accessories are a cute way of elevating an outfit, and although they may not have much function, they're a great trend to try. This season, we're typically seeing them with delicate straps hanging across the body or as a handbag. While these don't have to be strictly for function only, it's a great idea to find something that can fit one item inside – be it your phone, your keys, or your lipstick.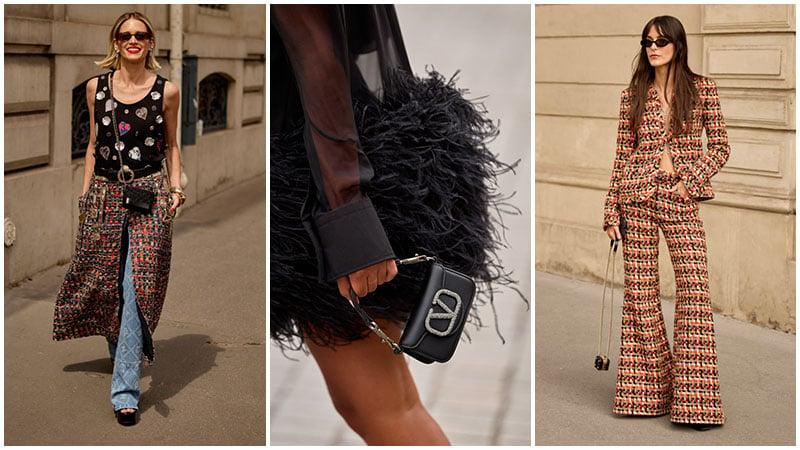 Get the Look
2. Ballet Flats
We're welcoming the return of the humble ballet flat, but this time, it's getting an upgrade. This stylish and sophisticated shoe is versatile, meaning you can wear it with anything – for trousers or midi skirts, a pointed toe will create the illusion of longer legs. Round and square toes look fantastic with mini skirts and dresses – lean into balletcore with a pair of baby pink flats with a square toe. Prefer a more classic take? You can't go past a two-tone pair, taking a leaf from Chanel's handbook. This is the ultimate shoe for sunny days, and they're also fantastic during transitional seasons.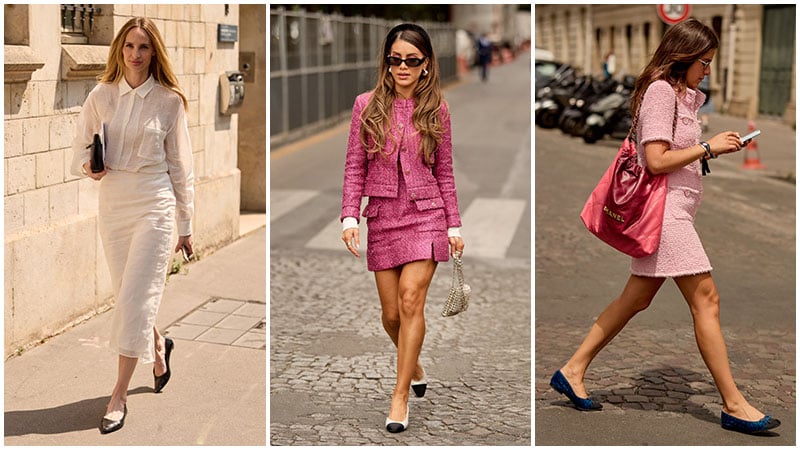 Get the Look
3. Barbiecore
It's no secret that Barbie has taken over our lives recently, and if you're a fan of the doll or the film, there's no better way to pay tribute than by channeling Barbiecore. Of course, this trend wouldn't be complete without pink – so be sure to start with your favorite shade and work your way from there. Choose anything from fuchsia to bubblegum – add in a pair of pink, nude, or sparkly shoes and matching accessories to complete the look. When all else fails – if you can imagine it on Barbara Millicent Roberts herself, it's the perfect look.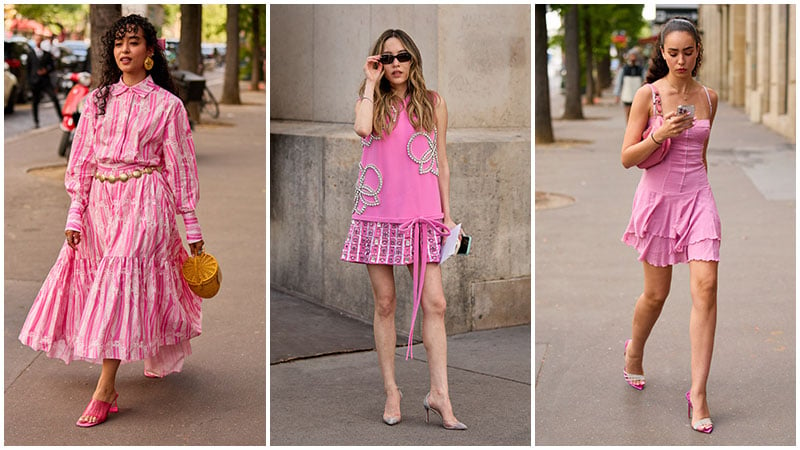 Get the Look
4. Train
If you're after the perfect way to add drama to an otherwise casual outfit, look no further than a train. This extravagant style requires plenty of fabric to float and billow past down your back and onto the ground, so we recommend pairing it with a mini skirt, trousers, or anything that gives you room to move. If you would prefer a dress, stick to something with a shorter hemline so you can fully embrace the drama. While you're not likely to wear it to the office, it's a fantastic choice for a night on the town or attending an important event. Dress the look up or down with a pair of strappy heels and gold hardware, or you could swap out heels for sandals or ballet flats, giving it a more laid-back feel.&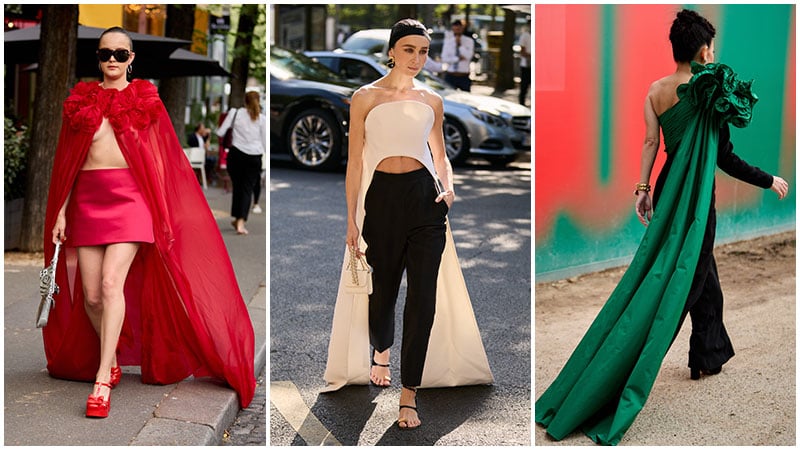 Get the Look
5. Silk Dresses
A trend that will last the rest of time, the silk dress is making its way back on our radar. While the '90s slip dress was formerly the most popular style, this season, we've spotted a plethora of different silhouettes and lengths. If you are planning on attending a semi-formal or cocktail attire event, try your hand at a one-shoulder dress with an asymmetrical hem. If you want to keep things casual, a midi sleeveless dress is the perfect summer staple, or opt for a mini with a shift silhouette or a design that accentuates your curves. Thanks to its shiny fabric, you don't have to overdo it with anything else – keep the look clean with minimal jewelry and similar-tone accessories.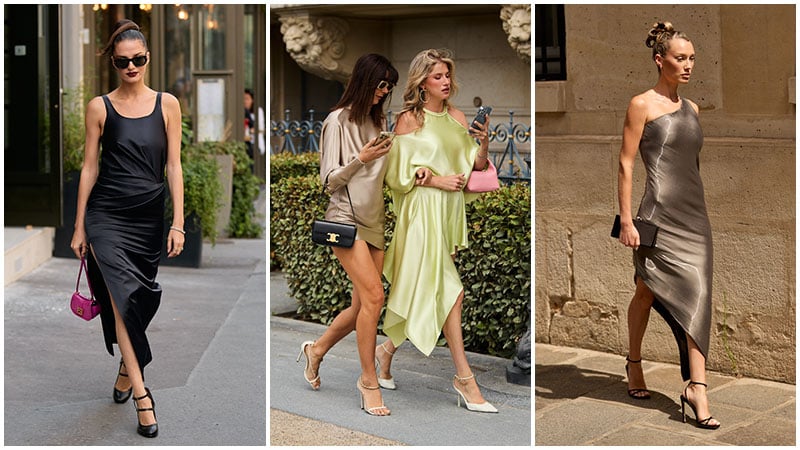 Get the Look
6. Madonna-Inspired Corset
Calling all Material Girls – this '90s trend is back and better than ever. This trend was inspired by Madonna's Blonde Ambtion tour, with costumes famously designed by Jean Paul Gaultier. The cone bra was transformed and featured in plenty of other designers' works, most recently including Schiaparelli. Channel the runway style by pairing the bold top with something subtle and classic on the bottom – a pair of black capri pants or a plain mini skirt is a fantastic combination to try. You can also choose a mini dress that contours your figure or creates an entirely new silhouette. No matter what you choose, you'll be as fashionable as the Queen of Pop herself.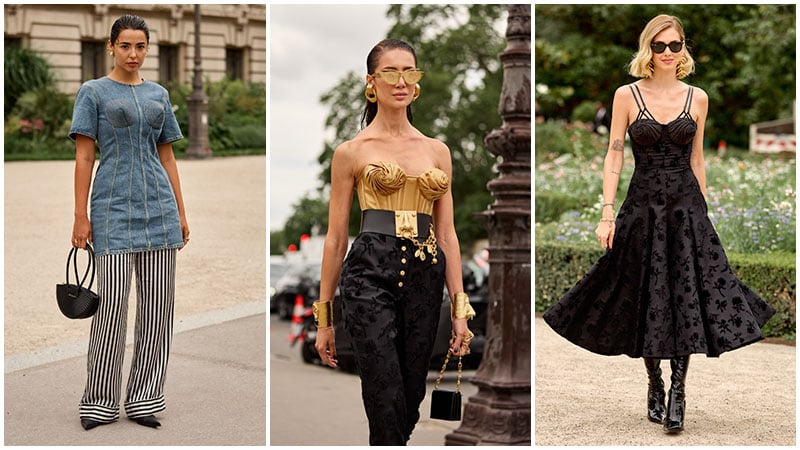 Get the Look
7. Mary Janes
From Clueless to Sex and the City, Mary Janes have been an iconic piece of footwear. These shoes have been around for over a century, and they remain a staple shoe for every wardrobe. You can find these with a low, chunky heel, flat, or with a sky-high silhouette. The classic black style works with almost any outfit, but white, cream, brown, and blue make for great alternatives. When styling, we recommend wearing a skirt or dress that shows off your lower calf and ankle can help highlight the footwear. This design has come a long way since 1904, and we love seeing it back in the spotlight today.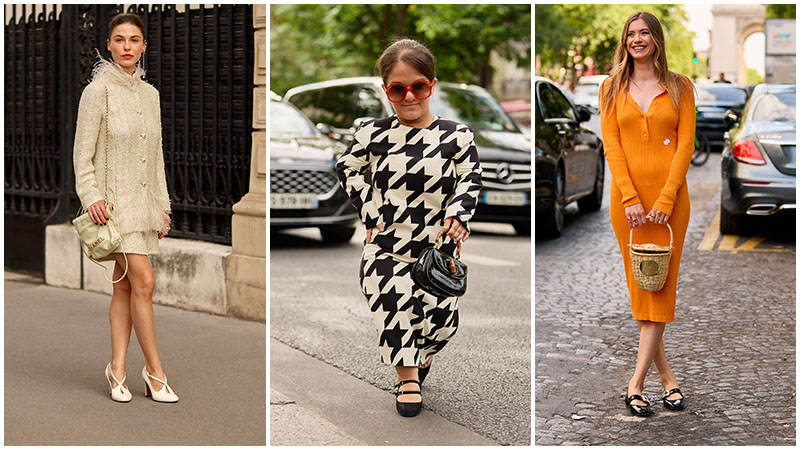 Get the Look
8. '80s Mania
While we may still be enjoying the Y2K fashion, the '80s fashion is creeping back in a new way. With core concepts from the decade, such as oversized shoulder pads, white pumps, and taffeta dresses, this modern interpretation is predicted to be major. To rock this style, make sure you flatter your proportions, even if they're a little over the top. A blazer with large shoulder pads should feature a tighter waist, creating an hourglass silhouette. For a cocktail attire event, opt for a bubble skirt or taffeta mini dress in a bold shade – Bardot sleeves or strapless necklines give it an '80s flair without feeling like a costume.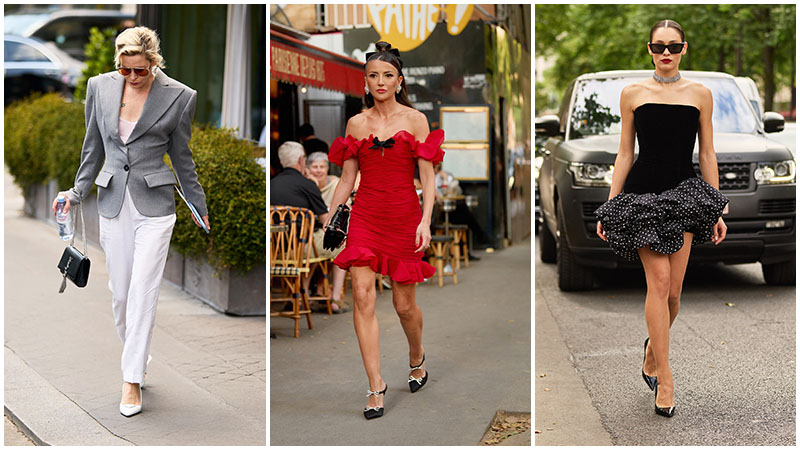 Get the Look
9. Statement Pants
If you want your legs to do the talking, why not try this bold trend? Statement pants were spotted across the streets of Paris, each worn with a distinct style. Cargo pants with plenty of pockets will create a structural-yet-casual feel, whereas a pair of trousers with fringe, layers of shredded fabric, or movement are perfect for more formal events. To style these to the max, steer clear from any top that is as bold as your bottom half. The same goes for accessories. – it will emphasize your pants and give them the spotlight they deserve.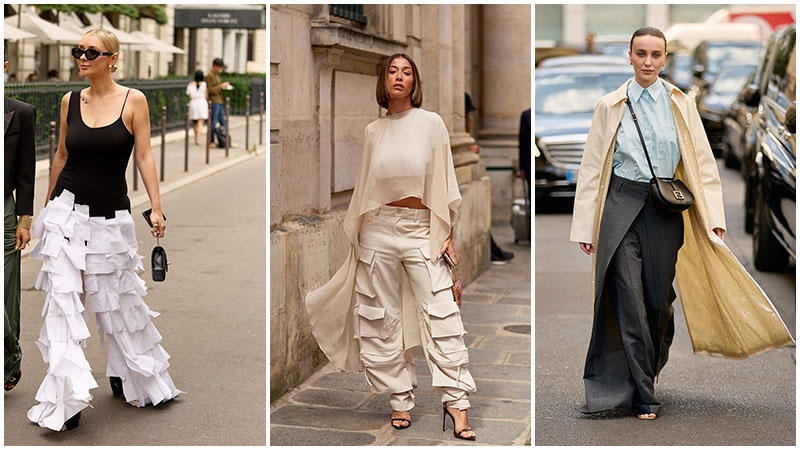 Get the Look
10. Feather Accents
If you're feeling withdrawals from a Harry Styles concert, or you want to unleash your inner goddess, this trend is perfect for you. Feathers are an extravagant and stylish embellishment that totally transforms your look – if you don't want to use bird feathers, there are plenty of vegan alternatives to try. From a bold ostrich feather boa to a pair of feather-trimmed pair of stilettos, you can create a dramatic and unforgettable outfit instantly. Because of its scene-stealing quality, you don't have to do too much with the rest of your accessorizing – it's time to embrace your inner film star!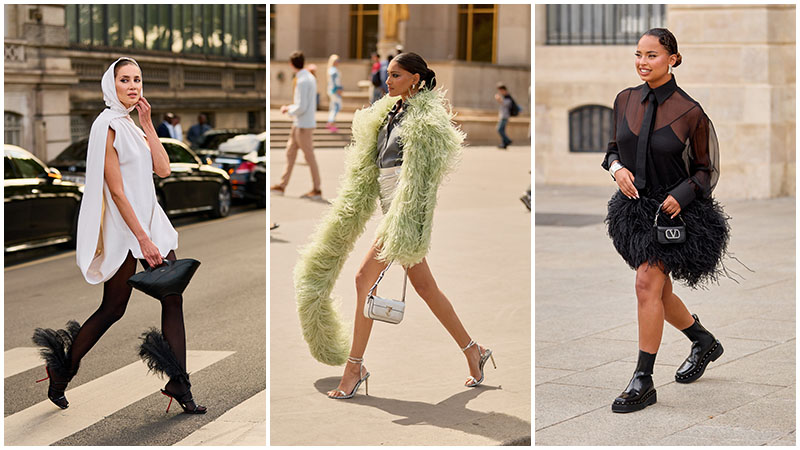 Get the Look
SUBSCRIBE TO OUR NEWSLETTER
Subscribe to our mailing list and get interesting stuff and updates to your email inbox.