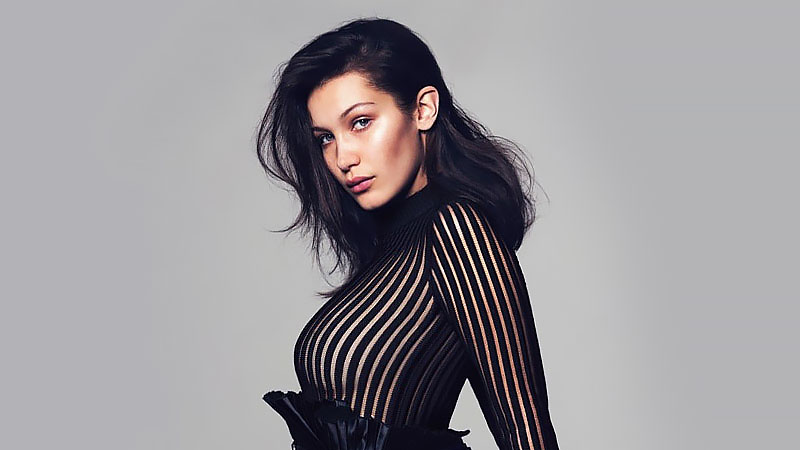 At just 19 years of age, Bella Hadid has already defined her personal style and knows how to work it. Carrying a penchant for black, the model and social media star rocks a gothic glam look to perfection. A far cry from her older sister Gigi's sartorial preferences, Bella opts for a sultry style which is characterised by her sleek, brown hair and form-fitting outfits. With jewellery which is always on point and high doses of attitude-heavy leather, it's easy to see why Bella has become a style icon for 2016. Read on to see how you can recreate Bella's chic, confidence-filled style for yourself.
1. Head to Toe Black
If you hadn't already realised, Bella's style is centred around the colour black. Rarely spotted in bold colours or prints, the California-born model clearly prefers a more "New York" style and is often photographed in head-to-toe black. Whether she's on the street or attending an awards ceremony, Bella doesn't often go past her favourite fashion colour. Add a healthy dose of this simple and flattering hue to your wardrobe with key styles such as skinny jeans, a leather jacket and a little black dress.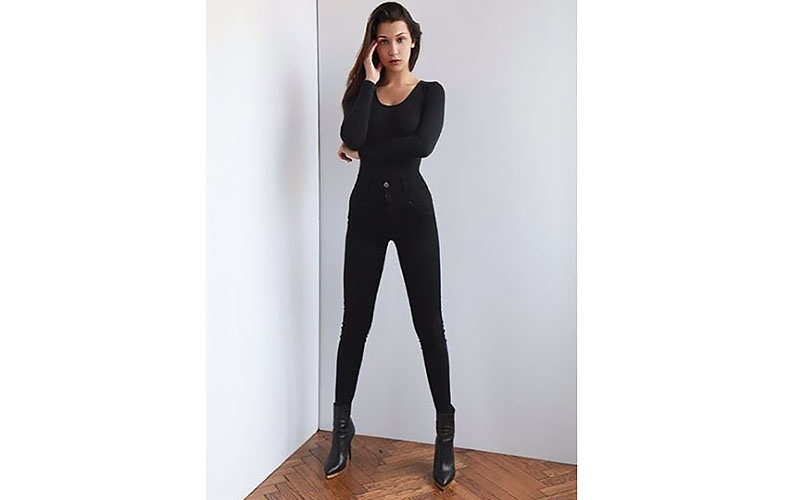 Get The Look
2. Pleather Pants
It may not be the easiest look to pull off but Bella manages to work pleather pants flawlessly. Ideal for showing off her killer body, Bella wears these figure-hugging pants higher on her waist to keep things chic and avoid looking like a dominatrix. She also pairs them perfectly with a crop top and heavy jacket to show just the right amount of skin. Get your confidence on and try a pair for yourself. Just remember to style like Bella!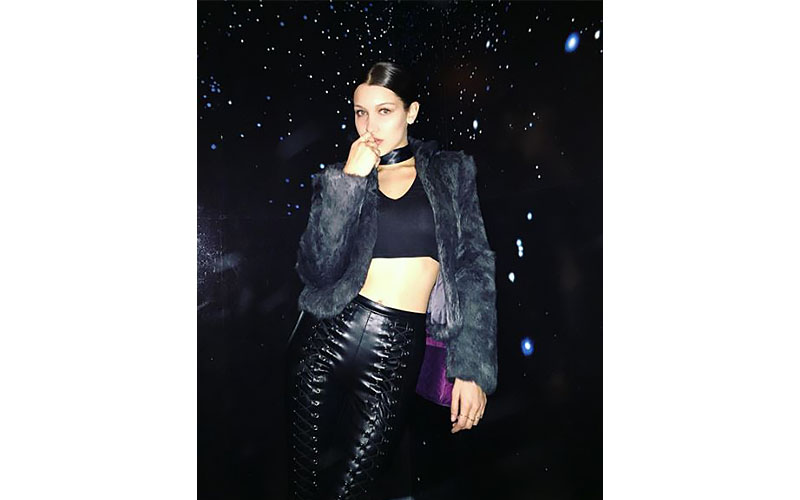 Get The Look
3. Tight, Low-Cut Dresses
Bella's signature sultry and glamorous style is culminated in her favourite style of dress. Tight, low cut dresses are a wardrobe staple for Bella. Often worn in black, Bella wears form-fitting dresses with plunging necklines to an array of important events and functions. Finished with sleek hair, flawless makeup and the perfect accessories, Bella finds the perfect balance between classy and sexy every time.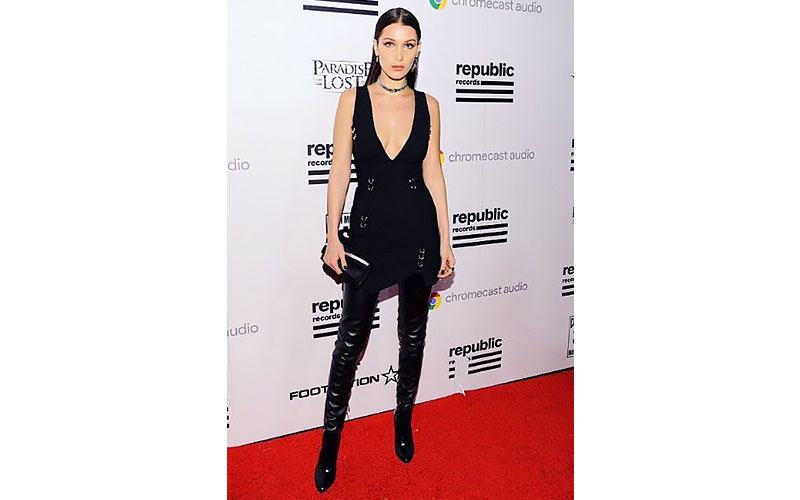 Get The Look
4. Sheer Top and Statement Bra
Being fashionable and being confident go hand-in-hand. If you want to emulate Bella's style, then you must be confident in your sartorial choices. Rocking a sheer top and statement bra may not be for the faint-hearted but just look how stylish it can be! Bella often works this style perfectly in all black with classic accessories and polished beauty. If you're feeling a little self-conscious, add a jacket in a biker or bomber style to maintain the look while showing less skin.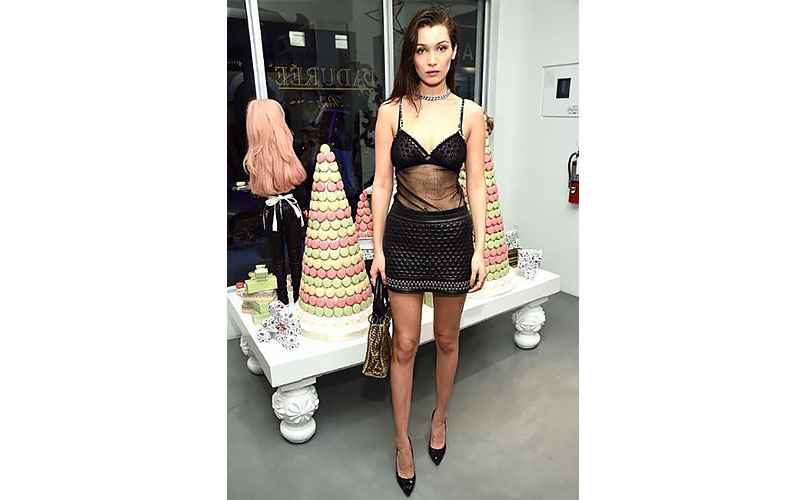 Get The Look
5. Mom-Jeans
Bella's off-duty style is a combination of relaxed pieces and chic styling. Unlike the many models who stick religiously to skinny jeans, Bella often works "mom-jeans" into her wardrobe. This simple style gives her look a casual 90s vibe which can't be beaten. Bella can often be spotted wearing them dressed up with heels or dressed down with sneakers. The loose fit style also works perfectly with a crop top and choker for the ultimate "90s meets 2016" look.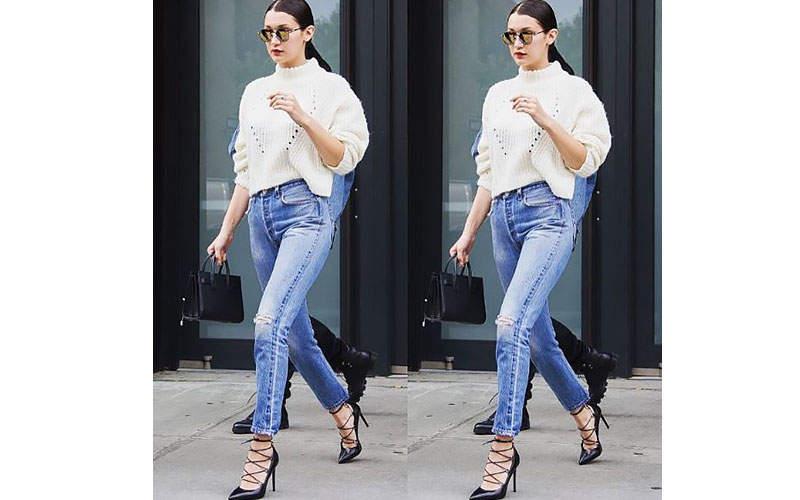 Get The Look
6. Chokers
Whether made from ribbon or diamonds, chokers are Bella's go-to style accessory. The '90s throwback makes the perfect jewellery addition to those tight, low-cut dresses and Bella knows it. Just take a look at her Instagram page for an endless stream of inspiration on how to rock this trend. We suggest teaming feminine ribbon chokers with soft, loose hair and the harder, jewelled variety with a sleek updo.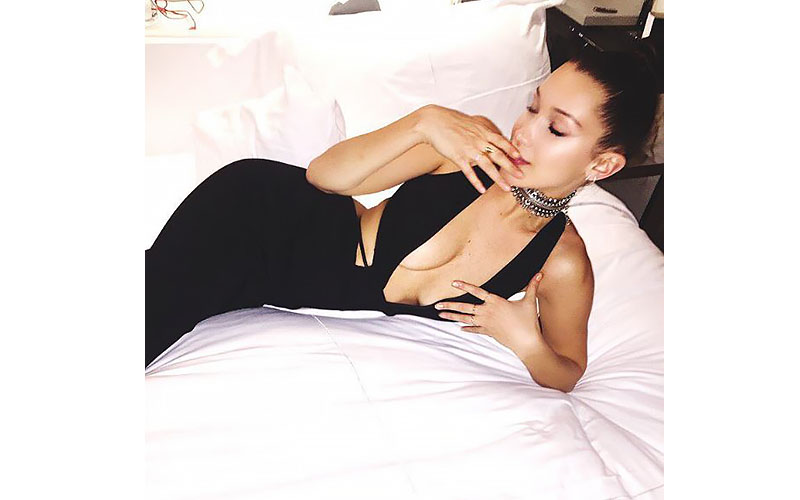 Get The Look
7. Slicked Back Hair with Middle Part
One of Bella's chicest and favourite hairstyles is slicked-back locks with a sharp middle part. Often pulled tightly into a low bun or ponytail, Bella manages to make this style look sleek and dramatic rather than simple and boring. The key to pulling this off for yourself? Use additional product to ensure extra shine and that there's not a hair out of place. This is also the perfect chance to let your jewellery and makeup take centre stage so make sure it's on point.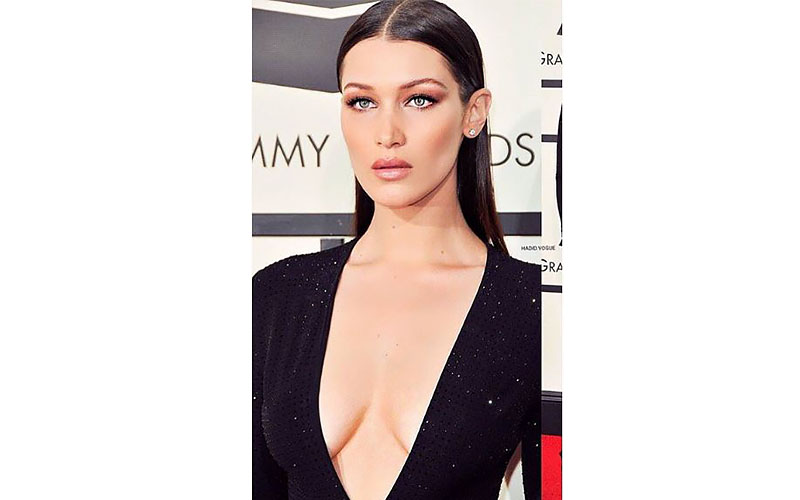 Get The Look
8. Bomber Jackets
The bomber is fashion's favourite jacket at the moment and even Bella Hadid cannot resist its stylish charms. Comfortable, warm and easy to wear, why wouldn't you give this trend a try? Bella rocks hers unsurprisingly in black and adds athletic touches to keep things modern and chic. Whether you're headed on a flight overseas or a trip to the shops, make like Bella and throw on a bomber jacket for instant style cred.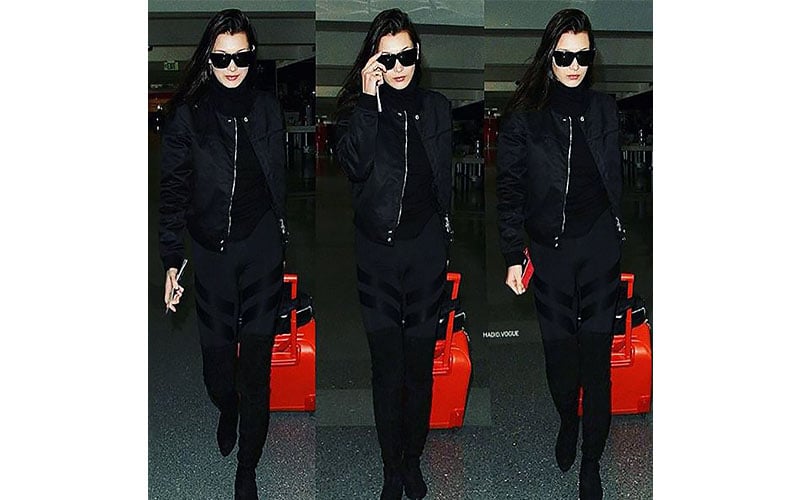 Get The Look
9. Sneakers
Not one to wear heels all the time, Bella often chooses sneakers as her go-to footwear. The casual and sporty style of sneakers suits Bella's off-duty look perfectly and brings a touch of the athleisure trend into her otherwise polished style. Whether wearing sweatpants or a dress, Bella manages to look both comfortable and stylish with the addition of sneakers. Pick up a pair of sneakers, such as Adidas Superstars, for yourself and channel Bella's style while enjoying the comfort.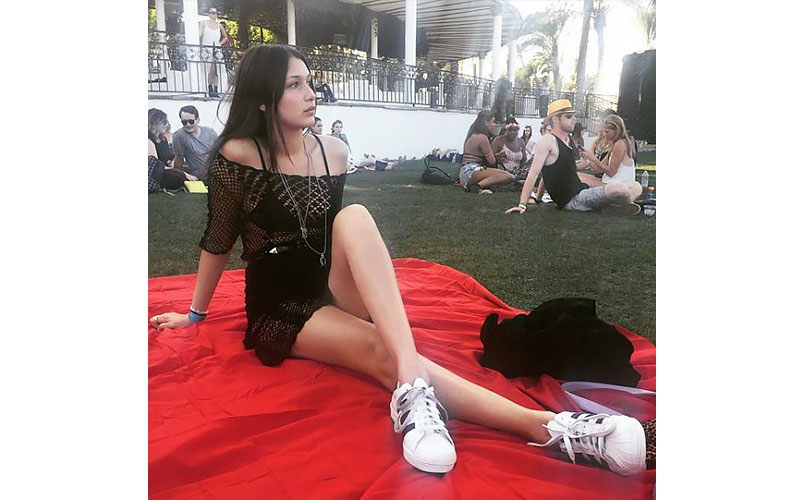 Get The Look
10. Mini Skirts with Flat Ankle Boots
Bella injects a youthful essence into her serious style with the help of a mini skirt and flat, ankle boots. Creating the perfect balance between feminine and tough, this rock-chic look is a regular for Bella and allows her to show off her great legs. Paired with a crop top and jacket, you can easily recreate this style for yourself. Also, try it with a leather mini for an added dose of that Bella Hadid sultry style.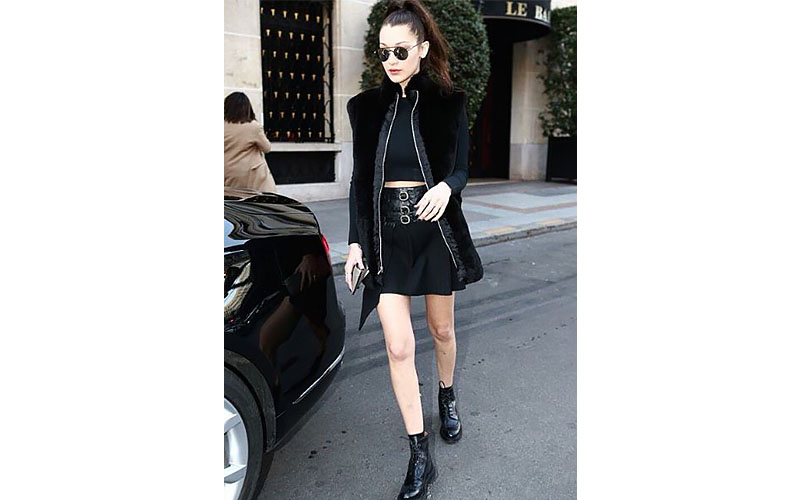 Get The Look
SUBSCRIBE TO OUR NEWSLETTER
Subscribe to our mailing list and get interesting stuff and updates to your email inbox.