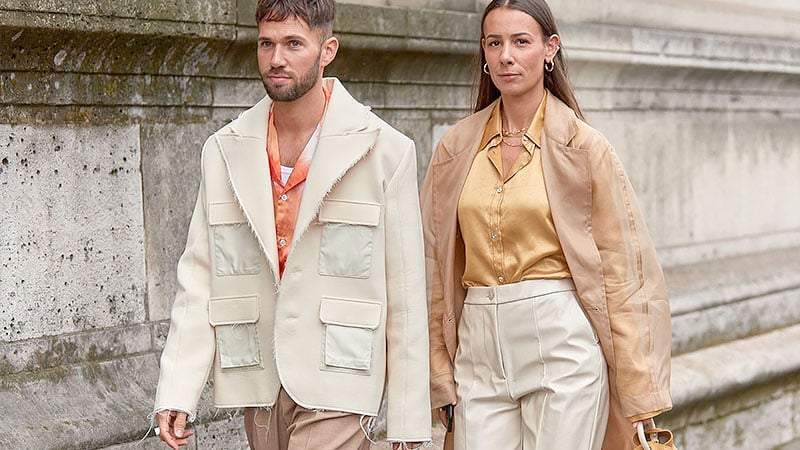 When it comes to showcasing your love for your partner, one of the ways to do it is with matching outfits. Whether it's an identical t-shirt or items of clothing in similar tones, you can wear complementing ensembles to a myriad of events. If you're going out to a party or simply on your way to the market, here are the coolest matching outfits for you and your bae.
Casual Matching Outfits
On a casual day, whether you are heading to the supermarket or a picnic, you can rock a similar ensemble with your partner and look super stylish. A great way to do this is with two or more striking shades, like blue and white or green and grey. Keep the flow the same on you and your companion – whether that's the blue on top and the white on the bottom, or the other way around. Even the smallest details like an identical collar is an easy way to showcase your matching personalities.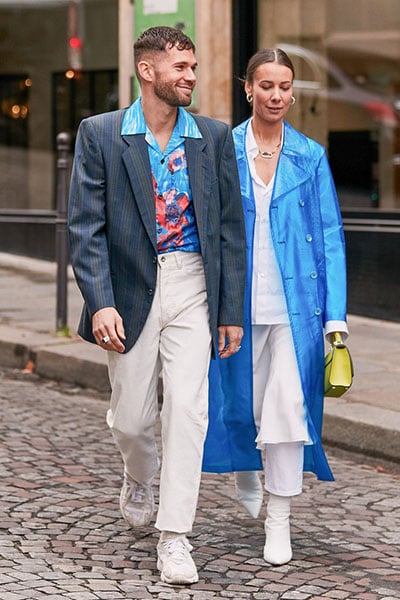 Look for Her
Look for Him
Smart Casual Matching Outfits
From a work gathering to a birthday party, showcase your love for your partner by wearing a matching smart casual ensemble. From a single shade that features in both outfits to an identical pattern, you can mix and match this style to flatter the occasion. Put a spotlight on a pairing like black and white – it's a timeless option that you both can wear over and over again.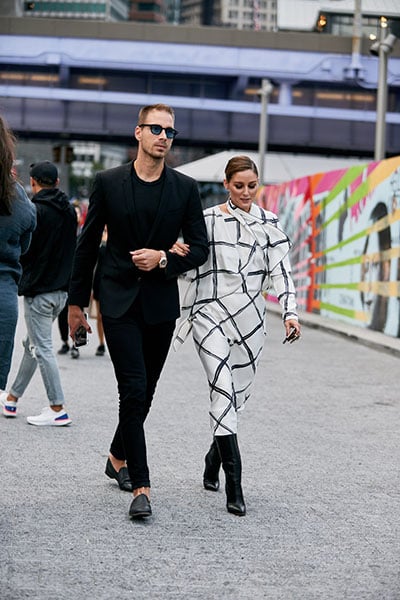 Look for Her
Look for Him
Business Casual Matching Outfits
Head to your next business event together by rocking a matching suit. Don't fret about the same color combinations, but be sure they feature the same style. If you're not into suits, opt for a corresponding floral pattern, whether it be in his tie or her dress. This is the perfect time to get a little fancy without going overboard and looking adorable at the same time.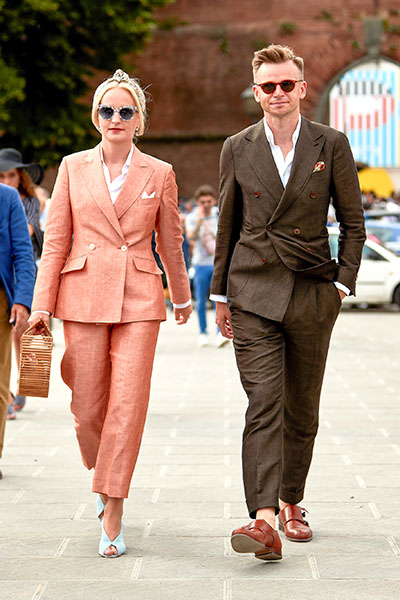 Look for Her
Look for Him
Formal Matching Outfits
If you're on your way to the ballet or a work dinner, look the part by matching your formal outfits. Without appearing like twins, you can combine a single shade from one person's ensemble and tie it into your own. Whether your partner wears a suit in all black or blue, you can go for an outfit that incorporates the same color – or match the accessories to it. Sometimes it's the smallest details that create the perfect couple attire!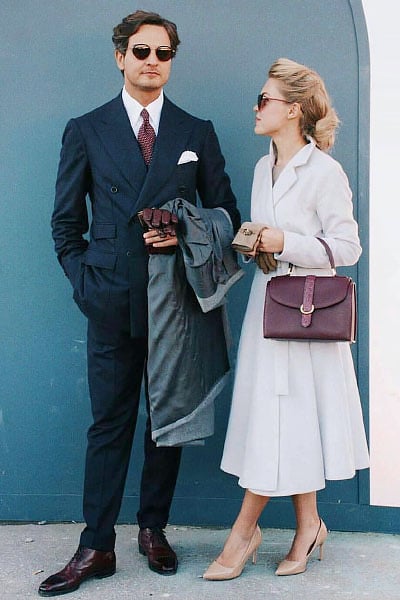 Look for Her
Look for Him
Sports Lux Matching Outfits
It's time to get physical in a matching outfit with your partner. From the gym to the cafe, you can look ready for anything in one of these cool sports lux outfits. Rock the same fitness brand, corresponding shoes, or similar shades – work it out and do it in style.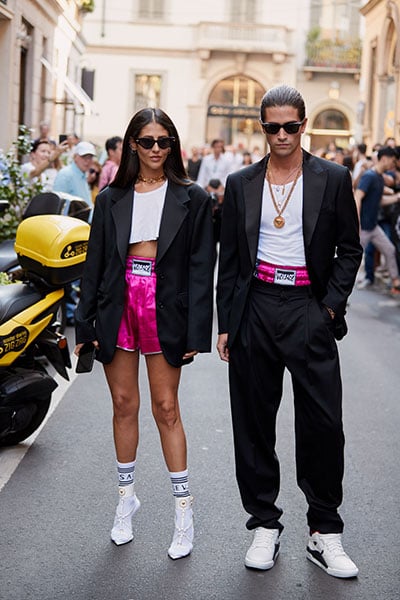 Look for Her
Look for Him
Summer Matching Outfits
Say hello to summer by sporting a matching outfit with your partner. From a swimsuit that has the same pattern or mixing and matching the same shades of color, there are endless ways to coordinate your outfit. Consider a bright burst of lemon and mint, and don't be afraid to start matching your accessories. Complete the look with a pair of comfortable shoes, and you're set for an adventure of a lifetime.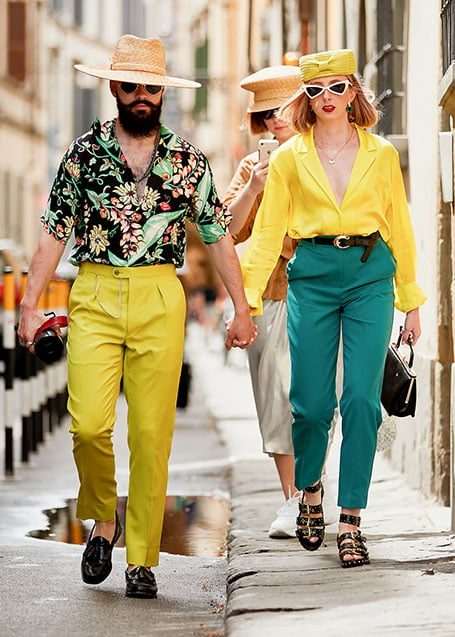 Look for Her
Look for Him
Winter Matching Outfits
When the temperature drops and the rain kicks in, brighten everyone's day by wearing a matching outfit with your partner. If you love walking through the crisp air, opt for dark and neutral shades like brown, camel, or navy blue – staying warm and dry during winter has never looked so good. If you'd prefer something subtle, opt for similar shades in your corresponding ensembles.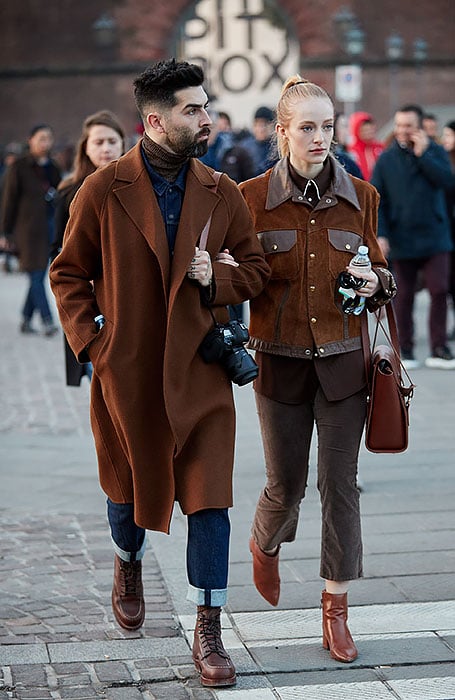 Look for Her
Look for Him
Lesbian Couple Matching Outfits
Be proud of your partnership by sporting a matching outfit with your girlfriend. Choose similar outfits that look incredible when you're together or apart. You don't have to be identical to look adorable together. Opt for opposite shades like black and white – a soft suit with chunky boots in monochromatic tones is the best way to showcase your stunning style.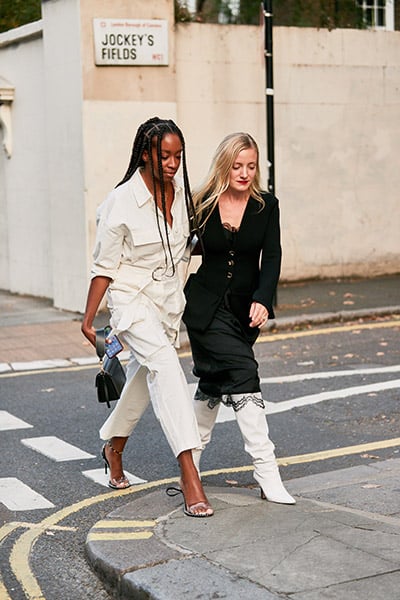 Look for Her
Look for Her
Gay Couple Matching Outfits
Walk down the streets with pride in some of these killer outfits. Keep it casual in a hoodie in matching colors to tie the outfits together. Put a funky spin on you and your partner's attire in identical leather trousers – you'll look like superstars as you walk around the town. Complete the ensembles with chunky sneakers and beanies – they're easy to style and never go out of fashion.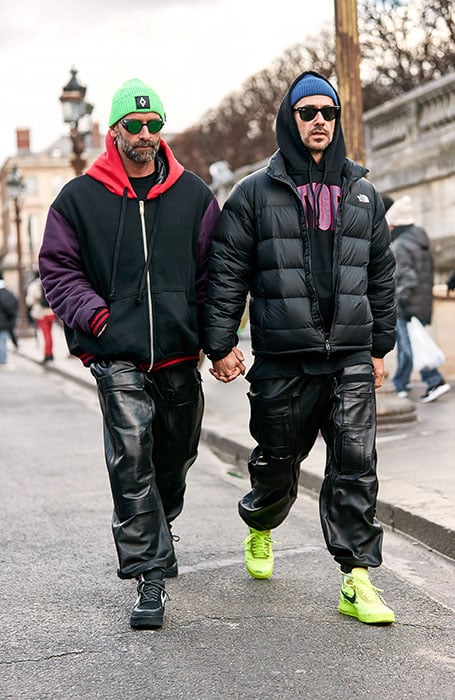 Look for Him
Look for Him
Cute Matching Outfits
From a single common piece of clothing like a T-shirt to full-blown color co-ordination, you can look the part and complete each other in a whole new way. Opt for similar shades of color or black and white outfits, identical textures, or even the same shoes. Watch as people look at you in awe in these corresponding clothes!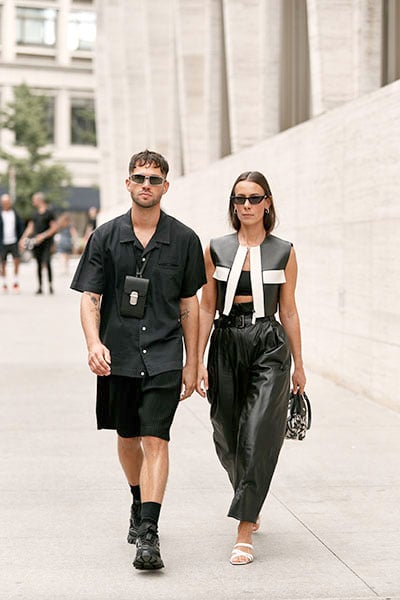 Look for Her
Look for Him