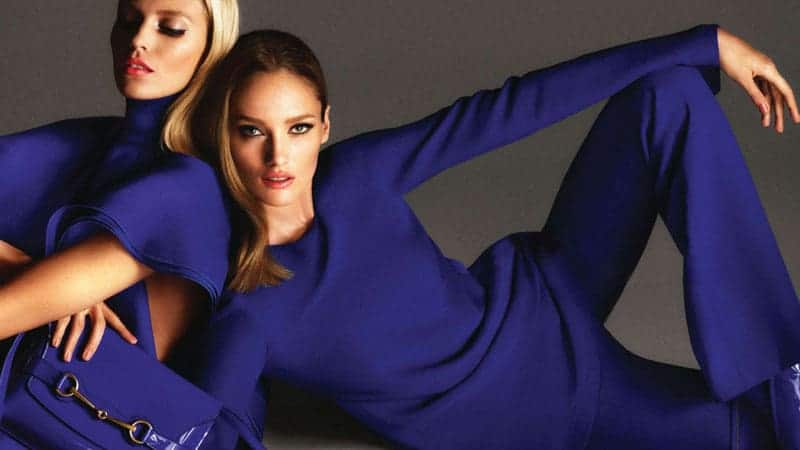 Cerulean, navy, periwinkle – are you a fan of this cool-toned shade? Not only is it incredibly flattering, but it's also a versatile and timeless hue that works well in every event. This season, we're seeing major throwbacks to earlier decades like the 60s and 2000s, filled with bright pops of color and vibrant patterns. There are endless opportunities to be had, from a simple azure skirt to a cobalt coat with periwinkle accents. Try your hand with these cool blue aesthetic outfits that are sure to update your look.
RELATED: 20 Perfect Aesthetic Outfits To Showcase Your Style
Blue Aesthetic Outfits
1. Pastel Baby Blue Aesthetic
Bring back the pastels from the early 2000s, but put a modern spin on it. It's all about baby blue this season, especially in monochrome ensembles. Wear a pair of your favorite jeans, a basic white t-shirt, and a soft, cool-toned coat for a polished feel. For a spring alternative, show some leg in linen shorts with an asymmetrical knit vest in a similar hue. Add depth to the outfit by mixing and matching the colors for a unique and multi-dimensional aesthetic. From the streets of Milan to dinner near Central Park, you'll feel fresh and fashion-forward.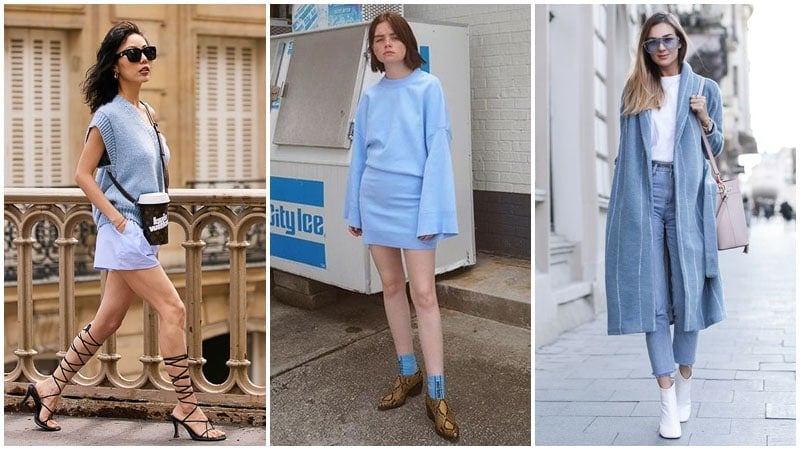 Get the Look
2. Neon Electric Cobalt Blue Aesthetic
Nothing says bold quote like an electric blue. You will turn heads dressed head-to-toe in this vibrant shade, and all for the right reason. This is a versatile shade so that you can wear it in a suit, mini skirt, and blouse combo or a dress with a matching jacket. For an extra pop, wear a lighter shade or something opposite on the color wheel, like orange, which will truly make a statement. Alternatively, add metallic accessories like silver shoes or a bag – it's all about standing out.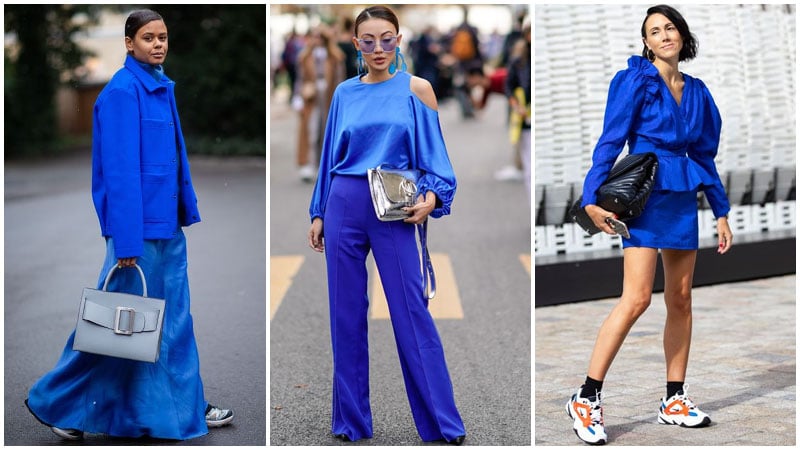 Get the Look
3. Light Neon Blue Aesthetic
Another trend that is taking over is the light and neon blue aesthetic. This multidimensional color combination is a great idea for summer or spring – it's an easy way to brighten up everyone's day. Wear a light turtleneck and skirt with a darker coat on top – add white shoes to create depth and tie the entire look together. If you love your bright hues, complete the look with neon pink, yellow or orange accessories – this contrast against the cool shade will make for a great ensemble.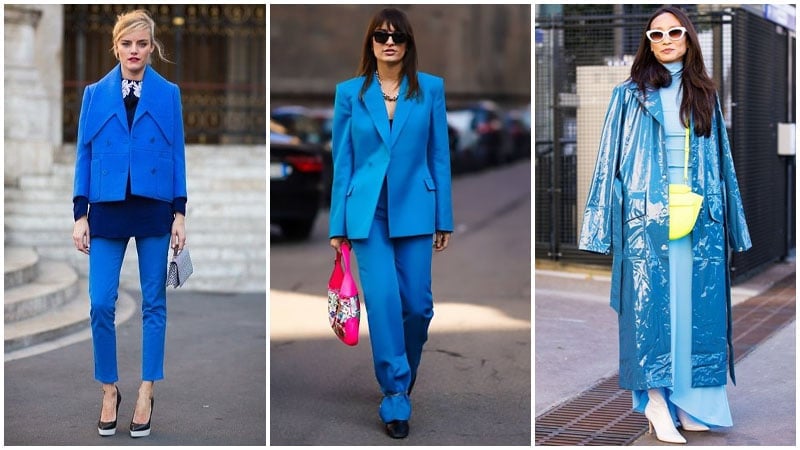 Get the Look
Navy is one of the most popular shades of blue since the 18th century. Reminiscent of a Navy uniform (hence its name), you can work this with an elegant pair of trousers, longline blazers, and shirts. Monochrome outfits create an elongated silhouette and can be worn during any season of the year. Despite what some may say, navy and black are not fashion faux-pas. For a sophisticated yet edgy feel, combine the two colors, be it jeans, a suit, or a skirt and top.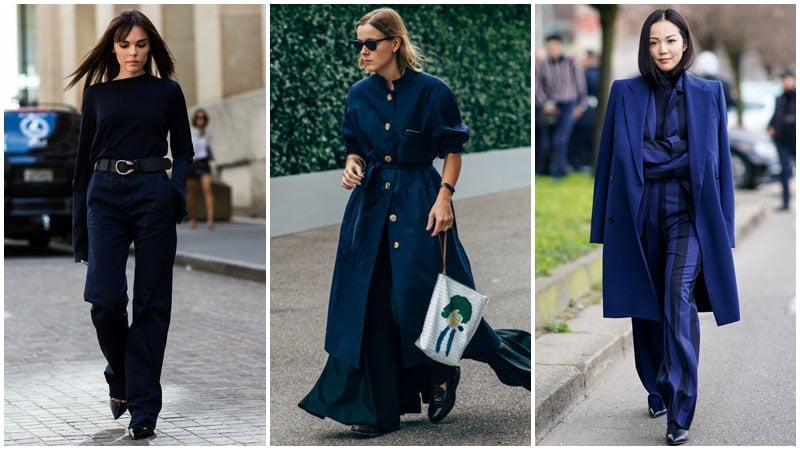 Get the Look
5. Royal Blue Aesthetic
A deep and vivid shade, royal blue offers versatility no matter the season. If you want to go for an Indie Kid aesthetic, wear a white tennis skirt, sneakers, and an oversized sweater in the bold shade. Simple accessories like a pair of cute black sunglasses and a chain necklace will elevate the ensemble – keep it simple. For days at the office, a longline coat, short dress, and matching knee-high boots are the perfect combination that is timeless and elegant. You'll feel like a queen as soon as you wear this color.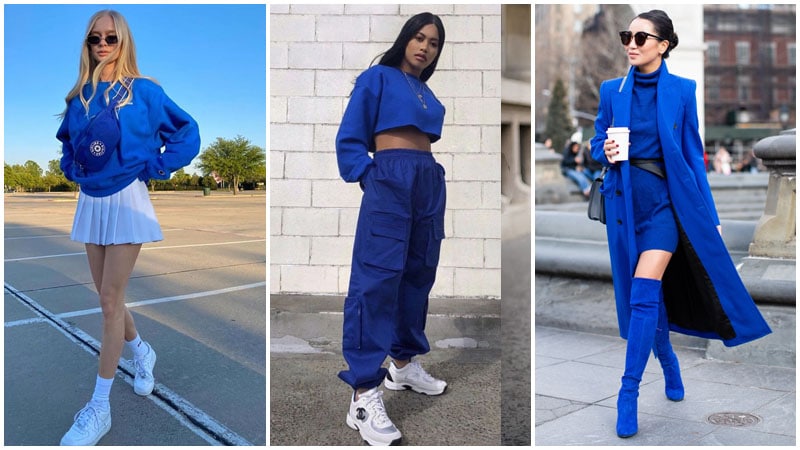 Get the Look
6. Soft Blue Aesthetic
Do you wish you were lounging on the Amalfi coast or sunning it up in Mykonos? Take yourself on a vacation everywhere you go in a soft aesthetic. This summer-inspired palette looks amazing with high-waist jeans, co-ords, and skirts or shorts. Introduce complementary light shades like white, cream, or tan for a more rounded look. Accessories such as gold chains, silver bracelets, and blue bucket hats are an excellent way to make any outfit sparkle and stand out from everyone else.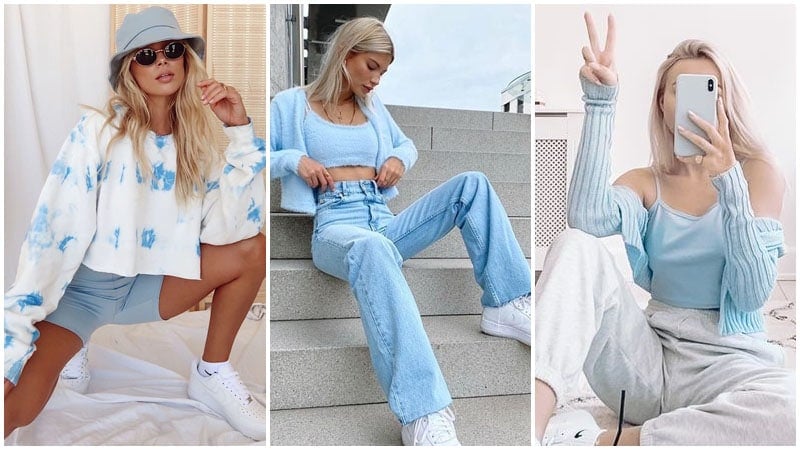 Get the Look
7. Cute Blue Aesthetic
Similar to the soft aesthetic, this style is super cute and delicate. Perfect for the summer months, it's a light and fun option for a day out with friends or a brunch date. Whether you prefer to wear flared denim or a mini tennis skirt, combine the baby blue with white, pastel pink, lemon – or all three! The beauty behind this is its adaptability – you can wear as many or a few shades as you like with it, and the color will still stand out. What more could you want?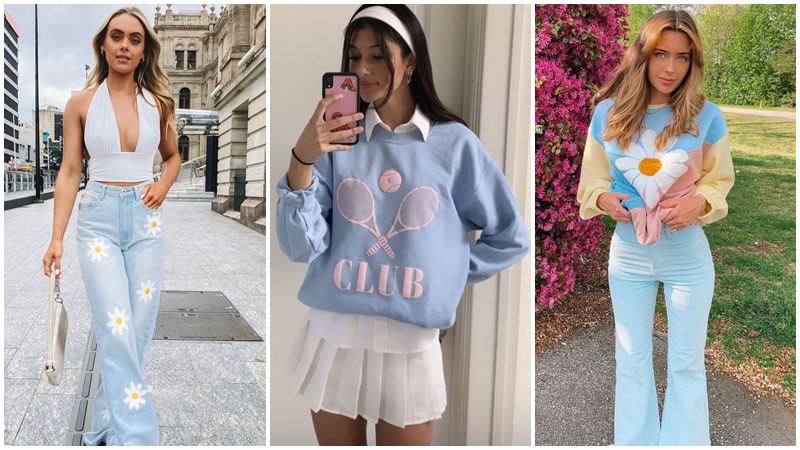 Get the Look
8. Blue Butterfly Aesthetic
Bring back your favorite Y2K aesthetic with butterfly prints all over your outfit. With a strong connection to metamorphosis and rebirth, this pattern is elegant and has a lot of deep-rooted meaning. From a tiny print on a t-shirt to a dress coated in beautiful butterfly wings, there are so many ways to wear the style. Bonus points if you choose a hue that matches the sky – you will be one with nature and look cute as a button.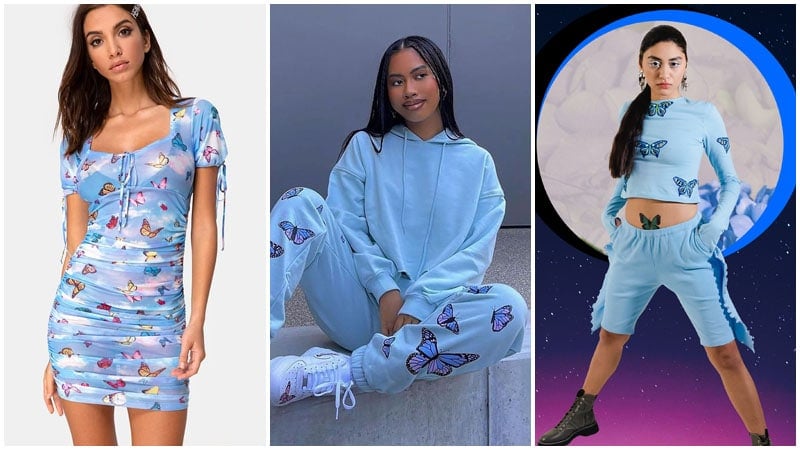 Get the Look
9. Blue Floral Aesthetic
One of the best ways to showcase a color this bold is with a flower or two. Flirty and fashion-forward, it doesn't have to be spring for you to create a groundbreaking look with these stunning florals. A dress with an arrangement of multicolored petals looks great with chunky white sneakers or shoes with a complementary hue. Alternatively, wear an androgynous ensemble with an oversized suit covered in blue blossoms with a white t-shirt – it's timeless but certainly packs a punch.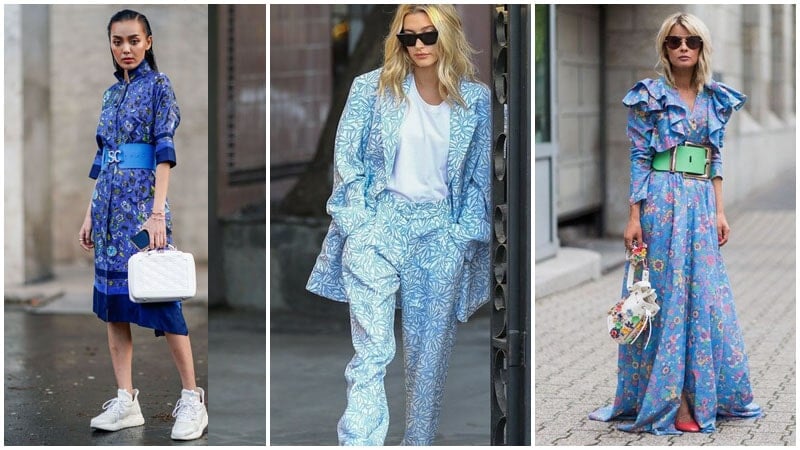 Get the Look
10. Blue Sky Aesthetic Outfits
Is your head up in the clouds? Bring yourself back to earth with this fluffy-inspired getup that is cute and feminine. It looks great with a myriad of pieces that you can mix and match, like a skin-tight cerulean dress or a chunky knit sweater with your favorite jeans or trousers. Style the outfit with white or light sneakers, or let the sun shine bright with bold yellow or orange. The sky is the limit with this aesthetic.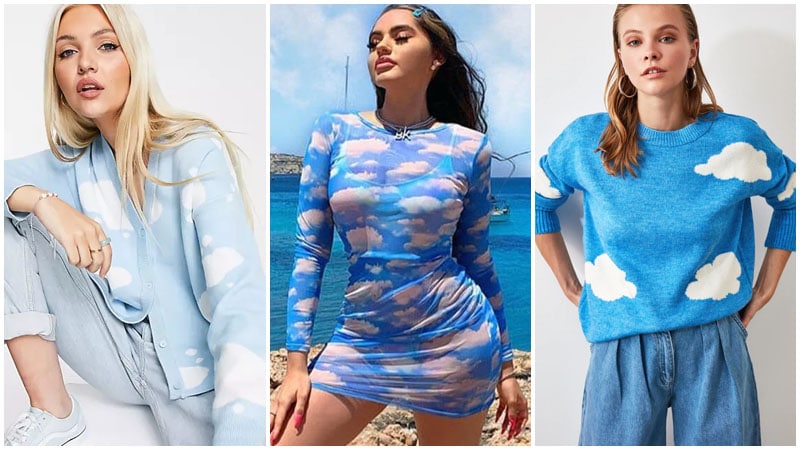 Get the Look
11. Blue and Pink Aesthetic
Two shades that complement each other in every situation are blue and pink. Soft and buttery, these hues are hyper-girly and look incredible on every skin tone. A combination of powder blue and dusty rose look amazing with a peacoat and matching skirt or a classic crop top and flared denim. Match your accessories to the duo-chrome ensemble – think blush bags, cornflower heels, or an entirely different color, such as lemon or white.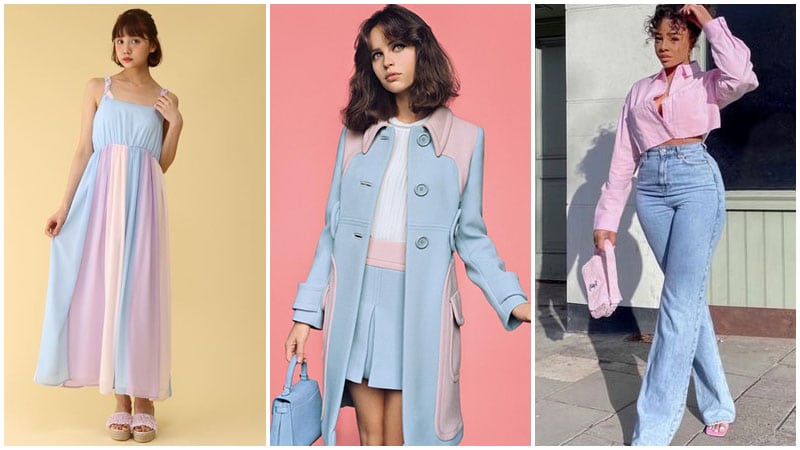 Get the Look
12. Black and Blue
It may be an old fashion faux-pas, but we think black and blue look fantastic together. Depending on the style you wish to emulate, you can wear a lighter color on the bottom half of your outfit and darker on top. This can be with a French blue pleated skirt and a black cardigan, or a Royal blue suit with black accents. To create the illusion of longer legs, keep the deepest tone on the bottom – replicate it with black pants or tights and a skirt. What's amazing about this aesthetic is its versatility; you can style different shades subject to the temperature and event.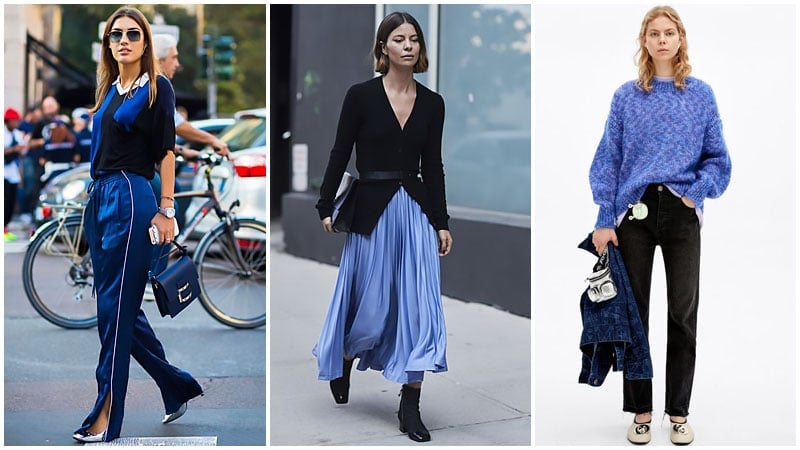 Get the Look
13. Blue and Yellow
Bring a bit of sunshine into your life with a mix of blue and yellow. These are the opposite sides of the color wheel, and this combination isn't for the faint of heart. Perfect for a summer's day, pair a lemon skirt or mini with a sky blue shirt or cardigan – cinch in your waist with a skinny metallic belt. If you're heading off to a garden party or a day with friends, try your hand at a block cerulean shift dress with white boots and accessories. Break up the hue with a splash of neon or a pastel hue. After all, they do say opposites attract.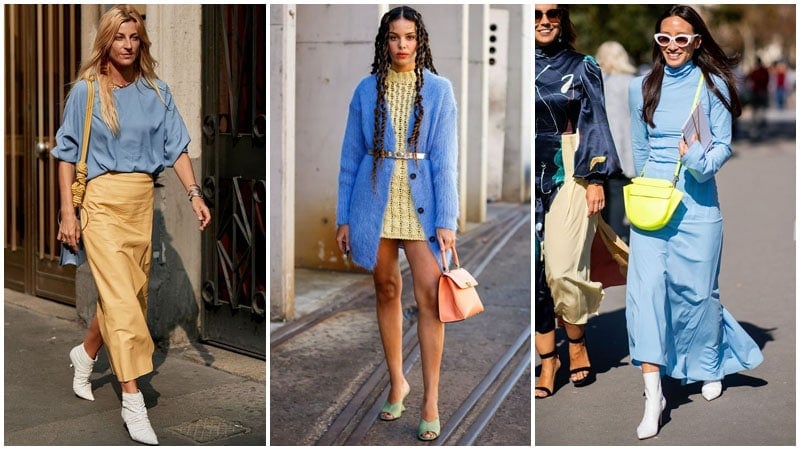 Get the Look
14. Blue and Purple or Lilac
Lilac is one of the hottest shades of the seasons, so what could be better than pairing it with another cool tone? This effortless style looks amazing with a mixture of other colors, but you can't go wrong with a sharp blue garment with purple accents (or the other way around). Try a monochrome ensemble in the hue you prefer – a sprinkle of sapphire, cobalt, or French blue looks best with lavender, heather, and periwinkle. For those who seek something extra, throw a yellow, green, or white into the mix – this will add a bit of depth to the overall outfit and keep things fresh.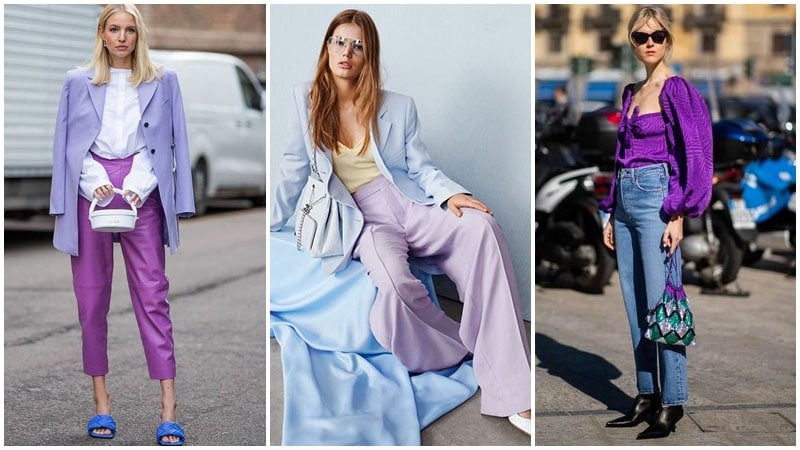 Get the Look
15. Blue and Green
While some may say this is a fashion no-no, we couldn't disagree more. This funky and loud color combination is perfect for those who love standing out and experimenting with their look. Of course, not all blues and greens were born equal, but in this case, they all work tremendously well together. Try emerald with navy, mint with sky blue, and chartreuse with something a bit bolder, such as Royal blue. For an elegant feel, make sure there is only a single element of your outfit in the opposite shade – this will avoid any clashes in the overall aesthetic and keep the focus on you.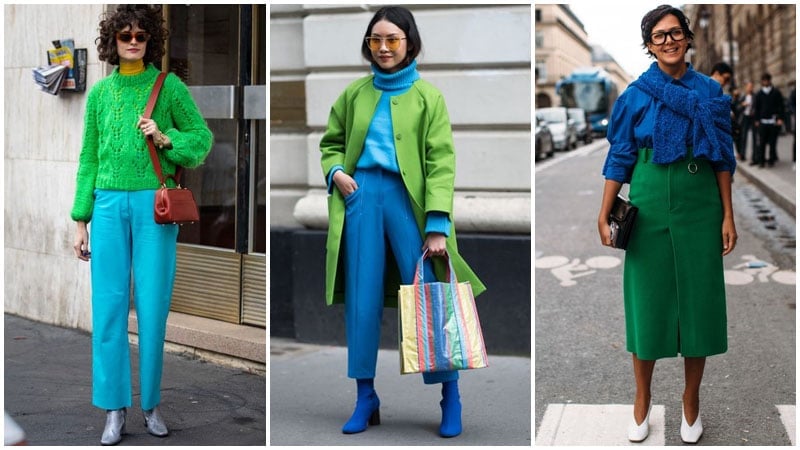 Get the Look
16. Blue and Grey
Every stylish person should have this combination in their closets. Not only is it thoroughly modern, but it simultaneously has an effortless appeal that will last a lifetime. Duckegg, naval, and slate are some of the most versatile shades, as they blend and coordinate with colors on both sides of the light spectrum. Stick to the staples with a white t-shirt, classic jeans, and a gray blazer. Alternatively, you can try an all-stone ensemble and add a bold cobalt shirt or a subtle touch of light blue fur around your collar.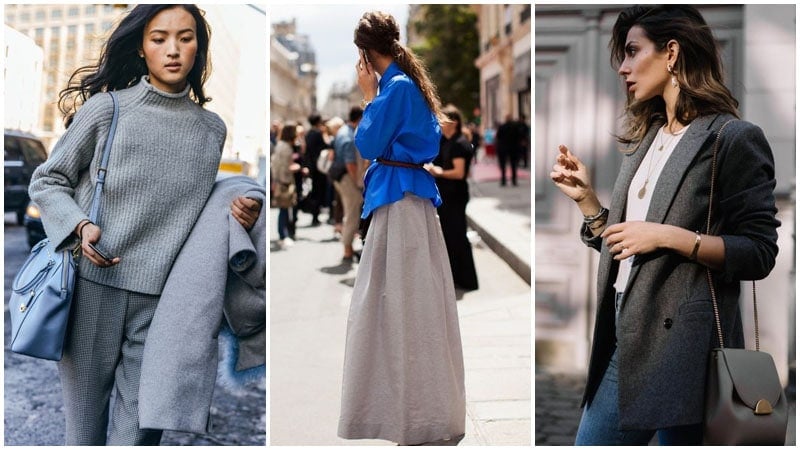 Get the Look
17. Blue and Mint
Brighten up your day with a mint and blue outfit. Not only is it fresh and enticing, but it's also surprisingly versatile that you can wear it almost anywhere. Begin with baby blue trousers and a cool-toned green shirt, stir things up with a monochrome pistachio ensemble, and spice things up by adding a sky blue sweater or a cobalt bag. Another great shade to throw in the mix is terracotta. This warm hue sits on the opposite side of the color wheel, and it is easily one of the best ways to make an outfit really stand out. Trust us on this.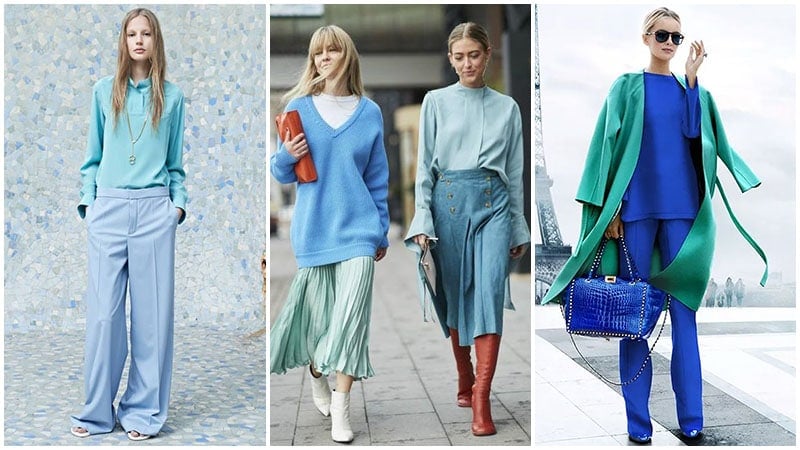 Get the Look
18. Blue Beach Aesthetic
The sun is out – it's time to show the world what you've got! An incredibly flattering color, bleu is the best way to switch yourself to holiday mode. Mimicking the sky and the ocean waves, you can try a cool cobalt swimsuit or chambray cover-ups. Mix and match different hues with a funky crop top and shorts or linen trousers. Brown and white are subtle hints of dimension that you can mix with this outfit, and they make for excellent accessories on a hot day.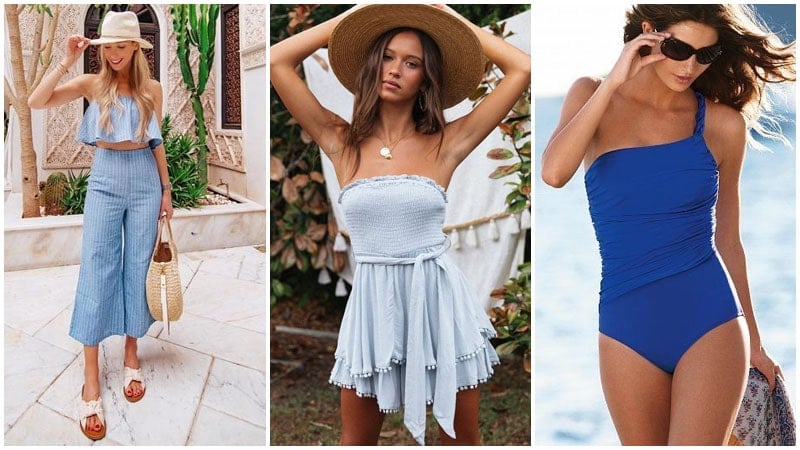 Get the Look
19. Blue Grunge Aesthetic
While grunge aesthetics typically stay close to very dark colors like gray and black, there's nothing as bold and unique as a touch of blue. You can start simple with a navy velvet dress with darker accents, or you can go all out with a pair of Royal blue check pants and simple accessories. Some of the staple pieces of the iconic 90s and skater scene include a lot of layers, chunky Dr. Martens, and plenty of plaids. Be adventurous and try out hues like indigo, midnight, or classic cobalt for a standout look without deviating from the aesthetic.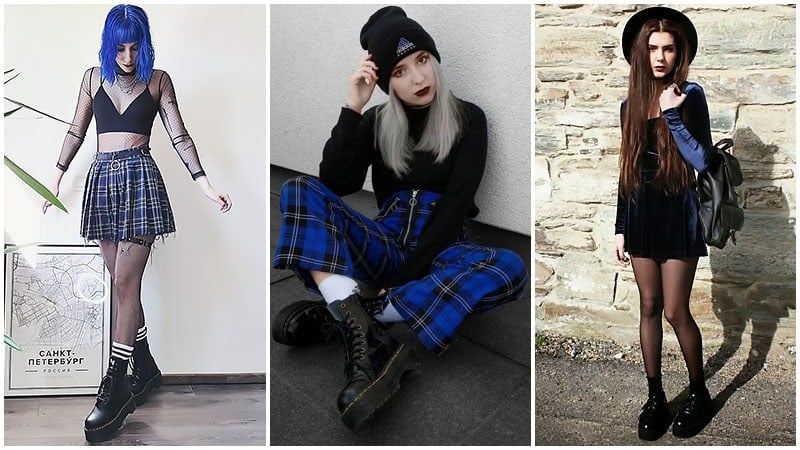 Get the Look
20. Vintage Blue Aesthetic
Do you wish you were around in the 50s? What about the 70s? Add a bit of each vintage aesthetic in your next blue getup. An effortless denim jumpsuit with a 1970s silhouette is the perfect way to showcase your killer figure without having to worry about too many accessories. But if you love mixing and matching, go for red and blue color combination. A great example would be high-waisted trousers, a blouse, and a cherry red bag and beret. Head to the thrift shop and pick out the pieces that speak to you; this trend is one for the ages.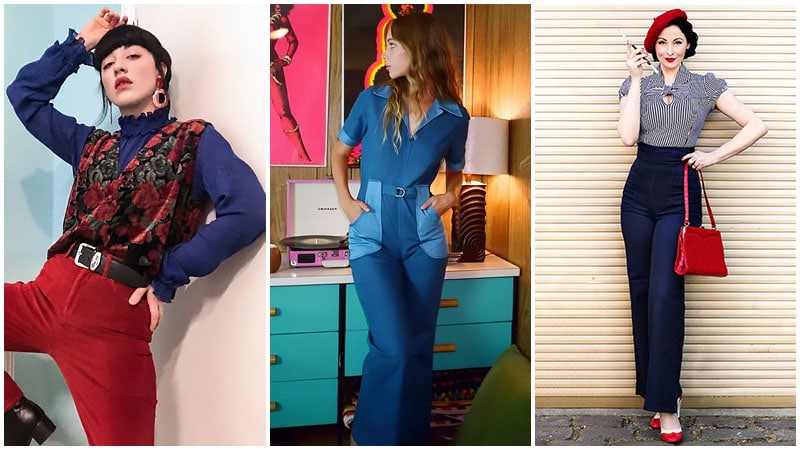 Get the Look