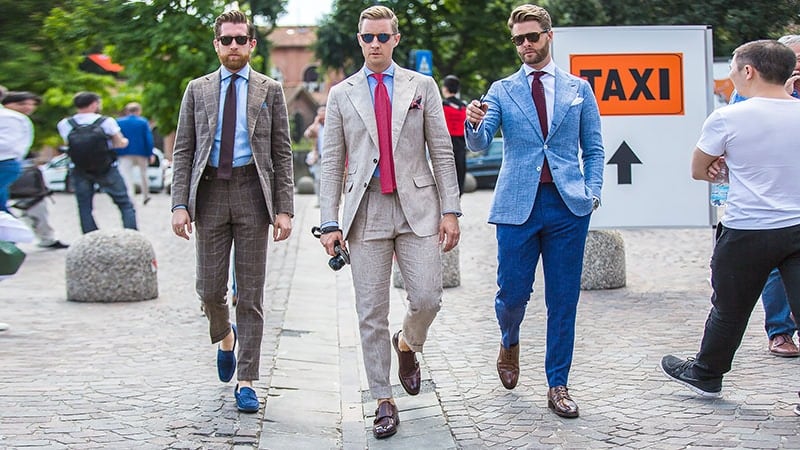 Choosing the right color of shoes to match your suit is essential to creating a polished and stylish outfit. No matter how sharp and slick your suit is, if you're wearing the wrong shoes, your outfit will never look right. Most of the time, this comes down to an issue with color. Even if your shoes are sophisticated with just the right amount of shine, if the color doesn't look good with your suit, your outfit is ruined. Therefore, you need to learn which of your suits work with which shoes. While some color combinations will clash and look awkward, others will be downright stylish and complementary. Here is your ultimate guide to what shoes to wear with your suit.
What Shoes to Wear with a Black Suit
Every gent should own a black suit, so it's crucial to know which shoe color pairs best. Although you may not be able to have much fun and experiment with different combinations, deciding which shoes to wear with a black suit is simple. Black is the only choice of shoe color that flawlessly pairs with a black suit and should be your option every time.
Black Suit with Black Shoes
The dark hue of a black suit appears off-balance with lighter shoes, so black shoes are the best option. While it may not be the most adventurous of choices, it will look sophisticated and allow you to spice up the outfit with your shirt and tie combination. To add a little more interest, you can also opt for less traditional shoe styles, such as patent designs, brogues, and loafers.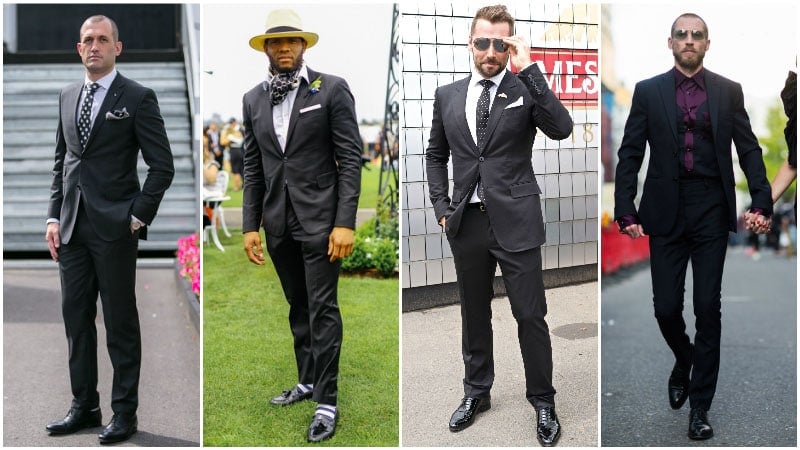 Unlike black suits, navy suits can be paired with several shoe colors. Black, brown, and burgundy tend to be the most reliable hues and are great options to have on hand. Depending on your personal style and the event you're attending, you'll be able to decipher which color is best to wear.
Black shoes pair well with navy suits, particularly the darker shades. The classic dress shoe shade is ideal for dressing up navy suits and making them appear more sophisticated. Whether you choose oxfords, loafers, brogues, or monk-strap shoes, you'll have a great combination on your hands.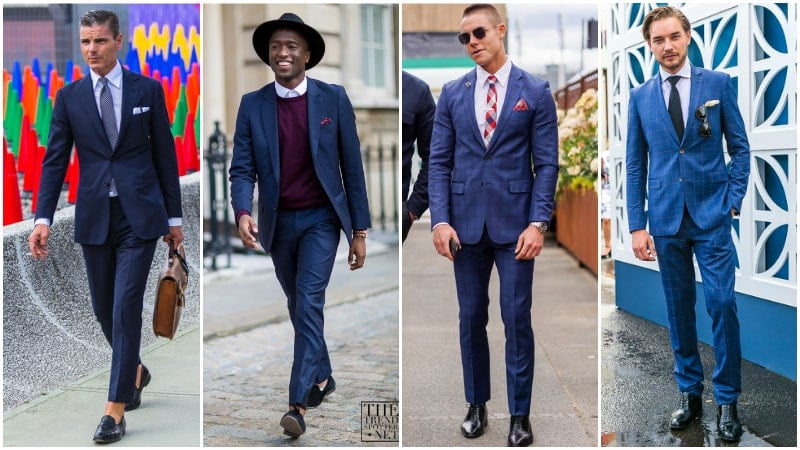 Brown shoes create a stylish and complementary look when paired with a navy suit. Not only does the warm hue offset the coolness of the navy suit, but it also creates a contemporary appearance. Perfect for occasions when you need something a little more exciting than black, brown shoes remain sharp and polished while offering a little more originality.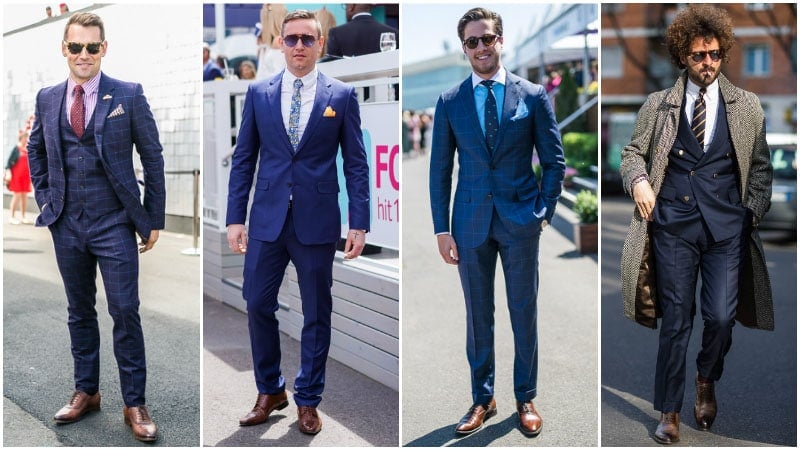 The mixture of rich, red, and brown tones in burgundy shoes pairs perfectly with the deep blue of a navy suit. Formal without appearing stuffy, burgundy shoes have a simultaneously classic and contemporary feel. Stick to sharp oxford, loafer, and monk-strap styles to maintain a suitably polished appearance.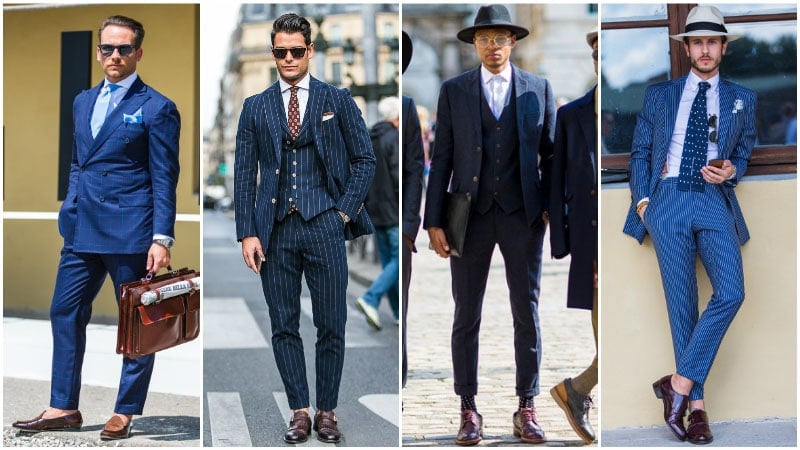 What Shoes to Wear with a Grey Suit
When deciding what color shoes to wear with a grey suit, you must first decipher what shade of grey your suit is. Whether it's light or dark will affect which shoes pair well with it, so you must establish this first. While light grey suits are undoubtedly easier to match, there are multiple choices for both shades, some of which cross over and can be used for both.
Dark Grey Suits with Black Shoes
Like black suits, dark grey suits look best when paired with darker shades of shoes. This means that black shoes are the easiest and best choice when you're wearing a dark grey suit. The combination is sharp and stylish. Keep it in mind for formal occasions as a great alternative to a standard black suit.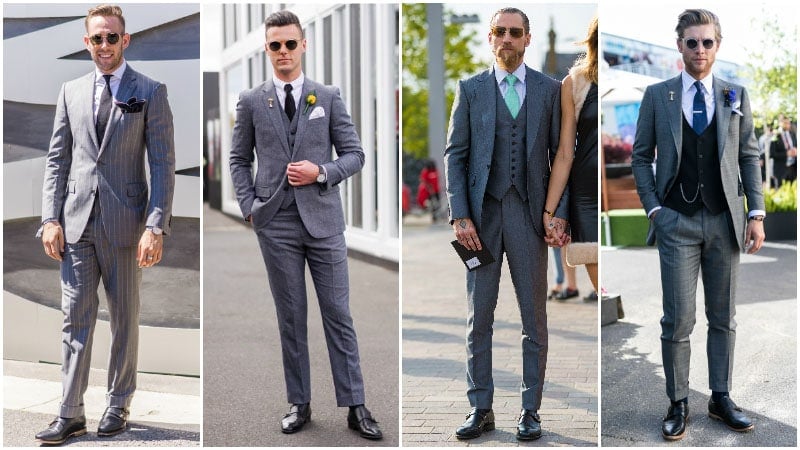 Dark Grey Suit with Burgundy Shoes
Although brown shoes won't work with a dark grey suit, burgundy shoes will. The deeper and darker tone of burgundy pairs well with dark grey and creates a balanced look. While the outfit can easily work for formal occasions, it's also a great option for semi-formal events, particularly when worn in a less traditional manner.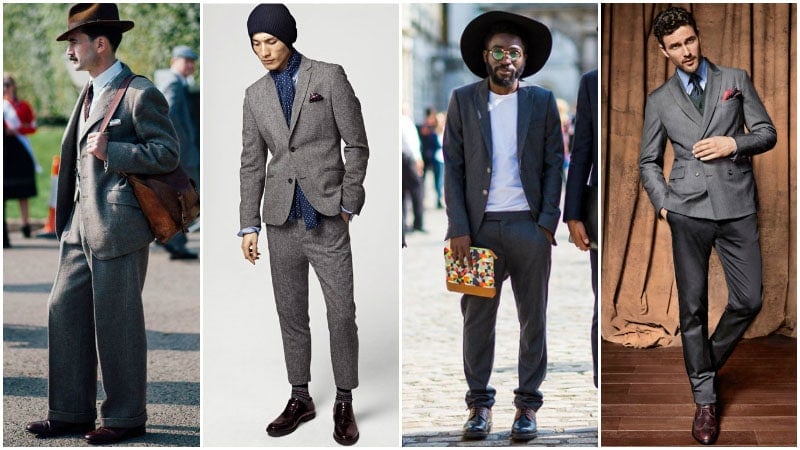 Light Grey Suit With Black Shoes
Like dark grey suits, light grey suits also pair well with black shoes. The dark color tones down the overall appearance of a light grey suit, making the outfit a more formal choice. Although the look is sharp and sophisticated, it's also light and a great choice for gents who look washed out in darker suits.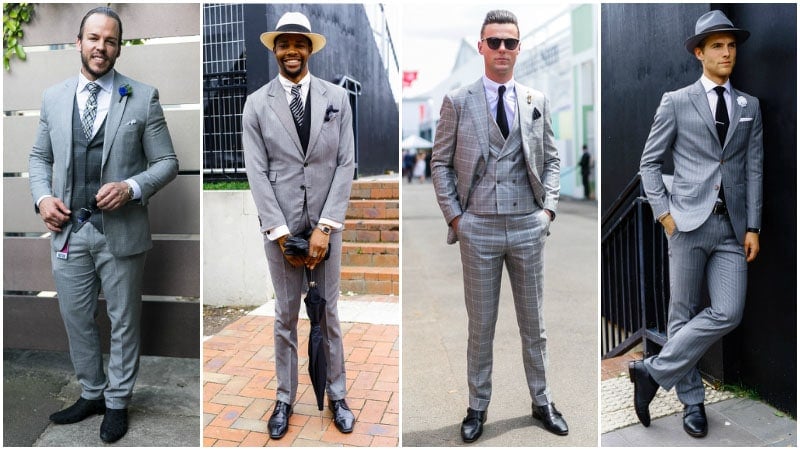 Light Grey Suit With Brown Shoes
Brown shoes work surprisingly well with light grey suits. The warm tone is perfect for creating an overall light and summery suiting option. Choose lighter shades of brown for a more modern look and darker shoes for a traditional touch.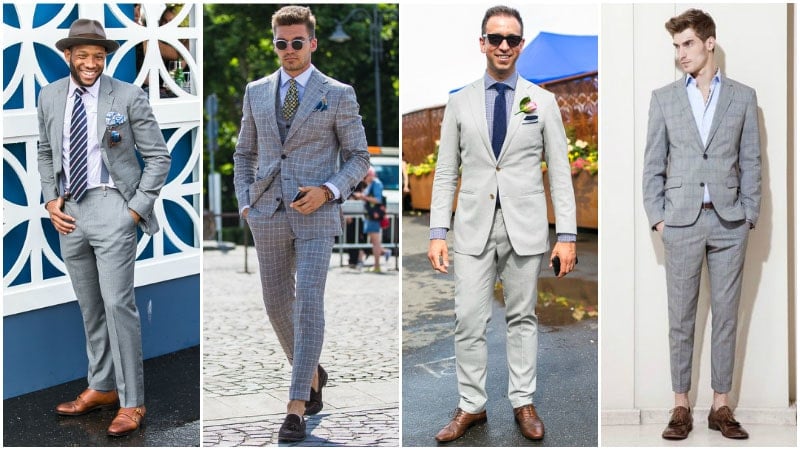 Light Grey Suit with Burgundy Shoes
Burgundy shoes can have a striking appearance when juxtaposed with a light grey suit. The bold contrast creates a stylish look with a little bit of edge. Just remember to stick to simple and sharp styles, such as oxfords, to keep the look suave and sophisticated.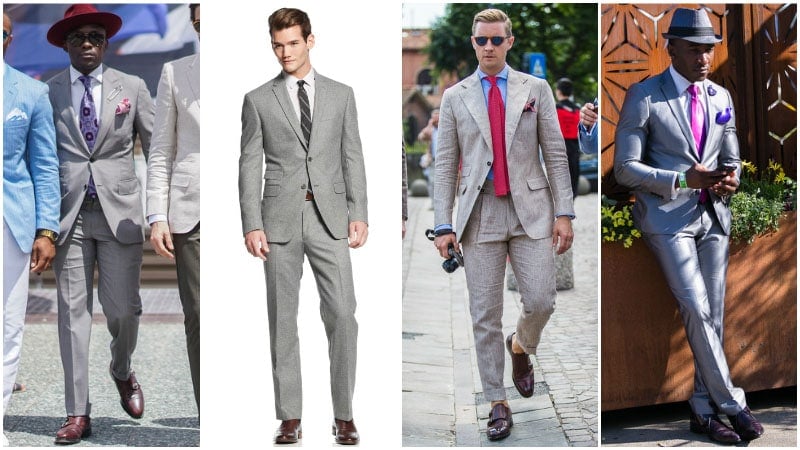 What Shoes to Wear with a Cream or Beige Suit
Cream and beige suits are a popular choice for summer because of their light color and fresh appearance. To maintain this clean and bright aesthetic, it's essential to pair them with light shoes. While black, burgundy, and dark brown will all look much too heavy, shoes in light brown or white will create the perfect pair.
Cream/Beige Suit with Light Brown Shoes
Light brown shoes make a great footwear option for cream and beige suits. Light enough for the ideal summer look but classic enough to be worn to formal functions, light brown is a winning choice. Choose between oxfords and brogues for a polished look or loafers and suede styles for a more relaxed touch.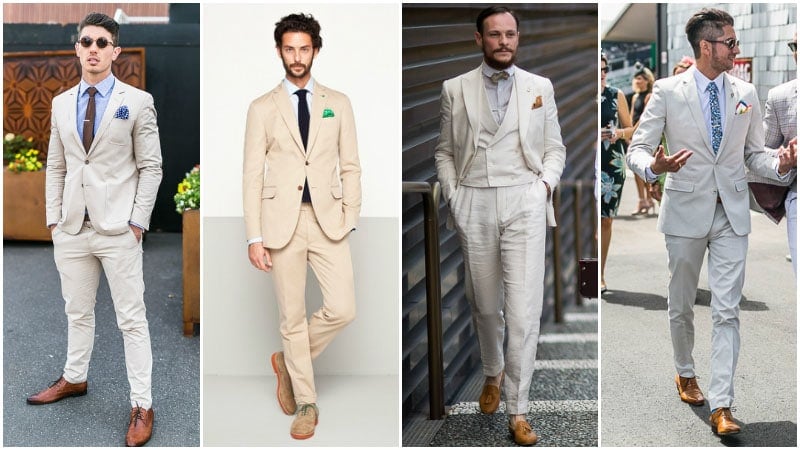 Cream/Beige Suit with White Shoes
For semi-formal occasions, cream and beige suits can also be paired with white shoes. The all-over light look is a refreshing one and is perfect for outdoor summer events. Just remember to stick to more casual styles, such as sneakers, relaxed brogues, and loafers, to don this daring look in style.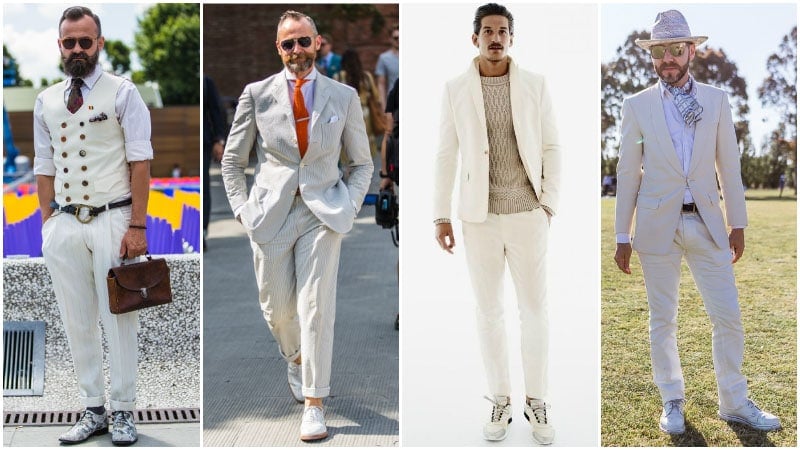 What Colour Shoes to Wear With Your Suit
Black Suit – Black shoes are the only option.
Navy Suit – Black, brown or burgundy shoes.
Dark Grey Suit – Black or burgundy shoes.
Light Grey Suit – Brown, black or burgundy.
Cream/Beige Suit – Light brown or white shoes.
SUBSCRIBE TO OUR NEWSLETTER
Subscribe to our mailing list and get interesting stuff and updates to your email inbox.