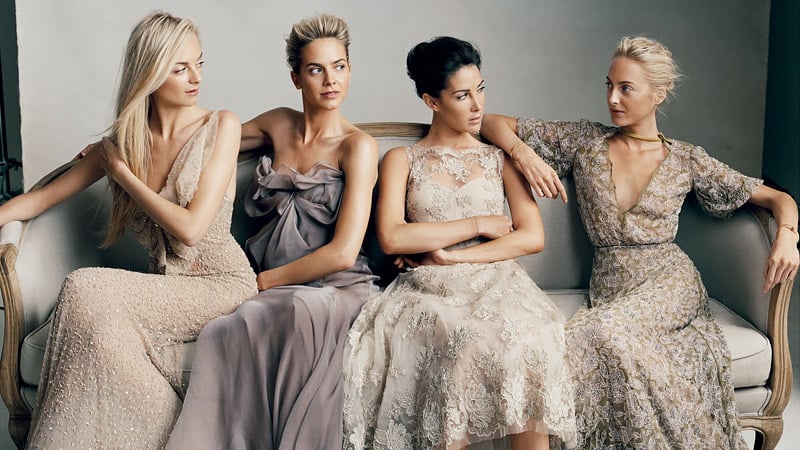 So you've been invited to a wedding and of course, you're immediately stressing about what you're going to wear. Should you go for a classic lace design, a pretty floral style or a stunning maxi? Luckily, we're here to help. Whatever the season, you'll be sure to step out in style in one of these stunning wedding guest dresses.
Wedding Guest Dresses
Summer Wedding Guest Dresses
Summer wedding attire is all about dresses in bold prints and bright colors. One in a lightweight, breathable fabric will be ideal to keep you cool when the sun hits. Whatever style you go for, be sure to avoid overly heavy and restrictive designs. Pair your summer dress with sandals or pumps and you'll be good to go!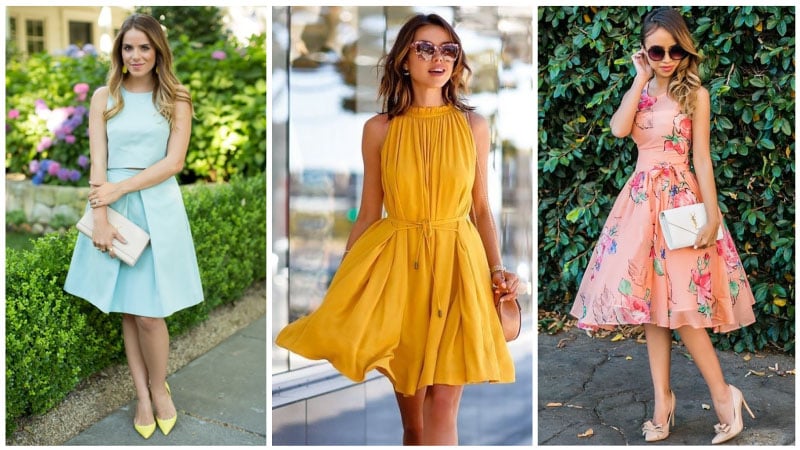 TOP BUYS
Fall Wedding Guest Dresses
When it comes to fall wedding guest dresses, it's all about feminine florals and pretty lace designs. Weddings held in this season are the perfect opportunity to experiment with different colors, fabrics, and other embellishments, so don't be afraid to try something different! Why not show off your creative side in velvet, satin, or silks in hues of yellow, red, lavender, or dark green. Lace wedding guest dresses in bright colors are a growing trend, as well as dress styles with layers or sleeves to keep you warm. Finish off your ensemble with a stylish clutch and sparkly jewelry to match.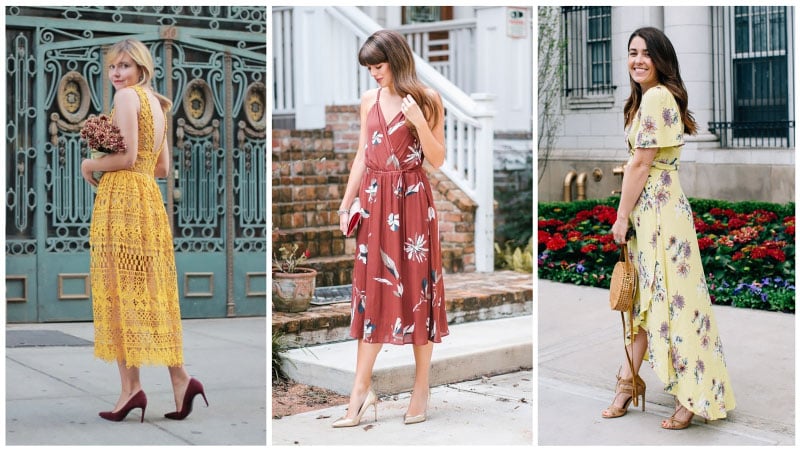 TOP BUYS
Winter Wedding Guest Dresses
When dressing for a winter wedding, it's obviously important to consider the weather for that day, as well as the formality of the occasion. As most winter weddings are held indoors, there's no need to go overboard with layers. Instead, try choosing a dress with sleeves or a maxi style that'll keep your legs warm. Those in dark colors, such as burgundy and navy, make particularly great options. It may also be a good idea to bring a coat or jacket with just in case it gets super chilly.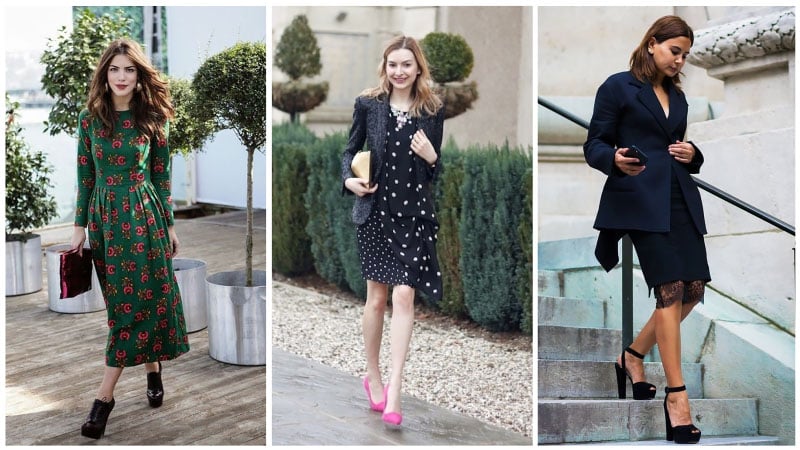 TOP BUYS
Wedding Guest Dresses for Spring
Spring wedding attire can be hard to decide on with the weather constantly changing. So when dressing for a wedding in this season, it's important to choose a dress that's neutral. If you want something other than the usual floral print dress, why not go for a printed maxi dress or a pretty jumpsuit? Prints are a fantastic way to stand out from the crowd while jumpsuits are always a chic alternative to dresses. Be sure to bring a stylish jacket or coat with you in case it gets cold.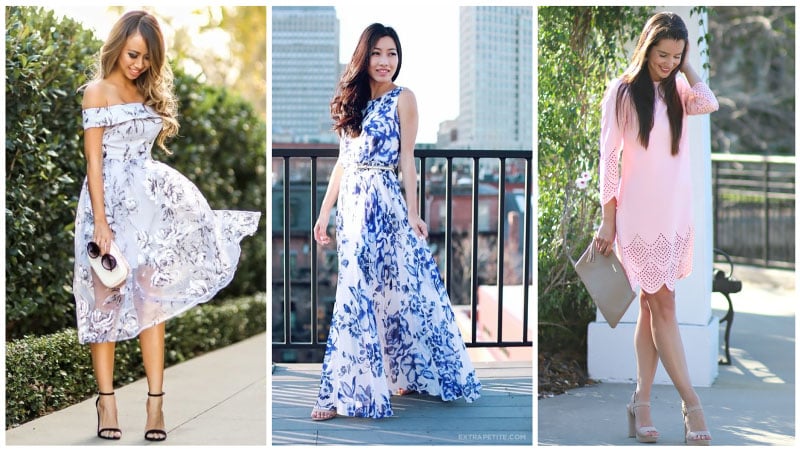 TOP BUYS
Beach Wedding Guest Dresses
Are you off to a beach wedding this summer? Embrace the beautiful setting with a lovely dress or jumpsuit. When shopping, keep your eye out for relaxed cuts, light flowing fabrics and summery prints, and colors. As it can get windy at the beach, maxi dresses are often a better choice than short dresses. But, if you're keen to show off your legs, go for it. Just remember to make sure your footwear is suitable for the sand. In other words, ditch the stilettos and opt for flats instead.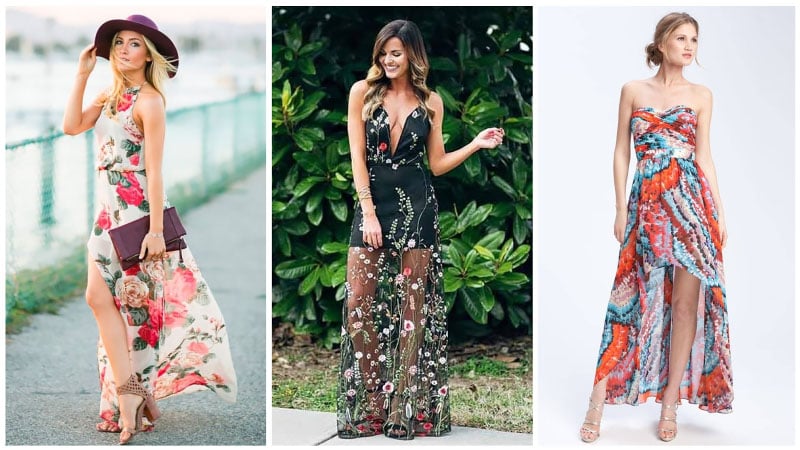 TOP BUYS
Country Wedding Guest Dresses
Country weddings are typically held in a barn, on a farm, or vineyard and have a rustic theme. To dress for one, make sure to keep your outfit laidback yet fun. To do this, swap your usual fitted dress for something flowy. Also, get inspired by the location with florals, soft tones, and lace.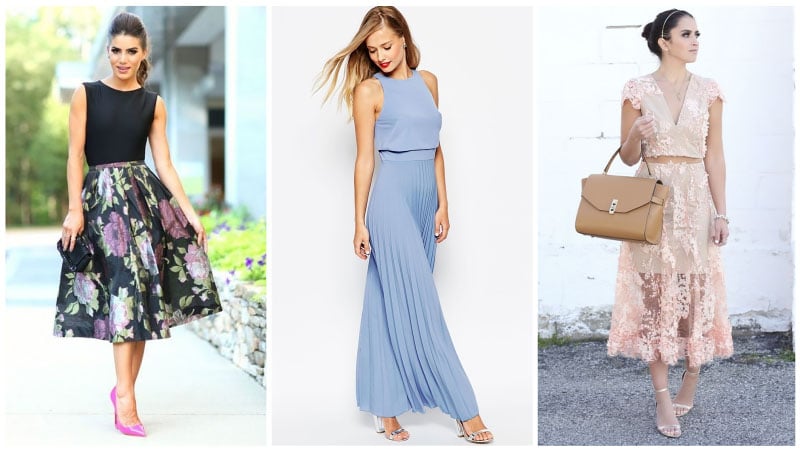 TOP BUYS
Long Sleeve Wedding Guest Dresses
One way to give your usual wedding guest look an instant winter spin is to add sleeves. Stylish and sophisticated, this dress style is sure to make you stand out while keeping you comfortable. Not only will adding sleeves help keep you warm throughout the celebrations, but it will also lend a classic and sophisticated touch to your overall appearance.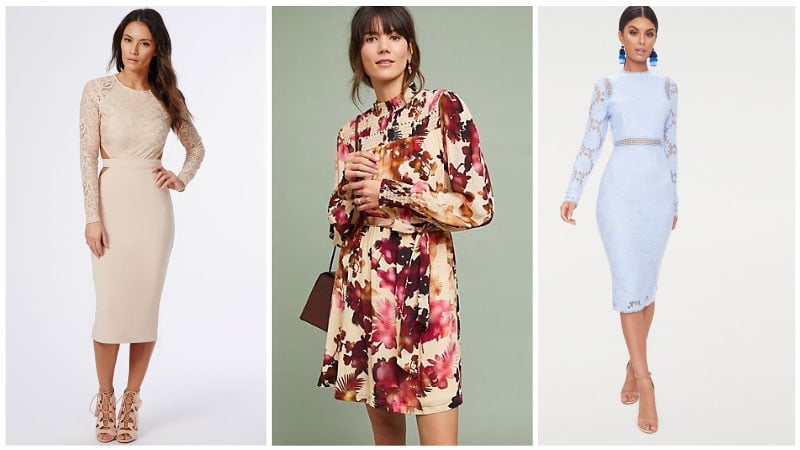 TOP BUYS
Maxi Dresses for Wedding Guest
When the weather is warm, a maxi dress is a perfect option. Long, breezy, and unrestrictive, this style of dress will help keep you cool in style. A maxi is always a great idea as it's flattering, versatile, and lends itself well to a variety of different settings. Plus, there are many beautiful designs to choose from. Finish your ensemble with a pair of stylish sandals, and you're good to go.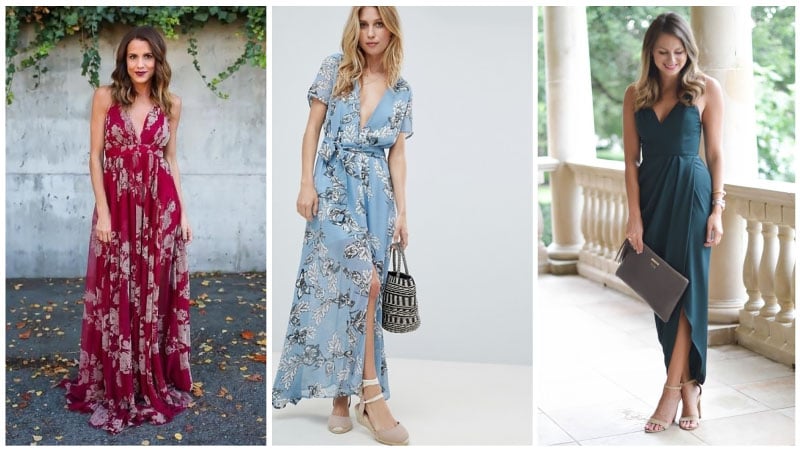 TOP BUYS
Midi Dresses for Wedding Guest
Turn up the romance with a stylish midi dress. Simple, chic, and timeless, you can't go wrong with this design. Being such a versatile style, a midi dress can be dressed to suit weddings held both during the day and nighttime. Plus, there are several styles and colors to choose from! From pretty florals to sparkly party dresses, there's something on the market for every woman's taste.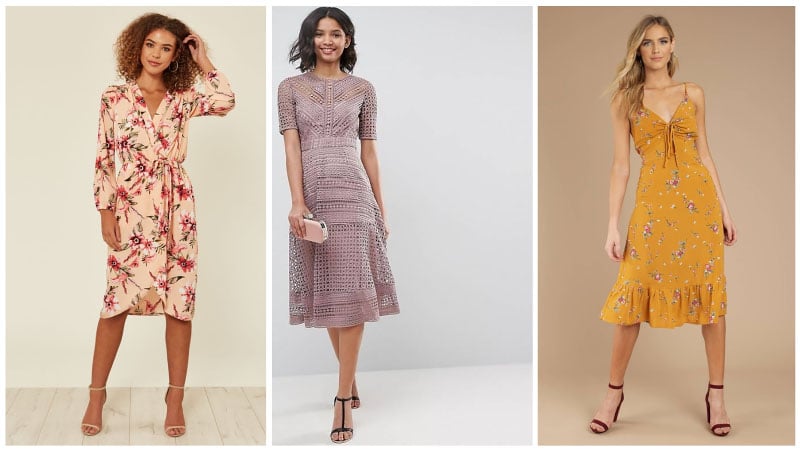 TOP BUYS
High Low Wedding Dresses for Wedding Guest
A high-low dress is a great option for a wedding guest. This style of dress is typically longer in the back, and shorter at the front. This shape works for casual dresses as well as with something a bit more formal. It is a great choice for anyone who wants to show off their legs. They're best paired with platforms or high heels, so the back of the dress doesn't drag on the floor.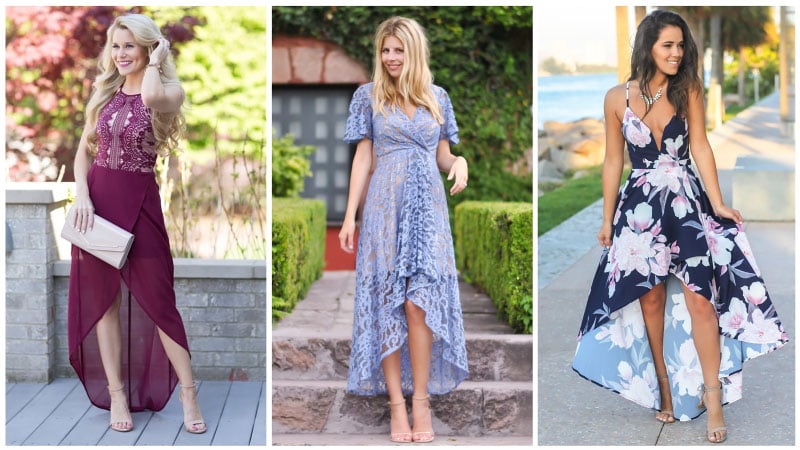 TOP BUYS
Lace Wedding Guest Dresses
Embrace your femininity with an effortlessly impressive lace dress. A lace gown is a classic bohemian look perfect for a wedding. Despite being a favorite for countless decades, the elegant fabric never seems outdated. It remains a classic that many women still choose to wear to occasions both big and small. If you like the look of lace but are leaning toward something more modern, why not consider a short, lace dress? The style can be just what you need to bridge the gap between the worlds of contemporary and classic. Plus, it's perfect for a spring or summer wedding.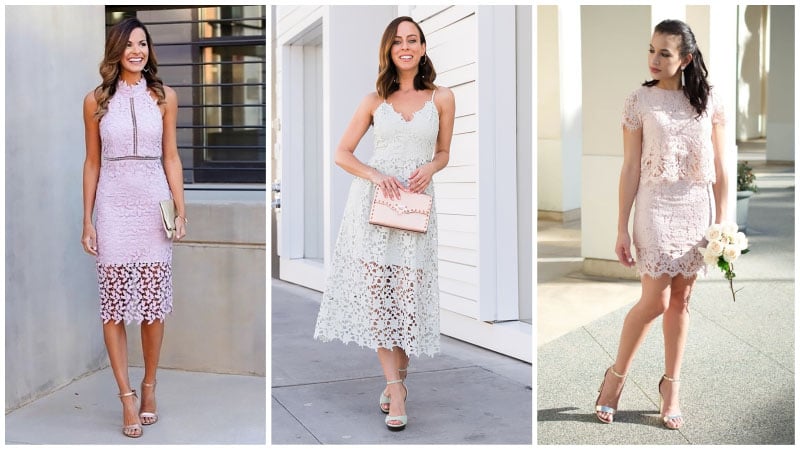 TOP BUYS
Floral Dresses for Wedding Guest
Catch those rays and wow everyone in a floral dress. This type of dress is best suited to a wedding held in the warmer months. Floral dresses come in a variety of different styles, and whichever one you choose is sure to leave a lasting impression. They are soft, light and feminine, and boast stunning patterns and colors.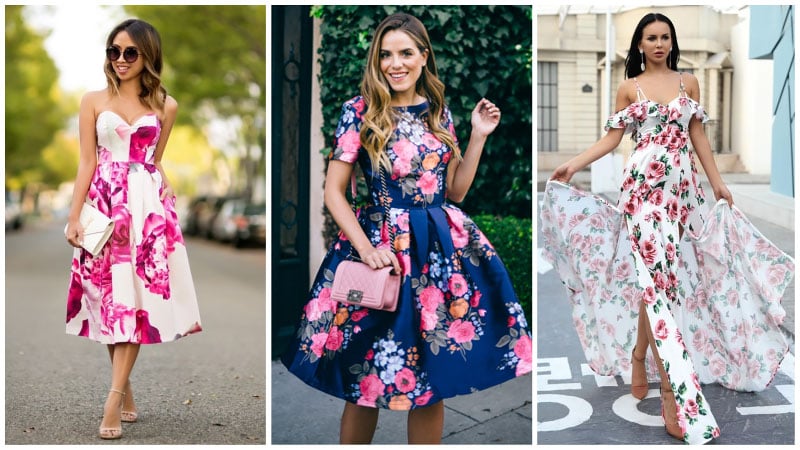 TOP BUYS
Plus Sized Wedding Guest Dress
For curvy wedding guests, there is a variety of stunning plus size dresses to choose from. From sexy A-line styles to stunning empire-waist gowns, there are many chic and flattering options available. Just remember to look for a style that highlights your gorgeous shape. After all, the key to a flattering garment comes down to its fit.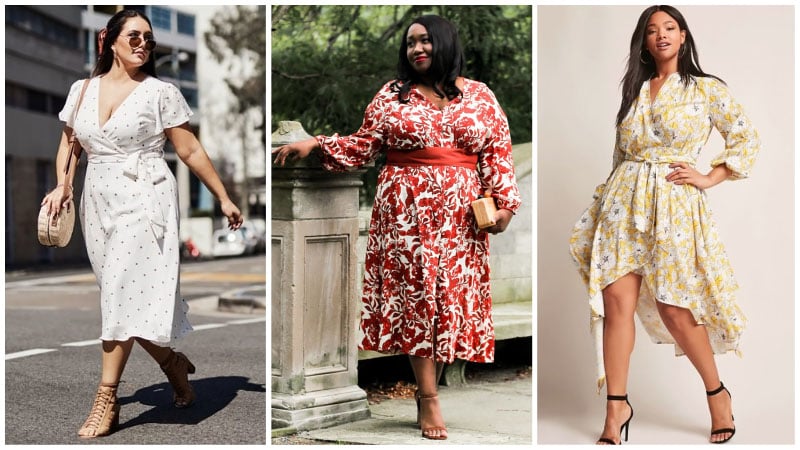 TOP BUYS
Maternity Wedding Guest Dresses
Stylish maternity dresses are nowhere near as difficult to come by today as they used to be. As such, there's no reason why you can't rock a stunning, on-trend dress to a wedding. To do so, just remember to embrace trends while maintaining an appropriate aesthetic. From statement sleeve designs to off-the-shoulder styles, many looks work perfectly for such an occasion.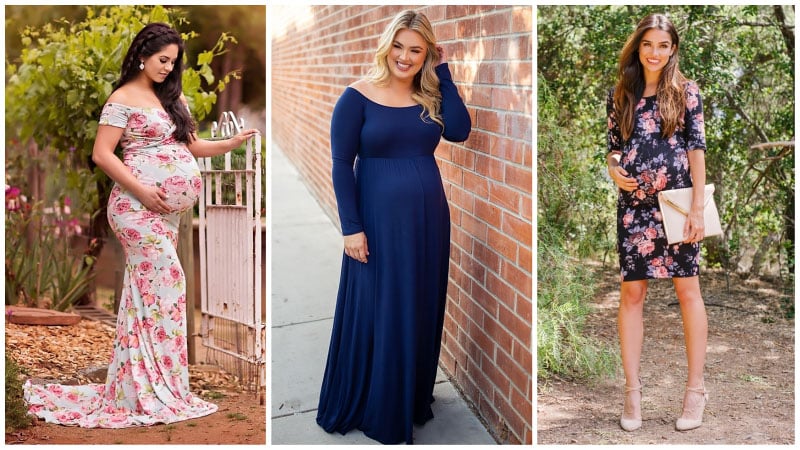 TOP BUYS
How to Dress for a Wedding
Do experiment with color. Bright colors look great in wedding pictures and make it appear like you've made an effort with your outfit.
Don't wear anything too short showing too much skin. Modern as the groom and bride, a wedding is still a wedding and it pays to stay on the safe side.
Do adhere to the dress code. And don't hesitate to ask other guests for help if you're a little confused!
FAQs
What is appropriate for a woman to wear to a wedding?
When attending a wedding, you want to find that balance between looking and feeling great and not stealing the bride's attention. This can be done with bright colors and pretty prints in the warmer months, and you can opt for a tea-length or midi dress paired with sandals or pumps. In the cooler months, longer dresses and potentially ones with sleeves and in muted colors will be more comfortable, or you could wear a jumpsuit or pantsuit if you prefer. Always consider the theme of the wedding, for example, if it is a beach wedding you don't want to wear stilettos and remember that if it is a traditional wedding, then never wear white.
What kind of dress do you wear as a guest to a wedding?
There are various styles, colors, and patterns to choose from if you are a guest at a wedding. Midi dresses, wrap dresses, maxi dresses, and tea-length dresses are all great options because they don't show off too much skin and are feminine and chic.
What colors should you not wear to a wedding?
One of the biggest mistakes you can make as a wedding guest is wearing white, and slight variations of this color, to a wedding. Some brides may also request that you avoid colors and patterns that are bold and bright, like red, which may be distracting.
Try to avoid all-black outfits, the bridesmaid dress color, and anything too embellished or over the top. In general, you can't go wrong with pastels or a pretty floral print.
Where can I buy wedding guest dresses?
You can buy wedding guest dresses from most of the great high street shops at your local mall, from small boutiques, or online. A few online websites to remember are ASOS, Nordstrom, and Shopbop. Always be mindful of the theme of the wedding and the destination, and, in general, avoid anything low-cut or something that shows off too much skin.
SUBSCRIBE TO OUR NEWSLETTER
Subscribe to our mailing list and get interesting stuff and updates to your email inbox.