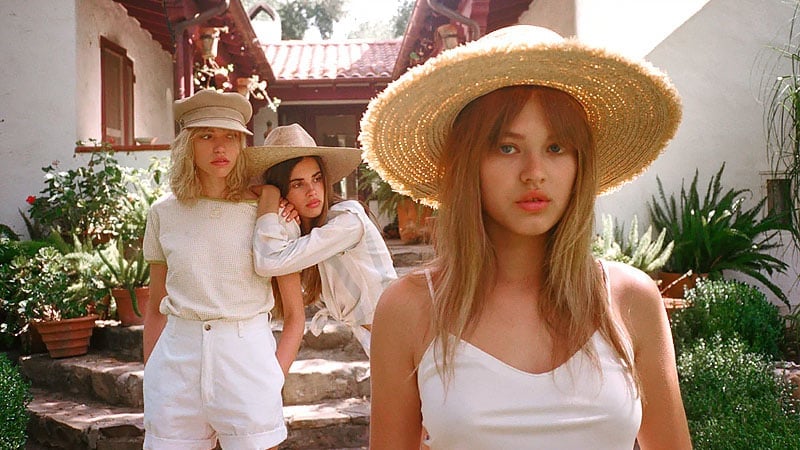 From the scorching hot sun to freezing winds, headwear has been an essential part of human history for thousands of years. Whether it's religious, cultural, or style reasons, there are endless varieties of head coverings that express who you are. Be it on holiday by the beach or at a wedding, there is always an occasion that calls for this accessory. Here are the 30 types of hats that every woman should know.
1. Baker Boy Cap
With its origins traced back to the 14th century, this hat has remained an important part of English and Irish history. These days, you will find baker boy hats on and off the runways, giving the classic silhouette a modern spin. Try the style during the colder months – dark shades like charcoal, brown, and navy are neutral options that suit any occasion. Depending on your preference, you can find a style with a high crown and buttons or a flatter front – each looks great in its own way. Unsure what to do with your hair? Wear it with a low ponytail or hair down for a face-framing effect.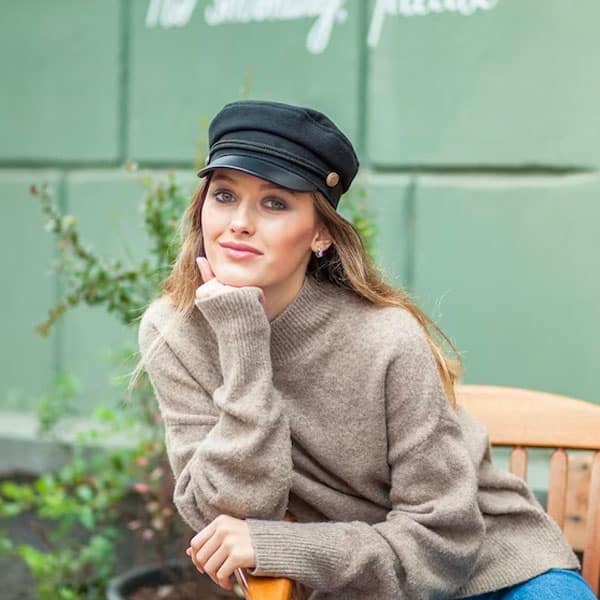 Get the Look
2. Balaclava
Protecting your hair and face from the elements, balaclavas have been worn for generations. The beauty of this headwear is its versatility – the most common way to wear it is over your entire head, covering your eyes, nose, and mouth. They're usually made from chunky knit wool and come in a variety of colors. Experiment with something bright like pink or red, a bold pattern, or keep it neutral with black, navy, or gray. Wear it when the temperature starts to dip, and you'll keep your entire head warm, even during the coldest winters.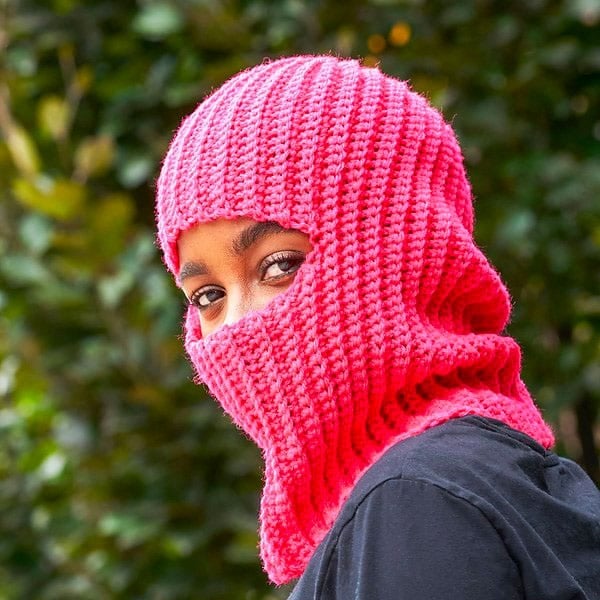 Get the Look
3. Baseball Cap
Nothing says casual more than a baseball cap. These classic hats have been a staple of the headwear game since the '80s, though their history dates back to the 19th century. While most designs feature a solid color and logo on the front, you can find styles with an array of patterns and colorways. One of the trendiest ways to style this look is by choosing a bold shade like royal blue, orange, and white. However, you can rarely go wrong with the classics, including black or gray. Style it with a blazer and jeans, a summer dress, or a suit- it doesn't matter if the hue matches the rest of your outfit.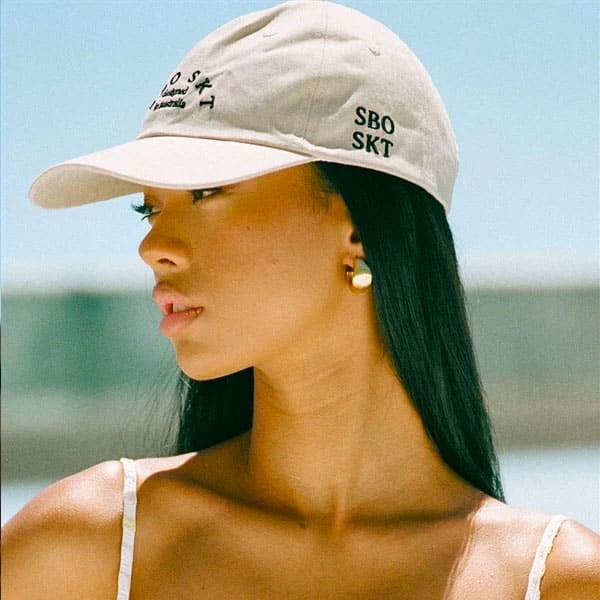 Get the Look
4. Beanie
Originally designed to keep the mud and grime off your hair, beanies have been used by people since the 12th century. These days you will find the humble beanie as more of a fashion statement and a smart way to stay warm during cold months. The knitted headpieces will cover the ears and head of the wearer, often made from a thick wool fabric. Some hats are plain, whereas others feature cute patterns and a fluffy bauble on the top, making them a perfect way to finish off an outfit and keep your head warm when it's freezing outside.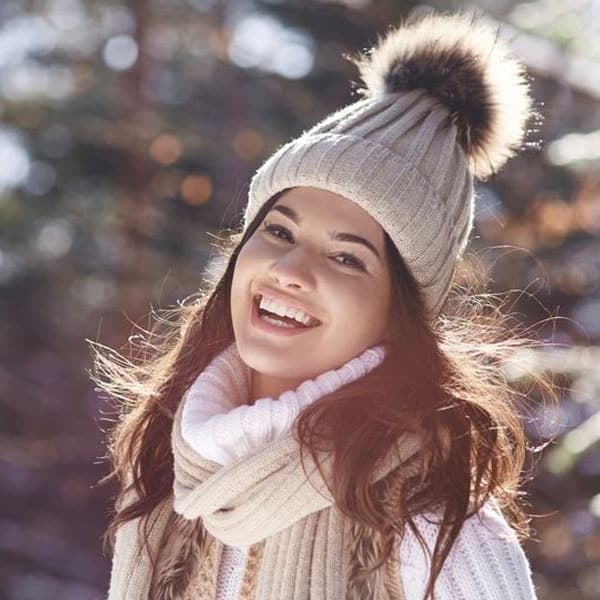 Get the Look
5. Beret
Berets are synonymous with French culture, and they are a cute and chic accessory for anyone to try. Its history goes back hundreds of years, but it became popular in the late 19th and early 20th centuries. while there are variants of this hat in countries like Scotland and Jamaica, they are most commonly associated with Parisian culture. They became a fashion statement in the '20s and remain a status symbol to this day. There are many ways you can style this hat, such as flat on the top of the head, slouched backward, or to one side of the head. The most popular colors include black, red, and navy, but you can try neutral shades for a more adaptable aesthetic.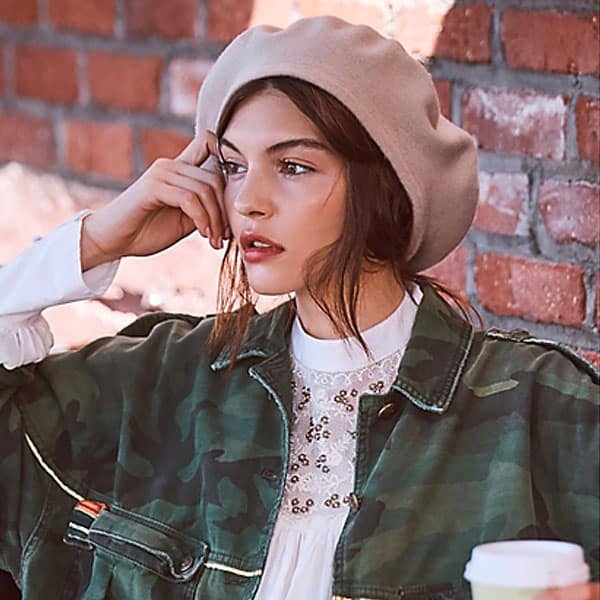 Get the Look
6. Boater Hat
As the name suggests, this hat was designed for people enjoying the sunshine on the water. Made popular in the 19th century, the boater hat was commonly worn by men of the upper class. However, today they're worn by women during warm months at the beach or at social events. This headwear features a straw construction with a round brim and a high top. There will always be a piece of fabric wrapped around the crown. While the traditional design features a small brim, these days, you will find options with an oversized edge to protect your eyes from the sun.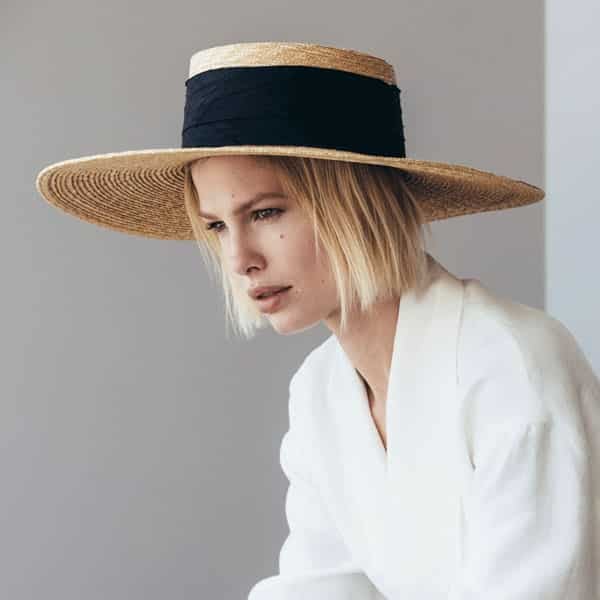 Get the Look
7. Bonnet Hat
While these hats went out of style at the turn of the century, bonnets have become a symbol of an era gone by and recently made a comeback through the cottagecore aesthetic. Covering the head and ears, this headwear leaves the forehead bare and flips outwards, with a strap to secure under your chin. While they were originally made with soft fabric with lace trimmings, today you'll find them crafted from straw – this is a sturdy alternative that can shield you from the sun. Style the look with a flirty and feminine dress or shirt with flowers or a soft color palette for an authentic feel.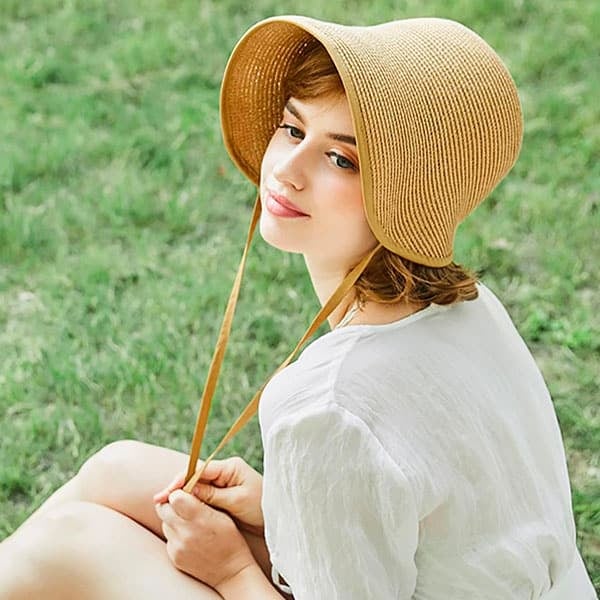 Get the Look
8. Boonie Hat
The Boonie hat is an excellent way to protect yourself from harsh conditions and is a practical choice for outdoor activities such as hiking or fishing. The headwear was originally intended for military purposes, usually in tropical climates that have a lot of rain and humidity. It features a bucket hat-type crown – soft and flexible – and often features mesh or eyelets for ventilation. Its brim is wide and usually sturdy to protect from the elements. With an added chin strap for security and often in khaki or camouflage prints, it's an excellent choice for your next adventure.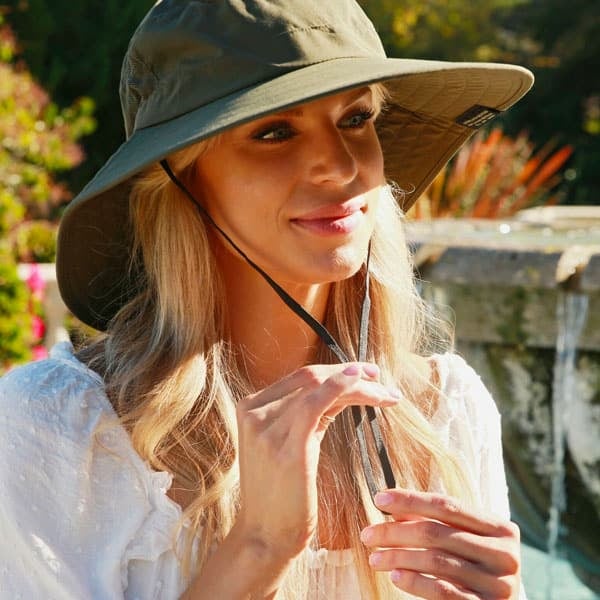 Get the Look
9. Bowler Hat
The bowler hat has a rich history in the UK and the US, with men from all classes donning the headwear in the 19th and 20th centuries. The hat fell out of popularity by the '70s but made a brief comeback in the mid-2010s with the increase of hipster culture. The hat itself features a hard and round crown with a small brim that flicks in an upward direction. The most common color you'll find is black, making it a great choice for almost any outfit.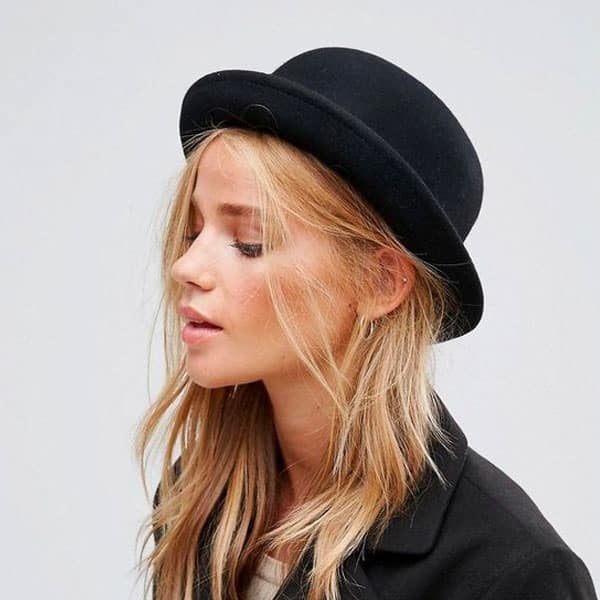 Get the Look
10. Breton Cap
Not to be confused with the baker boy hat, the Breton cap is a fisherman's style hat that became a fashionable choice for women in the 20th century. It peaked in popularity in the '60s and '70s, with icons like John Lennon wearing them as an accessory. The resurgence in popularity of this hat in the 2010s made it a popular choice for stylish women and remains that way until this day. With a peaked brim and soft fabric crown, it's usually worn in shades of blue such as navy or cobalt, and features a button on each side of the temple.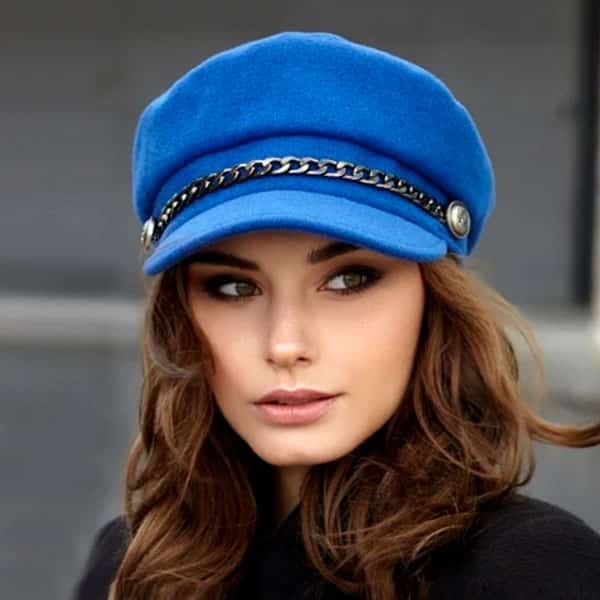 Get the Look
11. Bucket Hat
The bucket hat has had an unexpected renaissance for women and men alike in recent years. This iconic headwear features a silhouette synonymous with its name. Shaped like an upside-down bucket, it features a wide brim that sits downward towards the nose. The original design came out in the '60s, worn on TV and during the 'mod' scene that was popular with youth at the time. Later in the '90s, it surged in popularity again with streetwear and pop culture. The hat is usually constructed from cotton or wool, but you can also find alternatives made with terrycloth for water activities. You can find these accessories in almost every color imaginable, with patterns and logos on the front to express your personality.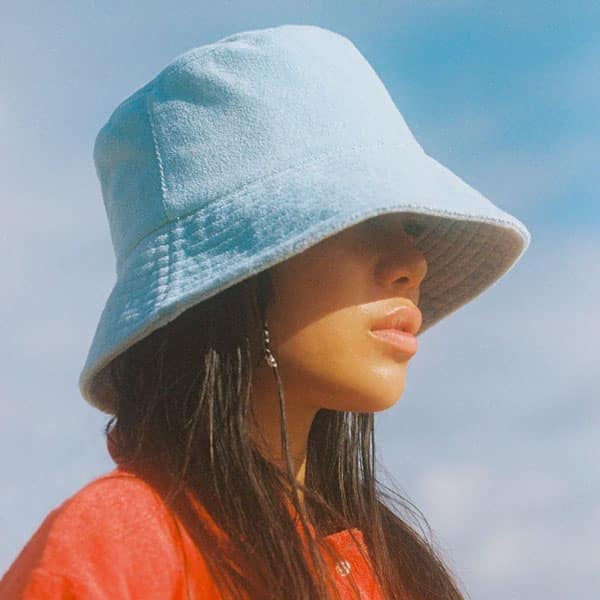 Get the Look
12. Cartwheel Hat
The cartwheel hat has been a popular fashion choice for women since the turn of the 20th century. Featuring a low and small crown, it is engulfed by an oversized wide brim, resembling a wheel on a cart. Wearers will style this to the side of their head, showing off the large circle silhouette on an angle. While this was a hugely popular accessory for women in the early and mid-20th century, it slowly became associated with horse racing events and weddings, where formal headwear is expected.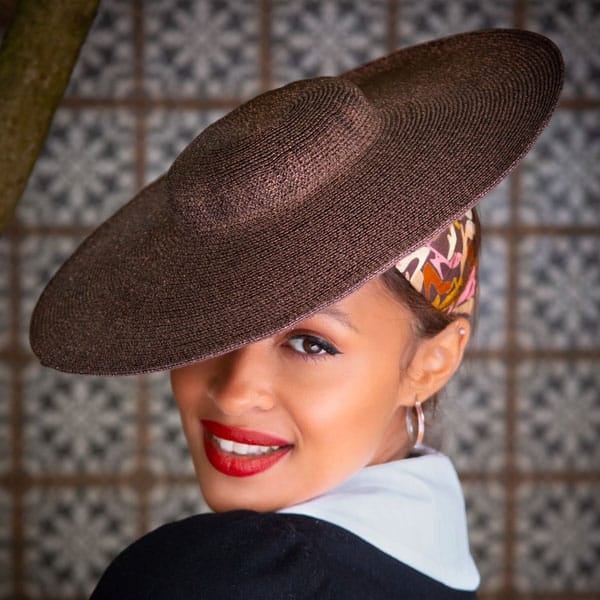 Get the Look
13. Cloche Hat
The cloche hat is more than 100 years old and is a symbol of rebellion for women at the turn of the 20th century. Originally invented in 1908, it didn't become popular until the '20s and '30s, worn by the biggest stars of the silver screen. This hat sits close to the head and rests just above the eyes, and there's usually a small brim that flicks outwards – hence its name after a bell. The hat became so popular that some women even cut their hair to show off the hat's silhouette – a bold move for the time. To style the headwear today, wear your hair short or to the nape of your neck, and opt for a soft fabric such as felt to give it an authentic touch.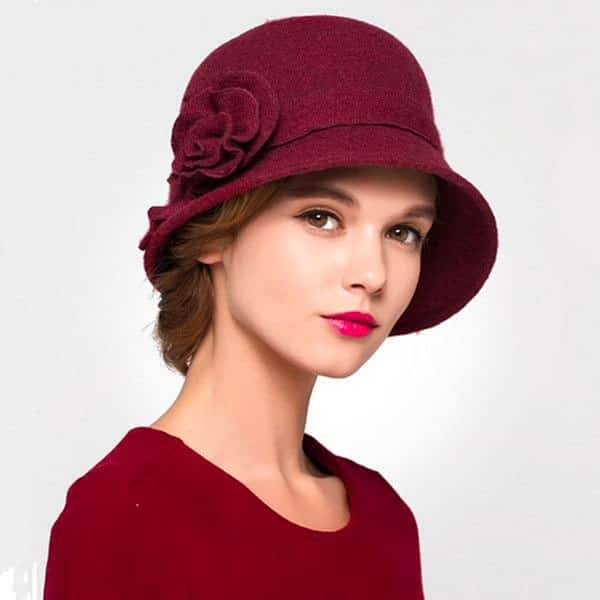 14. Cowboy Hat
There is no hat as iconic as the cowboy hat. While it's been around for hundreds of years, it remains a fashionable choice for people today – even if they've never ridden a horse. With a wide and flat brim, they feature a high crown, usually with a dip in the center. Some feature upturned sides to prevent the hat from being lifted off while riding, whereas others include a star under the chin for extra security. Style this look with a casual ensemble, such as denim jeans and a white T-shirt – western bots are optional, but they make for an awesome outfit.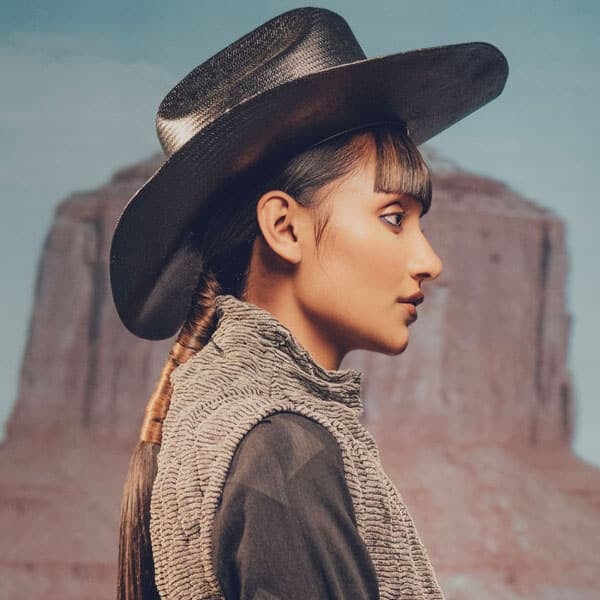 Get the Look
15. Deerstalker Hat
Commonly associated with Sherlock Holmes, the deerstalker hat features a peaked cap and matching behind, making both ends look the same either way. As the name suggests, the hat was traditionally worn by hunters during the 19th century. There are a few variations of this headwear, sometimes seen with earflaps, often folded up towards the top of the hat. Usually, they're made from tweed or wool fabric, often in dark shades such as green, brown, and gray.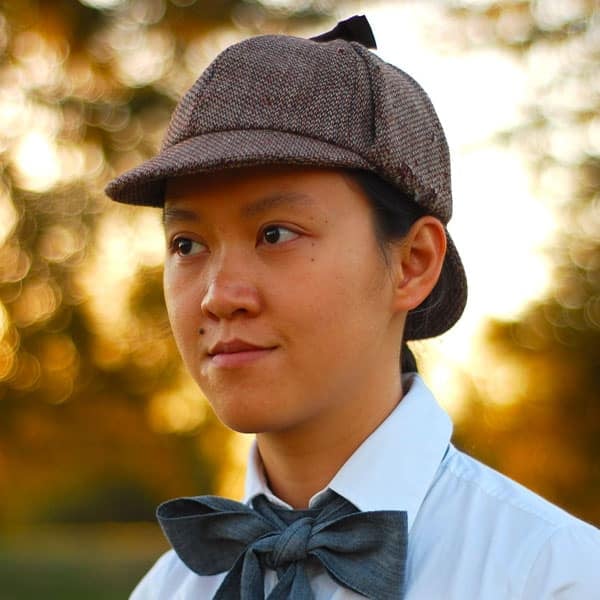 Get the Look
16. Fascinator
While hair accessories have been a popular choice for women dating back to the 19th century in France, it wasn't until the '70s '80s that this trend became solidified. This headwear is small in size and covers a small part of the head, usually on one side. While it offers no protection to the wearer, it provides an opportunity for embellishment. Milliners create extravagant hats for women, featuring large plumage, netting, and bold colors. You'll usually find these at racing events with a formal dress code. To tip: match the color of your fascinator to your clothing for a chic finish.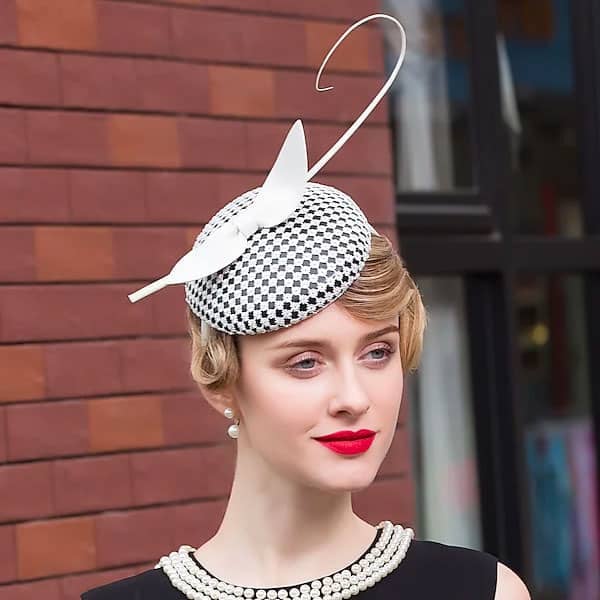 Get the Look
17. Fedora
The fedora has come a long way in the 200 years it has existed and remains a popular accessory to this day. This headwear features a wide brim and high crown with a pinched front. While original designs feature a shorter brim, you can wear varying sizes for a modern twist. They're usually crafted from felt and traditionally in dark shades like black or gray. But today, you can find them in neutral shades like tan, cream, and coffee – they look fantastic in colder months with a monochromatic color palette.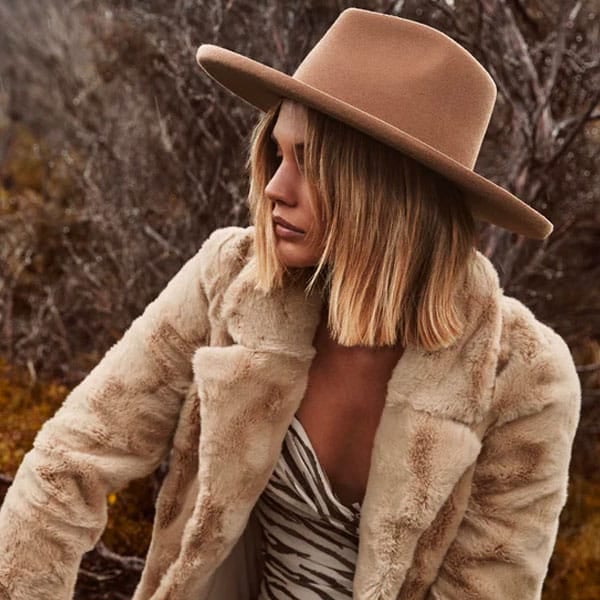 Get the Look
18. Kettle Brim Hat
A kettle brim hat is a fantastic choice for anyone, thanks to its versatility. This outerwear features a soft, round crown and wide brim. What makes it different from others is the upturned edges – the length of the brim can be larger or smaller, but it must feature the upturned fabric. You can find them made from many colors and fabrics, such as straw and canvas. Some designers will add embellishments such as a ribbon around the crown, button, and patterned fabrics. They're an excellent option for warm months as they complement any ensemble or face shape.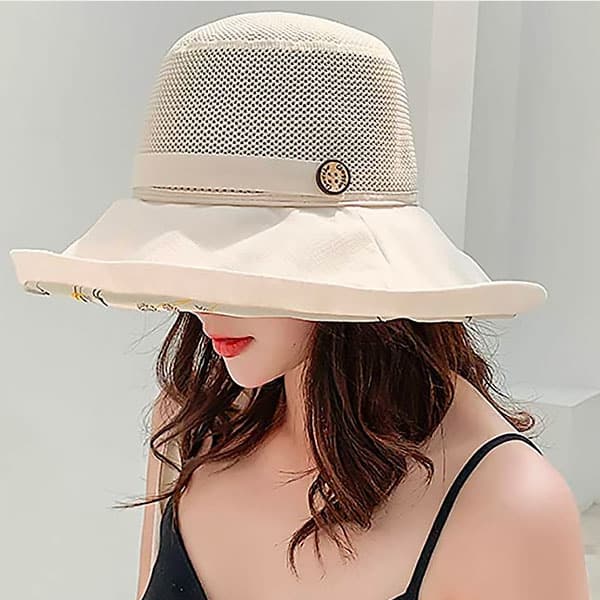 Get the Look
19. Newsboy Cap
Similar to the baker boy hat, a newsboy cap has its origins traced back to the early 20th century in the US and Europe. This headwear is round in shape, with a flat top and peaked cap, both covering the forehead. Originally, it was worn by newspaper boys and lower-class men. It became less popular over time but had a resurgence in the mid-2000s and 2010s during the hipster fashion trends. They usually come in dark shades such as black, gray, and brown – you can find them made from wool, tweed, or cotton.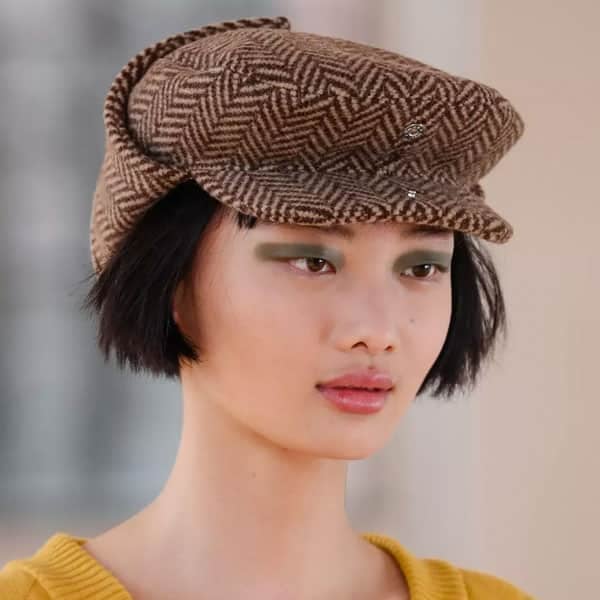 Get the Look
20. Panama Hat
Although this hat is known as the Panama hat, its origins are traced back to Ecuador. With a lightweight straw construction and light colorway, these are the perfect choice for tropical weather and became a hit across the US in the 19th and 20th centuries. The silhouette features a wide brim and a high crown, pinched at the front. Unlike other styles, this hat is crafted specifically for warmer temperatures. You will find these available in light colors, such as cream and white, with a brown or black band around the base of the crown.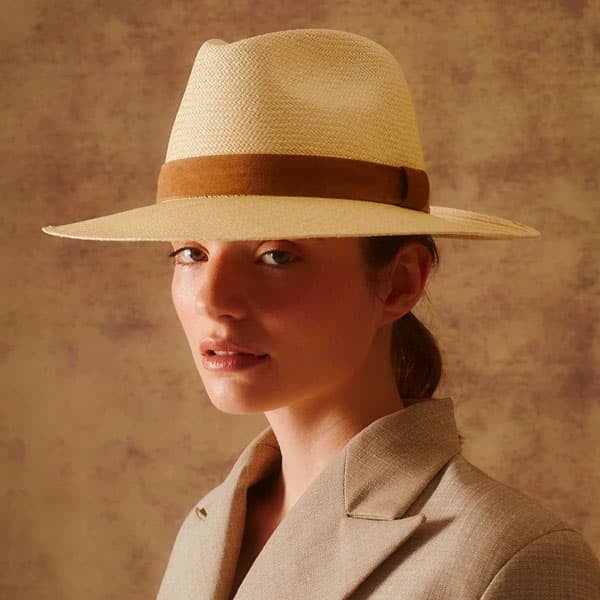 Get the Look
21. Pillbox Hat
With a round and flat design, this small hat was a huge hit in the '30s until the '60s. This small headpiece sits on the top of the head, covering a small portion of the hair. They come in endless colors and fabrics, including green and leopard print, with additional extras like netting or fabric sculptures. Perhaps the most iconic iteration of this was Jacqueline Kennedy's pink pillbox hat, worn on the day of JFK's assassination. Today, you'll find them at formal events and engagements, such as races or wedding ceremonies.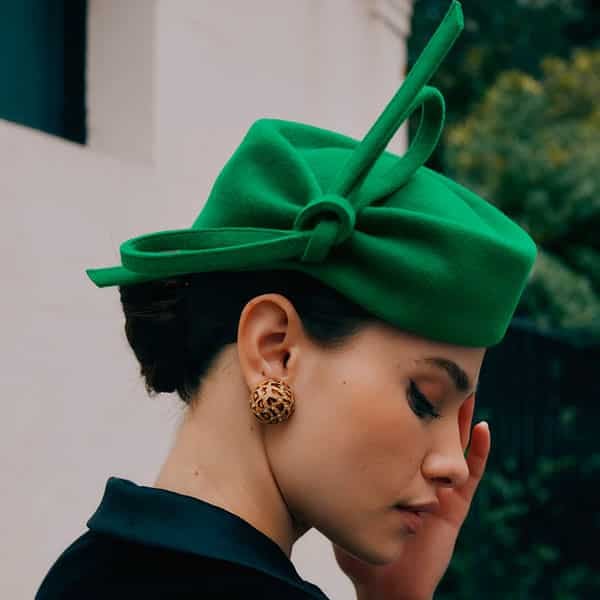 Get the Look
22. Straw Hat
The straw hat has been a staple for women for centuries. Not only do they protect you from the sun, but they come in multiple styles and sizes, so there's something for everyone. Over the years, they've changed in silhouette to reflect the fashion of the day. Some examples include the early 20th century when small brim and a wide crown were popular. These days, you will find designs that suit all preferences, with extra wide brims a la Jacquemus or smaller edges that resemble a fedora.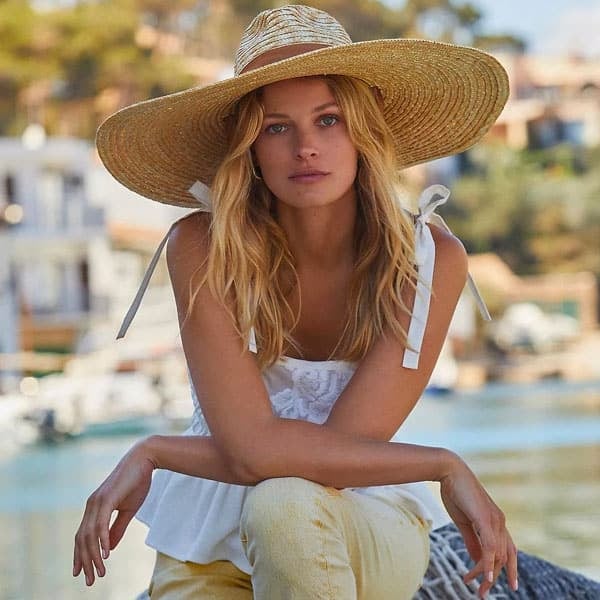 Get the Look
23. Sun Hat
Similar to the straw hat, this headwear is designed to be lightweight and from a breathable fabric to let your head stay cool. Usually, they'll feature a wide brim and high crown to shield the face from the sun, but you can find designs with different widths to accommodate to preference. While most are made from straw, you can find alternative fabrics like canvas, which have a wider range of prints and colors. It's a stylish and practical choice for an afternoon on the beach or going for a walk in the warmer months.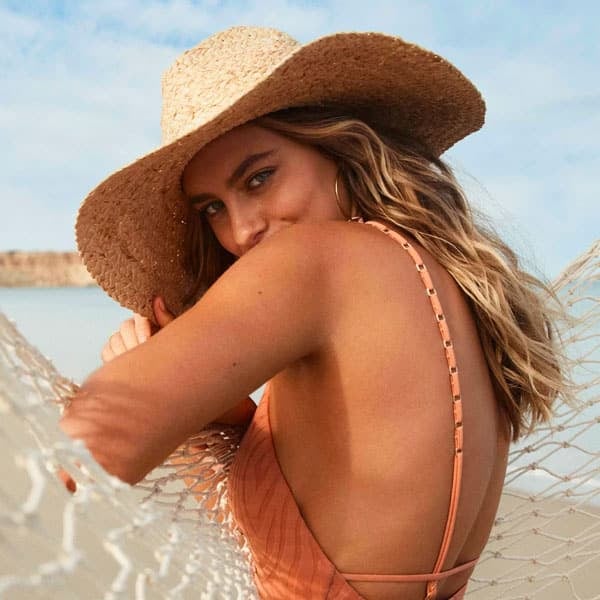 Get the Look
24. Trilby Hat
The Trilby hat is commonly confused with a fedora, but there are some key differences between the two. While both feature a high crown with a pinched front, this style boasts a narrower brim. They were commonly worn by the likes of Frank Sinatra but became a popular fashion accessory for women in the 2010s during the hipster movement. You can find them in shades like brown, black, and gray – they look fantastic when paired with a darker color palette or a pair of jeans.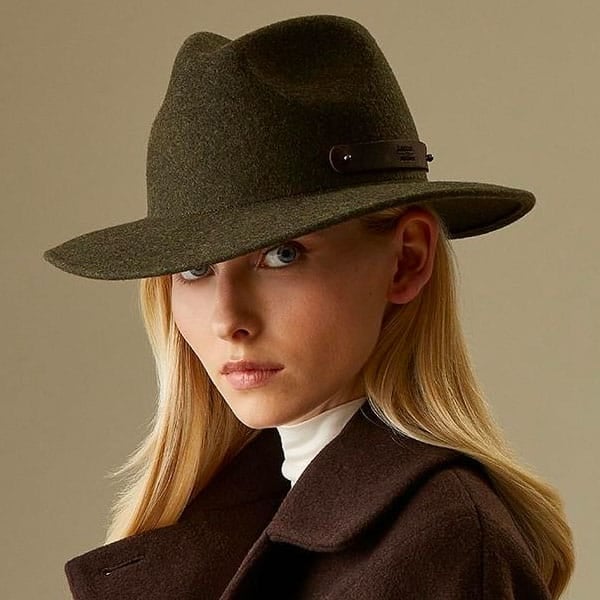 Get the Look
25. Turban
Turbans have a long and rich history around the world, with religious and cultural history woven into their origins. Its fashion counterpart became popular across Europe in the 19th century and hit the mainstream between the '30s and '70s. This headwear usually consists of a piece of fabric wrapped around the head, twisted into an intricate knot at the front or behind the head. You can find a wide variety of different fabrics and colors today, such as blue, pink, or green.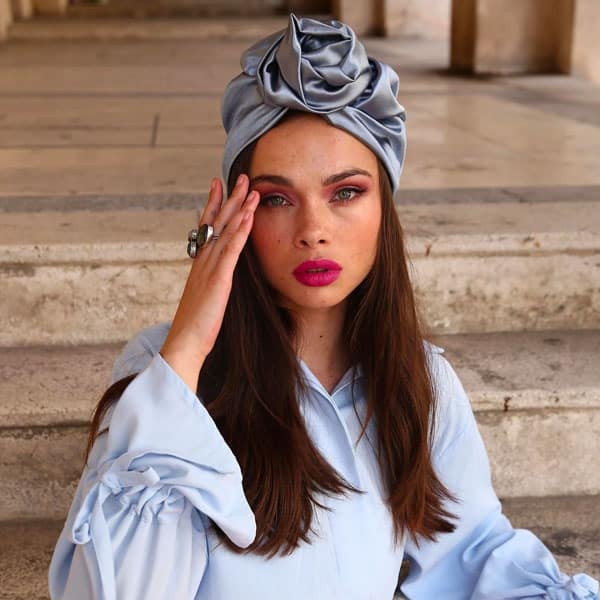 Get the Look
26. Visor
Originally intended for sports, the visor features the majority of elements in a traditional cap, such as the peaked front and crown. However, there is no fabric on the top, instead with a strap wrapping around the head. They were designed in the '60s but didn't reach mainstream popularity until the '90s. Although they were originally intended for activities such as golf and tennis to prevent sunlight in your eyes, they soon became fashion accessories. You can find the made from canvas, cotton, or woven straw – they look great in neutral shades like brown or black.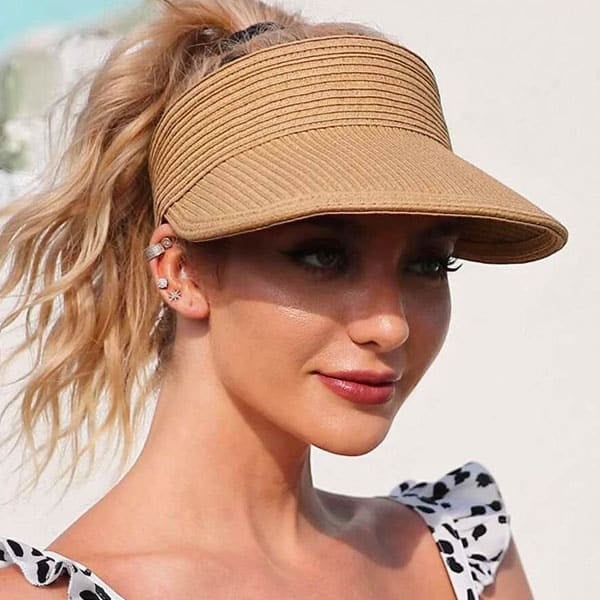 Get the Look
27. Derby Hat
Also called the Kentucky Derby hat, these extravagant and wide-brimmed hats are usually reserved for racing carnivals such as Derby Day, the event that was named after. Typically with an extra wide brim and high crown, they are often bright in color. While you'll find them in blue, pink, and red, you can also get them in more muted shades like black or white. They're often covered in embellishments, such as flowers, jewels, or excess fabric. Match the shade to your dress for an ultra-flattering look.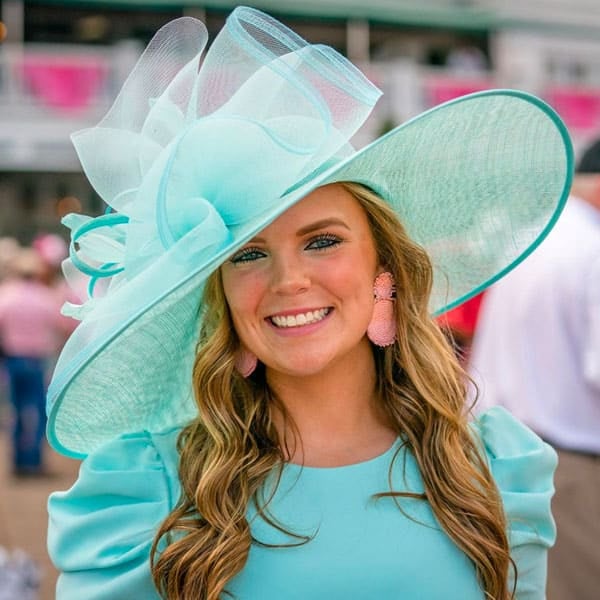 Get the Look
28. Floppy Hat
Ready to spend some time outside but don't want to get a sunburned face? Floppy hats offer protection over your entire face, and thanks to their wide but loose brim, it creates a shadow over your whole face. These are usually made from flexible fabric, such as straw or canvas, which are breathable and lightweight enough to wear outdoors in the hot sun. Wear it with a flowy summer dress or a cute pair of jeans and a crop top – it looks great with almost anything.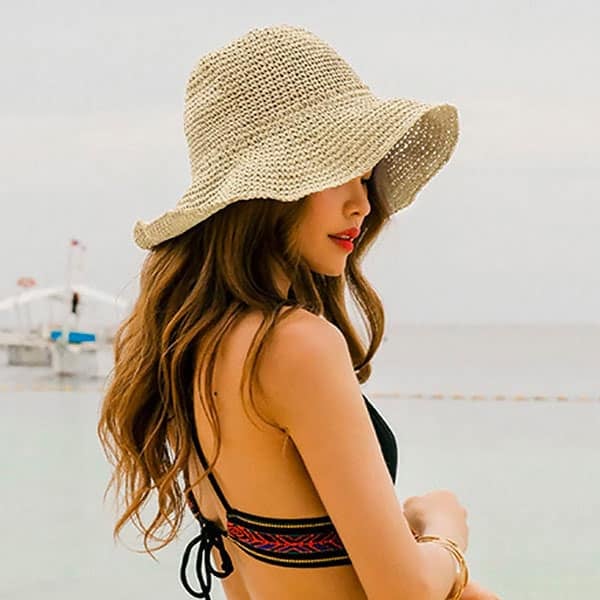 Get the Look
29. Kepi Hat
Most commonly associated with military uniforms, the Kepi hat is an iconic part of history. With a wide brim on the front of the face and a small, flat, and tall crown, its origins trace back to the 10th century. These days, you can find this headwear in a wide range of styles and with a more fashionable twist. However, the most common colors include khaki, black and gray – they work with a lot of different styles and provide protection from the elements all year round.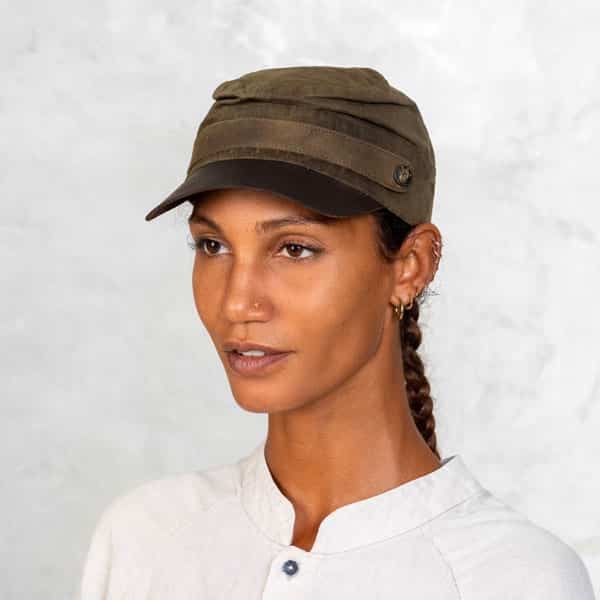 Get the Look
30. Trapper Hat
Have you ever wanted an aviator hat made from fur? Look no further than the trapper hat, which was first seen in Russia by bear hunters and trappers. The warm lining of fur keeps your face and ears protected against harsh winter elements, such as snow or wind. They come in a huge range of colors, such as white, black or brown – wear them as you ski or walk through the freezing streets during winter.