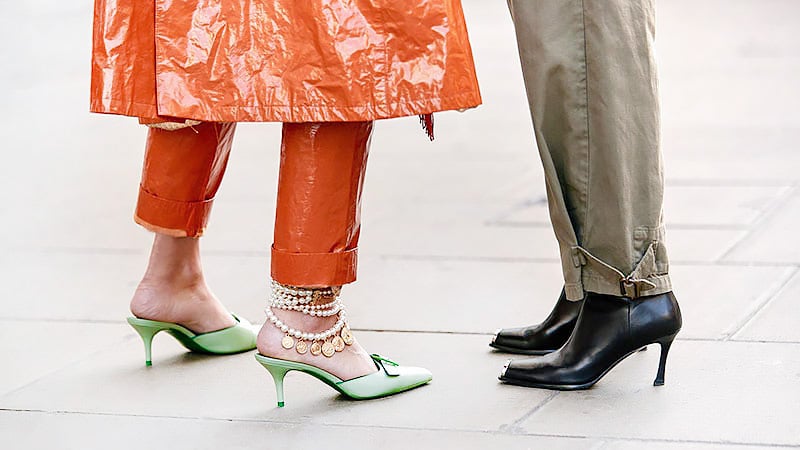 Whether you're headed to work or a nightclub, stylish footwear will elevate your look and add a unique touch to every outfit. Own a pair of statement boots for winter or chunky sneakers for summer, there's a myriad of styles to choose from. No one can have enough shoes, so what are you waiting for? Let the world be your runway with these trending shoes for women in 2019.
RELATED: 30 Types of Heels Every Women Should Know
1. White Kitten Heels
Add a trendy touch to your outfit with these cute kitten heel booties. White is one of the hottest shoe colors of the season, so showcase them by wearing pop or pastel shades to make them stand out. This footwear looks excellent with jeans and a trench coat or with a midi skirt. No matter how you style them, they're essential for every woman's wardrobe.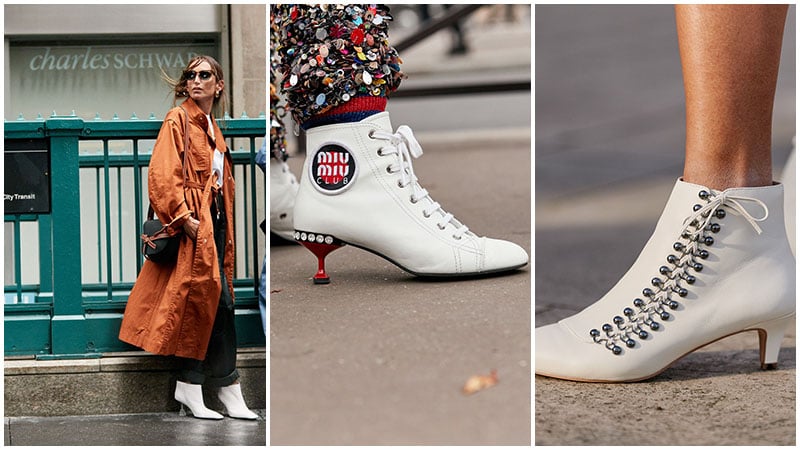 BEST BUYS
2. Straight Leg Boots
Say goodbye to the super tight footwear that you can't walk in, and say hello to these straight-leg boots. Not only do they look amazing with long and flowing dresses, but they're a great way to keep yourself warm when the temperature drops. Choose from something simple and understated, or go wild with a funky pattern or an animal print. If you're ready to show extra leg, rock these shoes with a short skirt and a long jacket, and you'll be hitting up the streets in style all day.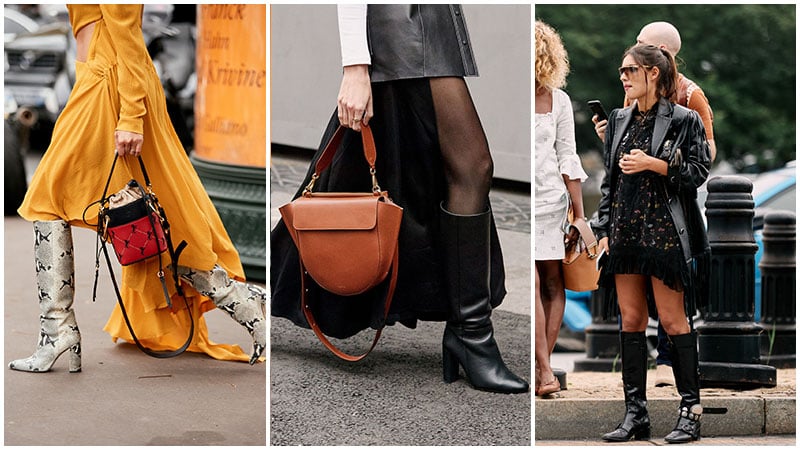 BEST BUYS
3. Square Toe Boots
It turns out that it is hip to be square, thanks to these boots. The cut-off design puts a fresh twist on the classic footwear and is made to be seen. Wear an ankle-length pair and show off your pins, or go for the knee high style, and rock it with a skirt. These shoes look great in any setting and are timeless, so you can keep them forever!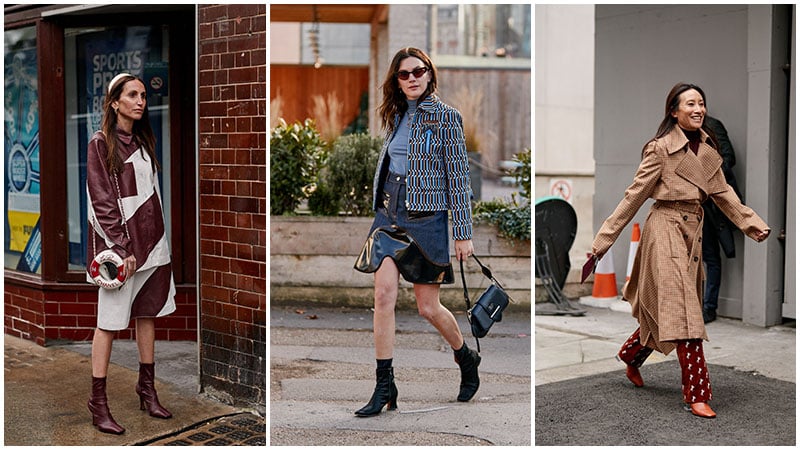 BEST BUYS
4. Kitten Heel Mules
Unleash your inner fashionista with these kitten-heel mules. With a miniature height and an accentuated toe, this style is a cute addition to any outfit. From something plain to a wild and funky design, you can't go wrong with this stunning footwear.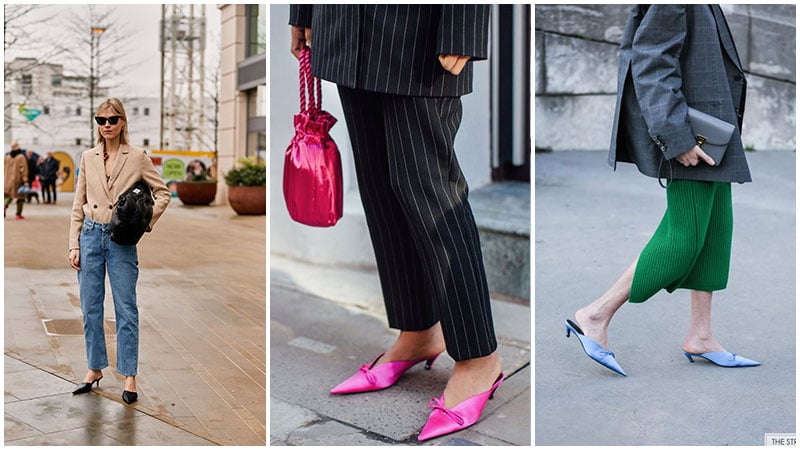 BEST BUYS
5. Combat Boots
Show everyone that you mean business in a pair of combat boots. Whether you're doing an army crawl or you're taking a stroll through the city streets, these tough and stylish shoes will tie any outfit together. Rock jeans and a coat with the footwear, or mix things up with a delicate and hyper-feminine sundress for the ultimate throwback to the '90s. No matter how you wear these, you'll be the coolest girl everywhere you go in a set of these babies.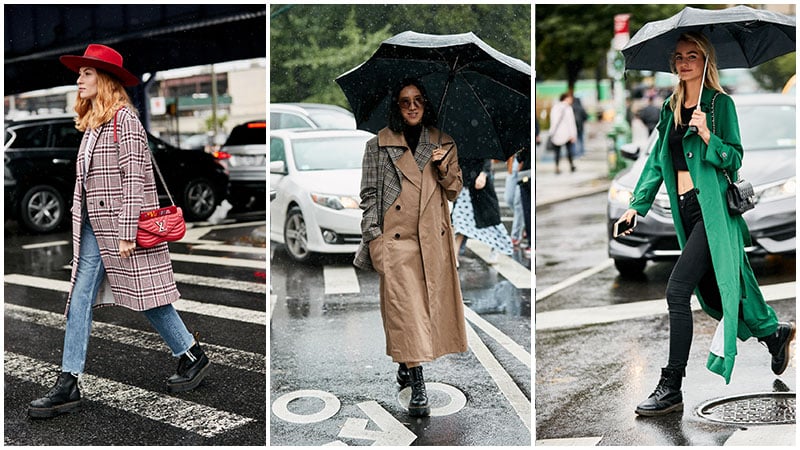 BEST BUYS
6. Chunky White Sneakers
Take sporty chic to a whole new level with chunky white sneakers. Whether you're wearing them because of the trend or just pure comfort, this footwear is a perfect blend of luxury and leisure. Rock it with a long skirt, sweatpants or jeans, and you'll be ready to run the world.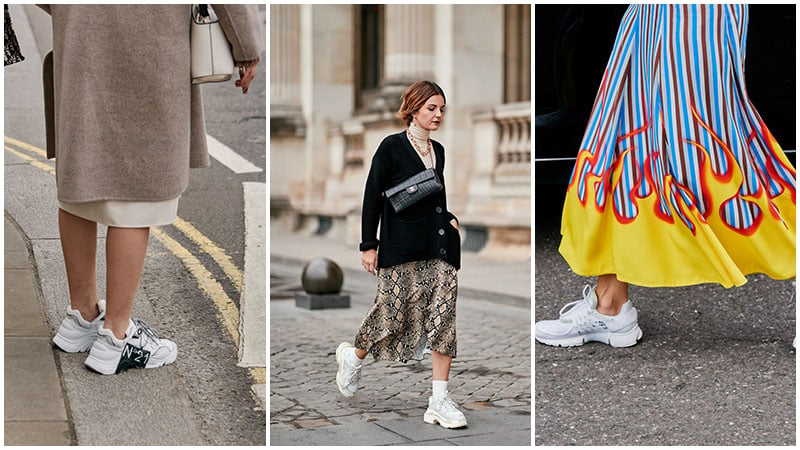 BEST BUYS
7. Contrast Toe Boots
Opposites attract with these contrast toe boots. Whether they're black and brown or blue and white, these mixed and matched shoes will add depth to any outfit you are wearing. From ankle to knee length footwear, there is a multitude of options you can wear and look like the most stylish person in the room.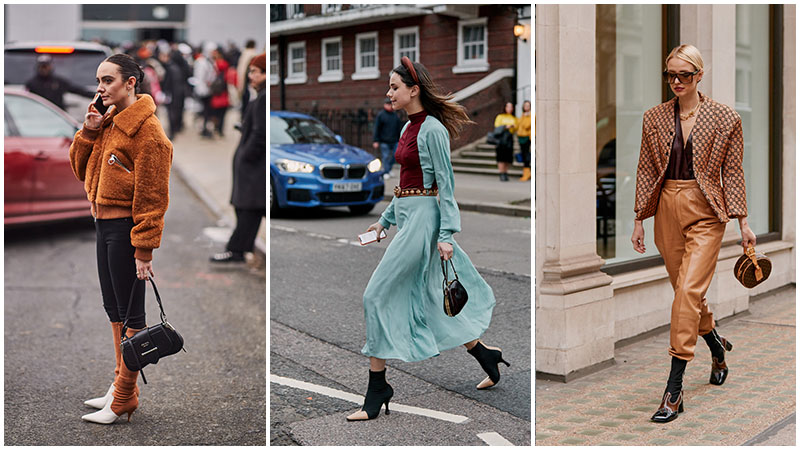 BEST BUYS
8. Platform Sandals with Ankle Strap
Get that summer feeling going with a pair of platform sandals. Whether the straps go all the way up your leg or they stick to the ankle, these shoes are a great way to showcase your pins and keep yourself cool. Rock the footwear with a flowing dress to add a semi-formal feel to the outfit, or wear them with socks for a super chilled aesthetic.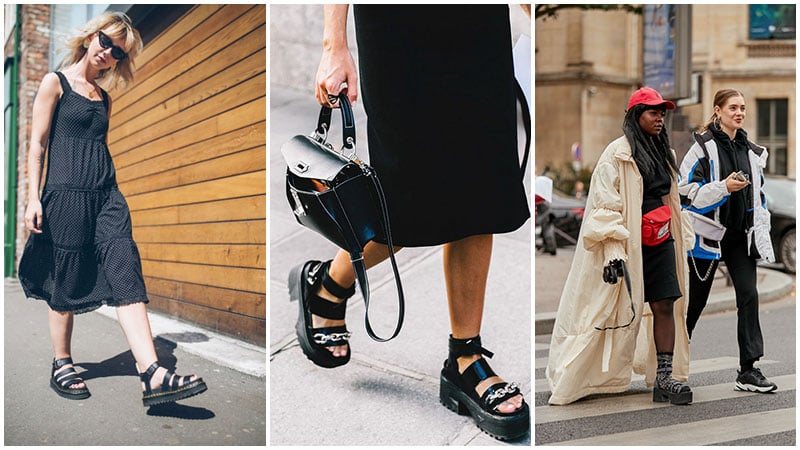 BEST BUYS
9. Ornate Heels
Let your feet do the talking with these ornate heels. Whether they're gold, silver or crystal, you can't go wrong with a statement shoe. It doesn't have to be over the top – a plain design with a decorative embellishment is all you need to make a statement. If you're ready to go all out, pick a designer shoe or choose something with a detail wrapped around the back of the heel.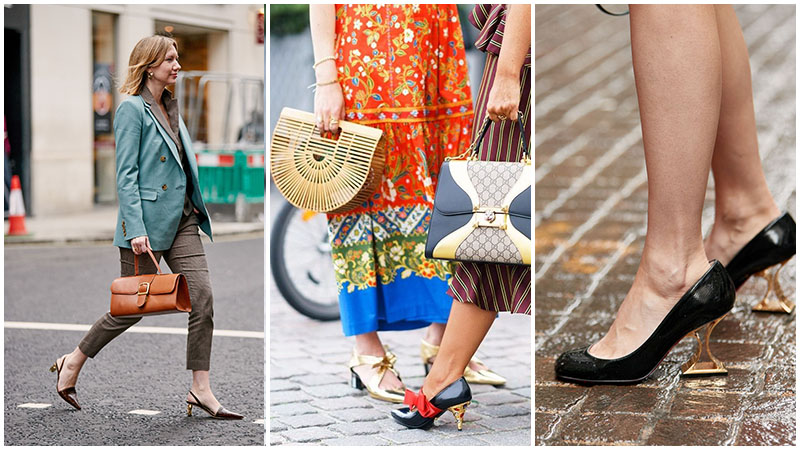 BEST BUYS
10. Black and White Cowboy Boots
Live out your Western fantasy with these funky black and white cowboy boots. Pick an ankle-length pair or the one that goes up to your shin – they're a timeless classic that keeps coming back. Whether you're rocking it with blue denim or a monochromatic ensemble, this is a pairing that will capture the attention of everyone you walk past, and for a good reason.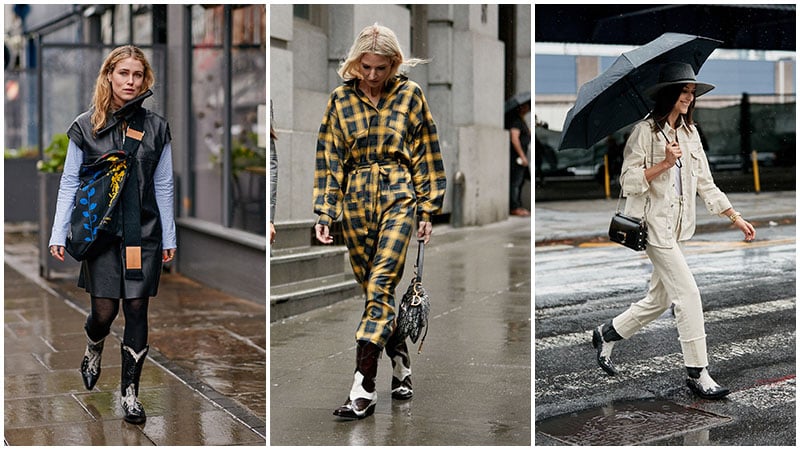 BEST BUYS
Trending Shoes Women FAQs
What is the most popular women's shoe?
It's hard to give a definitive answer to the most popular women's shoes. However, there are a few staples that every woman should have in her wardrobe. These include a quality pair of classic black ballet flats, which are versatile, comfortable, and elegant. Next, stylish shoes for casual walking are essential, whether this is a pair of sneakers, tennis shoes, or loafers, you want them to be easy to wear. Mid-heeled boots, either ankle or tall, are next on this list, then a pair of summer sandals in a neutral color. Lastly, a pair of black heels are like the little black dress of the shoe wardrobe – just make sure you pick a style you can walk in both comfortably and safely.
Are flats in Style 2021?
Flats are in style in 2021. They're both comfortable and practical and look great paired with everything from trousers and skirts, to dresses and shorts. Consider styles such as classic ballet flats, pointed mules, loafers, combat boots, and tennis shoes. Updates to these designs in 2021 include square toes, Mary-Jane style straps, and natural materials.
Are Flatforms in Style 2021?
While they can be divisive, flatforms are on-trend in 2021. The chunky soles add extra height to the wearer, without the discomfort of heels. As such, they're practical and stylish all at the same time. You'll find sneakers and sandals are the most popular varieties, as they keep your foot secured to counteract the additional weight of the soles.
Are Uggs out of style 2021?
They're perhaps not as prevalent in the streets as they were in the mid-2000s, but Ugg boots are still in fashion. Not only are they practical and great for keeping your feet warm and snug, but they also fit perfectly into the stay-at-home pandemic life loungewear trend. Style them this winter with oversize coats, jeans, and comfy leggings.
Are loafers in Style 2021?
Both flat and heeled loafers are trendy in 2021. This timeless shoe is an excellent combination of practical comfort and elegant style. Pair flat loafers with ankle cut trousers, jeans, or even yoga pants and blazer for a dressed up, yet casual aesthetic. When it comes to heeled loafers, opt for block heels or open backs, and wear them with midi-length skirts, tailored pants, and wide-leg jeans.
Are Birkenstocks in Style 2021?
Birkenstocks have turned into a fashionable mainstay on the sandal front, especially in 2021, when it's all about comfort. The molded and ergonomic footbeds with arch support make them blissful to wear. Plus, there are seemingly endless materials and colors to choose from. They look good teamed with everything from casual denim shorts and sweet sundresses to mom-jeans and even tailored trousers.
Are ankle boots still in Style 2021?
Ankle boots are always in style as a concept; however, it's the details that change with the season. In 2021 look for combat ankle boots with chunky soles and a whole lot of attitude. Square toes are also in, as are laces for a detailed look. Regarding colors, the brighter the better with all shades of the rainbow, as well as white on-trend.
SUBSCRIBE TO OUR NEWSLETTER
Subscribe to our mailing list and get interesting stuff and updates to your email inbox.