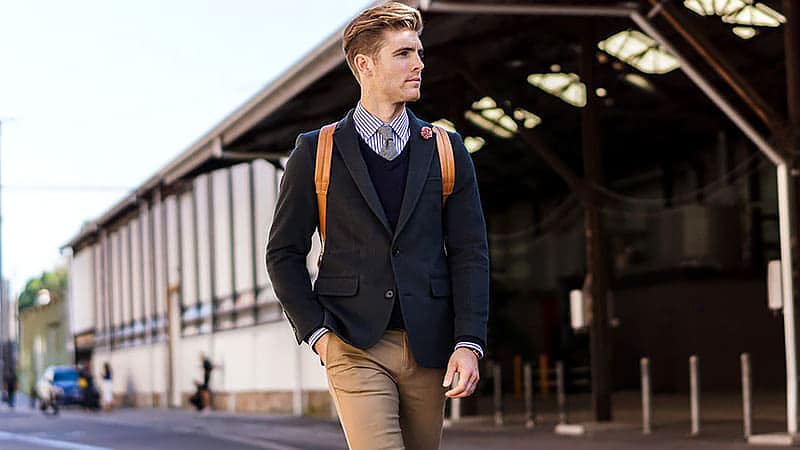 A black blazer is a timeless item of clothing that every gent should own. Not only is the smart jacket classic and stylish, but it's also perfect for adding a sophisticated touch to outfits. Of course, owning a black blazer is no good if you don't know how to wear it properly. Although black blazers are quite versatile garments, you can't just partner them with any old outfit and expect to look incredible. Instead, you need to plan an ensemble that will complement your tailored jacket. From the perfect pants to the ideal shirt and shoes, we can show you the best ways to rock your black blazer for a stylish look.
RELATED: How to Wear a Casual Blazer
What to Wear with a Black Blazer
The decision of what to wear with a black blazer will often come down to when and where you plan to wear it and the blazer's overall style. As there are many black blazers on the market today, it's important to note their differences when buying one and deciding how to wear it. While blazers that are fully lined and structured with padded shoulders will be perfect for formal events, those that are unlined and feature unstructured shoulders will suit informal occasions. By deciding which of these categories your black blazer falls into, you'll be able to assess whether you should wear it with your best suit trousers or favourite jeans.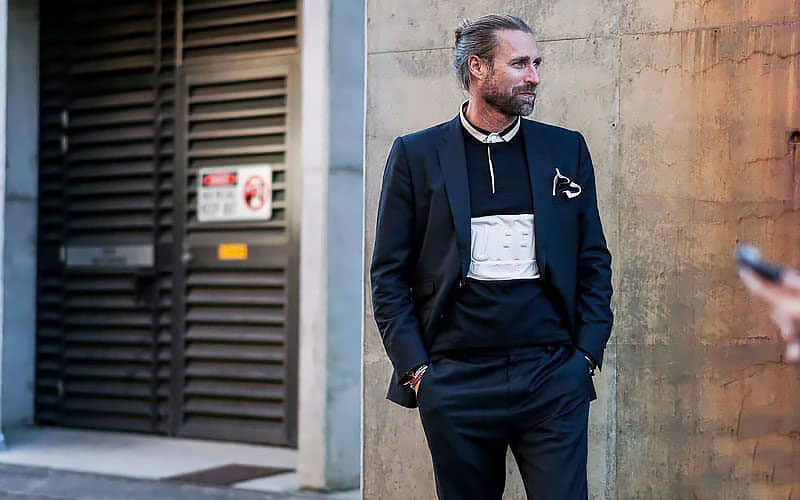 Black Blazer Outfits
Due to its classic style and versatility, a black blazer is a worthwhile investment piece. By choosing a design that can suit multiple occasions, you'll find yourself with a great go-to jacket for smart casual, semi-formal, and formal events. To complete your outfit, you just need to select the perfect pants, shirt, and shoes. Whether you want to appear sharp and dressed up or elegant and relaxed, remember to choose smart pieces that suit the style of your blazer. If you're still not sure what to wear with your black blazer, read on to discover the best outfits to rock with the staple jacket.
Black Blazer with Grey Pants
For a straightforward and stylish combination, why not try rocking your black blazer with grey pants? The partnership is an excellent option for formal occasions and an ideal alternative to a standard black suit. To complete the outfit in a sophisticated manner, stick to a monochromatic colour palette. A white shirt, black tie, and black dress shoes can provide the perfect finish to this suave ensemble. For a more casual look, consider opting for grey chinos over wool trousers or suit pants. Also, don't forget to lose the tie and swap your white button-up for a crew-neck T-shirt or polo shirt.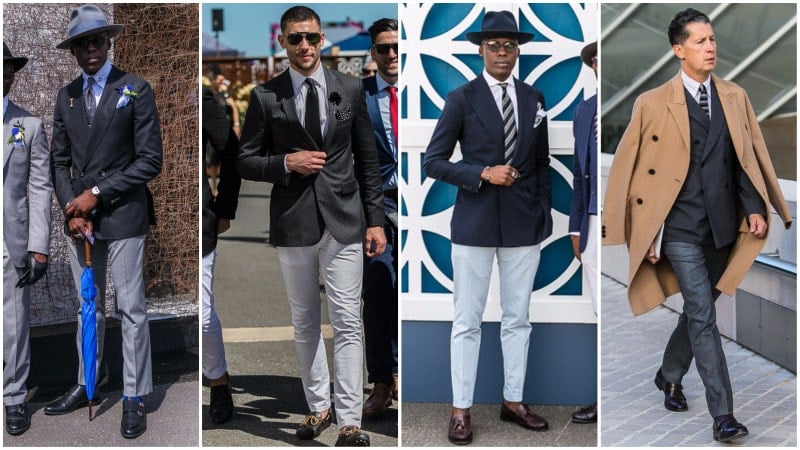 SHOP THE LOOK
Black Blazer with Beige Trousers
Your classic black blazer may be more versatile than you think. While the tailored jacket is of course ideal for formal and business occasions, it can also achieve a fantastic, smart casual style when worn with the right pants. So, the next time you need a great semi-formal ensemble, try partnering your black blazer with beige trousers. The combination is dapper yet down-to-earth, making it ideal for a range of events. To complete the look, all you need to do is add a white shirt and black derby shoes. You can then choose whether you want to keep the look minimal or accessorise it with a tie and pocket square.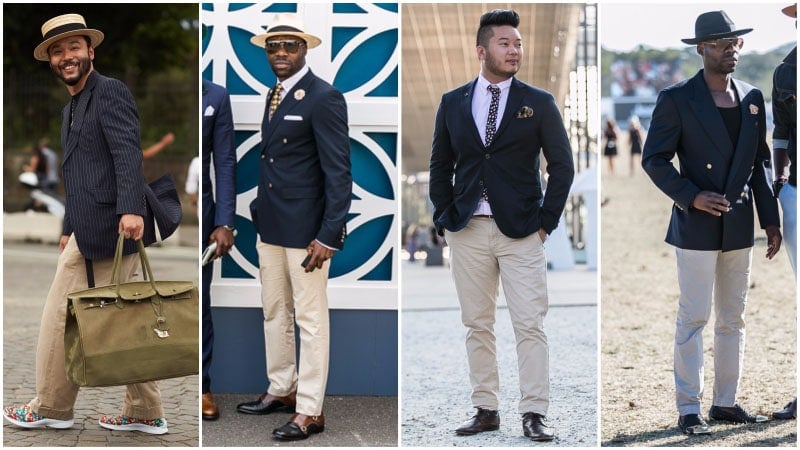 SHOP THE LOOK
Black Blazer with Jeans
Whether you're heading into the city for a day or out to a bar at night, a black blazer and jeans is an excellent outfit to rock. The combination is both relaxed and sharp, making it ideal for any time of day. So, if you've only ever worn your blazer with trousers, it's time to give denim a go. To wear the look in style, just remember to keep things simple and contemporary. A monochromatic colour palette will keep your outfit dapper while skinny jeans will ensure that it's sleek and modern. To finish your look with the perfect balance of sophistication and nonchalance, opt for a casual T-shirt and dress shoes.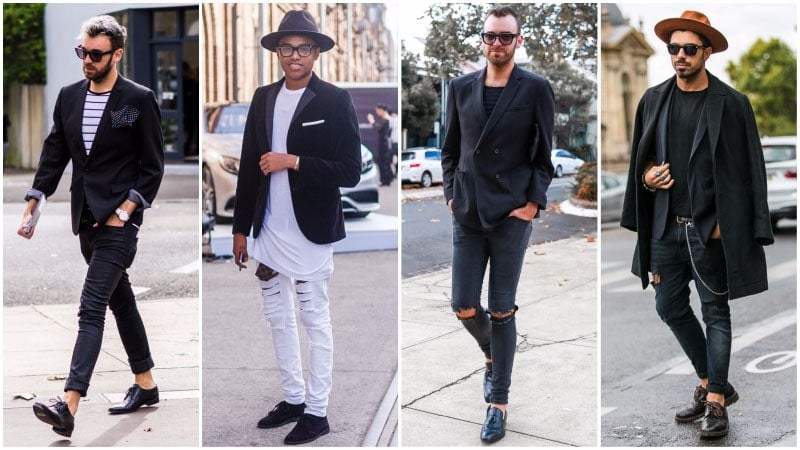 SHOP THE LOOK
Black Blazer with Blue Shirt
If you want to wear your black blazer formally, pairing it with black pants and a blue shirt makes an excellent choice. The look is polished and a fashionable alternative to a black suit and white shirt. Just be mindful of the shades that you pick when rocking this look. Opting for trousers that match your blazer will create a coordinated and traditional appearance while mixing tones will appear more relaxed and modern. If you do choose pants in a different black to your blazer, select a pair that is at least two shades lighter or darker. Doing so will ensure a clear focal point and that the pieces don't clash.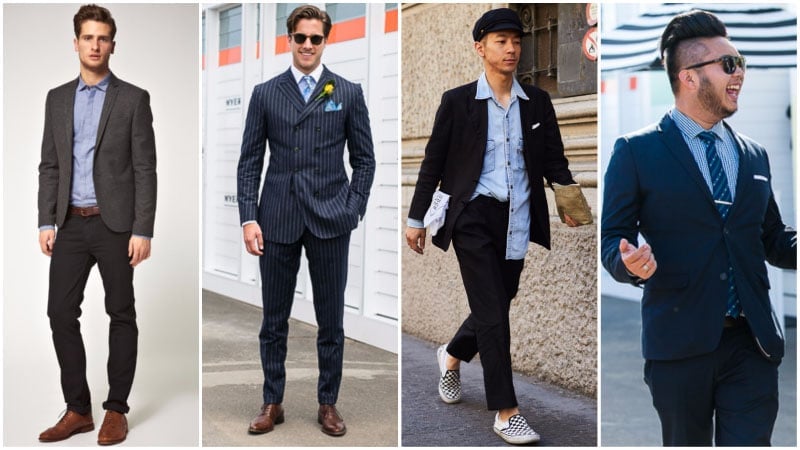 SHOP THE LOOK
Black Sport Coat
When shopping for a black blazer, don't forget to consider a sports coat. A black sports coat can make an excellent addition to your wardrobe and an ideal alternative to a blazer. While the style is like a blazer, sports jackets tend to be less structured and fit more loosely on the body. As such, they're perfect for casual outfits and projecting a relaxed yet refined appearance. Thanks to their extra room, a sports coat also allows you to fit thick items, such as a sweater, underneath. For a smart weekend look, try layering a black sports jacket over a dark grey roll-neck sweater and partnering it with light grey chinos.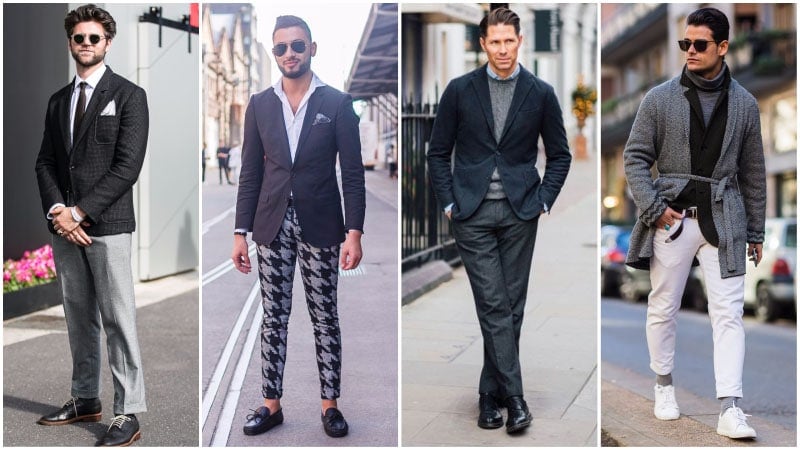 SHOP THE LOOK
How to Wear a Black Blazer
Invest in a quality black blazer with an excellent fit.
Wear a structured blazer for formal events and an unstructured blazer for smart casual occasions.
Choose a black sports coat instead of a blazer when you want to layer a sweater beneath.
Partner a black blazer with grey pants and a white shirt for a sophisticated outfit.
For semi-formal and smart casual dress codes, wear a black blazer with khaki trousers or jeans.
Rock a black blazer with a blue shirt and a pair of black pants as a modern alternative to a standard black suit.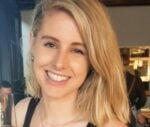 Taylah Brewer holds a bachelor's degree in fashion and business and is a skilled writer with several years of experience in the world of online content creation and copywriting. She is passionate about fashion, beauty, and all things lifestyle-related and has been writing for The Trend Spotter since 2016. She currently works as the Head of Digital & Ecommerce at White & Co.
SUBSCRIBE TO OUR NEWSLETTER
Subscribe to our mailing list and get interesting stuff and updates to your email inbox.