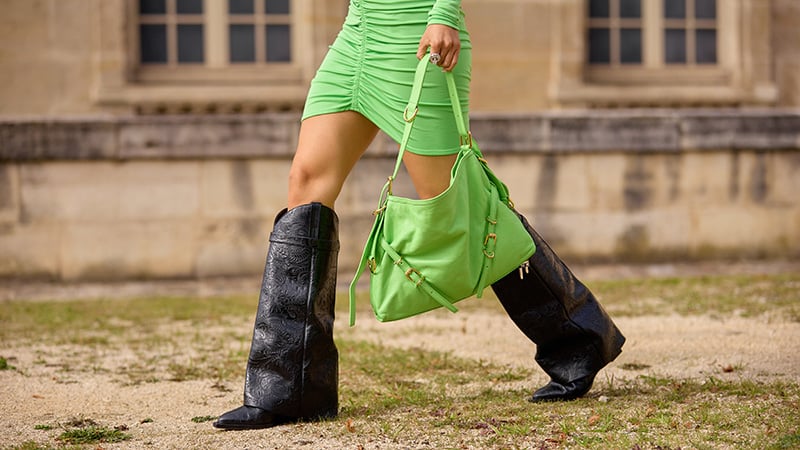 It is a truth universally acknowledged that you can never have too many handbags. This season, it's all about making accessories the star of the show, and the bag trends are here to prove it. You don't need to buy yourself a whole new wardrobe to breathe new life into your outfits. With designs spanning the entire color wheel and experimenting with different sizes and textures, they're sure to give your outfit a new and fresh feel. We've scoured the street style from New York to Milan and discovered the hottest handbag trends for you to try.
1. Vibrant Color Bags
Sometimes, the smallest change can have the largest impact, and these vibrant bags certainly prove that point. In fact, you don't need to have an overly colourful outfit to pack a serious punch. Although this accessory is small in size, the bright hue has the power to transform a regular outfit into something spectacular. Add a fuchsia shoulder bag to a pair of jeans and a white T-shirt, or break up an all-black ensemble with a cobalt or pea-green clutch. You can also try something monochrome, which the handbag can only enhance further.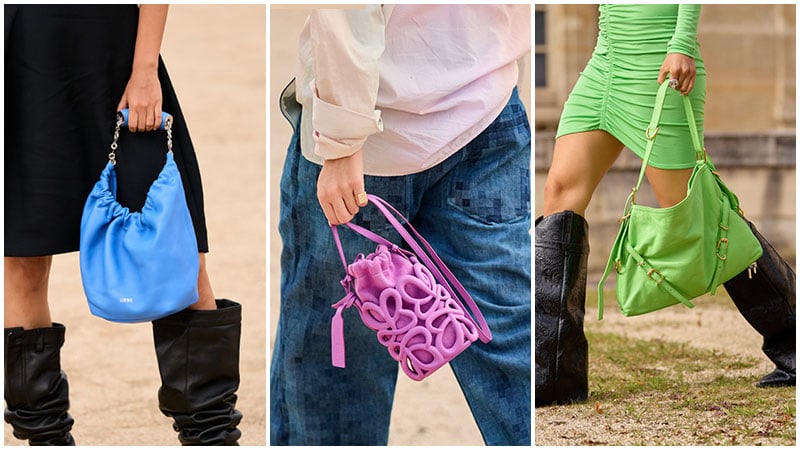 Get the Look
2. Barrel Bags
With its elongated body and round silhouette, it's easy to see why these bags are such a huge hit. As the name suggests, this accessory is shaped like a barrel, and they're the perfect companion for an evening out or a day at the office. Unlike duffel bags, which are usually large enough to fit a weekend's worth of clothes, these are much smaller in size and are the perfect complement to a casual or smart casual get-up. We saw fashiongoers adding them to neutral-toned outfits, which is perfect if you're still riding the quiet luxury aesthetic, but nothing is stopping you from adding it with a bold pint or a vibrant hue.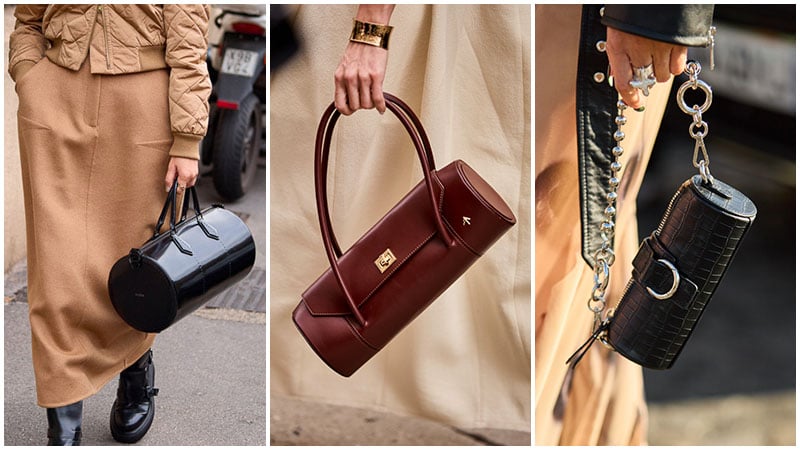 Get the Look
3. Statement Saddle Bags
Thanks to the cult classic Chloe saddle bag, these moon-shaped accessories have exploded in popularity. Unlike a crescent bag with a concave shape, these have a flat top and round bottom, giving it a unique flair that's sure to turn heads. The beauty of this design is its versatility – while they all feature a uniform silhouette, you can find a wide array of colors and styles that suit your aesthetic. And you don't have to stick to a neutral or traditional palette either – shiny metallics in bright hues, soft suede, and loud prints give the accessory an extra kick, prompting it to double as a piece of jewelry at the same time.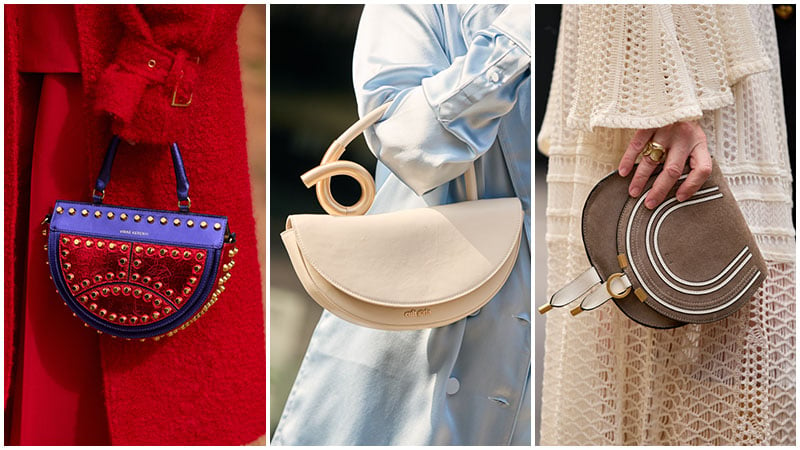 Get the Look
4. Fluffy Bags
As the cold weather approaches, you should consider rugging up – but it's not just your clothes that need the warmth, it's also your bags. These fluffy accessories are cute and cozy, proving a standout piece for your outfit. Whether you're in a blazer and trousers or a long overcoat and a mini skirt, this will add complexity and an unexpected twist to your casual ensemble. We recommend choosing neutral shades like brown, camel, or white – not only do they match almost everything, but they're also a timeless choice, giving you the chance to wear them for years on end.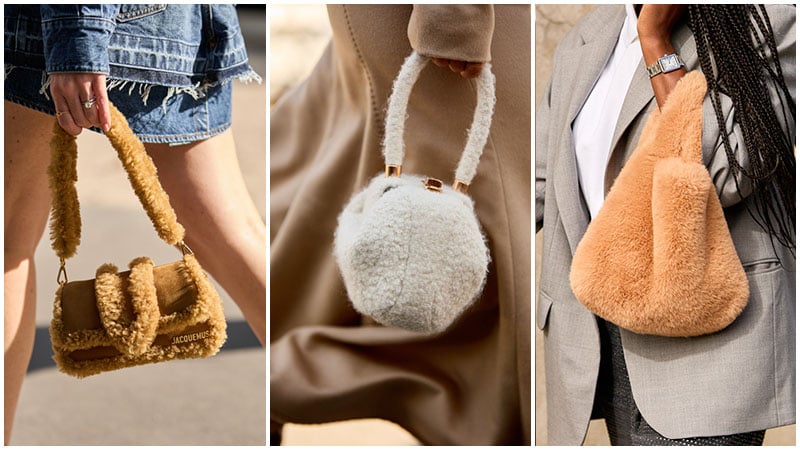 Get the Look
5. Vanity Bags
In recent years, we've seen fashion lovers opt for non-traditional bags to accentuate their outfits, and the vanity bag is no exception. What started as a convenient makeup case has since become a standout accessory choice thanks to its large capacity and structural design. Add a long chain or leather strap to the handles to make it look less like a cosmetics case, and make sure the hardware matches the rest of your accessories for a polished and complete look.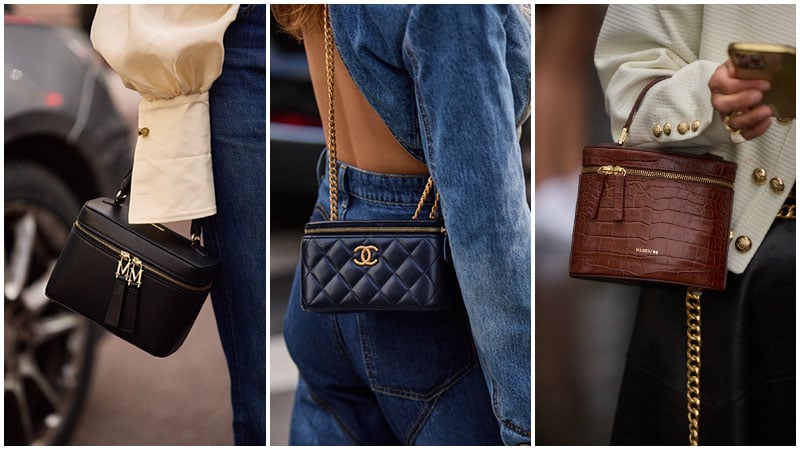 Get the Look
6. Black Bucket Bags
The humble bucket bag has come a long way since its invention by Louis Vuitton in 1932. While originally designed to carry multiple bottles of champagne, it's a stylish and functional accessory for everyday use today. If you're looking for a timeless style you can wear for years, you can't go past this choice. This dark shade is a classic choice, but it doesn't mean it has to be boring. Spice it up with a multi-chain strap or a statement clasp – this will give it an edge without looking too busy for a casual outfit.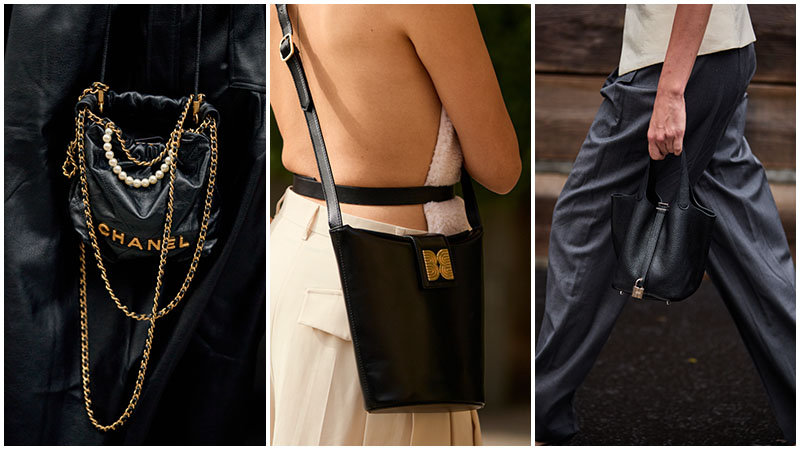 Get the Look
7. Tan Bucket Bags
If you want a chic and timeless accessory you can wear daily, but want to avoid wearing dark colours, we recommend trying these tan bucket bags. Thanks to its spacious design, you can fit plenty of stuff in here without it looking overfilled or bulky. Leather and cloth aren't the only options to choose from with this design; you can also try woven straw or a textured finish for a slightly edgier or dressier feel. While this shade best suits a soft and neutral palette, there are plenty of ways to style it, such as black trousers, a green coat, or an all-denim outfit.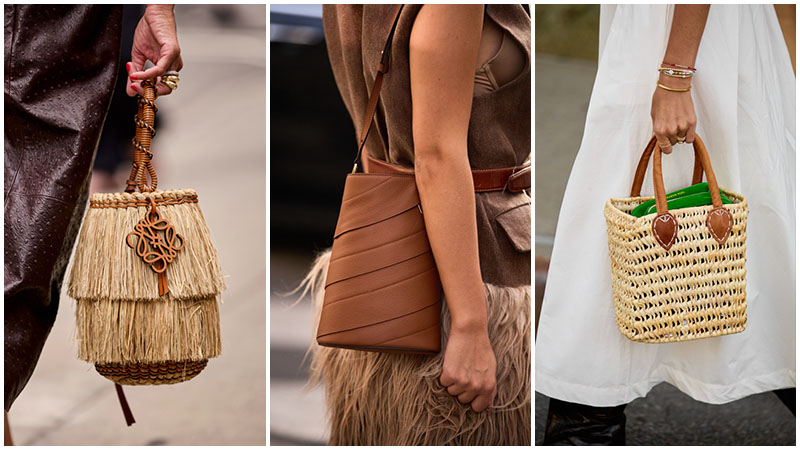 Get the Look
8. Tiny Patent Bags
Tiny bags are certainly not new, but it's no secret they've started softly declining in popularity over the last few seasons. However, this patent adaptation has added a fresh feel to the existing trend. Sure, you can really only carry the bare essentials inside, but we'd like to think of these accessories more like jewelry than an actual handbag. With that in mind, why not go out of your comfort zone and try something with a fun pattern or an unusual silhouette? After all, fashion isn't always about functionality – it's about breaking the rules and having fun.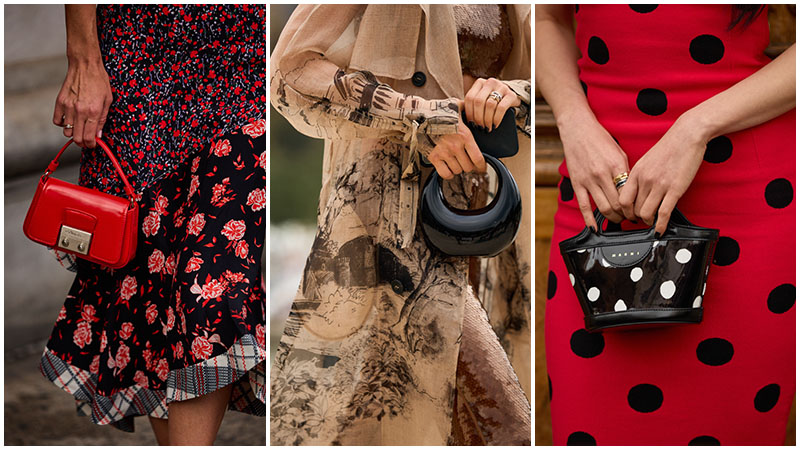 Get the Look
9. Cream Baguette Bags
The late '90s and Y2K eras are still alive and kicking, and we can see clear evidence of that with the rise of cream baguette bags. With a silhouette inspired by the iconic Fendi purse from 1997 to the neutral stylings of the quiet luxury aesthetic we're still obsessing over, this combination makes for the ultimate go-to. Rock it with jeans and a nice top, a soft slip dress and boots, or a sleek and structured suit. Acting as a blank canvas, you can wear this with pretty much any other colour combination and make it work – we recommend matching your shoes or a belt to the bag to create a sense of unity.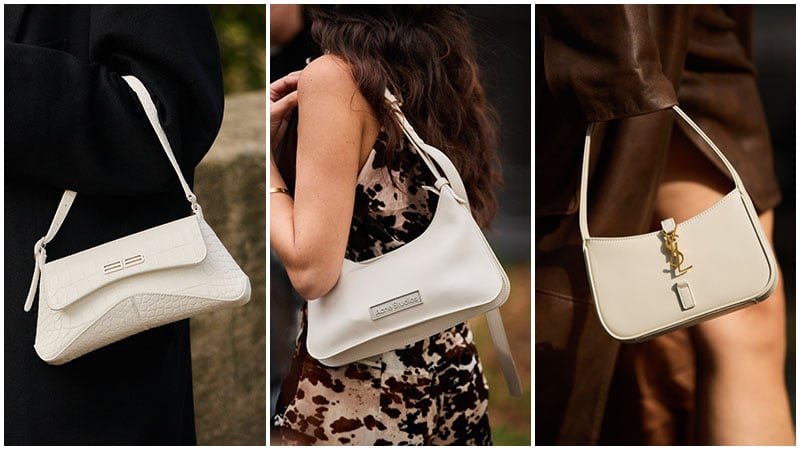 Get the Look
10. Silver Clutches
Oh, metallic bags, how we've missed you. Adding sparkle and shine is one of the easiest ways to create a glamorous outfit, but there are occasions when you don't want to go over the top. That's where this accessory comes in. While this silhouette is usually reserved for semi-formal and black tie occasions, a silver clutch acts as enough sparkle to elevate a casual outfit. Keep the rest of your outfit in the same color story as the accessory, meaning cool tones like blue, white, and grey – this is the perfect complement without making it appear overly flashy.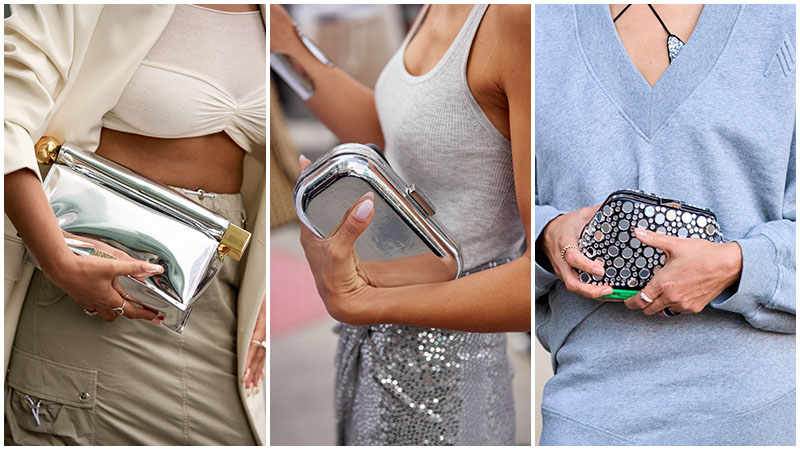 Get the Look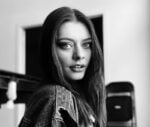 Alexandra Feiam is an experienced fashion writer who holds a degree in journalism. She has an impressive portfolio and expertise working as the Editor at Power Retail and Commercial Content Editor at Newscorp. Ally has been writing for The TrendSpotter since 2018, and her work has been featured in notable publications such as The Herald Sun, Arirang TV South Korea, Kidspot, The House of Wellness, and The Daily Telegraph.
SUBSCRIBE TO OUR NEWSLETTER
Subscribe to our mailing list and get interesting stuff and updates to your email inbox.