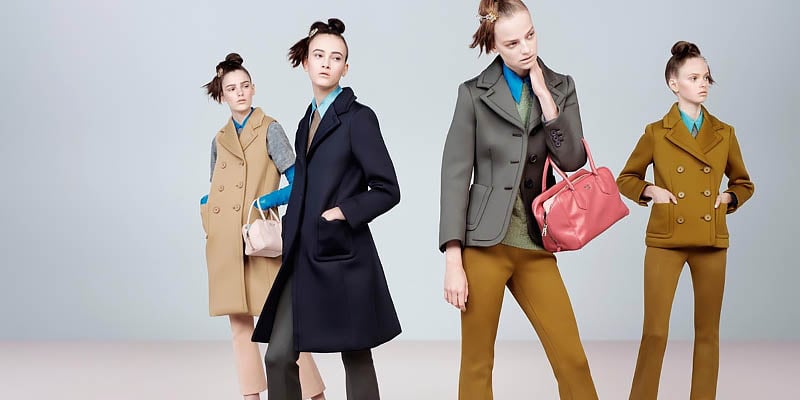 Pairing colours can either make or break your outfit. So, it's only natural to feel a little uneasy when experimenting with new tones and partnerships. But, that doesn't mean you have to stick to plain old head-to-toe black. Here, we take you through a variety of colour-coordinated looks that will excite and enhance your style. From bold green and yellow outfits to chic pink and grey ensembles, these stylish ideas will teach you how to wear bold colours without clashing. Ready to embrace the rainbow? Here are the clothing colour combinations you need to try this year.
1. Green and Yellow
There's nothing crisper than the smell of freshly cut grass on a warm summer day, and this colour combination is just that. Fresh and clean, green and yellow looks great on most complexions. If you're warm toned, focus on mustard, khaki and dark green. If you're cool toned, sharpen up an outfit by adding bright yellows and iridescent greens.
To rock this colour combination, try partnering a smart yellow blazer with a simple grey skirt or pair of jeans. Then, add a fresh white shirt and green accessories for a bright new everyday look. Colour blocking is an easy way to add vibrancy and take your winter wardrobe through to the warmer months. Just add some solid colours to your outfit and watch the transformation. But remember, keep it simple and don't be afraid to mix it up.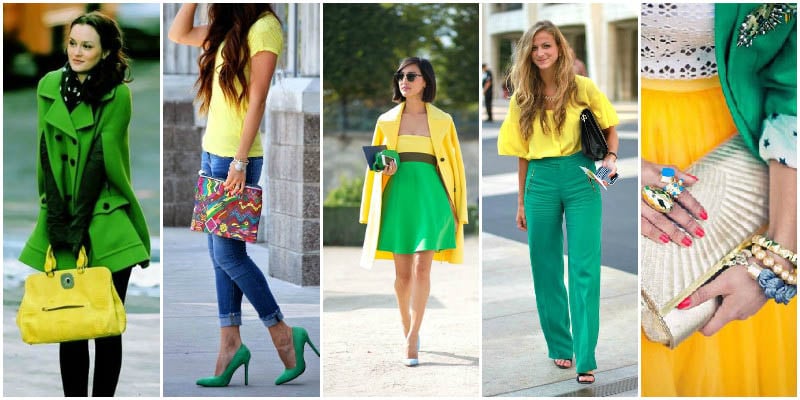 Shop the Look
2. Pale Blue and Pink
Nothing says spring more than pastels. Soft pinks and blues may sound subtle, but when styled in the right way, they can be as eye-catching as a bright pop of colour. This colour combination will remind you of the soft scent of jasmine and a warm spring breeze.
Try a soft blue cashmere sweater with a pink jacket for a day look that will melt away any remnants of winter. Soften up a classic all-black ensemble with some pastel arm candy. Layer your accessories and don't be shy to add a combination of pastels. This colour combination works well with a statement shoe like a white stiletto to even out the colour palette.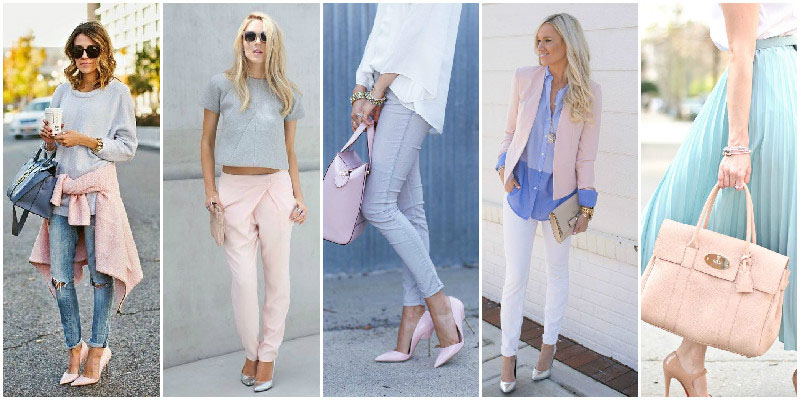 Shop the Look
3. Red and Blue
The red and blue colour combination is one of our all-time favourite looks. We love how you can completely transform a pair of jeans with a tailored red jacket and killer heels. It's business up top and party on the bottom. It's sexy without being over the top, and it smartens up a casual look.
Who can go past a classic Breton striped shirt? It's every bit the quintessential French Chanel-inspired look when worn with a pair of jeans and a red blazer. Alternatively, you can wear a crisp white shirt underneath your jacket to highlight the brightness of the red and the contrast of your blue jeans.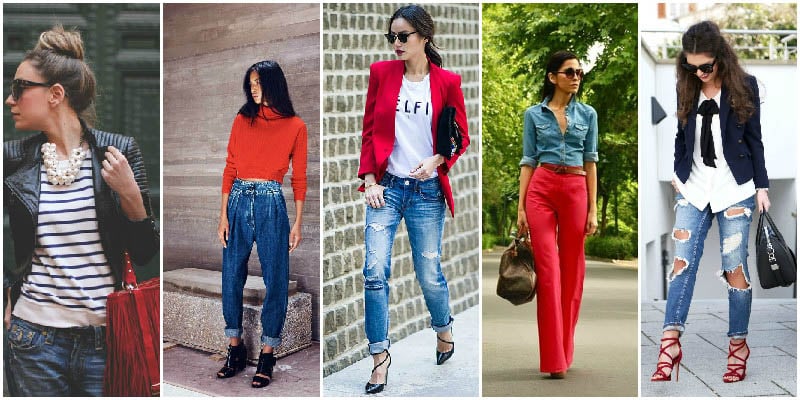 Shop the Look
4. Cobalt Blue and Turquoise
Combine cobalt blue with turquoise and you have a colour match that is powerful and bright. Think 'Breakfast at Tiffany's' and wear this colour combination with elegance and class. You don't necessarily need to break it up with a neutral colour like white or cream, and it's one of those combinations that can look great with both silver and gold accessories making a versatile styling partnership. Your imagination only limits you.
A regal blue dress, paired with a casual flat turquoise shoe will see you looking picture perfect regardless of the occasion. Pair it with a statement necklace and you'll be dreaming of nights spent dancing in Santorini.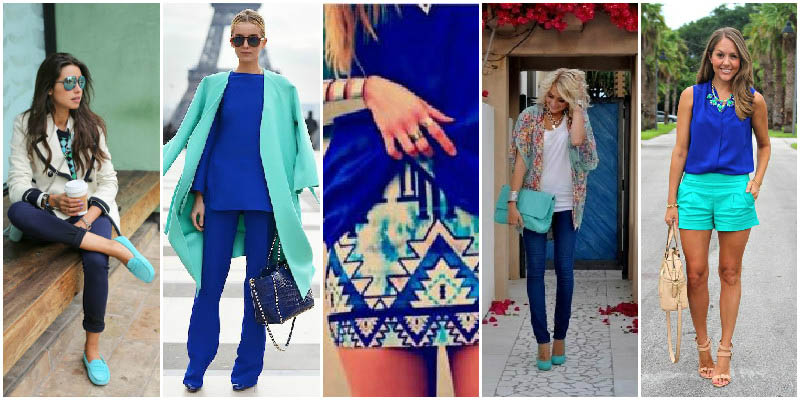 Shop the Look
5. Orange and Blue
Orange and blue is the perfect colour scheme to use for a colour blocking technique. Opt for blue pants and add an orange top or choose a piece that mixes the perfect blend of both colours. For something a little different, try a burnt orange mix with a darker navy blue. Whichever way you choose to wear these shades, be sure to add the perfect shoe. A nude shoe will give just the right emphasis to your outfit and tie all the brightness together into one lovely sunrise.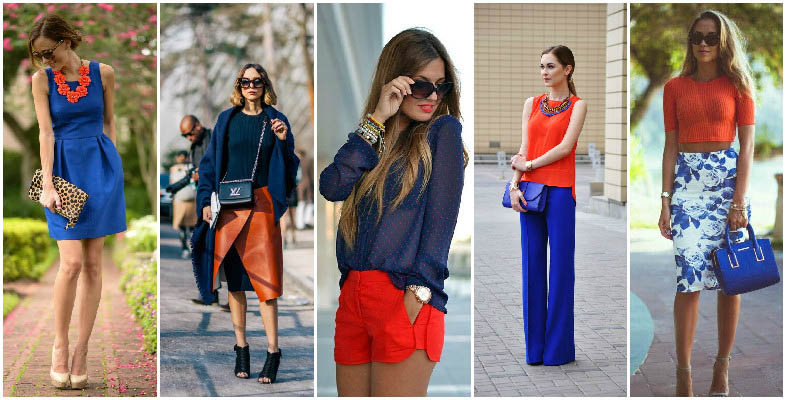 Shop the Look
6. Tan and Maroon
Tans and light neutral colours can be hard to style and leave you looking drab and rundown, but if you style them with a deep rich colour like maroon, you will have a match made in heaven. The key to keeping it exciting and suitable for all skin tones is to ensure you mix texture and hue so try a corduroy skirt with a satin camisole. And while fashion trends usually advise you to steer clear of keeping the same colour scheme from head to toe this is one look where you need not play by the rules.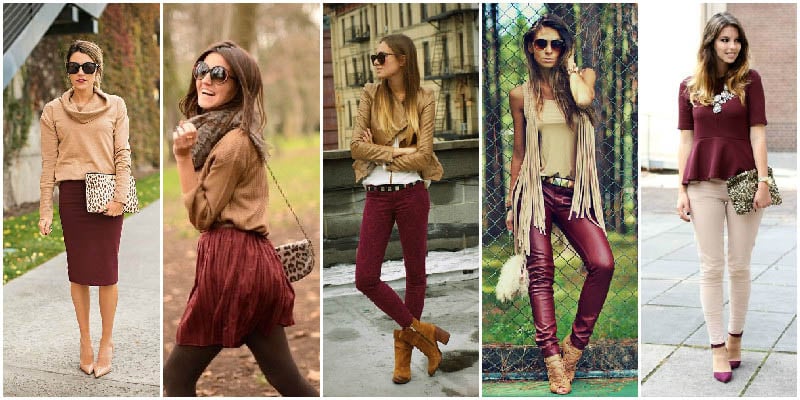 Shop the Look
7. Orange and Black
Whether it's a dress that perfectly combines this brilliant colour combination or individual items, orange and black, is the new black. Nothing lifts a black outfit more than a bright, bold colour and orange certainly does it.
Don't be shy to wear a bright coloured pant. Try a high-waisted flare pant and flaunt those killer abs with this season's must-have item, a black crop top. For those of us who prefer to keep the six-pack undercover, try a loosely tucked-in oversized sweater. Whatever you pair it with, don't forget to add some luxury to the delectable Max Mara Zebra Printed Ponyskin bag.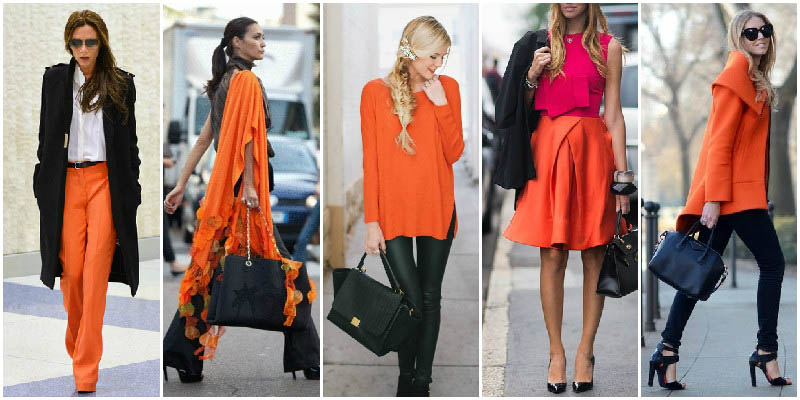 Shop the Look
8. Pink and Grey
Pink and grey is a great look which you can utilise all-year-round with some versatile pieces. There are no limitations with the way that you can use this clothing colour combination. A dark grey pant with a soft pink top can look as equally complimentary. Extend the colour theme through to your accessories and don't forget to include this season's must-have item – the wide brim hat.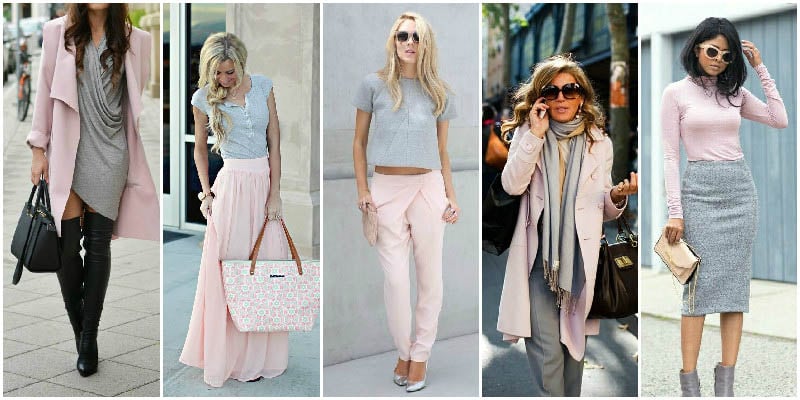 Shop the Look
9. Purple and Coral
Coral was once reserved for your nanas lipstick but the colour made famous by Ita Buttrose has now taken its place as one of the most versatile shades. Wearing purple and coral with confidence will make the perfect summer outfit.
Coral is flattering for all skin tones, and the deep rich tones of purple give it just the right amount of contrast to ensure it's not too striking. Try a coral top matched with a bright purple bag or shoe and break it up a little with some gold accessories.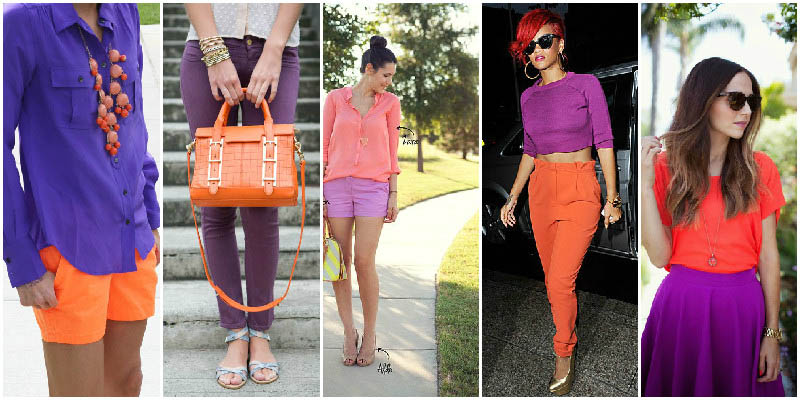 Shop the Look
10. Purple and White
While white goes with anything, nothing looks more fantastic than when it's paired with purple. It makes your skin look creamy, and it just oozes femininity and sensuality. This marriage is so versatile that you can also mix in some gold and silver accessories and convert a daytime high tea look to a night out with friends.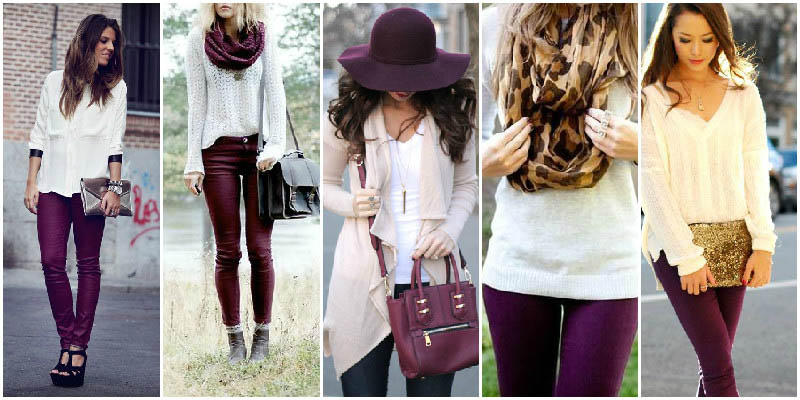 Shop the Look
FAQs
What color clothes go together?
Both contrasting and complementary colors go together well. Yellow and green have a bright spring vibe, while pale blue and pink keep with the spring theme, but tone it down. If you're looking for a classic color combination, go for red and blue. However, if you want to push the boundaries, try orange and black, purple and coral, or tan and maroon. Each looks incredible in a unique way. Bright shades also go together well — think cobalt and turquoise or orange and blue. Lastly, for an elegant mix, choose purple and white, or gray and pale pink if light shades are more your vibe.
What is the fashion color for 2022?
It's hard to pick one color that is THE color of the year — the fashionable shades for 2020 cross three spectrums - earthy tones, brights, and neutrals. In the earthy tones category, think of mossy green, faded denim, warm browns, and reds, as well as turmeric. These colors work well together and embrace a more natural feel. When it comes to brights, fiery red, cerulean blue, and Biscay green are the big hitters. Finally, the classic neutrals of grey, black, and white are also very much on-trend.
What color attracts the human eye most?
Bright yellow and red are the most noticeable colors. Yellow reflects a lot of light, so it grabs attention quickly but can wear your eyes out. Red also stands out because of the intense emotional response it can create – it's a powerful color.
What are colors that clash?
Most colors can clash if you don't pair them right. Both contrasting and complementary colors can work well together, but you need to match both the intensity and the undertones. Pairing a washed-out pastel with vibrant color will generally not be harmonious. However, if you match the depth of color, it can work. That's why pastels with pastels and brights with brights can look so striking. When it comes to undertones, there's warm and cool, which can appear in all types of colors. It's crucial to combine warm undertones together, and the same for cool undertones; otherwise, your selection will feel off.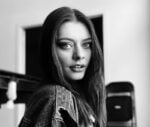 Alexandra Feiam is an experienced fashion writer who holds a degree in journalism. She has an impressive portfolio and expertise working as the Editor at Power Retail and Commercial Content Editor at Newscorp. Ally has been writing for The TrendSpotter since 2018, and her work has been featured in notable publications such as The Herald Sun, Arirang TV South Korea, Kidspot, The House of Wellness, and The Daily Telegraph.
SUBSCRIBE TO OUR NEWSLETTER
Subscribe to our mailing list and get interesting stuff and updates to your email inbox.