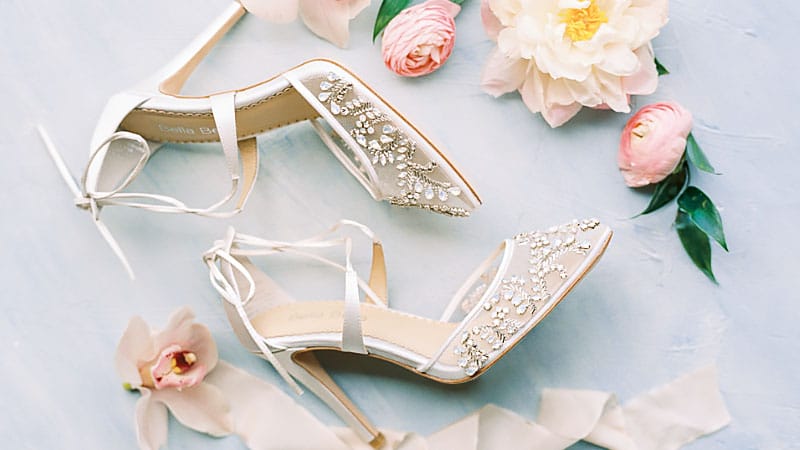 Before you say 'I do' on your big day, there is a long list of essential items every bride needs. After you've considered the theme, the dress, the venue, and the season, you have to remember how you will walk down the aisle and what shoes will get you there. Ultimately, no matter if you love color, tradition, sparkles, or minimalism, at the end of the day, you have to find something that is comfortable and that you love. From the ceremony to the reception, photoshoots to the dancefloor, you've got to consider lots of requirements as you decide. But don't fret – we're here to help with our guide to the most stylish wedding shoes for brides.
Type so Wedding Shoes
1. High Heels
Look sophisticated on your big day by wearing a pair of elegant high heels. These stilettos feature the timeless style of a classic shoe with a touch of bridal refinement. Depending on the type of dress you're in as you walk down the aisle, you can pick the footwear to match. Opt for something simple for satin or textured gown, or try a pair covered in lace, crystals, or glitter for a real showstopper.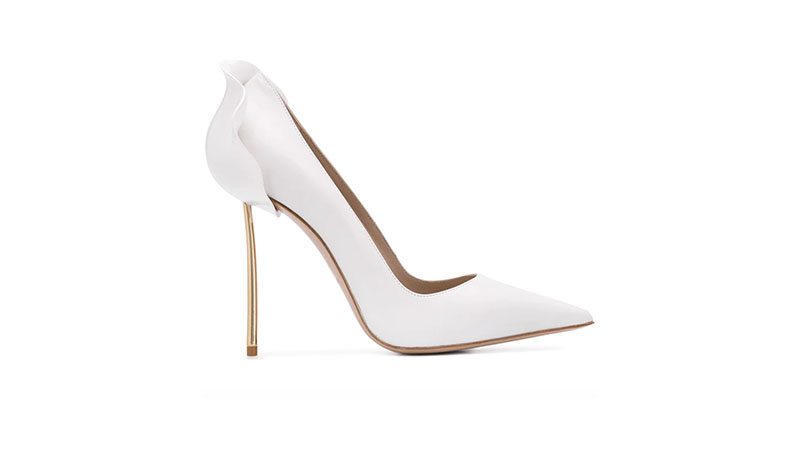 2. Sandals
If you're planning a summer wedding or a destination walk down the aisle, opt for something that lets your feet breathe. These sandals offer the height of a classic heel, but they will also keep you feeling fresh throughout the day. Add some sparkles for maximum effect, and watch as your bridal ensemble comes to life.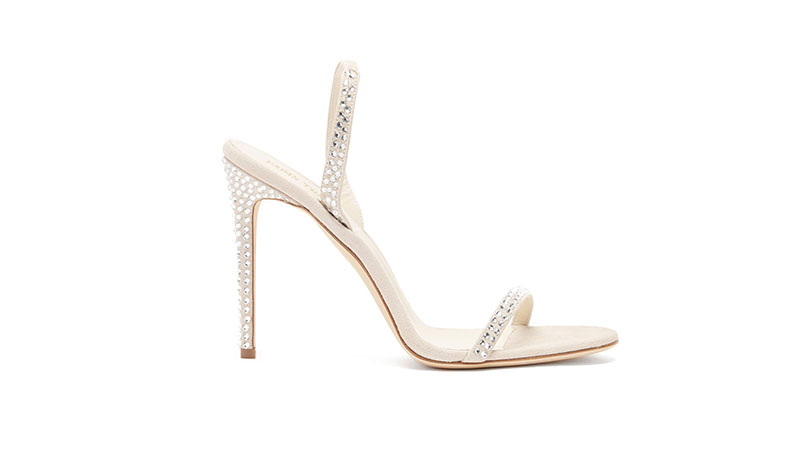 3. Low Heel
No matter where or when you get married, it's important that you put comfort at the top of your priority list. When considering the height of the footwear, a low heel is a great option for those who want the appeal of a classic silhouette without discomfort after a long day. Try a pair with sparkling embellishments, bows, lace, or satin – there are so many styles to try that will perfectly complement your gown and aesthetic.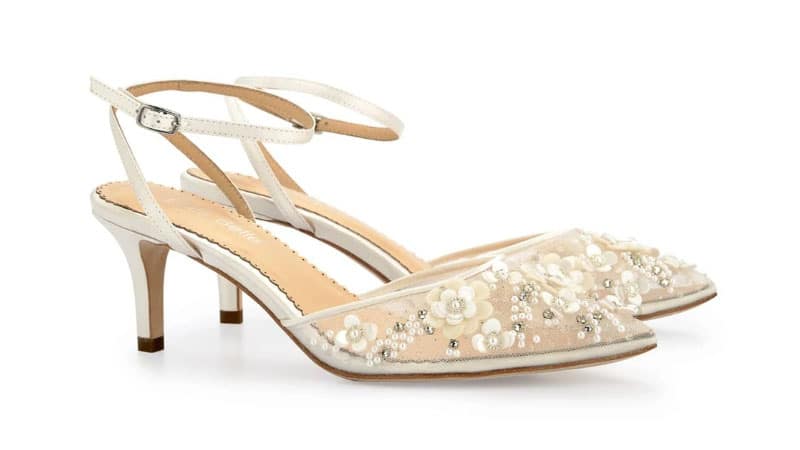 4. Block Heel
For a casual wedding, you can easily give off the vibe of a bride without going all out. The perfect way to do this is with a block heel wedding shoe – they're trendy and comfortable, complete with a bridal twist. The sleek style of the design is cute enough that you can wear them all day and even rock them outside the Court House.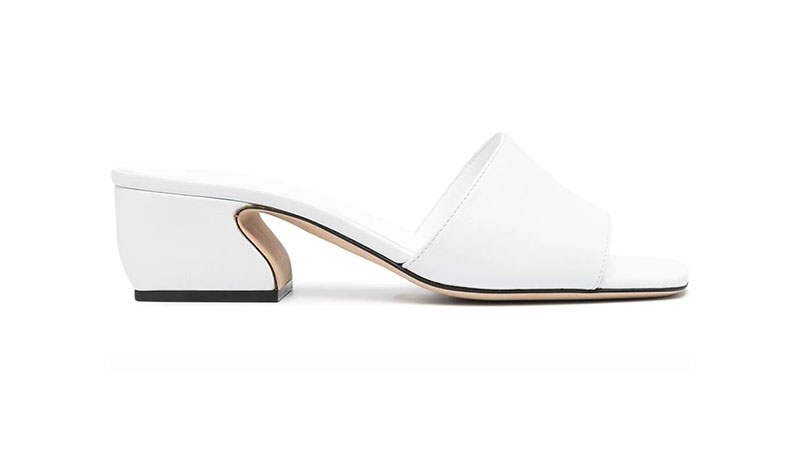 5. Kitten Heel
Protect your ankles and support yourself all day by wearing a kitten heel at your wedding. This trendy and sophisticated option gives the impression of a heel without the commitment of wearing stilettos. Find something that's covered in sparkles, embellishments or matches your gown perfectly, and you'll be the most stunning bride ever.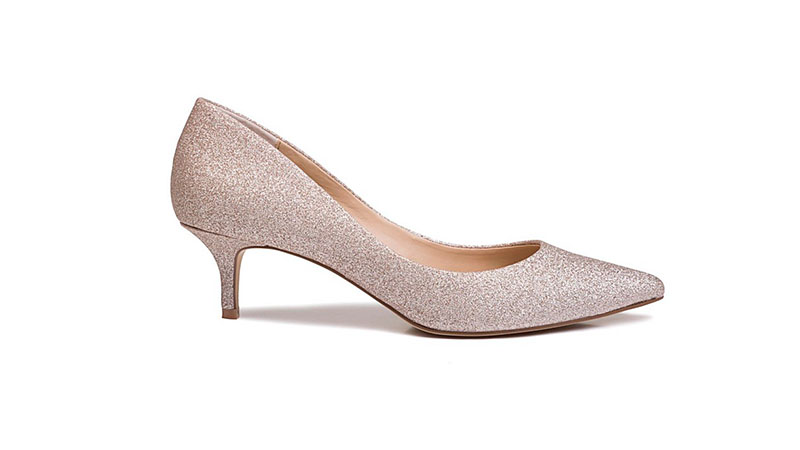 6. Flat Wedding Shoes
Wearing heels for a wedding can be fun for some, a nightmare for others. However, you don't have to sacrifice style because you opt for flats. These comfortable shoes will have you feeling ethereal and bridal as you walk down the aisle or complete your first dance and protect your feet with every step.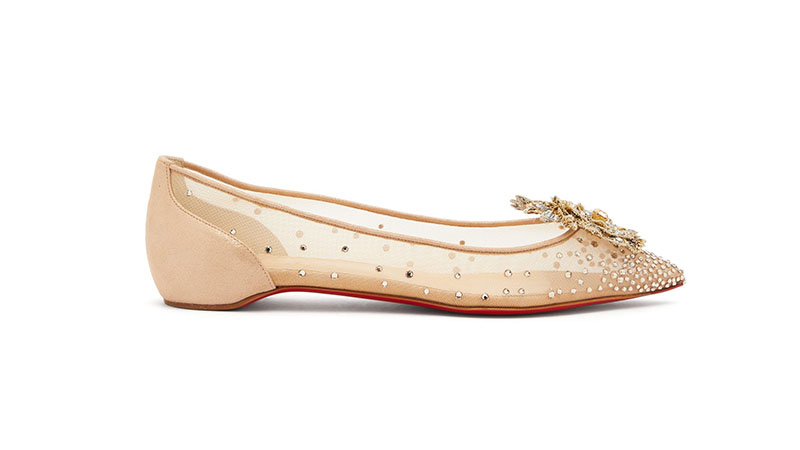 7. Platform Shoes
Stand tall and feel incredible as you walk down the aisle with a pair of platform wedding shoes. With the perfect amount of bling and the elevated height in your step, it's the best option if your gown is slightly too long or if you have an extended train behind you. These sexy shoes are timeless in style and elegant in nature, making you the most effortlessly beautiful person in the room.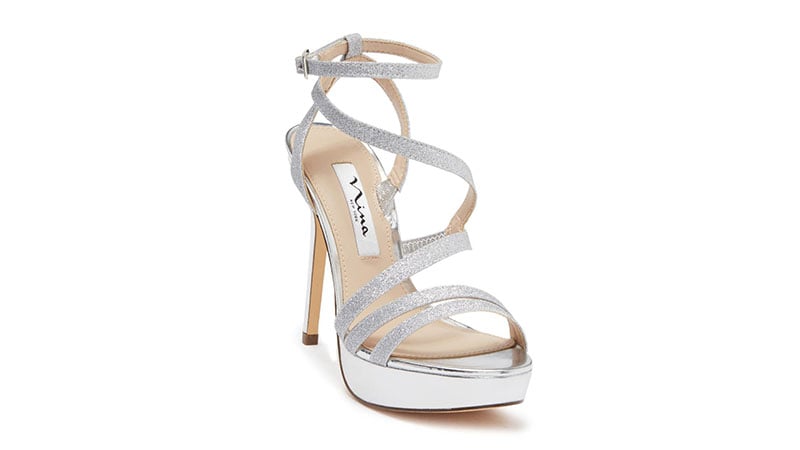 8. Beach Wedding Shoes
Feel easy, breezy, and effortless on the sand as you exchange your vows – these shoes will take you there. With a low heel but an elegant silhouette, they're the perfect finishing touch to your bridal get-up. Whether you're saying 'I do' on the waterfront or you are a guest at a destination wedding, you will enjoy pure comfort and elevate your ensemble thanks to these heels.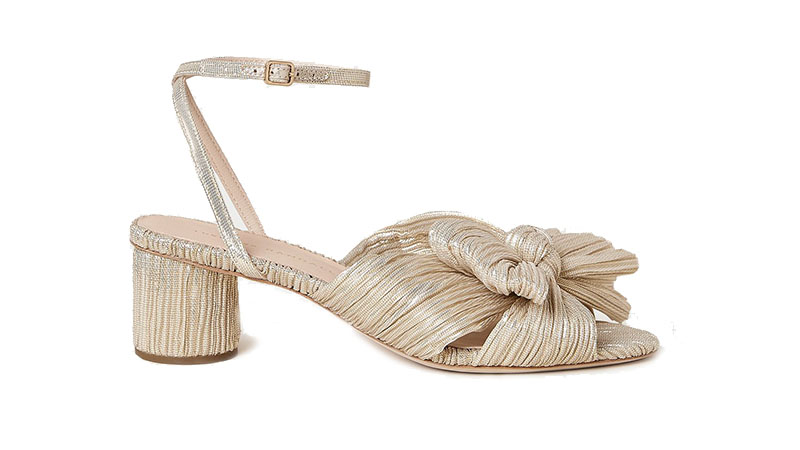 9. Tennis Shoes
A minimalist event is all the rage these days, and nothing says 'laidback' quite like a pair of tennis shoes. Of course, it wouldn't be a wedding without some jewels, so if you're planning to rock comfortable flats on your big day, up the ante by adding some sparkle or lace to the sneakers. This effortless and uncomplicated footwear will be the perfect companion for a Pinterest-style photoshoot and will support your feet as you dance the night away.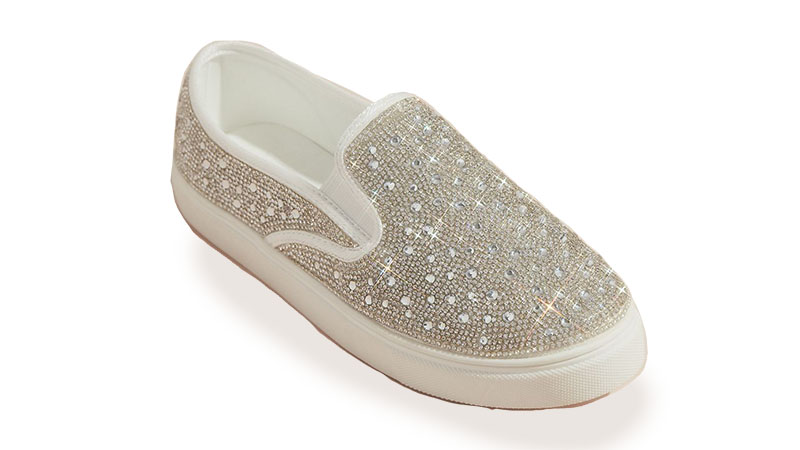 10. Comfortable Wedding Shoes
You're going to spend a lot of time on your feet on our big day, so you must take care of yourself. These comfortable wedding shoes are stylish and will support you as you stand, dance, and take photos with family. While the heel may be lower than the typical stiletto, the embellishments on the front make up for it. These are so stunning that you'll want to wear them over and over.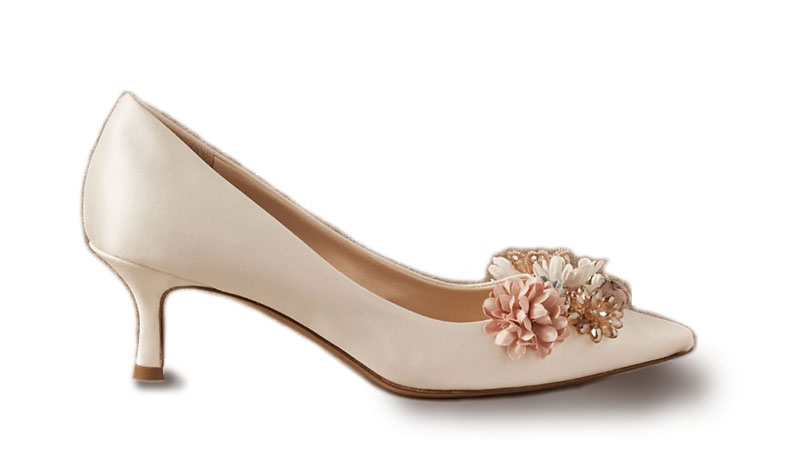 11. Cinderella Wedding Shoes
Who doesn't want to feel like a princess on their big day? These shoes have come straight out of a fairy tale, and with every step, you'll be closer to reaching royalty status. The footwear looks just like glass slippers, only they're far more comfortable. To find the perfect Cinderella wedding shoes, make sure they have clear elements that look like they're made from crystal and have many sparkles to capture the light. Be sure that you have the complete pair when you leave the ceremony, but don't worry, your getaway vehicle won't turn into a pumpkin.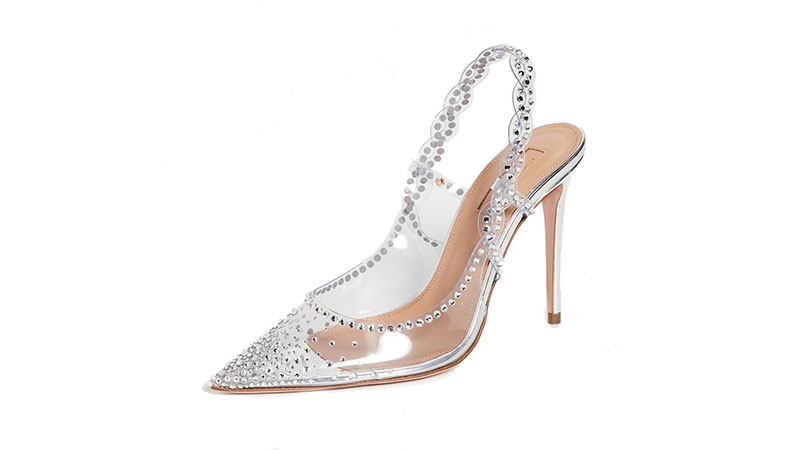 12. Lace Wedding Shoes
Lace shoes add a soft and romantic touch to any wedding. The classic style is synonymous with nuptials and refined enough for any ceremony. Complement the lace on your gown or add a touch of luxe to a minimalistic dress with these heels – you can find them in a wide variety of shades to perfectly suit the rest of your ensemble. They're ideal for those looking for a timeless touch as you make your way down the aisle.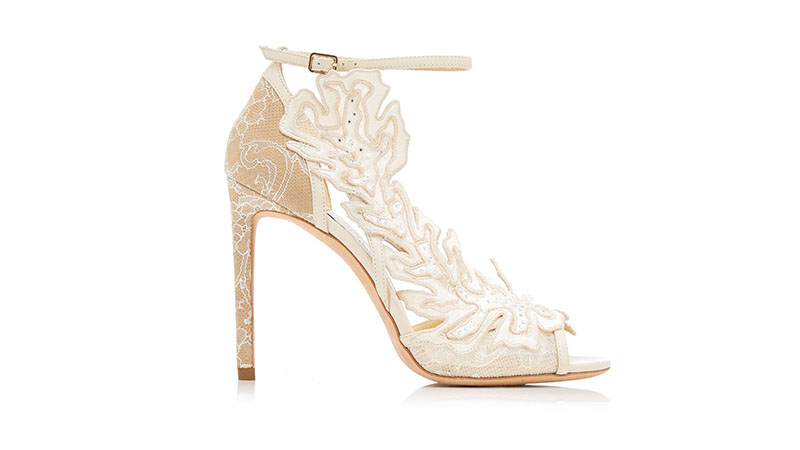 13. Winter Closed Toe Shoes
Have you heard of the saying 'getting old feet'? This may be a reference to doubt or apprehension, but the same can be meant in the literal sense for your wedding. The last thing you want to experience as you say 'I do' is a big chill. These shoes offer your toes warmth and protection against the elements but remain elegant enough to flatter your stunning bridal ensemble. To dress up the footwear, add some embellishments or a stiletto heel for the finishing touch.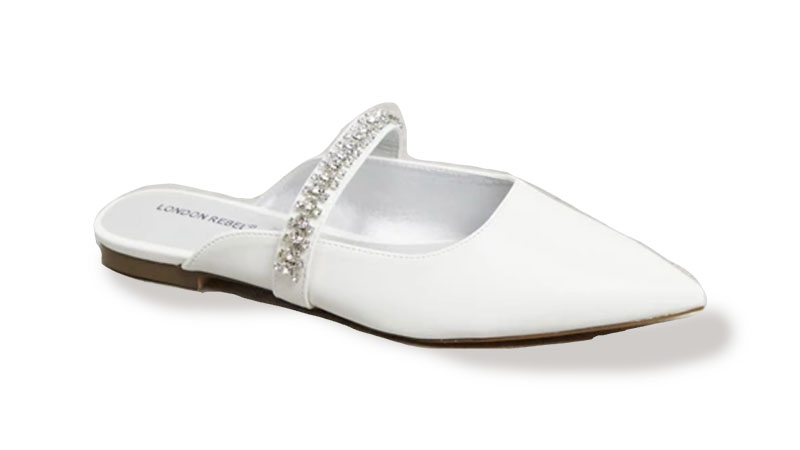 14. Wide Width Shoes
Ensure the perfect fit for your big day – these wide-fit shoes will get you there. The width of this footwear accommodates brides of all sizes and will have you feeling comfortable as you complete your first dance and photos with your partner. With so many shoes available, you will have no trouble finding something that suits you and your wedding aesthetic. A lower heel will add further support to your feet and ankles, and the additional sparkles elevate the overall ensemble and are perfect for when you say 'I do.'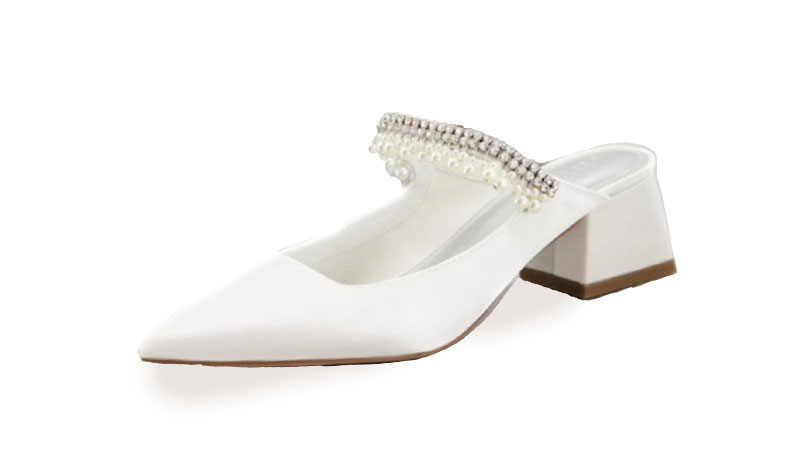 15. White Wedding Shoes
Traditionally, brides have worn white since the 19th century. This can be the same with shoes, which often match the color of the gown you wear down the aisle. These satin-finish shoes have an iridescent effect and sparkle as you make your first steps with your life partner. If you need further stability for your ankles, opt for something with an ankle strap or a lower heel.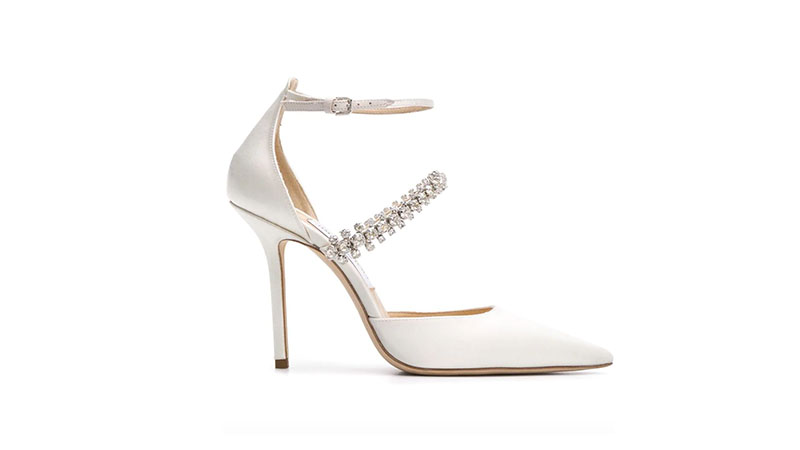 16. Vintage Wedding Shoes
If you're seeking inspiration from Grace Kelly, Audrey Hepburn, or something straight out of the Art Deco era, you can't go past a pair of vintage-inspired wedding shoes. These delicate heels offer a timeless silhouette but include the benefits of a fashion-forward finish. Subtle lace trimming, a low heel, and pointed toes are the notable keys to a pair of stylish retro shoes – why not choose an off-white or ivory shade for an aged effect.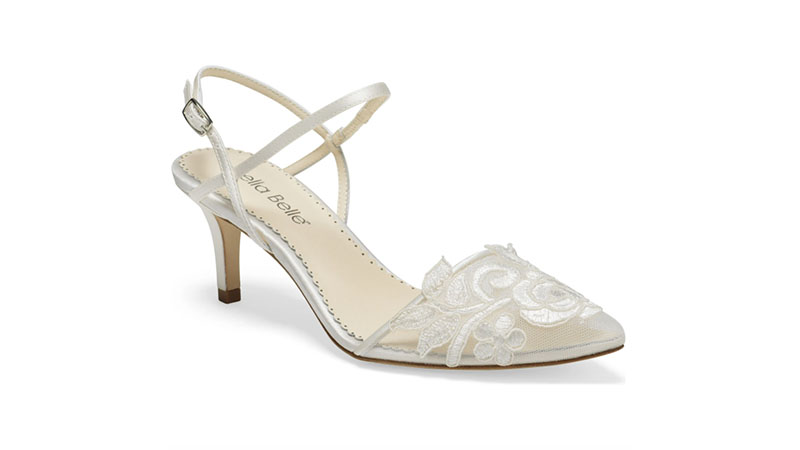 17. Nude Wedding Shoes
Create the illusion of an elongated silhouette with a pair of nude wedding shoes. This timeless footwear is perfect for any season of the year, any style of gown, and almost every color. You can wear this for a low-key ceremony or something fancy and extravagant. The sparkles add dimension and a touch of elegance to your ensemble, and the classic design will suit any theme.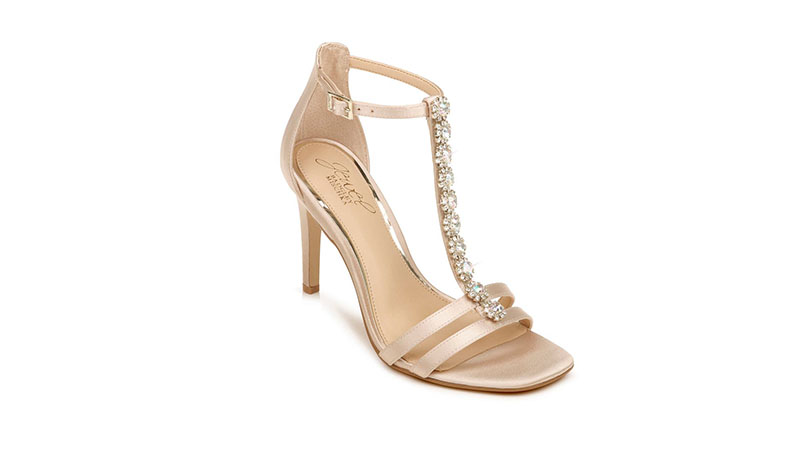 18. Silver Wedding Shoes
Shine like the diamond you are by wearing a set of silver heels on your big day. These star-quality shoes help reflect the light and will have you feeling like a princess as you walk down the aisle. Secure your feet with an ankle strap, so you can dance for hours without having to apply plasters or growing blisters.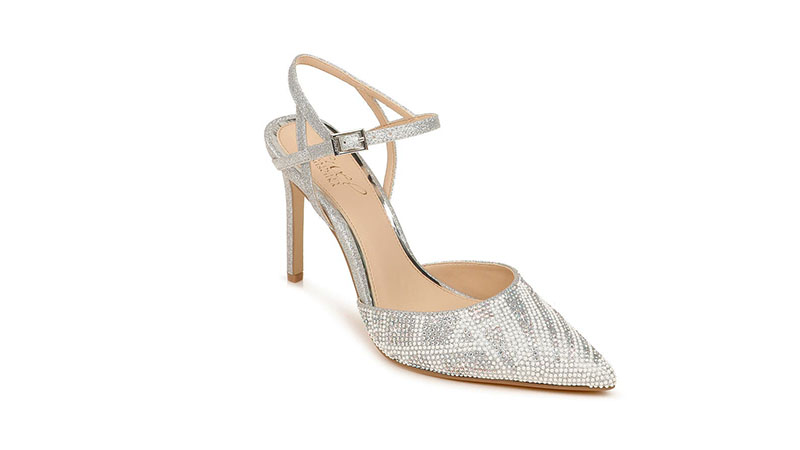 19. Gold Wedding Shoes
A gold wedding shoe is a real statement. These heels create a multi-dimension effect to your overall ensemble, and if paired with other gold elements, they will make you appear statuesque and elegant. Find something that is encrusted with jewels or sparkles to go to the next level as you make the next journey in your life.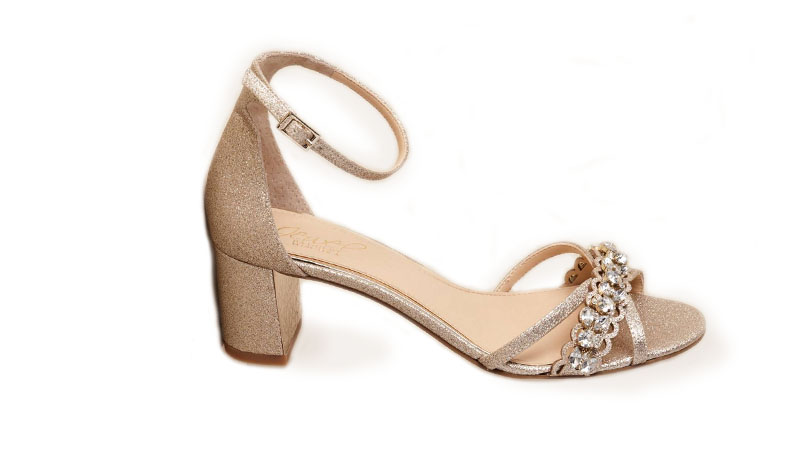 20. Rose Gold Wedding Shoes
Just like gold, this pink rendition of the shade is an absolute showstopper. The trendy hue is the perfect addition to your bridal get-up. Match the shoes with a rose gold handbag, accessories, or even a blush gown. The sparkles along the heel and front will capture the light and look incredible in photos.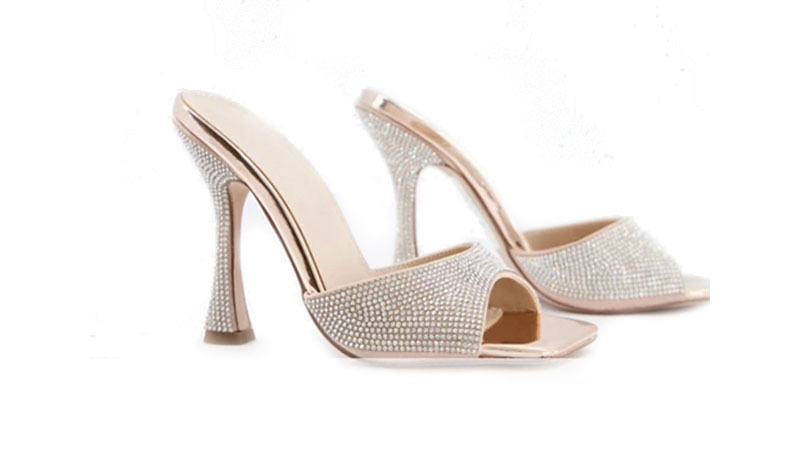 21. Ivory Wedding Shoes
For the brides who love the thought of a classic wedding ensemble but want to avoid stark white ivory is your best bet. The shade is considered timeless and doesn't come across as cliche, so you can rock them with pride and perfectly complement your gown. Choose a pair with a detail such as a bow, sparkles, or even pearls to take your look to the next level.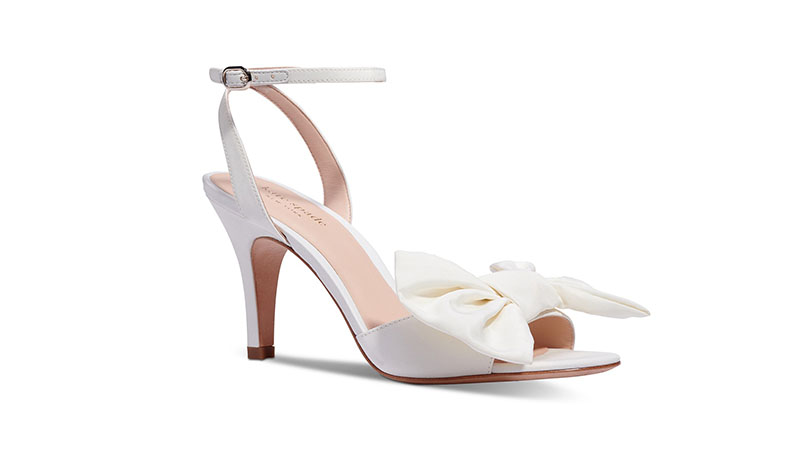 22. Blush Wedding Shoes
For the bride who wishes to deviate from the norm without taking a massive risk, blush is the perfect option. In recent years, this shade has become increasingly popular, and it's easy to see why. The pinky hue adds a touch of femininity to the overall ensemble.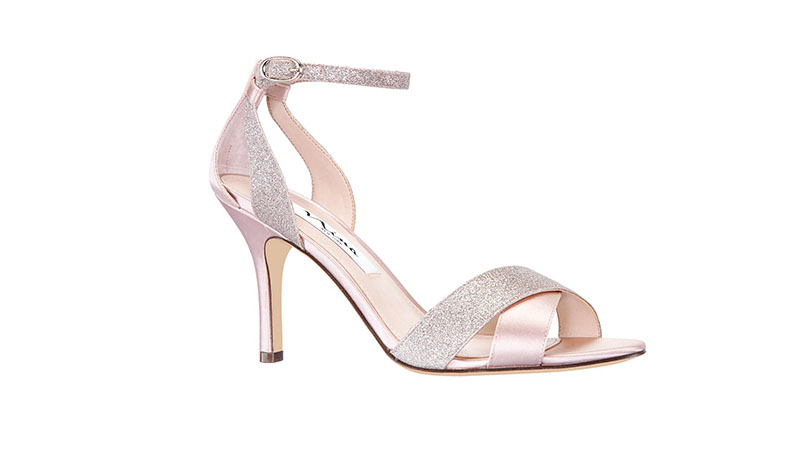 23. Black Wedding Shoes
Blending in is so last year! For your wedding, why not take things outside the norm by rocking some sleek black heels? Unlike regular stilettos, you should consider something delicate and refined for your ceremony, with sparkles, crystals, and bridal embellishments. When styled with a black wedding dress, the look is incredibly fashion-forward and will steal the show for years to come.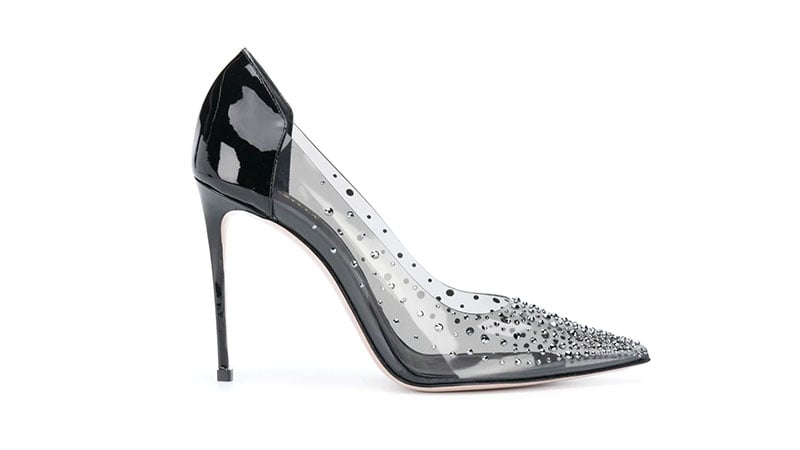 24. Light Blue Wedding Shoes
An increasingly popular alternative to white wedding shoes is something light blue. The elegant hue is light enough to pass as bridal, but they deviate from tradition to let you shine a little brighter. Pair these with the same shade gown or even a white dress – it pays to stand out, and with these heels, you'll do it without any issues.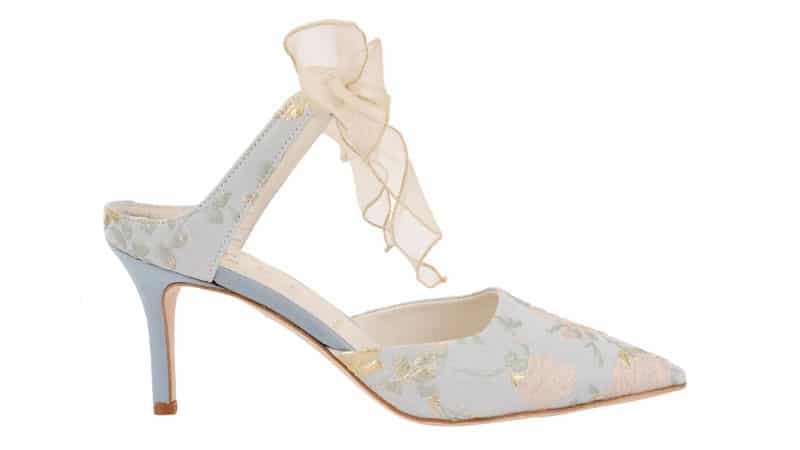 As the saying goes, you should have something old, new, borrowed, and blue – let these shoes guide you along the way. These Sex and the City-inspired shoes are fit for a queen, and you will feel like royalty if you wear these down the aisle or as a guest at the wedding. They're the perfect option for a lowkey wedding or something a little more extravagant.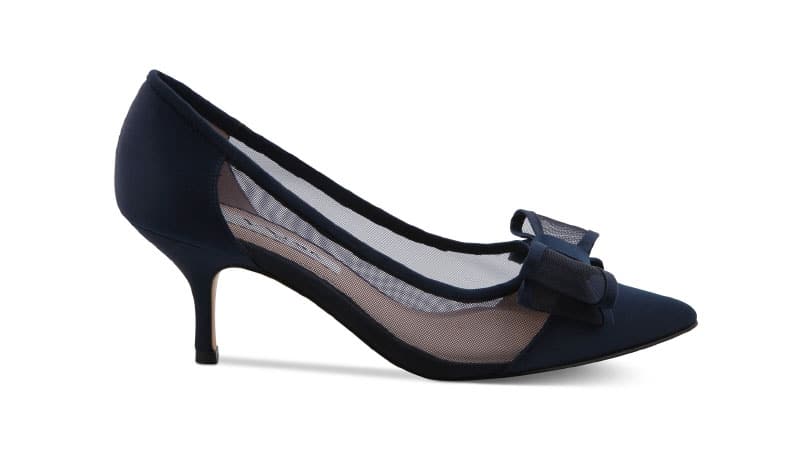 26. Pearl Wedding Shoes
Elegant, timeless, and effortlessly fashionable, these pearl heels do it all. The fashion-forward style of shoe elevates your entire outfit, but the classic shape and color will tie your bridal attire into the traditional elegance of a wedding. This is an excellent option for those in a simple satin gown or even an Audrey-inspired tea-length dress.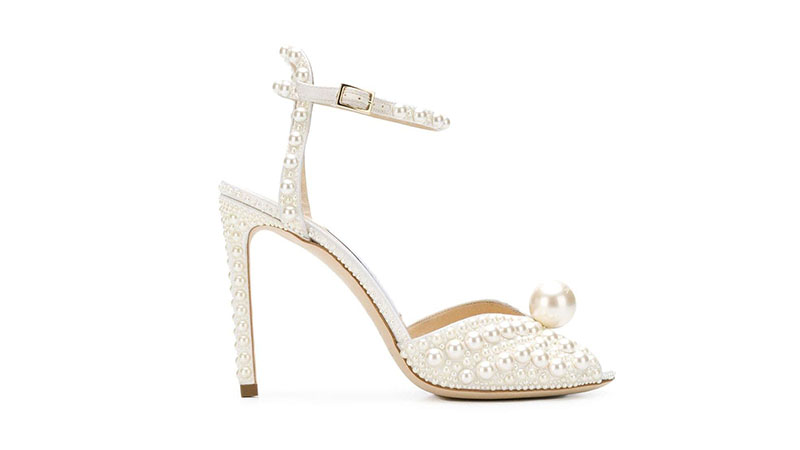 27. Sparkly Wedding Shoes
It's your big day, so you're going to want to stand out. Let your feet do the talking by adding some serious sparkle to your step. A pair of shining and elegant footwear will have you looking and feeling like royalty. The fashionable style will have you wanting to show off your ankles at every opportunity. Your first dance will come to life with shoes like these – you'll never want to take them off.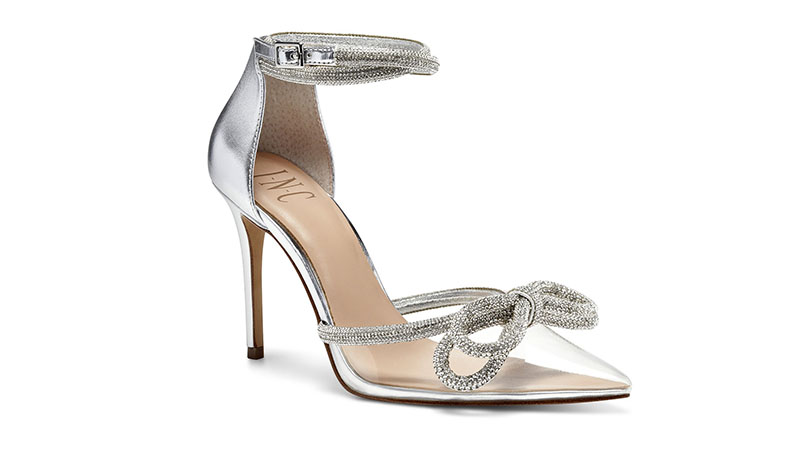 28. Green Wedding Shoes
Who said wedding shoes had to be a classic shade? For vintage lovers, you can try adding dimension and depth to your ensemble with some Art Deco-inspired heels. Get a little creative with the color you prefer – emerald is a stunning hue that inspires elegance, or a lighter shade will be a subtle nod to your unique vision. They're also a great idea for guests who want to showcase an elegant side of their wardrobe.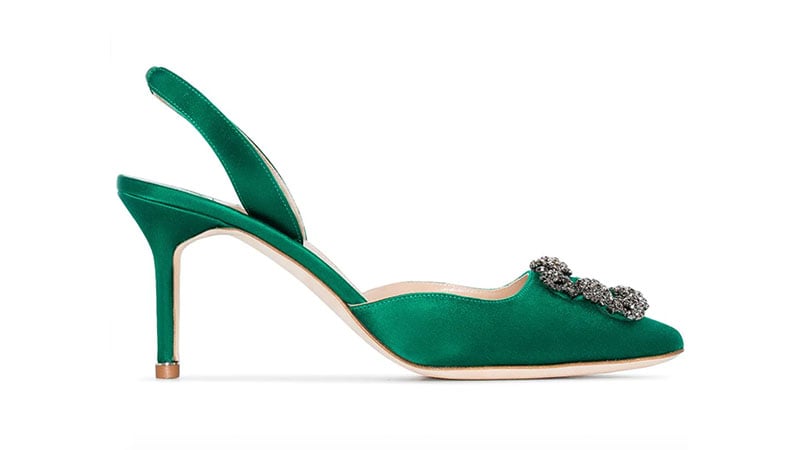 29. Clear Wedding Shoes
Recently, clear shoes have become all the rage. Inspired heavily by Cinderella, you can feel as if you've stepped out of a fairy tale straight down the aisle. The acrylic heels and plastic upper will elongate your silhouette and give the impression of mile-long legs. They're an excellent option for a simple or modern wedding dress and will elevate your ensemble without giving off the appearance of trying too hard.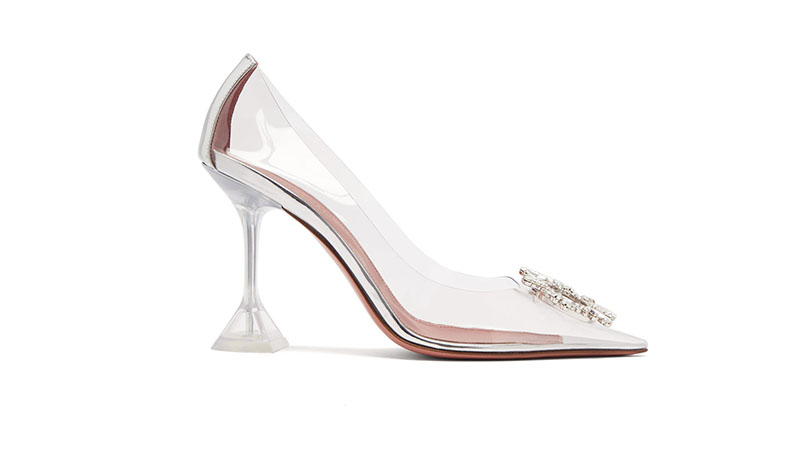 30. Wedge Shoes for Guests
Walking on the sand or grass is no joke, so you want to take care of your ankles and feet, even if you're a guest at a wedding. These sturdy wedges give you the balance needed for dancing, posing for photos, and walking. What's more, the summer style with have you feeling fresh and cool all day long and into the night. Choose a shade such as nude or baby pink to match a plethora of outfits – they're also an excellent option to create the illusion of longer legs.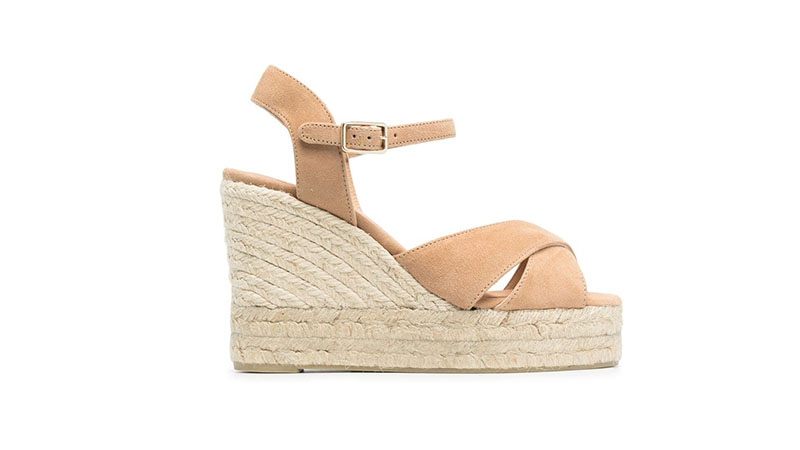 Wedding Shoes Buying Guide
What to Consider When Buying Wedding Shoes?
There are a few essential things you need to consider before you purchase your wedding shoes. First, it's best if you already have the themes and aesthetic of the ceremony underway. This is the right moment to decide whether you'd prefer minimalistic styles, something vintage or boho. It helps if you also know the season you will say 'I do' in, so you can plan accordingly to the temperature and environment you'll be in. Another major decision you should make before trying on shoes is the dress you'll wear – this way, you can define the color, texture, length, and accessories that go along with it. Be sure that you also try on your shoes before buying them – they may look stunning while you're sitting down, but you have to remember that you will be standing for hours on end, dancing and posing for photos. So before you commit to the shoes, stand up and walk around in them for a bit to see how they align with your feet – ultimately, it's about comfort.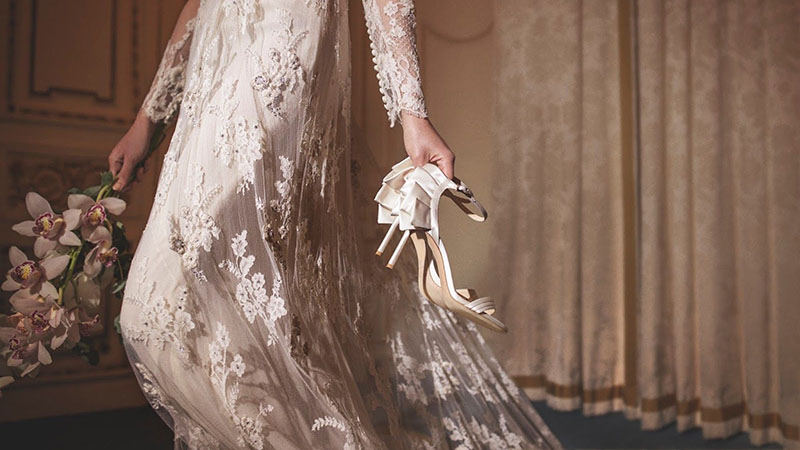 How to Choose Wedding Shoes?
Before you choose a pair of shoes, it's important to check off the critical factors. What is your wedding aesthetic? What pair of shoes fit into your budget? Do you want to have sparkles, satin, or lace to match your dress? When choosing shoes, consider the length of your bridal ensemble, the color of the dress, and the comfort of the shoes. If you're wearing a tea-length dress, a pair of embellished shoes may be the way to go, but if you're rocking lace or feathers, you can opt for something simple and minimalistic. As mentioned before, you have to remember how long you will stand on your feet. Try the shoes on with your dress, walk around making sure you feel secure and comfortable with every step, and the shoes don't get tangled in the dress.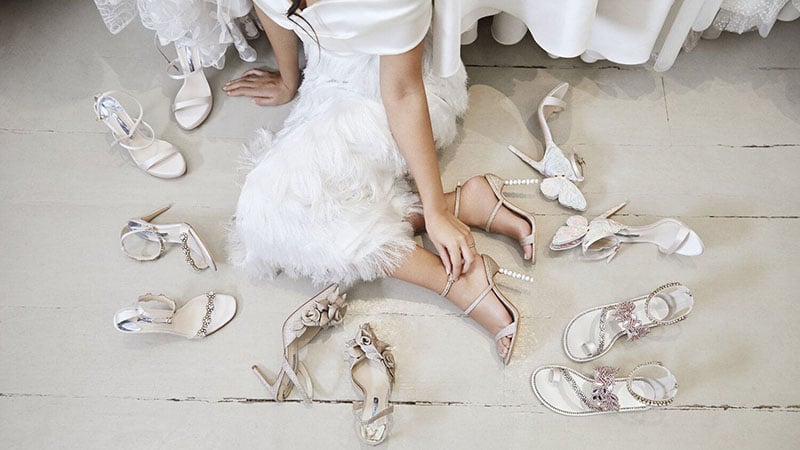 How to Match Wedding Shoes to the Dress?
No matter how close you align with classic bridal aesthetics, a pair of shoes can offer the opportunity for you to have a little fun. When choosing a pair of wedding shoes, consider the length and color of the dress you're planning to wear as you walk down the aisle. If you can't see them under the dress, you don't have to worry so much about matching them perfectly but take note that some shoe trims and embellishments may get caught in the dress. For those wearing a classic white gown, pair it with blush, ivory, or silver shoes – add some sparkle to catch the light if you want to be a bit adventurous without deviating from tradition. However, brides shouldn't be afraid of a bit of color – this is the right moment to try injecting something bright into your ensemble. Stay close to historic customs by rocking blue heels (bonus points if they're vintage) or a metallic hue for a bit of extra glitz.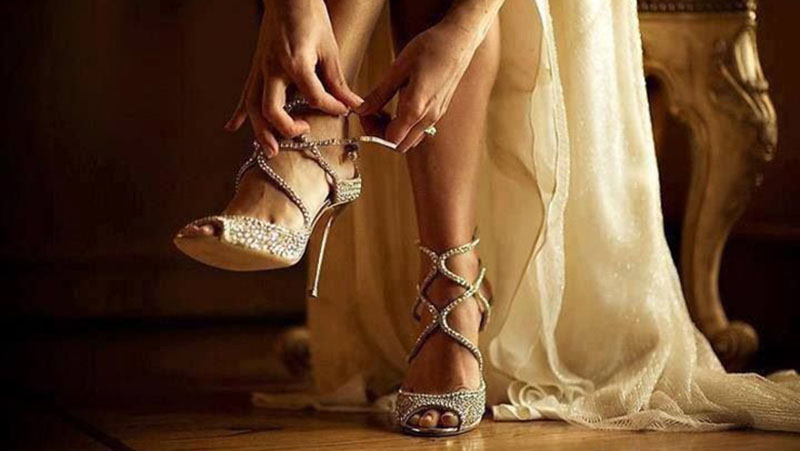 When to Buy Wedding Shoes?
Just like when choosing a gown, you mustn't wait until the last minute before choosing your footwear. Consider purchasing the shoes around the same time as you purchase your gown, as it will give you enough time for any changes or alterations that come with the preparation process. In fact, it might be worth your while to have them ready with you as you complete your fittings so that you can adjust accordingly to the height of the heel.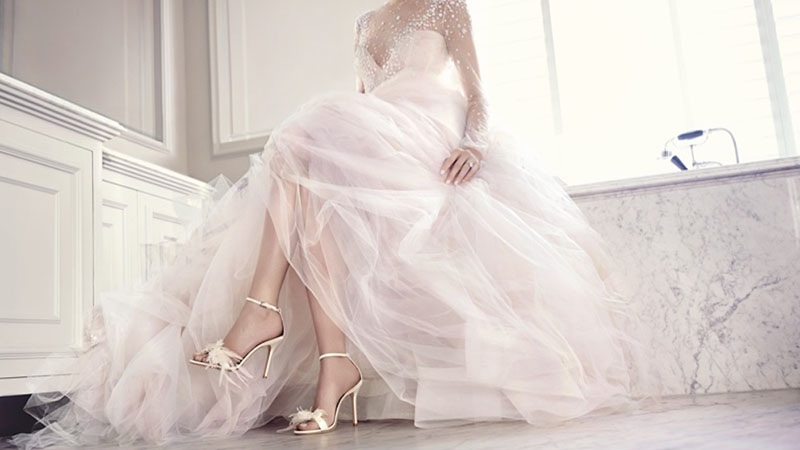 Wedding Shoes FAQs
What are the most comfortable wedding shoes?
For ultimate comfort as you dance the night away, opt for a heel with a strap for total support. Alternatively, you can try a kitten heel, which gives the impression of height without the danger of rolling your ankles. Always consider the temperature of your big day when choosing heels. Sandals and wedges are excellent options for a beach wedding, and closed-toe shoes will keep your toes warm for a winter ceremony.
What kind of shoes should I wear to a wedding?
The type of shoes you wear to a wedding depends entirely on the kind of ceremony. For a beach wedding, try sandals or a wedge - they offer support and can be dressed up or down effortlessly. Classic options include a pair of black stilettos, sparkly heels, vintage pumps, or even some flats. Ultimately, it's about dressing appropriately to the dress code and complementing your personality. Don't forget that you will most likely be dancing up a storm, so make comfort a priority!
How much should I spend on wedding shoes?
While there is no strict budget for wedding shoes, the standard spend for bridal footwear is up to $200. Of course, this depends entirely on your budget, so prepare in advance before you go shopping. Ideally, you'd like to choose a pair of shoes that you can wear to other formal events, so make sure you're buying something that is high quality and flatters your personal style.
What shoes should I wear to an outdoor wedding?
If you love a pair of heels but don't want to sink into the grass at an outdoor event, you should try your hand (or feet) at espadrilles. These offer the height and style of classic heels and keep you standing tall with almost anything underfoot. Alternatively, you can try closed-toe shoes for a winter wedding, flats for a beach ceremony. Mules, kitten heels, and anything that offer ankle support will keep you feeling secure for a day or night outside.
Should the shoes show in your wedding dress?
Your shoes may or may not show under your wedding dress, depending on the length you choose. For brides noting for a vintage wedding, a tea-length dress will definitely showcase your heels. However, if you're planning to walk down the aisle in a ballgown or something with a train, it's unlikely that your feet will be on display. If you're unsure, take the shoes with you to the fittings for your dress so you can see how much footwear invisible under the fabric.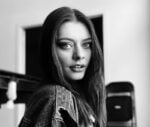 Alexandra Feiam is an experienced fashion writer who holds a degree in journalism. She has an impressive portfolio and expertise working as the Editor at Power Retail and Commercial Content Editor at Newscorp. Ally has been writing for The TrendSpotter since 2018, and her work has been featured in notable publications such as The Herald Sun, Arirang TV South Korea, Kidspot, The House of Wellness, and The Daily Telegraph.
SUBSCRIBE TO OUR NEWSLETTER
Subscribe to our mailing list and get interesting stuff and updates to your email inbox.