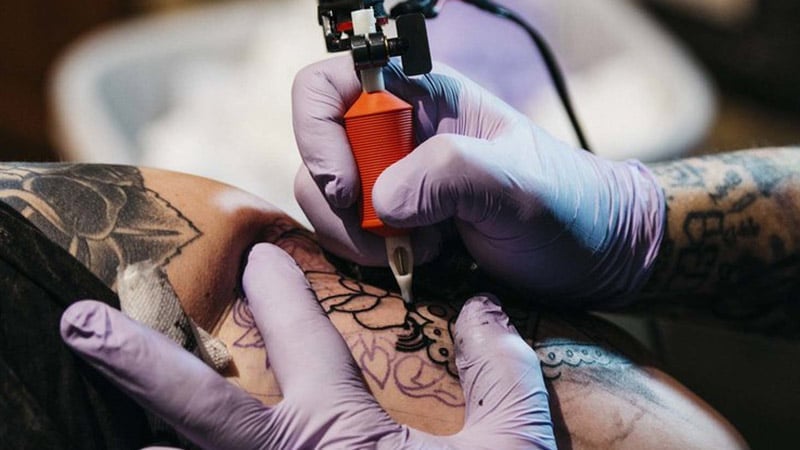 Whether you have virgin skin or are adding to a collection of ink, the Windy City is home to many talented and inspiring tattoo artists. As such, there are heaps of amazing tattoo shops in Chicago. You might be looking for a fun and easy flash sheet design to remember a trip with friends or a large scale custom-piece to serve as a piece of living art. Whatever you're in the market for, there's a studio and artist who can bring your ideas to life. Many welcome walk-ins; however, to guarantee a particular artist, it's best to make an appointment to avoid disappointment.
RELATED: 200 Best Tattoo Ideas For Men
RELATED: 165 Best Tattoo Ideas For Women
1. Shred's Inferno
Shred's Inferno is a full-service tattoo shop located in the city's south. Owner and award-winning senior artist, Shred, opened the shop in 1997, bringing over 25 years of experience with him. By his side since the beginning is Michelle, who has helped build the portfolio and reputation for clean, high-quality work. Together they can do a full range of ink styles, from realism, black and grey, and neo-traditional, to new school, watercolor, and outline art. The shop is open afternoons and evenings, with walk-ins welcome. However, booking an appointment is the best way to secure a time with your preferred artist.
Address: 4304 W. 63rd St. Chicago
Phone: 773-585-2653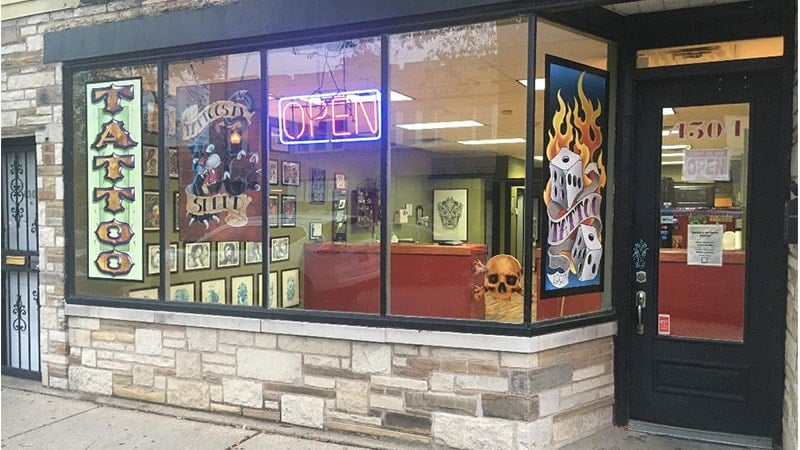 2. Chicago Ink
No matter what kind of body modification you're looking for, Chicago Ink is your one-stop-shop. They have a team of tattoo artists, body piercers, and cosmetic tattooists. Plus, they're open late most nights, so it's easy to make an appointment after work. When it comes to traditional tattoos, the local and international artists create custom designs for every client to ensure their individual personalities and vision are reflected in every piece. Styles include realism, Japanese, tribal, traditional, American, biomechanical, lettering, and black and grey. Additionally, they also do great work with cover-ups if you've got some ink regret. Finally, choose from 2 locations – one on West Irving Park Road and the other on North Milwaukee Avenue.
Address: 5415 W Irving Park Rd Chicago & 3200 N Milwaukee ave. Chicago
Phone: 773-777-9663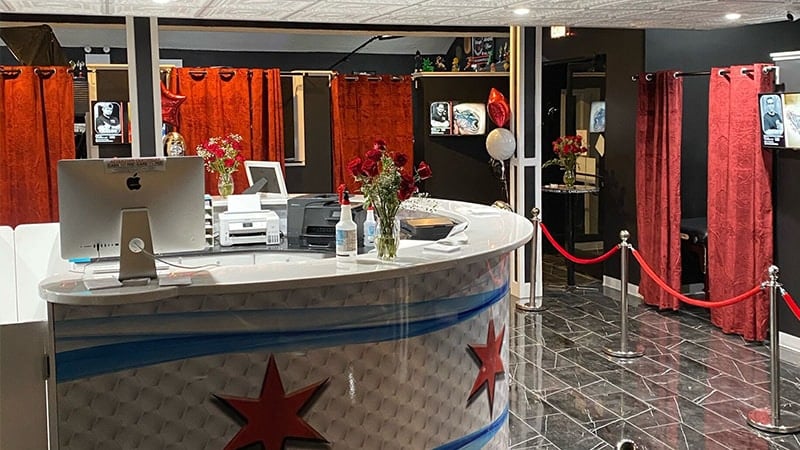 3. Tattoo Factory
As one of the oldest tattoo shops in Chicago, Tattoo Factory has been inking skin since 1976. Pete Collurafici established the studio in Uptown after apprenticing under Colonel William Todd at Bert Grimm's Tattoo Studio on The Pike in Long Beach, California. After his death in 1996, his brother Paul took over to continue his legacy. Today, the shop boasts a large crew of artists and piercers, covering all kinds of styles from realism and portraits to watercolor, new school, traditional, and Japanese. They're also great at cover-ups, plus will create a custom piece to bring your vision to life. Another feature that sets this studio apart is the Drink n' Ink bar next door. Bring your friends along, and they can enjoy a drink while watching you get inked on the TV while sports play on another.
Address: 4441 North Broadway, Chicago
Phone: 773.989.4077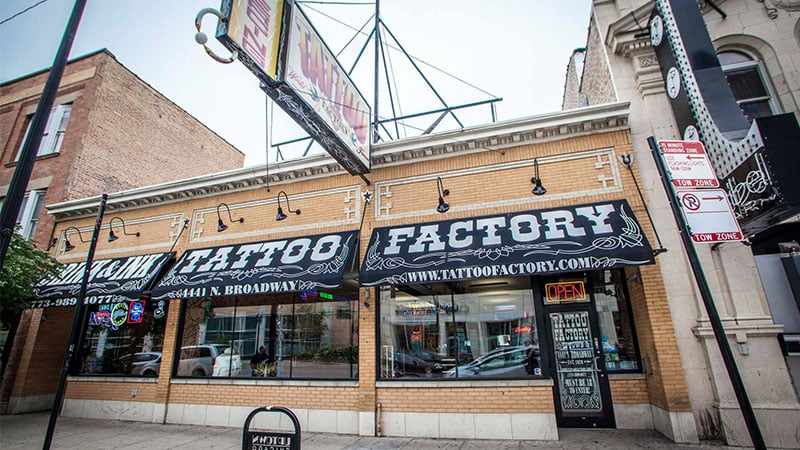 4. The Chicago Tattooing Company
The Chicago Tattooing Company first opened in the mid-1960s as Cliff Raven Tattooing. Since then, it's had a few ownership changes and a name change. The current owner Dale Grande joined as a gofer in 1972 before officially coming on board as a third partner, joining Cliff and Buddy "Mac" McFall. Currently, the team of artists presents various works from large Japanese-style sleeves to fine line, geometric, American, black and grey, and more. Plus, if piercings are more your vibe, you can book in for all kinds of facial, ear, and body piercings.
Address: 1017 West Belmont Ave, Chicago
Phone: 773-528-6969
VISIT: The Chicago Tattooing Company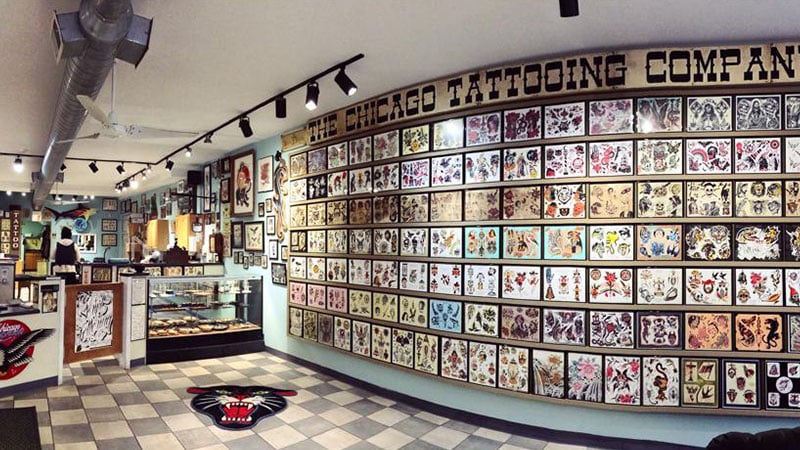 5. Studio One Chicago
If you're looking for some Japanese-style ink, then Studio One Chicago should be your pick. This private tattoo studio is owned by Nuco Villanueva, who has been tattooing since 1996. He moved from Mexico to Chicago's Little Village in the 1980s before opening his shop in 2009. As an artist, he's drawn to the traditional techniques and bold colors that exemplify Japanese tattoos. The other resident and guest artists also share this ideal. However, despite his passion for tradition, he's regularly on the move, traveling to learn from other tattooists and artists to continue to hone his craft.
Address: 1147 W. 18th St. Chicago
Phone: n/a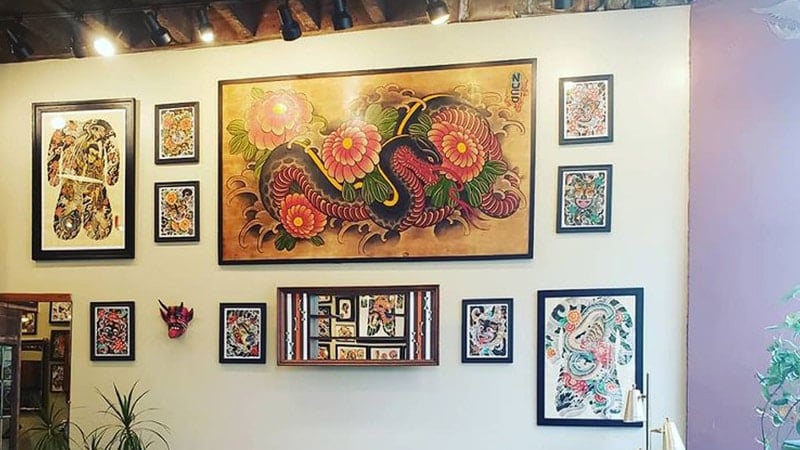 6. Speakeasy Custom Tattoo
Enjoy your own custom piece of artwork when you book with the appointment-only Speakeasy Custom Tattoo, one of the best tattoo shops in Chicago. Owned by Patrick Cornolo, this studio boasts nearly a dozen world-renowned artists on the line-up. There are no flash sheets or standard designs on the wall. Each artist works with their clients to design unique works of art that bring a vision to life, with their own personal twist. With so many artists in the shop, nearly every style of ink is covered. This includes the classics like black and grey, American traditional, and Japanese, as well as less common styles like dot-work, fine-line, trash polka, 8-bit, and watercolor. Many of the tattooists book out well in advance, so make sure you plan ahead to avoid disappointment.
Address: 1935 1/2 W. North Ave, Chicago
Phone: 773-645-1703
VISIT: Speakeasy Custom Tattoo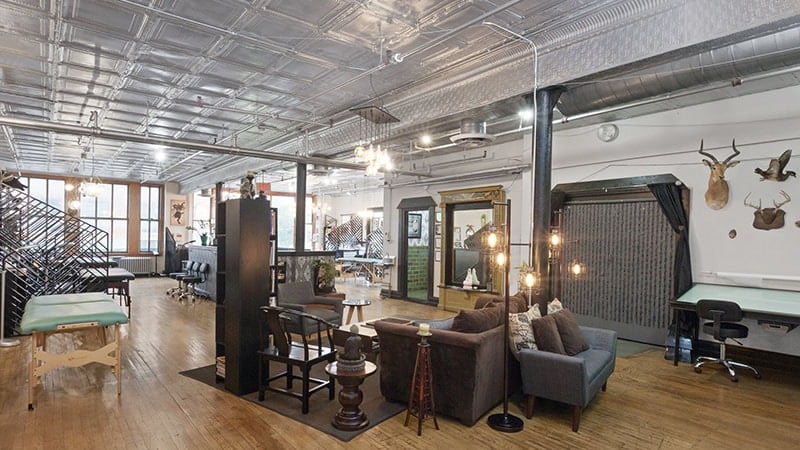 7. Tatu Tattoo
Open from midday to late, seven days a week, there's plenty of time to get in to see the team at Tato Tattoo. Located in Wicker Park, the shop has been around since 1993, with Neal Chambers the current manager. Like many other shops, the artists look after their own scheduling, so you can contact each of them directly. However, walk-ins are welcome, and there are plenty of flash sheets for inspiration. Tattooing styles available include American traditional, black and grey, realism, and Japanese style.
Address: 1754 W North Ave, Chicago
Phone: 773-772-8288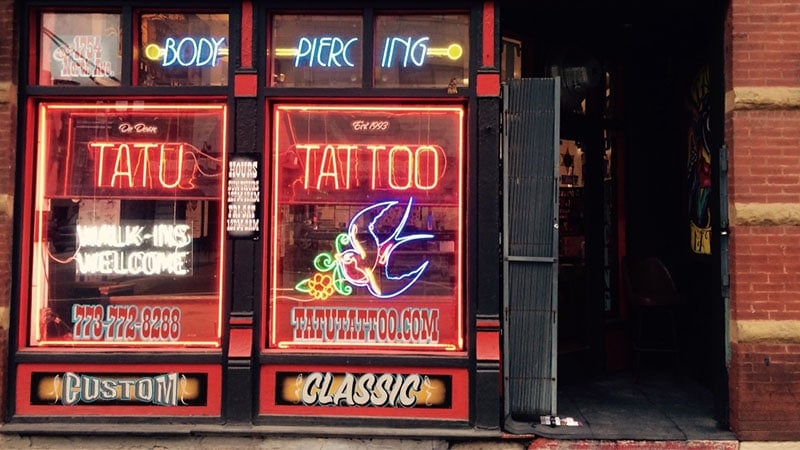 8. Code of Conduct Tattoo
Jamie Navarro is the owner of Code of Conduct Tattoo, located in Chicago's historic South Loop. He opened the shop in 2010 and has a background in photography as well as tattooing, so his eye for design is excellent. Joining him in this dark but ambient studio are Jake Ames, Rafael Corona, Klaus Zhang, Bryan Ortego, and apprentice Alex Clifton. Between all of them, you can get ink in a range of styles, including traditional, black and grey, realism, colorful new school, illustrative, and fine line. Tattoos are by appointment only, and you'll need to contact your chosen artist for the hook-up.
Address: 14 E 11th St, Chicago
Phone: n/a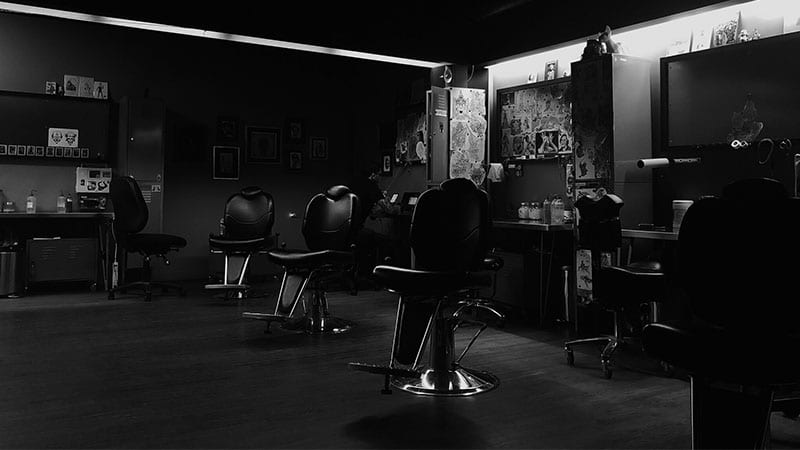 9. Good Kind Tattoo
Enjoy personalized service, excellent attention to detail, and a passion for the craft at Good Kind Tattoo. This Chicago tattoo shop is owned and operated by Rob Goodkind, who has been in the industry since 2006. His preferred styles are large-scale pieces of illustrative or Japanese-style designs. Joining him is a team of other talented artists specializing in American traditional, Japanese, watercolor, black and grey, and realism. Walk-ins are welcome, but it's recommended to guarantee a spot that suits you to make an appointment.
Address: 3056 N. Clybourne ave. Unit CS, Chicago
Phone: 773-857-0609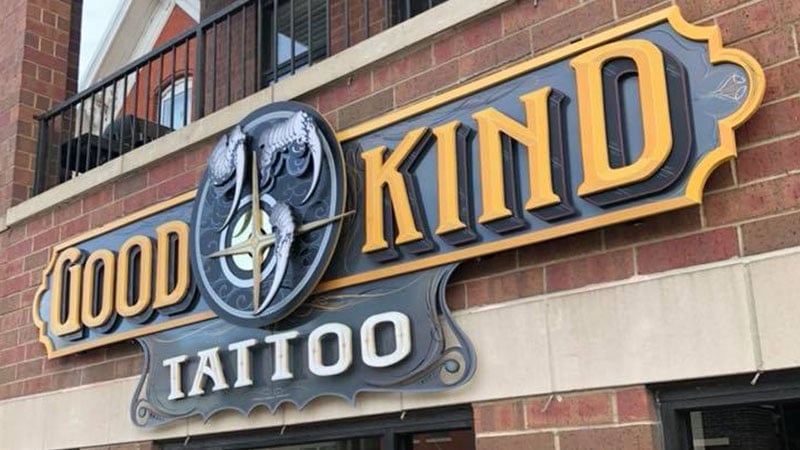 10. Great Lakes Tattoo
Great Lakes Tattoo is one of the best tattoo shops in Chicago, with an attitude-free atmosphere that's welcoming for everyone. Owners Nick and Sara Colella opened the store in 2013 and believe in honoring the past, present, and future of tattooing. As part of this, they have a large collection of tattoo memorabilia, host guest artists from around the world, and hire some of the best veteran and up-and-coming tattooers with a wide range of portfolios. Consequently, no matter if you're looking for old school, new school, or anything between, they'll be able to create a masterpiece for you. Plus, if you want something simple and easy, there are hundreds of flash designs from which you can also choose. Finally, if you're looking for somewhere to host an event, Great Lakes Tattoo also has the Great State Gallery, an art gallery, and event space to showcase art, live music, and more.
Address: 1148 W Grand Ave, Chicago
Phone: 312-870-0458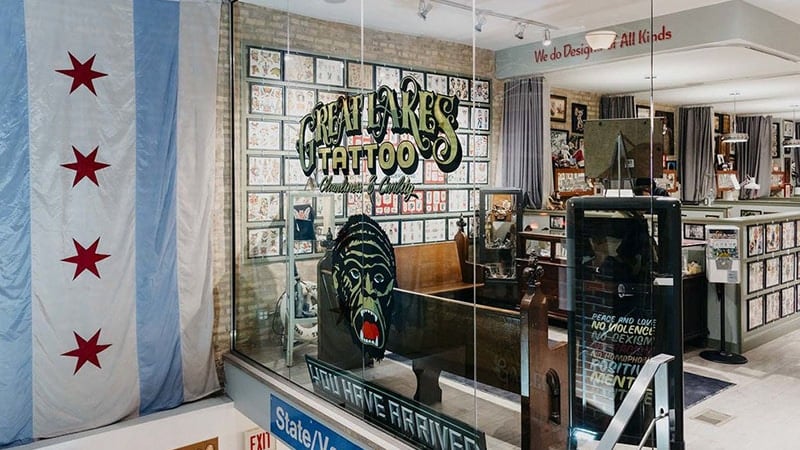 11. Infamous Ink Studio
Night owls will appreciate the opening hours of Infamous Ink Studio, which operates until midnight from Sunday to Thursday, and until 2:00 am on Friday and Saturday nights. Jeremy Gibson, Josh Meadows, and Daryl Harris are the artists working from this Chicago tattoo shop and combined have nearly 60 years of experience. As such, they're all confident in most ink styles, including black and grey, realistic color, traditional Japanese, white ink, neo-traditional, and photorealism. Josh is also the resident piercer doing basic piercings. Finally, if you have a few friends who want to get inked, sign up for a tattoo party! Groups of five or more receive a discount.
Address: 1606 W North Avenue, Chicago
Phone: 773-252-7422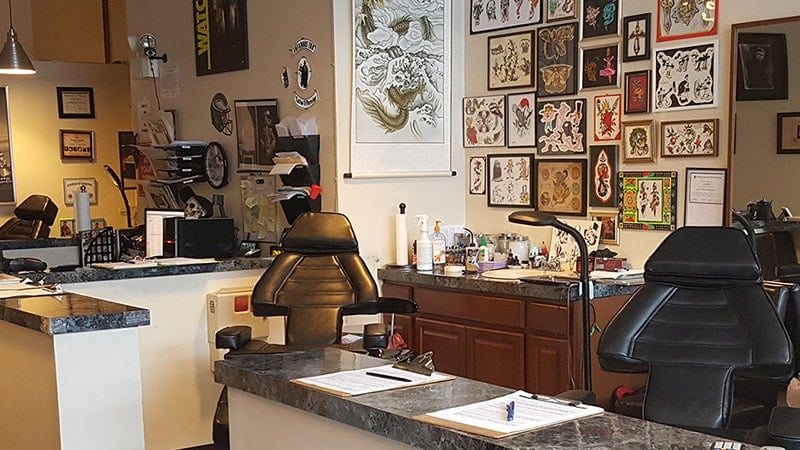 12. 9 Mag Tattoo
Ryan Henry is the man behind 9MAG Tattoo, a custom Chicago tattoo shop. No matter how small or large a piece you want, everything is possible, and the collective of artists on the team specialize in a range of styles. As such, there's a diverse range to choose from, including freehand artistry, new school, portraits, large scale, black and grey, and watercolor. While booking with your preferred tattooist is recommended, especially for large pieces, they do take walk-ins between 12:00 pm and 8:00 pm six days a week. In addition to ink, you can also head in for various piercings. You'll find 9MAG on the Lower West Side and can't miss the giant white sign outside.
Address: 2150 S Canalport Ave, Chicago
Phone: 312-374-4902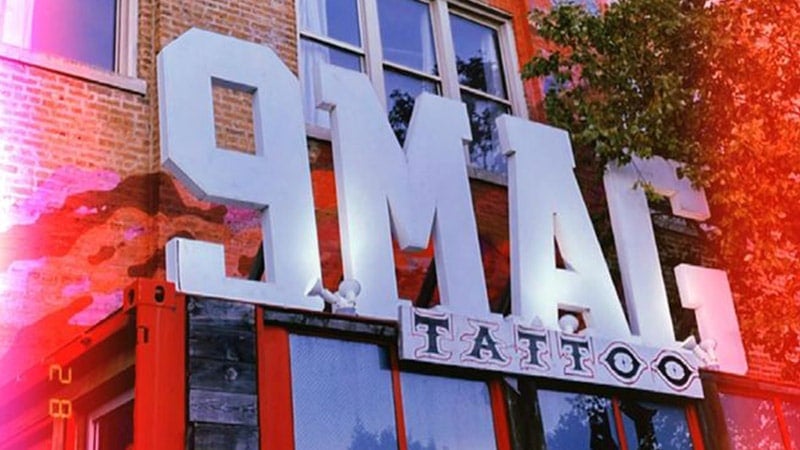 13. Ageless Art Tattoo
Choose from two locations for Ageless Art Tattoo – on one Kedzie Avenue and the other in Oak Park. The shop has been servicing Chicago ink addicts since 2002, and not only can you get custom-designed tattoos, but also piercings. All the artists are highly experienced and passionate about their craft, so bring all your ideas in, no matter how big or small.
Address: 6743 W North Ave, Oak Park & 2407 S Kedzie Ave, Chicago
Phone: Oak Park — 708-358-0526 & Kedzie Ave — 773-521-8288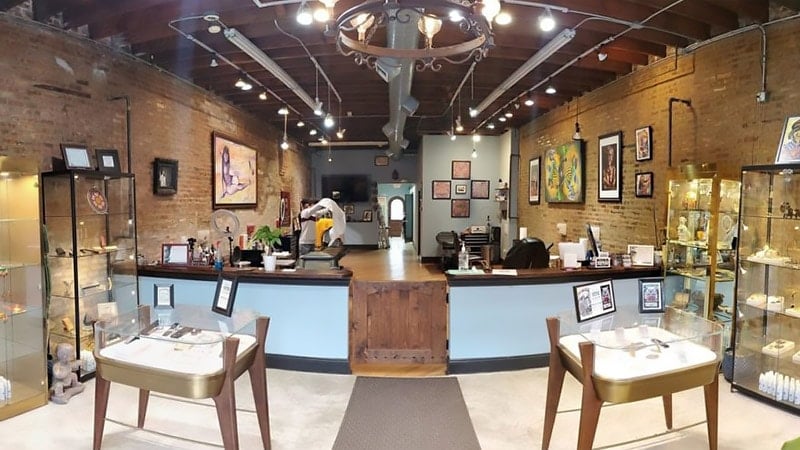 14. Logan Square Tattoo
Situated on a busy block on Milwaukee Avenue, Logan Square Tattoo opened in 2014. Gifford Kasen is the owner and is known for his biomechanical tattoos and large-scale custom projects that combine realistic and abstract elements. Also on the full-time team is Amber Wu, who has a unique style combining watercolor, brush painting, and linework, and Ellie, who tattoos traditional-style designs. Then, if you're looking for minimalist or fine line work, Kae and Lizzie Dugan are the artists to book with, while Jeremy Golden also does fine line along with black and grey and dot work. The clean, open, and bright space is welcoming and acts as a gallery for the artists to show off their work.
Address: 2352 N Milwaukee Ave, Chicago
Phone: 773-799-8640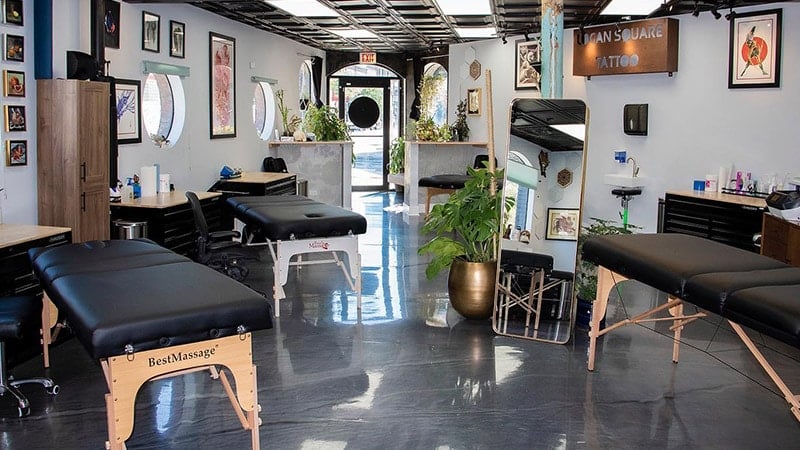 15. Taylor Street Tattoo Co.
Keith Underwood and Mike "Rollo Banks" Malone founded Taylor Street Tattoo in Little Italy, Chicago, in 2009. The studio has ties to Norman Keith Collins, a.k.a Sailor Jerry, thanks to his mentorship of Mike in Hawaii before he moved to Chicago. As such, the shop has a strong focus on keeping classic tattoo motifs alive, along with creating custom pieces. Walk-ins are welcome, but bookings are recommended if you're after a large design. Finally, if you're feeling adventurous and want fate to decide your next tattoo, choose the "You Get What You Get" option. All you do is pay your cash, then turn the knob on a gumball machine and get the design that pops out!
Address: 1150 W Taylor St, Chicago
Phone: 312-455-8288
VISIT: Taylor Street Tattoo Co.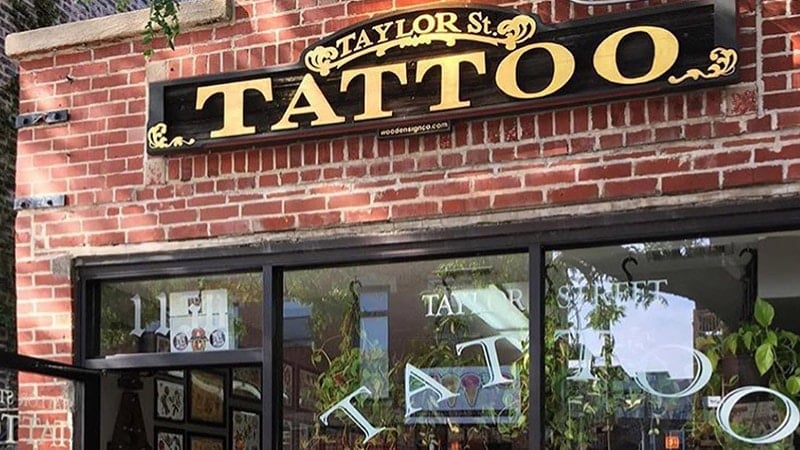 16. Revolution Tattoo
A warm, clean, and friendly environment greets you at Revolution Tattoo, a colorful shop accented with greenery for an even more homely feel. Owners Omar Gutierrez and Cheri Basak opened the studio in 2004 to be both artist and client-friendly, so no matter your heritage, skin color, gender, or other lifestyle choices, you'll be welcome with open arms. Today, the team is happy to create custom artworks as well as flash work for walk-ins. The line-up includes Omar, a.k.a Oms, who is a versatile artist who most enjoys black and grey realism. Then, there's also Toulouse, who specializes in European/American traditional; Ben, who has a dynamic, linework style; and Patrick, who enjoys neotraditional, blackwork, minimalism, fine line, lettering.
Address: 2221 N Western Ave, Chicago
Phone: 773-486-8888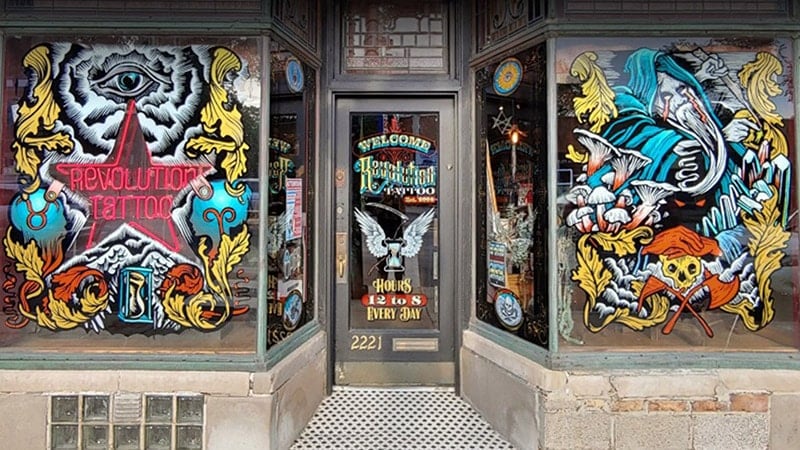 17. Tattoo Candy
Tattoo Candy is open for custom-only designs from 12:00 pm to 12:00 am, seven days a week. The eclectic shop feels like walking into your eccentric friend's house, with its collection of decor and plants. Meanwhile, the talented tattooists will also make you feel welcome. They're fluent in all styles of ink and can therefore create any design you like, from American traditional to dot work, black and grey, cartoon, and even cover-ups.
Address: 3460 N Pulaski Rd, Chicago
Phone: 773-283-8880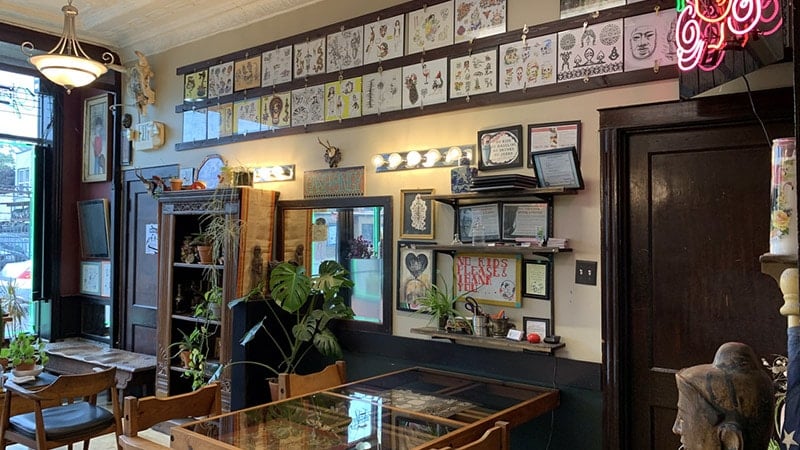 18. Black Atlas Studios
The appointment-only Black Atlas Studios is one of the premier tattoo shops in Chicago. As such, you'll be sure to leave with an incredible, one-of-a-kind tattoo. The team is talented in various styles from black and grey, realism, and fine lie, to watercolor, illustrative, and geometric. Plus, they also regularly host guest artists who bring a different style of art to the shop. It's open midday to 8:00 pm six days a week, including Saturdays.
Address: 3527 South Halsted St, Chicago
Phone: 773-940-1627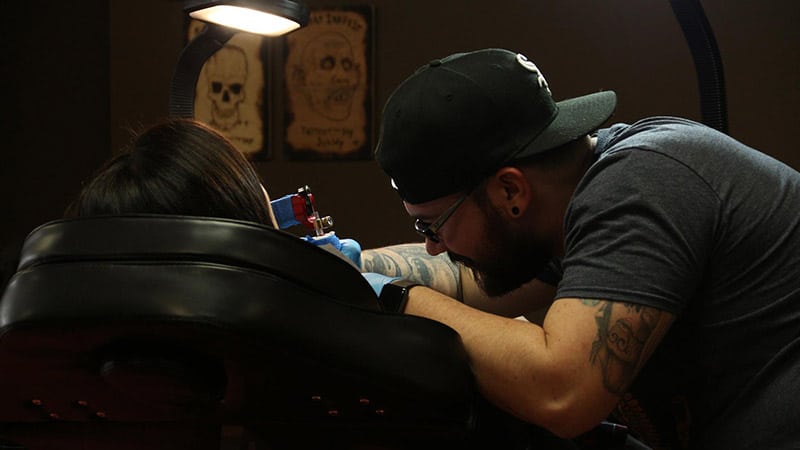 19. Archer Avenue Tattoo
When it comes to body art, you want a studio and tattooist you can trust. Therefore the team at Archer Tattoo aims to treat every client with respect and attention, ensuring you leave with great memories and art you love. Opened in 2000, the shop has a team of talented artists specializing in black and grey styles, dot work, ornamental, traditional, fine line, and color. In addition to tattooing, this Chicago tattoo shop also offers body piercings.
Address: 4440 S Archer Ave # 1, Chicago
Phone: 773-890-3903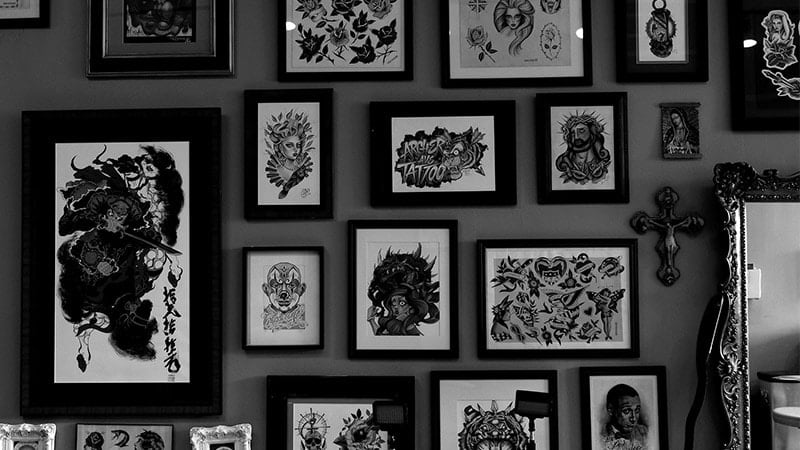 20. Wild Wind Tattoo
Not only is Wild Wind Tattoo one of the best tattoo shops in Chicago, but it also serves as a gallery space. The studio's back wall is used as an installation wall for both store and outside artists to showcase work beyond the world of tattooing. Plus, it creates a visual experience for customers while they get inked and keeps the space fresh and interesting. Rich Marafioti opened the store in 2015, in Wicker Park, with ten years of experience under his belt. The team focuses on custom work, with a broad range of styles on offer. However, they also take walk-ins for smaller flash designs or simpler pieces of work.
Address: 1452 N. Western Ave, Chicago
Phone: 773-227-2027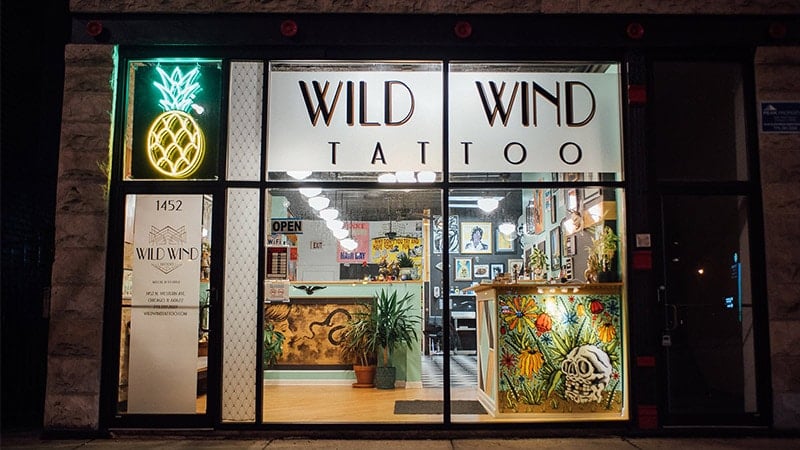 21. Twisted Tattoo
Whether you're a first-timer or an old hand at getting ink, you'll feel safe and relaxed at Twisted Tattoo. The staff takes the time to design your own custom piece and explain the process, so you know just what to expect. The man behind the store is Nando, who has been running Twisted Tattoo in its many forms for over 14 years and also owns Café Urbano next door (which is a great place for a filling brunch before your session). Joining him on the team are EO, who's known for his skulls, and Dina, who loves geeky anime and video game-style art.
Address: 4168 N Elston Ave, Chicago
Phone: 773-866-0100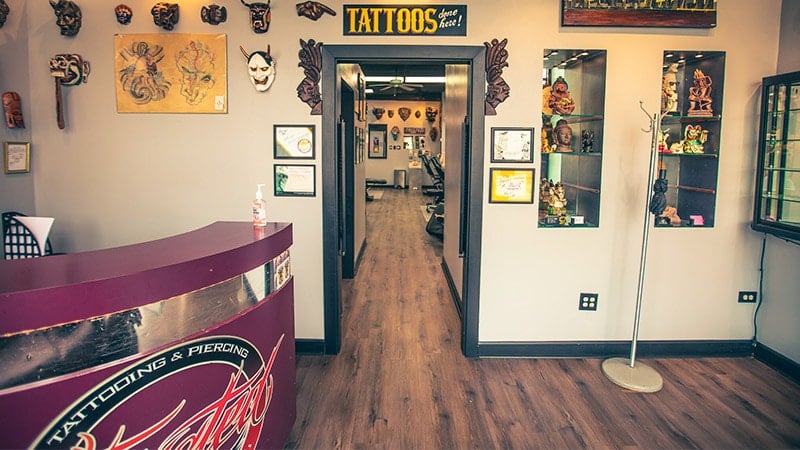 22. Pioneer Tattoo
Tim Biedron and Harlan Thompson founded Pioneer Tattoo in 2010. This appointment-only studio is tucked away on the second level, and you'll need to be buzzed in. The artists on staff manage their own schedules and set their own hours, so it's best to contact each of them directly for availability. Harlan Thompson is still inking and focuses on large-scale pieces with Japanese influences, while Ryan Flaherty also specializes in large designs, watercolors, and bright shading. Meanwhile, Allie Sider is an excellent black and grey artist, and James Eastwood does a lot of Neo-traditional and American traditional designs.
Address: Second Level, 3513 N Lincoln Ave, Chicago
Phone: 773-883-8807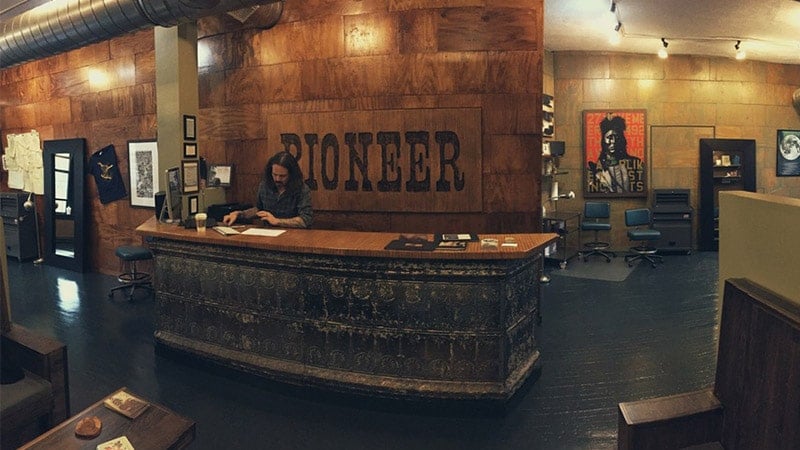 23. Jade Dragon Tattoo
Jade Dragon Tattoo is one of the largest tattoo shops in Chicago and was founded by Master Tattooist Fat Joe in 1980. It's open seven days a week, from midday to midnight, and 2:00 am on Fridays and Saturdays, and you can't miss the colorful facade. The team of artists covers a range of styles from fines lines and dot works to large realism and illustrative pieces. In addition to ink, you can also get piercings done here as well, including dermal piercings.
Address: 5331 W. Belmont Ave, Chicago
Phone: 773-736-6960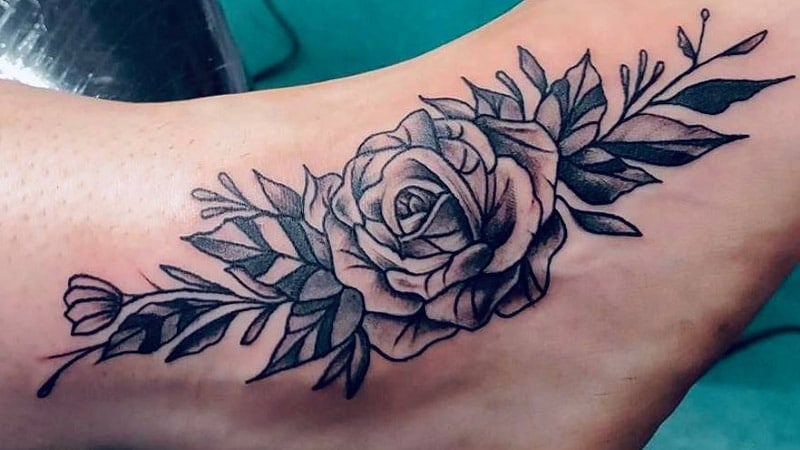 24. Master Craft Tattoo Co
If you're looking for a unique design in realism, traditional, or neotraditional, then Master Craft Tattoo Co is the tattoo shop in Chicago for you. Operating with more than 17 years of experience, the passionate and friendly team will make your ink dreams come true. The shop has a relaxed vibe and is open for appointments from 1:00 pm to 8:00 pm Tuesday to Saturday. They also welcome walk-ins, but it's best to call ahead.
Address: 5844 South Archer Ave, Chicago
Phone: 312-806-4342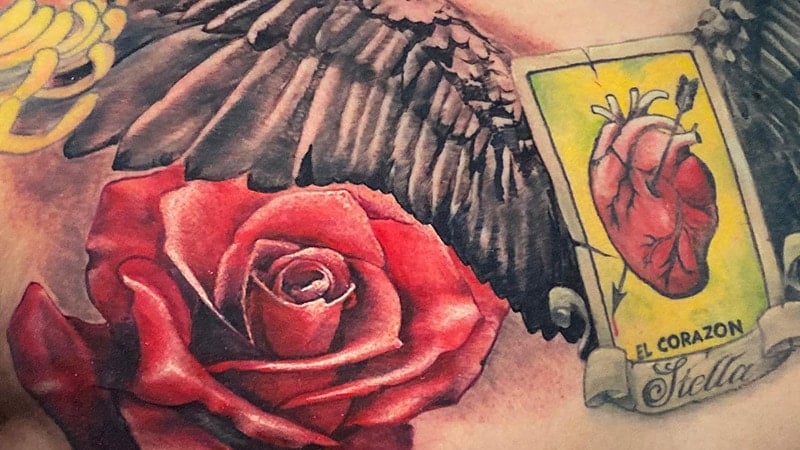 25. Good Omen Tattoo
Julie Campione is one of the best female tattoo artists in the Chicago area. Her colorful and distinctive style is easily recognizable and popular among her fans. In 2019, after working at Speakeasy Custom Tattoo, she opened her own studio. It's a warm, welcoming, and safe space for all clients, regardless of gender, sexuality, or race, that also aims to give back to the LGBTQI+ community. The all-female team offers a range of styles, from cute flash-style pieces to colorful flowers and traditional black and grey designs. Plus, you can also add some bling to your smile with a tooth gem service also available in-store.
Address: 2009 W. Belmont Ave. Ste. #1, Chicago
Phone: n/a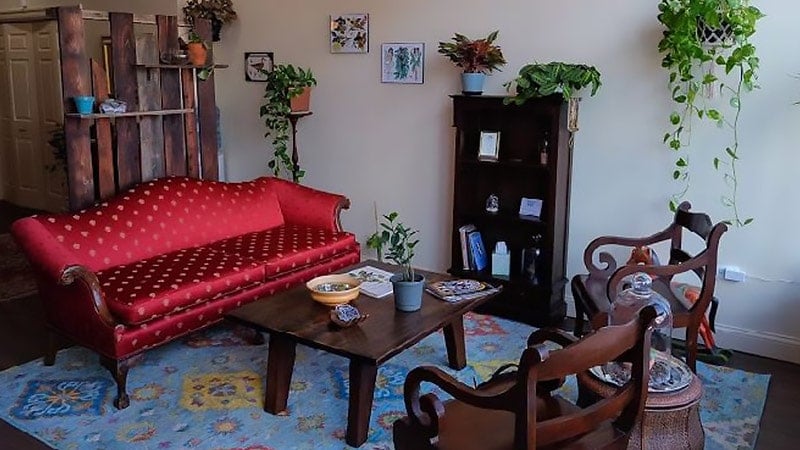 FAQs
Where's the best tattoo shop in Chicago?
The best tattoo shops in Chicago are located in the neighbourhoods outside the CBD. These include Shred's Inferno on the south side, Chicago Ink in Portage Park, and Tattoo Factory in Uptown.
Which Chicago tattoo shops are open late?
Most Chicago tattoo shops generally open around late morning or midday, with many staying open until 7:00 or 8:00 pm. However, there are some that stay open until midnight or even later sometimes. These include Jade Dragon Tattoo, Chicago Ink, Tatu Tattoo, Infamous Ink Studio, Tattoo Candy, and Tattoo Factory.
SUBSCRIBE TO OUR NEWSLETTER
Subscribe to our mailing list and get interesting stuff and updates to your email inbox.