With the end of fashion month comes a wave of hot new trends, and this time, it's all about footwear. A humble pair of shoes has the power to make or break an outfit, so it's important to choose wisely. From pointy-toe mules to slouchy boots, we've gathered inspiration from Schiaparelli, Prada, Maison Margiela, and many more. Whether you love something edgy, casual, and comfy or a classic silhouette, we've got you covered. It's time to put your best foot forward and check out these stylish shoe trends from Spring/Summer Fashion Weeks.
1. Black Pointy Toe Mules
When it comes to classic footwear, few can look past a pair of black mules. These timeless shoes are perfect for almost any outfit, and their versatility will have you wearing them for years on end. With a distinctively pointy toe and a backless heel, you can rock them with your favorite trousers, a midi skirt, or blue jeans. If you want to add a bit of flair, find something with a patent finish, a buckle at the toe, or unique embellishments.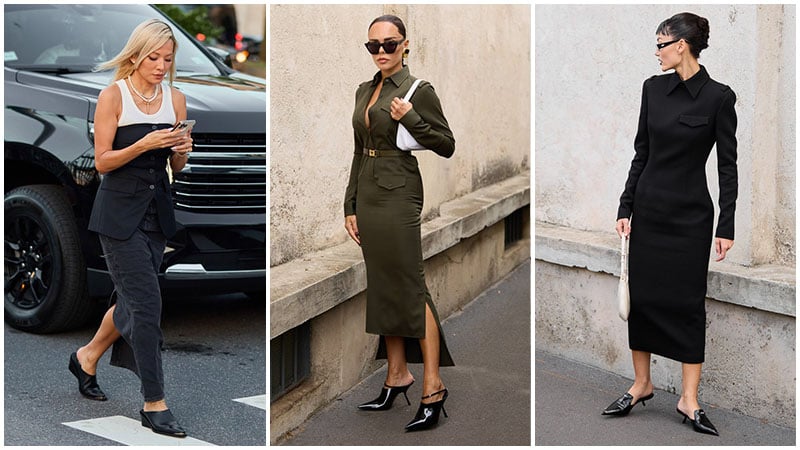 Get the Look
2. Kitten Heel Sling Back
The humble kitten heel has been a mainstay in the fashion scene for decades, but it's only been in the last few years that we've seen its renaissance. Since its invention in the '50s, these shoes have become a popular choice for blending casual and formal styles, and thanks to their low heel, it is a comfortable choice for all-day (or all-night) wear. The beauty behind these shoes is their practicality – while they offer the visual appeal of a heel, they're low enough for you to stay on your feet all day.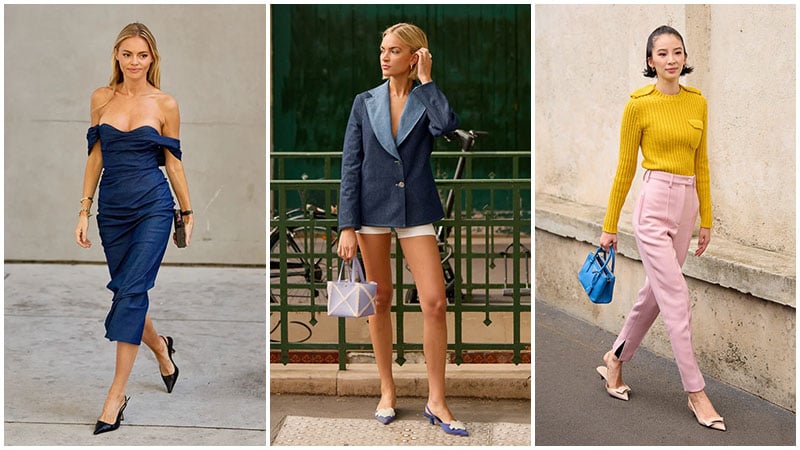 Get the Look
3. Metallic Toe Cap
Taking inspiration from Schiaparelli and Alexander McQueen, the steel-toe cap has been given a major update and is set to be one of the biggest trends of the season. This stylish and kickass design combines the tough edginess of metal with the hyper-feminine nature of a pump or a boot. Wear these to accentuate your jewelry or to add a bit of extra flavor to a monochromatic look. Bonus points if you match the metals with your accessories.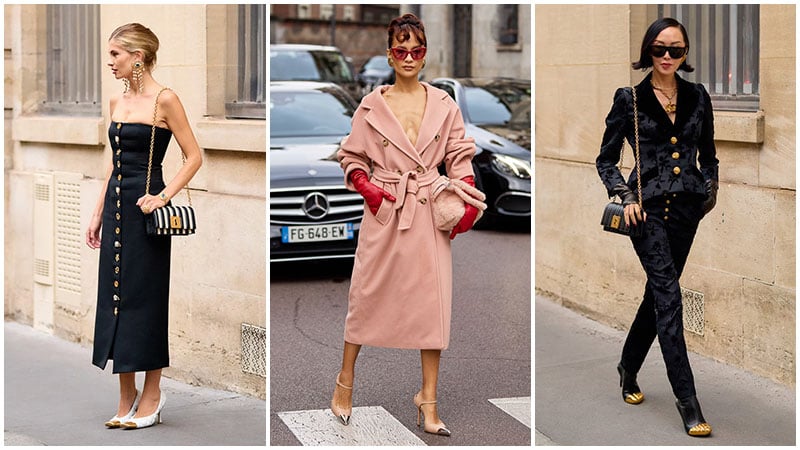 Get the Look
4. Slouchy Boot
The temperature isn't the only thing that is starting to drop this season – it's also our boots. This slouchy footwear is the perfect way to give your wardrobe a refresh without looking too out of the box. Opt for a boot that hits at the calf or slightly below to give it an authentic folded effect, and wear it with a midi and mini skirt to let its beauty shine. We recommend sticking to neutral colors to add extra versatility, but there's nothing more show-stopping than a pair of bright red or green shoes.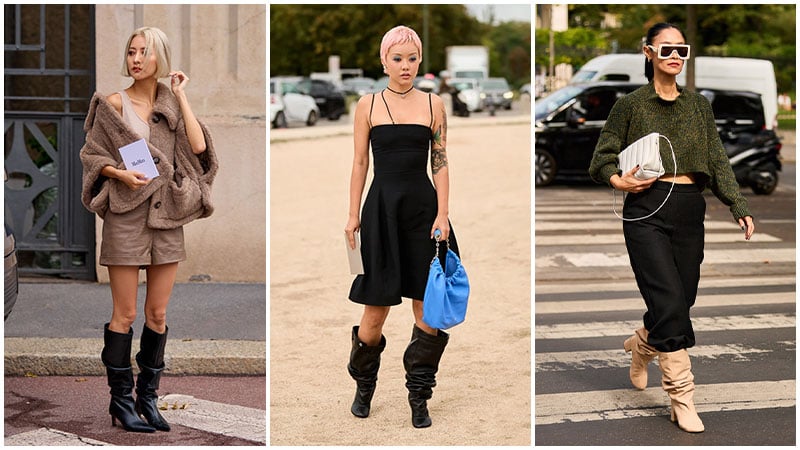 Get the Look
5. Mary Janes
It doesn't take a genius to see why Carrie Bradshaw was so obsessed with a pair of Manolo Blahnik Mary Janes – these shoes are the cutest and trendiest style of the season. Characterized by their single strap across the front of the shoe, you can now find them with up to five straps, a T-bar design, or a split down the middle, a la Maison Margiela's Tabis. Wear them as flats or with a sky-high heel with a casual outfit or something Y2K-inspired – there are multiple ways to breathe fresh life into this classic footwear.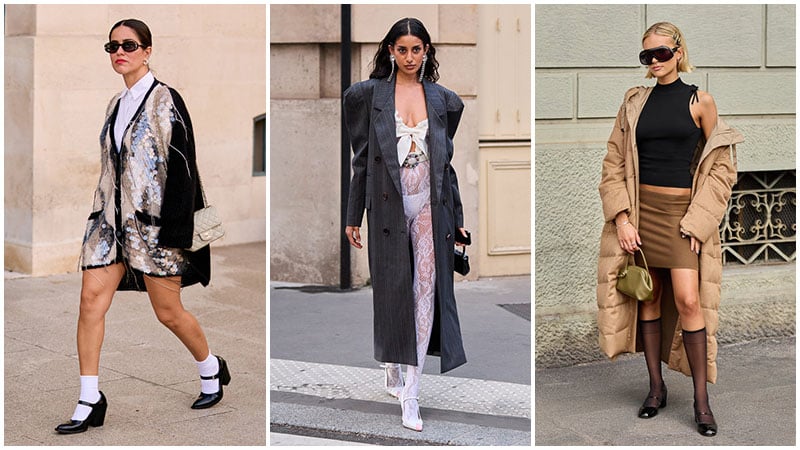 Get the Look
6. Pop Colour Pumps
If you're stuck in a rut and always feel like you're wearing the same outfit, we suggest adding a pair of pop-colored pumps. Unassuming at first, these heels will instantly (and literally) elevate your outfit, giving it a fun twist that will brighten your entire ensemble. While the most popular shades this season are hot pink, red, and purple, you can dip your toes into neon green or cobalt for a cool-toned feel.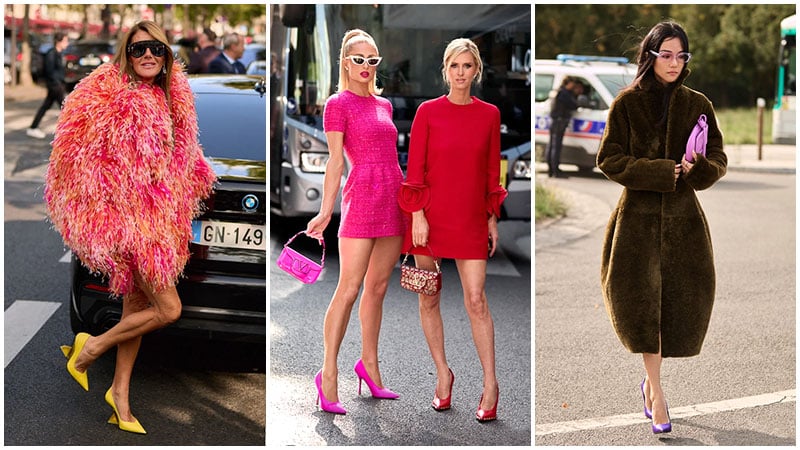 Get the Look
7. Red Ballet Flat
Balletcore has become a staple in the online and in-person fashion world, with influencers and celebrities worldwide taking inspiration from ballerinas backstage. Rather than sticking to classic pink or blue hues, we suggest taking the plunge and trying something bold, like red. These cherry-infused shoes are a throwback to '50s styles but dripping with modernity, meaning you can wear them with something as basic as jeans and a T-shirt and feel effortlessly stylish. We also spotted many fashion-goers rocking matching stockings under their dresses, which feels like a homage to the swingin' '60s.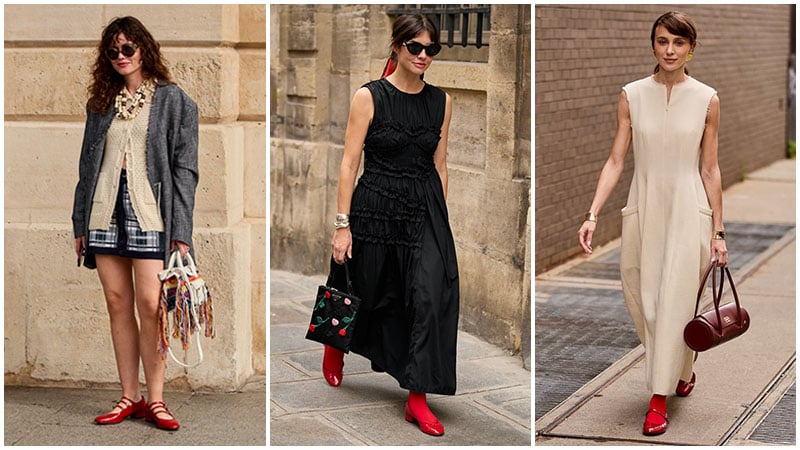 Get the Look
8. Double Strap High Heel
Stability in a pair of heels can be the luck of the draw, but wearing a pair of double-strap heels can certainly increase your chances. These secure and stylish shoes are the ultimate wardrobe staple, as they're versatile enough to wear with literally anything. We saw it worn in a more smart casual setting, but you can swap out a midi skirt for a pair of tailored shorts or a denim skirt for a laidback feel. However, with a sky-high heel and no platform at the toe, you may find yourself with aching arches by the end of the day.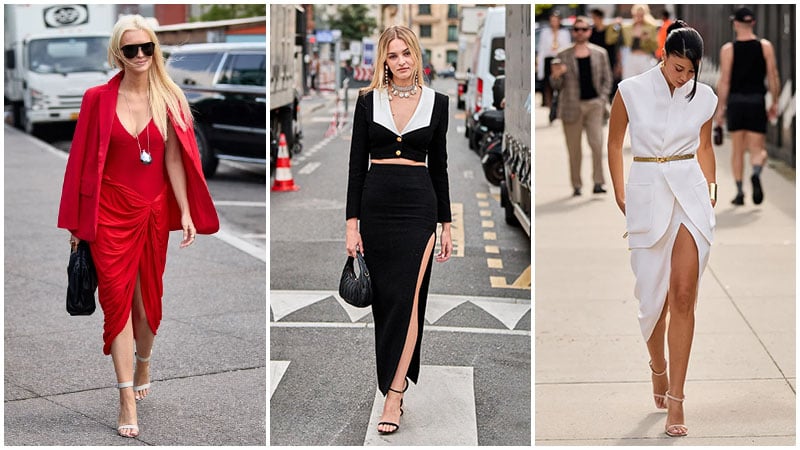 Get the Look
9. White Pointy Toe Flat
Thanks to the likes of Prada, we've seen a wave of white pointy flats enter the fashion scene, and we're not mad about it! These effortless shoes are an easy option for a trip to the shops or a romantic picnic date. You can take inspiration from the runways and rock the footwear with a tea-length circle skirt or follow a more Miu Miu route with an oversized blazer and no pants. We recommend keeping these far from dirty environments – they won't stay clean for long.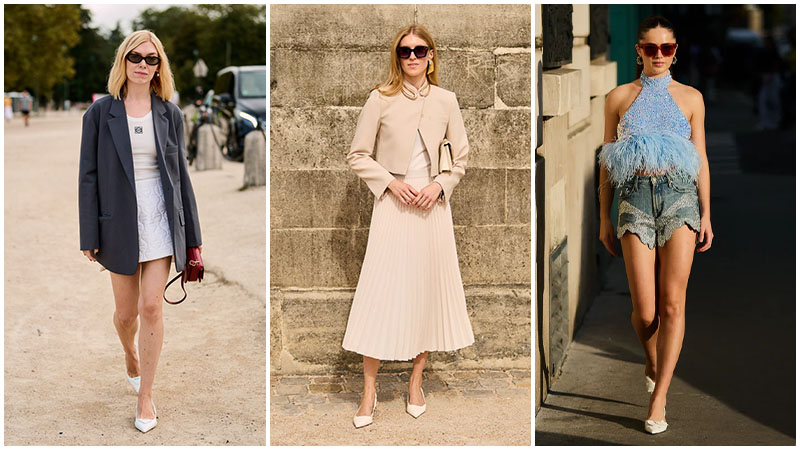 Get the Look
10. Thigh Boots
Move over 2016-era thigh-high boots, this season, we're giving them a major overhaul. Inspired by the 1999 film The Matrix, this leather-look footwear is the ultimate show-stopper and is guaranteed to be a new favorite. Wear them with your go-to shorts or mini-skirt, and let your legs do the talking. You don't have to go to extremes with the rest of your clothing unless you intend on wearing an all-leather ensemble. If all else fails, take a leaf from Andy Sachs' book and wear it with an oversized blazer.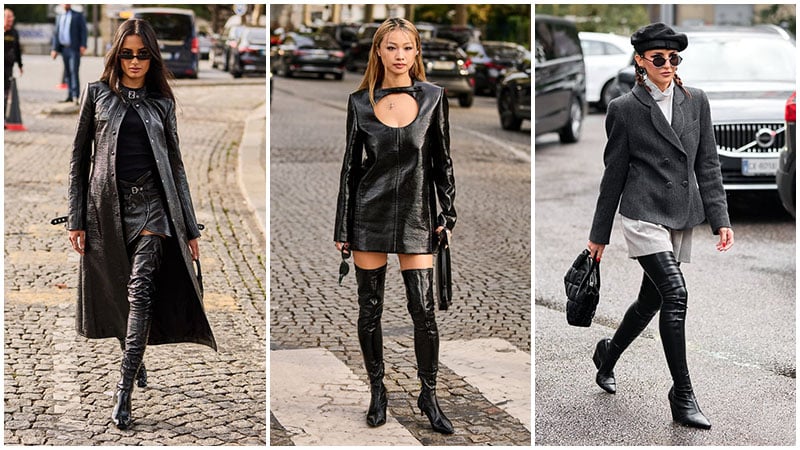 Get the Look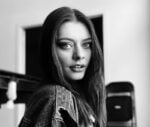 Alexandra Feiam is an experienced fashion writer who holds a degree in journalism. She has an impressive portfolio and expertise working as the Editor at Power Retail and Commercial Content Editor at Newscorp. Ally has been writing for The TrendSpotter since 2018, and her work has been featured in notable publications such as The Herald Sun, Arirang TV South Korea, Kidspot, The House of Wellness, and The Daily Telegraph.
SUBSCRIBE TO OUR NEWSLETTER
Subscribe to our mailing list and get interesting stuff and updates to your email inbox.