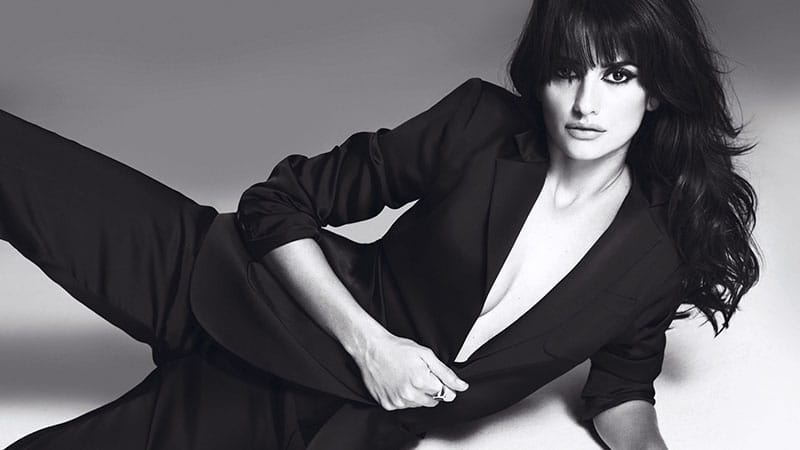 If you think that a suit is only good for boring business meetings, then you're missing out on a whole world of stylish dressing. Don't believe us? Just look to chic celebrities like Alexa Chung, Emma Watson, Blake Lively, Olivia Palermo, and Cara Delevingne. These stars rock suits on the regular basis and appear incredible while doing so. To channel the look for yourself, you just need to know their greatest tips for pulling off a tailored two-piece in style. Luckily, we've got the best celebrity tricks for styling a suit here for you. From the best accessories to wear to what top to choose, this is what you need to know.
Wear it with Statement Heels
Stylishly rocking a suit can sometimes be a tricky task. While a suit can create a range of fantastic looks from sophisticated and sharp to daring and sexy, the two-piece ensemble can also occasionally come across as a little boring or too business-like. This notion is especially true for suits in basic block colours, such as black or white, and those with simple and traditional silhouettes. To combat this issue, celebrities, such as Alexa Chung, rely on bold, statement accessories. By doing so, these stars add a fun and playful touch to their suited look without compromising its sleek aesthetic.
Although there are many different statement accessories that you could use to enhance the energy of your outfit, shoes are the best. Wearing statement heels with a suit creates a particularly fashionable look that's exciting without being over-the-top. If you've chosen a coloured or printed suit, you'll have to be conscious of selecting shoes in a hue that matches or complements your outfit. If you're rocking a neutral suit, on the other hand, you should feel free to experiment with any colour, no matter how bold. Metallics, such as silver and gold, make an excellent on-trend option while chunky platform styles and anything with glitter will always stand out in style.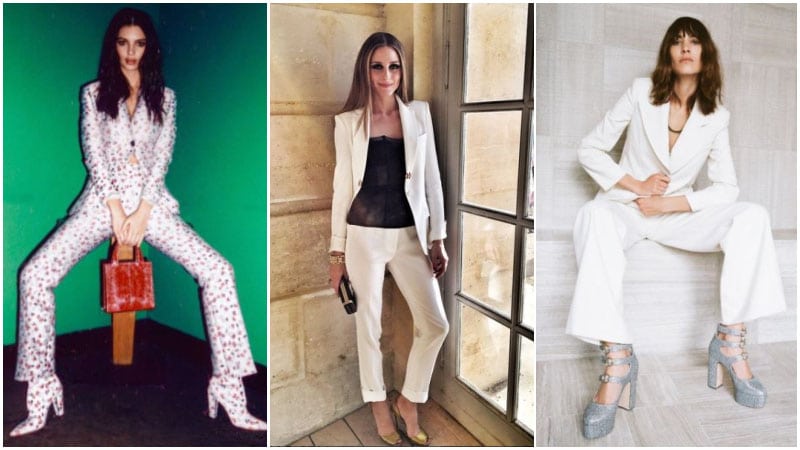 Choose a Matching Clutch
If your suit's already a standout piece, opting for statement accessories will only work against your outfit. Instead, you can enhance the appearance of your stylish suit by choosing matching pieces that will complement your look. To do so, take a page out of Blake Lively's style book and invest in a matching clutch. One that matches the colour and style of your suit will work perfectly to create a coordinated and chic appearance. For example, if your suit is white and minimalistic, you should consider choosing a plain white pouch. If your suit is black and features embellishments, on the other hand, you should select a dark, hard-shell design with bead work.
While you could choose a different style of bag in a matching colour, a clutch will provide the best results. Thanks to its small and subtle appearance, a clutch will work to complement your suit without detracting attention away from it. The minimalistic bag style will also maintain your slim and streamlined silhouette without adding any unnecessary bulkiness or overly complicated straps. As such, rocking a suit with a matching clutch is a killer, after-five ensemble idea. Wear the combination to the next dinner date, drinks with the girls, or cocktail event or your calendar for an utterly chic look.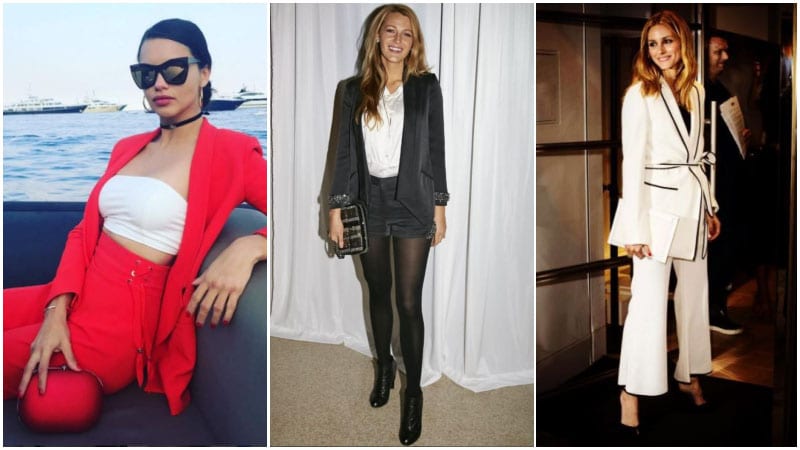 Scrunch Up the Sleeves
Another suit styling tip that you can easily steal from celebrities, such as Emma Watson, is to scrunch up the sleeves of your jacket. Although it may seem small and initially insignificant, just pulling up your sleeves to your elbows can have a significant impact on your overall outfit. Whether you plan to do it yourself or want to invest in a blazer with ready-made ruched sleeves, this handy trick is one that you must try. The simple idea will inject a carefree and relaxed aesthetic into your outfit that'll offset the seriousness of your suit. Therefore, the styling trick is perfect for times when you want the elegance of a suit with its inherent formality.
Scrunched up sleeves tend to work best when juxtaposed with a serious suit, such as a traditional black or white design. Styling the rest of your outfit for a fabulous result then relies on your skills of balancing these contrasting styles. For a chic look, aim to complete your outfit with pieces that are simultaneously refined and relaxed. For example, a casual camisole top in a luxurious white satin will come across as both sexy and sophisticated, as will black, point-toe pumps.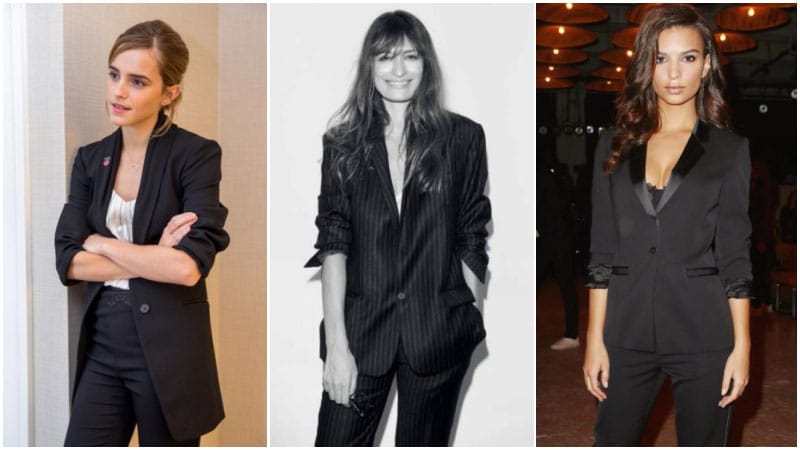 Go Topless
Amongst her many talents, Cara Delevingne sure knows how to pull off an incredible red-carpet outfit. So, the next time you have an evening event worthy of your finest formal wear, just look to Miss Delevingne for inspiration. The model and actress is a constant source of stylish inspiration, including that which she rocked to this year's Met Gala. For the A-list fashion event, Cara decided to do away with the dress and wear a killer suit instead. Of course, the star didn't just pair her suit with a boring shirt or standard top. No, she decided to go topless instead, creating a gorgeous plunging neckline between her jacket's lapel.
Although this may seem like a bold look, it's much more wearable than you might think. To nail the style for yourself, start by finding your ideal tailored two-piece. Something simple and sleek will ensure that you maintain an elegant appearance while flashing your decolletage. You also need a jacket that sits right and buttons in an ideal place to avoid gaping when you move. Then, just select sophisticated yet understated accessories, such as black heels and a black clutch. Doing so will ensure that your daring outfit doesn't get too extreme. If you still feel self-conscious, consider adding a lace bra beneath your jacket.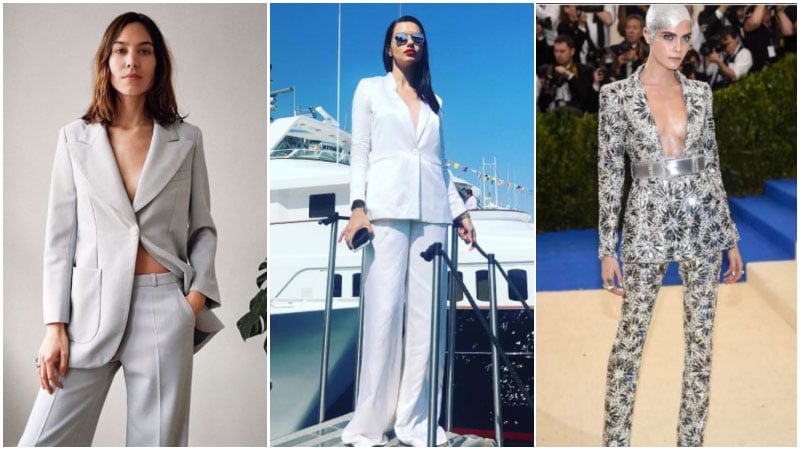 Add Athletic Accessories
If there's one style lesson that we should take away from chic celebrities like Olivia Palermo, it's to mix things up. While you may typically see a suit as a formal outfit, it can look surprisingly good when worn casually. In particular, the tailored two-piece can be used to create an impressive athleisure or sports luxe outfit. To nail the look, all you need to do is add athletic accessories. To do so, start by kicking off your heels and opting for a pair of sneakers or slides to achieve a relaxed, street style aesthetic. Then, add other stylish sports-inspired pieces, such as a cap and backpack.
If you want to take your athleisure look to the next level, you must choose the right suit. A design with slim or cropped pants will help streamline your silhouette for a sports style while a long, unstructured blazer will keep things casually luxurious. You can also choose different colours and prints to help nail the look. Stripes are especially ideal for achieving an athletic aesthetic and can be worn all over or just on the sides of pants. Also, be aware of the top you choose as well. While a collared shirt screams business, a crop top, plain T-shirt or turtleneck can project a subtle, sports chic style.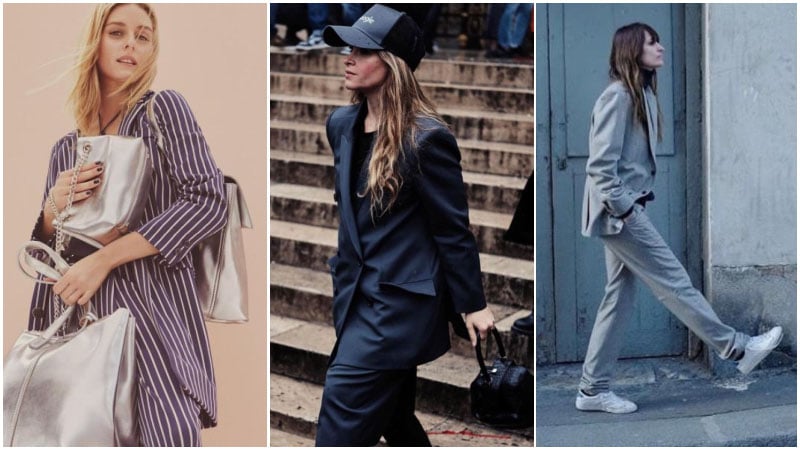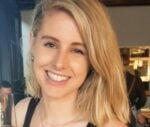 Taylah Brewer holds a bachelor's degree in fashion and business and is a skilled writer with several years of experience in the world of online content creation and copywriting. She is passionate about fashion, beauty, and all things lifestyle-related and has been writing for The Trend Spotter since 2016. She currently works as the Head of Digital & Ecommerce at White & Co.
SUBSCRIBE TO OUR NEWSLETTER
Subscribe to our mailing list and get interesting stuff and updates to your email inbox.