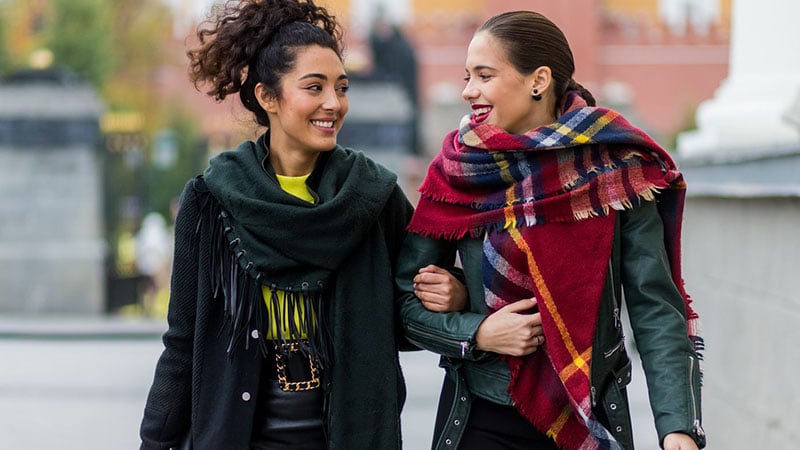 Large, soft, and oh-so-cozy, a blanket scarf is a must-have accessory for every lady. The perfect addition to any autumn or winter ensemble, these comfortable scarves are like stylish throw blankets you can actually wear. Whether teamed with skinny jeans or a flowing midi dress, these big, warm, and statement-making scarves look fantastic. All you need to know is how to style them right. Thankfully, your favorite celebrities and style stars can provide plenty of inspiration on this front. So, if you're ready to rock this cold-weather essential, here's our guide on how to wear a blanket scarf like an A-lister.
Blanket Scarf Outfits
Plaid Blanket Scarf
A tartan or plaid blanket scarf can make a fantastic statement accessory. Perfect for autumn, these oversized checked scarves look stylish in a variety of tones. For an unmissable pop of color, try following Susie Bubble's lead and opting for a classic red design. Or if you're after something a little more subtle, take your cues from Cara Delevingne and rock a brown option instead. No matter which you choose, remember to keep the rest of your look somewhat subdued to avoid clashing with your patterned scarf.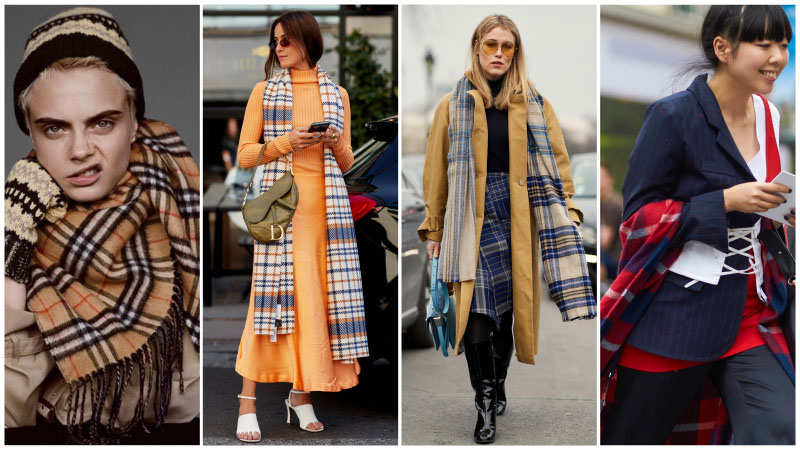 SHOP THE LOOK
Oversized Blanket Scarf
While blanket scarves are generally larger than standard scarves, some are particularly oversized. So, if you're after a genuinely eye-catching appearance, they make an excellent option. To make your look stand out, even more, consider selecting an oversized blanket scarf in a unique color, pattern or texture. When it comes time to style it, take notes from the likes of Olivia Palermo and Rosie Huntington-Whiteley, and keep the bottom of your silhouette slim to balance out the chunky top.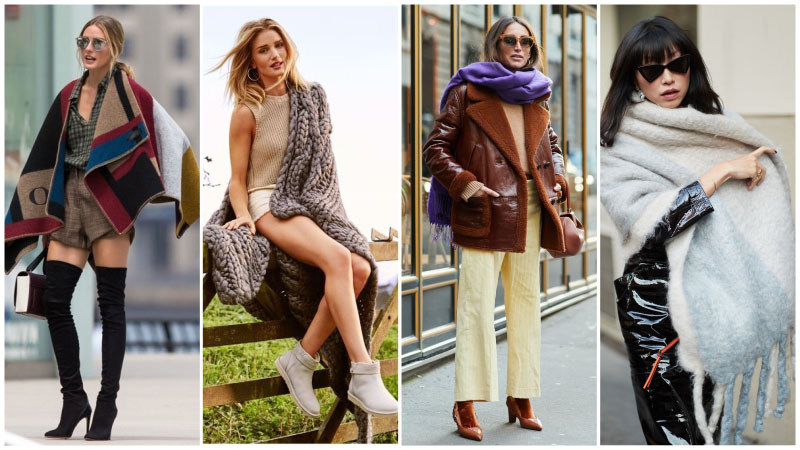 SHOP THE LOOK
Black Blanket Scarf
If you're feeling a little unsure about rocking the blanket scarf trend, consider easing into it with a neutral color like black. Unlike bright, bold, and patterned designs, a plain black blanket scarf can work with almost any outfit. A real winter staple, these scarves look fantastic with jeans, trousers, leggings or even sweatpants. For a particularly chic look, channel Jessica Alba and Vanessa Hudgens by pairing a black blanket scarf with ripped jeans, a long coat and a wool fedora.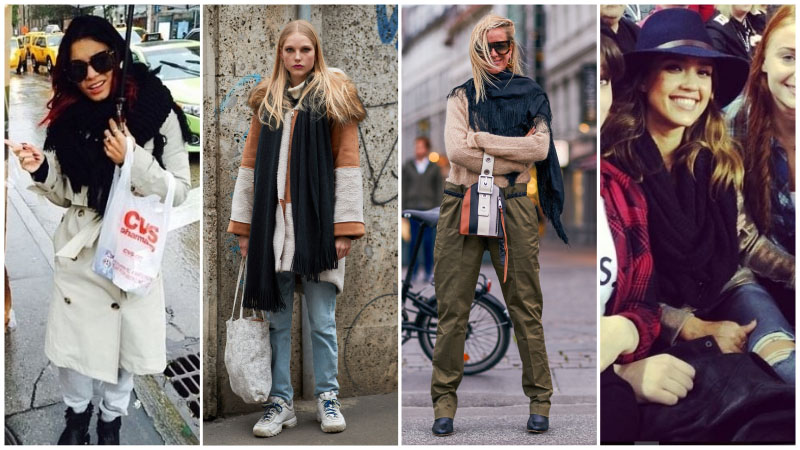 SHOP THE LOOK
Grey Blanket Scarf
Like black designs, grey blanket scarves can look fantastic with a variety of outfits. However, they can appear especially chic when worn tonally with black, white and other shades of grey. So, if you're after an ensemble that's minimal in colour yet maximal in style, try a head-to-toe greyscale look. For an A-lister approved outfit, rock a grey blanket scarf, loosely wrapped around your neck, with black skinny jeans, ankle boots and a long-sleeve T-shirt.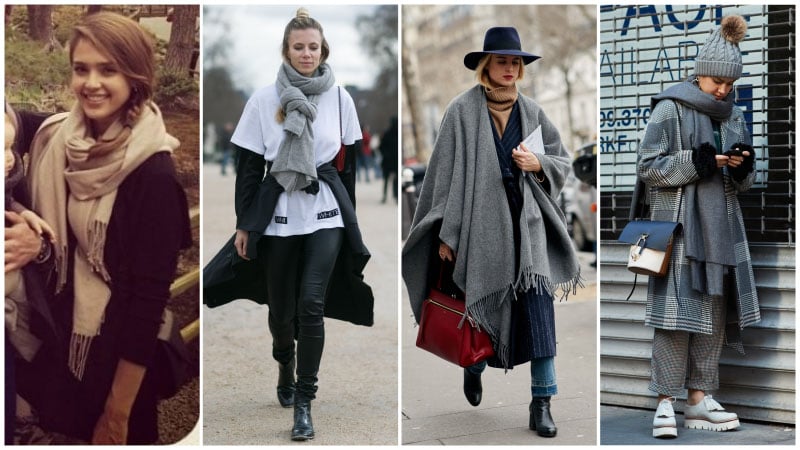 SHOP THE LOOK
Red Blanket Scarf
For a chic and fashion-forward look, a red blanket scarf can make an excellent option. As bold as it is cosy, this type of scarf can create a statement without forcing you to sacrifice comfort. While you could easily pair it with an all-black look, don't be afraid to get a little creative. Teaming your red scarf with more red, a contrasting bright blue or even a striking multi-coloured print can result in a seriously awesome outfit.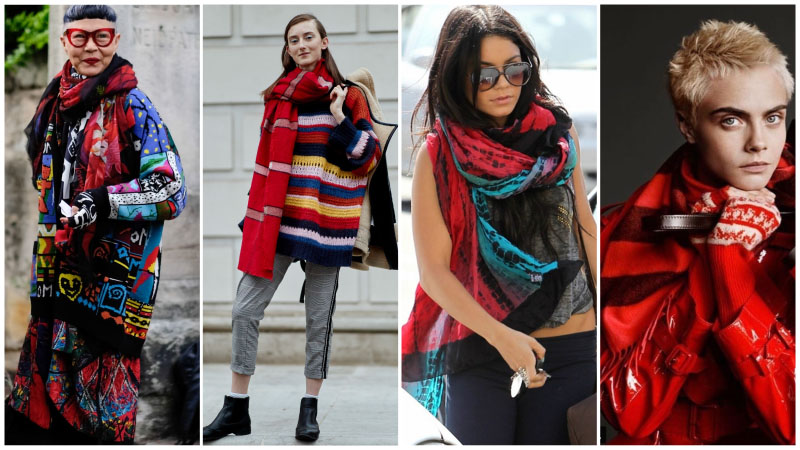 SHOP THE LOOK
White Blanket Scarf
A white blanket scarf is an elegant accessory that can work for multiple seasons. To wear one during spring, such as on a crisp day or in the evening, follow the lead of Angelina Jolie and pair a lightweight design with a flowing white maxi dress and nude accessories. To rock one during autumn or winter, channel Taylor Tomasi Hill and combine a printed white scarf with skinny jeans and a shirt.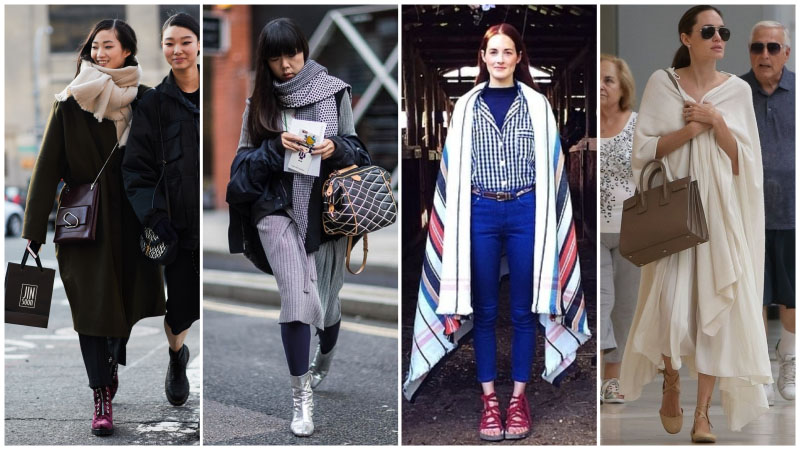 SHOP THE LOOK
Pink Blanket Scarf
While blanket scarves are cute and cozy, they can also be fun and feminine. So, if you like adding a playful twist to your wardrobe, consider investing in a pink blanket scarf. While soft pink tones appear chic and ladylike, we recommend a hot pink hue for a bold, on-trend appearance. Perfect for injecting a lively attitude into otherwise subdued winter outfits, a bright pink blanket scarf will give new life to your favorite knits and coats.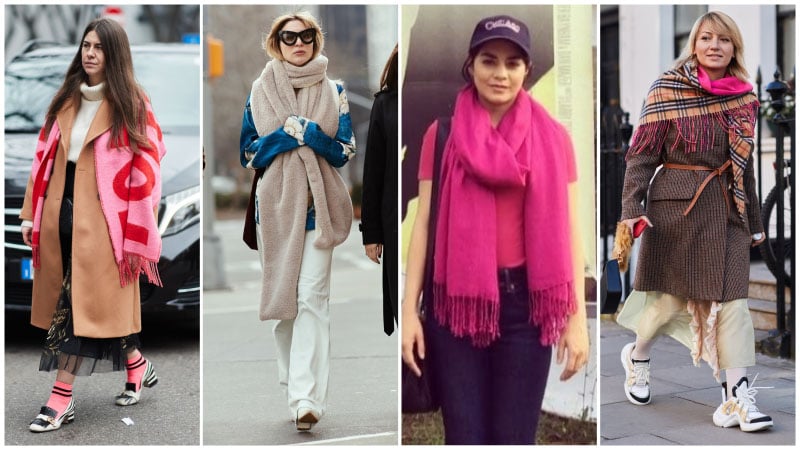 SHOP THE LOOK
Blue Blanket Scarf
Whether bright cobalt or a rich navy tone, a blue blanket scarf can make a stylish addition to your wardrobe. All you need to do is find the shade that best suits your skin tone, eye color, and hair color. Once you've got your perfect blue blanket scarf, you can wear it in many different ways. For a chic, smart casual style, try rocking a pair of cropped, black skinny jeans with an elegant white blouse and heels. Then, just drape your scarf over your shoulders à la Veronika Heilbrunner.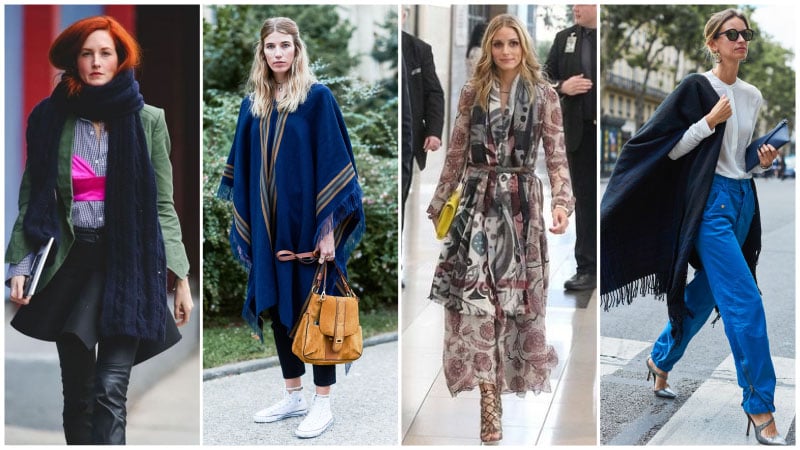 SHOP THE LOOK
Green Blanket Scarf
Green blanket scarves are available in many tones. So, whether you like a bright grassy hue or something more subtle, there's an option for you. For a gorgeous look inspired by Burberry beauties like Cara Delevingne and Suki Waterhouse, opt for a green blanket scarf in a rich olive hue. Then, pair it with a long-sleeve, lace midi dress, and boots for a stunning bohemian style. Oh, and don't forget to add a belt to define your waist and keep your scarf tucked in.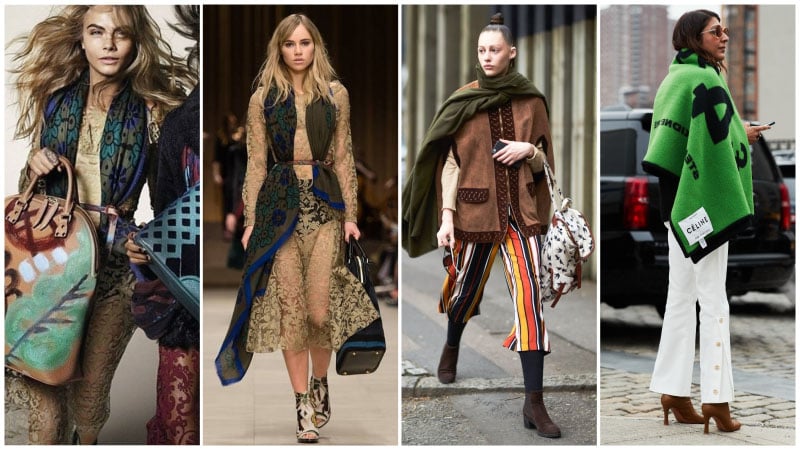 SHOP THE LOOK
Burgundy Blanket Scarf
If you're guilty of wearing black all winter, a burgundy blanket scarf may be just what you need. Ideal for adding a simple yet seriously stylish element to outfits, these scarves are versatile and chic. For ideas on how to wear one, look to off-duty models like Kendall Jenner and Rosie Huntington-Whiteley for inspiration. These A-listers have both been spotted rocking burgundy blanket scarves with skinny jeans and boots while out and about.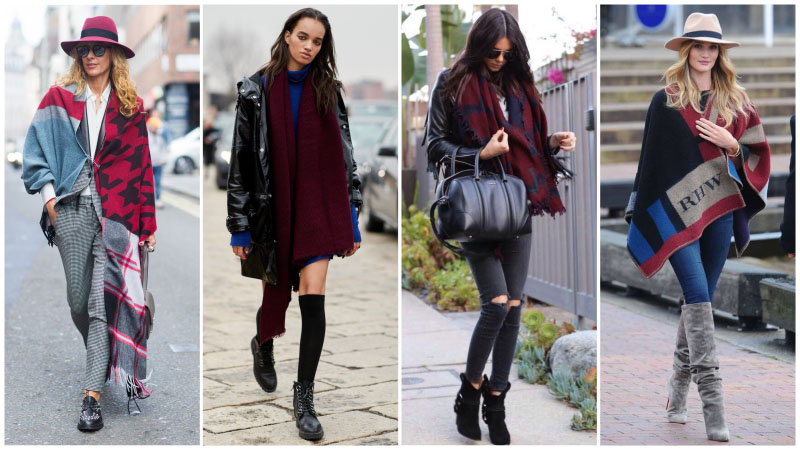 SHOP THE LOOK
How to Wear a Blanket Scarf
While you now know how to style a blanket scarf, it's also important to understand how to tie/wrap one. Of course, there are plenty of options. You can loop it around your neck, wear it draped over your shoulders or wrap it around your neck and belt it at the waist to name just a few.
FAQs
What is a blanket scarf?
As the name suggests, a blanket scarf is a garment that is an oversized square shape, usually big enough to be used as a blanket.
How do you style a blanket scarf?
Blanket scarves are warm, stylish, and a perfect addition to any winter outfit. It is advisable to focus on proportions, so if the top half of your look is chunkier, keep the bottom slim and fitted. There are also several different ways to style it; you can wear it as a shawl, in between your coat, and finish off with a waist belt. It can be wrapped and draped, draped asymmetrically, or loosely hung over your shoulders.
Are blanket scarves still in style?
Blanket scarves are not only in style. They are also a must-have accessory for those who live in colder climates. Not only is this a way to look chic, but it is also very practical as it adds another layer of warmth and helps to keep your neck and chest warm.
How much fabric do I need for a blanket scarf?
If you intend to make a blanket scarf yourself, be sure to allocate enough fabric. You will likely need at least 120cms, but preferably more, of flannel material.
SUBSCRIBE TO OUR NEWSLETTER
Subscribe to our mailing list and get interesting stuff and updates to your email inbox.