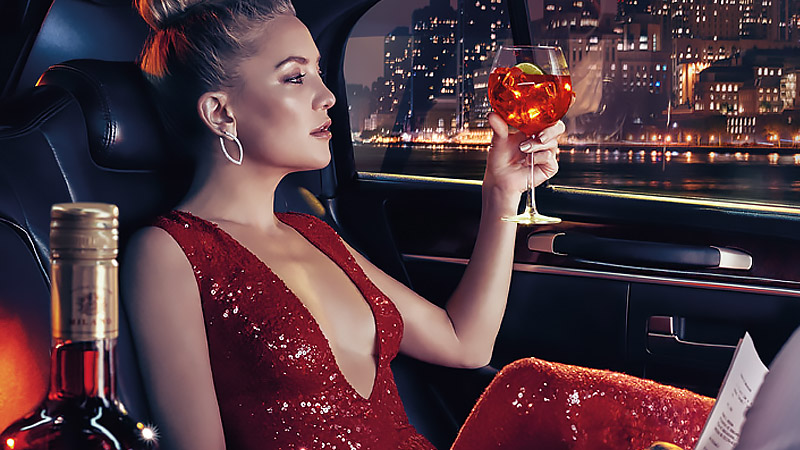 It's that time of year, holiday party invitations are streaming in, and you're faced with the task of picking out a stunning outfit for each event. You want an outfit that says chic yet sophisticated. Luckily, we've got you covered. Look no further than these celebrity-approved party dresses to help you pick your holiday party ensemble. Get ready to make an appropriately festive entrance!
Holiday Party Dresses
Holiday Party Cocktail Dresses
It's essential for every lady to own a few key pieces that are suitable for special events. The most versatile of these is a cocktail dress that can be worn for every occasion, from weddings to holiday parties. Put simply, a cocktail dress is a knee-length party dress. If it's a formal evening event, a cocktail dress needs to be well-tailored and accessorized with stunning jewelry and a clutch. For a more casual affair, try opting for a loose dress, such as a shift style rather than a tight-fitting design. Then, match your dress with simple yet chic accessories, such as pumps or sandals and a chain-strap bag.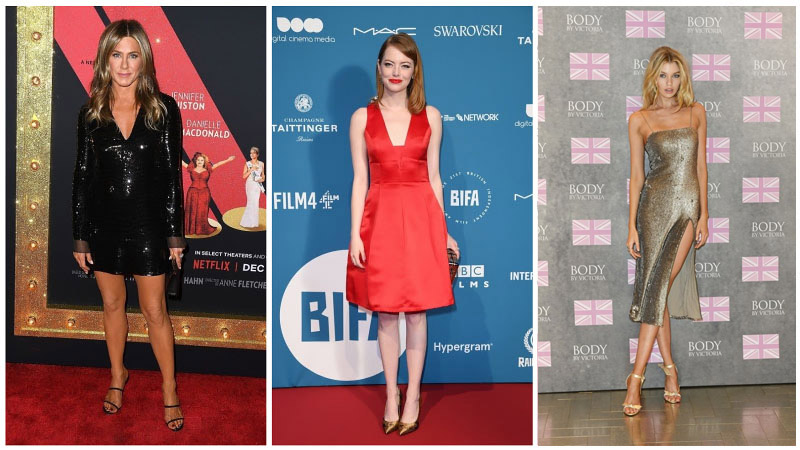 GET THE LOOK
Office Holiday Party Cocktail Dresses
When it comes to office parties, you want to nail a sophisticated yet chic aesthetic. For the perfect balance, select a cocktail dress that is elegant and on-trend. Then, pair it with patent accessories and gold jewelry. No matter what cocktail style dress you choose, when it comes to making a statement, remember to opt for a pair of stunning stilettos or mid-heel sandals for a sleek appearance.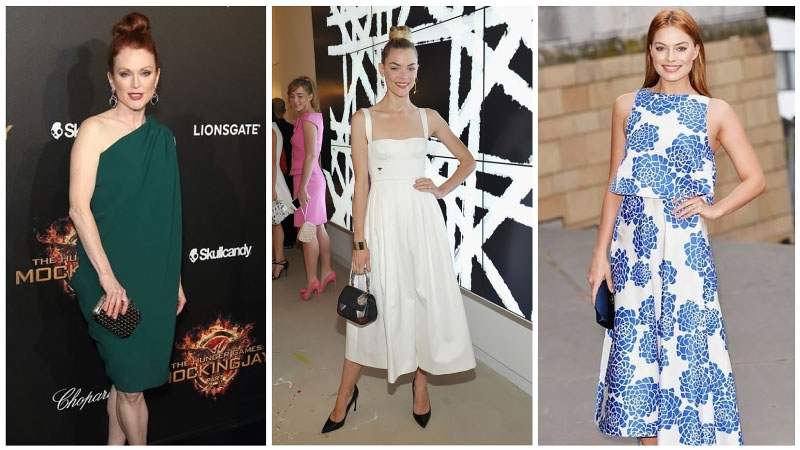 GET THE LOOK
Semi-Formal Holiday Party Cocktail Dresses
A cocktail dress is a very versatile piece that can be suited to many occasions, semi-formal events included. Gorgeous and sleek, this dress type never goes out of style. When it comes to semi-formal holiday parties, opt for a knee-length tailored cocktail dress. Adding accessories like faux fur, statement earrings or pointed-toe stiletto pumps can give it a semi-formal vibe.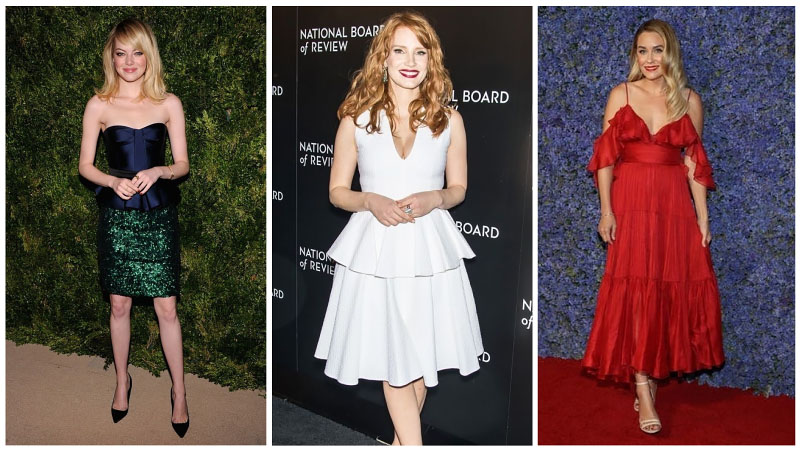 GET THE LOOK
Long Sleeve Holiday Party Dresses
If you're looking for additional coverage and warmth, why not wear a long sleeve dress to your holiday party? Stylish and sophisticated, this dress style is sure to make you stand out while keeping you comfortable. Choose a dress with an added bang for a night filled with fun and dancing, think festive colors, like green and red. For especially cold occasions, consider also taking a stunning coat with you that matches your look.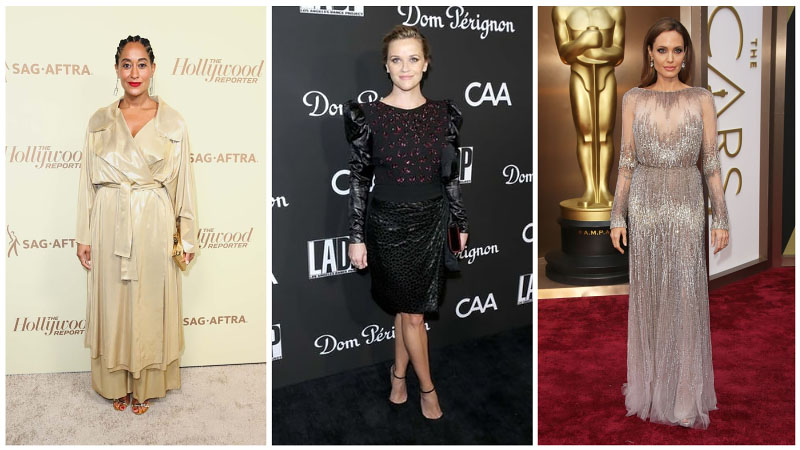 GET THE LOOK
Long Holiday Party Dresses
The perfect holiday party outfit requires a mixture of sophistication and fun. To nail the look, opt for a chic and simple long dress with a playful twist, such as a v-neck or off-the-shoulder design. To ensure you don't appear overly formal when wearing a long dress, be sure to keep accessories minimal and select a comfortable style.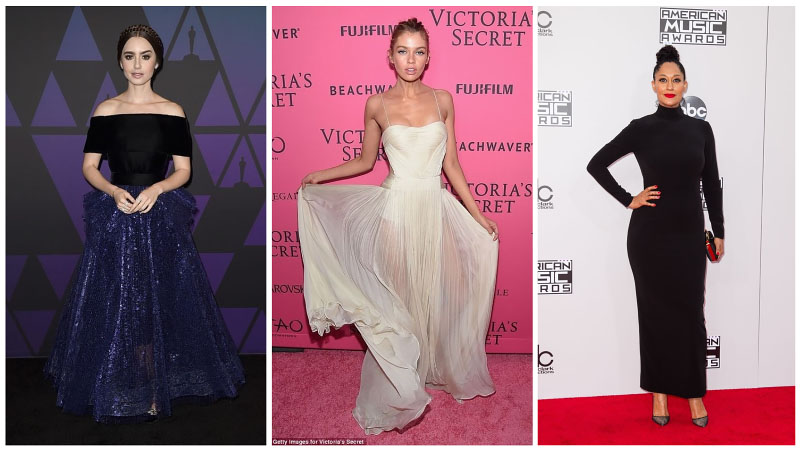 GET THE LOOK
Sexy Holiday Party Dresses
Make a lasting impression this season in a sexy holiday party dress. To nail this look, reveal just the right amount of skin in one area of your body, such as your chest, arms, or legs. To ensure you still look chic and sophisticated, we recommend opting for a dress that's simple yet stylish, such as an off-the-shoulder design. When it comes to selecting a color, a black or red dress are both classic choices.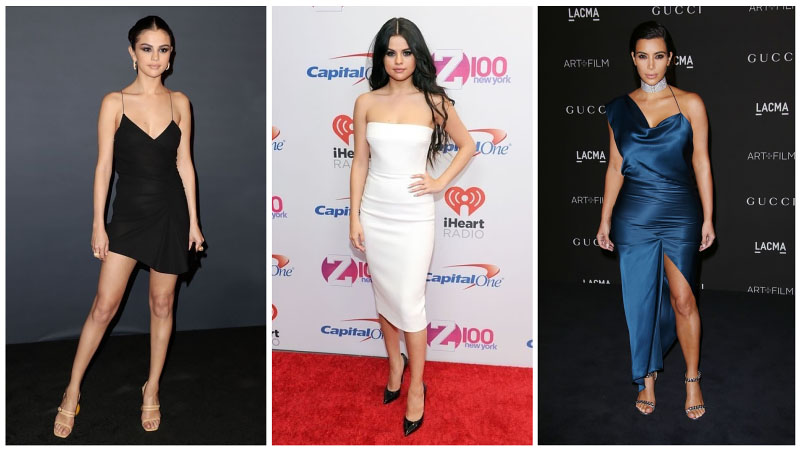 GET THE LOOK
Holiday Dinner Party Dresses
Heading out to a dinner party demands an incredible outfit that's equal parts style and class. So, if you're looking to create a stylish holiday dinner party outfit, consider opting for a chic evening dress. In particular, a style that finishes just above the knees and shows off your arms is a fantastic option. Also, look out for sophisticated yet playful design details that will enhance your appearance. You can add some personal touches in the form of stylish details, such as very subtle cut-outs, a strapless design, or light fringing. When it comes to color, white and black are best for creating a good impression.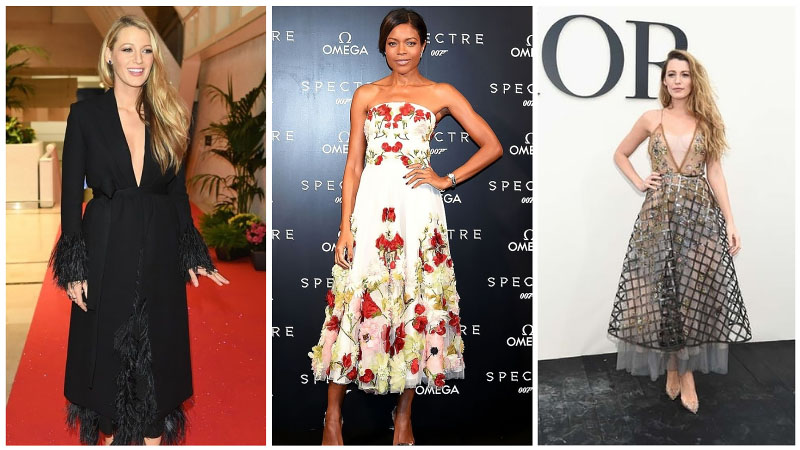 GET THE LOOK
Holiday Christmas Party Dresses
Festive invites starting to roll in? Christmas parties are your time to dazzle, so don't settle for a look that's less than spectacular. The Christmas calendar calls for an elevated take on our regular party looks, with all-out accessories and scene-stealing dresses. From velvet to sequin party dresses topped with a statement coat, there's plenty of options! To really show off your Christmas spirit, we recommend opting for a festive red or green dress. Elevate your look with high-impact accessories and statement gold jewelry.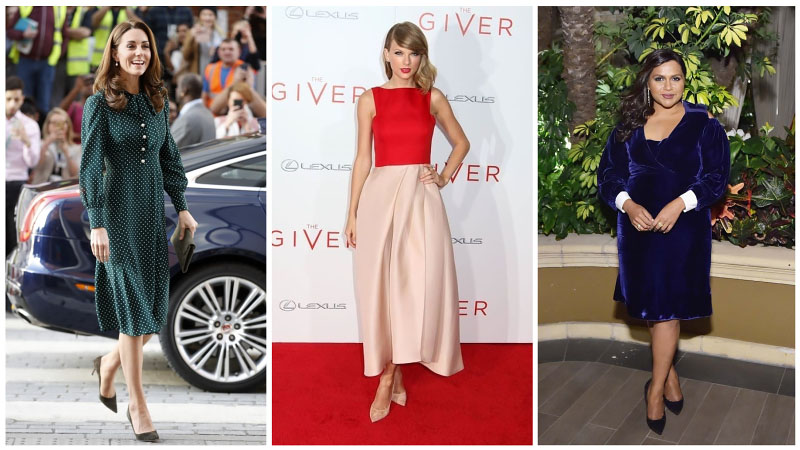 GET THE LOOK
Elegant Holiday Party Dresses
A formal holiday party calls for an elegant dress. While cocktail dresses can be a good option, long dresses tend to be a better choice. Choosing a refined dress that features a simple and feminine silhouette in a dark color, such as navy blue or black, will help you nail the etiquette of sophistication. Just make sure you select a quality dress with a timeless appeal. An elegant function is no place to wear cheap designs or the latest crazy trends. Instead, stick to classic designs and styles that won't date.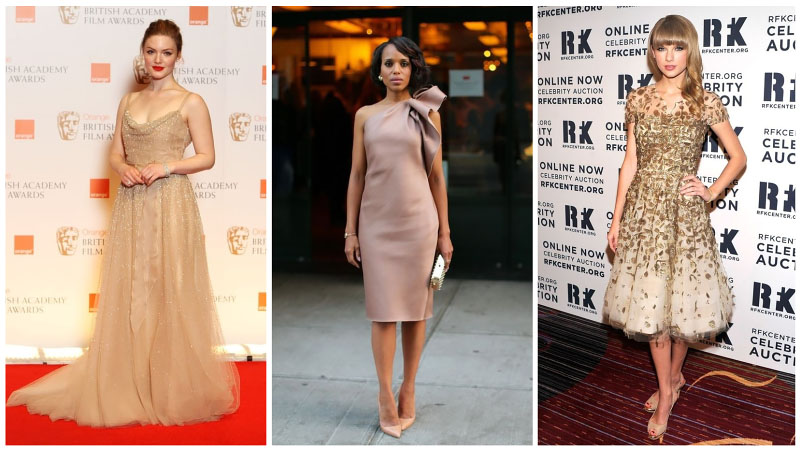 GET THE LOOK
Formal Holiday Party Dresses
If you have an event that specifies formal attire, you should go for a long gown. A dress that fits well and is made from high-quality material makes a fantastic option for formal holiday parties. Darker colors like black and navy tend to be very flattering and suit all skin tones, making them stunning options for all women. If you choose to wear a dark dress, consider opting for one with exciting details to allow your style to stand out from the crowd. Just make sure that you pair it with sleek accessories for a suitable appearance.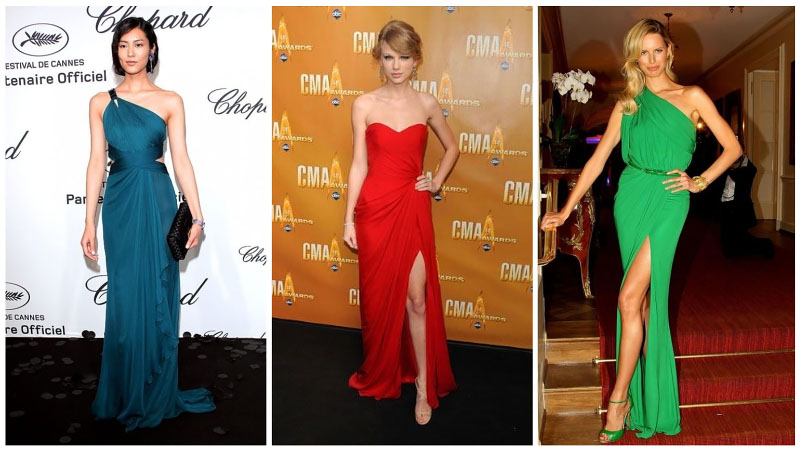 GET THE LOOK
Plus Size Holiday Party Dresses
Today, there are many beautiful plus-sized party dresses for women. Curvy women no longer have to wear weirdly shaped clothing. Instead, they have a number of choices that can enhance and complement their figures. To nail the look, just choose a dress that flatters your shape and shows off your stunning curves, such as those with a cinched waist. After all, the key to a flattering garment comes down to fit, not color. Also, go for materials with substance and structure; they will provide support and coverage.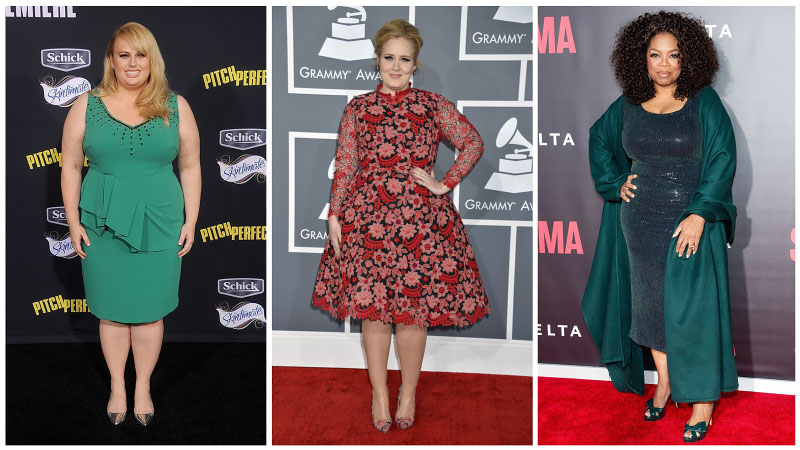 GET THE LOOK
Maternity Holiday Party Dresses
Although maternitywear has improved since the days of shapeless muumuus, the offerings for stylish, bump-friendly holiday party attire are still limited. You want to dress in a way that is both comfortable yet still stylish! It's important during pregnancy to know your body and play to your strengths. For some expectant mothers, an a-line can be a very attractive choice. For others, empire waist designs that accentuate the bust and glide over the stomach can appear especially flattering. Regardless of what you're wearing, the one-party trick you'll have in your back pocket is a natural glow.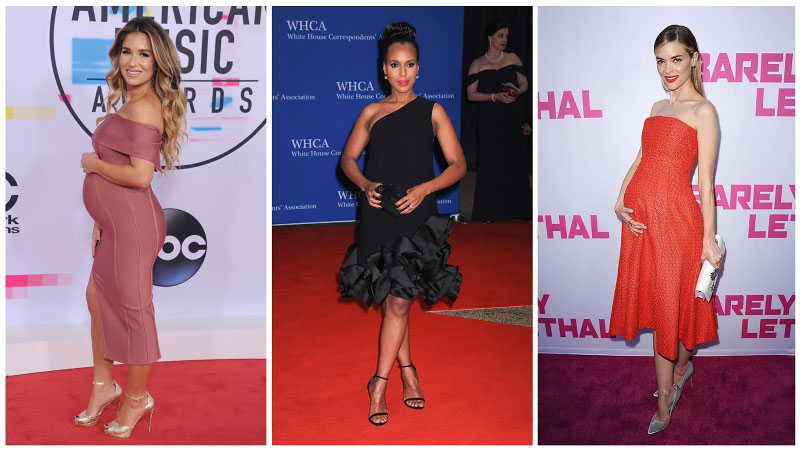 GET THE LOOK
FAQs
What should I wear to a Christmas holiday party?
Christmas parties are some of the most fun events of the year and something to look forward to, but you also want to ensure that you have a memorable and cute look. It is also an opportunity to pick out a garment that has some shine to it, like a sequin or metallic dress. You can also play around with festive colors, like red or green, and elevate your look with accessories and statement jewelry. An example of what to wear would be a rich red dress, complete with gold earrings, or velvet dress and heels.
What do you wear to a work holiday party?
An office holiday party usually requires a look that is sophisticated and chic and also not too over-the-top. This can be achieved with a cocktail dress, paired with statement accessories or toned down with simple jewelry. For a feminine silhouette, opt for stilettos or mid-heel shoes.
What should you not wear to a holiday office party?
Work holiday parties dress code can differ, depending on the industry you are in, but a good bet is to always opt for something classic and sophisticated. This can be achieved with a cocktail dress and heels and simple or even festive accessories. However, what you should not wear is something too short, too revealing, and anything too sheer or casual. Always confirm the dress code beforehand so you can plan accordingly.
What should I bring to my boss' holiday party?
It is hard to answer what you should bring to your boss's holiday party without considering the industry you are in and where the event is being held. Is it at the workplace, a fancy restaurant, or the home of your employer? You will need to consider all of these things beforehand. What you should do, regardless of where the party is held, is make a point to be polite and thank your boss. Also, arrive and leave at the agreed-upon times, and treat the event like a work function, but still, have fun.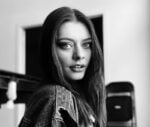 Alexandra Feiam is an experienced fashion writer who holds a degree in journalism. She has an impressive portfolio and expertise working as the Editor at Power Retail and Commercial Content Editor at Newscorp. Ally has been writing for The TrendSpotter since 2018, and her work has been featured in notable publications such as The Herald Sun, Arirang TV South Korea, Kidspot, The House of Wellness, and The Daily Telegraph.
SUBSCRIBE TO OUR NEWSLETTER
Subscribe to our mailing list and get interesting stuff and updates to your email inbox.