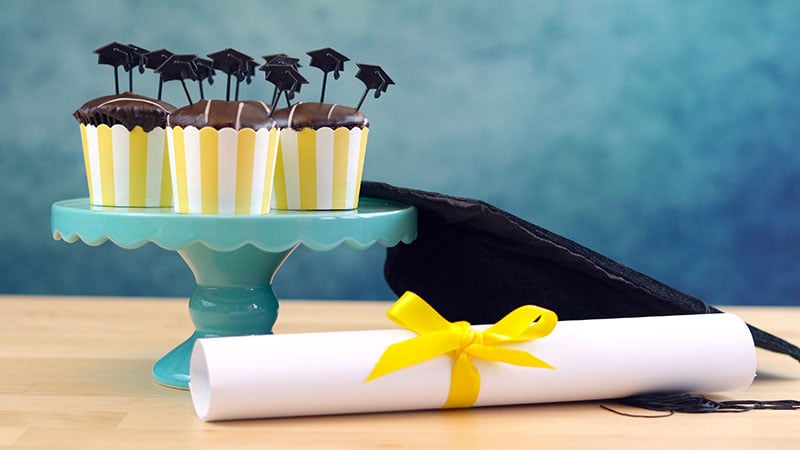 You have spent years with your nose in books, sleepless nights trying to make deadlines for an assignment, and eating noodles because of your lack of funds or kitchen utilities, and now, you have finally graduated. There is a lot to celebrate about this exciting time in your life, and it feels like there are endless opportunities that await you. Before you find a job in your chosen field or decide to travel the world, you will probably want to unwind and celebrate your achievements with all those who you love and who love you. This event is a big one. The right theme, food, and decor can make your graduation party even more memorable. These are some of the best tips for your special day, from clever slogans to describe your food to creative ways to display it. Keep reading to become inspired.
RELATED: What to Wear to a Graduation
RELATED: 25 Fun College Dorm Party Ideas for 2022
1. Graduation Cap-Inspired Rice Desserts
The graduation cap is an excellent source of inspiration for graduation parties and a simple and easy way to celebrate the big day. For a creative way to introduce it to your meals, you can add a chocolate version over strawberries or puffed rice desserts. Consider creating them in your university's colors to make them more personal. The cap symbolizes intelligence and power, making for cute and meaningful snacks.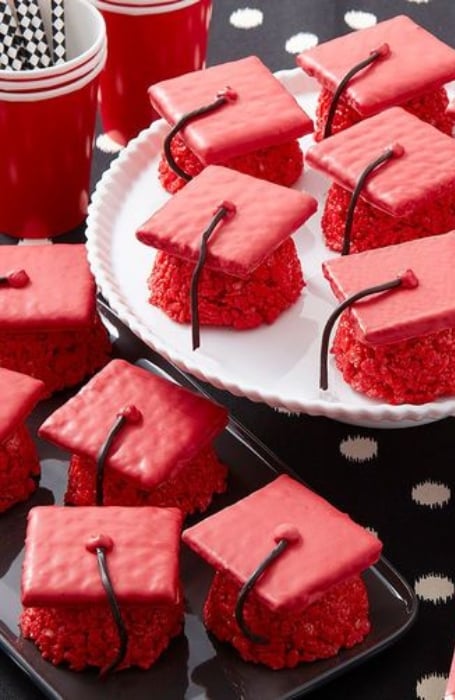 2. Say Goodbye To Your Textbook Cake
What is a graduation party without a cake, right? There are many different cakes to choose from, whether your favorite baked good that your grandma makes or bought from the local supermarket. All of these are special, but for something different and Instagram-worthy, why not get a cake created to look like a replica of one of your textbooks?! You will probably never want to see your textbooks again after graduation, but this is a nice final goodbye to them rather than having a big bonfire. It can also be a way to celebrate your degree.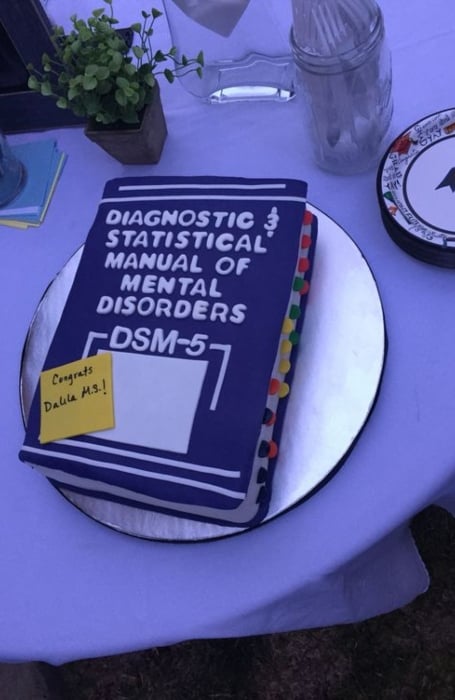 3. Law Student Marshmallow Gavels
Graduating with a law degree is something to be proud of. If you are looking for a fun and creative way to show that this was what you spent years of your life buried away in books for, then creating justice-themed snacks is a great idea. One of the most simple and easy to replicate is marshmallows and salt sticks, which are assembled to look like a gavel. Judges use the gavel to officiate rulings or call for attention, and today is your day to be the center of attention!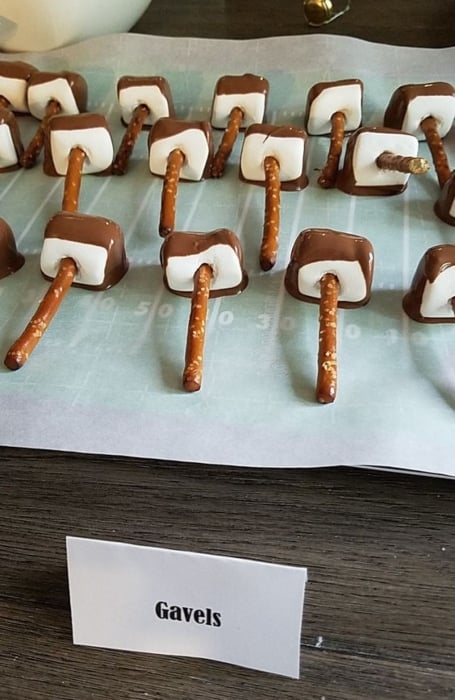 4. Psychiatry-Themed Graduation Party For The Brainiacs
Who doesn't love a cupcake with a theme? There are so many talented bakers that you can employ to create personalized cupcakes, which will be a welcome addition to any graduation party. This is also a great way to introduce your field of study into your theme. For example, if you are a psychiatry grad, adding images of the brain, pills, textbooks, or anything meaningful to you is a wonderful way to give your celebrations a personal touch.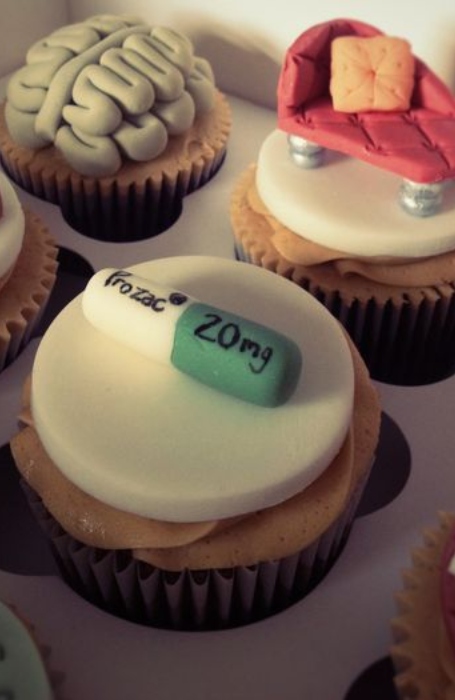 5. Graduation Sweet Jar Party Favor
You work for years to achieve a degree in your field, and this is something worth celebrating. Inviting your loved ones to mark this special occasion and have a party is a wonderful idea. You can also find a small way to give back to them, thanking them for their love and support over the years. A way to do this would be with party favors. These favors do not have to be expensive, and you could fill up jars with candies and add a graduation cap to the lid. You can also write individual notes and put them inside each jar for a personal touch.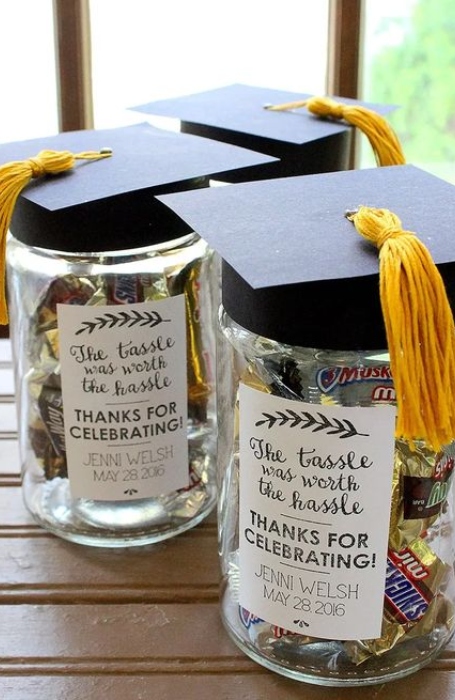 6. Graduation Cap and Chocolate Name Settings
Depending on how formal you want your graduation party to be, a nice touch would be to add name settings to the table. If you are having a sit-down meal, this is a great way to ensure that everyone is seated where you want them to be. This lets you pair people next to each other who are close or have similar interests to ensure the conversation gets flowing. A simple and inexpensive way to do this is with small chocolate and a cutout graduation cap.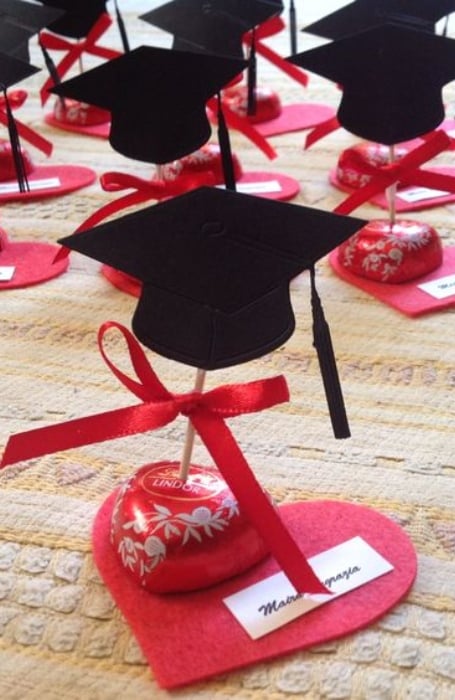 7. Graduation Carved Fruit Bowl
Fruit is a wonderful snack to be served at a graduation party because it is healthy and delicious. There are many different fruits, and a big fruit bowl can look colorful and enticing. To make your chosen fruit fit in with the graduation theme, all you need is a big watermelon. Carving the year of your graduation into the watermelon and then filling it with your favorite fruits makes for a striking table piece. This will take some skill and can be somewhat time-consuming to replicate, but the result is worth it.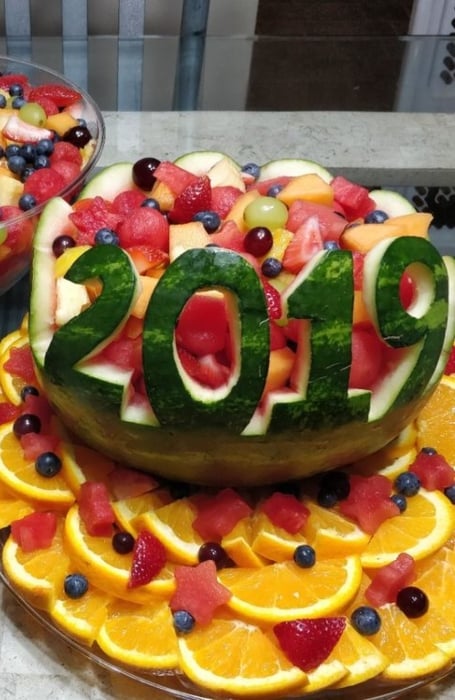 8. The Photo Wall of Your Journey to Adulthood
Whether graduating from high school or college, your graduation party is a day to celebrate you. To make it all about you and add a personal touch, this can be achieved with a photo wall. Choose a selection of all of your favorite photos from throughout the years and place them in order from birth to now, letting people take a trip down memory lane with you. This is also a thoughtful way to let those who have passed be a part of your big day. You can add photos with loved ones, like grandparents, letting everyone take a moment to celebrate them too when they look at the picture. In addition, your photo wall can serve as an excellent backdrop for any images you want to take on the day.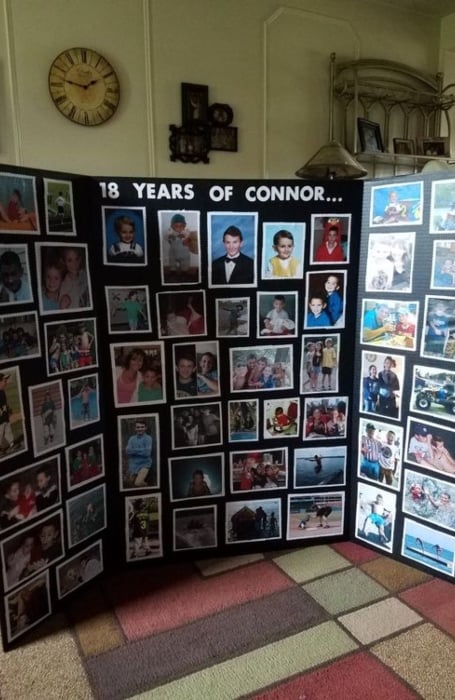 9. Pretty Balloon Arch Graduation Party
If you want a dreamy graduation party, what better way to achieve this than with a balloon arch? Balloon arches have become incredibly popular for everything from birthdays to baby showers. There are many different colors to choose from, so you can find the best option that suits your chosen theme. It could also be the colors of your high school or college. Your arch can frame your snack table and complement your other decorations. However, it is important to take care when cleaning up the balloons after the party as you do not want to harm the environment. It is for this reason that you should also consider purchasing biodegradable balloons.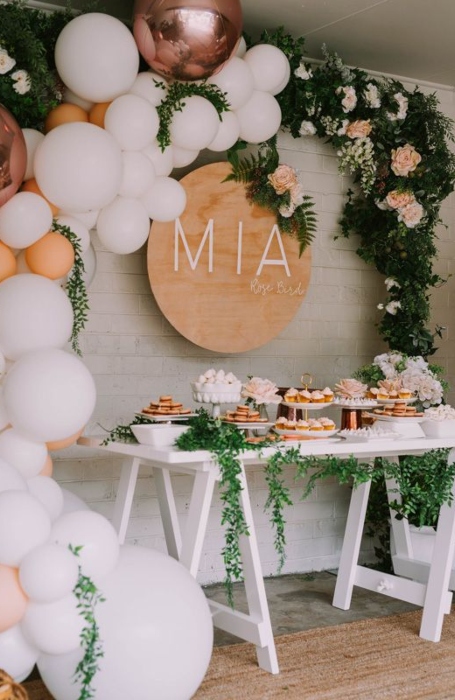 10. New Beginnings Travel and Wanderlust Celebration
After years of studying, you may be ready to take a break from it all and travel the world. The great thing about graduation parties is that they can be in a theme of your choosing; after all, this is a day to celebrate you. A travel and wanderlust theme is gorgeous and symbolic, showing the world how you are finally free to do as you want. It can also represent new beginnings; you can show this by adding a globe of the world, cutting out airplanes or hot air balloons, and rolling up maps.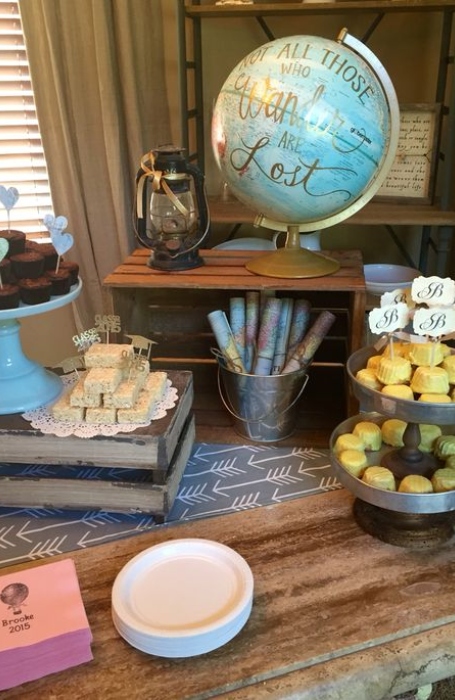 11. Popcorn Snack Bar Party Treats
Great snacks can make the party! Popcorn is cheap and easy food to serve at graduation parties and can be made in several different flavors. You do not have to keep them in individual bags, though, and finding fun and unique ways to serve it makes all the difference. An excellent option would be to get big wooden buckets for a rustic theme. Make name cards detailing what each bucket contains. Add small bowls of treats that people can add to their popcorn, like candy and chocolate. It doesn't get more delicious than a popcorn snack bar.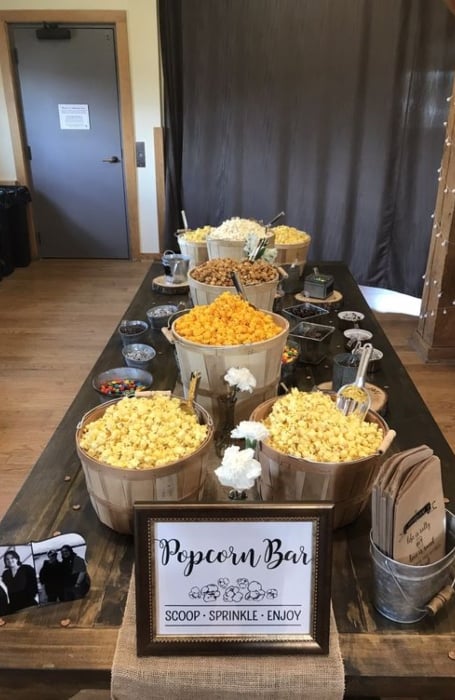 12. Graduation Party Hydration Station
Every graduation party needs a hydration station, which could be with a drink selection of your choosing. From refreshing lemonade to fruit punch, there is something for everyone. Setting up a drink table can also reduce the hassle of ensuring everyone has drinks and creates less work for you to do during your party. It also provides you with an opportunity to get creative with cocktail names.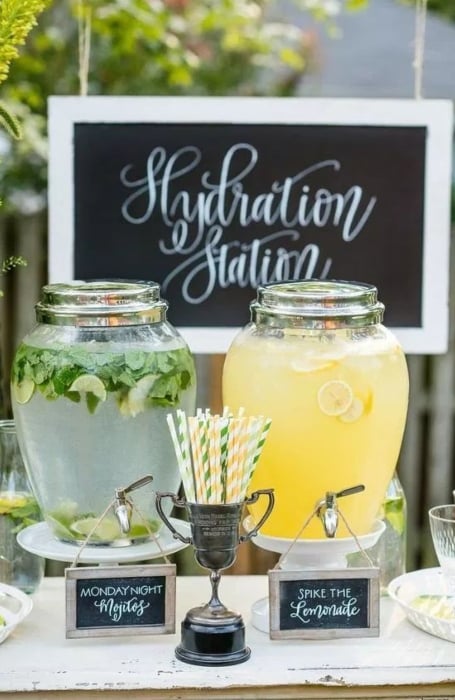 13. Fruit Cup Graduation Display
To make a colorful and healthy display, you do not need cakes or other confectionery; all you need is fruit or vegetables. Fruit and vegetable cups are affordable and fantastic for people of all ages. Plus, the bright colors make for a gorgeous display which will be a welcome addition to any graduation party. You can also double the use for the cups, letting your guests fill them up with a drink after they have eaten the fruit.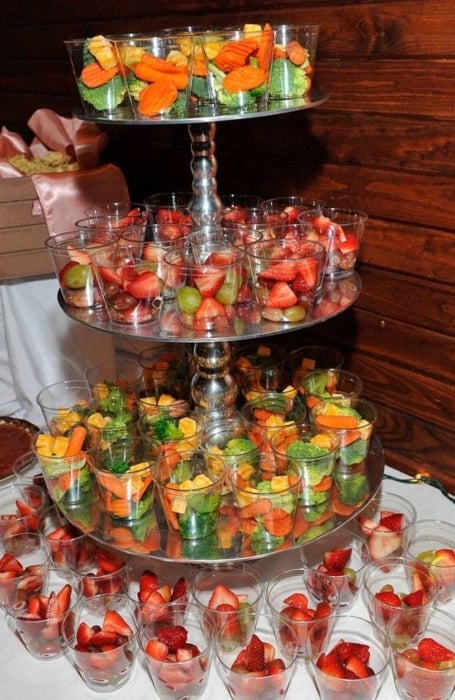 14. Guest Book Alternative: Personalized Envelopes
Graduation parties are a time of celebration, but it is also an event where many people bring gifts. Or you can give gifts to your attendees if you wish to show your appreciation for the support they have shown you over the years. These gifts do not have to be showy or expensive. Something as simple as a quote, words of wisdom, or even a heartfelt letter that addresses all of them is a great idea. If you want people to write to you, an alternative to a guest book would be to supply writing materials and envelopes. This is a beautiful way to remember everyone who was there on this day, and you can read through them at a later stage again.
15. Basketball Themed Party With Cool Slogans
If you are athletic and are going to college on a scholarship or have hopes of making it as a pro, then creating a sports-themed graduation party is a wonderful idea. There are so many creative and quirky ideas for basketball players, from creating everything in an orange color scheme to match the basketball; to adding little slogans like "slam dunk" or "scored a goal." You can also label the snacks with basketball-related terminology. For example, your drinks are for a Time Out. There are many ways to make this idea your own and have fun with it.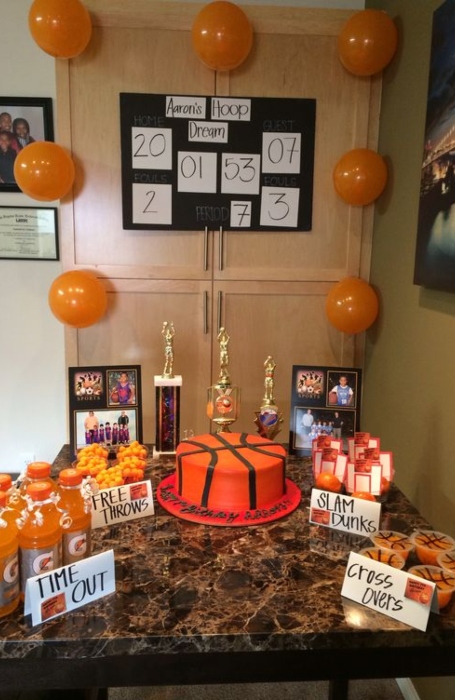 16. Light Bulb Ideas to Celebrate the Future
The light bulb is associated with intelligence and invention. It can also represent a light in your life, that good things are coming your way, or that you have a bright future ahead of you. With this in mind, it makes perfect sense to have a lightbulb graduation theme. This is also an idea that is different from the norm and is a way to let your creativity shine. You can create little lightbulb snack jars, hang lightbulbs from strings for a rustic and boho finish, or just use a bunch of colorful cardboard cutouts.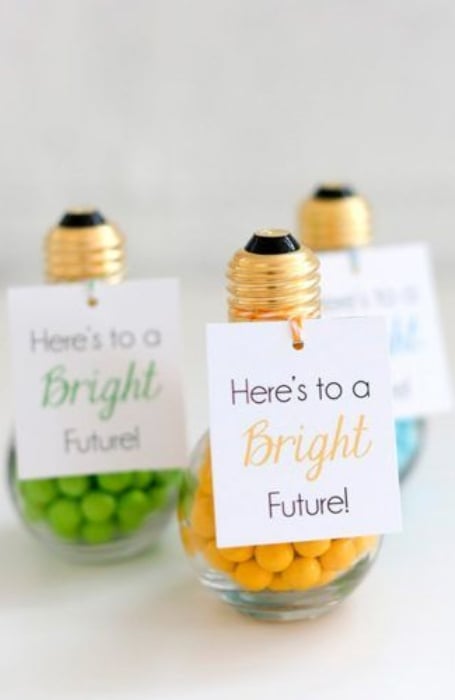 17. Sweet Jars with Quirky Labels
Sweets are common to hand out at parties, so your graduation should be no exception. However, the presentation is everything, and you can make your snacks look interesting with labels for each. This could include "Teacher's Pets" and "Class Rings." Bonus points for matching the candy with the description; for example, "Book Worms" with sour worm sweets and "Study Break" with KitKats.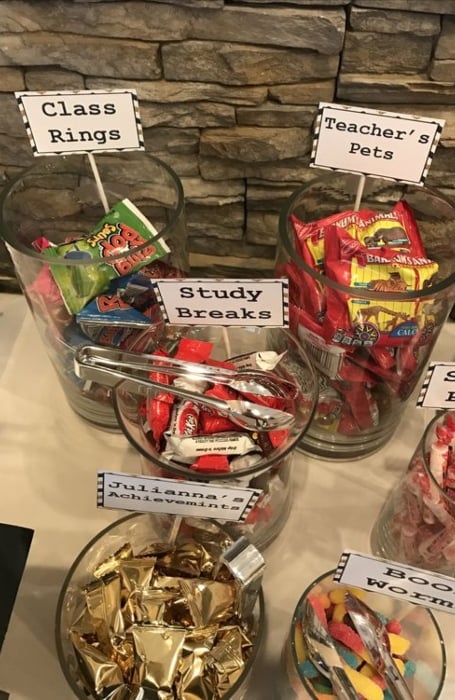 18. Colorful American Football Graduation Party
Graduation parties are the perfect opportunity to get creative and stick to a theme. This is a way to personalize the event and make it all about you, which it is. If you are a football player, why not create your party around this idea?! This can include the colors of your school, the number on your jersey, and decorations or cakes in the shape of helmets or a football.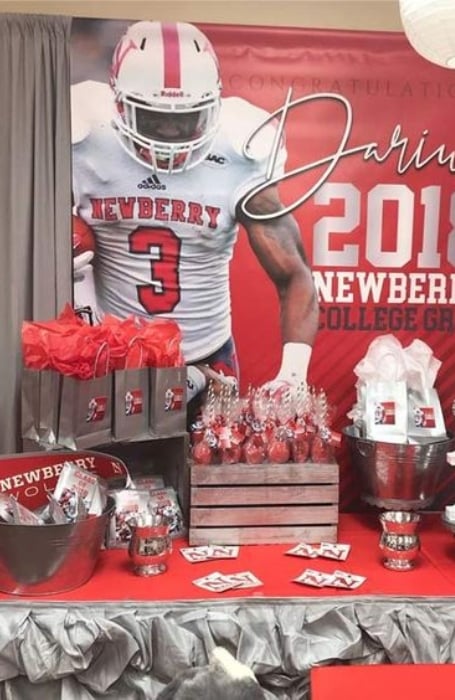 19. Shake It Like A Polaroid Picture
Your graduation party is an event that you will likely remember fondly for many years to come. It is a celebration of your achievements, and it is also an opportunity to gather with those you love the most. This day is a special time in anyone's life, taking a moment to revel in your accomplishments and what the future holds at the same time. A great way to ensure you remember every little detail, and all the guests, is to have a photo station. You can use a few disposable or polaroid cameras and ask each person to take a snap and place it in a big box. Or hang it from a string on the wall, which will make for a fun and creative wall decoration. With polaroids, they can also write a short message.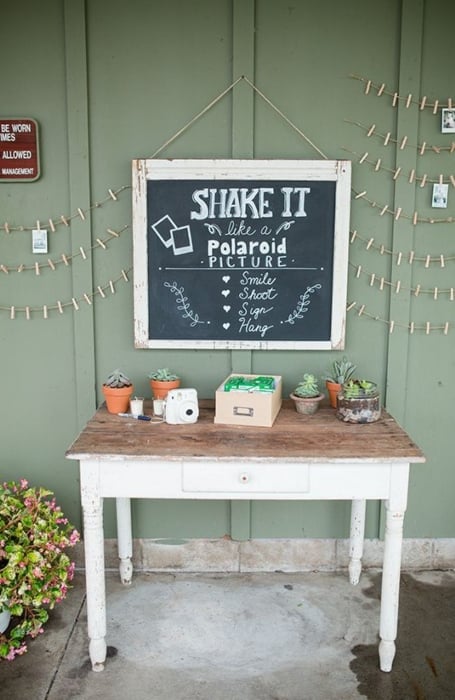 20. Not So Crazy Scientist Graduation Party
Scientist graduates can have a lot of fun with their party because the theme provides you with plenty of opportunities to get creative. This could include beakers and test tubes filled with candy, a chalkboard backdrop with influential scientific equations, or your favorite chemical formulas. You can also keep the color scheme the same as your high school or college for added effect.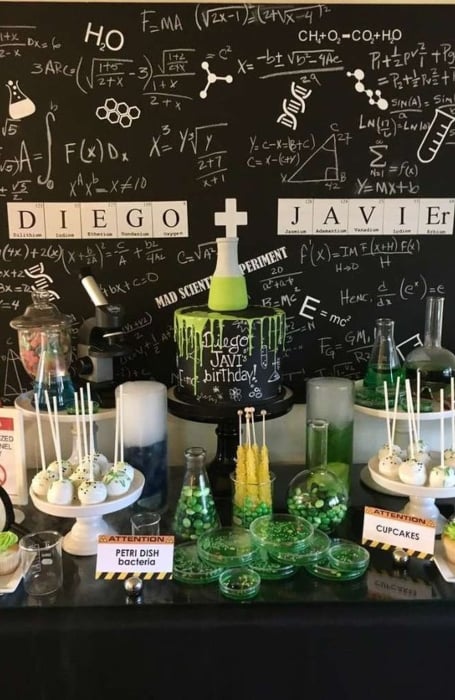 21. Blackboard Graduation Party Idea
Not all graduation parties have to be over-the-top or cost a small fortune, and if you prefer a more laid-back and minimalist aesthetic, that is great too. Something as simple as a photo backdrop with your favorite quote will be effective. The quote could sum up your feelings about the day; maybe you are looking forward to the future or are reflecting on the past. There are so many options to choose from, making your design special and unique to you. Complete your backdrop with a balloon arch or flowers for a more striking finish.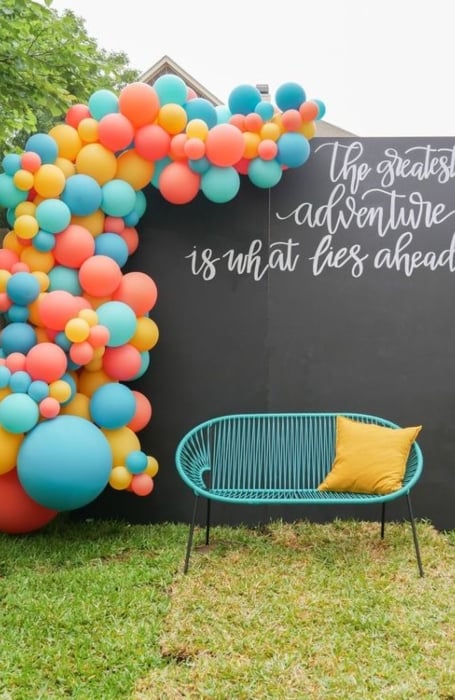 22. Friends-Themed Graduation Party
'Friends' is more than a 90s sitcom; it has become a cult classic and is loved by people of all ages. It is also a fantastic theme for a graduation party because there are so many aspects of the show to inspire you. Plus, this is a day spent with friends and family, so it feels fitting. Use your favorite slogans from the show and color schemes from the characters' apartments; remember the walls that were a bold shade of purple in Monica and Rachel's home?! You could also try your hand at cooking some of the show's iconic foods, including Phoebe's grandmother's cookies and Ross' turkey sandwich. You may want to give Rachel's trifle recipe a miss, though!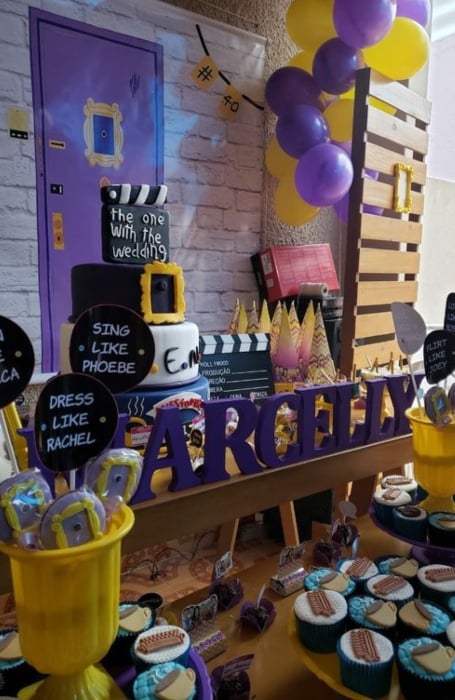 23. Delicious Donut Bar Graduation Food
Donuts are the ultimate party food. They are delicious, come in a wide range of flavors, colors, and toppings, and are easy to eat. Some foods can be messy and require you to sit down and eat, whereas, with donuts, you can just grab one and go. This is ideal for your graduation party; you can opt for ones that are the color scheme of your school or simply stick to the classics. There are also fun ways to serve donuts, including a donut wall, or you can place them in wooden boxes for a more rustic feel.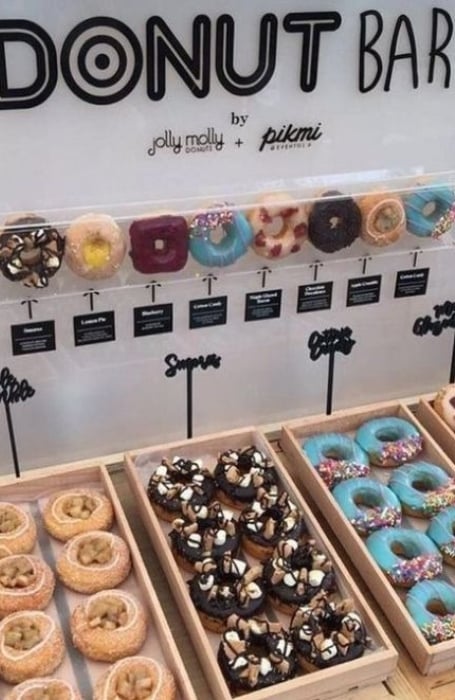 24. Advice Jar Party Idea
You may feel wise beyond your years or that you have learned a lot at college, both socially and academically, but we never stop learning. Our friends, family, and even strangers can teach us a lot about the world, and this is why it is a good idea to have an advice jar at your party. This can be an old jam jar you have decorated, a cardboard box with a slit in the top, or anything of your choosing. Ask each guest to write something on a piece of paper and drop it in for you to read at a later stage. They can sign their names or keep them anonymous, and you will be able to reflect upon their words of wisdom whenever you wish.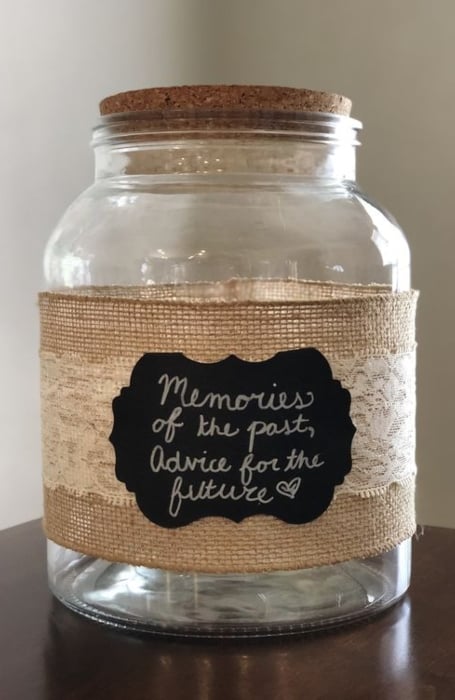 25. Personalized Wooden Directional Sign
The wooden directional signs make for a fantastic photo opportunity, but they can also be personalized to be meaningful. You can determine what you want to write on each sign, whether it is the school you have attended, the hope you have for the future, or the countries you wish to see. In addition, these signs are symbolic; signaling that you are about to take a new journey after graduation and that your life is filled with possibilities and opportunities.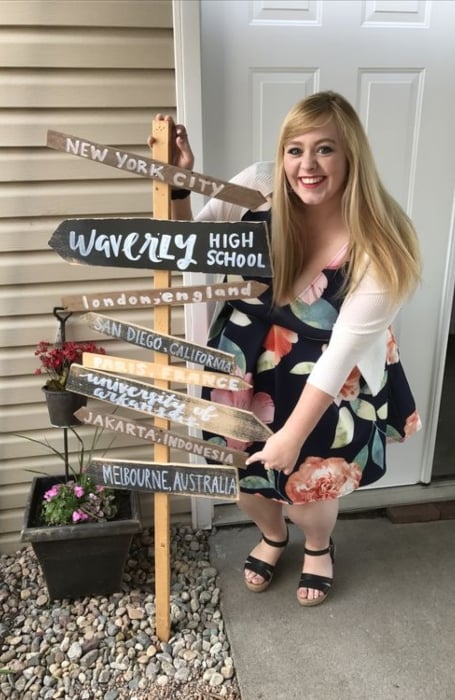 26. Rustic Polaroid Graduation Decor
Creating a photo wall can be done in many different ways. You could cut out photos from your yearbook and glue them onto a backdrop. Find pictures from every year of your life, make a special collage, or ask each guest to take a photo with a polaroid camera. The last option is a great way to include everyone; you can hang each image from a string with a tiny peg. Put them in a big frame to keep them safe, but also let this serve as part of your party's decor. Later, you can place it in your bedroom. Look at the photos whenever you want a reminder of who was in attendance and what a happy moment in your life this was.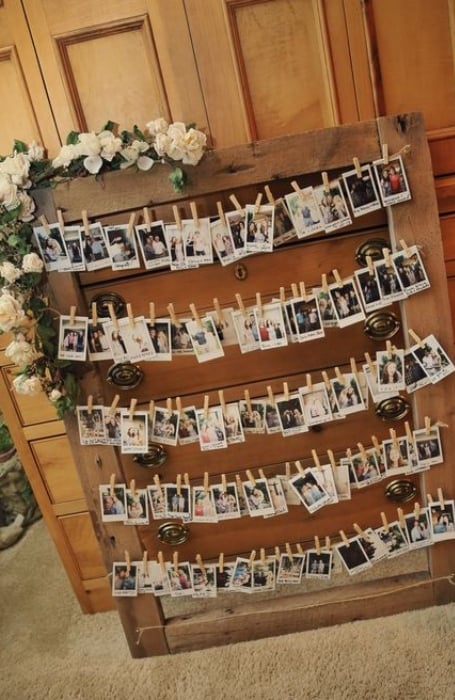 27. Money Wad Graduation Cake Alternative
It is common to bring a gift for a graduation party, and many choose to give money. This makes a big difference in the life of a young college or high school grad who has likely not secured a high-paying job just yet. Some people want to make their present private, sealing the money in envelopes. But a relative like your mom or dad may choose to make a more flashy gesture for this special day. This can be done by rolling up several notes to create a display, which can be topped with a graduation cap decoration and a message of congratulations. Forget the cake; your centerpiece could be a stack of money.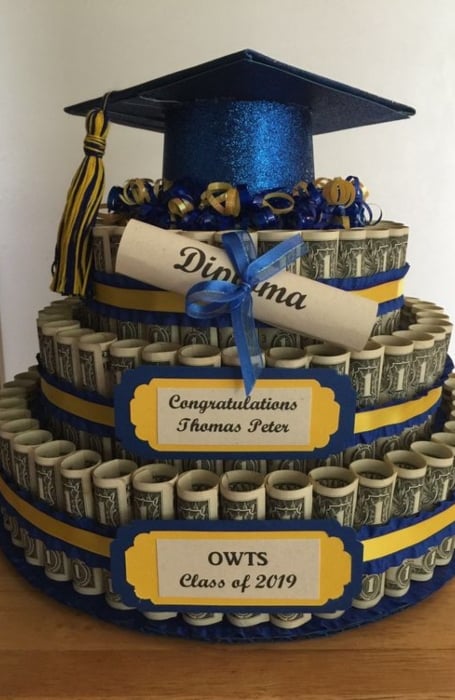 28. Photo Memory Book for Graduation Party
Having a way to look back on your graduation and remember those who were there is a great idea. This can be done in several ways, including taking photos or writing letters. Or you can combine both of these things with a photo memory book. Set aside a polaroid camera and ask each guest to snap a pick, place it inside the guest book with their names and maybe a few words of wisdom. This is a book you will be able to keep for years, reflecting upon this day whenever you wish. You can also personalize the cover of your book. This could be with your college's logo, a photo of yourself, or make it themed to fit in with the rest of your party.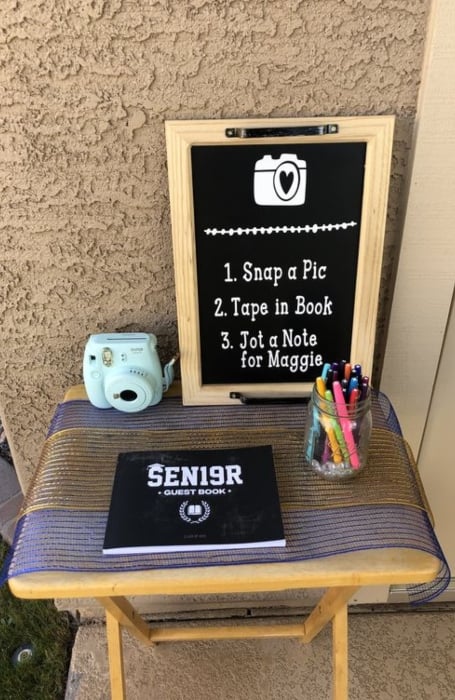 29. Get Creative with Your College Color Scheme
Great decor can make your graduation party a memorable one. It is advisable to stick to a theme or a color scheme. The most common way to do this is by using your college's colors. You can introduce them with a balloon arch, pom poms, streamers, or a wide range of other ideas. Then consider how you want your party to look. Do you want a rustic feel? Bring out the hay bails, vintage suitcases, and fairy lights. Or perhaps you want an adventure theme? This can be achieved with a world globe and airplane cutouts.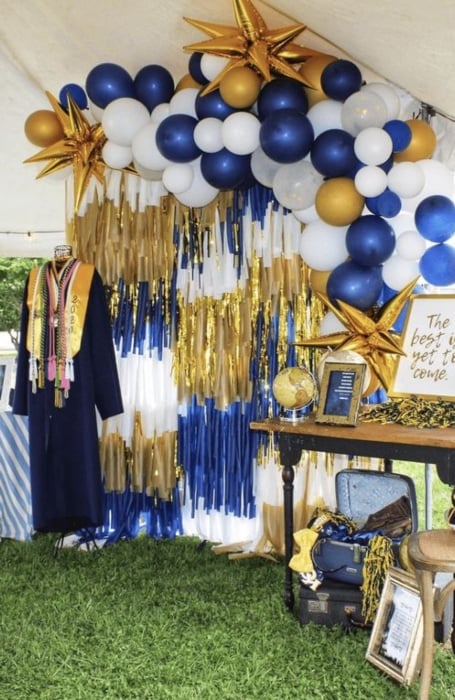 30. Nursing Theme Graduation
If you have finished your nursing program, it is now time to celebrate. This is a profession that will benefit the world in many ways, and you should be proud of yourself for all that you have achieved. Creating the theme around nursing is a fantastic choice; this can be done with straws with paper decorations, sticking to a white and red color scheme, and serving snacks and treats with clever labels on them.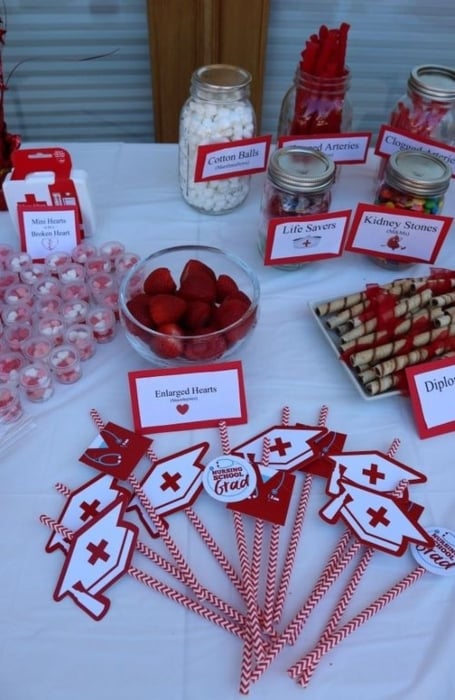 31. Doctor Theme Graduation
The moment you finish medical school is a tremendous achievement and one that you will remember for the rest of your life. All of your hard work has paid off, and this is the beginning of something exciting and rewarding. So, it is a great idea to celebrate before you start your residency and find you have very little free time. There are many ways to introduce the doctor theme, including using syringes for jello shots or having a cake shaped like one of your textbooks. You can also add graduation cap cutouts, the year of your graduation, and even your name or the name of your college to make it more personal.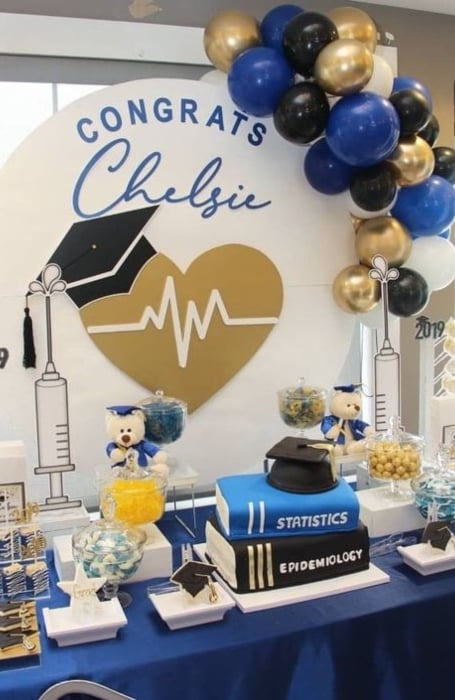 32. You've Hit a Homerun: Baseball Grad Theme
If you are a baseball player, there are several creative ways to introduce this theme for your graduation party. Hitting a home run is associated with success and giving your best effort, and you can use this idea for a fun and symbolic idea for your event. You can have food shaped in bats and balls. Opt for cupcakes or a cake with baseball logos or images, and you can introduce baseball jargon or baseball idioms into your decor to personalize it.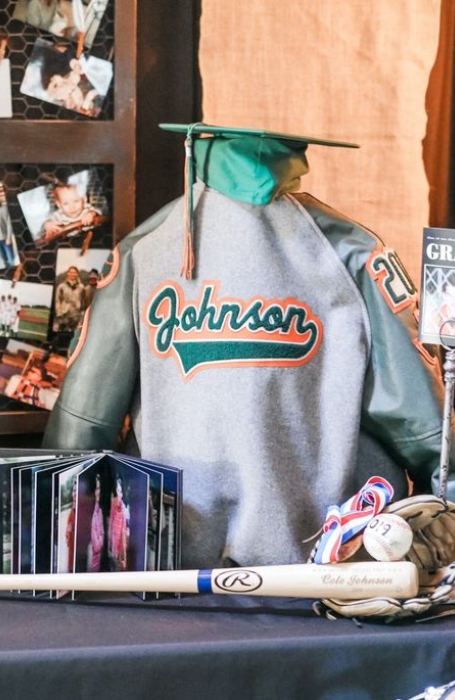 33. Graduation Photo Props
Graduation props will produce some cringey photos, but it is also an opportunity to let your silly and playful side show. There are many different props to choose from, from the generic mustaches and top hats to ones that you can personalize with your slogan or college colors. Props are also a fun and inexpensive form of entertainment for your event.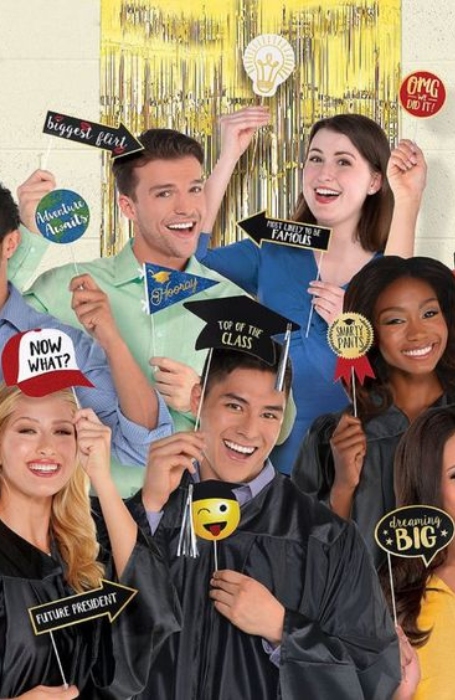 34. Hot Air Balloon Table Centerpiece
Adventure and new beginnings can be reflected with your table centerpieces. At your graduation party, you may want to use images of airplanes, suitcases, or hot air balloons to create beautiful and interesting decor for your table. This can also include your name, the year of your graduation, and the date of the party. Themed party decor is a fantastic way to reflect your thoughts and feelings about graduation. For example, travel images are associated with a bright future and how the world is yours for the taking.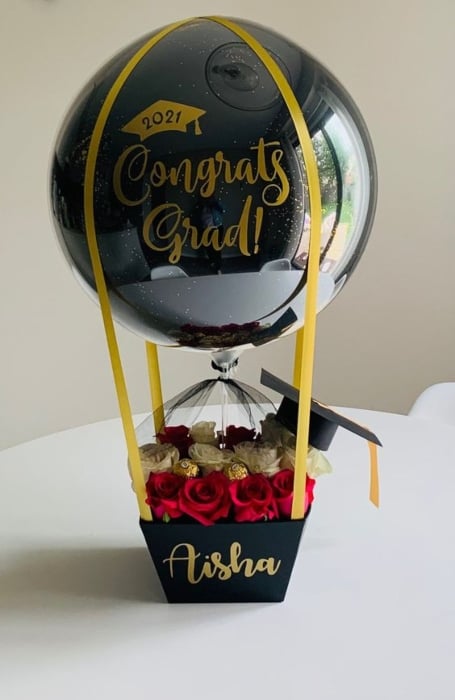 35. Pizza Party Graduation Theme
Many college students will know all about the struggle of finding cheap and easy food. Few students have extra money to splurge on fancy meals or eating out. The lack of time or kitchen utilities to prepare your food makes it hard not to live off salads, pizzas, and ramen. If you want to acknowledge this time in your recent grads' life and let them know that things will be getting a little easier now that they are entering the working world. You can find a creative way to give them cash. One such way is by filling a pizza box with money and writing a message on the inside of the lid.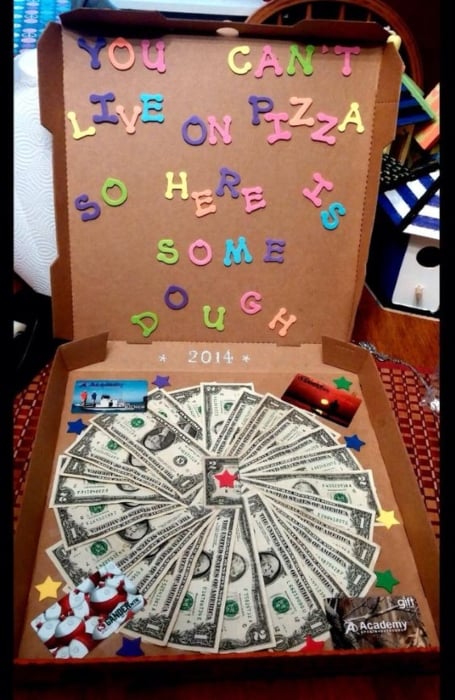 36. Harry Potter Graduation Cookies
It is hard to believe that the first of the Harry Potter novels, Harry Potter and the Philosopher's Stone, was released in 1997 because they remain as popular as they were when they were new. J. K. Rowling's books and the subsequent movies provide a lot of inspiration for party themes, including graduation. This could be as simple as personalized cookies with your favorite characters and a mention of your graduation. You can also add the theme in other ways, including serving some of the foods from the books. These can include Butterbeer, Shepherd's Pie, Treacle tart, and Bertie Bott's Flavor Beans. Of course, you do not have to whip up these meals; you could use food of your choosing and just add placards describing it with one of the names from Harry Potter.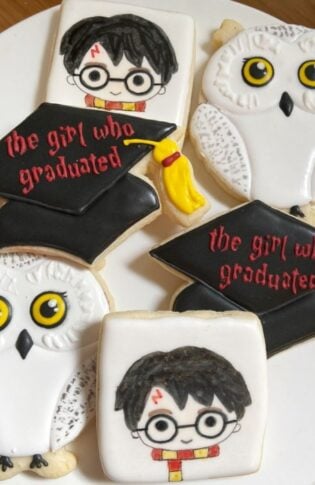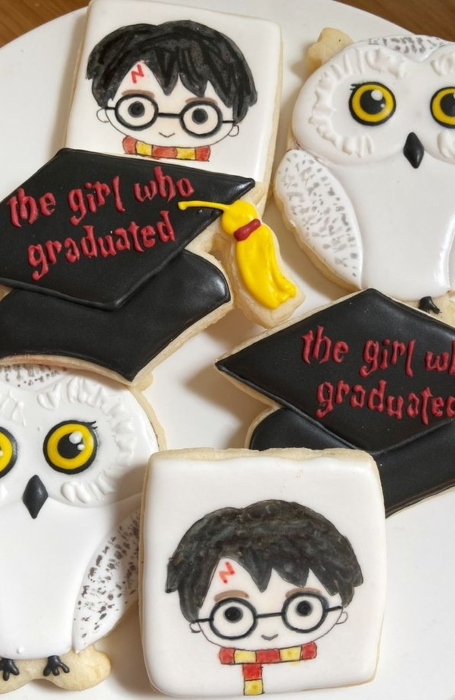 37. Graduation Drink Holders
Decorating your drink bottles can be a fun touch to your party decor. This can be done by wrapping them in a graduation cape or adding a little graduation cap to the top of the bottle cap. Not only will this make the drinks look more enticing, but it can also help everything fit in with your theme. Another way to introduce the theme to your drinks is to add paper cutouts of graduation caps. You can also add the college logo to the straws or around paper cups.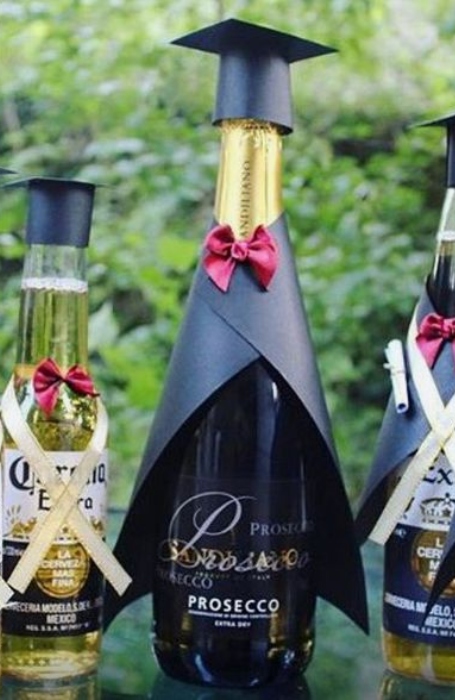 38. Sports Theme Graduation
A sports-themed graduation party is going to be an event to remember. Trophies, photos of you playing the game, your outfit, the number you used on your jersey, and food created in the shape of a ball. If you play basketball, you can add nets to the decor; place one around a jar that can be given to guests to fill with advice. If you were on the rowing team, you could use a replica of one of the boats or the oars for your centerpieces. There are many ways to make this theme unique to you; so let your creative juices flow.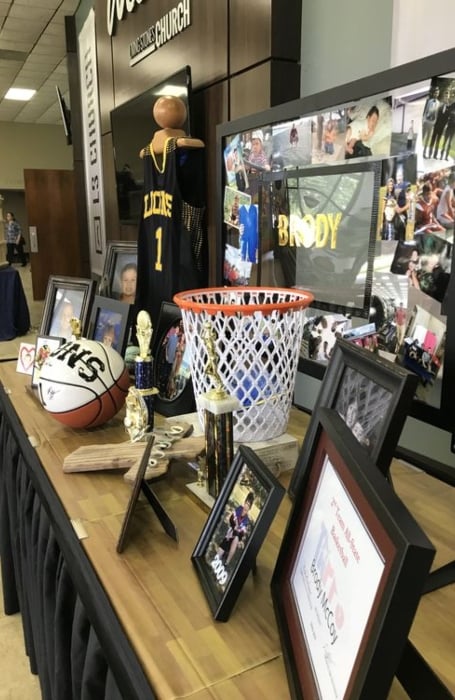 39. Graduation Glasses Filled with Treats
Finding unusual ways to present your food at the party can be challenging. One way to do it would be to use a glass and fill it up with candy or cupcakes. You can top it off with a graduation cap in your school's color or do this with the colors of the sweets you use. Match your candy to your school's colors for extra effect. You can also put a banner around the glass with your university logo, your name, or the degree or qualification you graduated with.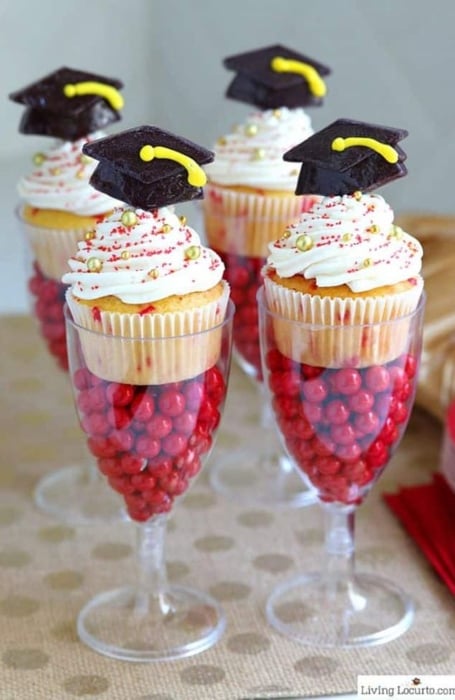 40. S'more Graduation Cookout
No gathering or cookout is complete without smores, and creating a DIY S'more bar for your graduation party will go down as a real treat. Place large containers containing the biscuits, marshmallows, and chocolate of your choosing. Your friends and family can then pick what they want and create their own S'more. Most people like S'mores the traditional way, but nothing is stopping you from adding other toppings. Guests can pick and mix, creating an unusual and tasty snack just the way they like it.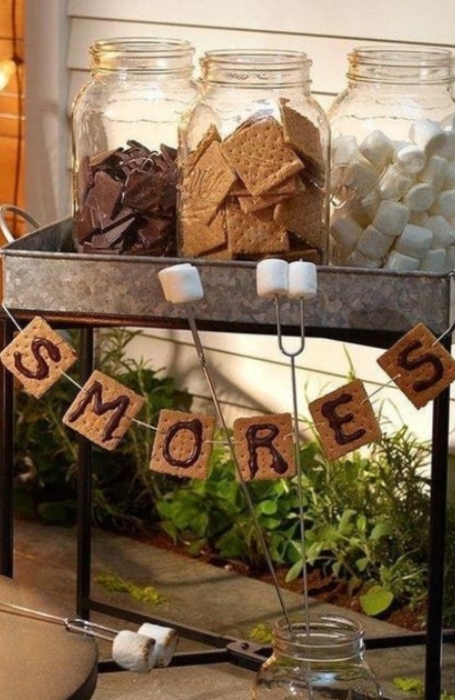 41. Creative Forensic Science Graduation Theme
If you or your recent grad has finished up a degree in criminology, has graduated from the police academy, or has focused on forensic science, you can find a clever way to introduce these themes with your snacks. This can be as simple as evidence number cards for table settings. Or adding cards with terminology related to your field of study to various items. You can also use caution tape for decorations. You just want to be sensitive with this theme so that you do not replicate any scenes which could be offensive to those who have been victims of crimes.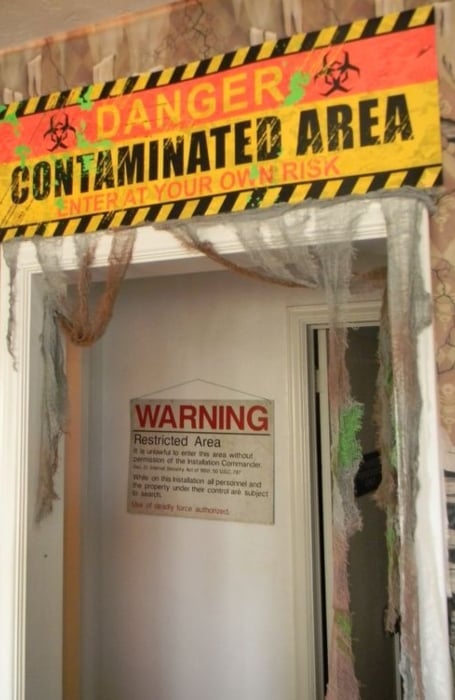 42. Life is Sweet Graduation Idea
Life is sweet, and so are the cakes you serve at your graduation party. You do not have to spend hours thinking of a theme, and a collection of cakes, cupcakes, fairy lights, and cake pops are all you need to celebrate your special day. Match your candy to your schools' colors for extra effect. You can also put up a banner with your university logo, your name, or the degree or qualification you graduated with.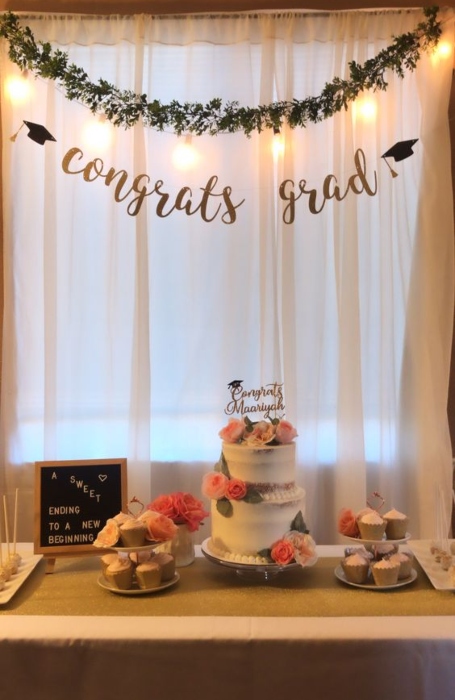 43. Boho Babe Party
Regardless of your degree, a boho-themed party is always a good idea. It creates a pretty and relaxed aesthetic and can be simple and easy to make. Maybe you want to hold the party in your backyard or on the local beach. Use flowers, crochet garlands, and macrame knitting for your backdrop. You can find a vintage suitcase to store your cards, wooden crates for your food, and set up your drinks or fruit on a table. If you are holding your party outdoors, remember to purchase environmentally friendly decorations to avoid any pollution.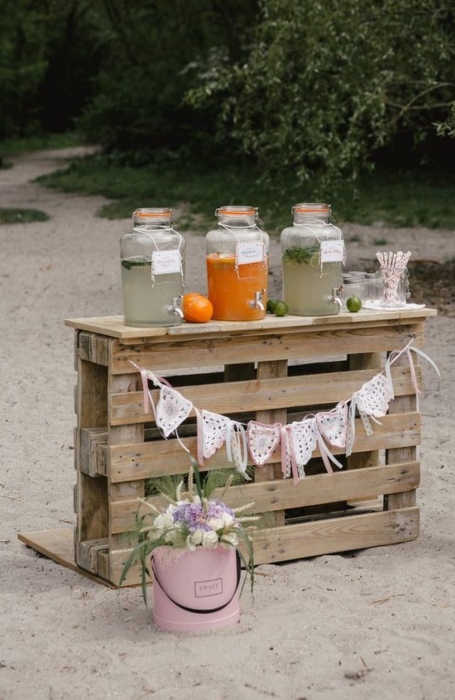 44. Police Academy Graduation Party
If you have graduated from the police academy or earned a degree in a related field, you may wish to create your party around this theme. There are many different ways to have fun and get creative. This includes using toy police cars as table settings or adding police line tape to your decor. You can be a cliche by serving donuts and coffee or create cupcakes with police badges.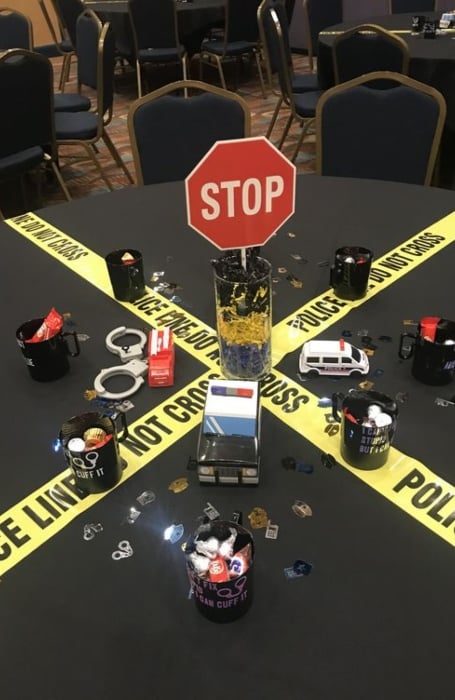 45. Architecture Graduation Party Decor
If you have received an architecture degree, you are likely an already creative individual, and finding things to suit your theme will be easy. Perhaps instead of planning and designing buildings, you can add a Jenga tower to the center of your tables. Or you can use Jenga pieces as an alternative guestbook, getting each person to write a message on a block. You can also organize an unusual cake that is constructed using unique angles. It could feature a design of your favorite building or silhouette.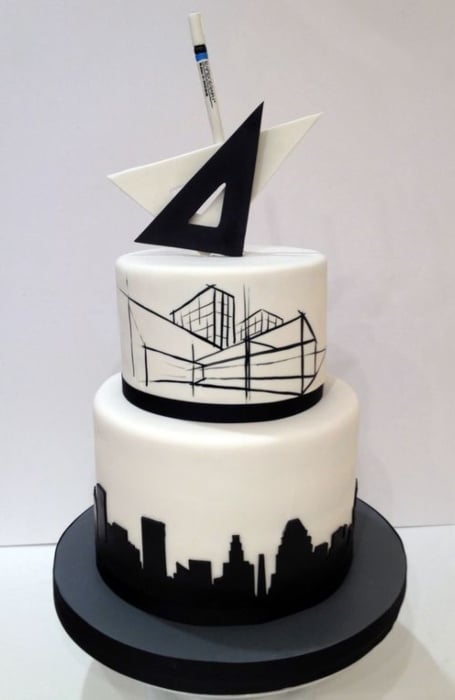 46. Rustic Graduation Theme with Wheelbarrows
Sometimes the simplest decor is the most effective; you do not need to spend loads of money on your graduation decorations. If you are looking for an excellent way to store the drinks, find wheelbarrows you have around the house or borrow some from friends and fill them up with ice and tins. This will give the party a rustic, summer vibe and makes it easy for guests to help themselves to their drink of choice. You can add balloons, streamers, or any decoration of your choice, to the wheelbarrow handles.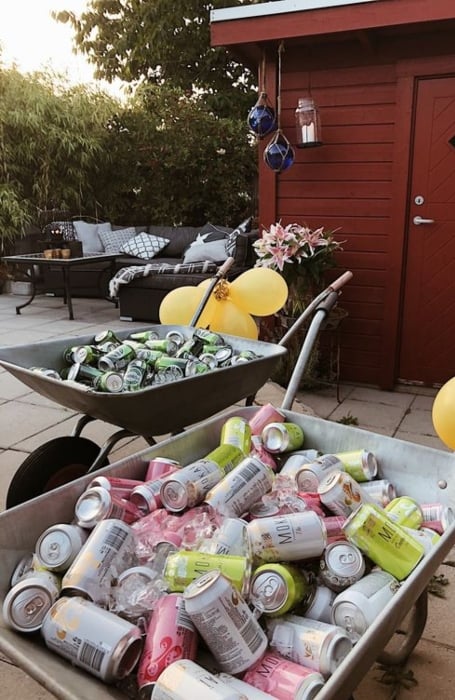 47. Smart Cookie Chalkboard Idea
A chalkboard is a great addition to any graduation decor. You can place it outside your chosen venue, informing people that this is your party. It can have important information regarding the activities or food or could have a fun slogan or your favorite quote. There are also various sizes to choose from; you may opt for a large one to also serve as a backdrop for photos taken on the day.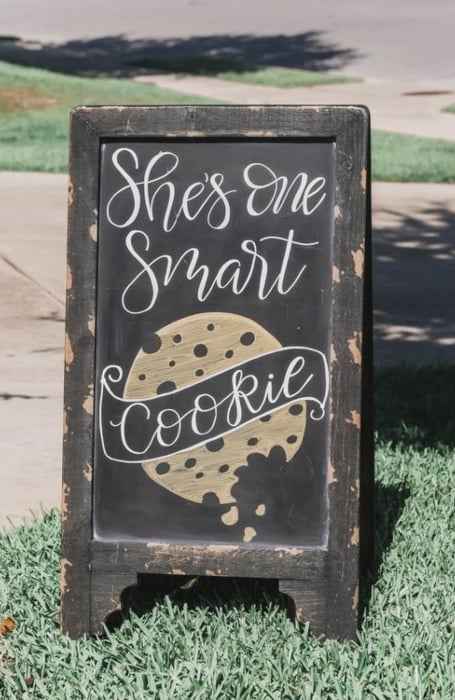 48. Colorful Themed Cake Pop Party Food
Cake pops are delicious, easy to eat, and can be personalized in many ways. This includes your color scheme, and an excellent option for a graduation party would be to choose your university's colors. Most cake pops are also moist and full of flavor, and because they are smaller than a slice of cake, you can eat them without feeling guilty. Plus, your layouts for your pops can give you more versatility. You can arrange them in a pattern spelling the initials of your name or school. You can place them in big wooden crates for a rustic theme or in a fancy paper box; the choice is yours.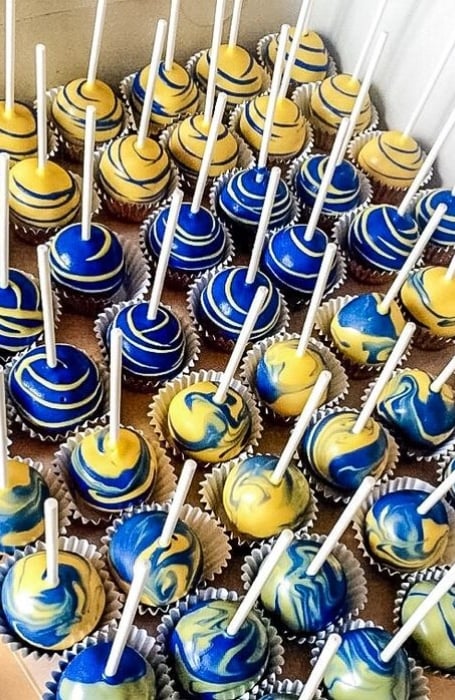 49. Ladder Cake Display
Finding a way to display your food and sweets can make a big difference. A unique display can make even the most simple snacks look delicious and enticing. For a rustic theme, a ladder is an ideal choice. A small wooden ladder will let you stack the food in a way that makes it look very presentable. You can also decorate it with flowers, graduation-themed cutouts, or fairy lights, depending on the aesthetic you wish to achieve.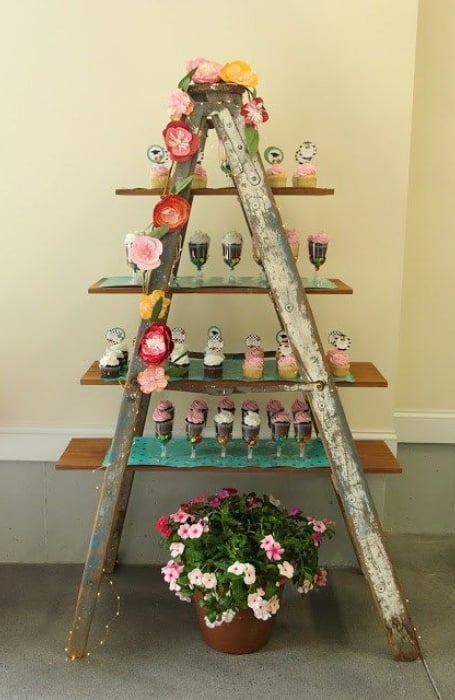 50. Jenga Graduation Guest Book
Having a graduation guest book makes a lot of sense because it is a way to remember everyone in attendance. It also allows your guests to leave you a personal message which could be congratulatory or offer words of wisdom for the future. While standard books are great, you could try building blocks like Jenga if you are looking for a unique alternative. Each person writes a message, and you can keep them for later. You can also assemble the blocks later, keeping them in your house to look at whenever you want. It is a reminder of your achievements and the loved ones who celebrated them with you.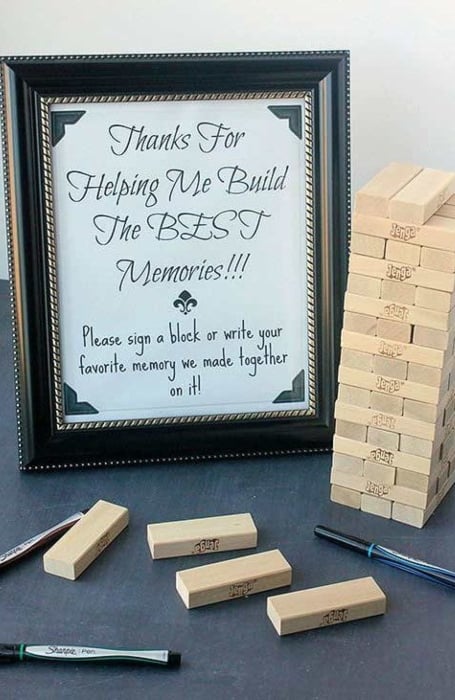 Graduation Party Ideas FAQs
What do you do at a graduation party?
A graduation party is an occasion to celebrate the recent graduates and their achievements. Each party is slightly different and can have various themes, but the idea is to gather, socialize, eat, and play games or dance.
How do you make a good graduation party?
A good graduation party should be able to reflect who you are. This can be easily achieved by following a specific theme and decorating accordingly. This includes themed food and decorations. It is also important to think of your guests and ensure there is enough food and drink and that the atmosphere feels positive and relaxed.
What is a good theme for a graduation party?
A good theme for a graduation party could be the focus of your degree. This could include law themes, psychology, doctors, nurses, and architecture. If you play sports, you can create a theme around this. Or you can choose rustic or boho themes for a relaxed and carefree aesthetic; if you want a party that is symbolic of your bright future and the new adventures, you will experience, consider a travel or world theme.
What are graduation party colors?
Graduation party colors are usually of the school or college you attended. They can also be colors specific to a particular theme, for example, nurses with red and white. Or, you can pick the colors that appeal to you most. Sticking to a neutral or muted color scheme also makes it incredibly easy to mix and match with your decor.
SUBSCRIBE TO OUR NEWSLETTER
Subscribe to our mailing list and get interesting stuff and updates to your email inbox.