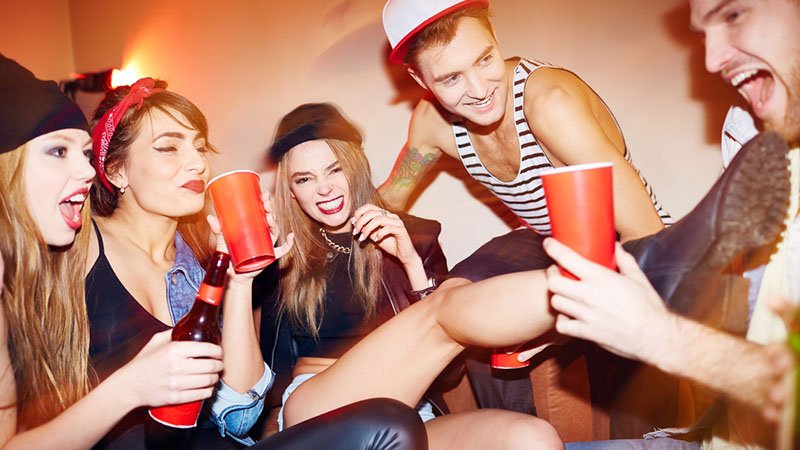 College is the perfect opportunity to discover your passions and strengths, but it's also a key place to meet new people and enjoy plenty of parties. From a casual get-together to a themed event, you can have an amazing experience with those you live with and meet along the way. From drinking games to ice breakers and everything in between, this is the time in your life when you can help discover who you are as a person and make some incredible memories. Get inspired for your next shindig – here are the most fun college dorm party ideas you need to try.
What is a College Dorm Party?
Dorm rooms are famously small, and while you may share them with a roommate or two, they're often the first time someone lives away from their family. This is essentially the perfect formula for a great get-together. While there are some rules you should adhere to, dorm parties are a great way to know people from your college and make incredible memories and lifelong friends along the way.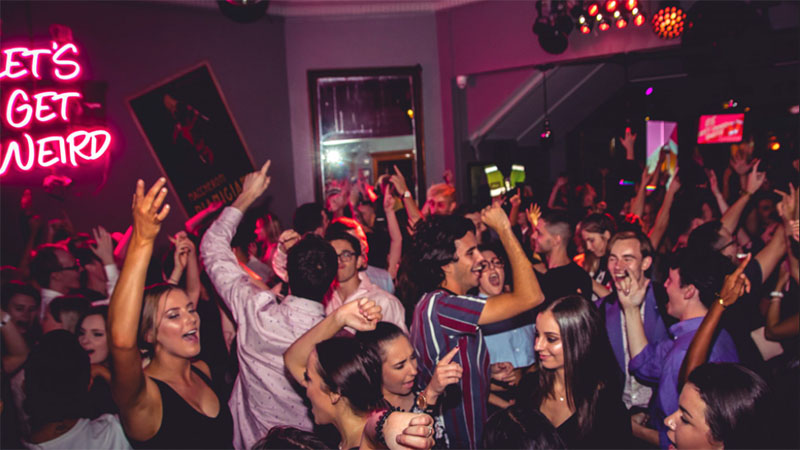 Can you Throw a Dorm Room Party?
You should be conscious of a lot before planning or hosting a dorm room party. First is noise pollution. Parties are loud, and if you go overboard, you're likely going to have it shut down. It's also imperative that you understand all of the policies in your dorm. They vary from college to college, but the general rule of thumb is to ensure you don't make too much noise after hours during the week. While it's not impossible to run a dorm room party without getting in trouble, it's wise to get yourself acquainted with your Resident Assistant, better known as an RA. Get on their good side, and be sure to ensure you follow the policies along the way. It's also a great idea you make sure your roommates are okay with having a party, too!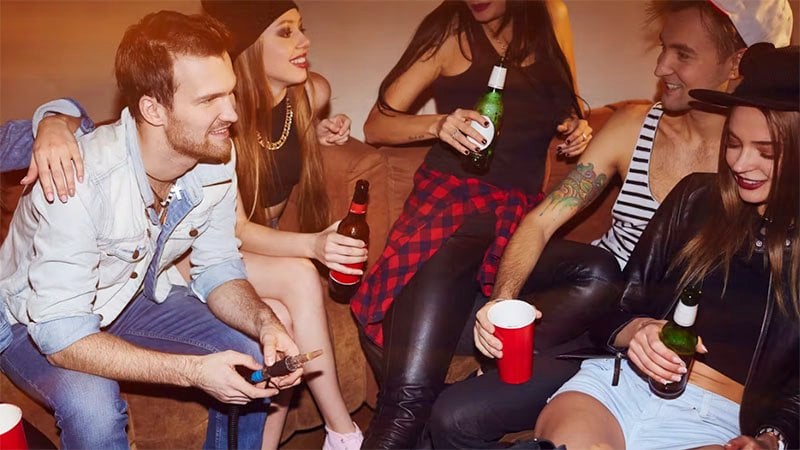 What's Allowed At a College Dorm Party
There are rules and guidelines that you should follow before you start organizing a dorm party. First, make sure your roommates are on board with hosting a party. Be sure to invite your neighbors as well, so they can get in on the fun. Be mindful of their schedules too, so you don't disturb them if they can't make it. Then, let your RA know ahead of time that you are planning an event so they don't shut it down before it begins. You should also figure out the size of the party you want – will it be small and intimate or a full-on rager? Be sure to decide all of these things first before planning the next steps. Lastly, ensure you understand all of the dorm policies before you begin, too, so you avoid any issues along the way. Also, it's a great idea to hide all of your valuables before the guests arrive – the last thing you want is for your precious items to get broken or stolen.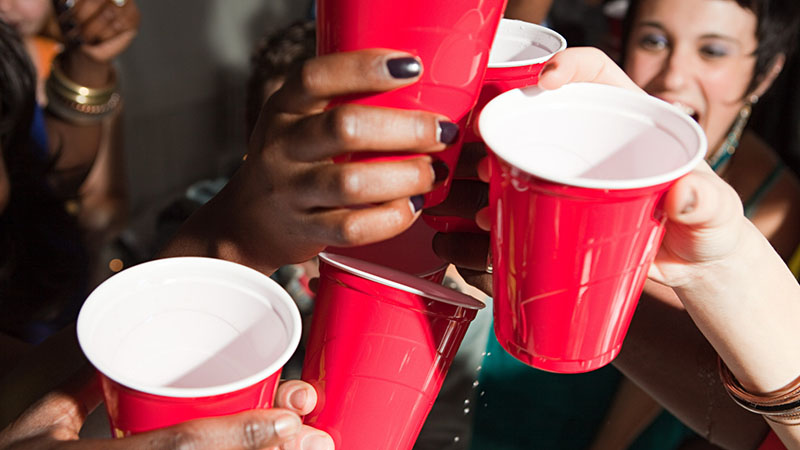 College Dorm Party Ideas
There are plenty of different types of parties you can throw. While there's nothing wrong with a standard party, having something themed is a great way to tap into your creative side, organize a costume, and make great memories.
Decades Party (the '60s, '70s, '80s, '90s)
Feel like you were born in the wrong era? This theme is the perfect opportunity to unleash your inner hippie, Mod, rock, and film star with a decades party. Choose the decade you want to celebrate, such as the '60s or '70s, and have everyone dress up in the clothing of that era! Create a playlist with the hottest tunes from the time, be it disco, rock'n'roll, or pop – they're sure to get people in the mood for a boogie. Bonus points if you have a disposable or film camera to capture the best moments – it's an old-school touch that will impress.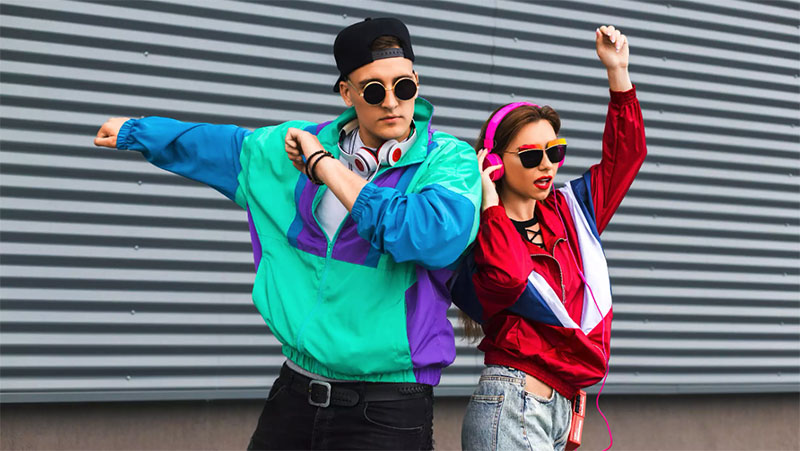 Pajamas party
Did someone say superior comfort? A pajama party is an excellent choice for a themed party for many reasons, but the ultimate one is feeling relaxed the entire time. There is no need for painful heels or tight dresses; this evening is all about putting on your bedtime outfits and enjoying yourself. Of course, you can always dress it up by wearing something silky and luxurious or with feathers across the edges of the clothing. Team up with your friends and get something matching if you're a part of a sorority! The best part? You don't have to get changed once the party is over – just hop into bed, and you're set!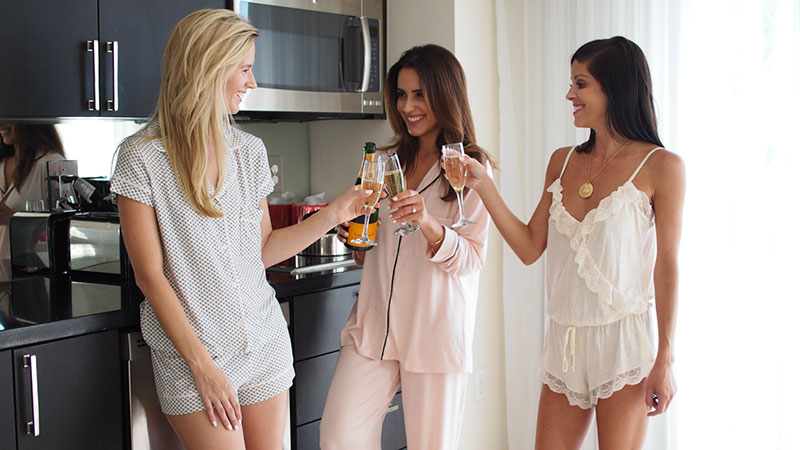 Jazz Night
Jazz-themed parties are a little more cool and sophisticated, making the perfect dorm party. As the name suggests, it's all about celebrating the incredible music and culture that comes along with the genre. Select your favorite pieces and create a killer Spotify playlist for the night, and get everyone to dress in their best formal outfits for a night they won't forget. You can even turn it into a Gatsby-themed night, with '20s costumes and music galore!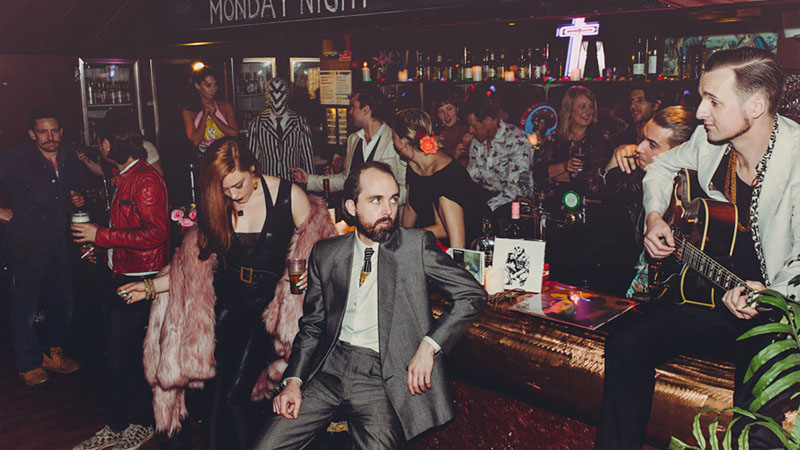 Hip Hop Night
Huge fan of the hip-hop era of the '80s and '90s? Celebrate the best of the era with a themed party. Rappers and RnB artists often host the best events, so you can take a leaf from their book when planning yours. Start by organizing the music – will you feature artists from today or add a few throwbacks, too? In terms of outfits, wear something comfortable – tap into nostalgia with the '80s and '90s throwbacks, such as leggings and bomber jackets in red, yellow, and black (a la Salt-N-Pepa), old chains, and airbrushed sweatshirts.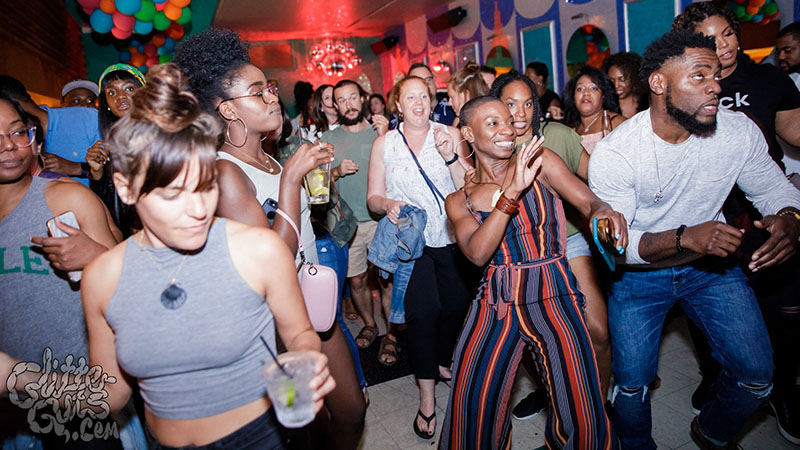 Ugly Sweaters Party
When Christmas rolls around, there's no better way to spread cheer and get a few giggles in than with an ugly sweater party! Find your (least) favorite knits and put them on display – you can find excellent options at thrift stores or make something yourself! For this party, get everyone to find a hideous option available, recall your best drinking games and have a great time. Give out an award to the person who has the best costume for the evening – don't forget to take plenty of photos!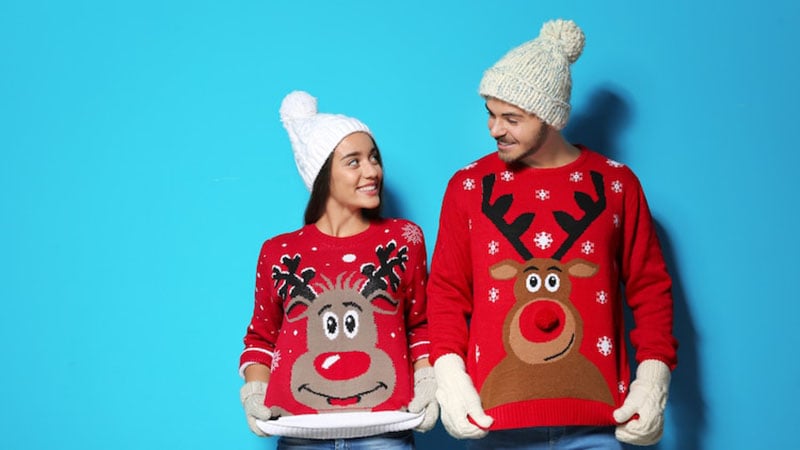 Devils and Angels
Show off your good or naughty side with this cheeky theme! With two options for costumes, guests can dress as their most angelic or devilish sides – don plenty of white with wings and a halo, or go dripping in red with horns and a tail to boot. Add candles, red lights, a photo booth, and on-theme food and drinks for maximum impact. Play games like Truth or Dare to get in touch with your naughty side, and play a selection of throwback hits that gets the crowd going!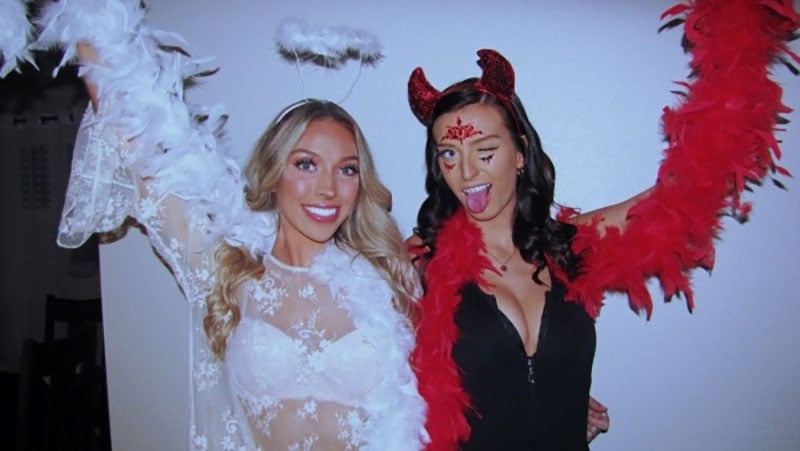 Sexy Nerd party
Think you're the best at Mario Cart, or love immersing yourself in the world of Lord of the Rings/ Then this party is the best idea to try! The sexy nerd party combines two contrasting themes together, creating a mix of funny and proactive themes. Whip out your thickest specs, suspenders, and bow ties for a classic geeky look, and blend with a cute mini skirt and heels for a sexy twist. Play games like Tetris and watch your favorite films – from Marvel to the Harry Potter universe, you'll be too cool for school!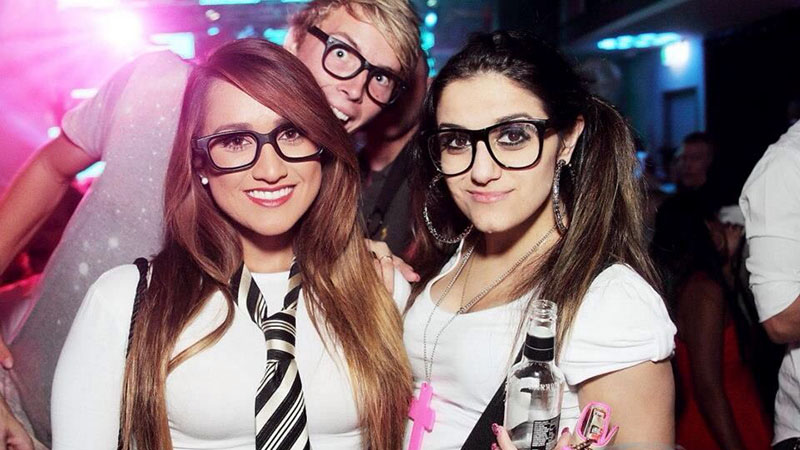 Masquerade Party
Get dolled up in your most fancy outfit, add a mask, and voila – it's a masquerade party! Channel your inner Gossip Girl with this mysterious and exciting party theme, which is sure to keep everyone guessing. This is a great party idea for New Year's Eve or if you just want an excuse to dress fancy. Grab your fanciest clothes and champagne glasses, and don't forget to reveal your identities at midnight!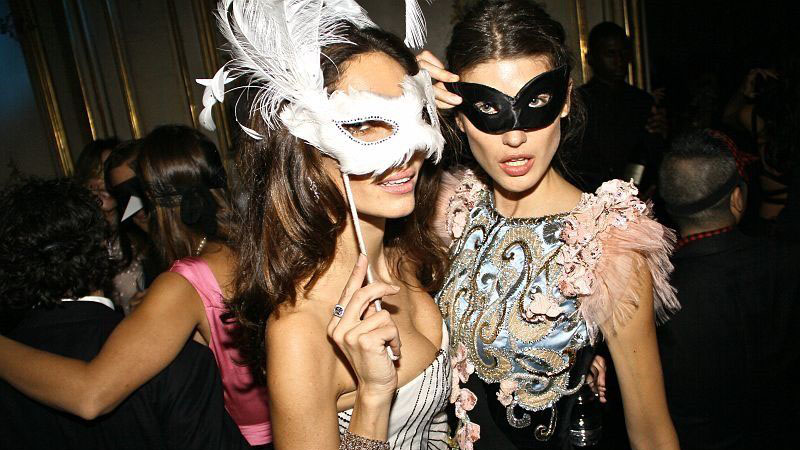 Rock n' Roll
Do you want to rock and roll all night and party every day? Then this is the perfect theme for your next party! From Elvis to Queen and everyone in between, unleash your inner rock star with leather jackets, ripped jeans, heavy eye makeup, and plenty of amazing guitar solos! Create a playlist with the best tunes, such as Bohemian Rhapsody, Stairway to Heaven, and Born To Be Wild. Dress up as members of The Beatles, KISS, or even Little Richard! You can also host an air guitar contest and see who has the best skills!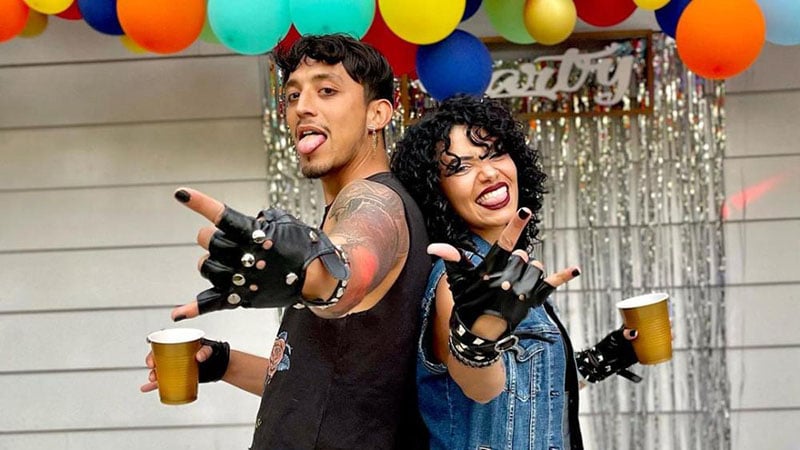 Denim Themed Party
Throw on your Candian tuxedo for this party – denim is the name of the game! As the name suggests, all you have to wear is denim, so the costumes are really easy to put together. This is an excellent choice for a last-minute event or if you want to show off your cool new jeans. Just like any other party, be sure to have great music lined up and plenty of drinks so you can enjoy the evening in comfort and style!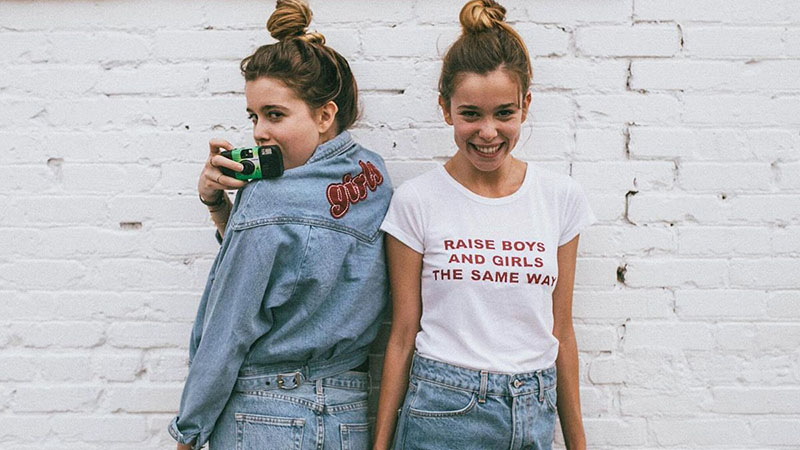 Pink Fantasy
If you're after a last-minute theme that doesn't require a heap of commitment, a pink fantasy party is a way to go. Akin to its name, all you have to wear is this shade – mix and match different tones for a more complex look. Drape your dorm with a soft color, make drinks with raspberry lemonade and serve food that matches the theme!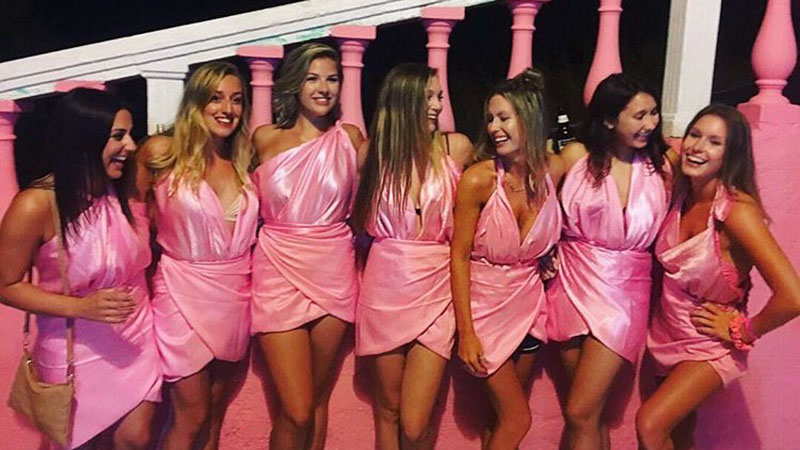 Ghosts and Monsters
It doesn't have to be Halloween for you to unleash your spooky side. A Ghosts and Monsters party is the best way to celebrate all things scary, and you can do it any time of the year. Get guests to dress as a vampire, a zombie, or a witch – a very easy costume idea is to take a bedsheet and cut the eyes out of it. Deck your place with all things spooky- a blood-red cocktail, creepy foods, and decorations, such as skulls and plenty of pumpkins!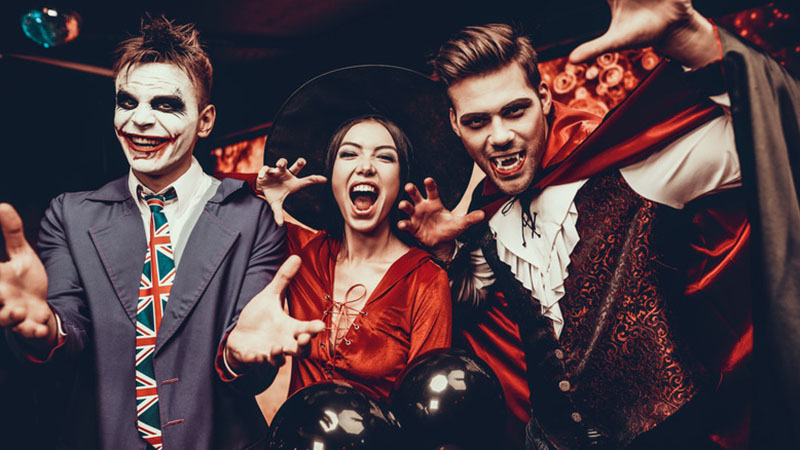 Black and White
Can you get more classic than a black and white party? Although the theme is simple, it means that everyone can find an outfit to wear from their closets, and you can dress it up or down easily. Decorate your dorm with black and white trimmings, such as balloons and streamers, and only serve food that fits the color combination. You can even take photos throughout the evening using black and white film for a finishing touch!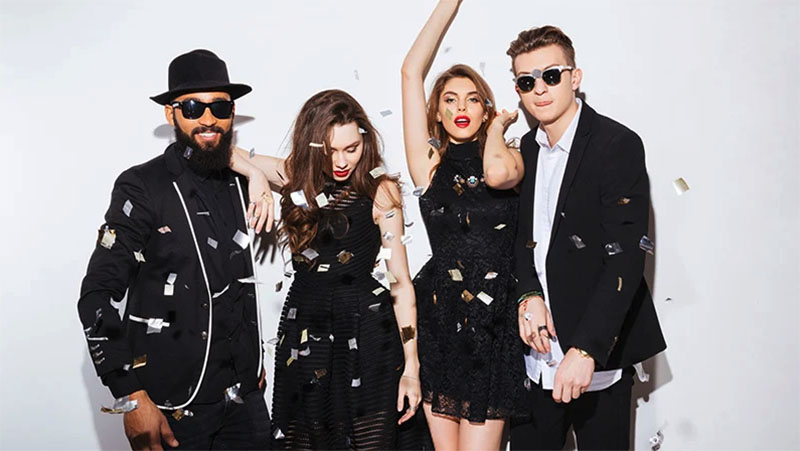 Dorm Party Games & Activities
Cards Against Humanity
Cards Against Humanity has become a staple game for college parties, a favorite amongst friends worldwide. The premise is simple – one player reads a prompt from a black card, and the remaining players fill the gap with one of their ten white cards. The funniest answer wins. There's no need to hold back with this game – it's designed to be as controversial as possible!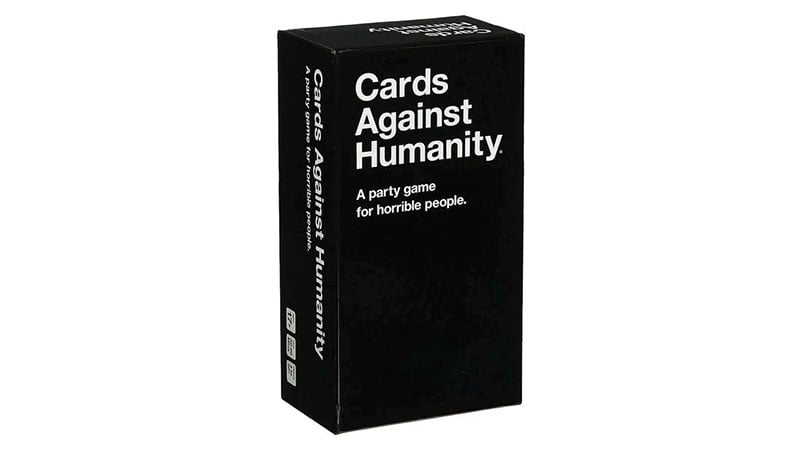 Beer Pong
As a classic game for every college student, beer pong is a great way to encourage good times and prove your sporting prowess. This set comes with all of the required equipment you need to set up the game, including a collapsible table. Fill ten cups with beer on each side and organize them into a triangle on both ends of the table. One player stands opposite each other and tries to get a ping pong ball into one of the drinks on the other side. If you land the ball, the opposite player must drink the cup's contents.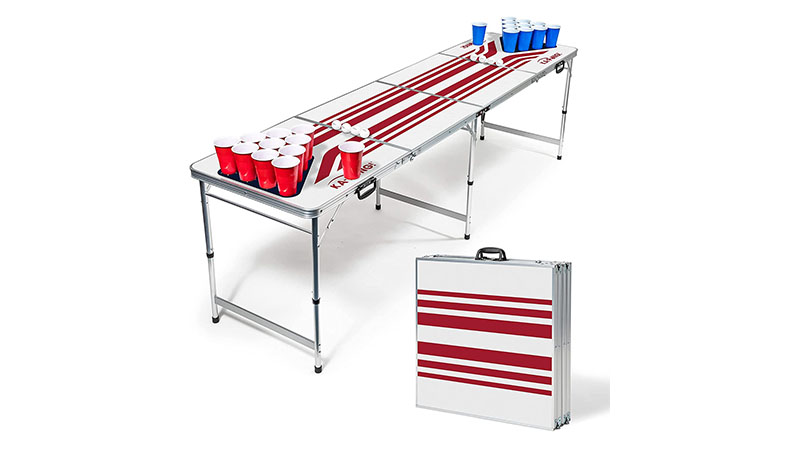 Don't Get Got
Consider yourself a great liar? Don't Get Got is the perfect game for you and your friends at a dorm party. There are six missions that each player has to complete, and every task asks you to trick one player without getting caught or them becoming suspicious. Unlike traditional games, you don't have to sit down to play. In fact, you're supposed to play it alongside whatever else you may be doing. It's a fun and quirky activity to play with your friends!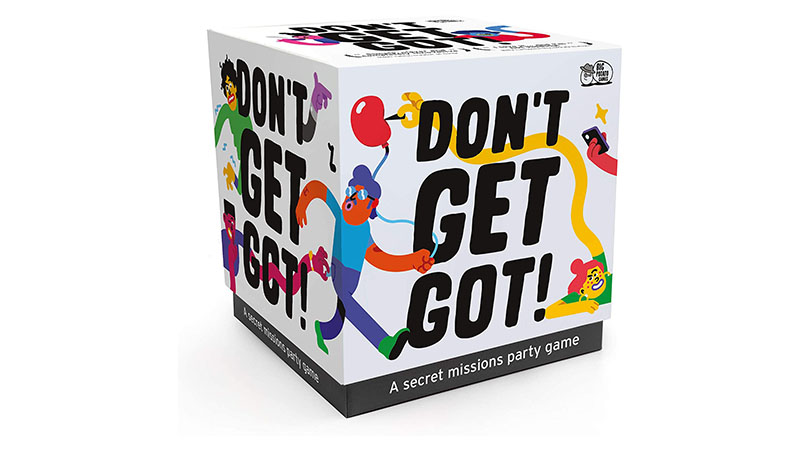 Wheel of Odds
Created by the same team that made What Do You Meme, this game is a great way to build up energy and get to know a group of people. The premise is easy to follow – spin the wheel, pull a card, and do what the card says. These dares are challenging, embarrassing, and sometimes gross, but they're sure to get a laugh and create some hilarious memories!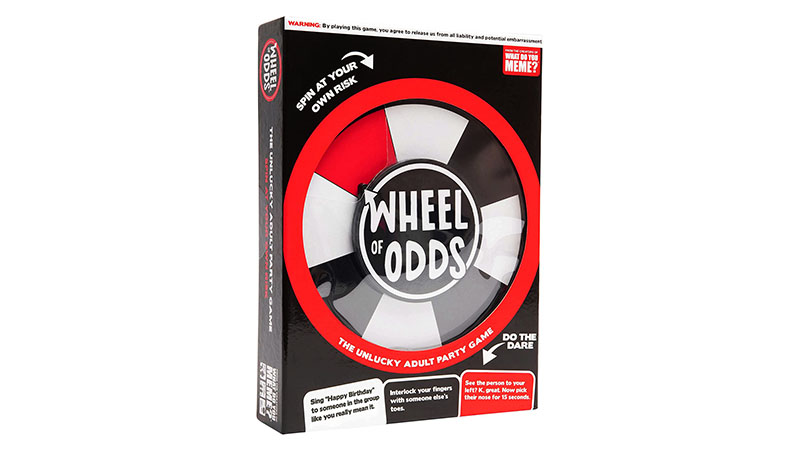 You Laugh You Drink
Want to get drunk and have a great time with friends? Drinking games are a fantastic way to move the party at a college dorm. This game is intended to get you sauced. There are 150 cards with hilarious prompts in this deck – simply complete the action and try to make everyone laugh. As the name suggests, you laugh, you drink. Trus us when we say there will definitely be a circumstance where you garner a giggle or two.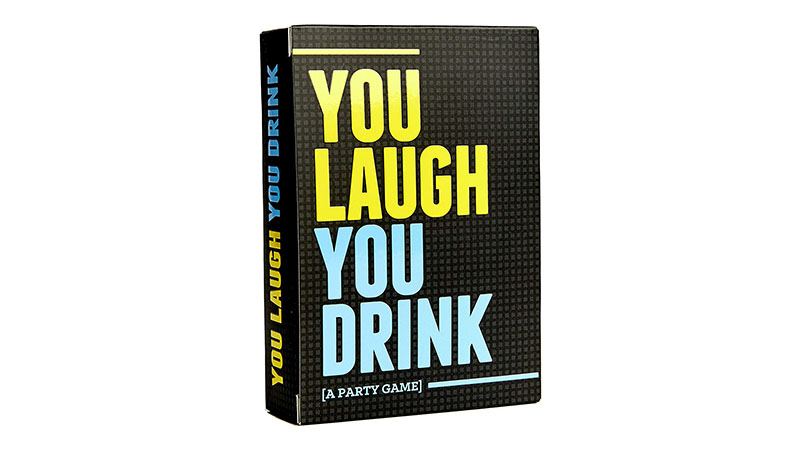 Fear Pong
Want to take your game of beer pong to the next level? Fear pong is a card game used to enhance the classic college favorite. Set up a game of beer pong, and place one of these cards under each cup. Once a ball lands in the cup, the player has a choice – would they prefer to drink the contents of the cup or complete the dare on the card? It's a fun twist to the classic drinking game that is bound to garner some laughs!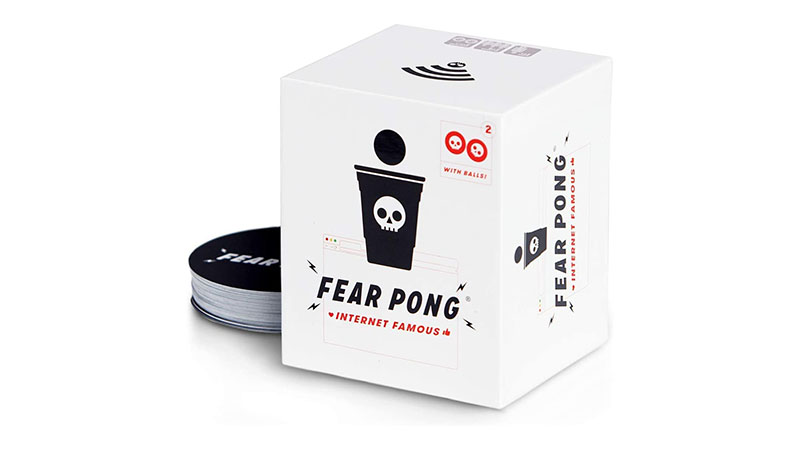 Drunk Stoned or Stupid
Who is more likely to wake up with a burrito in their bed? This game is intended to better know everyone and call out your friends a the same time. Drunk, Stoned, or Stupid has 250 prompt cards, so you can play the game over and over again. It's an excellent choice for an ice breaker, or if you want to unlock some of the unknown facts about your closest friends.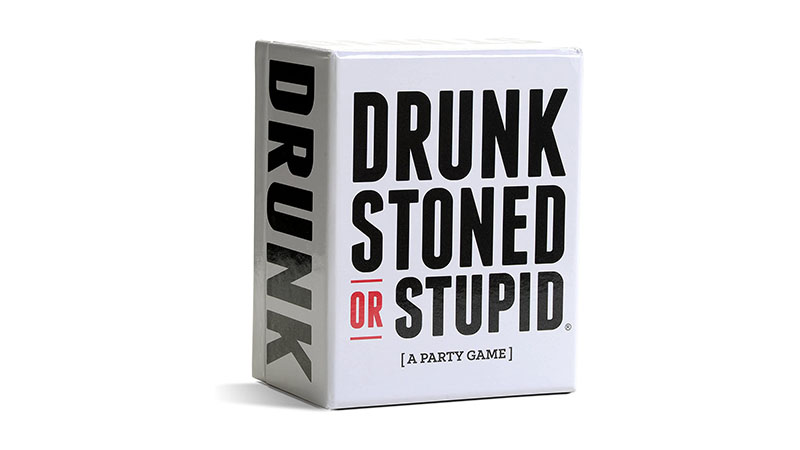 These Cards Will Get You Drunk
With 100 cards to choose from and plenty of hilarious actions to complete, you will definitely feel tipsy playing this game. As the name suggests, you have to compete, vote, and con your friends, getting everyone drunk along the way. This is an excellent choice for pregaming or as an ice breaker with your friends – no two games are the same!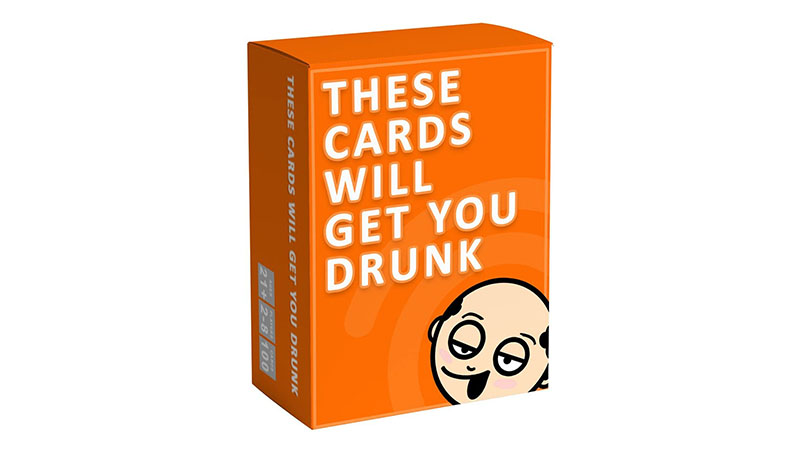 Buzzed Blocks
Jenga just got an adult makeover. This drinking game has the same premise as the tumbling towers from your youth but features drinking rules on the underside of the blocks. There are simple commands like 'Shots!' and 'Guys Drink' on them, but they also feature dares such as 'Twerk or Shot' so you can have a few laughs along the way. Plus, there are some blank blocks that you can use to create your own rules.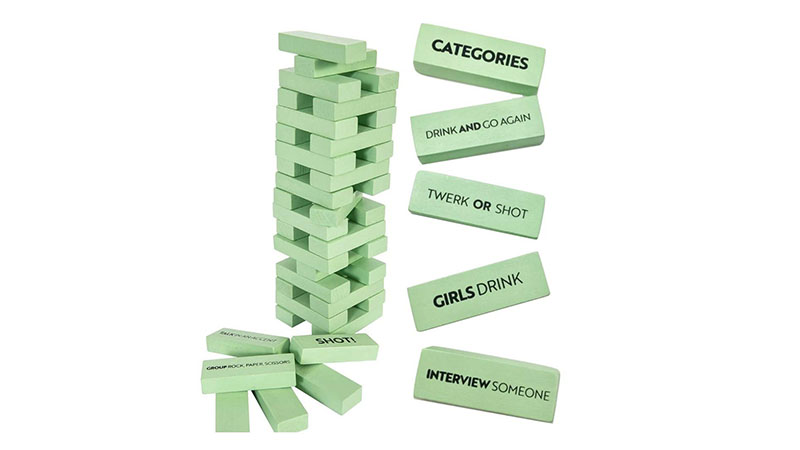 Off Topic
Get your thinking hats on and get yourself into some interesting conversations with this game. Off Topic is all about varying topics, so draw a card and see where your conversation will begin. Roll the die to set the letter – your response must begin with this, then set the timer, and off you go! Once you've written down all of your answers, you must debate them with the rest of the players. It's a great game that you can play with a small or large group.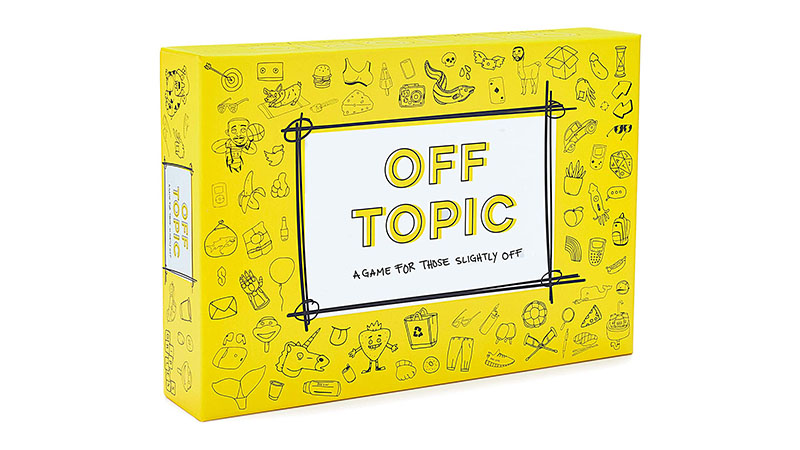 Don't Do Things You'll Regret
While it's normal to want to try new things in college, you should always know where to draw the line. Safety is a major priority, so if you plan on having a few drinks. Always keep an eye on your cup, and don't drink from anyone else's. What's more, if you want to have a smoke or try a new drink, be extra careful and don't try something from an unknown source. With this in mind, don't try anything from a stranger – although you may think they're trustworthy, you really have no idea what they are giving you or where they got their stuff. Drink plenty of water throughout the evening and before you go to sleep – staying hydrated will prevent hangovers and keep your body healthier along the way. Another major priority is safety. Be sure to always wear protection, even if you think you don't need it.
FAQs
Can you party in a dorm?
While many colleges allow parties in dorms, some explicitly do not. Before you plan a get-together, check out the policies and rules within your dorm. Be sure also to inform your RA of any parties ahead of time, so you don't get it shut down before it begins! 
Can you have guests in a college dorm?
It depends on the college you are attending. While many dorms allow guests to visit, there are rules and policies that you must abide by, and these vary from college to college. If you're staying in a gender-specific dorm, you may not be able to have guests from the opposite sex over. Before you invite a group of people over, check the rules to be sure you're not overstepping the guidelines.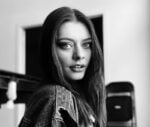 Alexandra Feiam is an experienced fashion writer who holds a degree in journalism. She has an impressive portfolio and expertise working as the Editor at Power Retail and Commercial Content Editor at Newscorp. Ally has been writing for The TrendSpotter since 2018, and her work has been featured in notable publications such as The Herald Sun, Arirang TV South Korea, Kidspot, The House of Wellness, and The Daily Telegraph.
SUBSCRIBE TO OUR NEWSLETTER
Subscribe to our mailing list and get interesting stuff and updates to your email inbox.