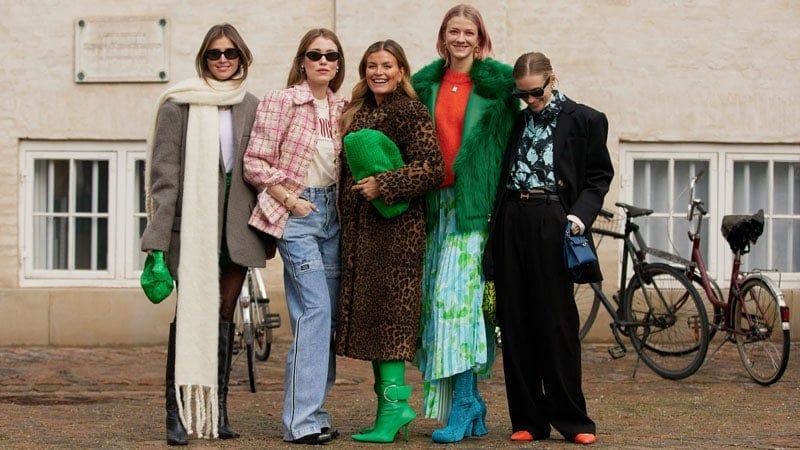 Copenhagen is known for its bright colors, fun and fresh takes on runway trends, and unabashed self-confidence. This season was no exception, especially in its street style. Experiments with patterns, mixing clashing colors, and a dive into retro stylings were all the rage from the catwalk to the streets, and they have inspired a plethora of trends for the upcoming season. Take inspiration from us as we show you the hottest trends we saw at Copenhagen AW22 Fashion Week.
1. '70s Floral Prints
Nostalgia was popular on and off the runway this season, this time taking inspiration from the floral print popularized in the '70s. An accent to a monochrome outfit or a pattern-clashing ensemble looks fantastic, and you can swap out varying sizes for more complexity. Add a modern twist to the look with a faux fur jacket or trench coat. Alternatively, you can also introduce other elements from the decade, such as a pair of flared pants or a mini skirt. Wear printed trousers, a maxi dress, or a shirt – a mixture of colors will instantly elevate your outfit.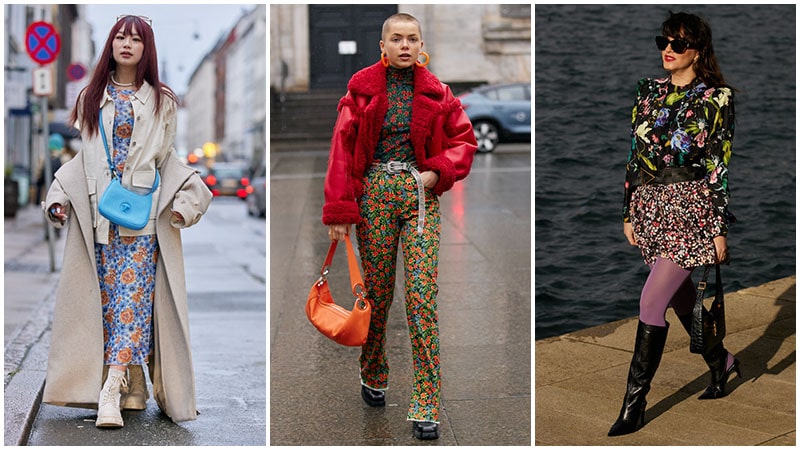 2. '80s Vibe
From oversized blazers to shell suits and high-waisted swimwear, the '80s have majorly influenced fashion choices for decades. We've seen business casual attire for many seasons, but give it an '80s kick by pairing roll necks with blazers and straight-legged trousers – add a string of pearls and a few brooches for a more authentic look. While you're running errands, combine your favorite white sneakers with a loose-fitting pair of jeans and a bright-colored sweater – it's the ultimate tribute to the decade.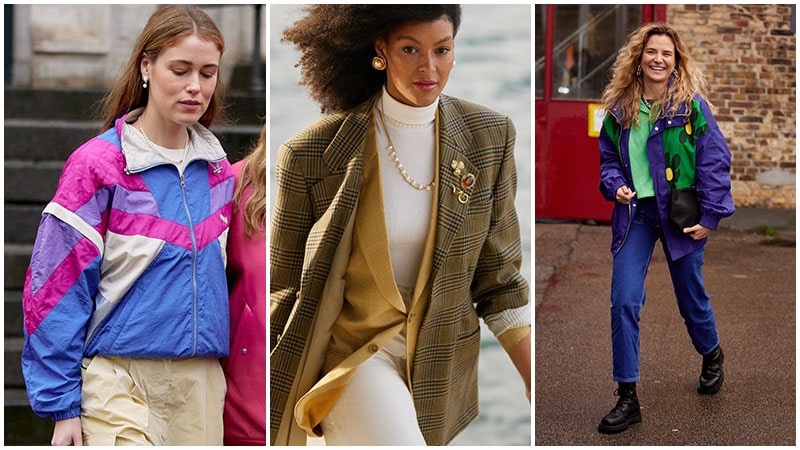 3. Boho Grunge
Another trend that comes and goes is boho grunge – a mixture of the '60s and '70s hippie influences, combined with the laid-back and non-compliant nature of the '90s grunge movement. To master this edgy look, try a blend of artistic patterns- think paisley, crochet, and florals – with skater-girl accents, such as ripped jeans, khaki, leather jackets, and chunky combat boots. Layering is the key to getting the look right – mix and match different elements to suit your taste, adding in accessories such as intricately decorated scarves, colored sunglasses, or a crocheted cardigan.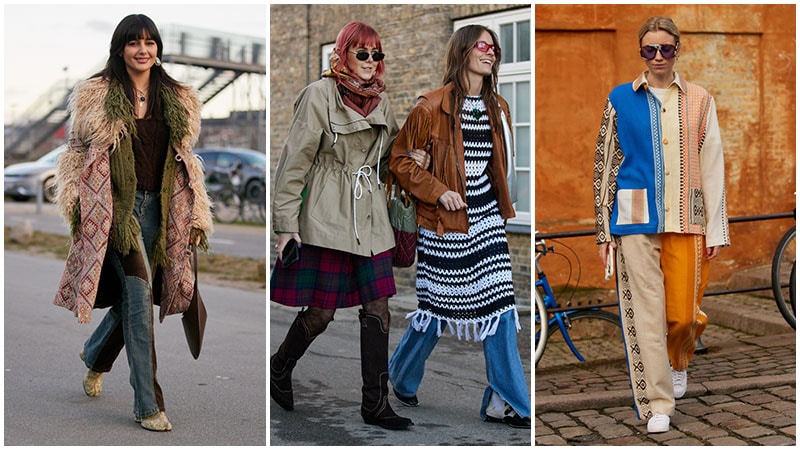 4. Crochet Crop Tops
Designers on the runway have included crocheted pieces for a few seasons, such as Fendi, Bottega Veneta, and Dior, and now we're seeing it on the streets of Copenhagen. Not just a summer item, you can wear the knitted pieces all year long. This season, it's all about layering it with different styles to create a mega-blend of genres. Add a crochet bralette with an oversized blazer and trousers for a funky twist on the traditional office attire. You can accentuate key colors with other parts of the outfit, such as your stockings or overcoat. Alternatively, a simple pair of jeans will make for an excellent companion to the cute crop top – add some sandals for a fresh summer feel, or swap them out for boots when the temperature dips.
5. Faux Fur Hats
Live your life like it's 1995, and channel your inner Cher or Dionne with a faux fur hat. This super cute and edgy alternative to the traditional headdress makes for an incredible addition to your winter outfit and will keep you warm while looking fresh. There are many ways to rock this trend and still flatter your style, from a beret to a bucket hat. A traditional silhouette works well with tailored separates, a rollneck, or a maxi coat for a more subdued approach. If you want to go a little more Avante-Garde, try a monochrome outfit in a bright hue, like neon pink or a mixture of shades. Add a headpiece in the same shade or highlight an accent of the ensemble on top of your head.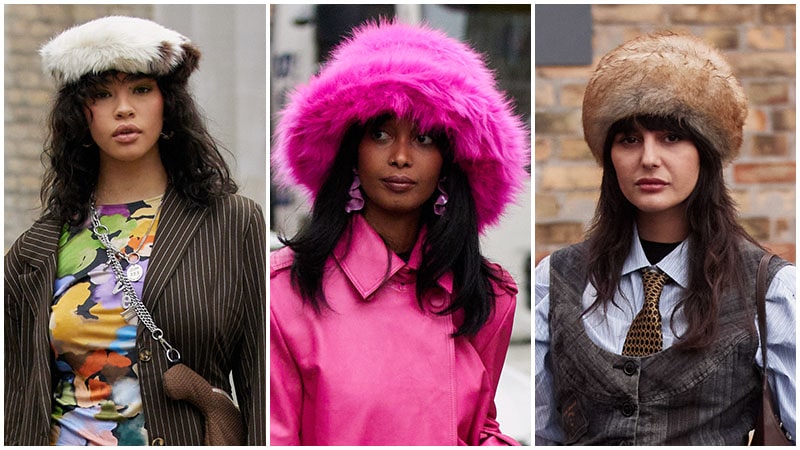 6. Fluffy Shoes
When the temperature starts to dip, and your feet feel the chill, get them warm and toasty in a pair of fluffy shoes. This season, we're taking them outside; they're no longer just a household essential! Wear them as slides, with a long maxi skirt or jeans, or as a pair of brogues with trousers and a maxi coat. Choose what kind of material you'd like to try – teddy fabric, faux fur, or wool – the soft feeling will soothe your feet and add a cute touch to your already stunning outfit.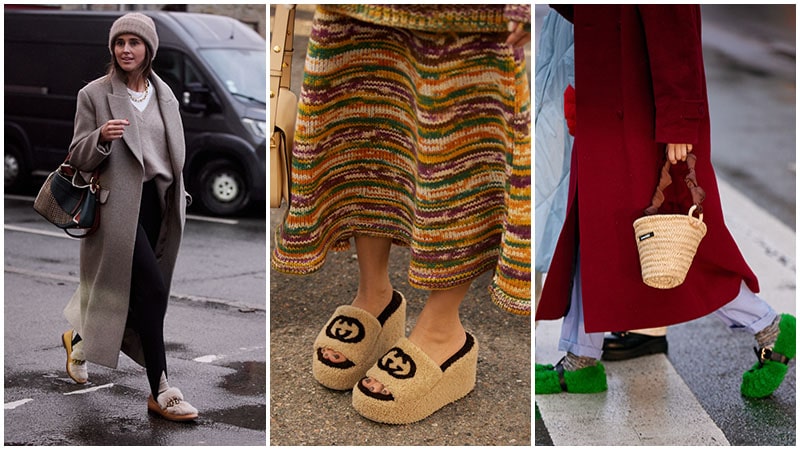 7. Fluro Pink and Fuchsia Leather Jackets and Coats
One of the biggest trends from Copenhagen that we see every season is the adoption of bright colors this year in the form of leather jackets and coats. Fluro pink is a bold choice, but you can create a scene-stealing outfit if you style it correctly. Go big by wearing an entirely monochrome ensemble from tips to toes. If you want to keep things cooler, go simple with a pair of jeans and a faux leather bomber. An oversized fit will give a retro feel to the overall look, but if you prefer something snugger, choose a biker jacket with exaggerated lapels or a trench coat for a columnlike silhouette.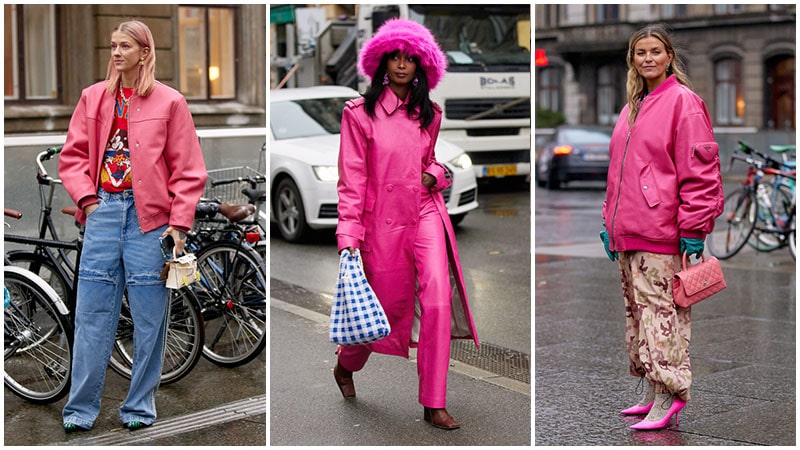 8. Fluorescent Green Accessories
We've fallen hard for fluro colors this season, so if pink isn't your favorite shade, why not try green? Unlike the monochrome ensembles we saw, for the bubblegum hue, it's all about embracing daring accessories this season. Think shoes, bags, scarves, sunglasses, and everything in between – this trend is a fantastic way to elevate a subdued look or add a bit of extra oomph to an already vibrant getup. You don't have to wear all of the pieces at once, but there's certainly no harm in mixing a few if you're feeling extra bold.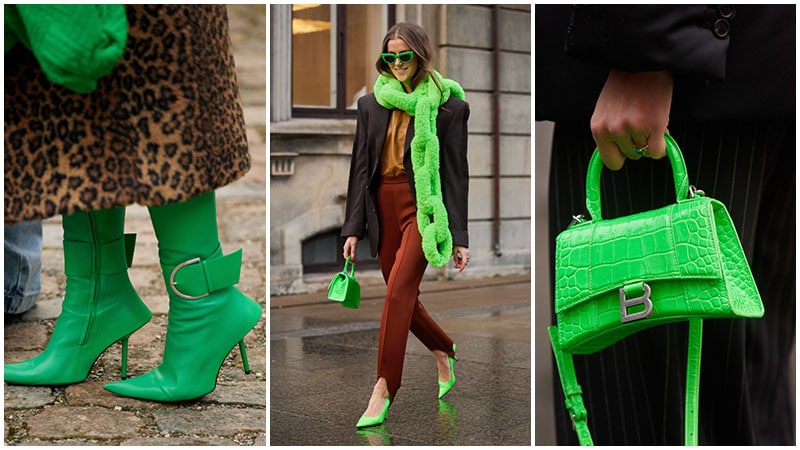 9. Full-Length Maxi Coats
It's freezing outside, and there's no better way to rug up than with an oversized maxi coat. Instead of sticking to semi-formal or smart casual occasions to rock the look, we're putting a casual spin on it this season. If you're grabbing a coffee or heading to the grocery store, swap out your puffer jacket and leggings for tracksuit pants, chunky sneakers, and a full-length wool coat. It's an easy way to elevate a relaxed ensemble without deviating from leaving your comfort zone. For a more sophisticated approach, tie it together with a t-shirt and jeans, or get a little edgy with leather pants and a pair of statement boots.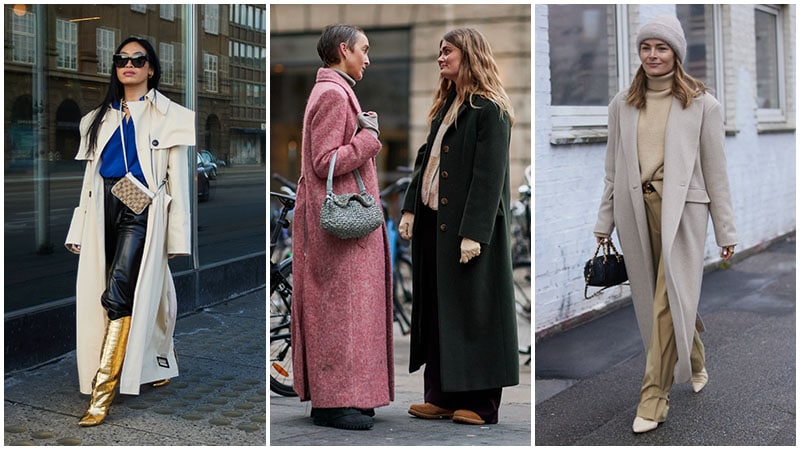 10. Jackets with Fringing Detail
Make a real statement when you go outside with a funky fringe addition to your jacket. This outerwear trend has come and gone for decades, and once again, we're welcoming it back this season. The freefalling movement across the arms and back looks amazing in the photos (perfect for your next Instagram photoshoot) or just walking down the street. Pair it with a simple set of jeans, bright-colored pants, or a mini skirt – keep the rest of the look relatively simple, and let the cascading fabrics strips do the talking.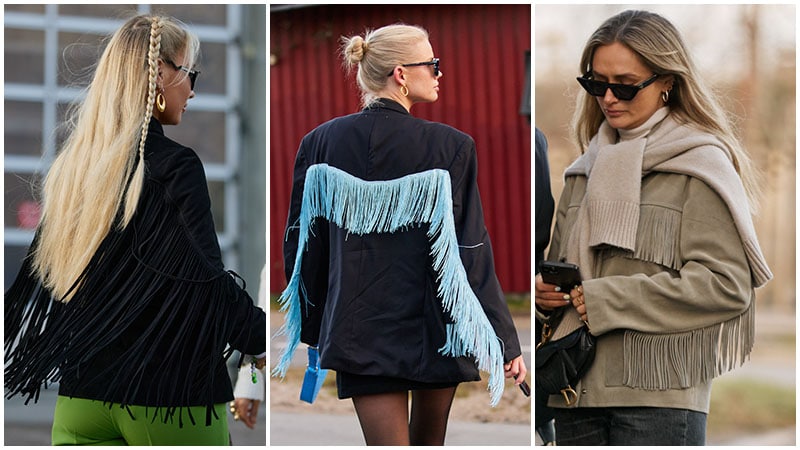 11. Lime Green Outfits
When in Copenhagen, expect to see a lot of bright colors, and this season is no exception. Lime green isn't for the faint of heart, but it can look spectacular when pieced together in the right way. Shades of yellow, gray, olive, or pistachio complement the shade perfectly and create dimension to an already complex hue. Style it as a monochrome outfit, with a loud pattern printed across the top and bottom, or mix and match fabrics and textures for a unique approach. Don't be afraid to inject a tone from the other side of the color wheel, too, like hot pink or red – say goodbye to fashion faux pas and let your inner creativity shine.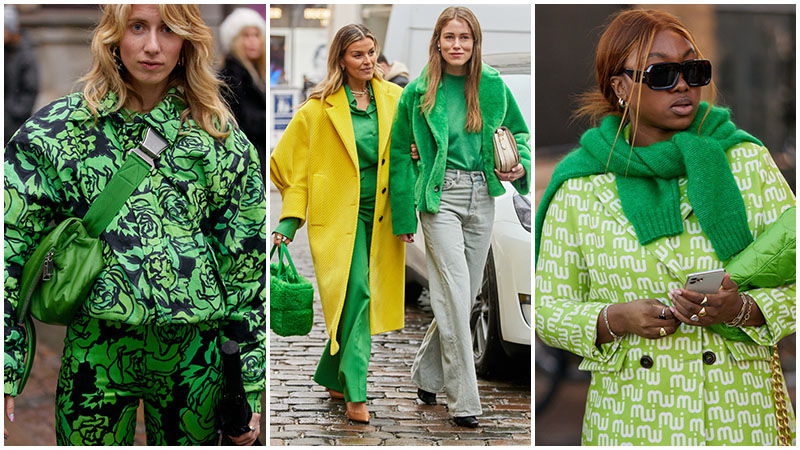 12. Mint Pops
If you want to experiment with color this season but prefer to stick to darker hues, this mint pop trend is perfect for you. The muted hue is relaxing and evokes a sense of calm. Combine it with charcoal, black or white shades for an instantly elevated and electrifying aesthetic. Start small with a pair of green shoes, sunglasses, or a bag, which you can incorporate into different outfits without deviating too far from your style. You can go a bit further with flared trousers or a long coat. For fun, throw in the accessories for a well-rounded and exciting outfit you can wear over and over again.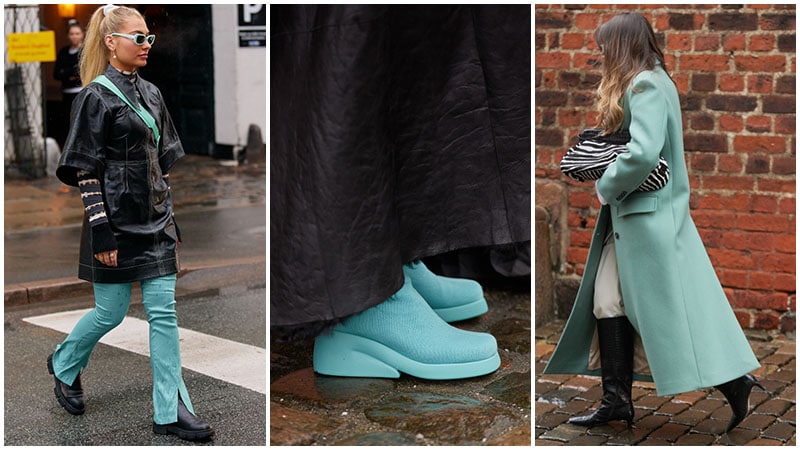 13. Pop Color Chunky Knits
Say goodbye to boring neutral knits; this season, we're bringing out the brightest colors to combat the gray skies. Chunky sweaters are nothing new, but when blended with bold patterns, funky shade combinations, and lengths, you have got a recipe for a fresh new take on a classic. Begin with a neutral base, such as a black long-sleeved shirt and stockings, and then wear the oversized jumper over the top. Adding a statement color over the top of the basics is a fresh way to interpret the colder seasons. Alternatively, layer more than one pattern over the top of the other – think checked knits with paisley, polka dots, stripes, or animal print. Don't overthink this one – just let your imagination run wild!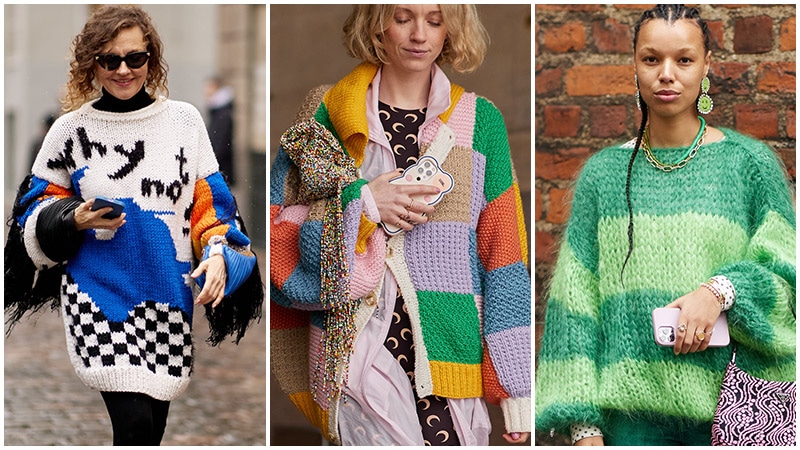 14. Soft Bags
Brands like Bottega Veneta and Prada have pioneered the padded bag revolution, and it's still dominating today. Soft fabrics like leather and nylon often defy gravity, featuring interesting shapes and silhouettes. If you prefer different materials to the ones above, why not try your hand at something crocheted or knitted? This is a great option for a warmer day and can be worn with many different silhouettes to create complexity in your wardrobe. Incorporating different padded elements into your outfits, such as a puffer jacket or soft-touch heels, will inspire a sense of consistency with the overall outfit and give you an edge amongst the others.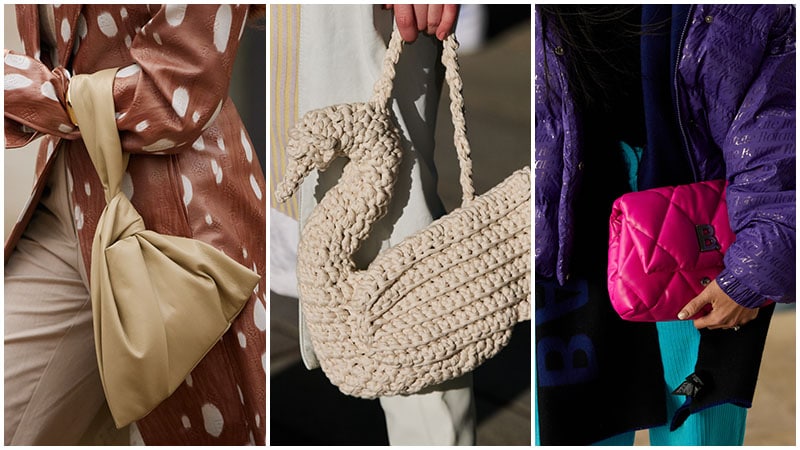 15. Zebra Print Pants
From leopard to cheetah, we've loved animal print every season. Looking ahead, it's safe to say we haven't jumped off this train. In fact, this year, we're heading towards love for zebra print, namely in the form of pants. This funky and fresh take on the mich-loved pattern is a great way to add some zest to your existing wardrobe. It's tradition to wear the more adventurous designs on the top half of your ensemble, but you should try flipping the switch and keep the party below the belt – literally. Pair it with all black shoes, shirts, and accessories, or throw in another color like red or blue for a fun pop.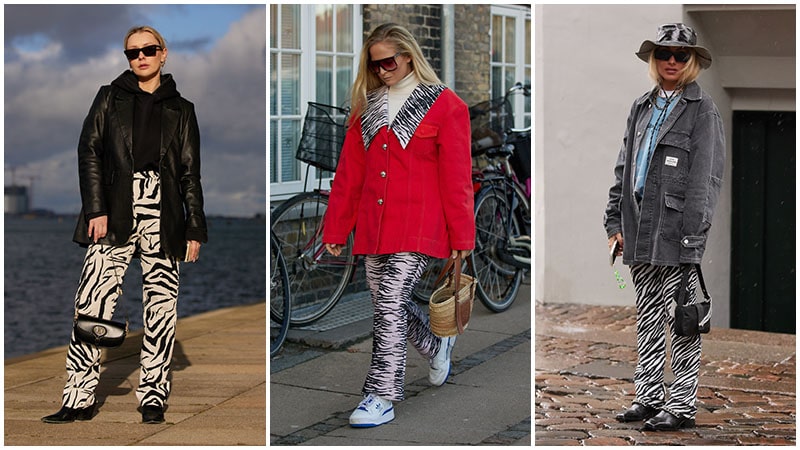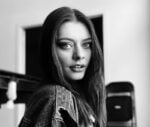 Alexandra Feiam is an experienced fashion writer who holds a degree in journalism. She has an impressive portfolio and expertise working as the Editor at Power Retail and Commercial Content Editor at Newscorp. Ally has been writing for The TrendSpotter since 2018, and her work has been featured in notable publications such as The Herald Sun, Arirang TV South Korea, Kidspot, The House of Wellness, and The Daily Telegraph.
SUBSCRIBE TO OUR NEWSLETTER
Subscribe to our mailing list and get interesting stuff and updates to your email inbox.