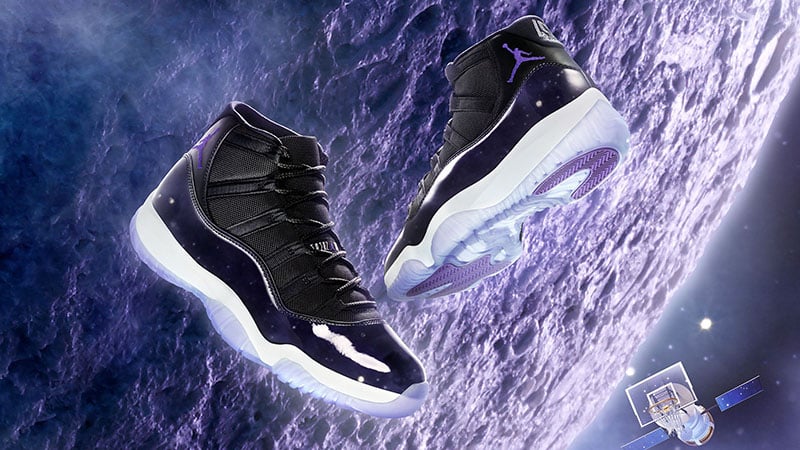 Air Jordan is undoubtedly one of the most popular and iconic sneaker brands in the world. Created by Nike and Michael Jordan, the label has driven fans wild with its unforgettable styles and colorways for decades. Of course, while there are countless versions on offer, a particular selection has cemented themselves as remarkable. Here, we've rounded up those greatest hits so that you can drool over the coolest Air Jordan shoes ever made.
RELATED: How to Wear Jordans with Jeans
1. Air Jordan IV Eminem x Carhartt
The Air Jordan IV Eminem x Carhartt was made in an incredible three-way collaboration between the sneaker brand, rapper, and workwear label. Only ten pairs of the limited-edition style were auctioned for charity to the public in 2015, making them incredibly rare and expensive.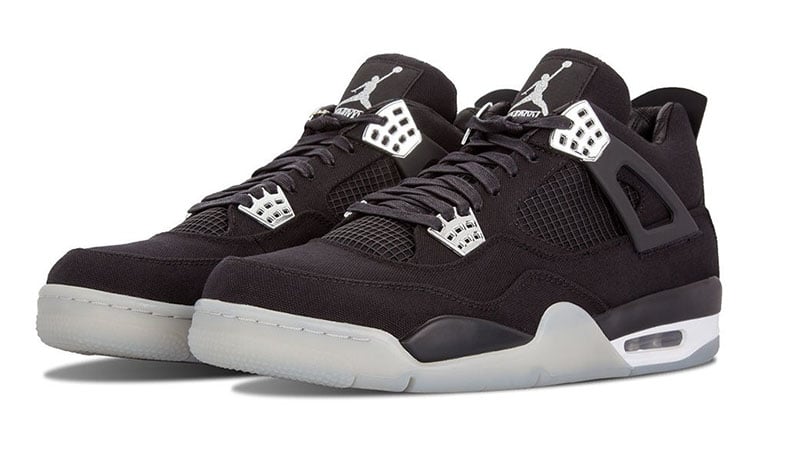 2. Air Jordan IV UNDFTD
Made in collaboration with LA-based retailer UNDFTD, the Air Jordan IV UNDFTD is undoubtedly one of the most desirable and rare Air Jordans of all time. The promotional style was initially available for auction in 2005 and still sells for serious money today.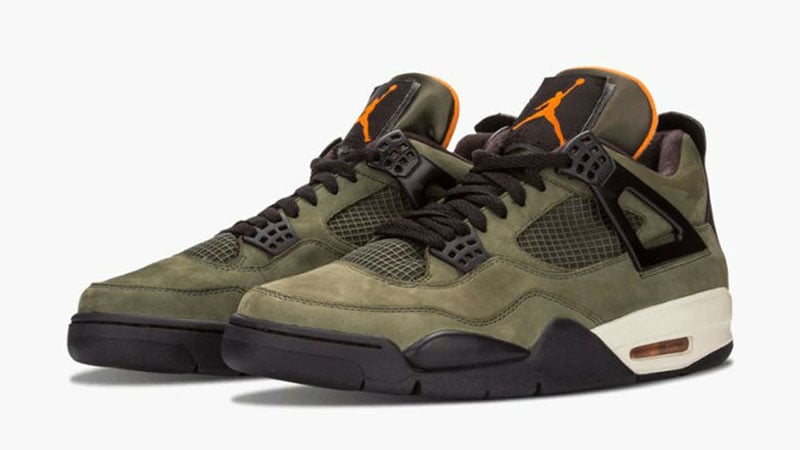 3. Air Jordan I Shattered Backboard
A relatively new take on a classic, the Air Jordan I Shattered Backboard was released in 2015. Inspired by the time Michael Jordan shattered the backboard with a dunk, the cool colorway features a striking orange, black and white design.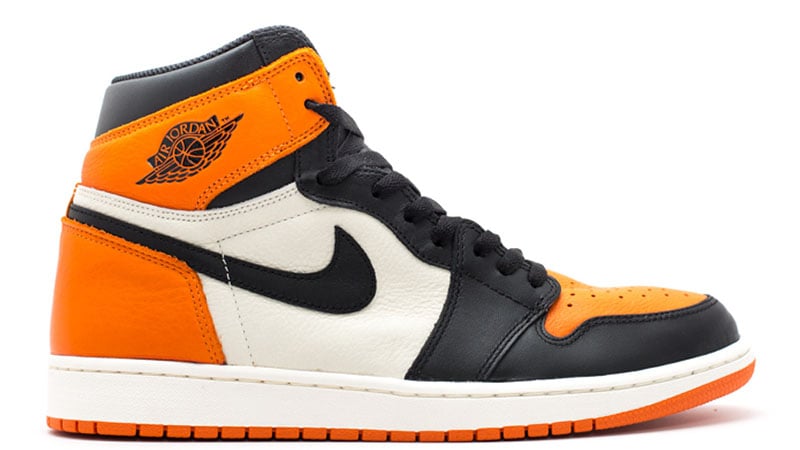 4. Air Jordan IV KAWS
After releasing in 2017, the Air Jordan 4 KAWS sneaker became an instant success. Created in collaboration with the famous artist, the stylish suede shoe features KAWS print branding.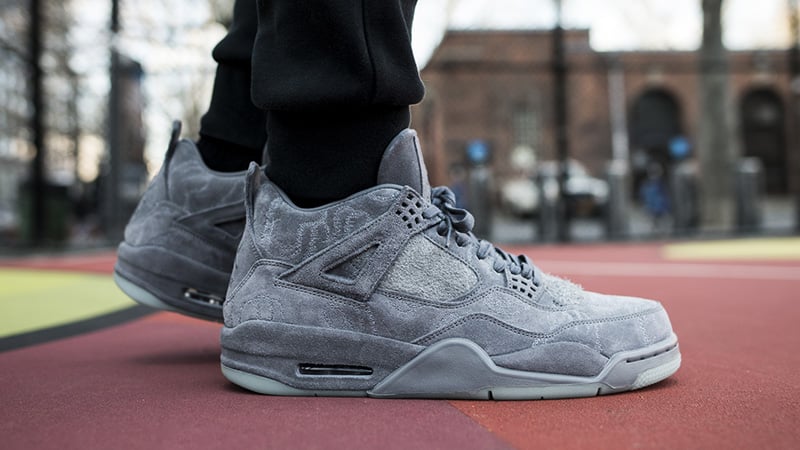 5. Air Jordan I Black Toe
Nothing beats an original, and the Air Jordan I is just that. Initially released in 1985, this was Michael Jordan's first signature shoe and the only one to feature the Nike Swoosh. The Black Toe colorway was one of the first released and is still a favorite amongst fans today.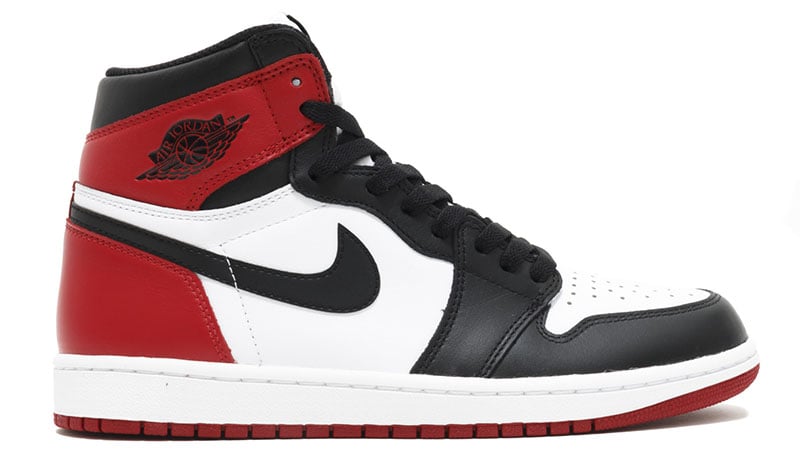 6. Air Jordan IV Bred
The Air Jordan 4 is a beloved silhouette and Bred is a favorite colorway. Therefore, it makes sense that when teamed together, the two achieve one seriously desirable shoe. So, be sure to add the Air Jordan IV Bred (a.k.a. Black Cement) to your collection for a serious style boost.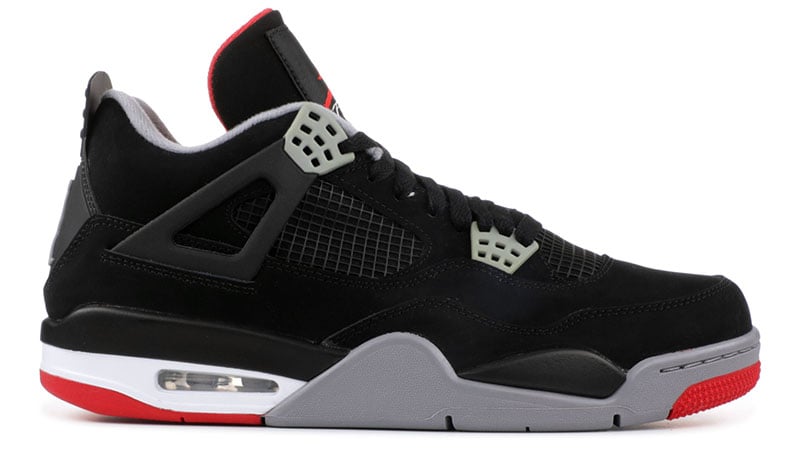 7. Air Jordan I Royal
The Royal colourway is a classic version of the Air Jordan I. It was initially released in 1985 before being re-released in 2001, 2013, 2017, and 2015 as a low-top style. Today, it is an excellent addition for any Air Jordan collector.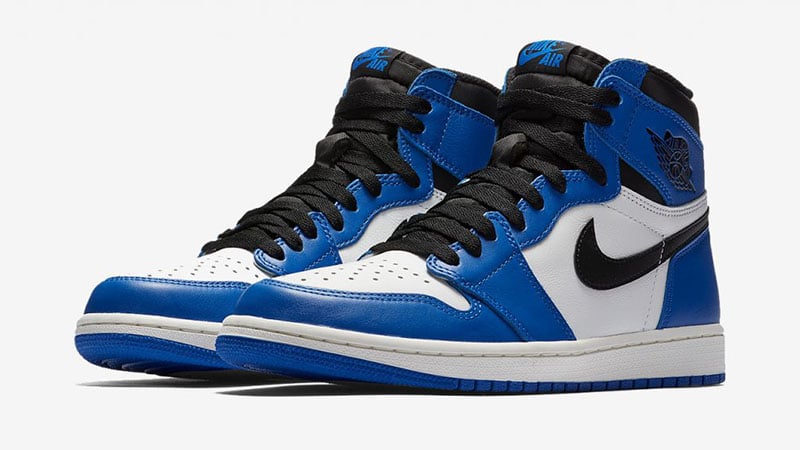 8. Air Jordan VIII Aqua
Michael Jordon was spotted donning the Air Jordan VIII Aqua on the court during the 1993 season. Today, the iconic style still drives fans crazy with its unique and impressive design.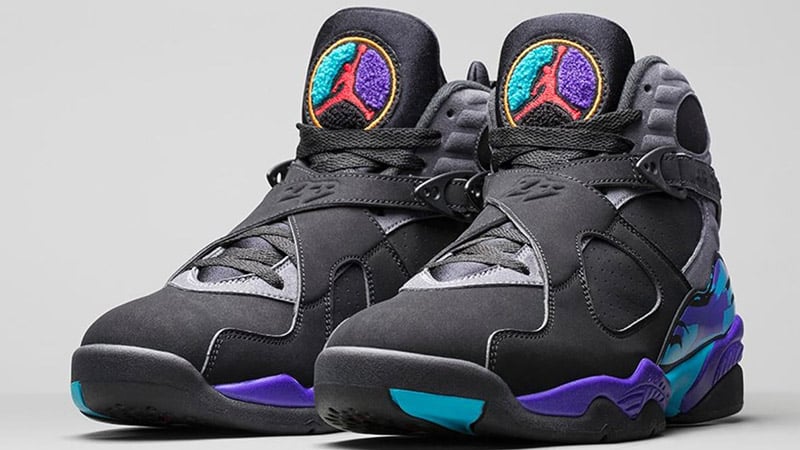 9. Air Jordan XI Space Jam
The Air Jordan XI Space Jam was famously worn by Michael Jordan in both the 1995 NBA playoffs and the 1996 Space Jam film. But, it wasn't until 2000 that the public was able to own this sleek shoe. Since then, the much-hyped style has seen two re-releases.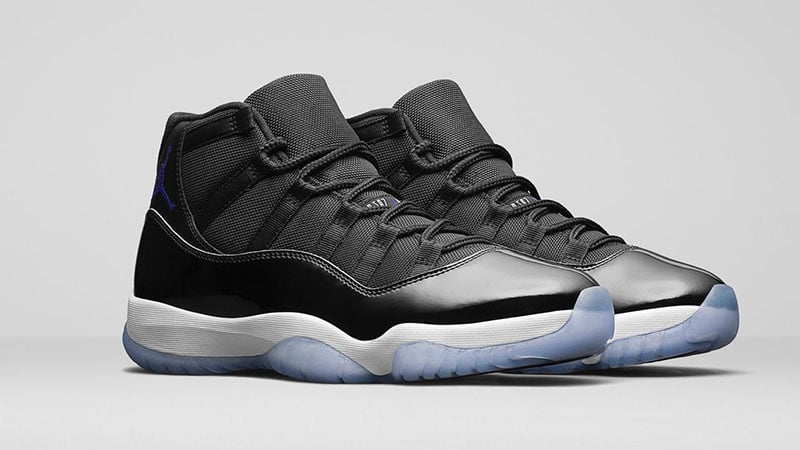 10. Air Jordan V Tokyo T23
Created to commemorate the Jordan Tokyo 23 Basketball Tournament, the Air Jordan V Tokyo T23 is almost impossible to find outside of Japan. As such, this boldly colored shoe, which was initially released in 2011, is highly coveted and very exclusive.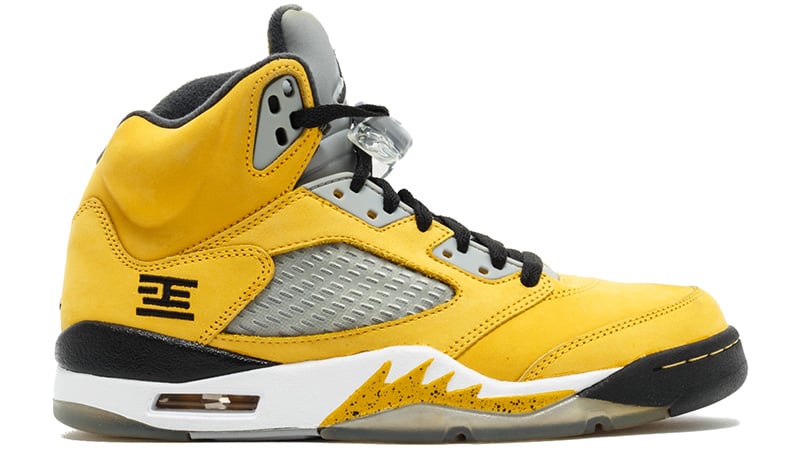 11. Air Jordan IV Fire Red
When released in 1989, the Air Jordan IV in Fire Red caused a considerable stir with fans going wild for its iconic design. Since then, the legendary style has been re-released multiple times, selling out on every occasion.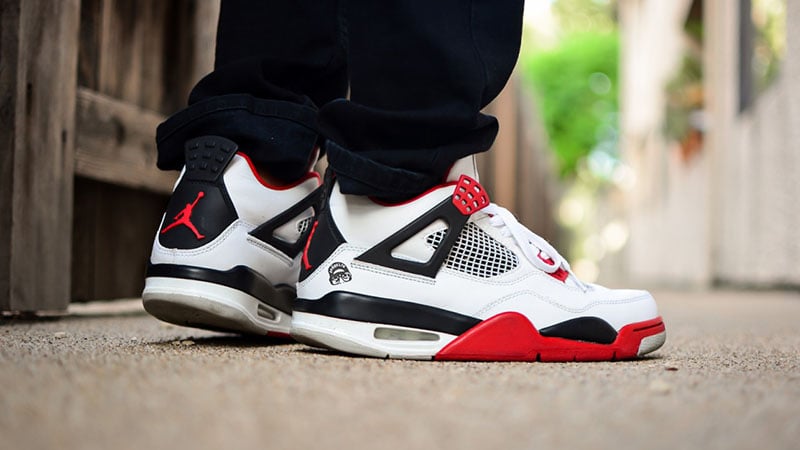 12. Air Jordan XIII Bred
The black and red, Bred colourway is always popular amongst fans, especially when it's paired with a great style like the Air Jordan XIII. So, it comes as no surprise that this combination, which first sold in 1997, has had multiple sell-out re-releases over the years.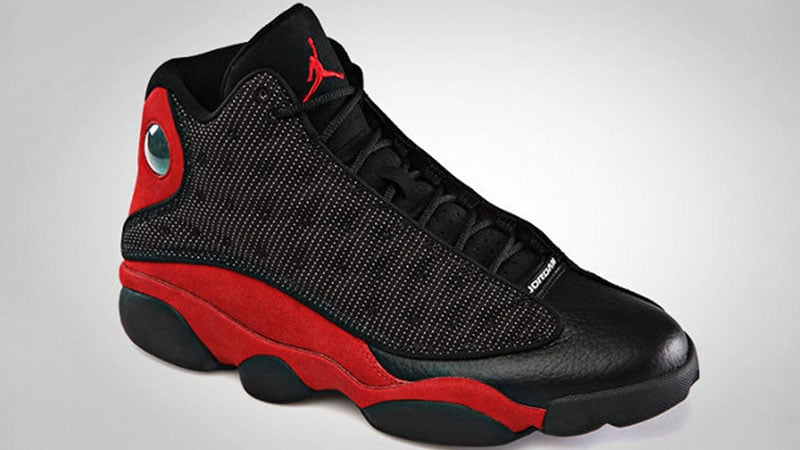 13. Air Jordan IV Military Blue
Military blue is a classic colorway for the Jordan IV. Since its original release in 1989, the style has been "retro'd" (re-released) twice, in 2012 and 2016. Today, they are reasonably easy to find on the resale market.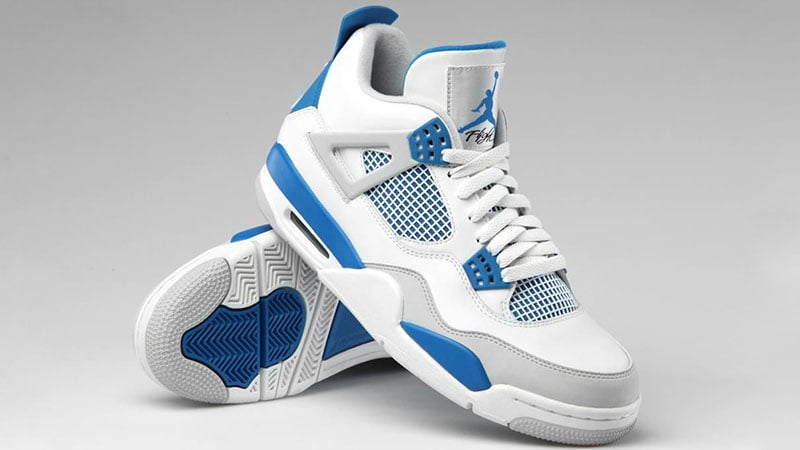 14. Air Jordan V Toro Bravo
The Toro Bravo pack was released in 2009 and featured two pairs of Air Jordans. While the black style was sharp, it was the bright red suede design that set fans' hearts racing. In fact, the bold shoe was so popular that it inspired the 2013 Air Jordan IV Toro Bravo.
15. Air Jordan VI Black Infrared
Since its release in 1991, the Jordan 6 has seen many great colorways. Of course, one of the most popular is the Black Infrared style. Featuring a sleek black design with a bold hit of neon red, this shoe makes an incredibly cool statement.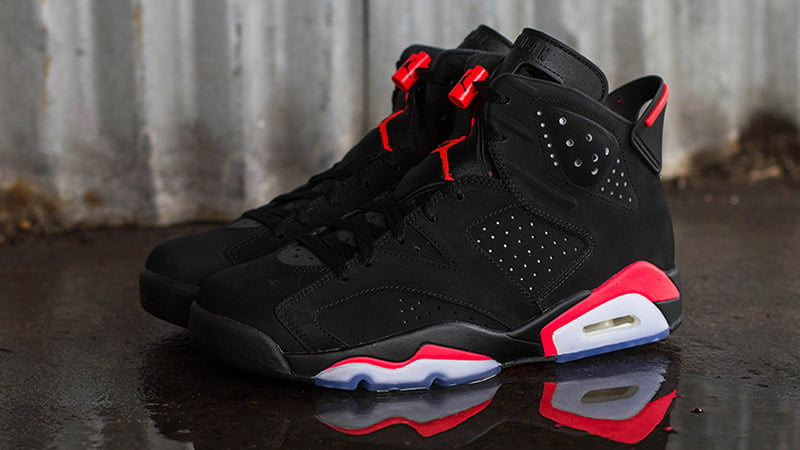 16. Air Jordan IV Black Cat
The all-black design of the Air Jordan IV Black Cat is seriously sleek. The style was initially released in 2006 and then re-released in 2014, when it sold out just as quickly as the first time around.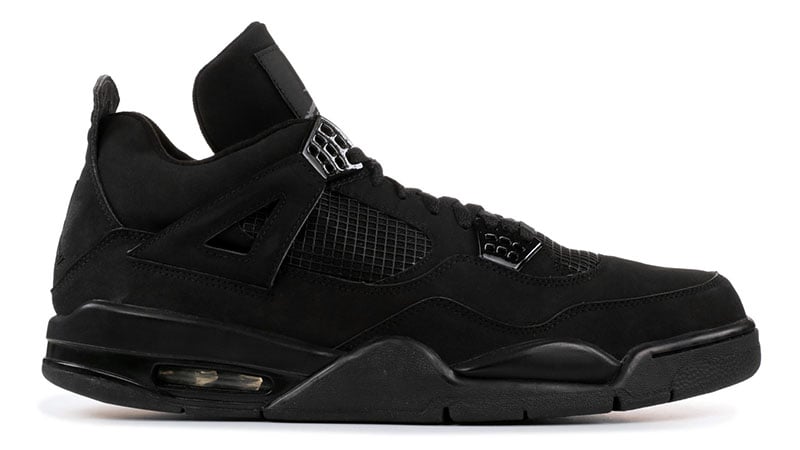 17. Air Jordan XI Bred
Combining the classic black and red, Bred colourway with the stylish silhouette of the Air Jordan 11 was a recipe for success in 1995. Today, the combination is still a favorite amongst fans, collectors, and sneakerheads.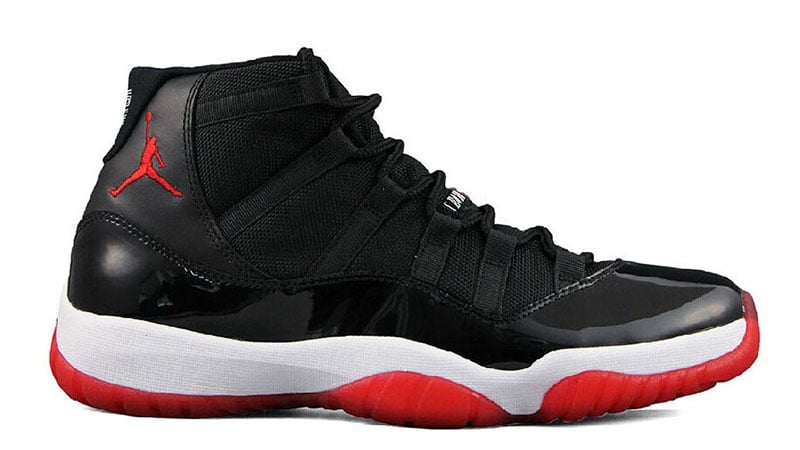 18. Air Jordan V Grape
First dropped in 1990, the Air Jordan V in Grape has long been beloved by fans. In fact, the quintessential nineties sneaker has been re-released as "retros" twice. The first was in 2006 and the second was in 2013, the same year the Black Grape colorway launched.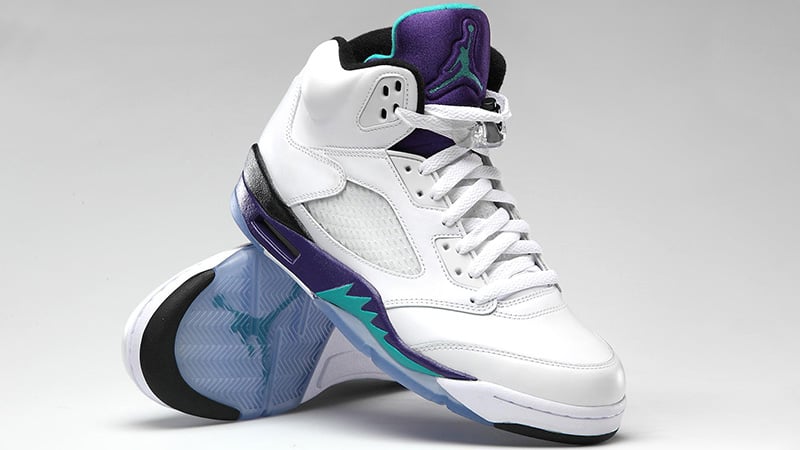 19. Air Jordan VII Bordeaux
A favorite amongst fans, the Air Jordan VII Bordeaux has had multiple sell-out re-releases since its initial launch in 1992. The unique colorway paired with the sharp, suede style of the VII is an excellent combination.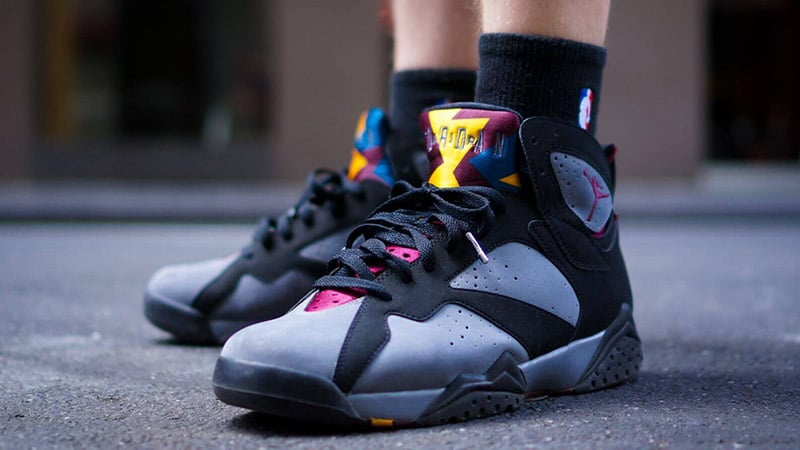 20. Air Jordan IV White Chrome Classic Green
The Air Jordan IV in White Chrome Classic Green was initially released in 2004 and is still beloved today. Although the colorway isn't quite as popular as some of the others, it's still a classic and an excellent addition for any serious collector.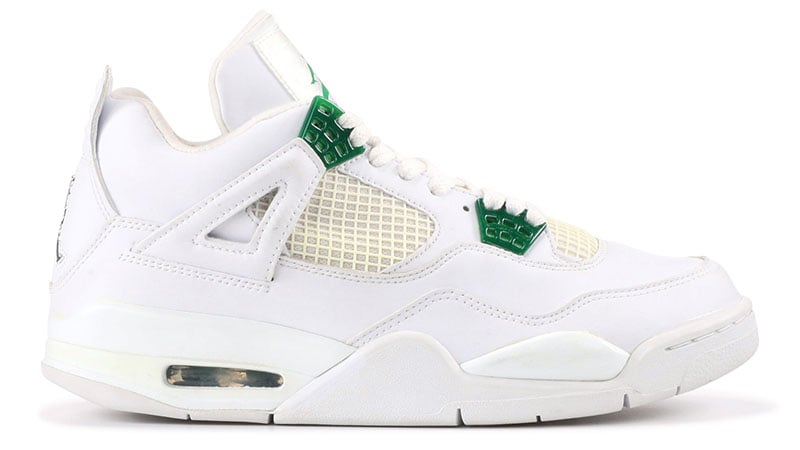 21. Air Jordan III White Cement
The Air Jordan III launched in 1988 and polarised fans with its unique design. But, no matter how polarising, the White Cement colorway certainly became iconic. The style features a white leather upper and an eye-catching print detail.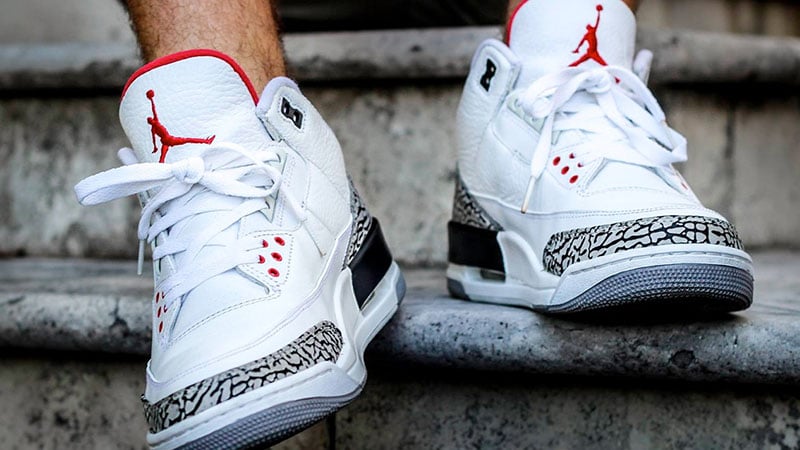 22. Air Jordan I Bred
The original black and red version of the Air Jordan 1 is one of the best made. The legendary design, which is known as both the Bred and Banned colorway, has long been rumored to have been banned by the NBA in 1984.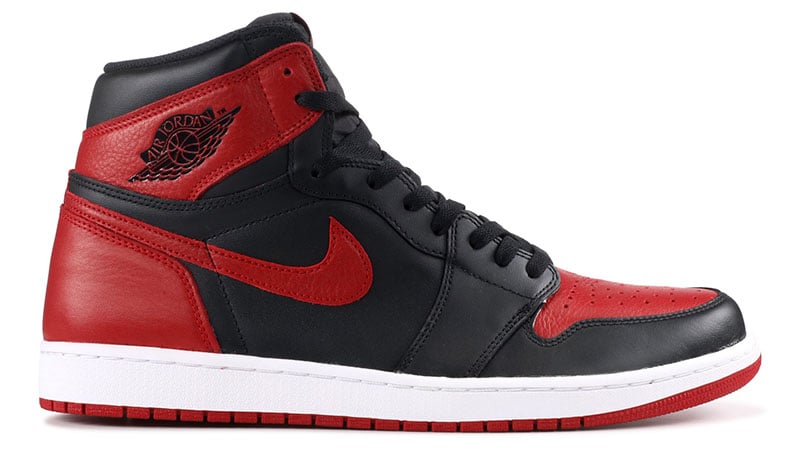 23. Air Jordan XI Concord Low
The Air Jordan XI features a sleek and modern silhouette. So, it's no wonder why Michael Jordan wore them himself in the late '90s. Of course, the Concord Low, which debuted in 2014, is a newer and slightly more stylish interpretation.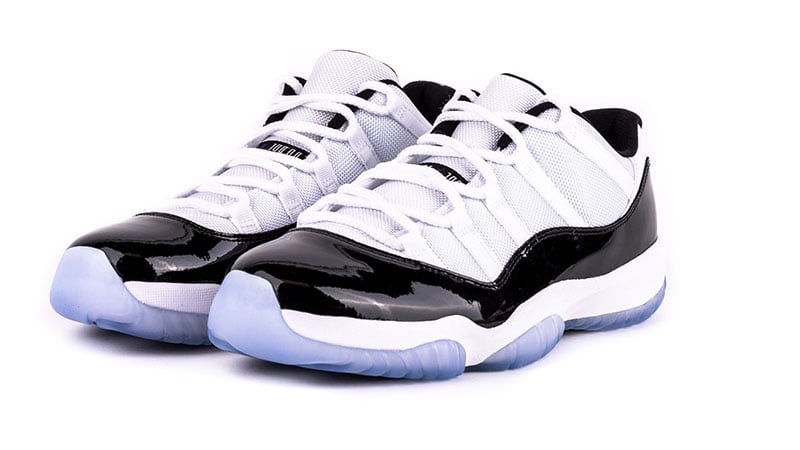 24. Air Jordan IV Pure Money
Thanks to its clean, all-white design with metallic details, the Air Jordan IV Pure Money was a huge success when released in 2006. More than a decade later, the style is still popular with fans, even though it can be challenging to keep clean.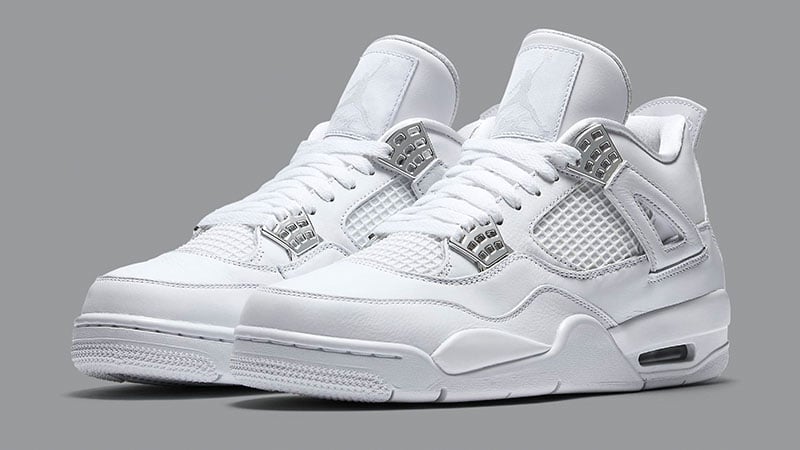 25. Air Jordan V Fire Red
Fire red was one of the original Air Jordan V colorways released in 1990. The classic design features a translucent sole along with game-changing foam ankle supports. It has been retro'd multiple times with each re-release as popular as the original.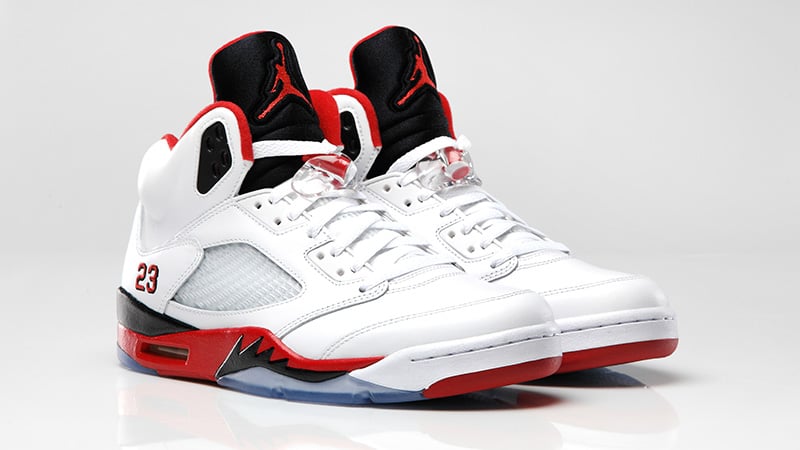 26. Air Jordan III Black Cement
There's a fierce debate amongst sneaker fans as to whether the Black Cement or White Cement is the better Air Jordan III colorway. But, no matter which you prefer, you can agree that both of these styles are seriously unforgettable.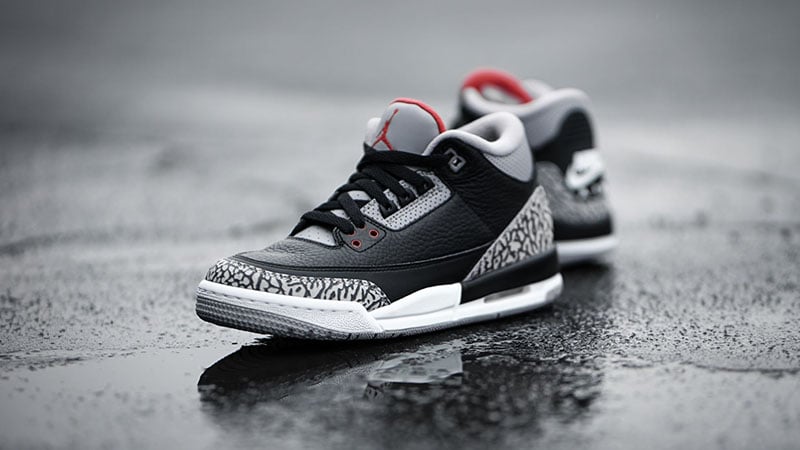 27. Air Jordan XI Concord
Like the low version of the style, the Air Jordan XI Concord is a stylish and memorable sneaker. The revolutionary design took inspiration from both dress shoes and lawnmowers for its unique appearance, which features tough patent leather.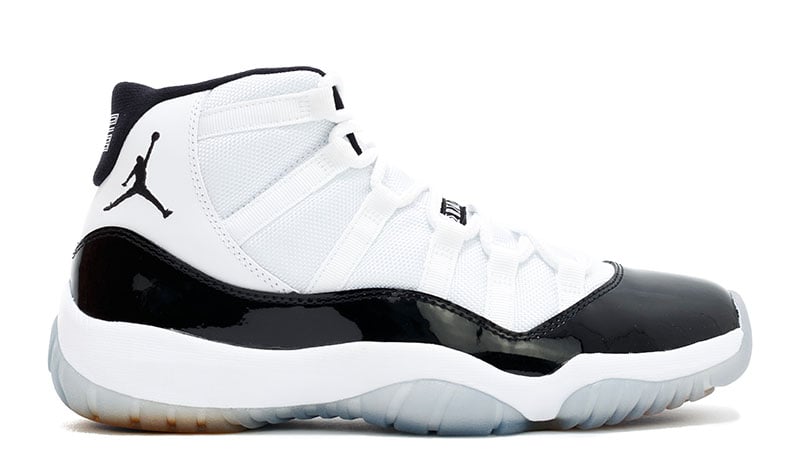 28. Air Jordan I White Black Red
With enough white to satisfy the NBA's color restrictions, the Air Jordan I White Black Red conformed to the rules while making a loud statement. Sneakerheads everywhere soon coveted its recognizable style.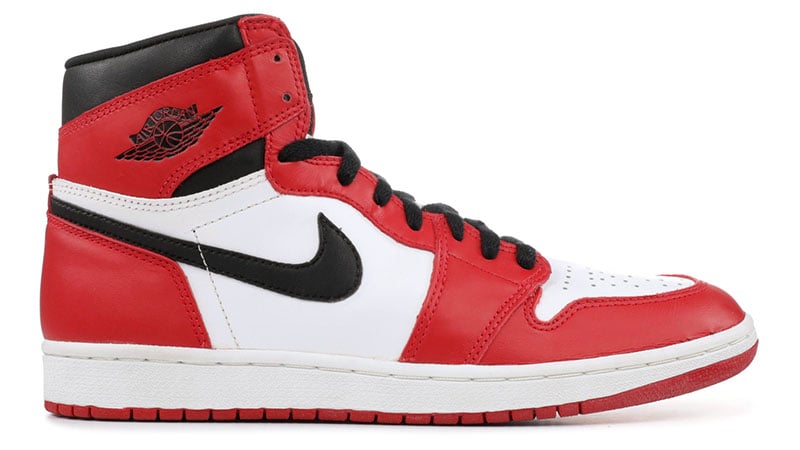 29. Air Jordan VI Carmine
Before the days of "retros", the Carmine Air Jordan 6 was one of the most highly sought-after styles ever. With a limited supply floating around the resale market, these shoes, which feature the colors of the Chicago Bulls, were hard to find but easy to love.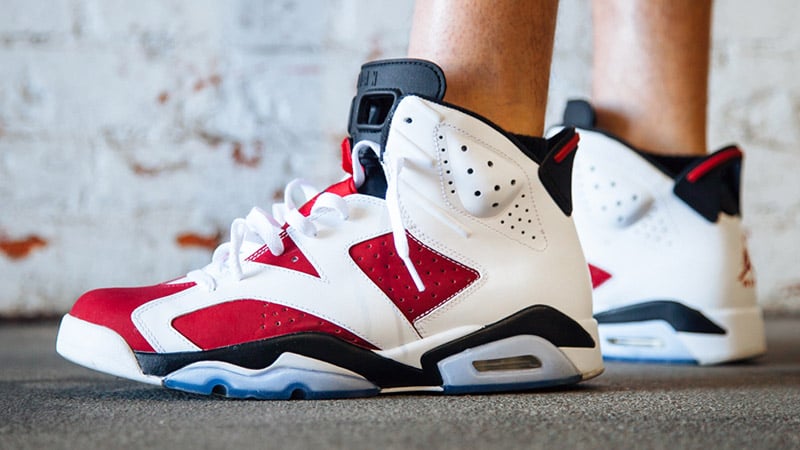 30. Air Jordan VII Olympic
During the 1992 Barcelona Olympics, Michael Jordan donned an iconic pair of shoes. Created especially for the Games, the Air Jordan VII Olympic featured the USA red, white and blue as well as gold and silver details and the number nine on the heel instead of the usual 23.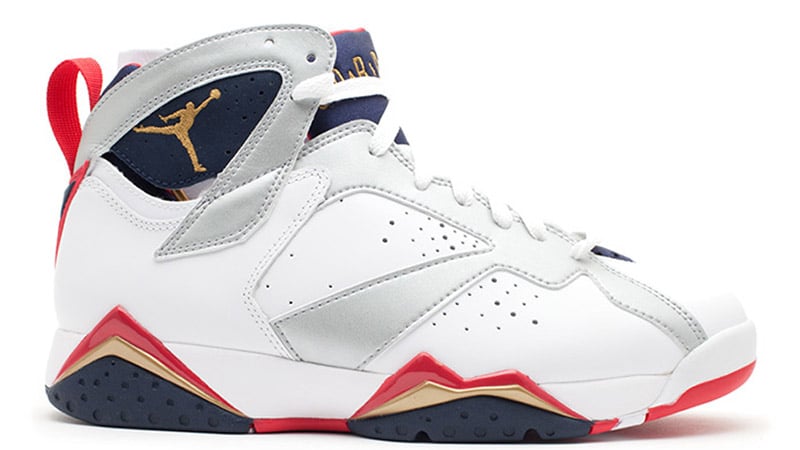 FAQs
What are the best Air Jordans?
Deciding on the best Air Jordans ever made can be tricky because your personal preference largely determines this. That said, there are several front-runners, including the Air Jordan V Fire Red, Air Jordan V Toro Bravo, Air Jordan IV Eminem x Carhartt, and Air Jordan IV Bred.
What are the most comfortable Air Jordans?
Each wearer again determines the most comfortable Air Jordans, but most people would agree that the Air Jordan Retro 10s are among the best.
What are the rarest Air Jordans?
Air Jordans' resell value is incredibly high, and they are some of the most sought-after shoes in the world. There are several rare items, including the Air Jordan IV Retro x Carhartt x Eminem, which only had ten pairs made. Other options are the Air Jordan I x Dave White – Wings for the Future and Air Jordan X Special 'Grimm' Edition.
Which Air Jordans are worth money?
If you're wondering whether it is worth spending a small fortune on a pair of Air Jordans, you can ask yourself two questions; will you be wearing them often, and therefore get your money's worth? Or are you a super fan and collector, and will these shoes will make a great addition? Either way, you're probably going to agree that this brand is worth the cost.
When were the first pair of Jordan's released?
It may surprise you to know that the first pair of Air Jordans was released in April 1985. The shoes were created for NBA legend Michael Jordan in 1984 and became available to the public the following year. The brand remains relevant and hugely popular decades later.
SUBSCRIBE TO OUR NEWSLETTER
Subscribe to our mailing list and get interesting stuff and updates to your email inbox.