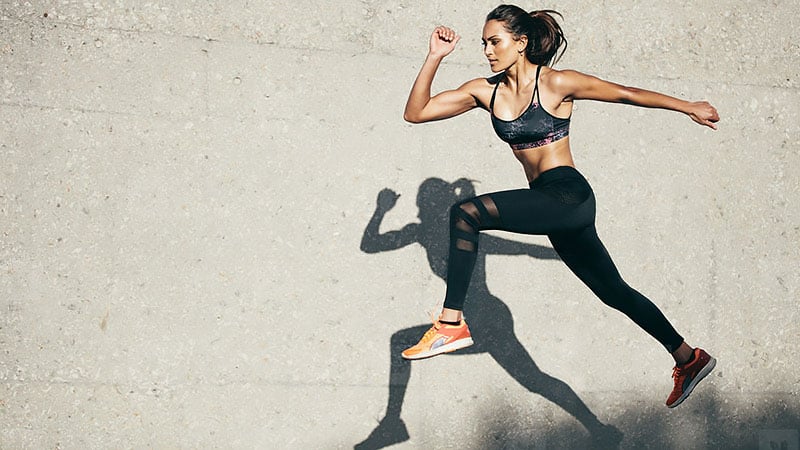 Heading out for a run can be a great way to stay fit. However, finding the right outfit to wear throughout the year can be a little bit of a challenge. From a jog in January to a sprint in September, there is perfect athletic wear for the occasion. If you're not sure what to rock while out for a cardio session, you have come to the right place. With these workout ensembles, you'll be ready for a marathon, all year round!
What to Wear Running
What to Wear When Running in the Cold Winter
When it's cold, it may seem wise to rug up a lot. However, when you're going for a run, you'll definitely warm up without really trying. Opt for a pair of warm leggings, a long-sleeved compression top, and a vest. If it's incredibly cold, swap into a lightly padded jacket and gloves. Keep your ears warm by wearing a thick headband, and you'll be jogging all day.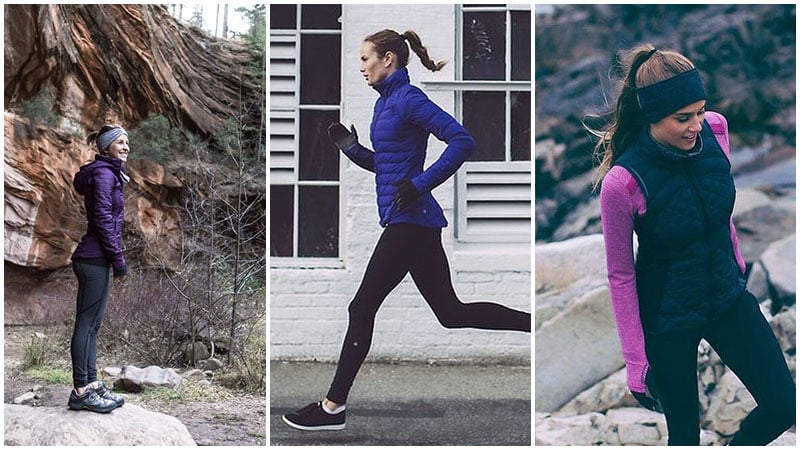 Get the Look
Running in the Snow
Don't let the snow stop you from keeping active. When the temperature drops, opt for a padded jacket or vest, worn with a compression and heat-trapping top underneath. Fleece-lined leggings work well in freezing temperatures. Make sure you're wearing a pair of runners that have a good grip. Avoid cold fingers by wearing gloves, and protect your ears by rocking a beanie.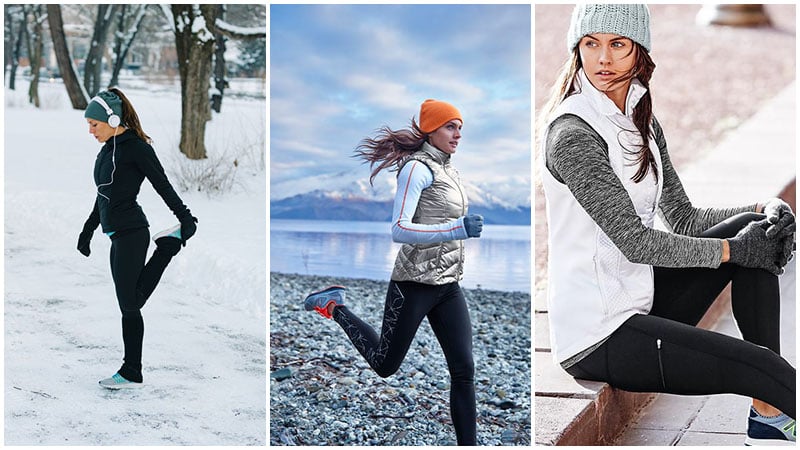 Get the Look
Running in the Rain
Even when it's raining outside, you can get active and start your day feeling right. Depending on the temperature, wear 3/4 or full-length compression tights, with non-slip runners. To avoid soaking right through, opt for a light waterproof running jacket with a hood. Be sure that you keep your hair up in a ponytail, so you can avoid having cold and wet strands of hair sitting on your neck.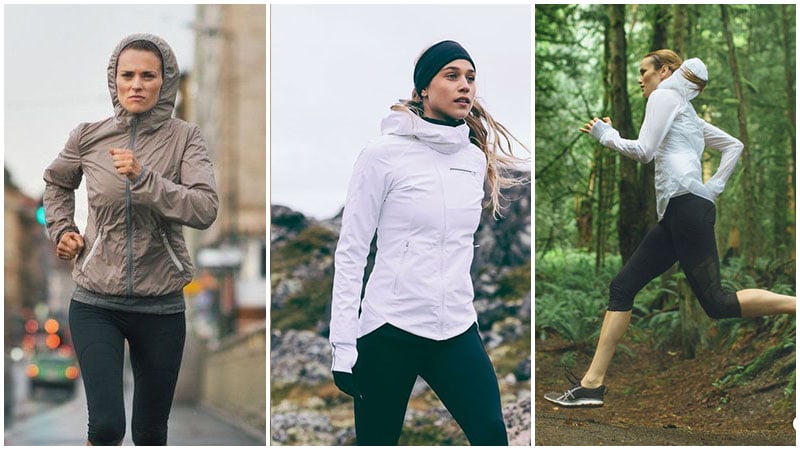 Get the Look
Running at Night
Running at night may seem daunting, but it's a great way to get yourself outdoors and keep active. If you're a fan of dark shades, wear brightly colored shoes that glow in the dark, even if they just have an illuminated logo. Many pieces of athletic wear have reflective fabrics, so it's essential to utilize them when you're outside. Always be sure that you keep safe when you're jogging late at night, make yourself bright so everyone can see you!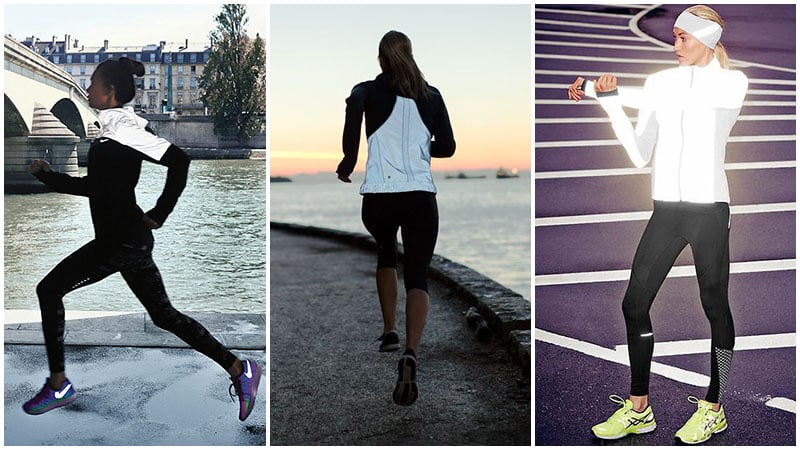 Get the Look
Running in Summer
Running along the beach or in a park feels best when it's warm outside. To prevent becoming too hot and sweaty a singlet and shorts are always a good idea. If you're heading out for a long run, opt for a light T-shirt and compression leggings. Don't forget to apply sunscreen before you head out to protect your skin.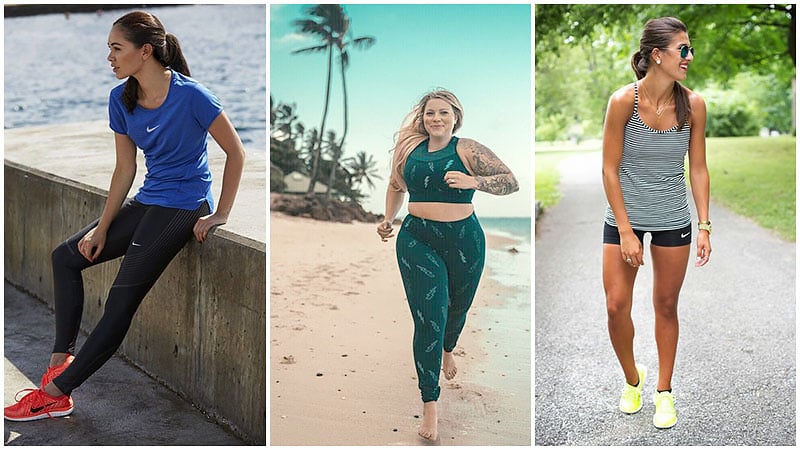 Get the Look
What to Wear When Running in 30 or 40 Degree Weather
Although summer is a beautiful season to get active, it can be hard to dress appropriately for sweltering weather. For the days where it gets above 30 degrees, be sure that you wear a piece of clothing that allows you to breathe and keeps you cool. Options include a singlet, sports bra and shorts, or light-weight compression leggings. It's essential to keep yourself hydrated during these days, so keep a water bottle with you, and wear lots of sunscreen to avoid heat-stroke.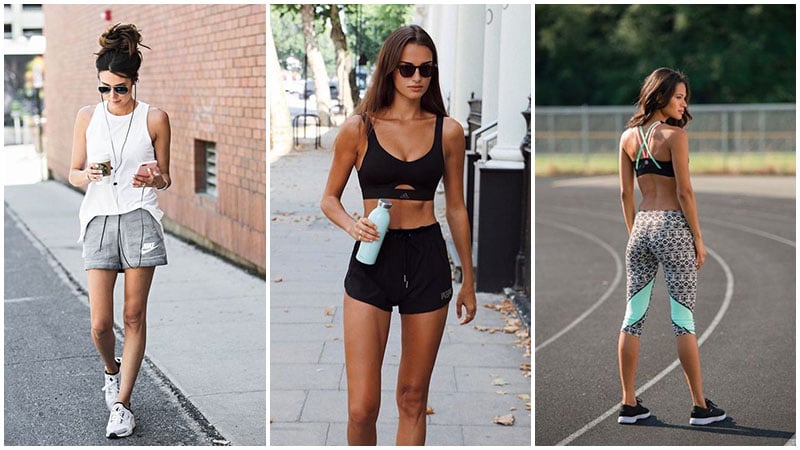 Get the Look
What to Wear to a Mud Run
Let yourself get a little messy when heading to a mud run. This occasion best suits activewear that you won't mind getting a little dirty, so opt for something in dark colors. Mid-length leggings work best in these environments, and depending on the weather, a singlet or lightweight t-shirt can keep you feeling fresh.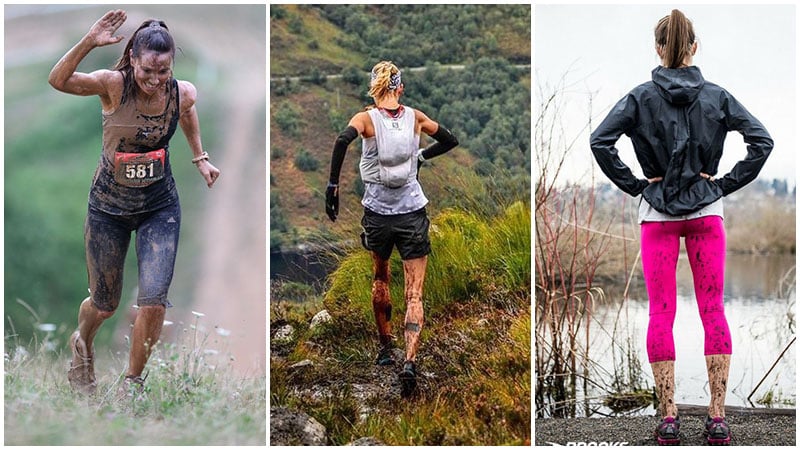 Get the Look
What to Wear to Colour Run
If you're a fan of bright shades, this is the race for you. As the name suggests, the Colour Run is an activity where you can throw tinted powder at each other, have lots of fun and keep fit all at once. For this event, it's best to wear clothes in the paler variety, so you can really see the results afterward. If you'd prefer to dress up, wear something fun like a tutu or rainbow patterns. Opt for athletic wear that you're not afraid to get dirty – the bolder, the better!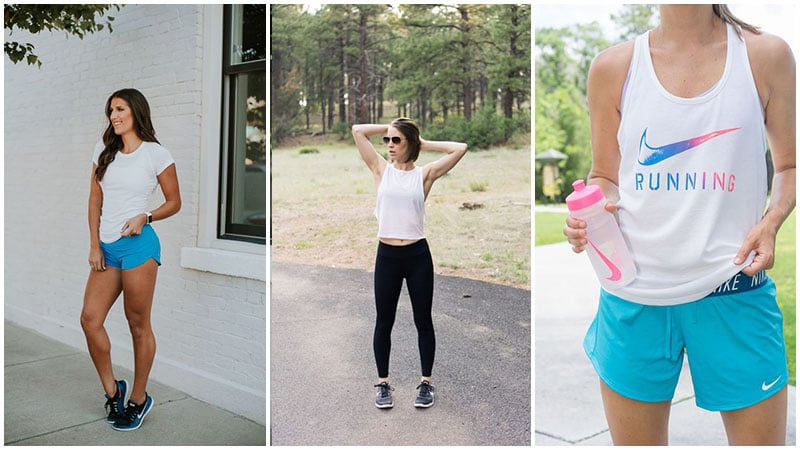 Get the Look
What to Wear to a Long Run
Heading out for a long run can be a bit daunting, but not when you're dressed for the occasion. No matter how far the distance is, make sure what you're wearing is ultra-comfortable. Depending on the weather, bring along a light jacket or hoodie so you can stay warm. To avoid chafing or cold legs, opt for compression tights in either full or 3/4 length, and don't forget to bring a water bottle and wear supportive runners.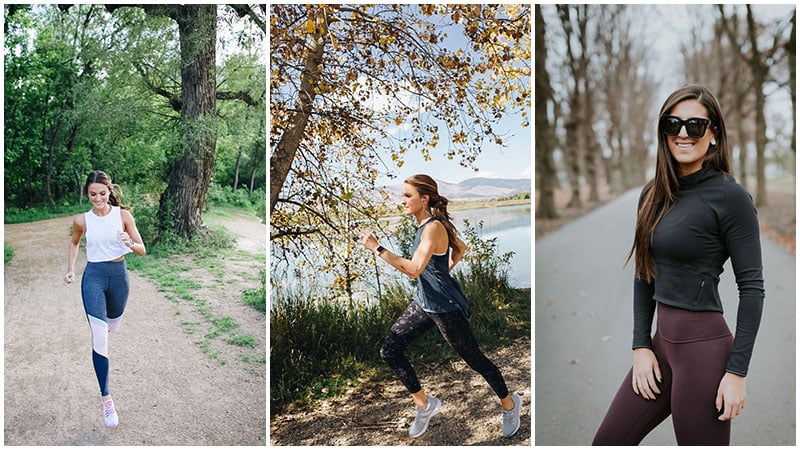 Get the Look
What to Wear with Grey Running Shoes
Combine sport with luxury in a pair of grey running shoes. You can wear them to almost any occasion, and they make you look cooler instantly. Pair them with pastel shades such as powder blue, mint or baby pink to make the outfit pop, or neutral tones such as camel, gold, and mustard to create a deeper combination. Watch as everyone's eyes stay on you as you run past!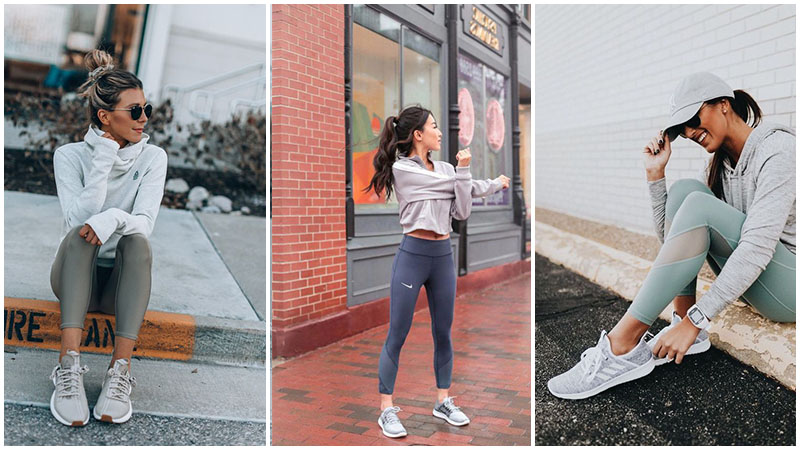 Get the Look
What to Wear with White Running Shoes
Keep it cool in white trainers. Funky, fresh, and oh-so-stylish, the pale shoes look best with monochromatic outfits or shades of the darker variety. Make the sneakers pop by wearing an all-blue ensemble, or create an ombre effect by wearing black on top, working your way down to lighter tones at the bottom. This footwear is best suited to warmer months, as they're less likely to get dirty.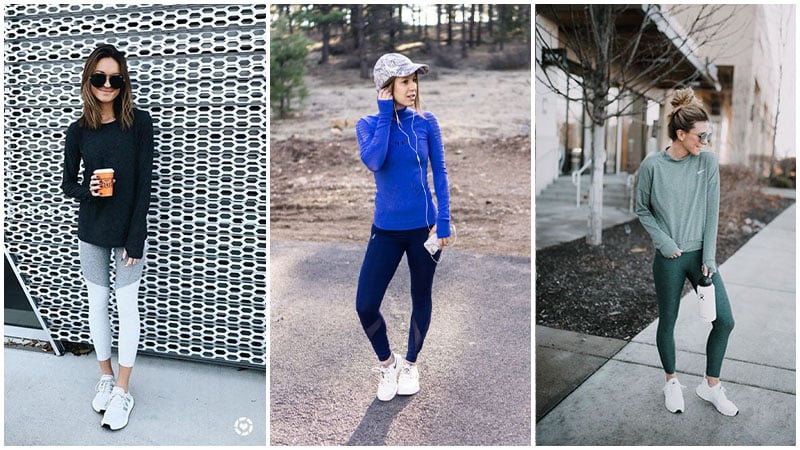 Get the Look
What to Wear Under Tights and Leggings
The choice of underwear during a run may not seem important, but they play a huge role in comfort while you run. Avoid options made from 100% cotton, lace, or satin – these can cause a sweat rash and make you feel awkward while you work out. It's best to sport a pair of seamless microfibre bottoms that wick moisture away from the body and don't show any panty lines.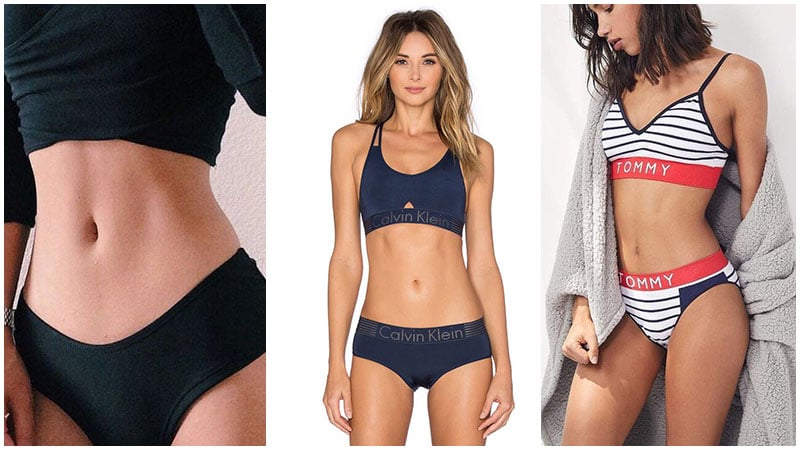 Get the Look
What Socks To Wear With Running Shoes
When it comes to running, the pair of socks you choose to wear is incredibly important. If you're working out in the summer, your feet will sweat a lot more, so it's best to rock something made from synthetic fibers. These include polyester, acrylic, and other moisture-wicking fabrics. As a general rule, you should opt for something low-rise or ankle length, unless you're on the soccer field. If you're feeling stylish, why not get kicking in a cute pattern or bold color? No matter what you choose, your feet will thank you!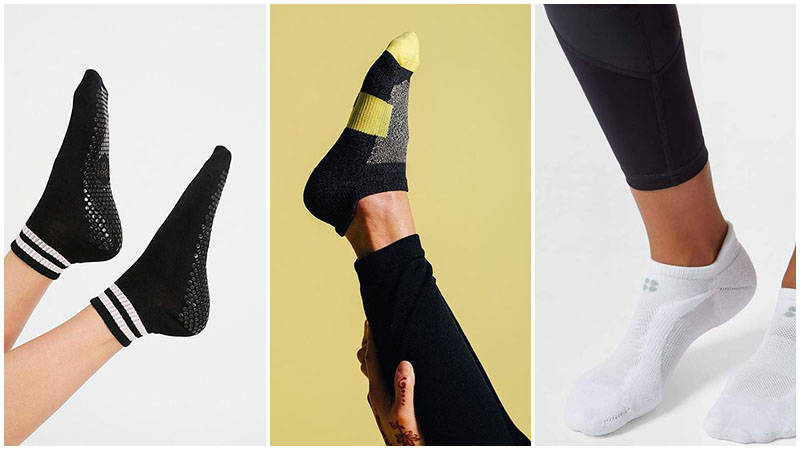 Get the Look
What Running Shoes to Wear
This is one of the most crucial decisions to make before going for a run, so always choose running shoes that offer ultimate support. There are many different types of footwear that you can choose from, depending on the kind of workout you're planning to do. Running sneakers have cushioning in the sole, and have a special sole design, making it easier on your joints when you jog. As feet sweat during exercise, be sure that you find a pair with mesh, allowing the skin to breathe. No matter what you select, the most critical part is the comfort they provide.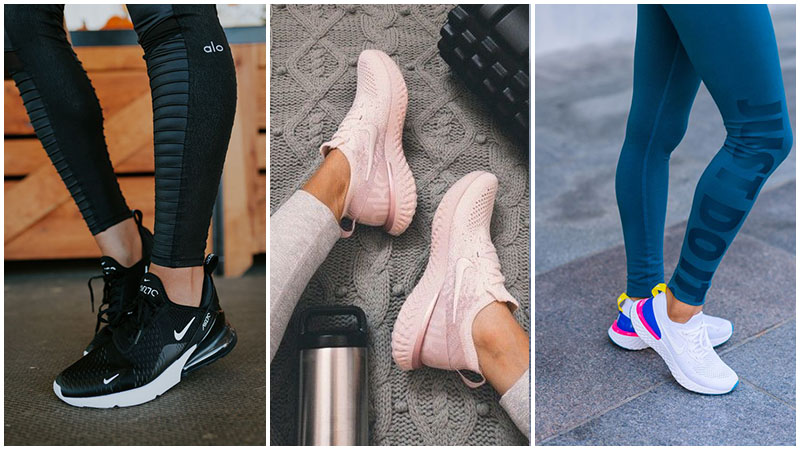 Running Outfits FAQs
What should I wear when running?
Finding the right outfit to go running in will be something comfortable that does not restrict your movement and should be adjusted to suit different temperatures. If you are working out in the cold weather, opt for warm leggings, a long-sleeve compression top, and a vest, you can also keep your head warm with a headband. In warmer weather, a light T-shirt or a singlet and tights are great. At night, you need something with high-visibility so that oncoming traffic can see you. If you are not about to let the rain stop you, then a lightweight waterproof jacket is ideal, which can be paired with compression tights and non-slip runners.
What kind of pants should I wear for running?
When choosing pants for running, you want to pay attention to a few key things; for starters, you need the right fit because comfort is of the utmost importance. You also need to pick a synthetic fabric, which can wick moisture from your body so you can stay dry. The same can be said for your underwear; for example, cotton is a fabric that holds moisture, and after a run, you may be incredibly uncomfortable.
What should a beginner runner wear?
When you start running, you will need a few staple items to add to your workout kit. These should be made from a fabric that is quick-drying and able to wick moisture. Depending on the weather, you will need running shorts, pants, and a few T-shirts. You should also consider a sports bra for extra comfort.
What should I wear to run 40 degrees?
Running is a great way to stay fit and clear your mind, but care should be taken when doing so in hot temperatures because this can increase your risk of heat-stroke. Wear clothing that is breathable and cool, and be sure to take water with you to stay hydrated. A few outfit options include a sports bra or singlet with shorts or light-weight compression leggings.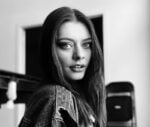 Alexandra Feiam is an experienced fashion writer who holds a degree in journalism. She has an impressive portfolio and expertise working as the Editor at Power Retail and Commercial Content Editor at Newscorp. Ally has been writing for The TrendSpotter since 2018, and her work has been featured in notable publications such as The Herald Sun, Arirang TV South Korea, Kidspot, The House of Wellness, and The Daily Telegraph.
SUBSCRIBE TO OUR NEWSLETTER
Subscribe to our mailing list and get interesting stuff and updates to your email inbox.