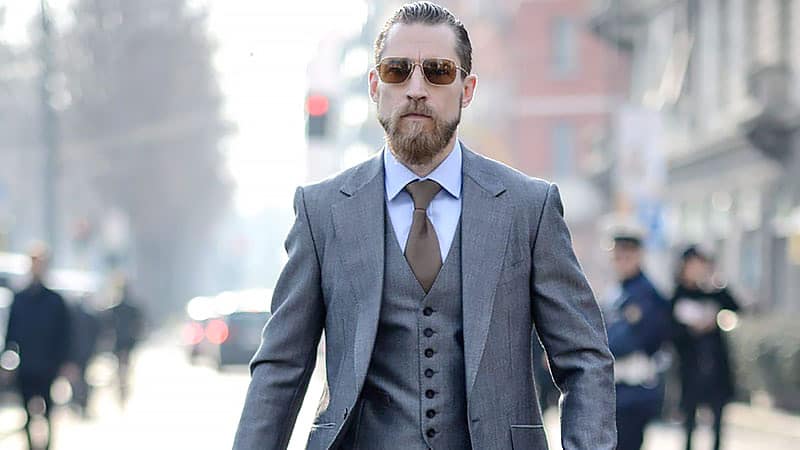 A grey suit is a worthy addition to your wardrobe and certainly deserves a place hanging alongside your black and navy classics. The sharp and versatile colour is adept at creating a clean and contemporary look that can be worn for countless occasions. The only question is: What shirt should you wear with it? When you consider just how many shades of grey there are it's only natural that you could use a little guidance in the area.
Grey Suit and Shirt Combinations
Grey Suit / White Shirt
A grey suit paired with a white shirt is a timeless and classic choice. It's also one of the safest options for creating a cohesive look. When matched with a crisp, white shirt, a grey suit appears lighter and the overall outfit registers as fresh and clean. Although the combination can work with any shade of grey, light and mid tones create a fantastic summer suiting option. The softer hues appear much more seasonally appropriate than dark tones and offer a great relaxed feel. To create a sharp and formal style, the look can also be paired with a black tie. The result will be a classic appearance with a subtle edge over the traditional black suit and tie with a white shirt.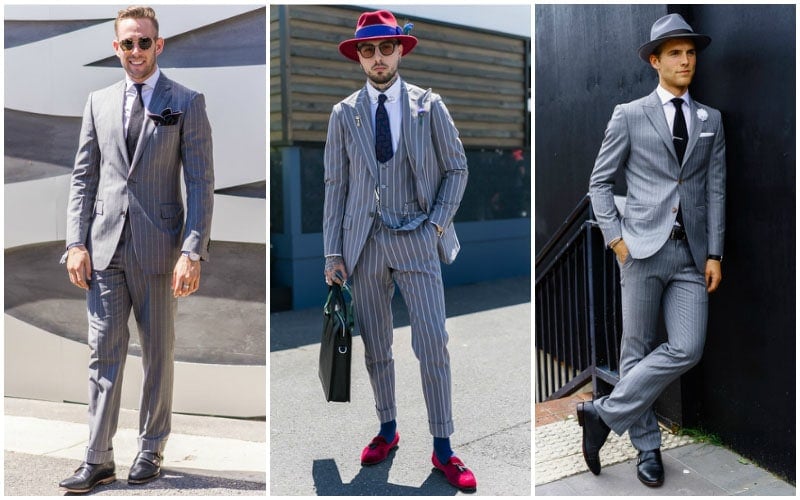 TOP PICKS
Grey Suit / Blue Shirt
When looking for a shirt to pair with your grey suit, you can't go past the colour blue. Blue is one of the best colours to match with a grey suit and easily creates a stylish look. Like white shirts, blue shirts complement the tone of grey suits, creating a fresh and clean look. Unlike white, however, blue adds more interest to the overall style and will bring out any blue tones in the suit, achieving a "cool" look. Choose between shades of muted powder and baby blues to successfully don this style. The light tones are perfect for daytime and can be paired with brown leather accessories for a stylish take on summer suiting.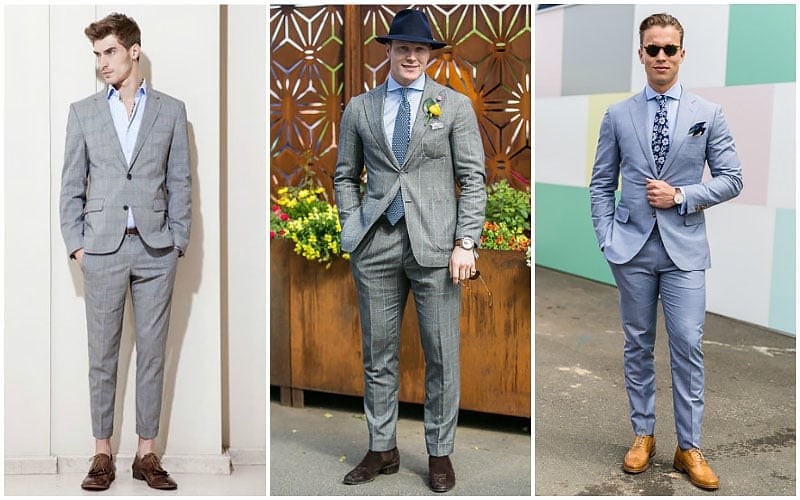 TOP PICKS
While light blue shirts pair well with light and mid-grey suits, navy shirts work well with mid-grey, charcoal and darker hue suits. The deeper blue tone of navy offers a more sophisticated take on the blue shirt and grey suit combination and is perfect for the cooler months. By also pairing with a pair of black oxfords, this look becomes ideal for both the office and formal occasions. Although the outfit won't appear as striking as a black shirt and grey suit, it will undoubtedly be suave and sharp with its moody hues. For a casual look wear a navy shirt unbuttoned with a mid-grey suit and white sneakers.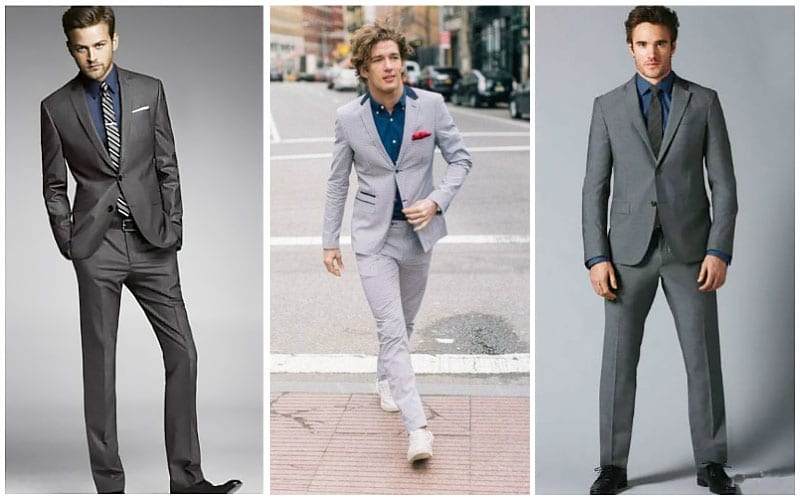 TOP PICKS
Grey Suit / Black Shirt
A grey suit paired with a black shirt is a stylish option for formal affairs. The combination creates a sleek look and striking contrast between lighter and darker hues. Perfect for nights when you want to stand out, this sharp outfit is an edgy alternative to a standard black suit. The dark shirt intensifies the grey tone to make it appear darker and richer for a strong look. Although the combination will make any grey suit look darker, it pairs best with moody tones and charcoal hues. Be aware, though, this outfit can appear heavy on lighter skin tones.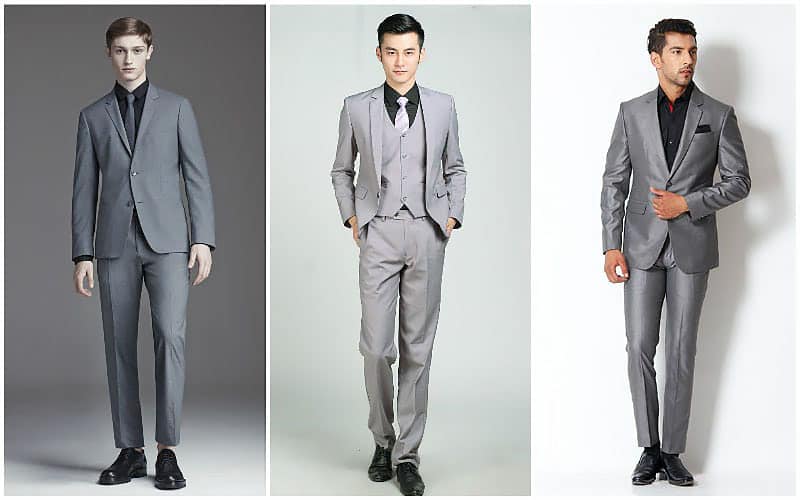 TOP PICKS
Grey Suit / Pink Shirt
If a white shirt has you feeling a little bored, adding a subtle punch of colour with a pink shirt makes an unbeatable alternative. The light hue will not only add dimension to your look, but it will also complement the cool grey tone of your suit. So, although it may not be your go-to option, the colour pink is well worth the try. When paired together, the combination creates a modern and stylish appearance with a buoyant and summery feel. While the outfit looks best with a light grey suit and soft pink shirt, it can be tailored to suit your needs. For those looking washed out in this look, consider opting for a deeper shade of grey and bolder tone of pink instead.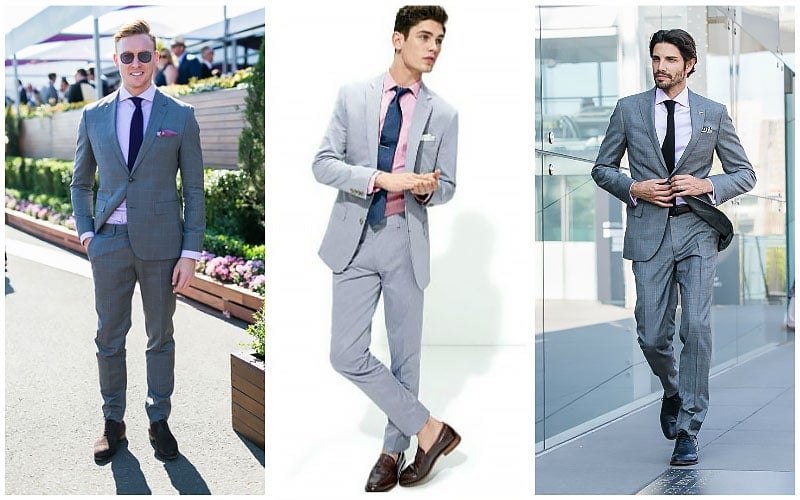 TOP PICKS
Grey Suit / Red Shirt
Red and grey create a powerful combination when worn together. The warm red tone plays off the cool grey hue, often appearing richer in colour. The bold pairing creates an unexpectedly stylish outcome that's both contemporary and cool. From dusty, desert reds to rich oxblood hues, this outfit can be worn in numerous ways. Choose between muted tones and deep berry hues for a dapper take. If you want to wear a vibrant red, however, it's best to break it up with some pattern to ensure the look isn't too intense. Also, remember that deep reds and burgundies will pair best with mid to dark shades of grey, while washed-out reds suit light to mid tones.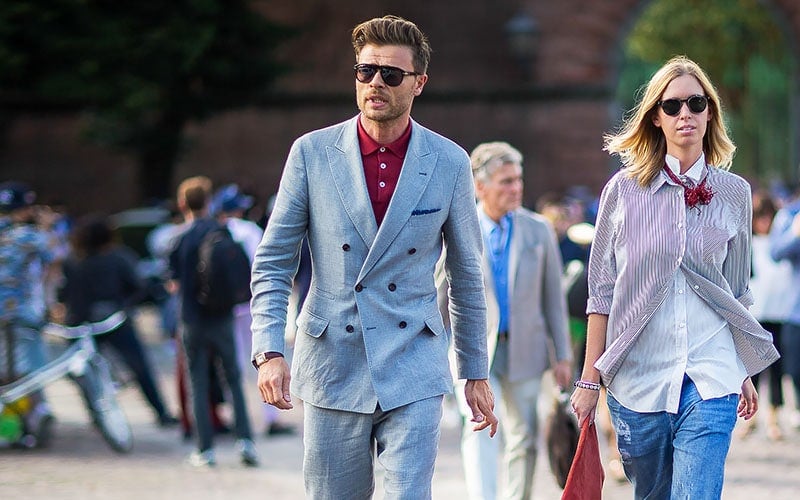 TOP PICKS
Grey Suit / Printed Shirt
Although a classic grey suit always looks sharp, it can feel a little boring at times. When you want to make a statement with your suit, opt for a printed or patterned shirt instead of your regular solid colour. Simple patterns like stripes and checks are easy to wear and will create subtle interest without ever appearing over the top. Bolder prints will create a louder statement and an unforgettable outfit. Remember the more complex a print, the more challenging it can be to wear.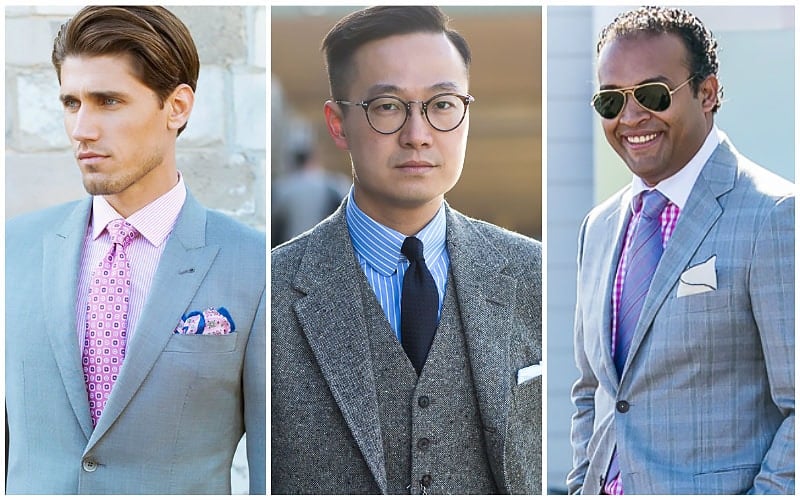 TOP PICKS
What Shirts to Wear with a Grey Suit
When dressing for a formal occasion or evening event, a black shirt will create a sharp look.
For a clean and classic style, a white shirt is the best option.
A light blue shirt will create a light and preppy style that's perfect for daytime looks and summer styles.
Dark shirts are best for intensifying the tone of a grey suit while light shirts work to brighten it.
To add some subtle and stylish colour to a grey suit, pair it with a salmon pink shirt.
A patterned shirt can turn a classic grey suit into a bold statement look.
Red shirts will create a striking contrast when paired with a grey suit.
SUBSCRIBE TO OUR NEWSLETTER
Subscribe to our mailing list and get interesting stuff and updates to your email inbox.