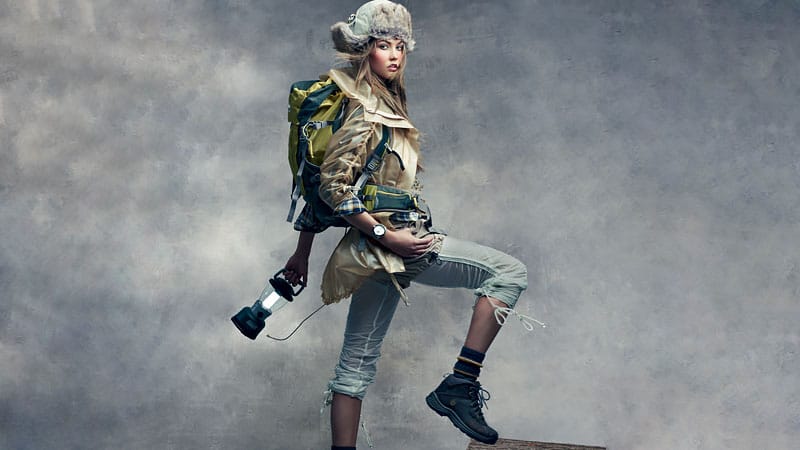 Getting out into the great outdoors and going for a hike can be an incredible experience. There's the fresh air, the endorphins from exercise, and all those fantastic views providing the perfect Instagram backdrop. But, finding the ideal outfit to wear hiking can be a challenge. After all, striking the right balance between fashion and function isn't easy. Luckily, we're here to help with some expert advice on the subject. Whether you're going for an hour-long stroll through the bush or an all-day trek to the top of a mountain, we have your wardrobe inspiration covered.
Winter Hiking Outfits
When it comes to winter hikes, thick pants, a warm top, and a puffer jacket make an excellent option. However, you can also consider thermal layers if the weather is going to be exceptionally cold. When it comes to footwear, hiking boots tend to make the best choice as they provide warmth and plenty of grip on slippery terrain. Also, remember that no cute winter hiking outfit is truly complete without a beanie. Not only can a beanie add a fashionable touch to your look, but it'll also help keep you toasty while outdoors.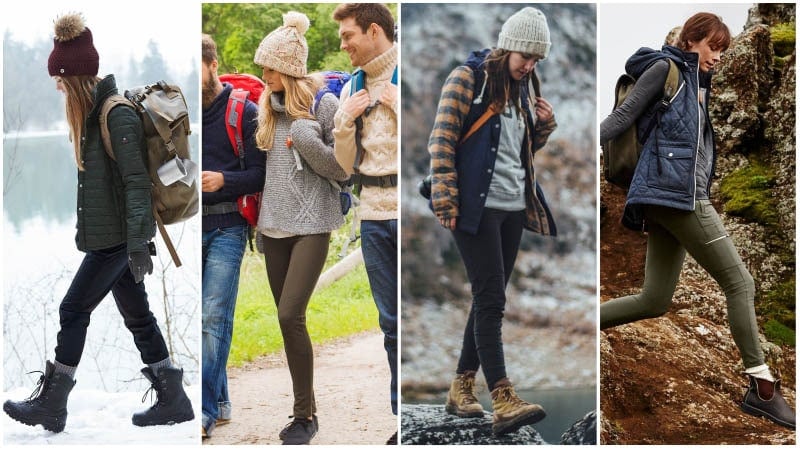 SHOP THE LOOK
Summer Hiking Outfits
For a stylish summer hiking outfit, forget head-to-toe black and opt for a light and bright look instead. Up top, try a lightweight, breathable tank over a sports bra. Down below, opt for either shorts or leggings, depending on your location. Then, finish your outfit off with breathable sneakers and a chic pair of sunglasses. Also, don't forget to apply and reapply sunscreen throughout your hike to keep your skin from scorching. You may also want to wear a hat to help shield your face from those harmful rays.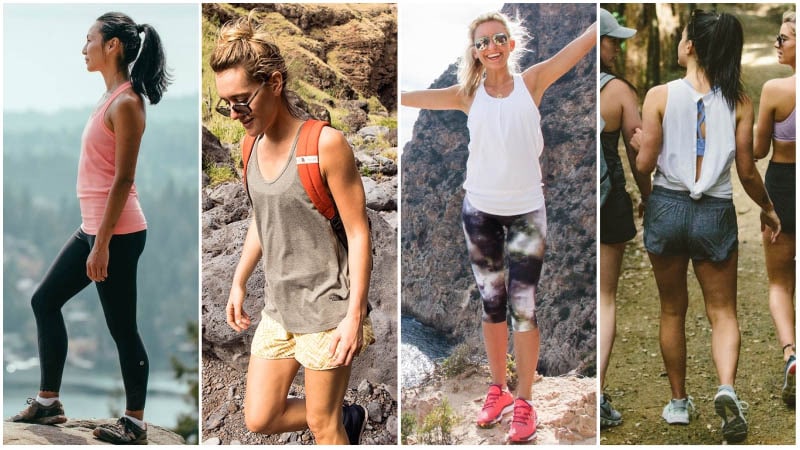 SHOP THE LOOK
Rain Hiking Outfits
If there's any chance of rain on your hike, be sure to pack a chic waterproof jacket or coat. After all, there's nothing more miserable than trudging around in wet clothes all day. Also, be mindful of your feet. While runners are comfortable, they may leave you with damp socks. As such, hiking boots are a better option if you'll likely be traipsing through large puddles. Alternatively, consider treating your sneakers with a waterproof spray for quick protection from splashes and light rain.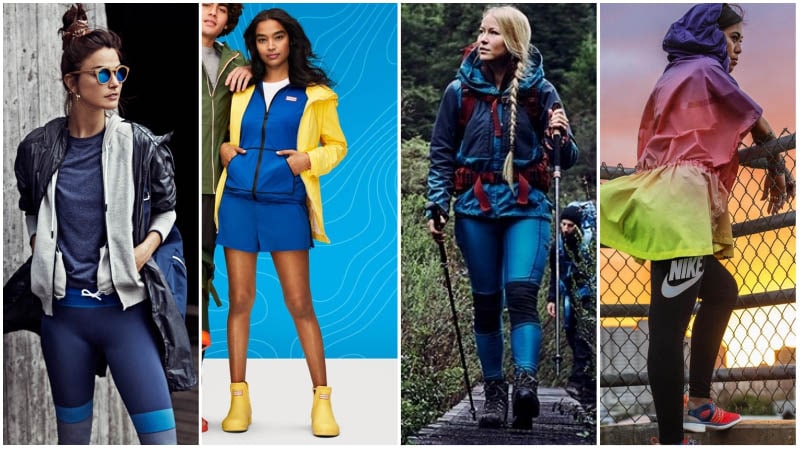 SHOP THE LOOK
Cute Hiking Outfits
As a rule, the shorter and easier your hike, the more you can opt for fashion over function. So, if you've planned a relaxed Sunday afternoon hike with friends, get ready to look seriously cute. This is your chance to show off just how cool you can be while hitting the trail. For a cute and fun outfit that's also practical, pick up a pair of gym leggings and a matching crop top in a playful print, such as palm leaves. Then, add a fashion-forward jacket and cool sneakers. Also, don't be afraid to have fun with accessories, such as hats, sunglasses, and even jewelry.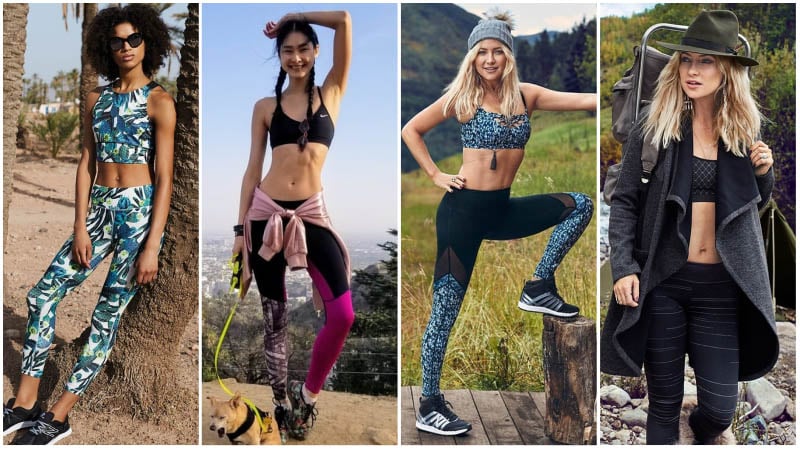 SHOP THE LOOK
Casual Hiking Outfits
For casual hikes that are quick and easy, your outfit options are vast. In fact, even jeans can work well for a walk during autumn or winter. Not only will they look stylish, but they'll also keep you warm and provide plenty of protection for your legs. Just ensure you choose a slim or skinny pair with stretch to make walking a breeze. Alternatively, sweatpants can also make an excellent option. When it comes to your feet, choose between sneakers and boots or opt for a hybrid pair. Then, complete your outfit with a cute and comfortable top and jacket.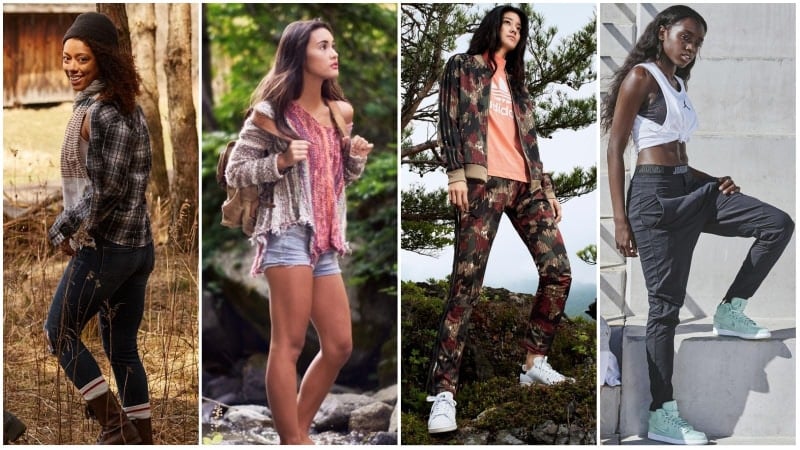 SHOP THE LOOK
Layered Hiking Outfits
Layering is essential for long hikes that can last from the frosty morning to the sunny afternoon. To successfully layer your hiking look, start off with a base item, such as a tank top or t-shirt. Then, add more garments over the top, such as a flannelette shirt, sweater, and puffer vest. If the weather is extra cold, you can even layer leggings or tights beneath your pants. Also, don't forget about accessories, such as scarves, hats, thick socks, and gloves, which can easily be added or removed as needed, and remember to bring a backpack to stow those peeled off layers.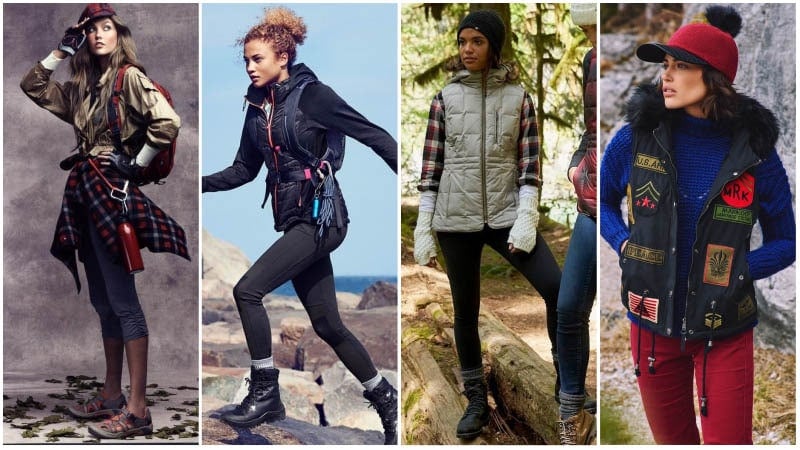 SHOP THE LOOK
Hiking Date Outfits
Hiking is a surprisingly popular and fun date activity. But, dressing for it can be tricky. Naturally, you'll want to look good, but you'll also want to feel comfortable to ensure you enjoy the date. Thankfully, most date hikes aren't eight-hour treks into the mountains. As such, your wardrobe options are a little more open. To nail a cute and comfy hiking outfit, pick pieces that are simple yet stylish. Also, be sure to add in a touch of your personality to give your date a good sense of who you are. Oh, and don't forget to pack a backpack with some delicious snacks for a romantic picnic along the way.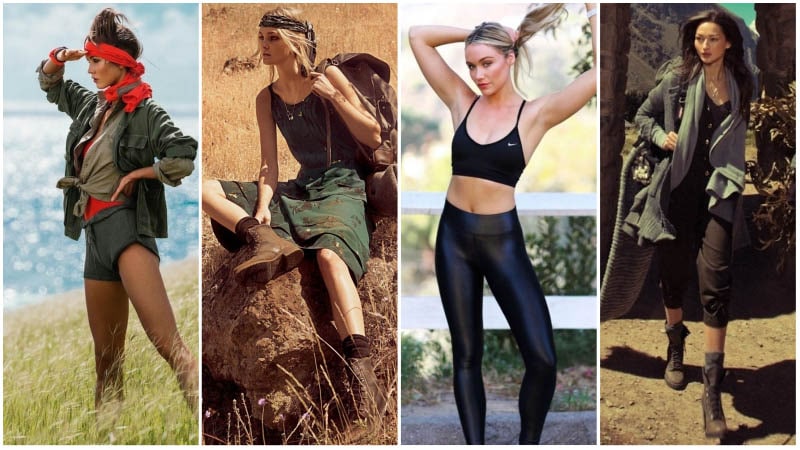 SHOP THE LOOK
Hiking Outfits with Shorts
If you're hiking in hot weather, shorts can make an excellent option. Not only will they keep you cool, but they'll also allow you to move more freely. However, you should be mindful that shorts don't offer much protection for your legs. Also, you'll need to select a design that's suitable for your hike as well as your style. To do so, be sure to take into consideration fabrication, shape, and length. Additionally, you should take note of whether your shorts have pockets or not. If you're not planning to bring a backpack, pockets can be a useful addition.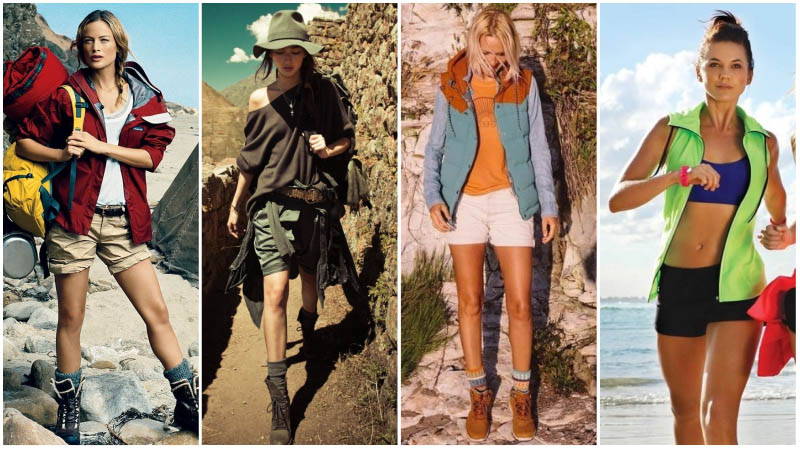 SHOP THE LOOK
Hiking Outfits with Leggings
Leggings make an excellent pant choice for hikes. Unlike looser options, leggings won't collect dust or mud on their hems. Additionally, they're ideal for protecting your legs from bug bites and scratches and can look stylish with either sneakers or hiking shoes. To make the most of your hike, select a pair of high-performance leggings that'll help you keep cool or warm depending on your needs. These days, many big-name sports brands and outdoor activewear labels offer leggings that are perfect for hiking and that look great. For a seriously chic appearance, try picking a patterned pair and partner them with a matching crop top and sleek sports jacket.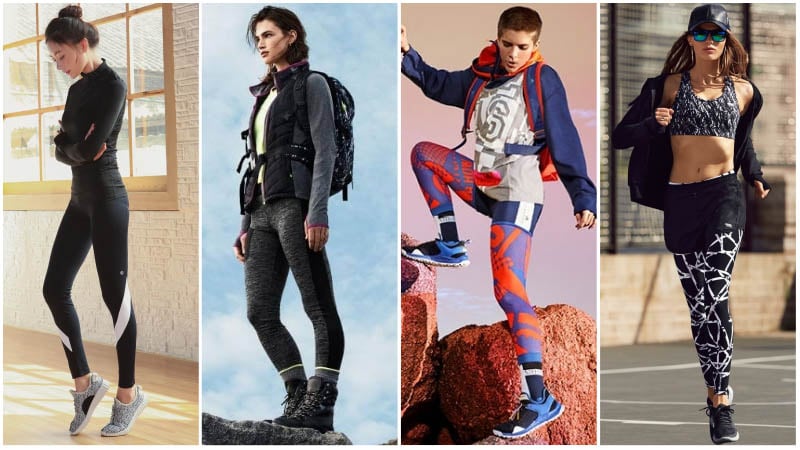 SHOP THE LOOK
What to Wear Hiking
Check the weather before your hike and dress accordingly.
Make sure your outfit is suitable for the length and difficulty of your planned hike.
For long hikes, layers that you can easily remove are ideal.
While sneakers are suitable for short and easy hikes, more challenging treks will likely require hiking boots.
Leggings and shorts can both make excellent hiking pant options but, leggings provide more protection from the sun, bug bites, and scratches.
FAQs
How should I dress for hiking?
Hiking is not about being fashionable but rather about comfort and practicality. That said, that doesn't mean you can't look cute and pulled together. For winter, thick pants, a warm top, and a puffer vest are great, but your more important item will be your shoes. You want waterproof boots, fit well and offer enough grip to handle tough terrain. In the summer, you can wear a breathable tank or T-shirt over a sports bra and pair them with either shorts or leggings, depending on your chosen route and location.
How do you look stylish when hiking?
Looking fashionable and functional can be difficult, but it can be achieved by picking practical items in neutral colors. You should also start with a base layer, for example, a T-shirt, and then build upon it, adding layers for colder weather. Always make sure your outfit is appropriate for the weather and the distance of your trip.
What should you not wear on a hike?
Don't wear shoes without grips, such as sneakers, especially if you have a difficult hike planned or plan on handling tough terrain. You should also avoid fabrics like denim, cotton, and silk and instead opt for garments that wick moisture and keep you dry. Also, be sure to wear good, comfortable socks and a bra that provides support.
Can I wear leggings for hiking?
You can wear leggings to go hiking, especially those designed for workouts like yoga pants because the fit is comfortable and allows for flexibility. It is also a garment that offers protection from the elements and bug bites and scratches.
Are jeans good for hiking?
When planning your hiking outfit, you will be pleased to know that it can actually be quite versatile, and there are many items to choose from, including leggings, puffer jackets, and T-shirts. One item that you should definitely not wear, though, is jeans. They do not wick away moisture and keep you dry, and often, they're not comfortable or flexible enough to handle certain terrains.
SUBSCRIBE TO OUR NEWSLETTER
Subscribe to our mailing list and get interesting stuff and updates to your email inbox.