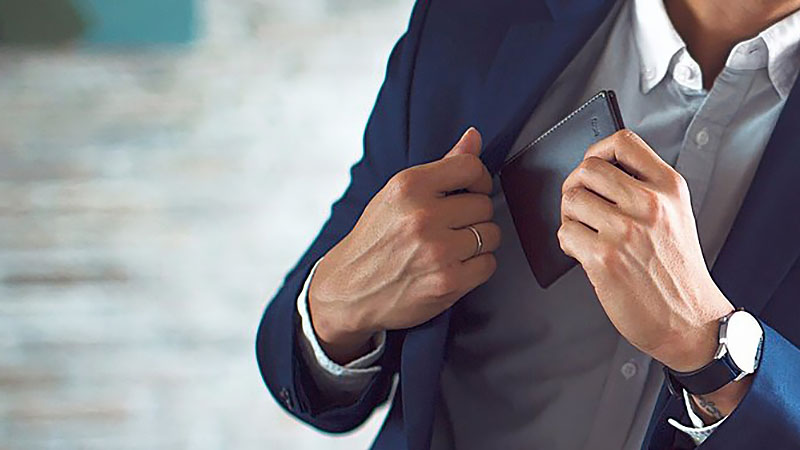 Gone are the days of a bulky wallet falling out of your pockets or rattling around in your jacket. Today, a slim, efficient wallet is all you need. These billfolds will keep your cards and cash secure while still looking understated and stylish. The ideal practical accessory for men on the go, a slim wallet makes it easy to keep yourself organized and suits those with a minimalist aesthetic.
RELATED: 35 Best Minimalist Wallets for Men
RELATED: 19 Top Designer Wallet Brands for Men
1. Calvin Klein Saffiano Leather Slim Wallet
The Saffiano leather of this slim wallet gives it an upmarket look. Saffiano is a process where leather is pressed by a machine to create the signature cross-hatch finish. It is then finished with wax to make it extra durable and give it a luxurious look. The Calvin Klein Saffiano Slim Wallet can hold six credit cards plus cash. These factors make it the ideal billfold for everyday use.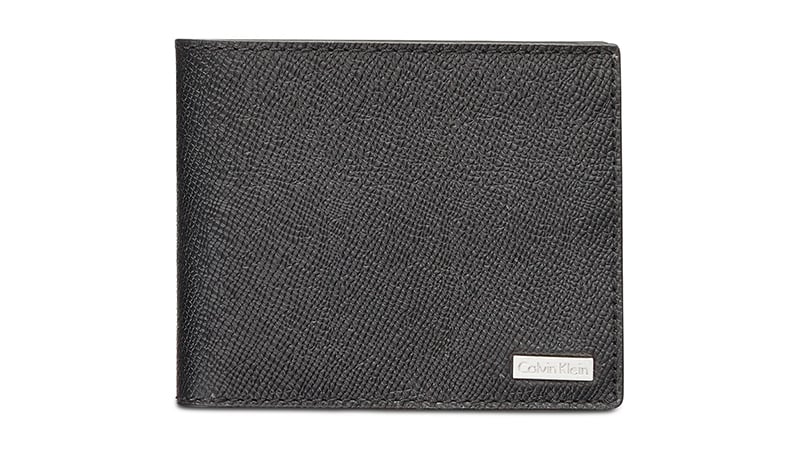 2. Burberry Vintage Check Wallet
Is there anything more iconic than the Burberry check? We would recognize it anywhere! Those who like the British heritage label won't be able to resist this wallet. It is made from a fine-grain calfskin and covered in check-print canvas. Don't be fooled by the size – the wallet stores all your money essentials with ample space inside. Team it with a classic Burberry trench coat, and you can't go wrong.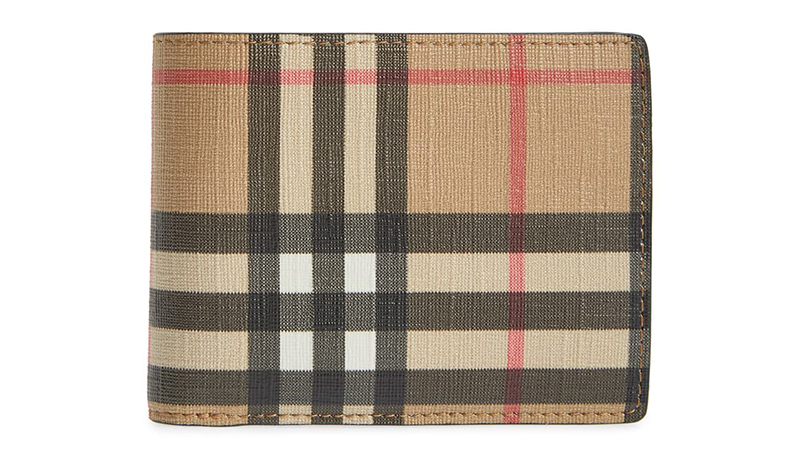 3. Thom Browne Pebble-Grain Leather Billfold Wallet
Manhattan-based designer Thom Browne is known for his elegant menswear. Sharp and deceptively simple, Browne's aesthetic is timeless – but still makes a statement. For men with a style that fits this bill, a Thom Browne Pebble-Grain Wallet is essential. The texture of the billfold keeps it from being too simple. Meanwhile, it maintains an incredibly slim profile to help it slip into your suit jacket with ease.
4. Tom Ford Full-Grain Leather Billfold Wallet
Designer Tom Ford is known for his perfect tailoring and first-class materials. A wallet from his brand will give you a taste of the finer things. Crafted in Italy, the full-grain leather Billfold wallet is made from super soft and pliable calf-skin, as well as being scratch-resistant. As in Ford's fashion line, it's all about attention to detail with the accessory. The card slots are notched for easy access, and his signature gold logo adds a touch of luxury.
BUY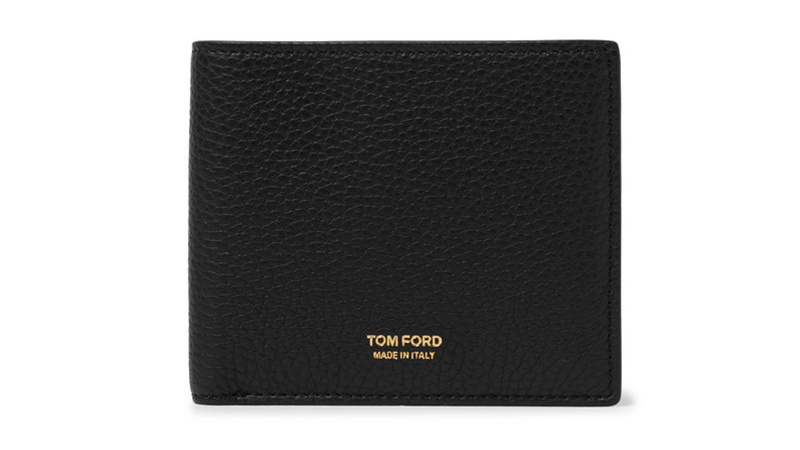 5. Tumi Delta ID Lock Shielded Slim Single Billfold
Those who travel frequently will be familiar with Tumi. One of the world's leading luggage brands, Tumi is known for creating incredibly durable products. Each design is put through 30 different tests to ensure they can stand up to any situation. The Delta ID Lock Shielded Billfold is no different. This full-grain leather wallet includes exclusive technology to stop thieves stealing the data on your cards with scanners. Plus, it has a ballistic nylon spine, so you know it's built to last.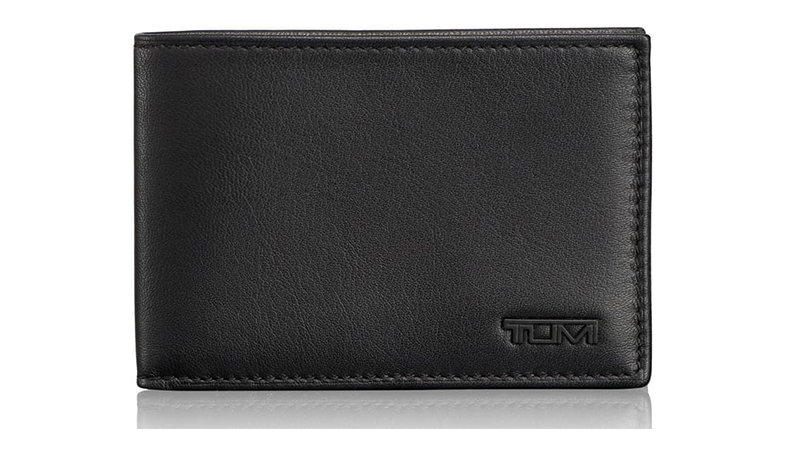 6. Perry Ellis Men's Super-Slim Leather Wallet
US brand Perry Ellis is all about relaxed luxury with a classic, sporty feel. The Men's Super-Slim Leather Wallet ticks all the boxes, with its cool camel exterior and contrast stitching. If you're a fan of brown accessories or navy suits, it will be a fantastic addition to your wardrobe. It's practical too – there's room for cash plus six credit cards, protected with an RFID lining which stops electronic theft.

7. Kenneth Cole Reaction Kingsway Extra-Capacity Slim Leather Wallet
If you're looking for affordable luxury, the Kingsway Wallet is one of the best choices you can make. It's from Kenneth Cole's popular diffusion line called Reaction and has the New York designer's signature style without a huge price tag. Made from quality leather with sturdy stitching, it's a great weekend wallet. It also suits those who have a relaxed style or who love a casual look.
8. Michael Kors Slim Leather Bi-Fold Wallet
New York designer Michael Kors is known for his accessories. The Slim Leather Bi-Fold Wallet is chic, with soft, smooth leather with a contrasting white Michael Kors logo. It is famous for its ultra-slender profile, which makes it perfect for those who want a sophisticated billfold. Despite its small size, the wallet still has space for your cards and cash. It can slip easily into either tight jeans pockets or a suit jacket.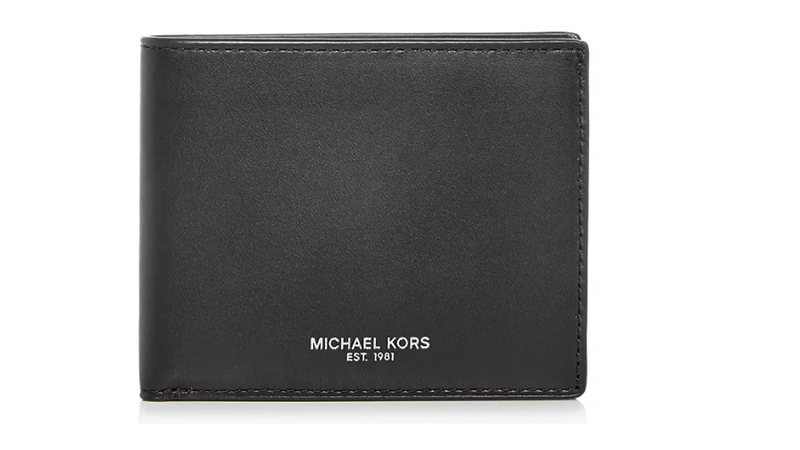 9. Tommy Hilfiger Slim Extra-Capacity Leather Wallet
If you hate bulky wallets – or your money clip just isn't cutting it anymore – this wallet from Tommy Hilfiger could be perfect for you. A '90s favorite, Hilfiger still has its iconic appeal, and this sleek wallet comes with the signature red, white, and blue logo. The rest of the billfold is made from full-grain leather and has many subdividers for all your cards – ideal for those who like to keep organized. It also has RFID to protect cards from data theft.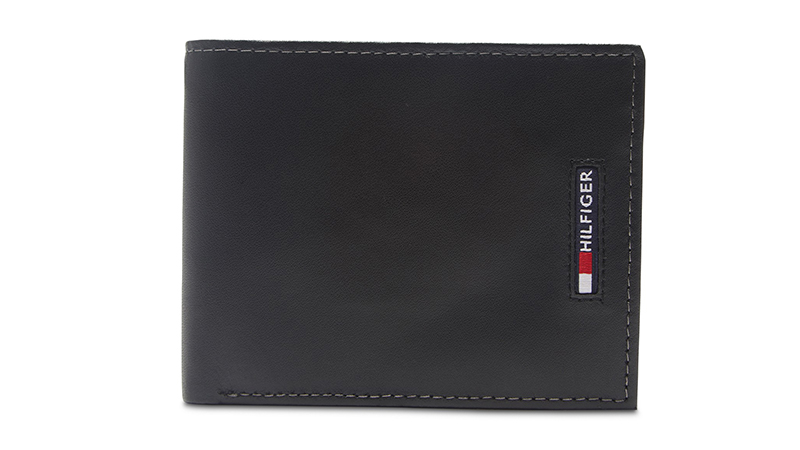 10. Shinola Slim Leather Bi-Fold Wallet
All products from Detroit brand Shinola are 100 percent made in America, so you know they are built to last. Most famous for their watches, Shinola also makes leather accessories. It's Slim Leather Bi-Fold Wallet is a classic done right. The design is understated and stylish, with an embossed logo that doesn't disrupt the smooth finish. Inside are six card slots, one bill compartment, and two receipt slots. If you love your Shinola timepiece, you'll want to get a matching wallet.
11. Off-White Quote Leather Wallet
Nothing says attitude like Off-White. The Milan-based label is one of the most popular streetwear brands in the world. Cheeky and playful, its literal labeling has become iconic in the last few years. Show off your tongue-in-cheek sense of humor with the Off-White Quote Leather Wallet. No-one will be able to miss the bright orange color or the "For Money" slogan printed on the front.
12. Guess Men's Leather Slim Wallet
Guess is famous for its denim, but the company's leather goods are equally cool – and affordable. The Men's Leather Slim Wallet is made from 100 percent leather and is embossed with the classic Guess logo, as well as a statement red stripe. Like all Guess designs, the piece combines European flair with an American feel. It's perfect for those who don't want a wallet that's too simple or boring. Plus fans of the Guess brand will love it.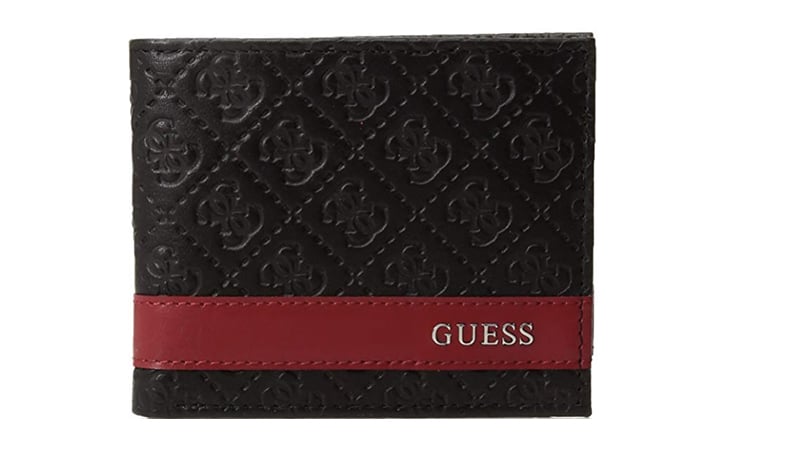 13. Trask Dylan Super Slim Wallet
When you're looking for a premium leather wallet, look no further than Trask. The American company is known for its attention to detail and second-to-none craftsmanship, so each piece is made to last. Its Dylan Super Slim model is made from hand-stained French calfskin for an ultra-supple feel. As well as being high quality, the wallet is practical: it has a smart ID window as well as RFID to protect card chips from scanners.
14.

Vaultskin Manhattan Slim Bifold Wallet
The Vaultskin Manhattan shows off the best of British design for American men. It combines the elegant and luxurious feel of Italian leather with a minimalist silhouette. Even better, the billfold holds up to eight cards with RFID protection, so it's perfect for travel. Meanwhile, the cash pocket is sized explicitly for US bills, and there's a separate compartment for your most-used card. Refined and stylish, the Manhattan is available in black, brown, cognac, and red to suit every style.

15. Coach Slim Billfold ID Wallet
For a modern wallet with a vintage feel, look no further than Coach. Founded in 1941, the New York company specializes in luxury accessories with a timeless appeal. If you want an ultra-slim wallet, the Billfold ID is a stripped-back and slender design. Made from 100 percent leather, it features three card slots, an ID window, and a note compartment. That means it is incredibly lightweight and perfect for men who prefer to keep their cards and cash to just the essentials.
16. Neiman Marcus Abas Alligator Bi-Fold Wallet
Legendary department store Neiman Marcus doesn't just sell high-quality designer products – it makes them too. The exclusive Abas wallet is crafted from American alligator skin and made in the USA. The design is ultra-sleek and won't look bulky or misshapen in your pocket. Despite its slender silhouette, there's six card slots and a bill-slot inside to hold the essentials.

BUY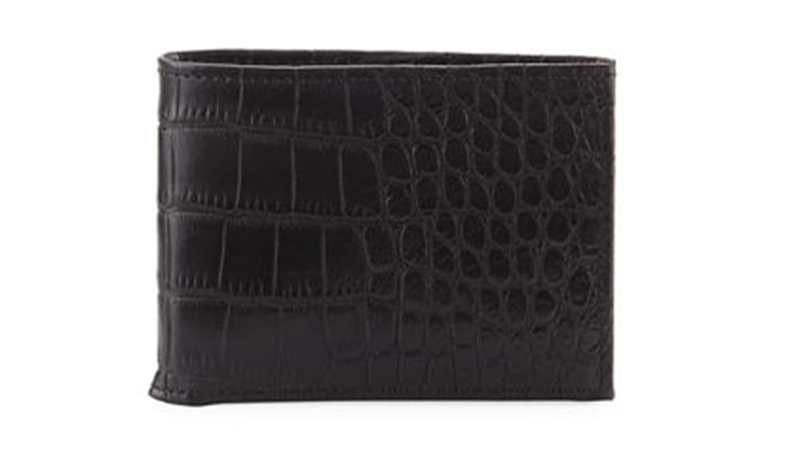 17. Gucci Black Animalier Bee Wallet
There's no mistaking the Black Animalier Bee Wallet for any designer other than Gucci. The addition of the iconic bee icon in hardware, plus the gold-stamped Gucci logo, make this accessory a standout. Naturally, the piece is made in Italy from high-quality leather and finished with a tonal textile lining. Plus, it has eight card slots and four cash slots, so it has more space than most slim wallets.
18. Johnston & Murphy Leather Wallet

Johnston & Murphy is a heritage leather company with a serious pedigree. Its footwear and leather goods have adorned every US president since it was founded in 1850. For men who want a wallet with expert craftsmanship honed over nearly 170 years, made from full-grain leather, Johnston & Murphy's accessory is the ideal choice. Classic, understated, and practical, the billfold speaks for itself.
BUY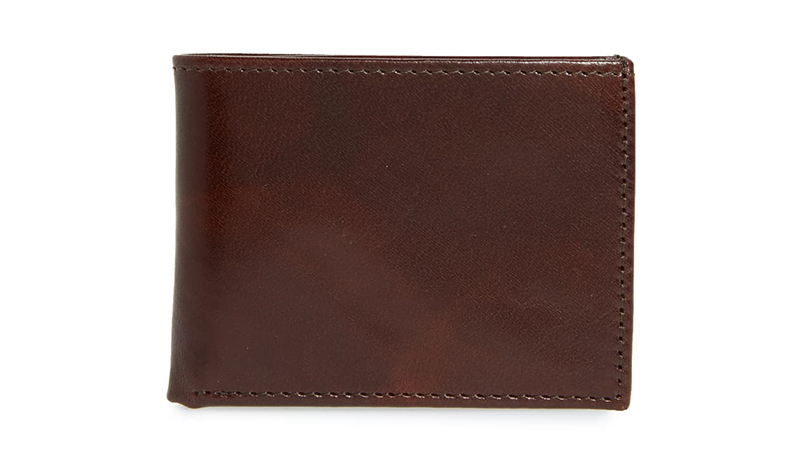 19. Bosca Leather Bifold Wallet
Family-run company Bosca is all about lasting quality, focusing on leather that gets better with age. If you are searching for a slim wallet that you can carry for a lifetime, the Leather Bifold from the Ohio manufacturer is a standout. Compact and stylish, it is all about simplicity with an artisanal feel. Beautifully crafted from smooth, luxurious leather, its classic cognac color complements denim as much as it does a suit.
20. Neiman Marcus Lizard Slim Wallet
Lizard skin is an extremely versatile material that is ideally suited to wallets as the textured pattern looks fantastic when showcased on a small area. The Neiman Marcus Lizard Slim Wallet combines the chic lizard leather with an elegant bifold silhouette. Understated without being boring, it has a fashion-forward feel. Plus, it holds up to eight cards as well as cahs.
BUY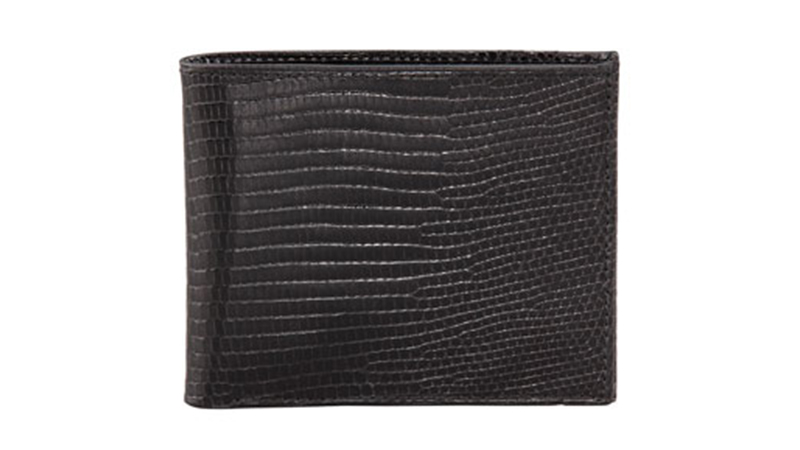 SUBSCRIBE TO OUR NEWSLETTER
Subscribe to our mailing list and get interesting stuff and updates to your email inbox.