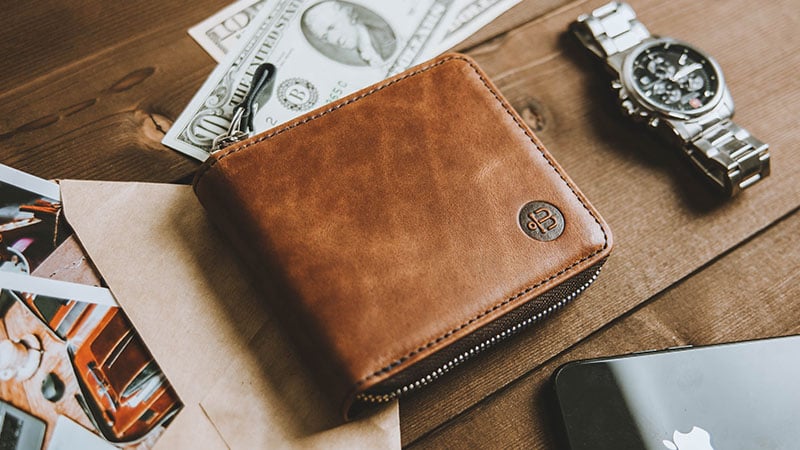 A wallet is often the most used and day-to-day accessory in a man's wardrobe. It's also a reflection of your style and personality. As such, when you're looking to buy a new one, you want to make sure you're purchasing one that will fit your lifestyle and suit your aesthetic. You don't want to be embarrassed when pulling it out to pay for a business lunch or dinner with the in-laws! However, there is a lot to consider, including size, construction, and price. We've rounded up a range of the best wallets available, in all styles from trifolds and bifolds, to minimalist and cardholders. Plus, there are a few tips on how to decide what size and material will best suit you!
Best Wallets for Men
1. Lundi Leather Card Holder
The Lundi Charles wallet is a compact yet functional accessory that offers ample storage for your everyday essentials. With two storage compartments that can hold up to six credit cards, along with dedicated space for your ID, driver's license, tickets, and bank notes, this wallet has all your needs covered. What sets this wallet apart is its central pocket, which provides a separate space for your coins, keeping them organized and easily accessible. Crafted from high-quality Nappa leather, known for its softness and durability, this wallet is designed to withstand the demands of daily use. The YKK zipper ensures smooth operation and longevity. With its sleek design and practical features, the Lundi Charles wallet is a reliable companion for your everyday adventures.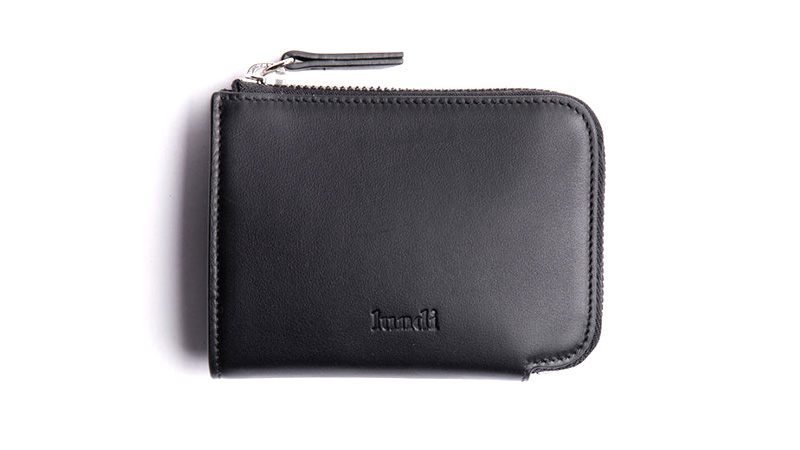 2. Carl Friedrik – Walden Wallet
Walden is the perfect wallet for keeping cards organized and secure. Its internal bi-fold design features an extra compartment behind the left card slots, allowing you to access your most used cards quickly with a pull tab mechanism – plus, there's plenty of room inside for 6-8 cards! It also boasts an external wrap-around pocket that fits bills and receipts securely without adding bulk or taking away from its sleek style, which measures 8.5cm (3.3 inches) wide when folded up yet expands to 10.5 cm (4.1 inches).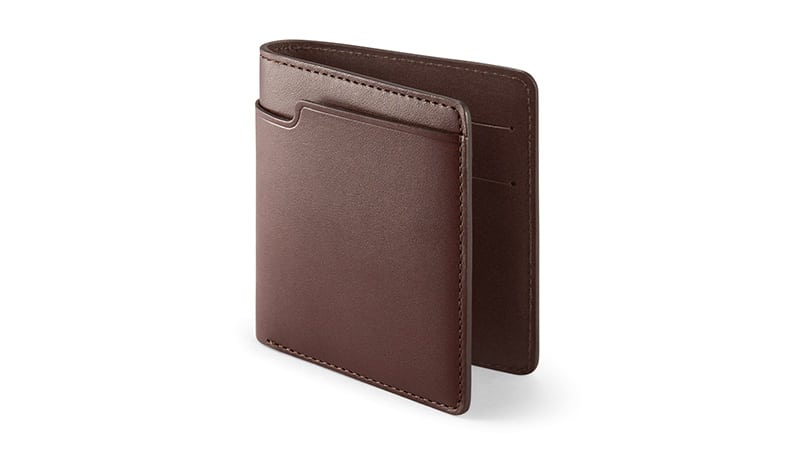 3. Luca Faloni – Bifold Wallet
Made in Florence with full-grain tanned leather from Santa Croce, the Luca Faloni wallet is a timeless and durable wallet. It is perfect for the modern man and comes with 4 card slots and 4 sleeves, providing enough space for all the cards and bills you need despite occupying only a little space in your pocket.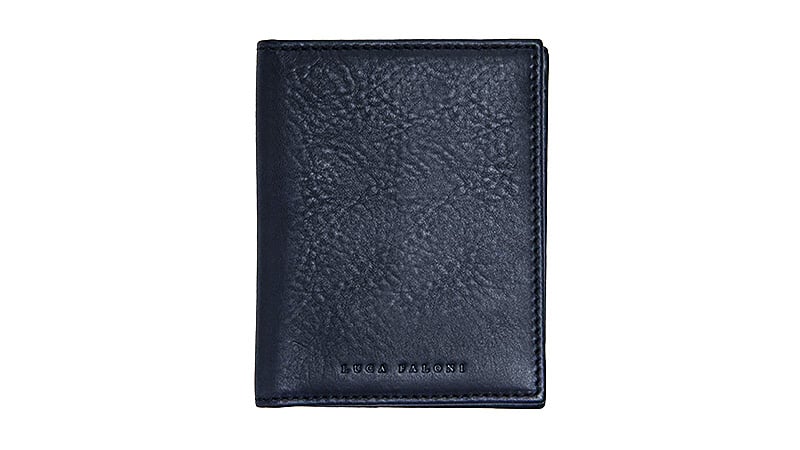 4. Roderer Trophy 6CC Money Clip
For a stylish way to carry your cash, look no further than the Roderer Trophy 6CC Money Clip. The Italian leather design is available in a choice of black or navy blue colors. The minimalistic aesthetic makes it perfect for all occasions. It is simple, functional, and sophisticated, with standout features including no visible stitching and a fully-lined interior. There are six card compartments, two flat pockets, and a polished steel money clip at the center.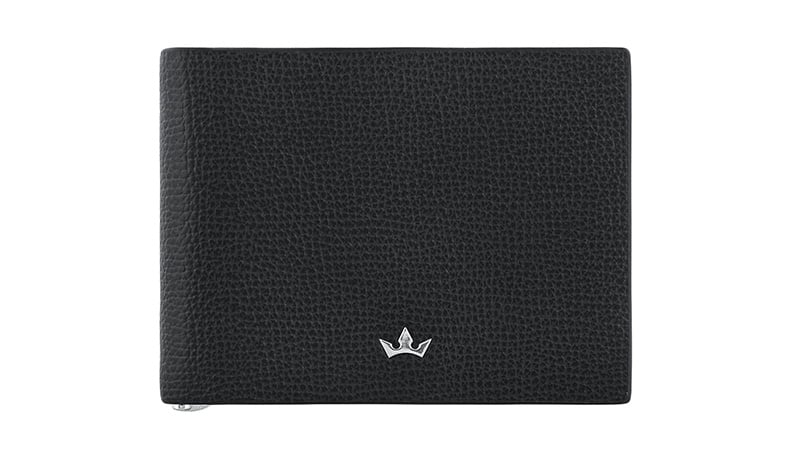 5. Travando Slim Wallet with Money Clip
Choose a slimline wallet with this option from Travando. It's made from durable and stylish carbon leather and is designed explicitly to fit into your pocket, without bulkiness. You've got plenty of room for 11 cards, as well as an easy-access pocket for your most frequently used ones. Plus, there's a money clip for keeping cash. Lastly, stay safe in the knowledge that your money and data are protected with industry-tested RFID blocking. This wallet makes a perfect gift for a loved one, arriving in a stylish and elegant gift box.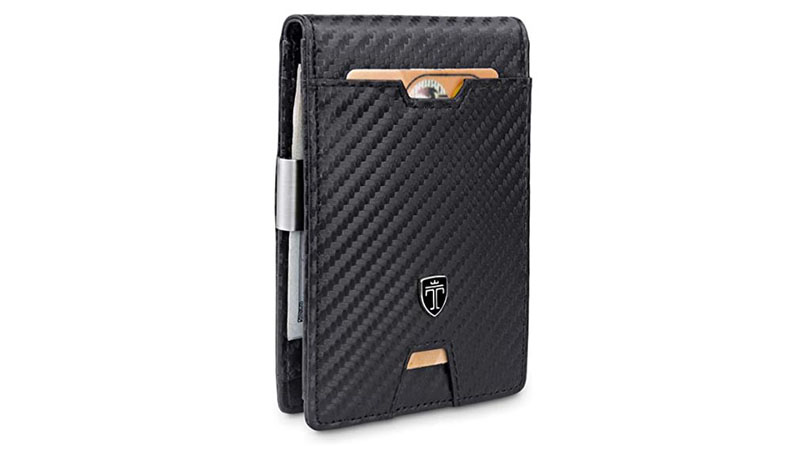 6. Buffway Slim Minimalist Front Pocket RFID Blocking Leather Wallet
With cash becoming less popular and cards turning digital, there's so little you have to carry. As such, a cardholder like this ultra-minimalist design from Buffway is sometimes all you need. Despite its slim size, it can hold up to 12 cards and comes with a clear ID pocket and finger-tab hole to make accessing your cards easier. Plus, on the occasions you do have cash, a hidden middle pocket is perfect for folded notes. Choose from a selection of leathers and finishes, all in ever-fashionable black.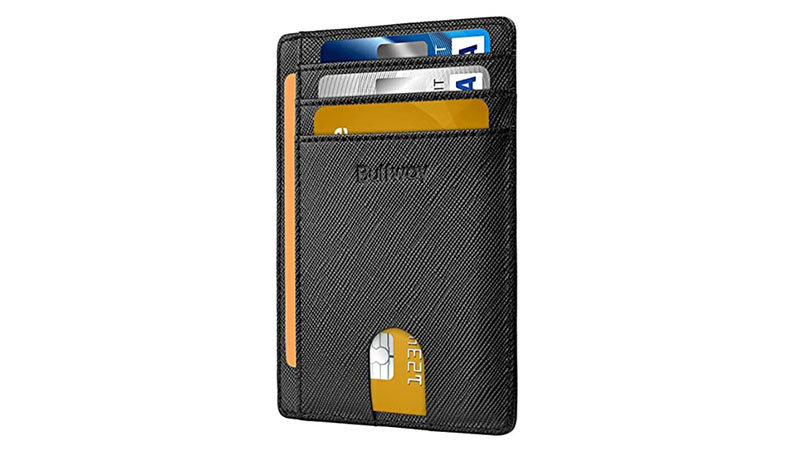 7. Gucci Ophidia GG Supreme Wallet
Gucci's Ophidia GG Supreme Wallet is a classic bifold style for gents who prefer more traditional things. It is, of course, made in Italy from the finest leather, canvas, and silk. Style-wise it showcases Gucci's iconic GG motif, as well as the green and red stripes that are so recognizable. Functionally, there are eight card pockets and a section for notes, receipts, and business cards. With this much style, you'll be eager to whip it out of your pocket every chance you get.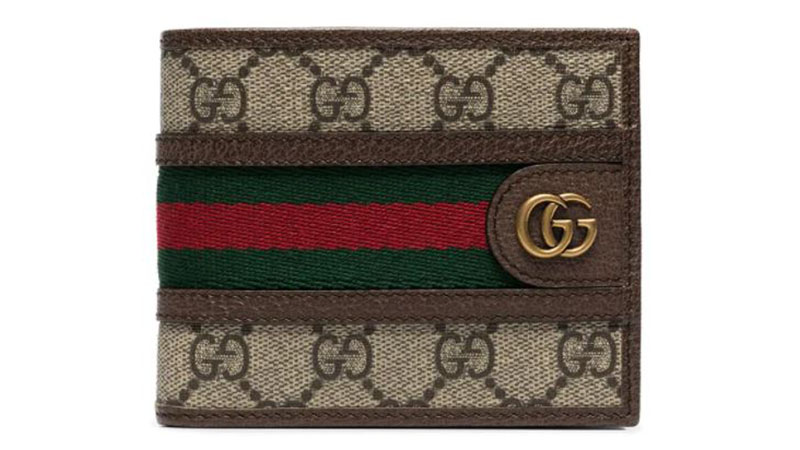 8. Zitahli Minimalist Slim Bifold Front Pocket Wallet with Money Clip
If you're keen on keeping things simple yet refined, this slim bifold wallet is an excellent choice. Keep your two most used cards on the front, with four more easily accessible with an innovative pull strap. Plus, there's an additional four regular card pockets on the inside, a money clip, and a clear window for work passes or ID. The microfibre outers are durable and stylish, while the size fits easily in your front or back pocket. Lastly, the lining is made from advanced RFID blocking materials, so you know you won't get scammed. It comes in six colors, including navy, brown, champagne, and three variations of black.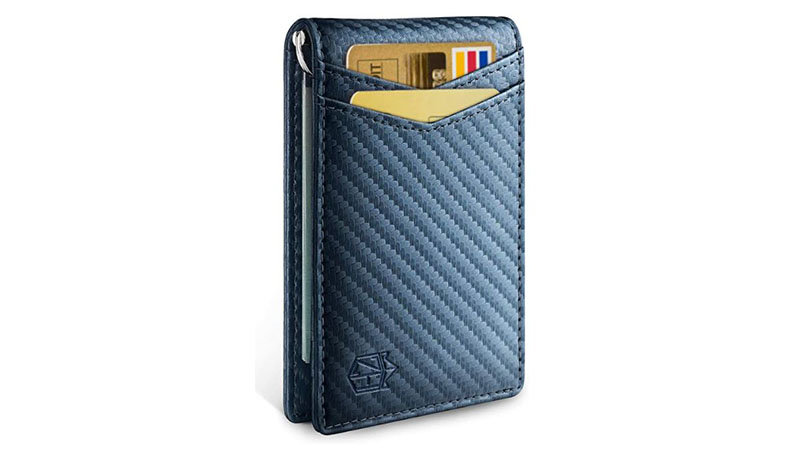 9. Harber London – Leather Bifold Wallet with RFID Protection
Looking for the perfect gift for someone, or need to upgrade your current wallet situation? This Harber London leather bi-fold option is a great choice for many reasons. It features RFID protection, so you can trust your cards are safe from scammers. Plus, the leather construction is stylish and sturdy, meaning git will last for years to come. Choose from a wide range of colors – it fits most currencies and has a magnetic closure for extra security.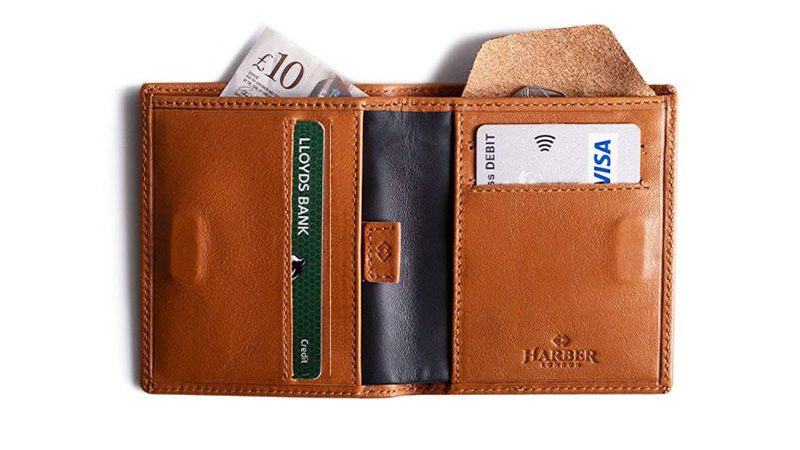 10. Jacquemus Le Pitchou Coin Purse
Move away from traditional men's wallet by choosing the Le Pitchou Coin Purse from French label Jacquemus. It sits on a classy leather lanyard, so it's easy to style with your favorite sweater and trousers, or even shorts, t-shirt, and overshirt. Plus, if you're a little forgetful, it's much harder to lose or leave behind at the bar. Since technology has advanced enough that paying via your smartphone or wearables is commonplace, you no longer need to worry about carting around all your bank cards. All you need is a bit of cash and any other valuables such as house keys, which fit perfectly in this unique and trendy coin purse.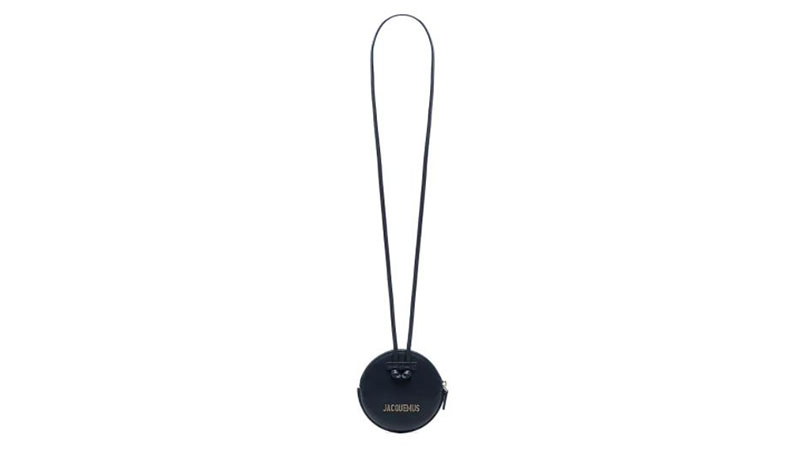 11. Columbia Men's RFID Trifold Wallet
Columbia's Men's RFID Trifold Wallet is a more traditional option for a classic man. It's crafted from beautiful, high-quality leather, which is naturally durable and wears well over time. The trifold design opens out to reveal six card slots, a clear ID window, two slip pockets, and a large note compartment. This means you can easily store everything from bank and loyalty cards to ID, business cards, and cash. The lining also features RFID blocking so your chipped cards remain protected.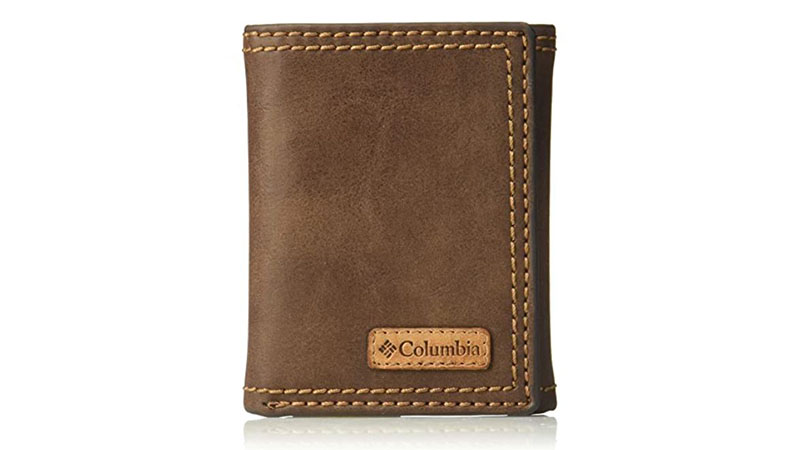 12. Saint Laurent Square Logo Print Cardholder
Channel some effortless French style with this simple, refined cardholder from Saint Laurent. It's perfect for all your essentials with a total of four card slots. This also means it's ultra-slimline and you'll hardly feel or see it in your pocket. It's made from soft black leather with the unfussy Saint Laurent Paris logo printed on the front. This makes an excellent gift for any man who's embraced minimalism and simplicity in his life.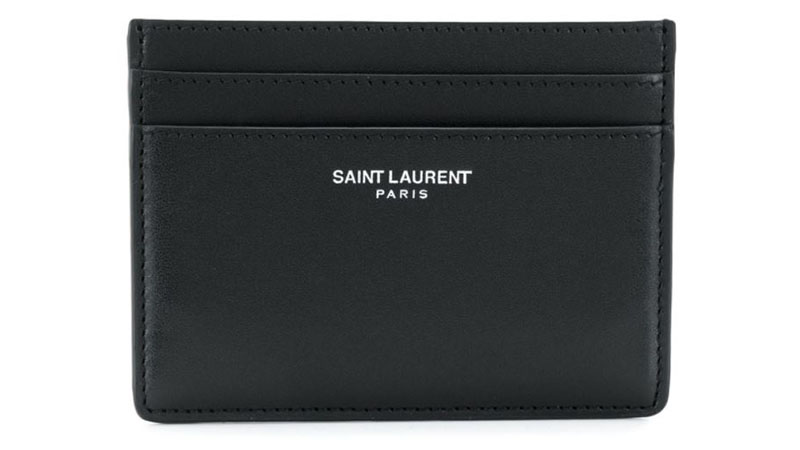 13. Timberland Men's Leather Trifold Wallet With ID Window
Relish the way the two-tone soft Italian leather on this Timberland wallet wears over time. Like many men, it will only get better as it ages. It's a classic trifold style that is ideal for more traditional men who appreciate nice things. Fit all you need into the six card slots, two slip pockets, ID window, and two cash pockets. Even with such a large storage capacity, it is still a compact size that won't excessively bulk your pockets out.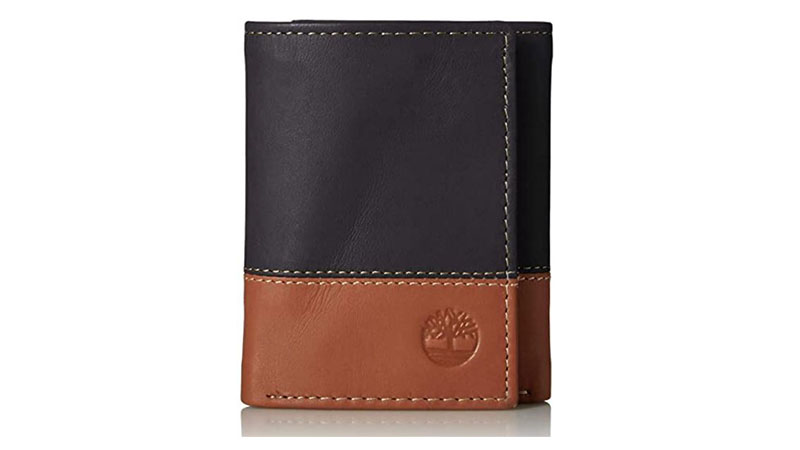 14. Comme Des Garcons Wallet
Comme Des Garcons is well known for its incredible wallets, and this stylish design is no exception. It's classic, compact, and made from quality embossed leather. As such, it will slip easily into any wardrobe and stand the test of time. The design features a gold zipper and hardware, which contrasts strikingly with the black. The zip also opens along two edges to reveal an internal pouch pocket for keeping small items and cash, while the central section is perfect for cards.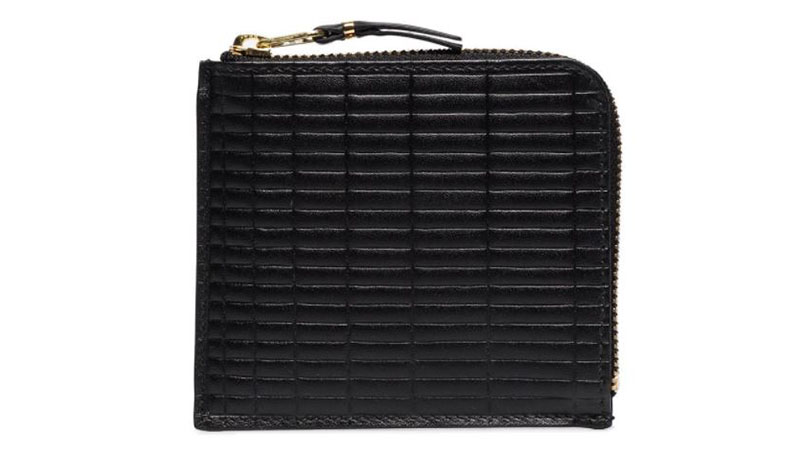 15. Vikrom Carbon Fiber Wallet and Money Clip
Take your wallet to a more high-tech level with this carbon fiber design from Vikrom. It holds up to 15 cards, as well as eight notes in the stainless steel money clip. An elastic webbing tab keeps things secure yet allows for expansion as you add more cards. Everything is also shielded with aluminum alloy RFID protection internally, while the exterior is a premium carbon fiber, which is exceptionally durable. It's simple, stylish, affordable, and functional. It also makes a great gift for friends, family, and business associates.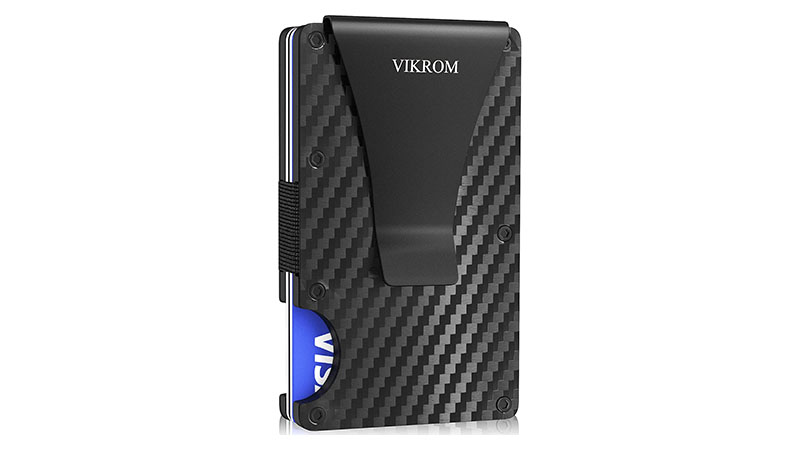 16. Hissimo Men's Slim Front Pocket Wallet
Simple bifold wallets, such as this classic black design from Hissimo, are an excellent option for everyday use. They look great, are easy to use, and will complement any outfit, from modern suits to casual jeans. Enjoy easy access to your ID with the transparent window, plus room for your essential cards in the three slots. There's also a large section for cash and a slip pocket. RFID blockers keep your data and money safe, while the small size fits easily in your pocket, with minimal bulkiness. It's a great choice for guys who want to keep it understated.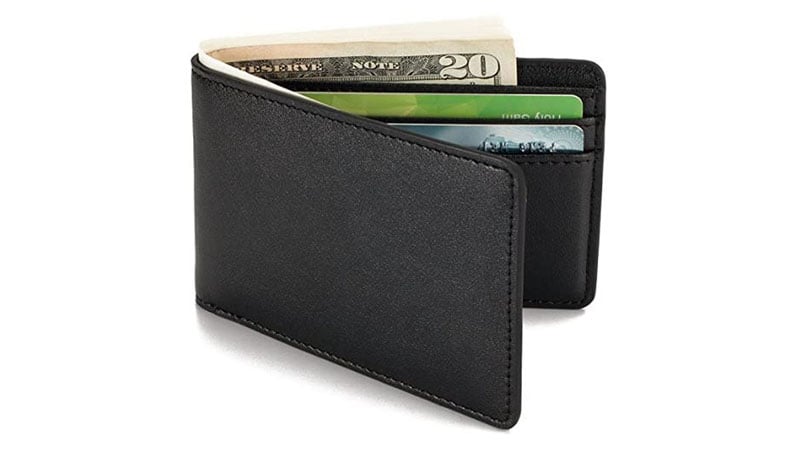 17. Dsquared2 Icon Leather Wallet
Never worry about losing your valuables with this Icon leather wallet from Dsquared2. It throws it back to the grunge era of the 90s with a chain that attaches to your belt loop, keeping it safe and secure. When it comes to storing your gear, there's plenty of room for loyalty, bank, and business cards, as well as cash. The body of the wallet consists of soft genuine leather, with the white logo printed on the front. It's the perfect choice for gents who are keen to make a fashion statement.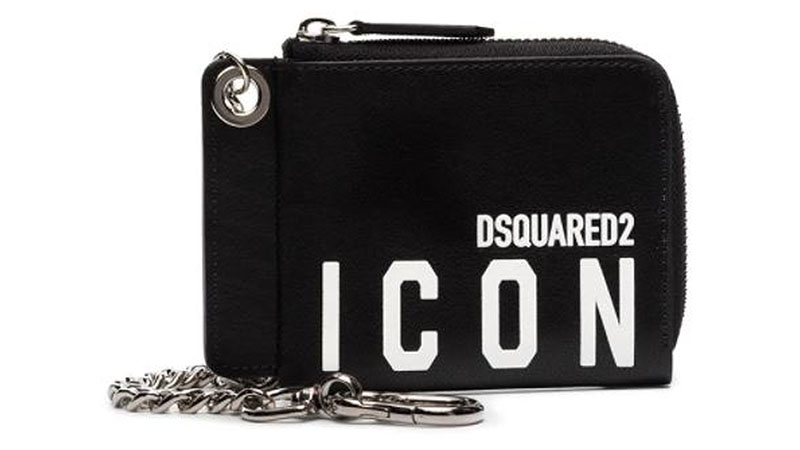 18. Tommy Hilfiger Men's Leather Wallet
Tommy Hilfiger keeps it timeless with their stylish leather wallet. It's made from 100% black leather and is adorned with just the logo embossed in the lower right corner. Stash your essential cards in the removable cardholder to make it simpler when you need to downsize. However, when you're using the full wallet, there are six card slots, two secret slip pockets, and a large bills compartment. That's definitely enough room for everything you need when heading out shopping, to dinner, or for drinks with friends.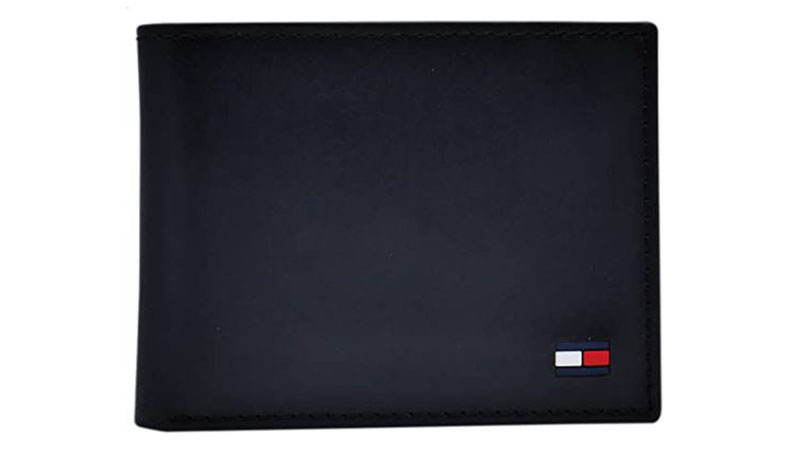 19. Comme Des Garcons Logo Zipped Wallet
This sleek wallet with a curved edge from Comme Des Garcons is a brilliant choice for trend-savvy men. The contrasting gold hardware looks great combined with the soft black leather and bold white branding. It opens to reveal an inner pocket and lots of room for cards, coins, and notes. Plus, the compact size fits nicely into pockets, as well as backpacks, satchels, or briefcases.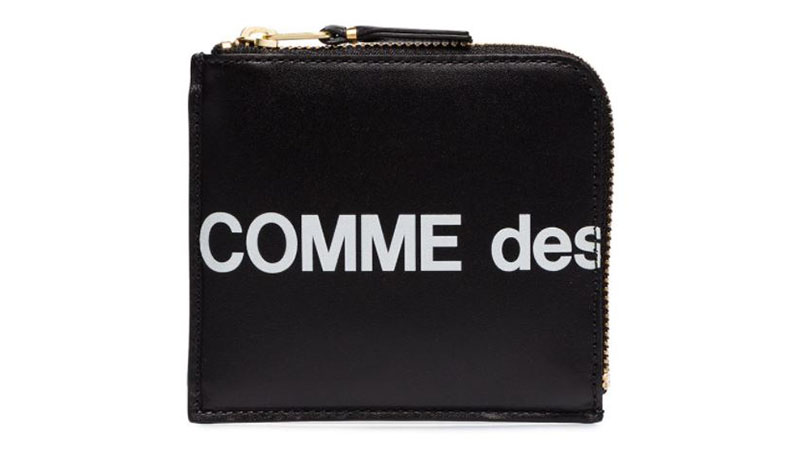 20. Carhartt Men's Billfold Wallet
The earthy tones of this Carhartt bifold wallet make it a fantastic casual option. Storage is plentiful in this design, with eight card slots, three side pockets, and a bonus fold-out wing with two ID windows. Plus, there's a hidden key compartment so you can keep all your valuables together in a single location. It's made from heavy-duty leather, so if you tend to be hard on your wallet (other than splashing cash), it's an ideal choice.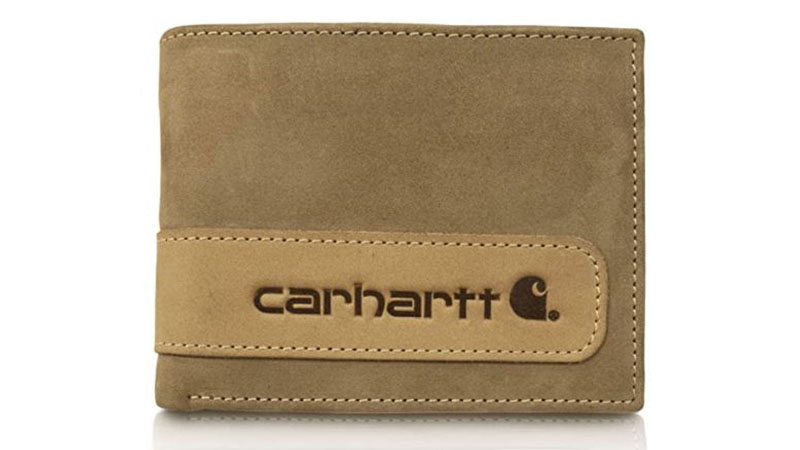 21. BOSS Crosstown Bifold Leather Wallet
You'll certainly look like a boss when pulling this wallet out to shout the in-laws' dinner. BOSS has created this stylish Crosstown bi-fold wallet for classic men who appreciate the finer things in life. Thanks to quality Italian construction and black full-grain leather, it's a timeless style that will last for years to come. Everything has a place, with eight card slots, two slip pockets, and a large note section. There's also subtle branding on the front, with a stylish silver plaque that doesn't take away from the design's simplicity.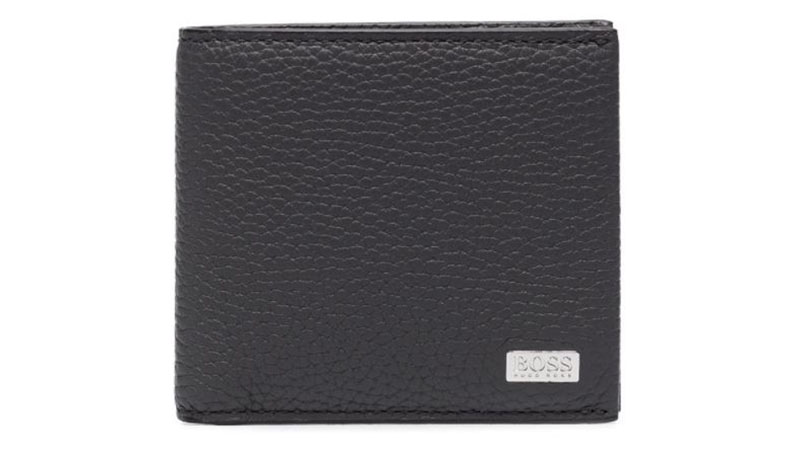 22. Radix One Slim Wallet
Why go traditional when you can embrace the future? This modern wallet and money clip combines strong polycarbonate with soft, durable silicone to create an ultraslim yet exceptionally functional design. It sandwiches four to ten cards between the layers, keeping it secure with the strap. You can also tuck cash under the silicone or put it in with your cards for additional protection. The thin profile fits easily in both your front or back pockets without creating bulk. It makes an excellent gift for guys who like to challenge the norm and embrace new trends.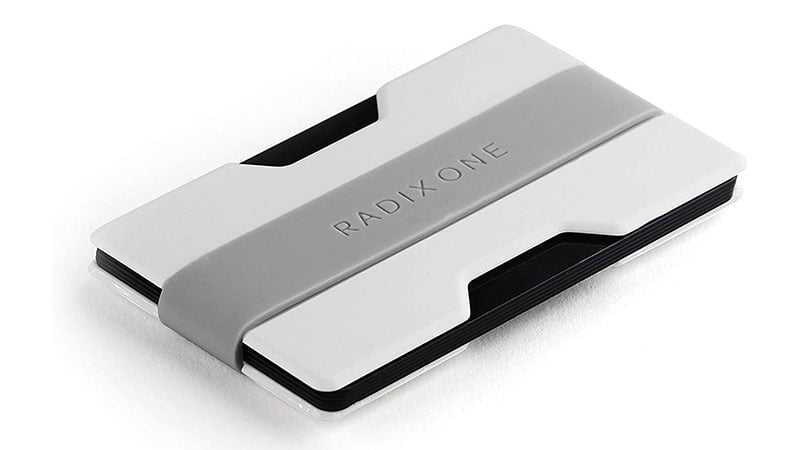 23. Givenchy Stud-Embellished Logo-Print Cardholder
Have your cards easy to access at the bar or coffee shop with this excellent design from Givenchy. The black leather is classic and stylish; however, the silver-tone studies and white Givenchy branding give this cardholder an edgy feel. It's a simple design that keeps your cards safe without the need for a full bulky wallet.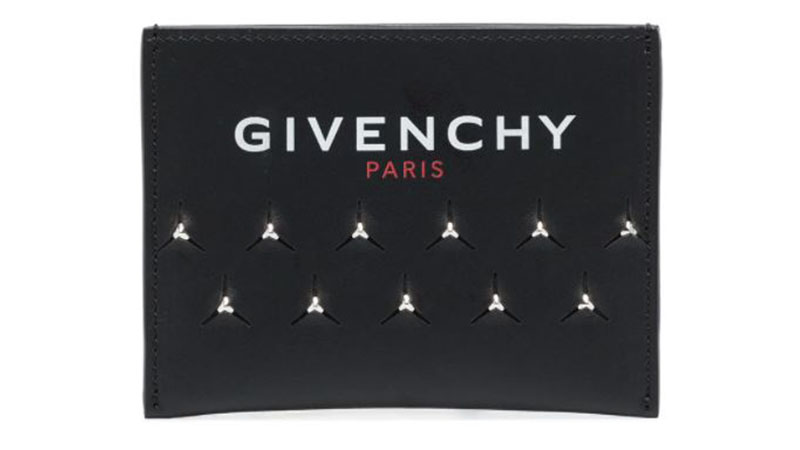 24. Bellroy Card Sleeve
Bellroy has some of the best minimalist wallets on the market, and this card sleeve is no exception. It keeps it refined yet functional with quick access pockets on the front and back and tab accessed storage in the center. It comfortably holds two to eight cards, as well as folded bills, so that you can enjoy a life of simplicity. Plus, it comes in a range of stylish colors, including black, charcoal, cocoa, toffee, and racing green.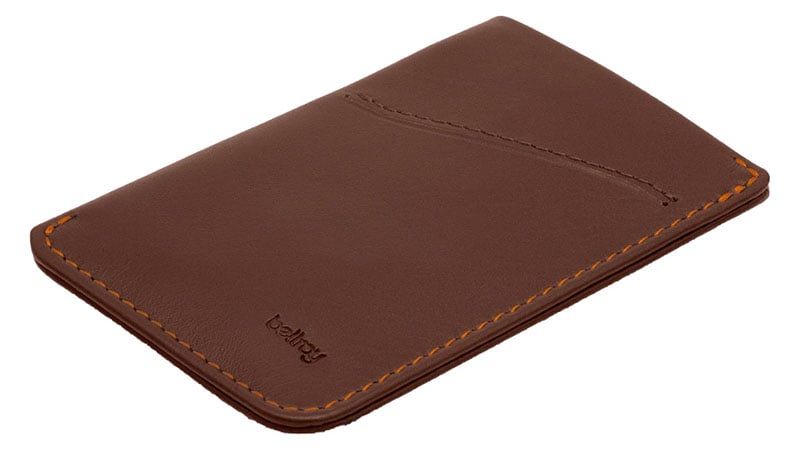 25. Comme Des Garcons Classic Zip-around Wallet
Comme Des Garcons has hit the nail on the head with this classic zippered wallet. The plain black leather is universally appealing and is complemented well by the gold zipper. It has more storage options than other Comme Des Garcons designs, which is perfect if you prefer a bit more organization. There are three card slots, a section for notes, and a slip pocket. Plus, there's a coin pocket, which is perfect if you don't like loose change rattling around in your pockets or ending up going through the wash.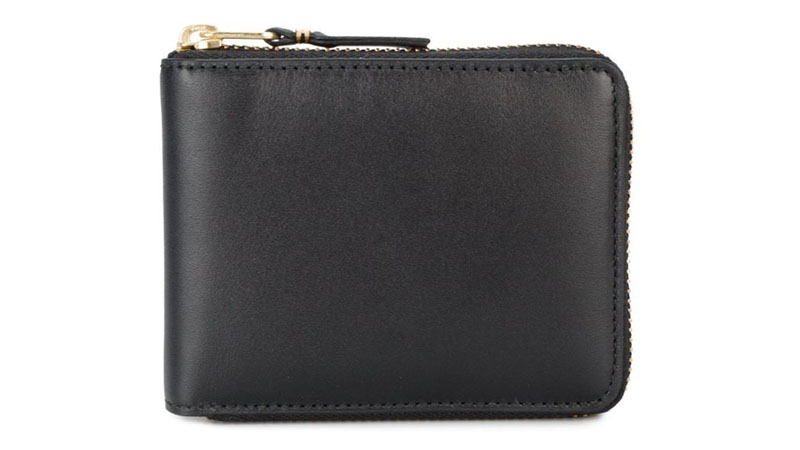 26. Octap Synthetic Leather Wallet
If you're looking for a budget-friendly option, then go no further than this Octap synthetic wallet. It has all the traditional styling and functions of more luxury products, just without the price tag. There are three card slots, a clear ID holder, a slip pocket, and a section for notes, as well as an additional zippered pocket for more securely stashing your cash. You can also choose from classic black or stylish brown.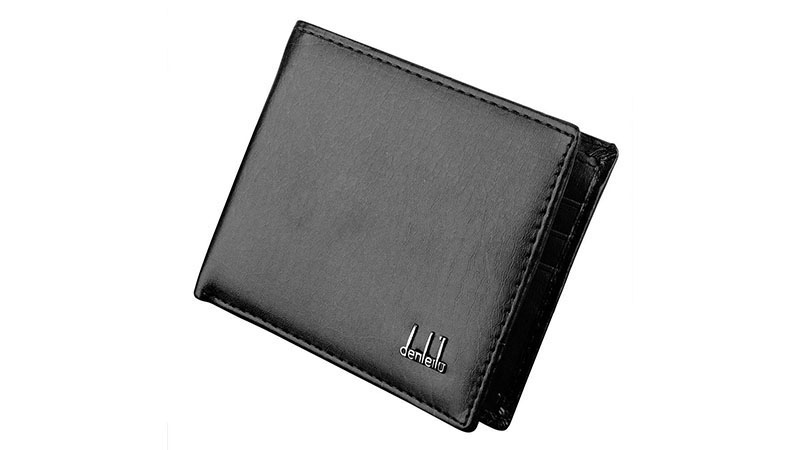 27. Access Denied Genuine Leather Trifold Wallet
This sleek trifold wallet is a great option for stylish men. Keep seven cards along with your ID and cash stored safely, and have your data protected with RFID blocking technology. The genuine leather construction is soft and durable, ensuring it will last for years, even with regular wear. It also makes a wonderful gift for a loved one or friend, as it arrives in a stylish gift box.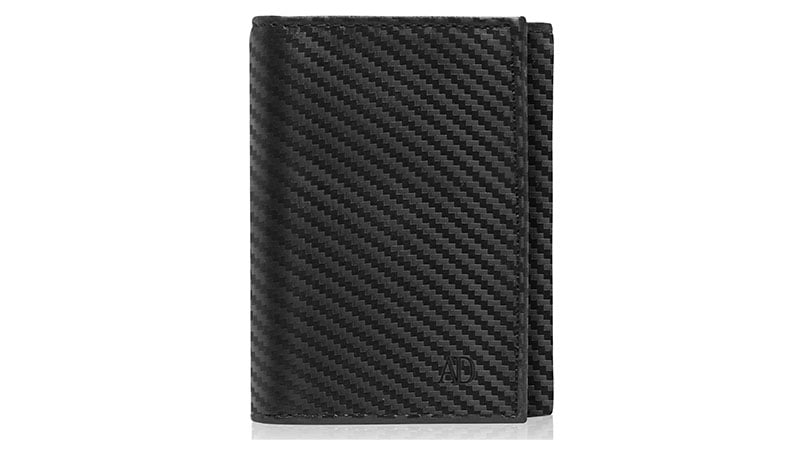 28. Herschel Supply Co. Hank RFID Bifold Wallet
Herschel Supply Co. has a long history of making quality bags and backpacks, so it makes sense that their wallets are just as incredible. This canvas wallet, which comes in both black and grey, is an excellent style for active men. It has a slim design, so it doesn't take up excess room in your pockets or bags and comes with RFID blocking for electronic protection. There are three card slots, an ID window, and a cash pocket, so no matter how you carry your money, there's an appropriate place to keep it.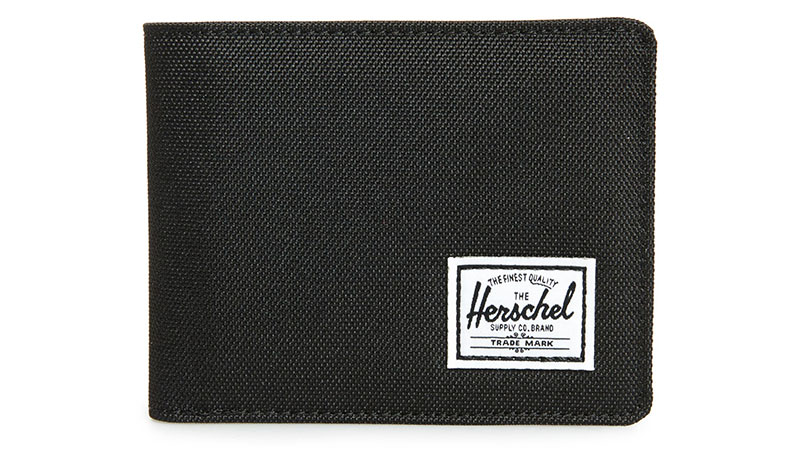 29. Bosca ID Passcase Wallet
Enjoy a refined and polished look with this dignified leather wallet from Bosca. This is the kind of classic style the looks perfect slipped into your suit jacket pocket after a productive business lunch. Even with such a slim silhouette, it has room for cash, receipts, eight cards, and your ID. Plus, the ID flap is also removable if you need to downsize more, keeping just the absolute essentials on you. Lastly, you can choose one of three colors — black, brown, and cognac — to best suit you're aesthetic.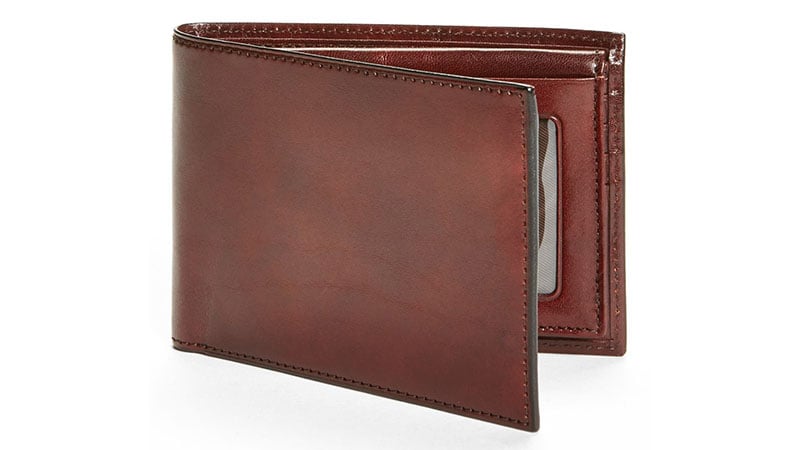 30. Salvatore Ferragamo Monogram Pattern Wallet
Add a touch of luxury to your wardrobe with this monogrammed Salvatore Ferragamo wallet. It's a statement piece that you'll be eager to pull out anytime. It's made from 100% calf leather, which is known for its softness, durability, and style. Plus, the textured pattern adds extra interest to an otherwise classic bi-fold design. This makes a brilliant gift as a treat for yourself or a special occasion for a friend or loved one.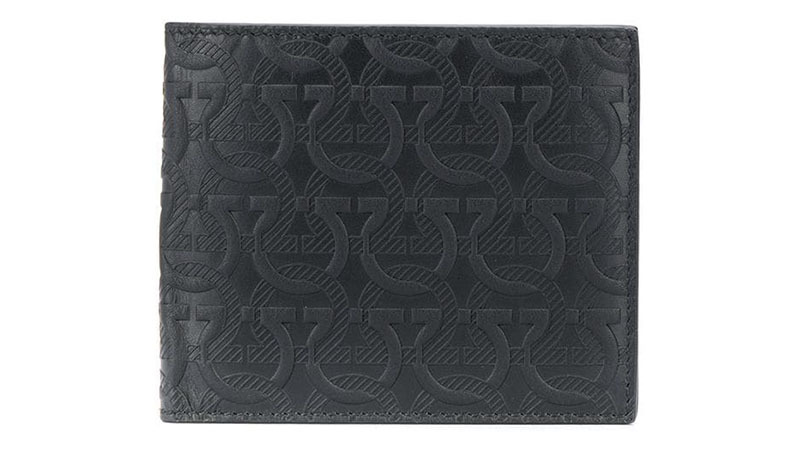 31. Men's Leather Bifold Wallet
Get the classic style of a leather wallet but the protection of modern RFID-blocking technology with this wallet. The bi-fold design is classic, giving you ample room to store up to ten cards. It also features two pop-up windows for your ID and keeps the money and receipt pockets separate for the ultimate organization.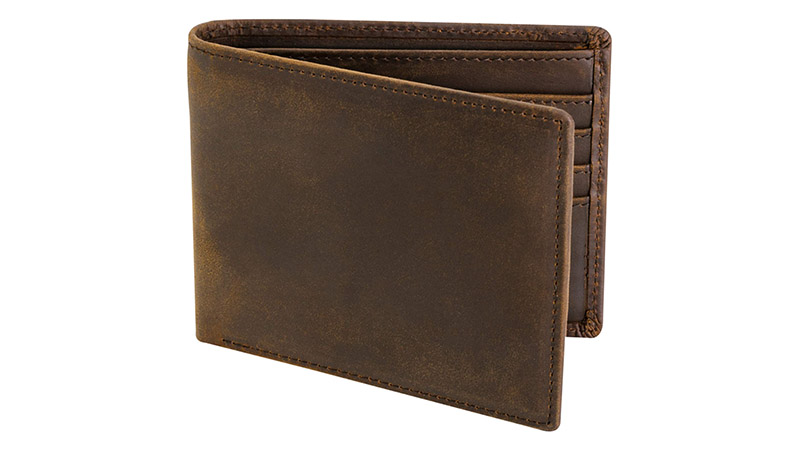 32. Handmade Slim Men's Wallet
With genuine leather and RFID-blocking technology, this handmade wallet is worth showing off. The elegant design is suitable for every type of man, and the functionality adds extra layers of practicality. You can store six cards plus your ID – it also has two document and note compartments, so you can keep everything important to your person.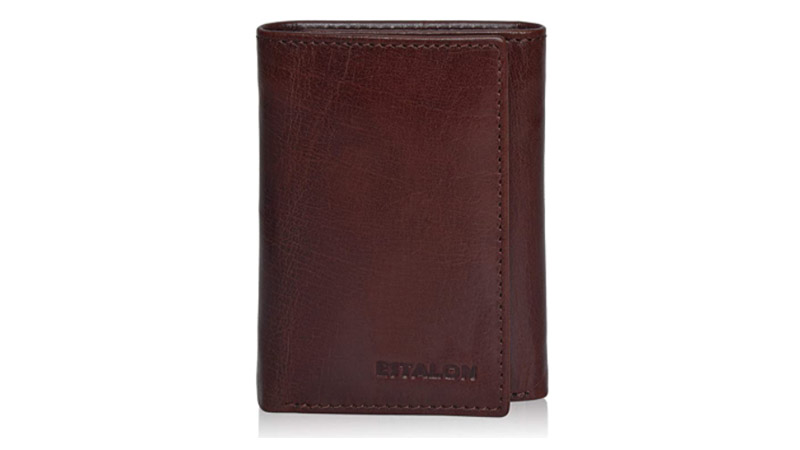 33. Columbia Men's RFID Protected Passcase Bifold Wallet
With RFID protection to stop thieves and a stylish design, this wallet is an everyday essential. You can fit up to six cards, plus your cash and even a work badge or some photos, too. The iconic Columbia stitching and embossed logo make it stand out from the others, so you will be proud to show it off when you get the chance. It's made from leather, so it will last you for years to come.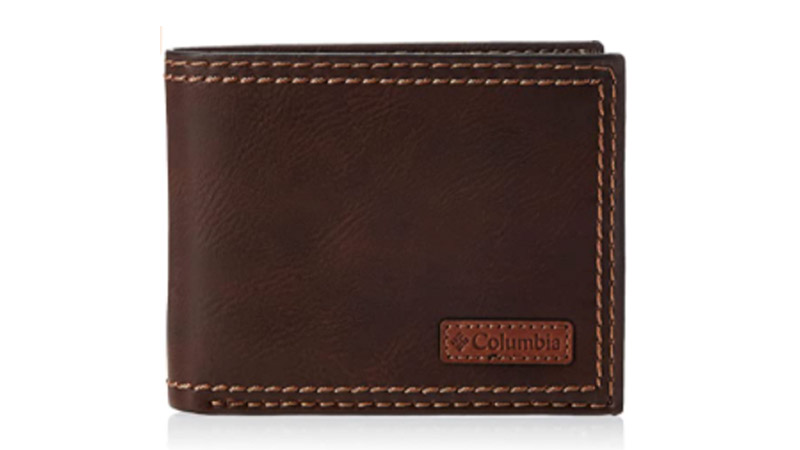 34. Calvin Klein Large Icon Logo Wallet in Black
Elevate your money game with this classic wallet from Calvin Klein. The sleek black color is suitable for any occasion, and the bi-fold design allows you to store plenty of things inside without overstuffing or feeling uncomfortable. For those who love fashion, the large embossed logo is sure to impress.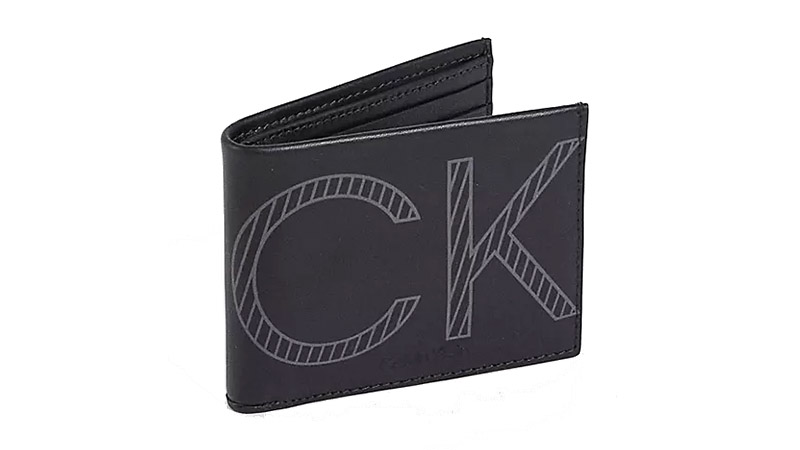 35. Maison Margiela Small Four-Stitch Zip Wallet
Is it time you stepped up your wallet game? Let this stylish option from Maison Margiela do the trick! Made from calf leather and an all-around zip fastening, you can keep your essential things safe and do it in style. The Margiela four-stitch logo is iconic for those who love the fashion world, and the silver-tone hardware flatters every outfit choice.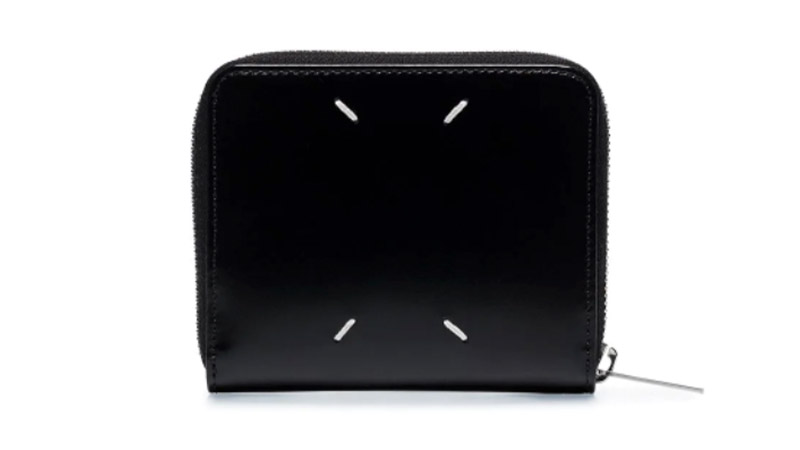 36. Alexander McQueen Logo Print Wallet
Your cards have never looked so good! This print wallet from Alexander McQueen lets you store multiple cards but is sleek enough to slip into your pocket with ease. The calf leather construction features an embossed logo stamp, and the designer's name is printed on the front in a messy font.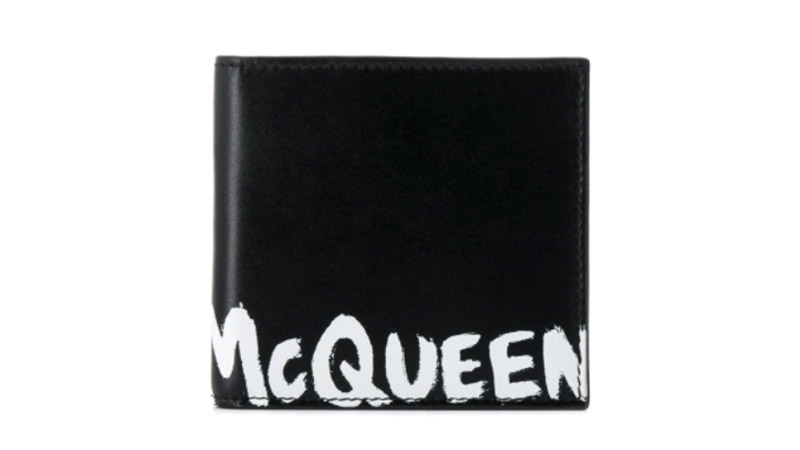 37. Burberry Vintage Check Bi-Fold Coin Wallet
There is nothing quite as iconic as the Burberry tartan print, so why not carry it around with you everywhere with this wallet? Not only is this accessory stylish and timeless, but it's created using an environmentally conscious construction. The process behind this wallet involves renewable recourses, generating less CO2 and less water, so you can earn your cash while saving the planet. Win!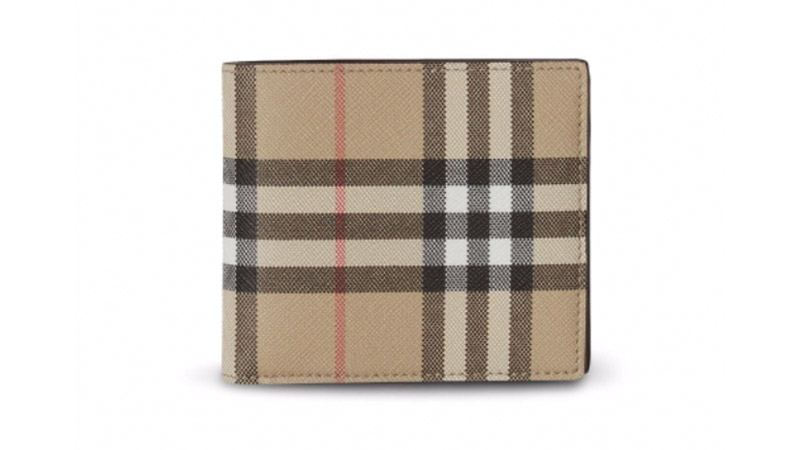 38. Dolce & Gabbana Camouflage-Print Bi-Fold Leather Wallet
If you thought that camp print was out of fashion, think again. This bi-fold wallet from Dolce & Gabbana is functional and stylish, with sturdy and robust Italian-made leather construction and a tri-color military print. The note compartment and internal card slot allow room for plenty of things and fit most banknotes, too.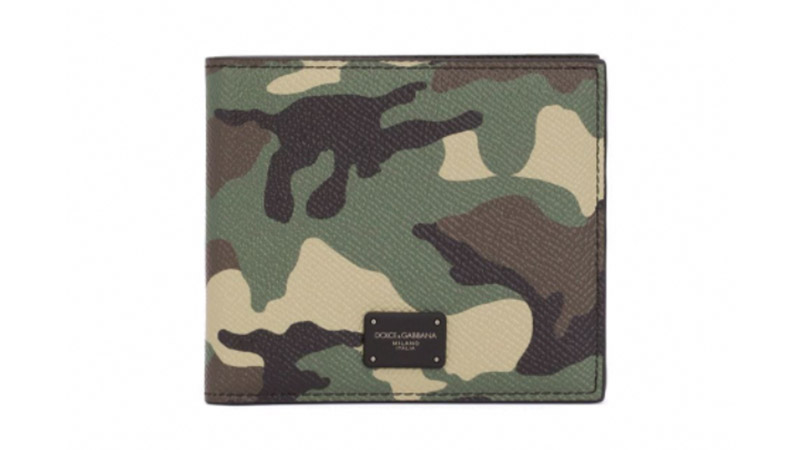 39. ETRO Paisley Print Wallet
Famous for its paisley print and effortless style, this wallet from Etro is a great choice for a gift or for yourself. Constructed from Italian calf leather, it's luxurious and soft, with an expertly designed print all over. You can fit multiple cards inside, but it's small enough to carry around in your back pocket, jacket, or in a bag of your choice.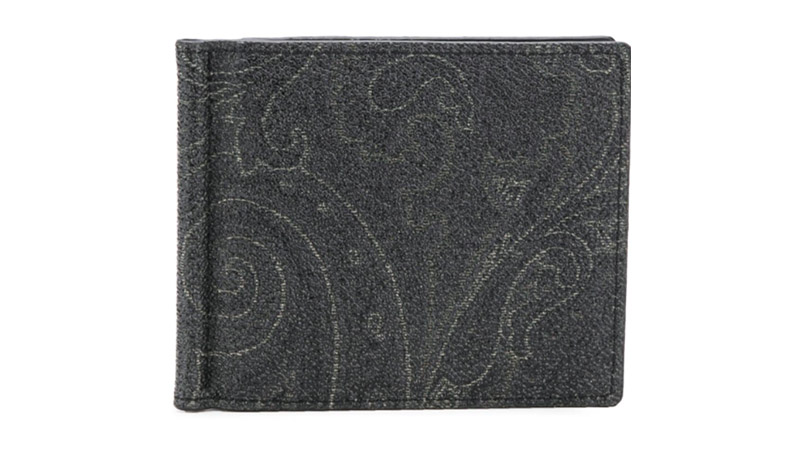 Men's Wallet Buying Guide
Wallet Size
Men's wallets come in a range of different sizes, and what you buy will depend on your style and needs. Going largest to smallest, trifold, bifold, and cardholder are the three most common sizes. Large wallets are great for carrying everything you need but can be bulky in your pockets and even cause lower back issues from sitting on it. Mid-sized wallets are a great in-between option that can fit cash and cards but don't always have room for coins and extras. Finally, minimalist wallets are increasing in popularity and often have room for just a few cards and notes. However, these are the best option for not impacting the look of your outfit. As cash use declines and technology allows payment systems and loyalty programs to move online, there is less need for large, cumbersome wallets.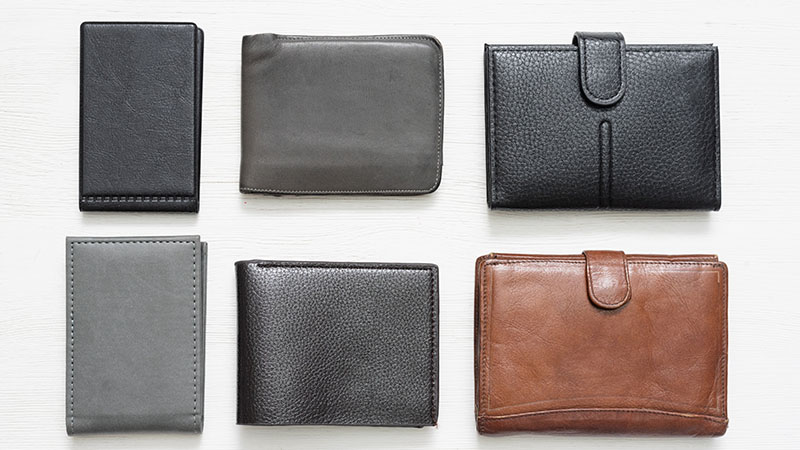 Wallet Construction
Wallets are one of the accessories that most men use every day. As such, you want to make sure you're investing in a well-made product when you purchase a new one. The majority of wallets are made of leather. This offers a smart, natural finish in a material that is both durable and ages well with wear. Leather quality can vary, but generally, the more you pay, the better the product. Alternatives to leather include faux leather, which is a much more affordable option but doesn't last as long. Then, with the increase in technology and new designs, there are other materials available. This can include silicone, polycarbonate, and even metals, common in minimalist wallets and cardholders. When looking to purchase a new wallet, you'll also want to check any zippers or clasps' quality to ensure that they won't break with constant use.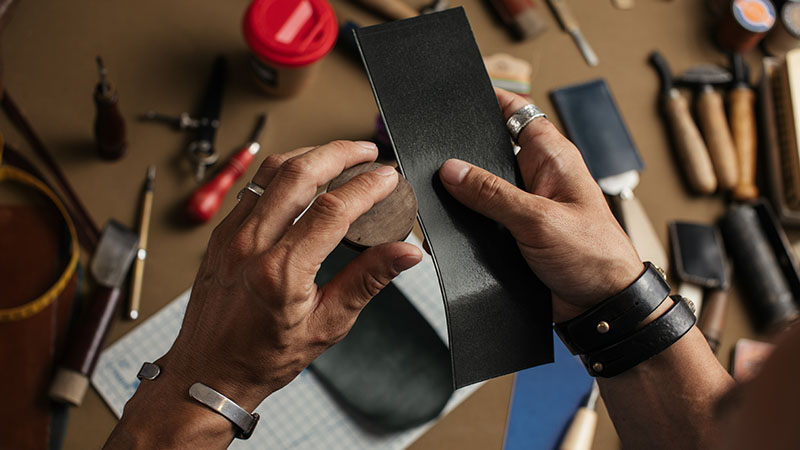 The Best Men's Wallet Brands
Bellroy
Bellroy strikes a near-perfect balance between form, function, and price, especially when it comes to minimalist wallets. This Australian company was formed in 2010 to redefine and redesign wallets to better reflect modern, evolving life. Each design is thoughtful, practical, and refined. The company also focuses on minimizing its environmental impact by using recycled, plant-derived, and eco-tanned leathers. Some of their best selling designs include the Hide & Seek, Note Sleeve, and Card Sleeve.
Tom Ford
Tom Ford boasts some of the most luxurious high-end wallets. They have a classic style, making use of quality leather to create products that will last for years. Black is a popular color with the American designer's minimalist styles; however, there are other rich colors to choose from. Invest in one of the brand's bifold wallets, a T-line cardholder, or a T-line money clip.
Mont Blanc
Just like their pens, perfumes, and watches, Mont Blanc has quintessentially refined and elegant wallets. The designs are more about lifestyle than fashion, yet still boast high-end appeal. Think clean lines, classic colors, and laidback luxury. If you're keen on a Mont Blanc wallet, look at styles like the Meisterstuck wallet or cardholder or the Westside Extreme.
Givenchy
The French fashion house brings an element of street-savvy style to their luxury designs. The range of wallets blends monochromatic shades with bold branding and pops of color, giving it a modern edge. Of course, they use expert tailoring techniques and supreme quality materials to create long-wearing products. Looks for styles like the Eros wallet, embellished cardholders, and the classic bifold.
Gucci
Gucci is one of the world's leading fashion brands for a good reason. They source the highest quality materials, use the latest in manufacturing and tailoring techniques, and have built an irrefutably luxurious brand. As such, their wallets are just as refined and trendy as the rest of their seasonal collections and are worth the investment for fashion-conscious men.
Commes Des Garcon
Japanese brand Commes Des Gargon brings an offbeat but striking appeal to men's wallets, making them perfect for the non-conformists. They have a huge range of styles, colors, patterns, and textures that are sure to fill any design desire. Plus, they use excellent quality and durable materials, including soft calf leather and YKK zips.
Best Wallets for Men FAQs
Which brand is best for men's wallets?
Some of the best men's wallet brands include Bellroy, Tom Ford, Mont Blanc, Givenchy, Gucci, and Commes Des Garcon. 
What is the best quality wallet for men?
Genuine leather is one of the best quality options you can choose. Leather is exceptionally durable and, like a fine wine, ages well. If you're looking for a classic style that will last for years, then leather is the best choice. 
What kind of wallets do guys like?
As we move away from cash and payment systems move online, there's less need for large wallets. Therefore, minimalist, cardholder, and bifold style wallets are increasing in popularity, and brands are releasing more options like these to keep up with demand. 
Where to buy men's wallets?
You can buy men's wallets in a lot of places. Try online, big-box retailers, fashion stores, brand stores, or even the gas station (though, like anything you buy at the gas station the quality might be dubious). Given how often you use your wallet, it can be useful to see it in real life before purchasing so that you can feel it and really see how it's made. However, online research will give you a good idea of what's available, and most places have generous return policies.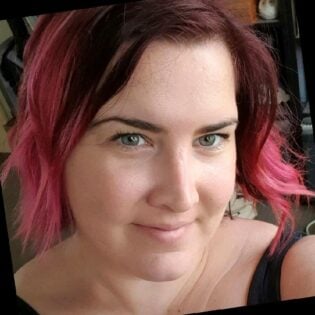 Alexandra Linde is an experienced writer holding a bachelor's degree in Journalism. She is the owner of Alexandra McKiterick Creative and has expertise in travel, fashion, fitness and lifestyle. Alex has previously written for Flightcenter, Travello, and Backpacker Deals.
SUBSCRIBE TO OUR NEWSLETTER
Subscribe to our mailing list and get interesting stuff and updates to your email inbox.