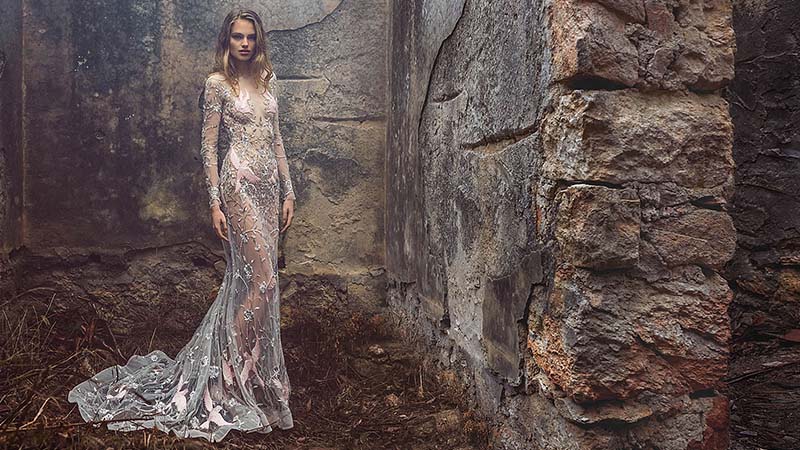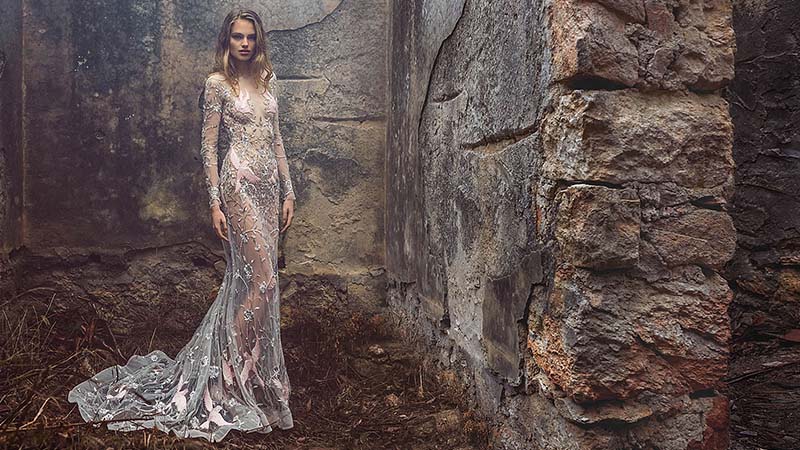 Every bride wants to shine as she walks down the aisle, and what better way to do so than with a silver wedding gown? Perfect for injecting your wedding day with a touch of sparkle, a silver dress can appear beautifully unique and chic. So, if you're the kind of bride who loves a little luxury and isn't afraid to try something different, why not opt for this metallic hue? We've rounded up a selection of stylish and modern silver wedding dresses to inspire your bridal look. Pick your favorite and pair it with minimal makeup and an understated hairstyle for a stunning appearance on your special day.
1. Long Silver Wedding Dresses
You may not want to wear white, but that doesn't mean you have to sacrifice a classical aesthetic. For a look that's both traditional and modern, consider opting for a full-length silver wedding gown. While the metallic hue will add an on-trend element to your wedding look, the long cut will keep things sophisticated and elegant. Once you've settled on the length, you'll have a variety of styles and fabrics from which to choose. Try selecting an option that suits your wedding, such as a tulle ball gown for a formal wedding or a satin mermaid dress for a romantic beachside ceremony.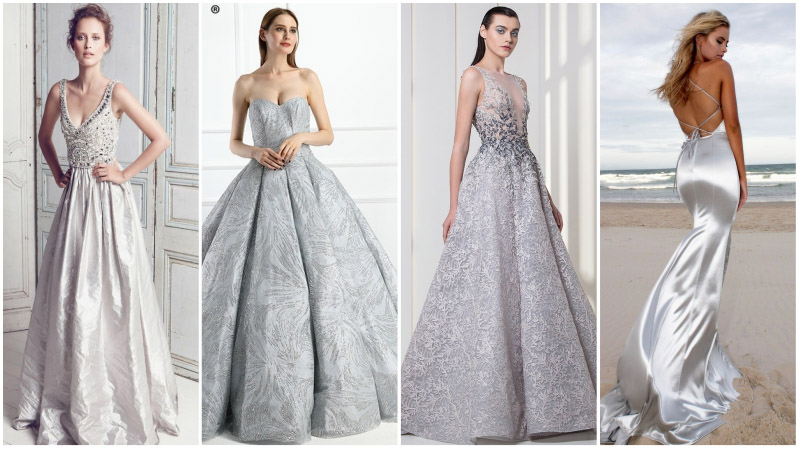 1. Short Silver Wedding Dresses
If you're looking to sparkle in a unique way on your special day, you should consider a short silver wedding dress. Perfect for modern brides, a short wedding dress is a fashionable and on-trend option. Select one in silver, and you'll appear even chicer. To nail the look, all you need to do is find your perfect style. For a stunning feminine aesthetic, consider a lace or tulle design. Or, for something seriously fun, try a glitter or sequin dress. Also, don't forget to take note of the length. While a midi will appear elegant and classy, anything finishing above the knees will project a playful and somewhat flirty vibe.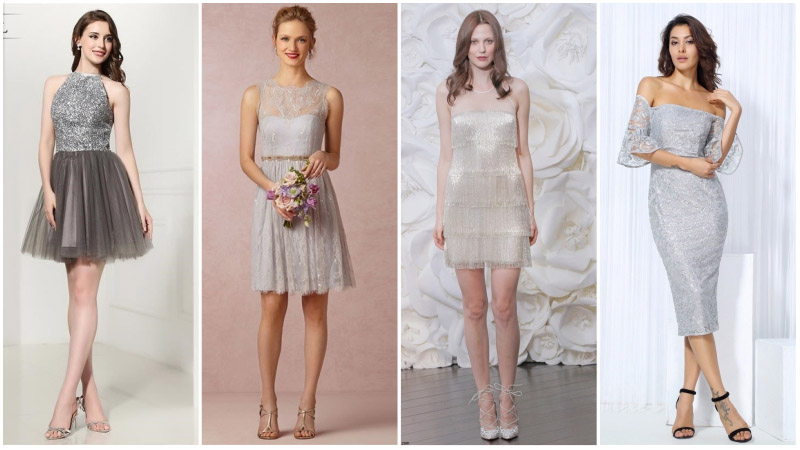 3. Silver Wedding Dresses with Sleeves
Can't get enough of silver? Try adding plenty of metallic tone to your bridal look with a stylish, sleeved wedding dress. As well as being an excellent option for a winter wedding, a silver wedding dress with sleeves appears polished and oh-so-pretty. Of course, there are many options from which you can choose. When it comes to sleeve length, you can select traditional long sleeves, modern 3/4 sleeves or simple short or cap sleeves. As for the style, consider sheer chiffon sleeves for a whimsical appearance or a chic lace design for an elegant aesthetic. For something a little more glamorous, you could also try beaded or embellished sleeves.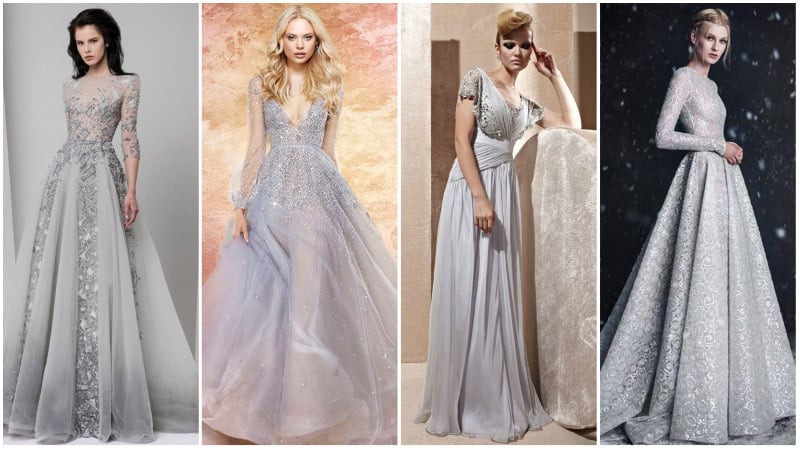 4. Sleeveless Silver Wedding Dresses
The perfect wedding dress is one that offers both style and balance, and a sleeveless, silver wedding dress can do just that. Ideal for brides who want to appear unique without looking over-the-top, a sleeveless silver gown combines striking colour with a more minimalistic cut. Also, it's the perfect option for showing off your toned, pre-wedding workout arms. To nail the look, just find the neckline that suits you best. Some of the most popular options include simple strapless styles, feminine sweetheart designs, sexy V-neck options and modern halter-neck cuts. To pick the one that's best for you, consider your bust size, face shape, personal style and how you'll be wearing your hair and makeup on the day.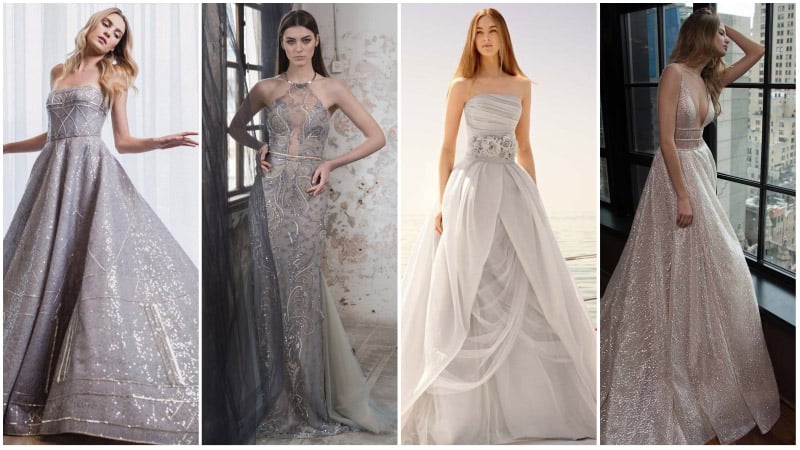 5. Silver Lace Wedding Dresses
There's no denying that a white lace wedding dress looks elegant and beautiful. But, a silver lace wedding dress can appear just as polished as well as much more exciting. So, if you're after a wedding gown that is both chic and cool, be sure to consider a silver lace design. By blending timeless lace with a modern metallic hue, you'll appear gorgeous and stylish on your special day. For a classic take on this look, consider an all-over lace design or opt for a lace and tulle style. If you prefer a more modern aesthetic, consider selecting a gown that features a lace bodice and a satin skirt instead.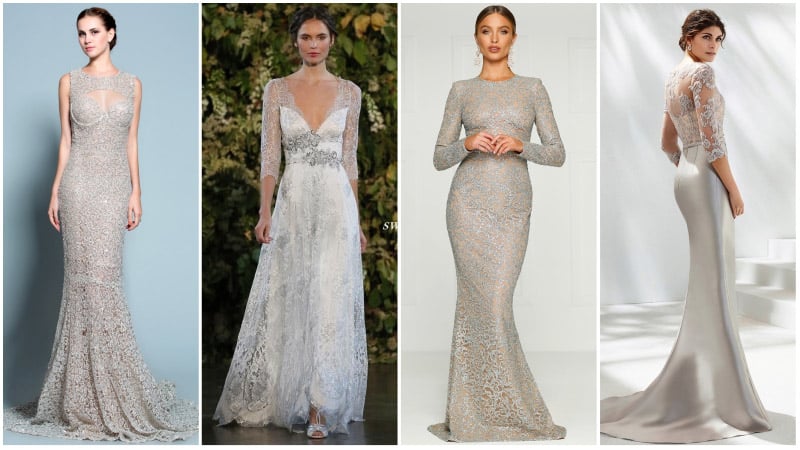 6. Silver Tulle Wedding Dress
For a fairy tale wedding with a twist, there's no better gown than a silver tulle design. Featuring extravagant layers and unique colours, a silver, tulle wedding dress appears glamorous and striking. Wear one as you walk down the aisle, and you'll be sure to surprise and impress. Just remember to keep your hair and makeup rather simple to avoid appearing over-done. Something minimal, such as a loose, low bun paired with a soft pink lip and understated eye makeup, will work well.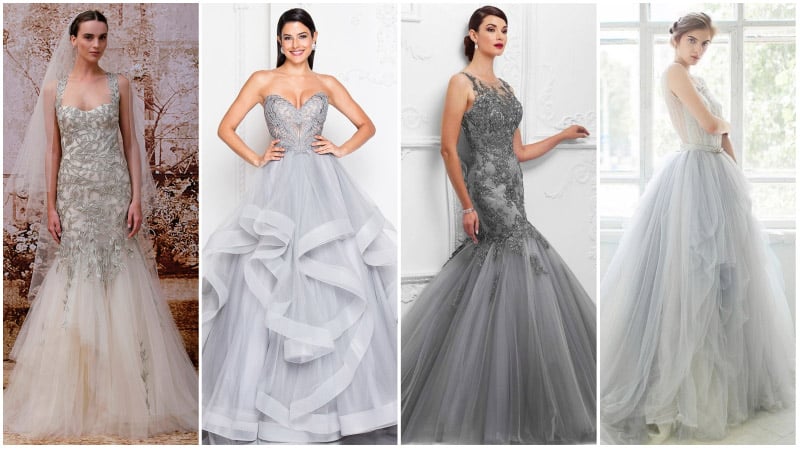 7. White and Silver Wedding Dresses
If you like the idea of a silver wedding dress but prefer a more traditional aesthetic, you should consider wearing a white and silver gown for your special day. By opting for a design that features both tones, you'll be able to achieve a classic appearance with an on-trend twist. All you need to do is decide how to incorporate both white and silver into your dress. For instance, you could select a white dress with silver embroidery, silver embellishments, or a silver sash.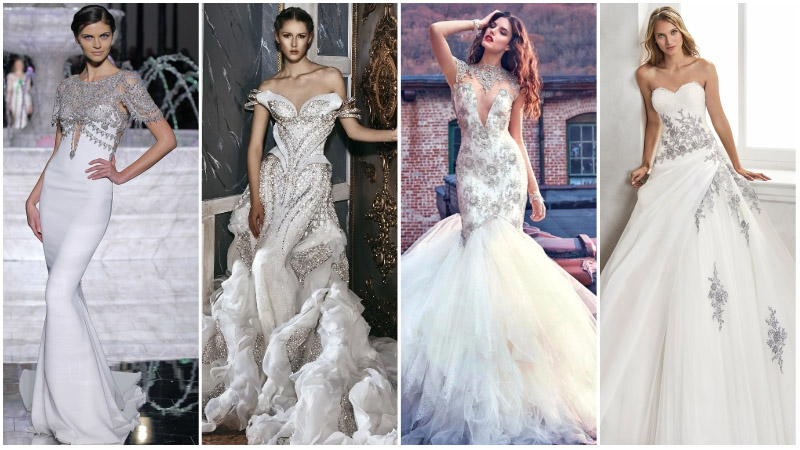 8. Blue and Silver Wedding Dresses
Who says your "something blue" can't be your dress? For a fun take on tradition, why not try a blue and silver wedding dress? The look may be bold, but it's certainly a beautiful one. So, if you're ready to rock a statement style and turn a few heads, be sure to consider a wedding gown that blends cool blue with icy silver. To nail the look, find your perfect shade of blue. While light tones tend to suit fair complexions and ladies with blonde hair, rich navy hues look stunning on those who are tanned or that have dark features, such as dark brown hair and brown eyes.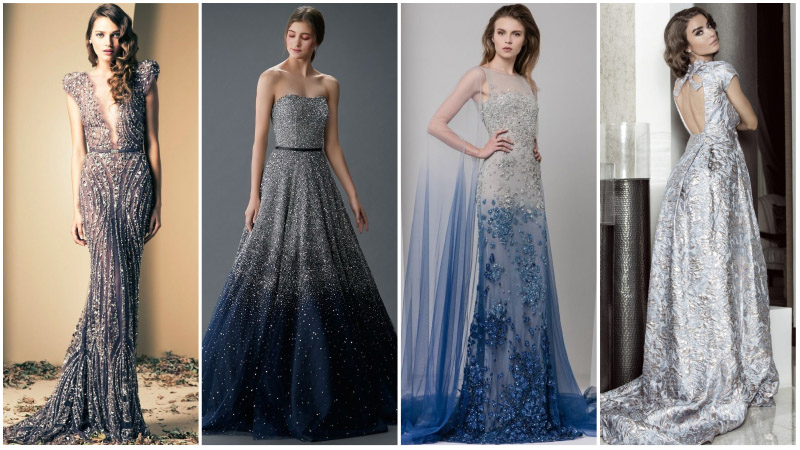 9. Plus Size Silver Wedding Dresses
Today, ladies with curves have more wedding dress options than ever before. So, you shouldn't feel restricted to standard designs just because of your size. For a bold and stylish appearance on your special day, consider showing off your curvy silhouette in a stunning silver gown. Whether long or short, a gorgeous silver style is sure to make a statement as you walk down the aisle. While many ready-to-wear bridal boutiques stock suitable sizes, you can also consider online options and made-to-measure designs to find your perfect gown. If you're unsure what style will suit you best, try an empire-waisted, A-line design. The cut tends to be highly flattering on curvy figures.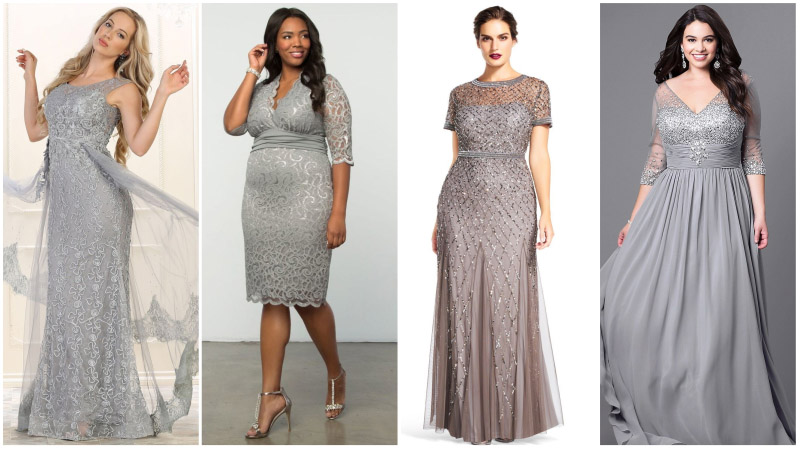 Silver Wedding Dresses FAQs
Are silver weddings dresses in style?
Silver wedding dresses are slightly different from the normal white or champagne tones, but they are a fantastic choice because they can add a touch of sparkle to your look. In recent years, they have gained popularity as an alternative color for brides who want a modern yet still sophisticated dress. There are various styles to choose from; full-on metallic or with a more subtle hint of silver.
Where to buy silver wedding dresses?
Silver wedding dresses may be gaining popularity, but they are not really mainstream, so not every boutique will have a wide selection. If you have your heart set on this color, be sure to call ahead or do your research and see which designers offer this option. There are also several online retailers that stock silver gowns.
What does it mean to wear a silver wedding dress?
If you are wearing a silver wedding dress, you are a daring bride who wants something different and embraces the modern. It is a confident look, and if you wear it with confidence, you will look stunning on your wedding day.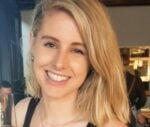 Taylah Brewer holds a bachelor's degree in fashion and business and is a skilled writer with several years of experience in the world of online content creation and copywriting. She is passionate about fashion, beauty, and all things lifestyle-related and has been writing for The Trend Spotter since 2016. She currently works as the Head of Digital & Ecommerce at White & Co.
SUBSCRIBE TO OUR NEWSLETTER
Subscribe to our mailing list and get interesting stuff and updates to your email inbox.