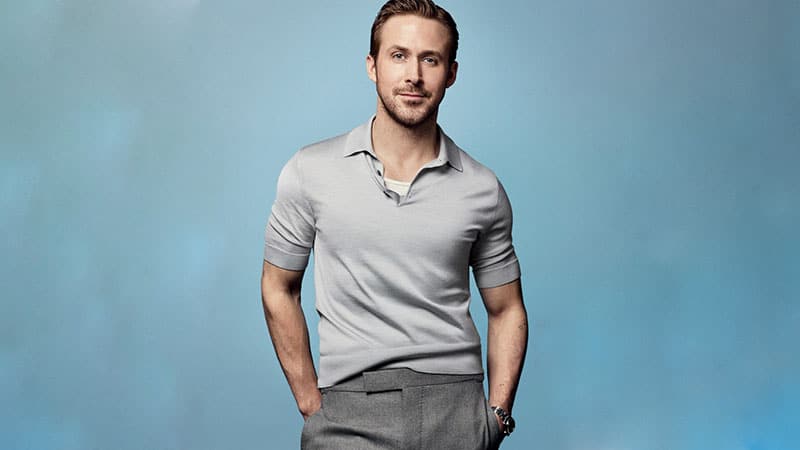 Ladies may love Ryan Gosling for his good looks, but gents admire the star for his impressive fashion sense. As comfortable in a suit as a pair of jeans and a t-shirt, Gosling's unique style is adaptable to any occasion. Whether walking the streets or the red carpet, the A-list actor always looks great. As such, he provides a remarkable source of inspiration for those seeking to boost their own appearance. So, if that sounds like you, look no further than this guide on how to get Ryan Gosling's style.
RELATED: How to Rock Ryan Gosling's Best Haircuts
Ryan Gosling Style
Since grabbing the world's attention in 2004 as the male lead in The Notebook, Ryan Gosling has refined his style. Today, the star's look is impressive and consistent without feeling overdone. Blending simple and timeless elegance with a rugged indie touch, Gosling's fashion sense is indeed one to be envied.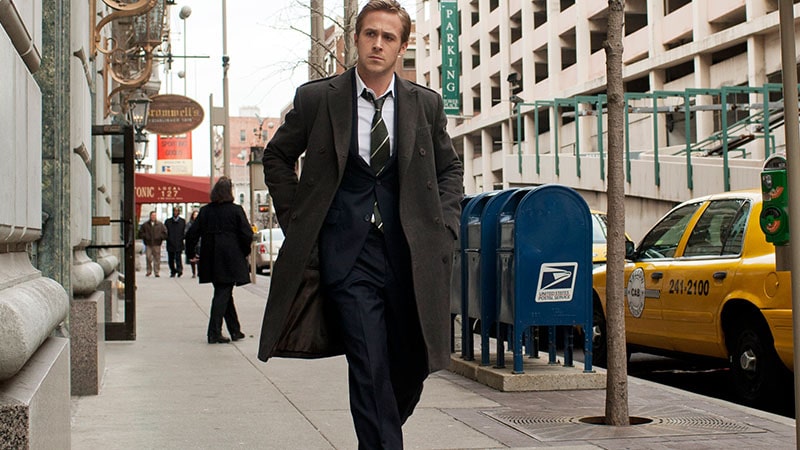 Ryan Gosling Shirt
When it comes to shirts, Ryan is a massive fan of the color white. Whether rocking a button-up with a suit or a simple t-shirt with jeans, Ryan's color of choice is white. By selecting white designs, the actor maintains his smart and simple style while also allowing room for color on other garments. Occasionally, Ryan will opt for a simple pattern, subtle shade, or placement print. If rocking a button-up, Ryan typically chooses slim-fit styles and lightweight fabrics. He then often rolls up the sleeves. As for t-shirts, Ryan usually opts for a scoop-neck design or a Henley shirt.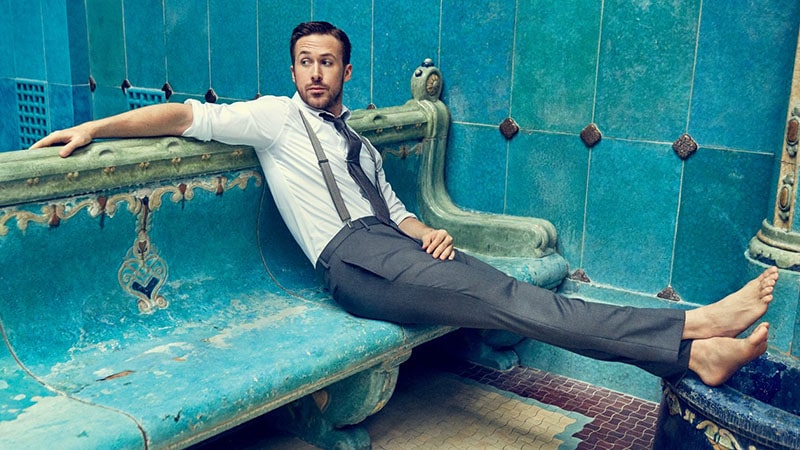 SHOP THE LOOK
Ryan Gosling Suit
When it comes to special events and occasions, such as those with a red carpet, Ryan Gosling usually chooses to don a suit or tuxedo. Of course, this stylish star doesn't just rock the same basic black and navy styles as everyone else. No, he typically foregoes the standard colours and opts for something more unique instead, such as green or blue. Like colour, the fit is also a priority for Ryan, who prefers a slim-cut. The star then adds a crisp white shirt to complete his suited look.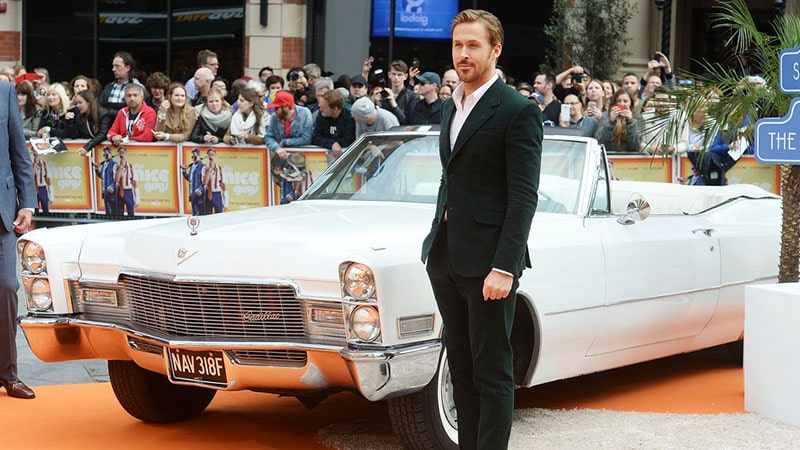 SHOP THE LOOK
Ryan Gosling Boots
When Ryan finds something he likes (and that looks good on him), he sticks with it. Boots are one such example and are the star's footwear style of choice for casual outfits. Perfect for adding a rugged and masculine touch to Ryan's chic style, his boots are typically black or brown leather with a lace-up design.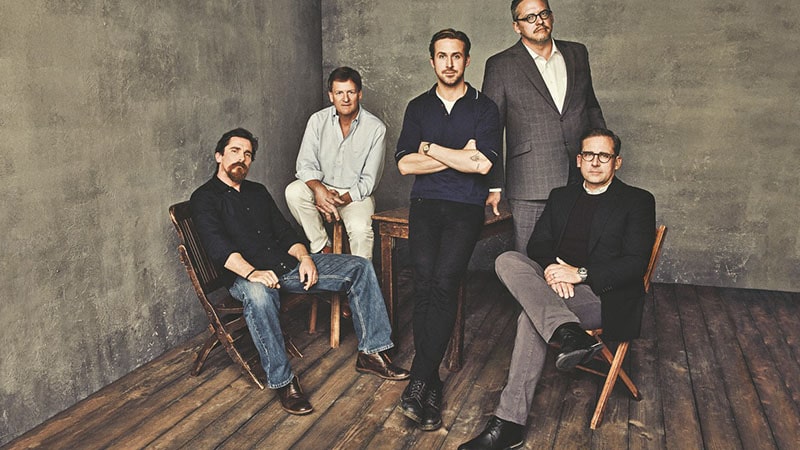 SHOP THE LOOK
Ryan Gosling Glasses
Adding to Ryan Gosling's sophisticated and smart style is his prescription glasses by Barton Perreira. Of course, they're not the only kind of eyewear that the star wears. Ryan also rocks sunglasses regularly. His favourite styles are simple D-frame and round designs in tortoiseshell.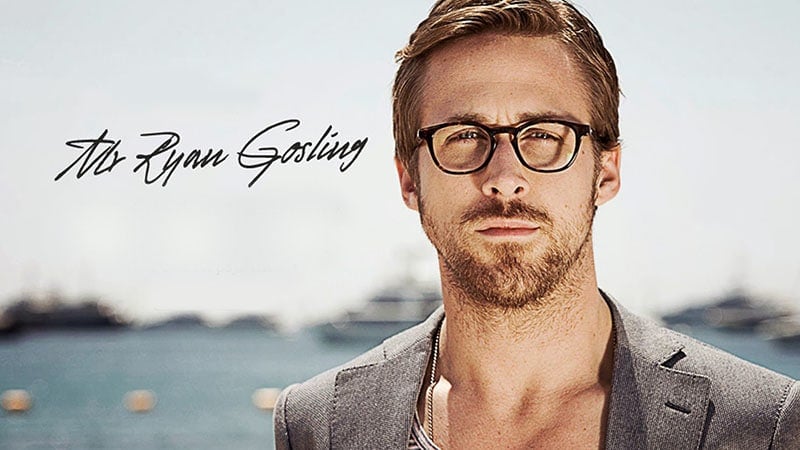 SHOP THE LOOK
Ryan Gosling Leather Jacket
Ryan Gosling always looks cool and relaxed. One way that he manages this is by throwing on a leather jacket. In particular, Ryan likes to don a black biker jacket. Ideal for both casual outfits as well as slightly more formal styles, he wears this versatile piece with both jeans and tailored pants.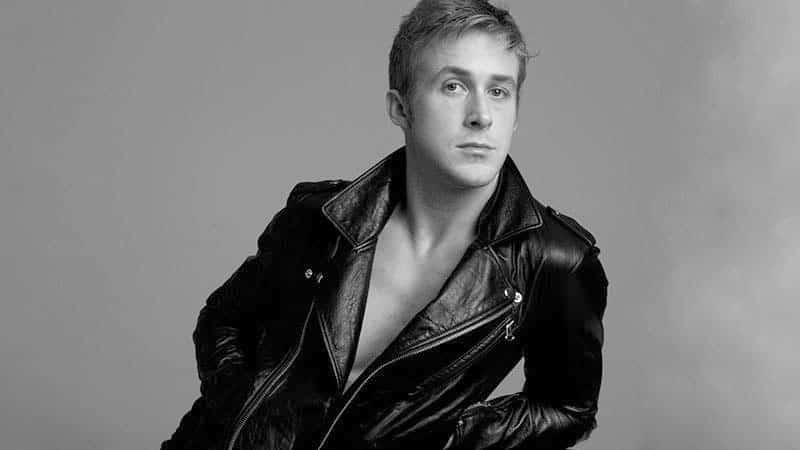 SHOP THE LOOK
Ryan Gosling Fashion
Ryan Gosling has appeared in many films and played many iconic characters. Although the star is playing someone else in these movies, the clothes he wears often overlaps with his own style. Here, we look at his most memorable roles and the outfits that went with them.
Ryan Gosling in The Notebook
The Notebook is the film that thrust Ryan Gosling into the world's spotlight. Starring a mill worker Noah Calhoun, his style in the movie, which is set in the 1940s, is relaxed with a stylishly disheveled touch. To channel the look in 2018, try embracing white, crew-neck T-shirts, wool trousers, and flat caps.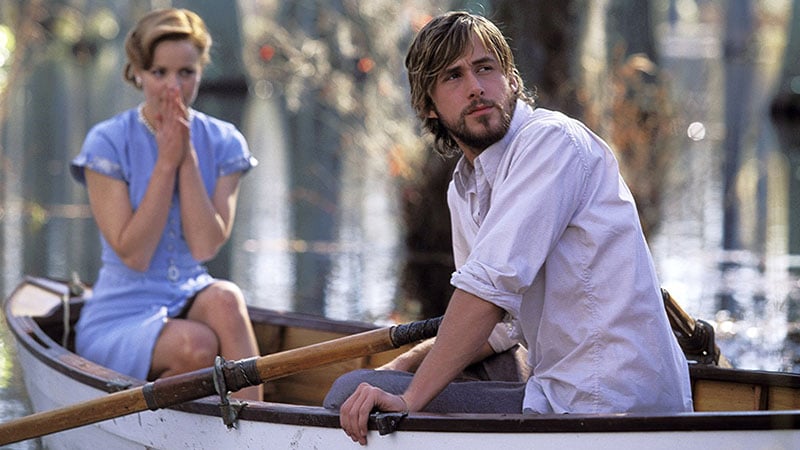 SHOP THE LOOK
Ryan Gosling in La La Land
Starring Emma Stone alongside Ryan Gosling, 2016's La La Land was an incredible hit. In the musical rom-com/drama, Gosling plays a jazz pianist with a retro style to match his musical tastes. Throughout the movie, he typically wears suits and sportscoats with modern silhouettes and vintage details. His accessories are what sets off his style, including vintage-looking ties and two-tone wing-tips.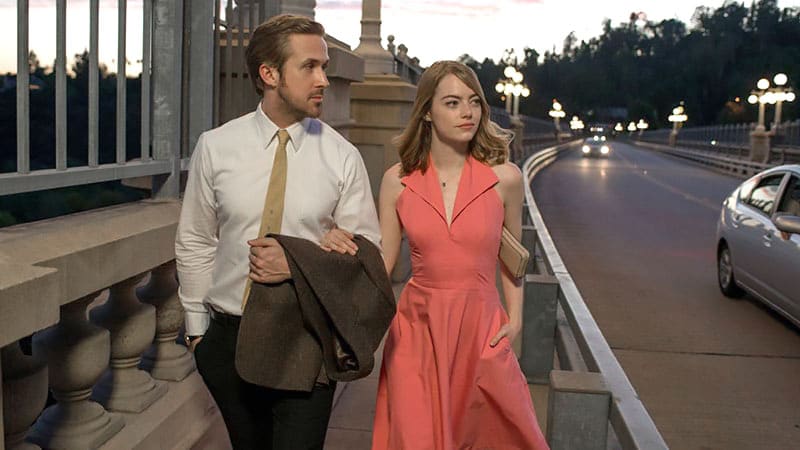 SHOP THE LOOK
Ryan Gosling in Blade Runner 2049
One of Gosling's most recent films, Blade Runner 2049 was released last year. In the film, Ryan plays Officer K, a new blade runner for the Los Angeles Police Department, who unearths a long-buried secret. His outfit of choice includes a shearling-collared coat, knitted jumper, dark pants, and tactical boots.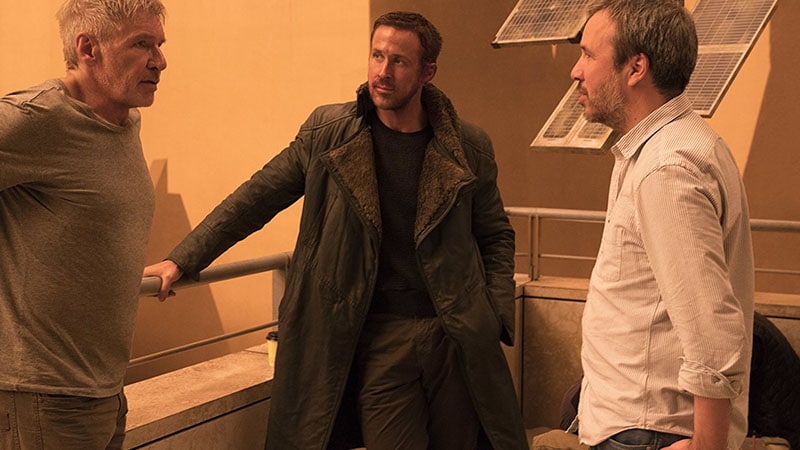 SHOP THE LOOK
Ryan Gosling in The Big Short
The Big Short saw Ryan Gosling don a classic suit and banker shirt with the best of them. If you want to channel this look, try doing so for your next office day or business meeting with a grey checked suit, striped blue shirt, and classically patterned tie.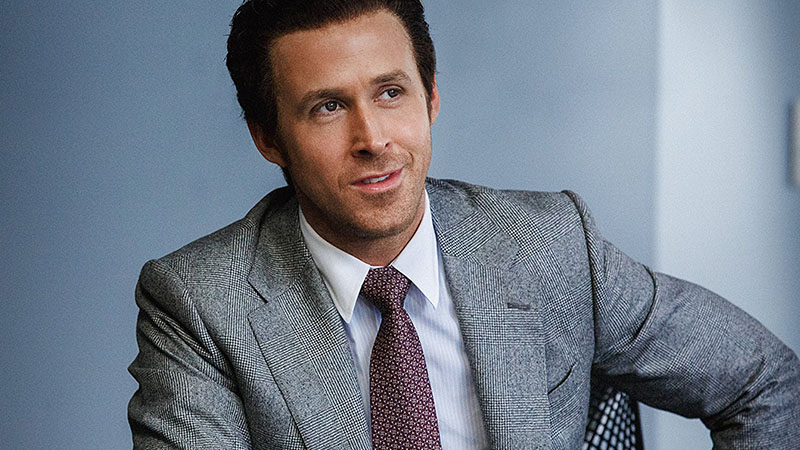 SHOP THE LOOK
Ryan Gosling in Song to Song
Playing up-and-coming singer-songwriter BV, Ryan Gosling's style in the film, Song to Song is decidedly casual and cool. To nail the look for yourself, opt for a simple long-sleeved T-shirt, dark denim jeans, and blue bomber jacket.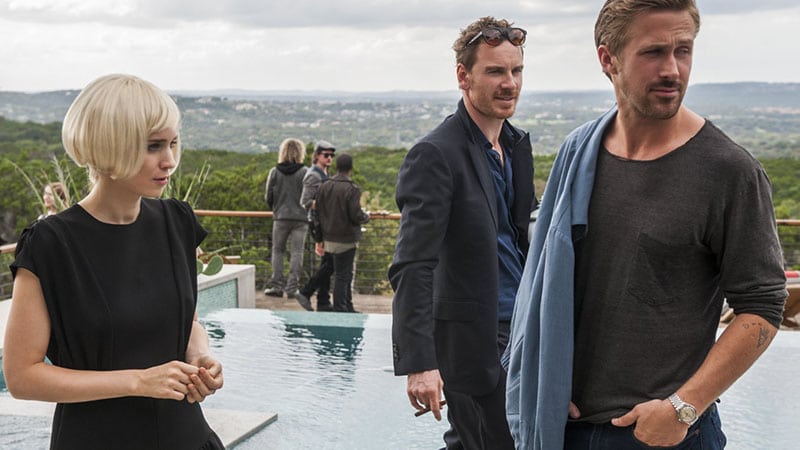 SHOP THE LOOK
Ryan Gosling in Gangster Squad
Despite being set in 1949, Ryan Gosling's character in Gangster Squad is still an excellent source of style inspiration. So, if you're after a classic look, try copying his classic shirt and wide-leg trouser look. Don't forget about the wool fedora either.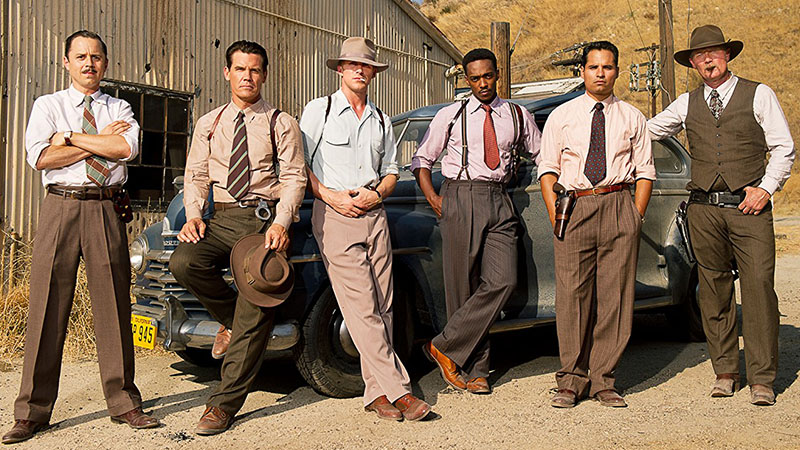 SHOP THE LOOK
Ryan Gosling in Drive
Showcasing Gosling's ability to act with a bad boy attitude, Drive tells the story of a skilled Hollywood stuntman who moonlights as a getaway driver for criminals. Although set in the present, the film had a retro feel, which was carried through from the music to the clothes. Ryan's iconic costume from the movie included a white satin bomber jacket with a scorpion on the back. To rock the style yourself, try giving the bomber a metallic upgrade for an on-trend look.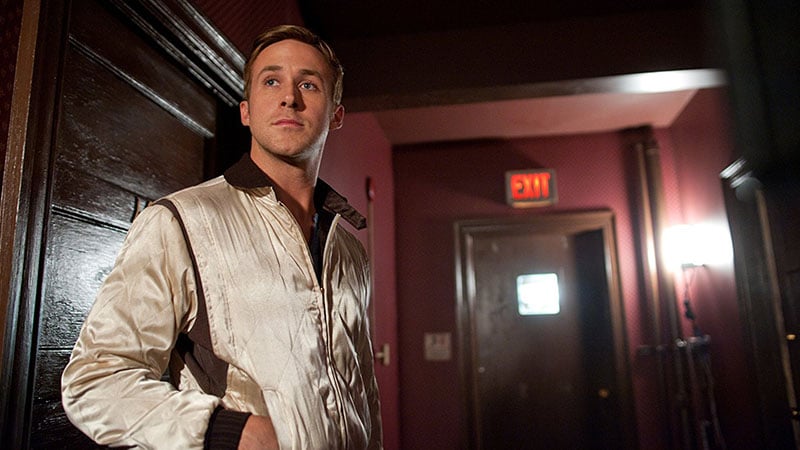 SHOP THE LOOK
Ryan Gosling in Crazy Stupid Love
Crazy Stupid Love is undoubtedly one of Ryan Gosling's most popular rom-coms. While ladies love the film for its shirtless scene with the star, the movie is also an excellent source of Ryan Gosling's style inspiration for gents. Ryan's character, whose outfits showcase his suave style, can undoubtedly teach you a thing or two about suiting.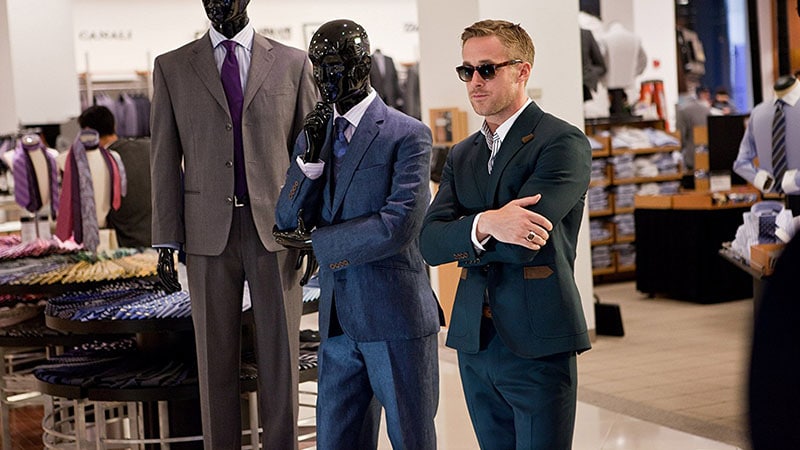 SHOP THE LOOK
How to Get Ryan Gosling's Style
Opt for classic and timeless styles, such as white t-shirts and black leather jackets.
Ensure everything fits correctly and is of high quality.
Aim for a sophisticated style with rugged details.
Keep color palettes simple and understated for casual wear and more daring for formal looks.
Finish your look with Ryan's signature hairstyle: a sophisticated and stylish side part.
FAQs
How do I dress like Ryan Gosling?
Ryan Gosling regularly wears a combination of classic silhouettes and timeless pieces with rugged indie touches. There are a few key pieces that appear regularly in his outfit line-up. This includes a crisp, white, long-sleeve button-up shirt, grey tailored trousers, a suit, leather jacket, grey t-shirt, lace-up boots, and glasses. He tends to keep his color palette simple, with black, white, grey, and blue featuring regularly.
How do you get Ryan Gosling's hairstyle?
While Ryan Gosling has had many hairstyles from buzz cuts to long hair, his most iconic look is an Ivy League. He keeps it short but not shaved on the sides, with extra length on top and a side part with the fringe swept back.
Does Ryan Gosling wear glasses?
Yes, Ryan Gosling does wear glasses, sporting a prescription pair of Barton Perreira.
What boots does Ryan Gosling wear?
Ryan Gosling tends to wear lace-up boots in either black or brown. It's a versatile style that looks great worn casually or dressed up for smart-casual occasions.
What jacket does Ryan Gosling wear in Drive?
The jacket that Ryan Gosling wears in Drive is an off-white silk bomber jacket with a scorpion embroidered on the back, and black cuffs, waistband, and collar. It was the creation of costumer designer Erin Benach and took months to perfect.
How many tattoos does Ryan Gosling have?
Ryan Gosling has five tattoos, include one of The Giving Tree, a cactus, a tribute to his daughter, a ghost and skeleton, and a barcode.
SUBSCRIBE TO OUR NEWSLETTER
Subscribe to our mailing list and get interesting stuff and updates to your email inbox.