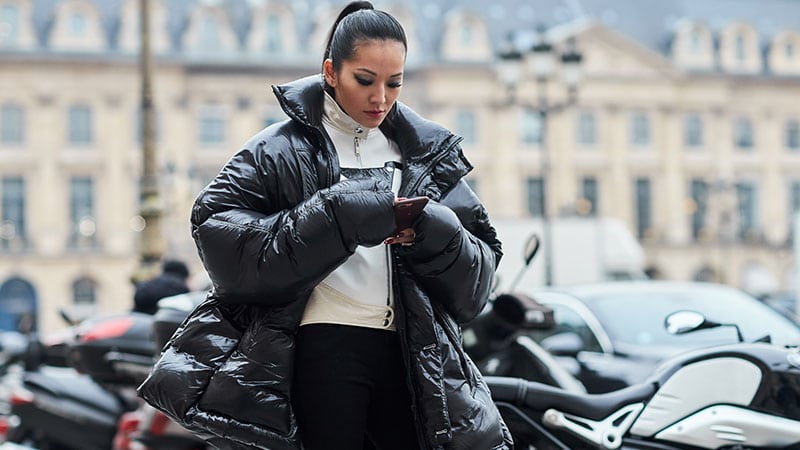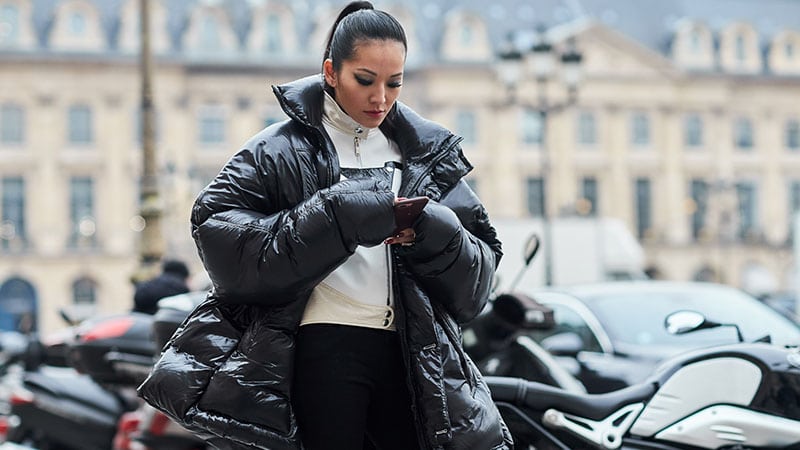 This season, if there's one jacket that you have to have, it's a puffer. These big, bulky, and insulated pieces of outerwear are both the warmest and coolest styles to be caught in this winter. From basic black designs and chic silver styles to oversized maxi shapes and eye-catching vintage varieties, the puffer jacket has an option for everyone, and we can show you how to wear your favorite. After all, what's the point in rocking the coolest coat around if the rest of your outfit is dragging it down? So, before you start shopping for this new winter staple, read up on how to style this season's must-have puffer jacket. Afterward, you're sure to be hitting the streets every day, no matter if it's cold, raining or even snowing, just to show off your sensational style in this outerwear essential.
Black Puffer Jacket
When it comes to buying a puffer jacket, a black design makes an excellent option. While bold, statement shades can be incredibly fun to wear, nothing says "sleek and sophisticated" quite like black. The simple hue is also seriously versatile, meaning that you can wear it with practically everything and anything. So, whether you're rocking mom jeans or a knitted dress, a black puffer can make the perfect outerwear addition. For a more fashion-forward look, you can also try partnering a chunky black puffer with a slim, pencil skirt and heeled boots. While a monochromatic palette will always appear chic, you should feel free to also experiment with different colors. Thanks to its subdued shade, a black puffer jacket can partner perfectly with any hue. For an on-trend style, consider adding a bold, yellow or red sweater to your outfit.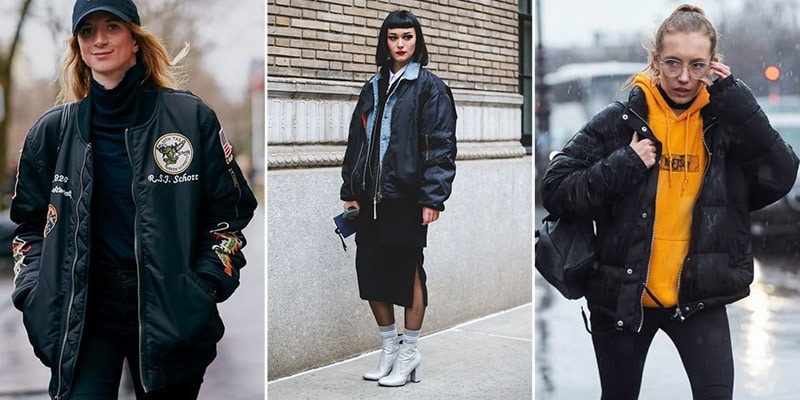 SHOP THE LOOK
Pop Colour Puffer Jacket
If your personal style reads more bold than basic, you should consider opting for a pop color puffer jacket this season. Whether your favorite hue is orange, yellow, pink, red or bright blue, we guarantee that there's puffer out there for you. Once you've found your perfect and utterly unmissable bright puffer, all you need to do is pair it with the right items. As the jacket will instantly become the feature of your outfit, it's best to keep everything else subdued to maintain a balanced aesthetic. As such, opting for pieces in neutral shades with slim silhouettes is ideal for creating a chic outfit. If you're not sure what to choose, consider wearing a pair of skinny black jeans, black boots, and a black fitted T-shirt. The result will be an awesome outfit with a stylish outerwear statement.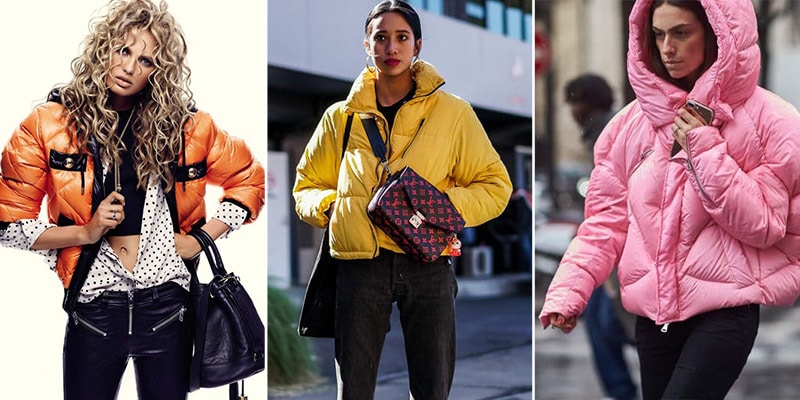 SHOP THE LOOK
Muted Colour Puffer Jacket
For the minimalistic fashionista, a muted color puffer jacket can make a perfect choice. Whether it be a soft and subtle shade of pink or cream, or an understated and earthy khaki or navy tone, a muted puffer can be a stylish and chic option. More exciting than black, but also more reserved than a pop hue, these cool outerwear designs are easy to wear and look awesome at the same time. They're especially ideal for casual outfits with a little bit of edge and also work exceedingly well with blue denim. Try one for yourself and pair it with your favorite jeans or a stylish denim skirt, such as a wrap design. Then, finish the look with streetwear essentials, such as a printed T-shirt and lace-up boots or sneakers.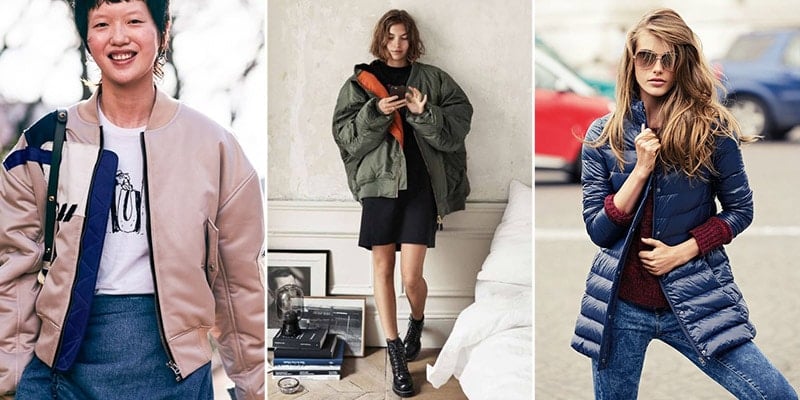 SHOP THE LOOK
Silver Puffer Jacket
For the past few seasons, silver has been a favorite color choice for statement accessories, such as shoes. This winter, the metallic hue has transitioned from footwear to outerwear, appearing on bold, puffer jackets found on the runways, in stores, and on the streets. So, if you're ready to upgrade your on-trend look, you need to get one of these cool, reflective styles into your wardrobe right now. To rock the futuristic design in style, just remember to keep the rest of your outfit simplistic and chic. Start by choosing a monochromatic color palette filled with black and white. Doing so will allow your puffer to stand out without any chance of clashing. Then, choose casual and fashionable pieces, such as flared pants, a plain T-shirt and sneakers, to complete your look.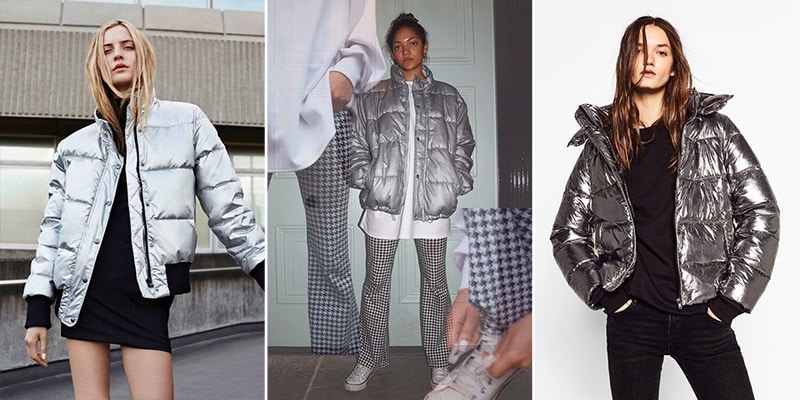 SHOP THE LOOK
Maxi Puffer
Not only do puffer jackets look awesome, but they're also ideal for keeping you warm throughout winter. So, if you want to beat the cold weather in style this season, look no further than these padded pieces of outerwear. In particular, a maxi puffer is perfect for providing insulation and a fashion-forward aesthetic. To nail the look, just choose a puffer coat, that finishes around your shins. If it also features a bold color or print, all the better. After all, there's no going subdued and understated in one of these loud and long jackets. If you do prefer a somewhat simple look, try partnering your maxi puffer with a dress and heels. If you prefer an edgier appearance, on the other hand, play up the drama of your coat with rock and roll pieces like leather pants and a band T-shirt.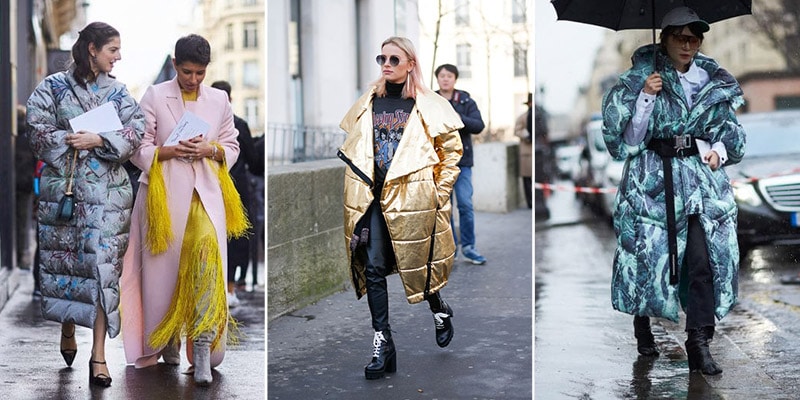 SHOP THE LOOK
Vintage Puffer
Puffer jackets are so popular at the moment that there are countless versions to try. While different colors, shapes, and lengths are great to experiment with, don't forget about trying different styles too. Although most puffers project an athleisure aesthetic, many can provide your wardrobe with a different vibe. Vintage style puffer jackets are one such option and are an excellent choice to consider. Ideal for ladies who love a retro look, vintage puffer jackets can create a unique and eye-catching outfit. To find the perfect one for you, choose between different prints, colors, fabrics, and designs. Prints, such as a leopard or floral styles, can create a chic retro look, as can throwback fabrics like velvet and colors like '70s golden yellow. Then, make the most of your vintage jacket by pairing it with reinterpreted pieces from the past, such as bell-bottom black jeans.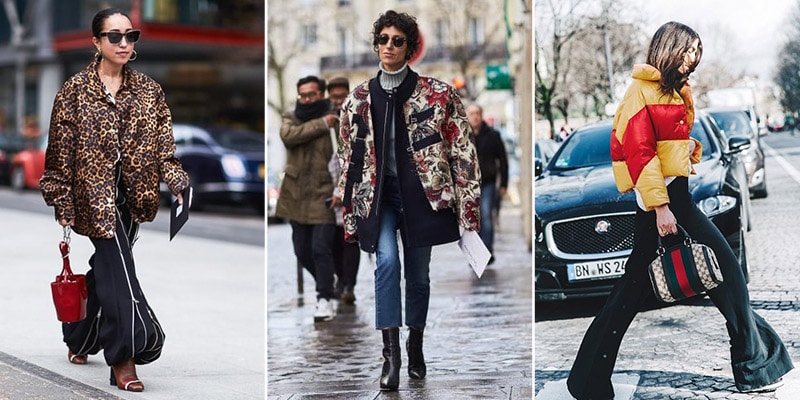 SHOP THE LOOK
SUBSCRIBE TO OUR NEWSLETTER
Subscribe to our mailing list and get interesting stuff and updates to your email inbox.