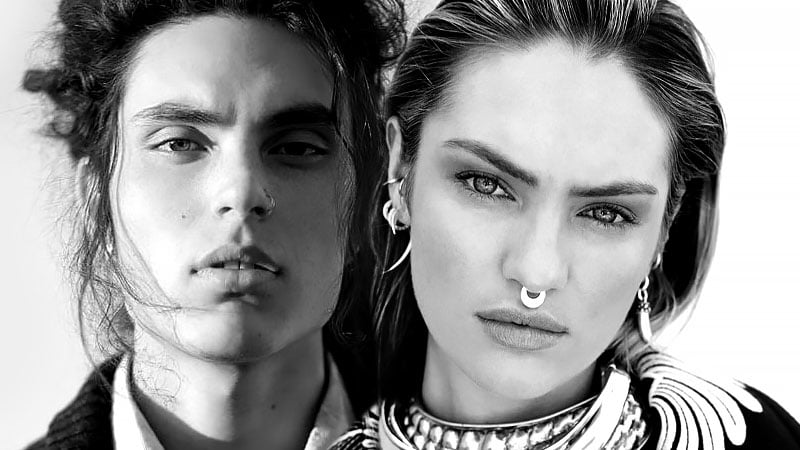 Give your aesthetic an edgy upgrade with a nose piercing. It's a brilliant way to get creative and show your personality through facial jewelry. Plus, there are so many styles and options, from septum and nostril piercings to more complex ones such as rhinos and third eyes. Of course, with any body modification, you shouldn't make the decision casually. There's a lot to consider, including facial and nose anatomy, piercing type, jewelry, and risks. As such, we've compiled some of the must-know information to help make the decision easier.
RELATED: 15 Types of Ear Piercings You Need to Know
RELATED: All You Need to Know About Septum Piercing
Nose Piercings
What to Know
There's a lot of information to process before you commit to getting a nose piercing. There are a lot of different types of piercings beyond the common nostril and septum choices. What you choose will be influenced by your nose's anatomy and shape, as well as your threshold for discomfort and jewelry options. Nose piercings are on the lower end of the pain scale, but some, such as a third eye and nasallang, will have a higher level of discomfort due to the increased complexity. Of course, there's also the risk of side effects to consider. However, with the variety of placements and jewelry, it's an excellent opportunity to get creative and have fun with this form of self-expression.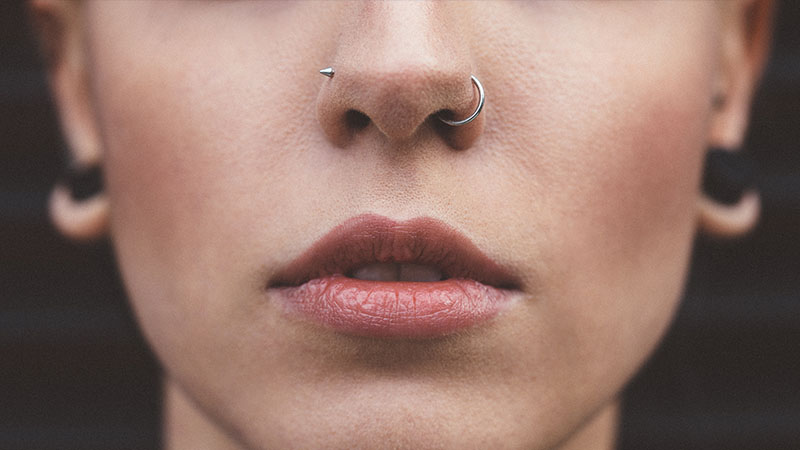 Pain and Healing
On the piercing pain scale, the nose ranks relatively low, around three or four out of ten. It will mostly feel like a pinch or a twinge, followed by a small amount of bruising. Your eyes are likely to water, too, because of the proximity to that area. Of course, everyone has different pain tolerance levels, so you will need to consider what yours is before you dive in. Healing time will depend on what kind of piercing you have and how diligently you do your aftercare when it comes to healing times. A septum piercing will heal in six to eight weeks, a bridge can take eight to 12 weeks, and a nostril and nasallang will take four to six months. More complex piercings such as a rhino will take six to nine months.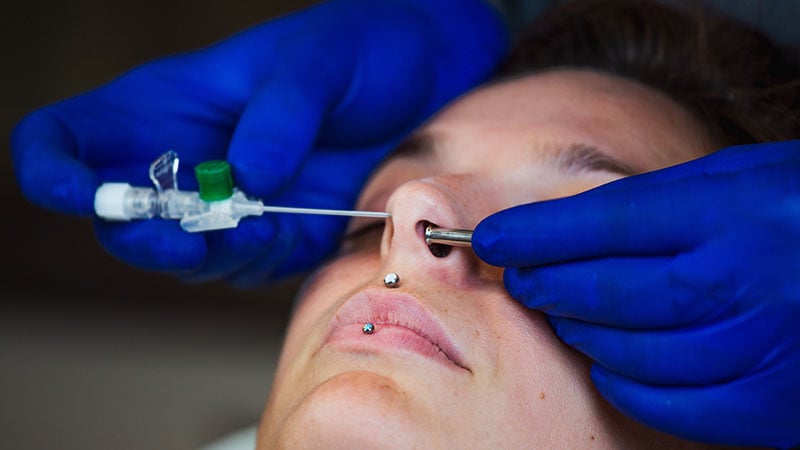 Side Effects
As with any body modifications, there are side effects that may occur. The most significant risk is an infection if the piercing is not cleaned adequately, or there is a reaction to the material in the jewelry. Choosing a stud or ring made from implant-grade surgical steel or titanium will be the best option for avoiding allergic reactions. Other side effects could include the fact that your body might reject the piercing, it can close or grow over, and you'll have to change how you blow your nose. Changing your jewelry can be tricky, depending on the style you choose, and you might also have to put up with other people's judgment. However, many potential side effects can be mitigated by maintaining good hygiene and following the aftercare instructions.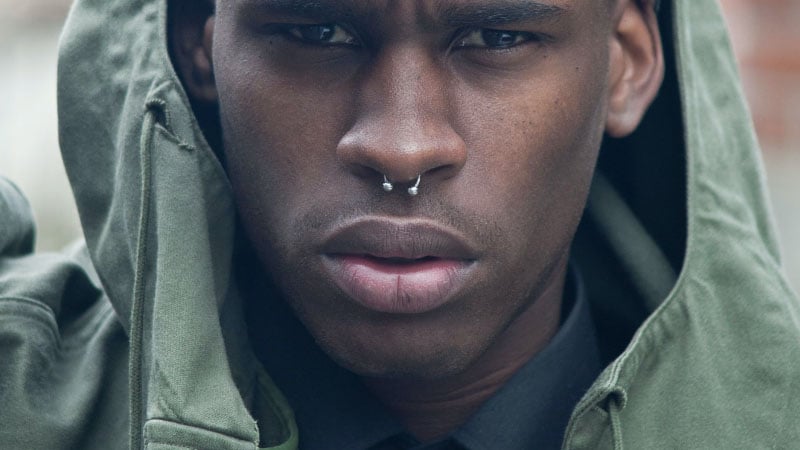 Jewelry and Material to Use for Nose Piercing
There is a wide variety of jewelry styles and materials you can choose from when you're getting your nose pierced. Some of the most common include studs, screws, barbells, and hoops. Part of the decision will be made by the piercing you're getting, as well as by the standard jewelry the piercer uses. It's best to choose something non-allergenic such as titanium or surgical grade steel, when it comes to materials. Once it's healed, you can look at other metals such as high-quality gold, but avoid anything that contains nickel and plated costume jewelry, which often uses mixed metals and dyes.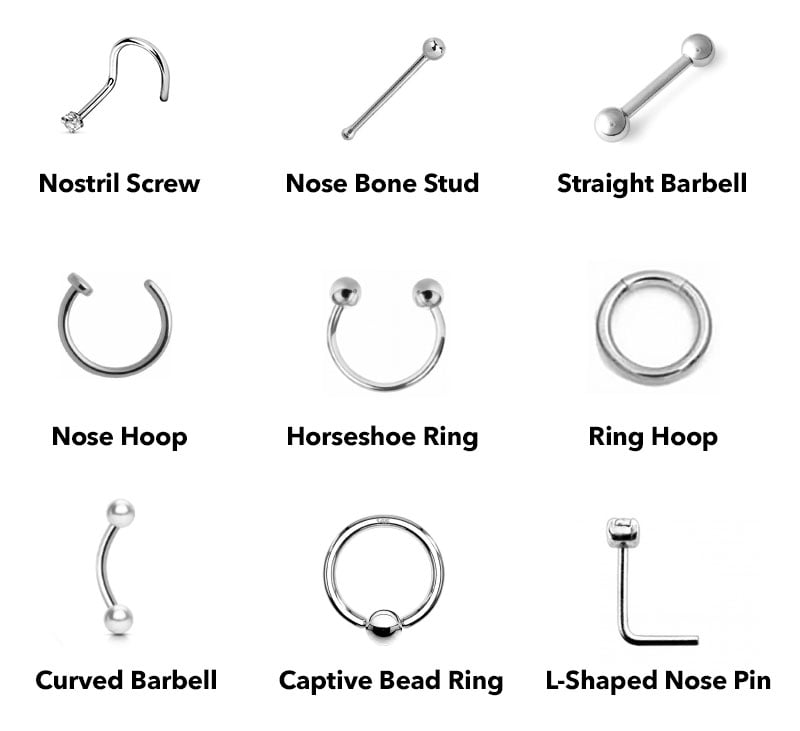 Types of Nose Piercing
While septum and nostril piercings might be the first thing to come to mind, there are many other options. Working from the top down, these include third eye, bridge, high nostril, nasallang, Austin bar, rhino, and septril. What you choose will depend on your personal style and preference. Some of them are more complicated than others, so make sure you do your research when picking an artist. You want someone with experience but who also operates out of a clean and hygienic space.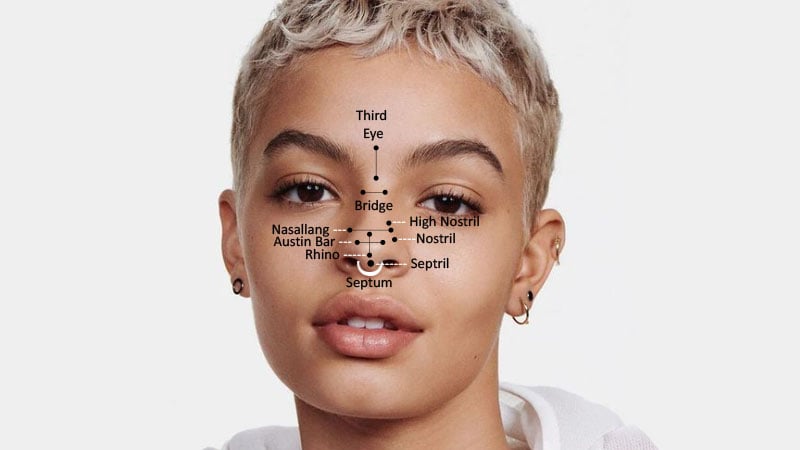 Septril Piercing
Septril piercings are one of the most complex and tricky nose piercings. They're not as common but look amazing when done correctly on the right kind of nose. The process involves using the fistula, or healed flesh tunnel, of an already stretched septum piercing. A needle is then pushed from the bottom of the center of the septum, through to the former piercing, and the jewelry, often a curved barbell, is inserted. It's a piercing that takes time, patience, and skill but can look both subtle and beautiful, as well as very badass.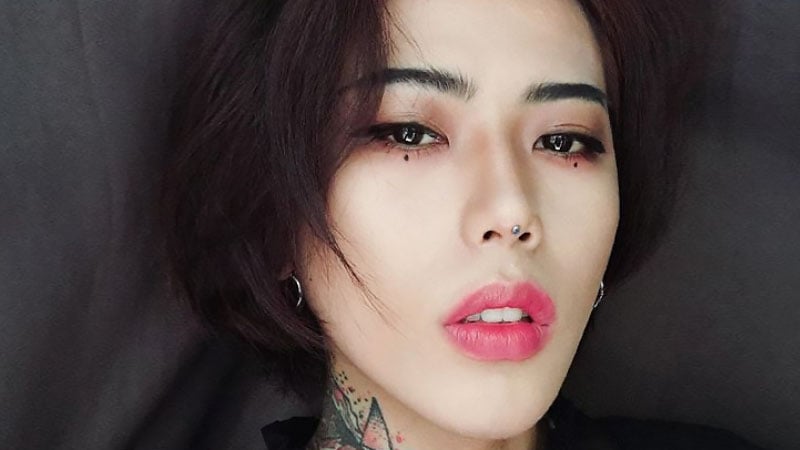 Third Eye Piercing
If you're looking for a truly unique look, why not consider the super trendy third eye piercing. It's a dermal piercing that extends vertically from the bridge of the nose to the forehead. It's also a trickier piercing, as there's not much skin to grab. Two holes are pictured first, before the needle is inserted, followed by the jewelry. There's a lot more poking about, so this one is not for the faint of heart. It can also be more prone to complications, including infection, migration, a higher risk of rejection, and getting caught on clothing. However, if all goes well, it can look exceptionally elegant, stylish, and distinctive.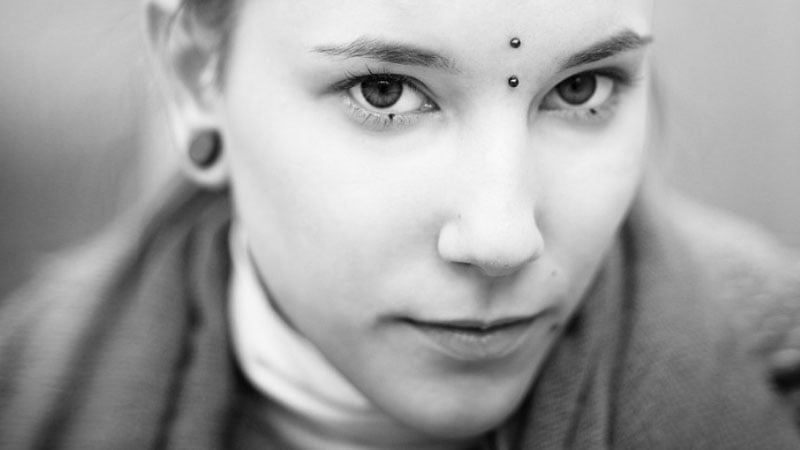 High Nostril Piercing
A high nostril piercing is essentially the same as a regular nostril one, just placed higher up on the nasal bridge. The recommended jewelry for this look is a stud, screw, or L-shaped pin, as a regular ring won't work. Your piercer will determine the best placement based on the shape and curvature of your nose. This style looks great with both a double and single stud.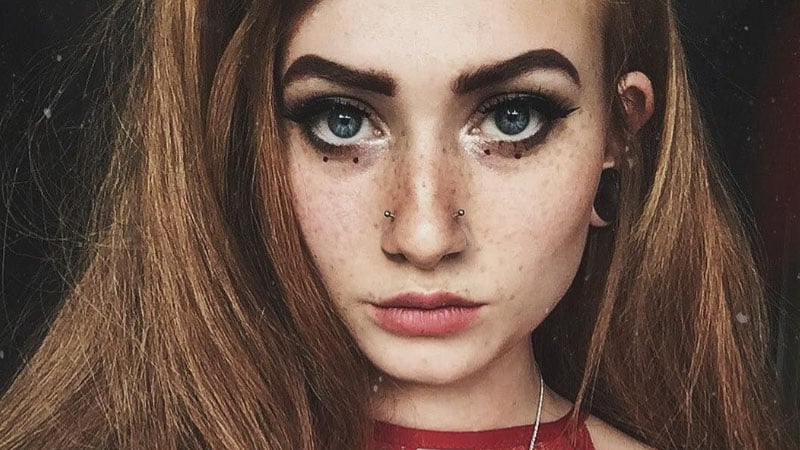 Nostril Piercing
A nostril piercing is one of the most common nose piercings and is relatively easy to do. You'll also get the most extensive range of jewelry choices with this option. There are roots for nostril piercings in Ayurvedic medicine, as it's believed that a piercing through the left nostril can help ease the pain of menstruation and birth in women.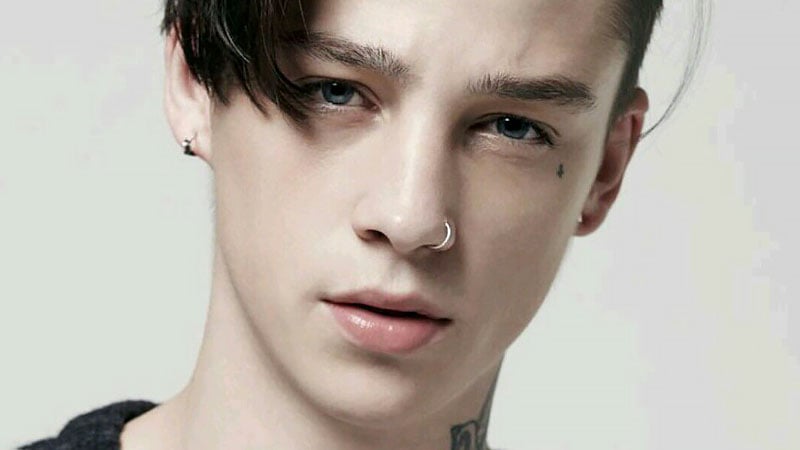 Nasallang Piercing
Another more intense option is nasallang. This tri-nasal piercing uses a single, long barbell to penetrate both nostrils and the septum. Your nose is clamped, and the needle is pushed through all three layers simultaneously, followed by the jewelry. As such, this is another one that's not for the faint of heart. The result looks similar to having two single studs in each nostril. Unlike regular septum piercings, which usually misses the harder cartilage in the center of your nose, this does go through the thicker layer, as it sits higher up on the nasal bridge.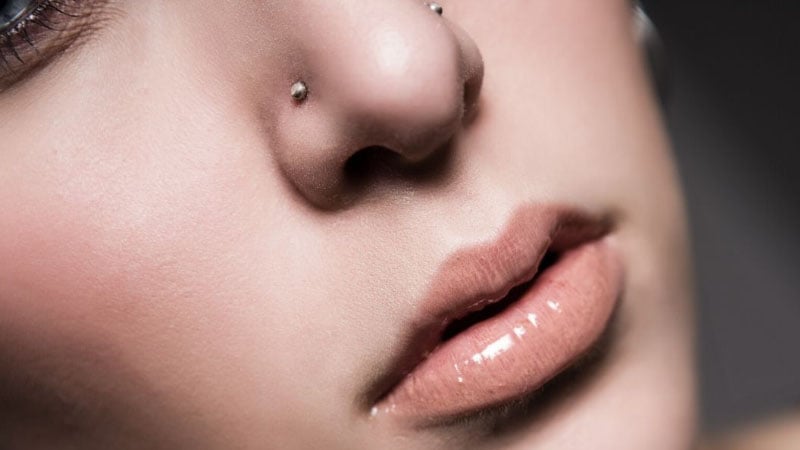 Rhino Piercing
Stand out from the crowd with a rhino piercing. Like a Third Eye, this is another verticle piercing. It goes from the center bottom of your septum through to above the tip of the nose. The name comes from the similarity it has to a rhino horn, especially when tipped with a spiked end. The process is relatively simple, piercing using a standard piercing needle and curved barbell. However, the cartilage at the tip of the nose is much more complex, so positioning and technique need to be perfect to avoid damage and unnecessary trauma. This piercing has a long history in some African and South American tribal cultures but only recently has started appearing more in the West.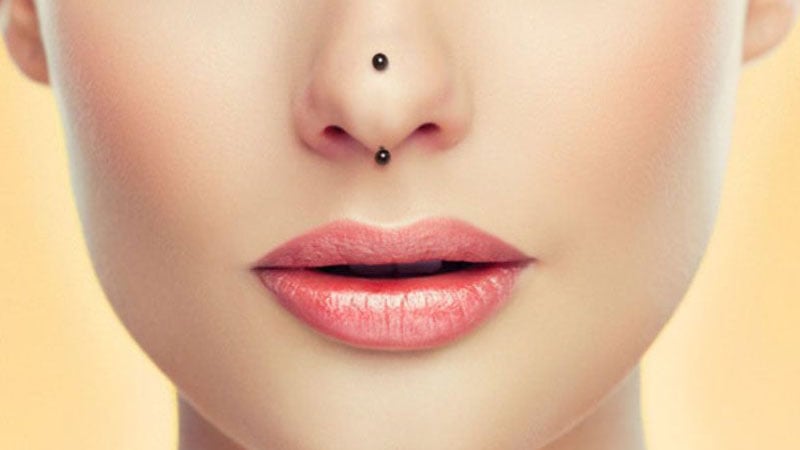 Austin Bar Piercing
Austin Bars are similar to a nasallang yet are relatively uncommon. It's a piercing that goes straight through the tip of your nose; however, unlike a nasallang, it doesn't penetrate either nostril or the septum. Often the jewelry used is a barbell. The name comes from the first person who had this piercing, which Patrick Bartholomew, a piercer from London, performed. Visually, it can look very much like a mantis piercing.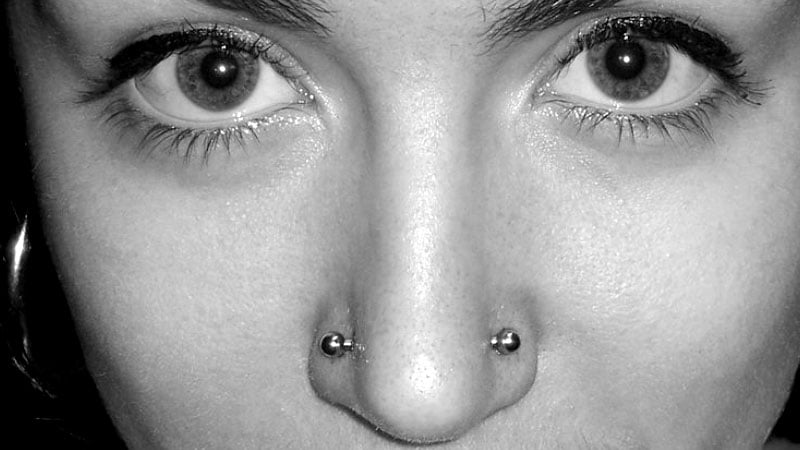 Bridge Piercing
Draw attention to your eyes with a bridge piercing. Also known as an Erl, this is a bold surface piercing that sits on the bridge of your nose between your eyes. Because it is a dermal piercing, it can have a higher risk of infection, migration, and rejection. As such, you need to keep a close eye on it while it's healing. While it looks fantastic, there are a few things to keep in mind, including whether or not you wear glasses. If you do, you'll want to make sure the placement is such that you can still wear them. You'll also need to be careful not to snag the piercing on your glasses or clothing. Luckily, the jewelry used is commonly a shorter, curved barbell, which hugs the shape of your face.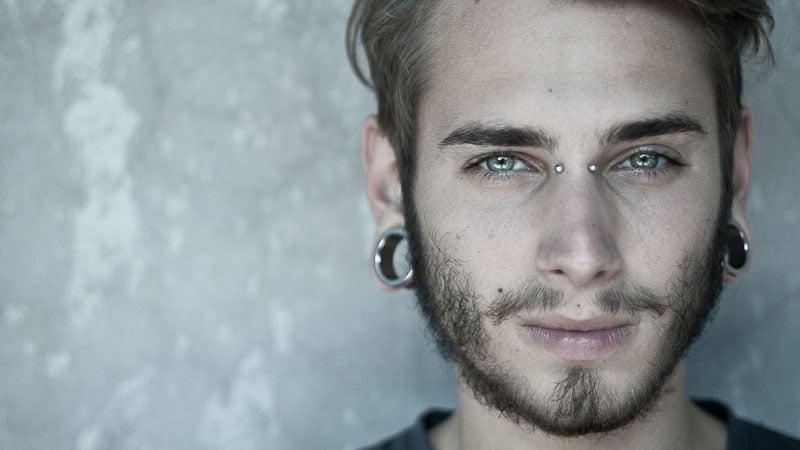 Septum Piercing
The septum is another reasonably common nose piercing that looks great on both guys and girls. There's a small, thin membrane of skin that sits in the center of your nose, between the end of the septum and the tip of your nose. That thin membrane is where the piercing goes through. One of the benefits of a septum piercing is that it's easily hidden with the right kind of jewelry. As such, it can be a good option if you need to adhere to dress codes for work or hide it from your grandma. Because it is more common, you also have a wider range of jewelry options. Choose from jeweled mandalas, subtle rings, studded horseshoes, and thick gold rings.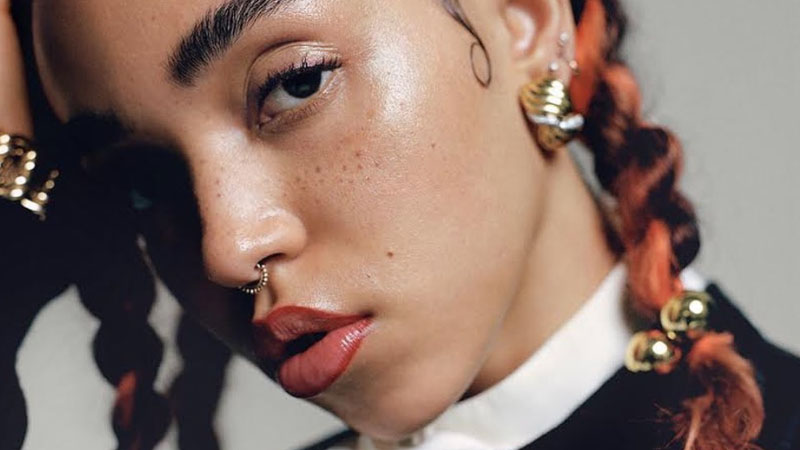 FAQs
What does a piercing in the nose mean?
In some cultures, such as Africa, the Middle East, and Asia, where nose piercing has a long history, it can have significant meaning. It can symbolize marriage, wealth, or fertility. Conversely, in the West, it's often seen as a sign of rebellion against conventional expectations and beauty standards. 
How bad do nose earrings hurt?
A nose piercing is on the low end of the pain scale. It will feel more like a pinch and may make your eyes water but is generally around a three or four out of ten in pain. Keep in mind, pain tolerances between people can vary, so keep yours in mind before jumping in!
What should I know before getting my nose pierced?
There are a few things you should research before you get your nose pierced. Perhaps most importantly is finding an experienced piercer. You'll want one that uses proper hygiene practices, including a clean venue and properly sterilized tools. Beyond that, you should know what kind of piercing you want, as well as the risks associated with it. It is also essential to know what type of material you'd prefer your jewelry to be made of and if you have any allergies to metals. Finally, while your piercer will go through aftercare, it's good to know what to expect and to have everything on hand. 
How much is a nose piercing?
Expect to pay between $30-$100, depending on the kind of piercing and the jewelry you're using. 
How to clean nose piercing?
The best way to clean a nose piercing is to soak it regularly with saline. Don't touch it with dirty hands, be careful sleeping and changing clothes, and avoid using alcohol or chemicals. A yellow crust forming around the piercing is normal and expected. Avoid picking at it and soak it with a saline solution to gently remove the debris. If you experience inflammation, use an ice compress and ibuprofen. However, if it gets worse or doesn't subside within a few days, head to your general care practitioner for medical advice.  
SUBSCRIBE TO OUR NEWSLETTER
Subscribe to our mailing list and get interesting stuff and updates to your email inbox.