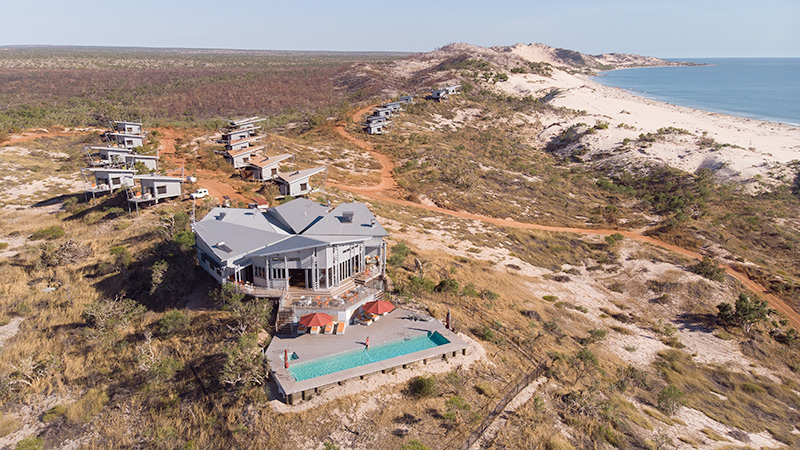 Australia is renowned for its stunning coastal beaches and outback making it one of the most unique countries for a holiday. Instead of booking for Bali, why not check out this guide for the best luxury secluded getaways in Australia – we promise you won't be disappointed.
1. Berkeley River Lodge, Berkeley River – Western Australia
Perfect for a secluded getaway, the Berkeley River Lodge is ideal for couples or family wanting to escape the hustle and bustle of the city. Located in the heart of the Kimberly Coast, this luxury accommodation offers sunset views and private comfort in the wilderness. Sit back, relax, and enjoy fine dining prepared by expert chefs. With each villa including a private open-air shower and bath, you can unwind and recharge in peace. To take full advantage of this gorgeous getaway, why not treat yourself to a helicopter ride or river cruise to fully appreciate your surroundings.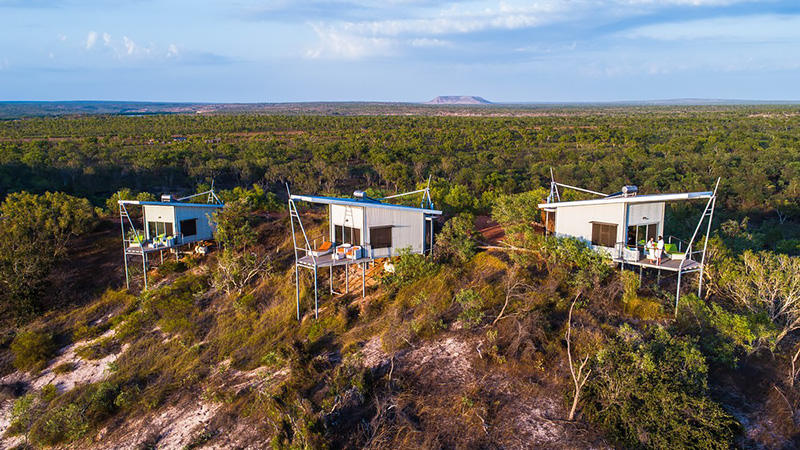 2. Southern Ocean Lodge, Kangaroo Island – South Australia
Known for its spectacular scenery, Kangaroo Island is a one-stop destination for anyone wanting to surround themselves with nature. Overlooking the immense oceanic landscape is "Australia's first true luxury lodge", Southern Ocean Lodge. This remarkable retreat offers endless activities from coastal walks to indulgent treatments at the Southern Spa. After exploring the surrounding coast, put your feet up next to the fireplace in the Great Room. For animal lovers, make sure to leave enough time for a guided tour along Seal Bay, featuring Australia's third largest sea lion colony.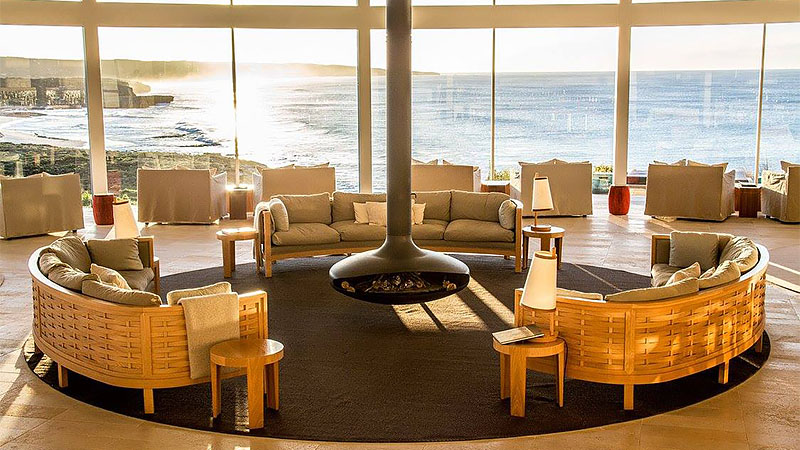 3. Arkaba Wildbush Luxury, Flinders Ranges – South Australia
Treat yourself to a romantic luxury getaway at this stunning resort in the Flinders Ranges. Arkaba hosts only ten guests at a time, ensuring maximum service. Moreover, dust off your khakis because the 60,000 private conservancy offers guests open-top 4WD safari tours, featuring the spectacular valleys, creeks and native wildlife of the landscape. Other activities include bird watching, wildlife spotting and experiences that cater to groups of families. This outback experience takes you back to basics, offering a unique, grounding escape while providing ultimate luxury. Unwind in the afternoon with a dip in the pool, or read a novel on your secluded verandah overlooking the amazing cultural countryside of Arkaba.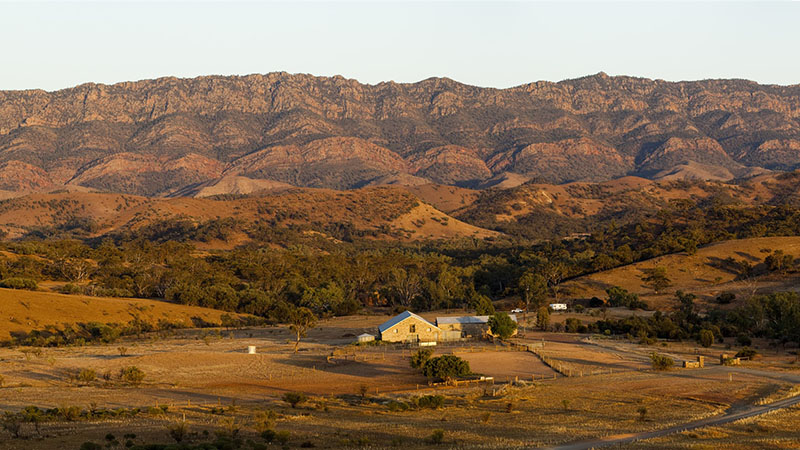 4. Capella Lodge, Lord Howe Island – New South Wales
The lush greenery and coastline are just the beginning of what Capella Lodge has to offer. Immerse yourself in this incredibly unique spot in Australia, created from a volcanic eruption seven million years ago. Exclusively located just above secluded Lovers Bay, you will be in another world overlooking the "turquoise lagoon". For keen walkers, explore the gorgeous scenery with coastal walks and forest hikes. For experienced hikers, the one-day hike to Mt Gower is a must. Otherwise, grab a snorkel and float across Australia's cleanest, crystal clear beach, finishing with an age-old tradition of feeding the native islander fish – just be prepared for the metre long kingfish. After a long day of travelling the island's treasures, recharge weary muscles with an indulgent treatment at the Capella Spa.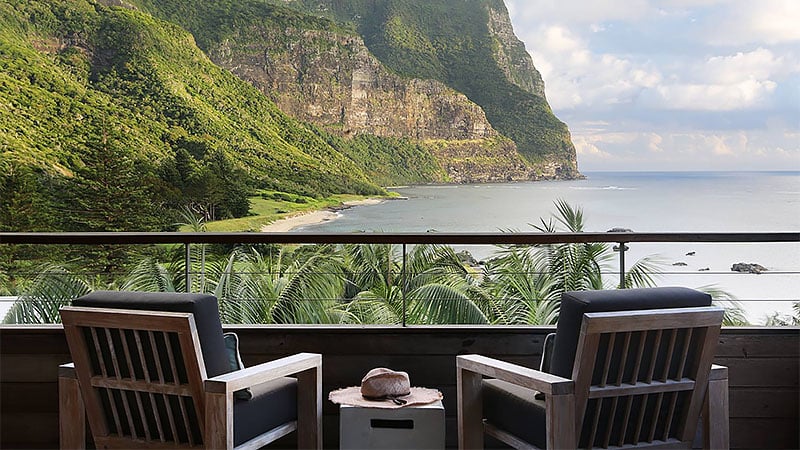 5. Bamurru Plains Wildbush Luxury, Kakadu – Northern Territory
Bamurru Plains Wildbush Luxury will guarantee an enticing and unique escape right on the edge of the lush Mary River. Only a three-hour drive from Darwin, your rustic retreat awaits, with an absence of internet, mobile reception and television ensuring that nature is the star of the show. With ten tent bungalows located in the middle of the abundant wilderness, wake up to stunning views of the floodplain, or treat yourself to the private treetop sleep out. Test your skills with some barramundi fishing, or simply bask in the scenery with an airboat safari tour. For those wanting to explore in a modern way, hop on a quad bike and in the evening, take a dip in the sapphire pool overlooking the vibrant greens of the landscape. This resort takes glamping to the next level.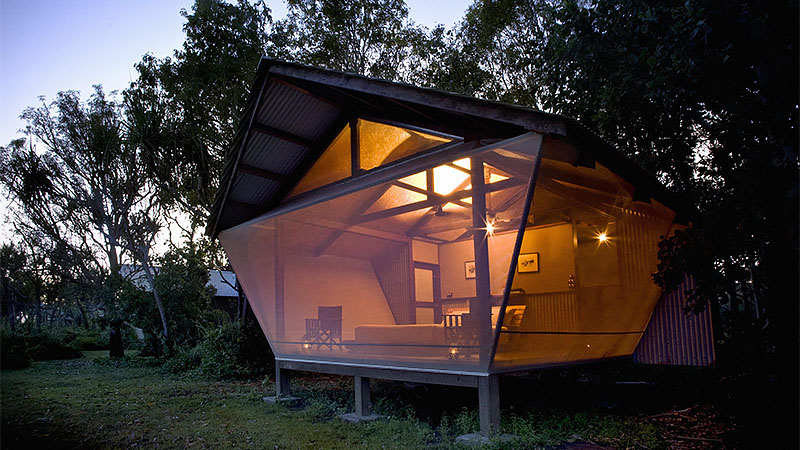 6. Saffire Freycinet, Coles Bay – Tasmania
Taking over 400 million years to form, the Freycinet Peninsula features incredible heritage, now known as the Hazards mountains. Grab a loved one and experience these enchanting views offered by the Saffire Freycinet lodge, located along the beautiful East Coast of Tasmania. Book yourself into an indulgent Luxury Suite, featuring notes of homely Tasmanian timber and fantastic views. Moreover, the lodge offers endless activities and attractions for all. Stand knee deep in a wetland tasting the finest oysters of the local working farm, while sipping on regional sparkling wine. Finally, go for a rewarding two-hour walk along Wineglass Bay, or grab your paddles and go for a guided canoe tour along Pelican Bay. For lovers of furry friends, take part in the vital quest to save the endangered Tasmanian devil in a natural environment.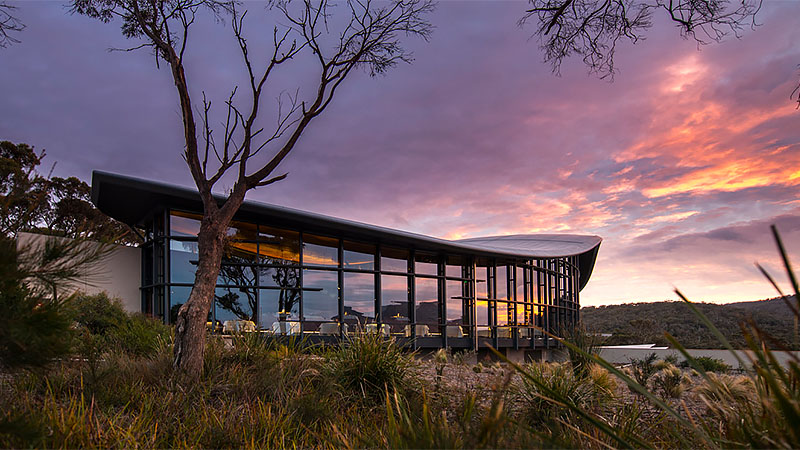 7. Longitude 131, Uluru – Northern Territory
Take a step back in time with this secluded desert escape in the heart of the scarlet sand dunes of Uluru. Experience ultimate tranquillity in this retreat known as the "Red Centre", staying in a gorgeous luxury tent overlooking the treasures of the outback. Travel into the depths of the National Park before sunset, through Longitude 131's breathtaking experience of Kantju Gorge, where you will be tasting sparkling wine and local canapés while roaming the scenery. For art enthusiasts, the lodge is home to renowned Bruce Munro's Field of Light experience, a light phenomenon crafted from 50,000 light installations. To recharge the soul after a long day, look no further than Table 131, providing guests with the finest dining experience of delicious four-course meals.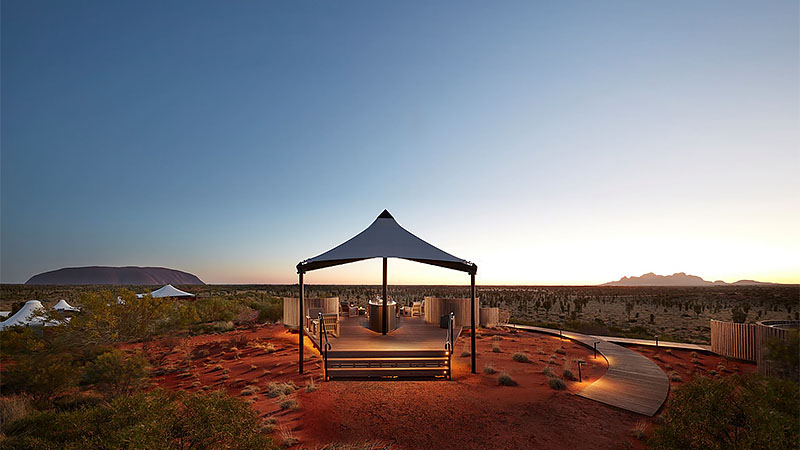 8. Emirates One&Only Resort Wolgan Valley, Blue Mountains – New South Wales
Nestled in the Greater Blue Mountains, this luxurious secluded escape in the Wolgan Valley is impressive, to say the least. Located on a private 7,000-acre conservancy, the resort boasts views of stretching cliffs and valleys complemented by rich greenery. Unwind in seclusion with a stay in one of the Heritage Villas, featuring a fireplace and your own private pool. In the afternoon, indulge yourself in the Krug Picnic experience; sit surrounded by the stunning views of the mountains while sipping on the finest selections of local wines. Finally, go for a guided tour on horseback along the ridgeline, or test your skills of archery. Additionally, take advantage of the mountain bikes for optimal exploring or have a hit of tennis. Unwind at sunset by putting your feet up on your private deck with a glass of wine in hand.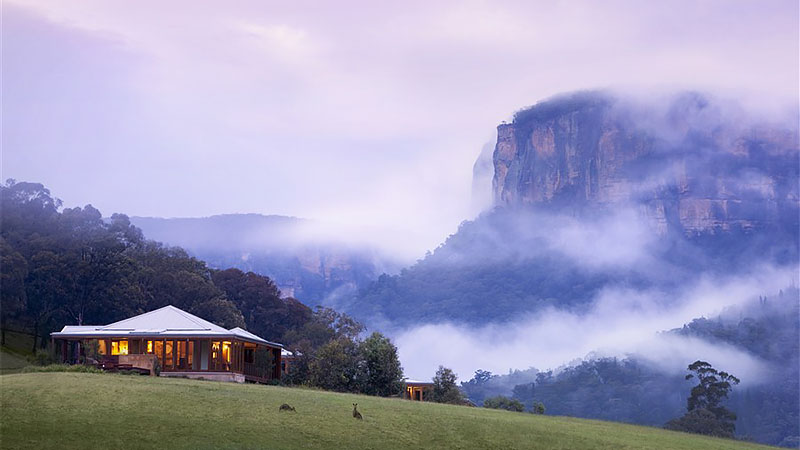 9. Spicers Peak Lodge, Maryvale – Queensland
A 2-hour drive from Brisbane, Spicers Peak Lodge is a hidden treasure looking over the Heritage Listed Main Range National Park. There are endless opportunities and experiences offered at the lodge, with something for everyone. Experience romantic charm in a luxury suite surrounded by nature, with a private outdoor setting in every suite. Start your morning in tranquillity with a dip in the lodge's infinity pool, overlooking the lush bushland. In the afternoon, connect with your surroundings through one of the many bushwalks available. For the sports lovers, mountain bikes, tennis and croquet are the options, as well as helicopter rides for those wanting a special experience. Finally, de-stress even more with an aromatherapy massage at Spa Anise for ultimate R&R.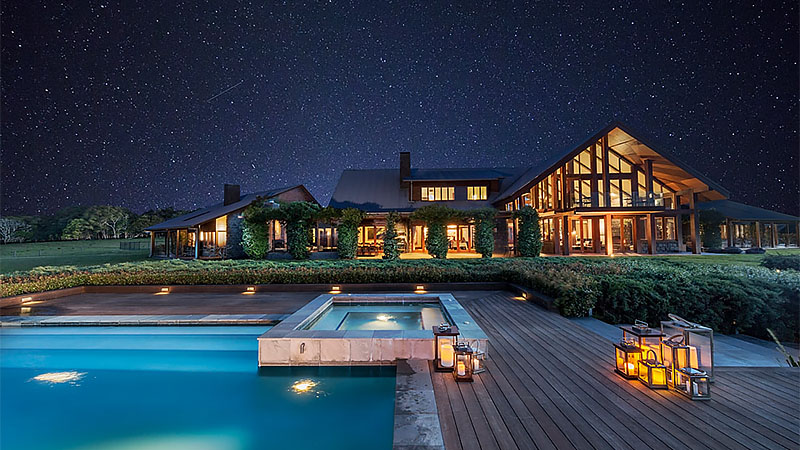 10. Crystal Creek Rainforest Retreat, Tweed Valley – New South Wales
With numerous accommodations available, we can't decide which is our favourite. But amazingly, all options include open window views of the luscious surrounding rainforest, inviting guests to relax with a warm bath in secluded wildlife scenery. Located on the border of New South Wales and Queensland, this special escape exudes luxury. Lose yourself in the rainforest backdrop with beautiful walks, and as night falls, go hunting for glow worms along the creek. With 8km of walking tracks, don't forget your camera, as the wildlife is breathtaking. For an afternoon perk, why not have a hit of table tennis in the games room, or have a couples massage in the comfort of your own bungalow. To finish the day, you can have a gourmet dining experience in the comfort of your own bungalow. What more could you want?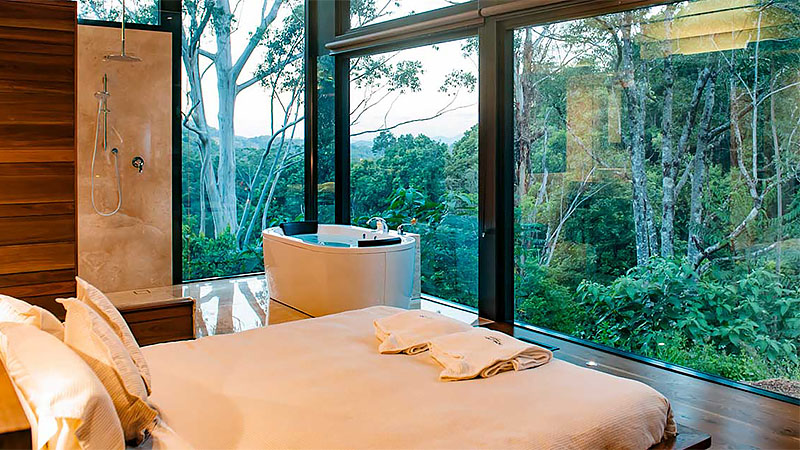 11. Thala Beach Nature Reserve, Port Douglas – Queensland
Port Douglas is renowned for its stunning scenery, and Thala Beach Nature Reserve is no exception. Located on a 145-acre property, seclusion is key as you stay in the gorgeous Sandpiper Suite, overlooking white sandy beaches and green bushland. The reserve features numerous complimentary experiences for guests, with further experiences at an additional cost. You will have plenty to do in your downtime with activities such as nature and garden walks, as well as Australia's only and highlighted coconut tour, featuring amazing 700 coconut palms. For an incredible cultural experience, partake in a talk with the Indigenous Kuku Yalangi people where you will hear elders speak of their historical traditions and stories. For true relaxation, grab a novel and some sunblock and head down to private-access Oak Beach.
VISIT: Thala Beach Nature Reserve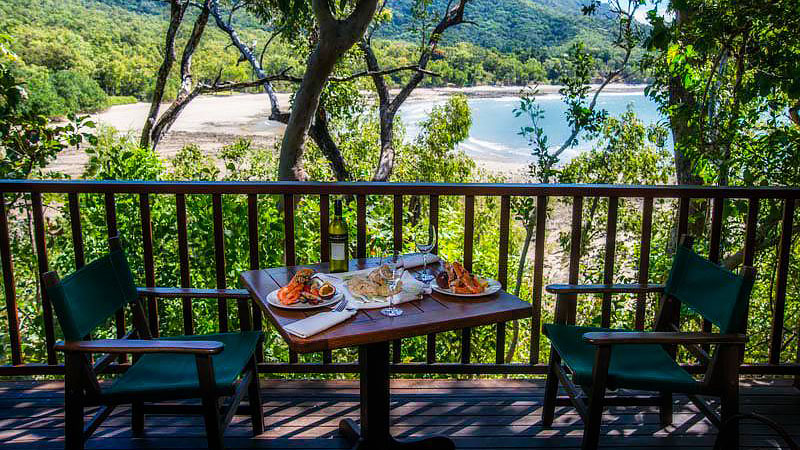 12. Qualia, Whitsundays – Queensland
A picture is worth a thousand words, yet we are speechless. Step into another world at Qualia – located in the Whitsundays and surrounded by the Great Barrier Reef. This treasure boasts turquoise waters and rich mountain views. Promising luxury and privacy, all pavilions overlook the tropics and feature breathtaking interiors. Experience the crystal clear ocean as a VIP with personal beach drop offs via boat, with a complimentary packed picnic. After a day of sun and swimming, why not treat yourself with a deep tissue massage or facial at the Qualia spa. Additionally, the resort offers incredible food experiences with unique tastings ranging from 'Sake and Sashimi' to 'Champagne and Oysters'.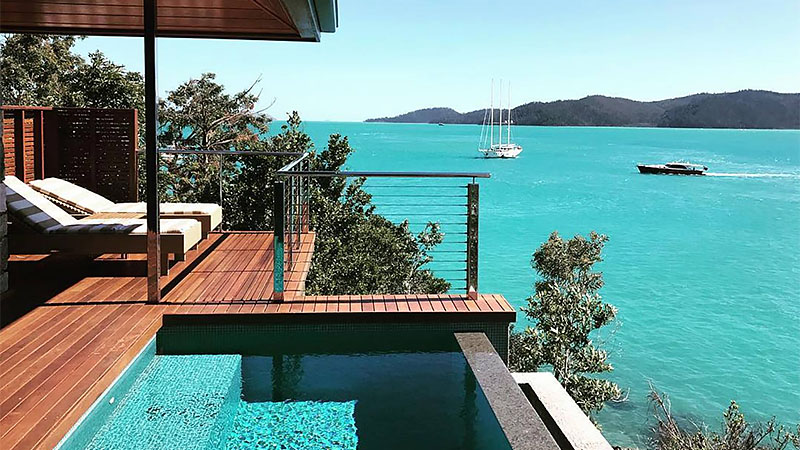 13. Bedarra Island Resort, Great Barrier Reef – Queensland
Enjoy the tropics of the Great Barrier Reef with a stay in a treehouse villa at this beautiful island resort. Overlooking incredible rainforest sceneries, immerse yourself in a unique location while escaping the demands of everyday life. With only ten guest villas in the resort, ultimate seclusion and relaxation are guaranteed. For those wanting more than a poolside tan, the resort offers SCUBA guides for the enthusiasts, otherwise, grab a snorkel to explore the wonders of the reef. Stand up paddle boarding, kayaking and nature walks are just a few of the many activities they have to offer at Bedarra.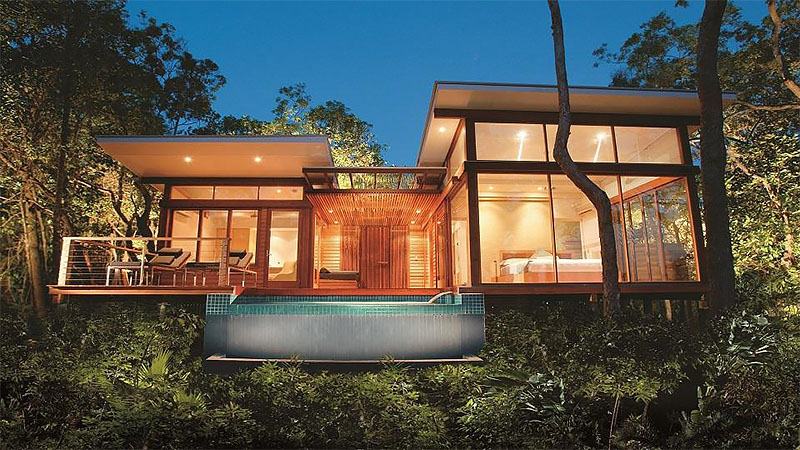 14. Clifftop at Hepburn, Hepburn – Victoria
Voted Australia's No. 1 romantic getaway in 2017, this countryside escape is a perfect surprise for that special someone. An ideal example of Victoria's beautiful bushland, this resort is in the perfect location. Walk into the town of Hepburn for breakfast and take a short drive to Daylesford for lunch. The opportunities are endless with a chocolate tasting and even horse riding. Finally, explore the surreal surrounding landscape with multiple nature walks, while recharging in the evening next to the fireplace. The beauty about this getaway is the luxurious interiors and the freedom to do whatever you desire. Let the view speak for itself and enjoy some much-needed downtime in the gorgeous country.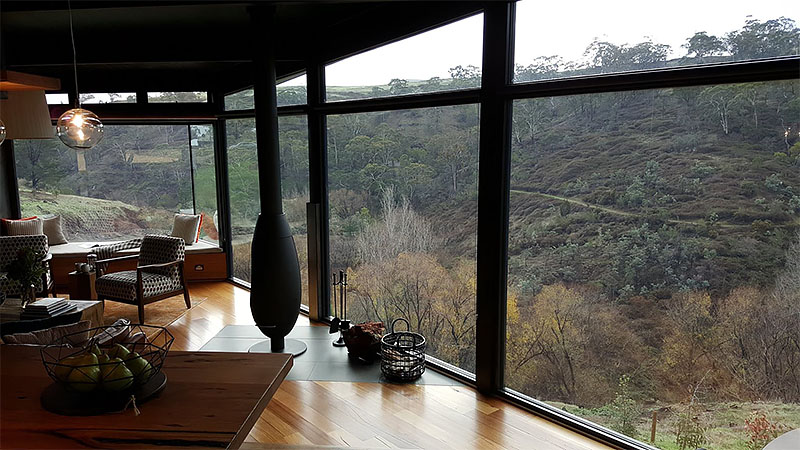 15. Pike River, Riverland – South Australia
Boasting eco-friendly and sustainable villas, this is an escape you can feel even better about. With five different villas to choose from you will be equally stunned. Each room has views of the stretching river and breathtaking valley. Rustic interiors are just the beginning of an indulgent escape, with numerous activities to submerge yourself in. Go for strolls along nature trails or a leisurely kayak on the river for maximum relaxation. The world is your oyster, so go with the flow and spend your stay exploring the luxurious land.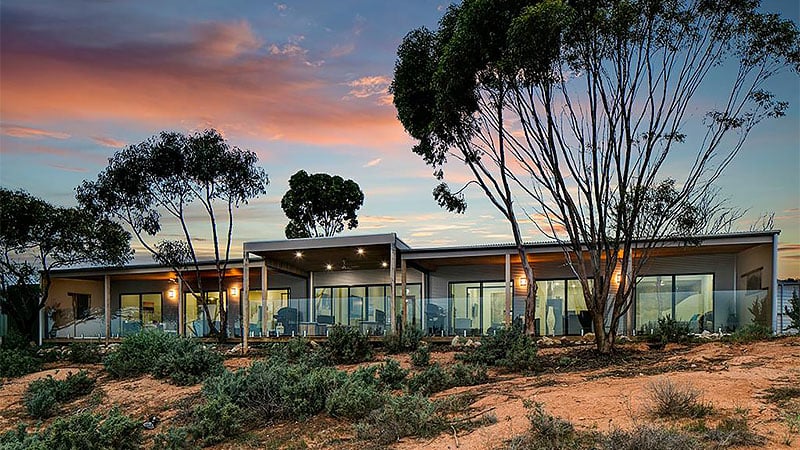 SUBSCRIBE TO OUR NEWSLETTER
Subscribe to our mailing list and get interesting stuff and updates to your email inbox.