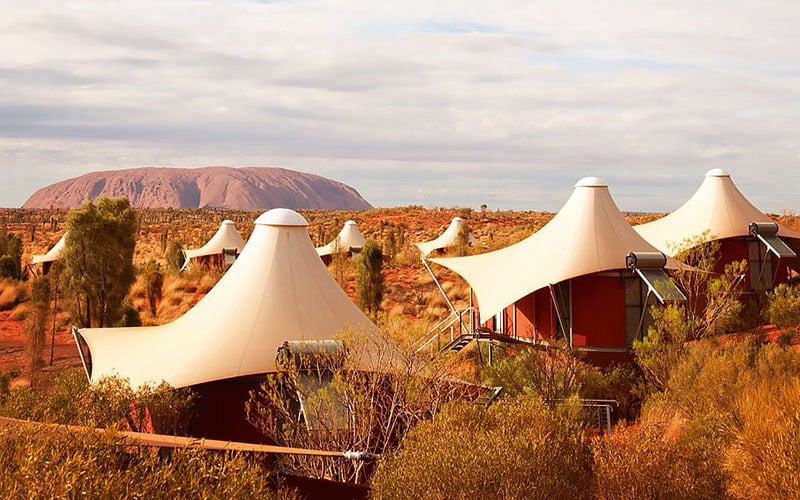 For those who think the idea of sleeping on dirt isn't much fun, there is glamping. You can take in all the beauty of the natural landscape while still sleeping in fresh sheets at night and washing your hair in the morning. Imagine spending your day on camelback at Uluru, returning only to be treated with a massage while the sun sets on the rock. Never again will you roll your eyes at the thought of camping.
1. Paperbark Camp, Jervis Bay NSW
Not far from the untouched white sands and blue water of Jervis Bay is where you will find Paperbark Camp. Built above the ground to take advantage of the sea breeze, the open tents come with polished hardwood floors, solar lighting, and fancy linen. The entire camp follows a credo of sustainability, so TVs, microwaves, and air conditioning are not on offer. It is easy to look past those minor details when you're eating in the treetop restaurant or relaxing in your open-air tent.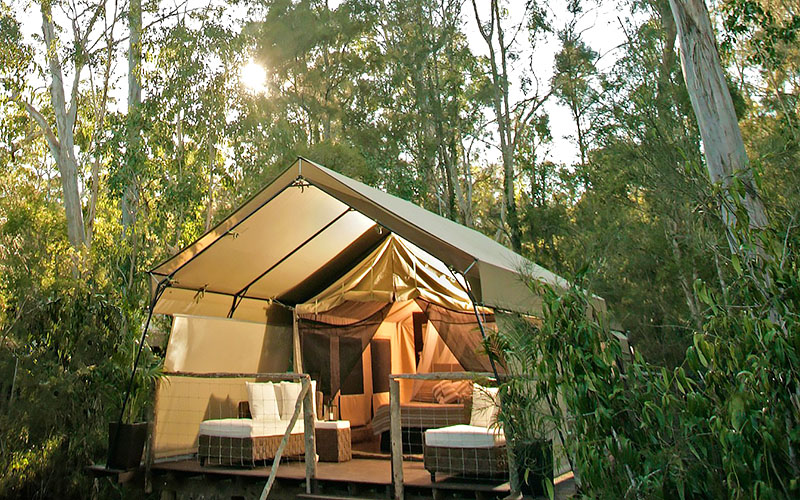 2. Karijini Eco Retreat, Karijini National Park, WA
The gorges of Karijini National Park are some of the most breathtaking spots in the big, brown land. Karijini's Eco Retreat offers tents for glampers in the bush around Joffre Gorge. Spend your day hiking down into the gorge, taking in the beauty of plunge pools and waterfalls before returning to your eco suite. It's a luxurious home in otherwise unforgiving bushland.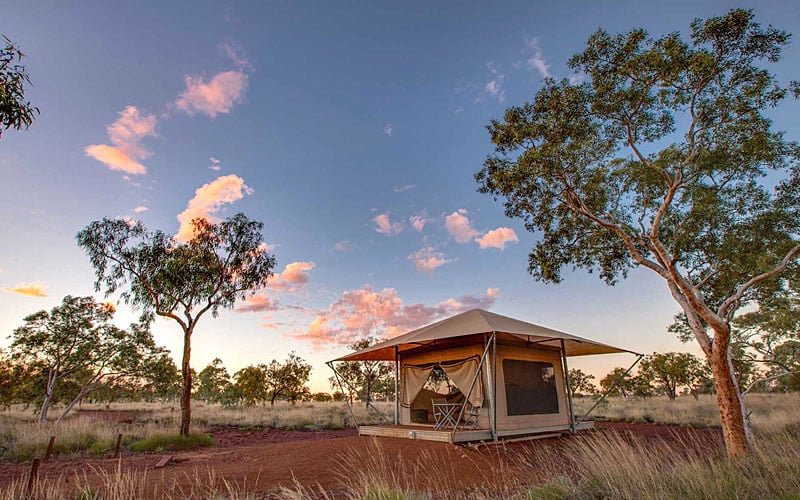 3. Mile End Glamping, Margaret River, WA
Deep into Western Australia's premier wine region are these domes that look more observatory than a tent. These geodesic domes let you look out onto acres of green, a private estate from your bed. While the scenery is beautiful, the local wineries are the selling point. Head out during the day to taste some of Australia's best cabernets, buy a bottle or two and come back to enjoy them in your private retreat.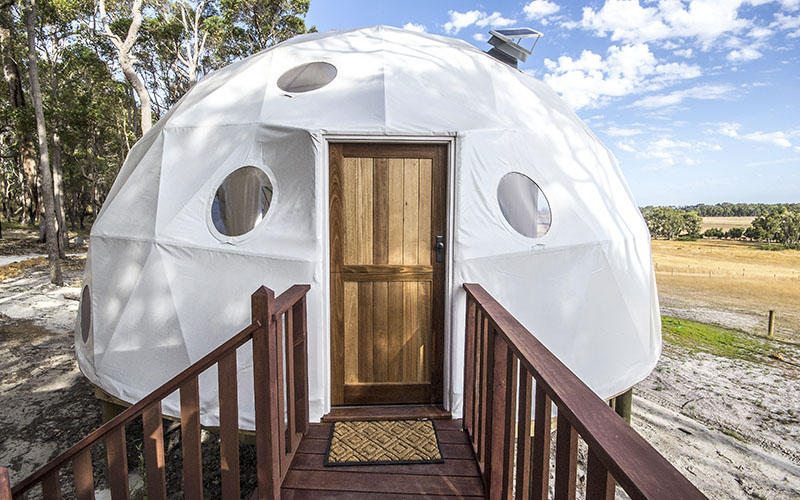 4. Longitude 131º, Uluru, NT
Longitude 131º sells itself as a 'transcendent experience of discovery,' and you can see why. The site incorporates fifteen luxurious tents that sit above the ochre landscape and look out on one of Australia's most iconic scenes. There is a spiritual connection that you feel when looking out at Uluru and with each tent positioned to take in a private view of the rock. You can experience that connection all day if you like. Priced at over $1,300AU per night, this stay earns its tag as one of Australia's foremost 'glamping' destinations.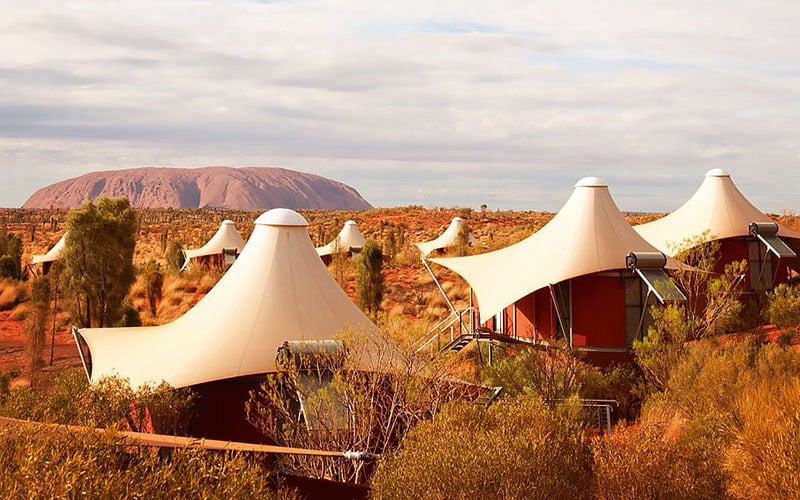 5. Tanja Lagoon Camp, Tanja, NSW
Sitting almost on top of the Tanja Lagoon, this accommodation offers the peace and tranquillity you would expect from camping with none of the compromises of comfort. The best part of these tents (apart from the Queen beds, lounges and desks) are the decks where you can sit for days while sipping in the lagoon views.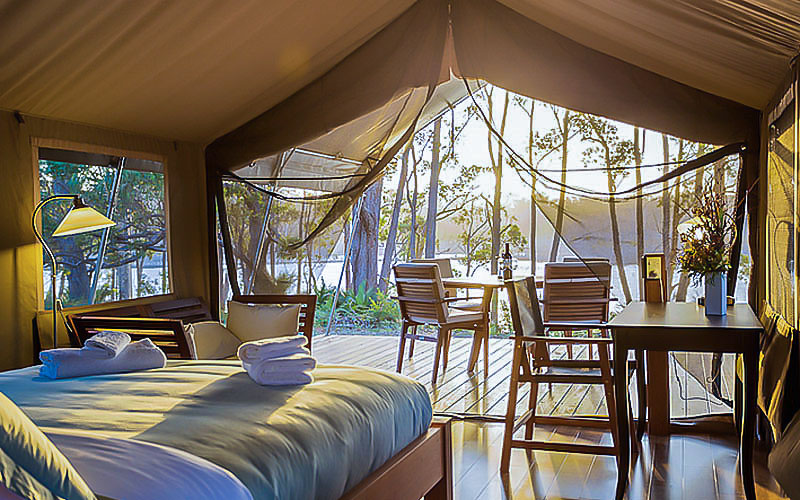 6. Nightfall, Lamington National Park, QLD
Sitting beside the rainforests of Lamington National Park are these secluded, hand-built tents. These open-air safari tents take in panoramic views of the surrounding national park, giving you the feeling that you are one with nature. In winter, the tent's walls come down, and the rotating fireplace kicks into action. Nightfall offers all of the trappings of a traditional spa in the wilderness. Can you think of a better way to spend your weekend than a massage next to the creek while listening to bird calls?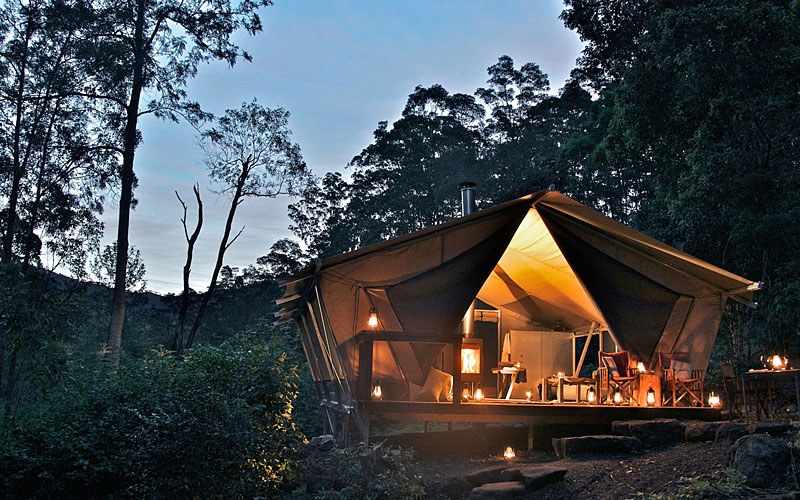 7. Taronga Zoo, Mosman, NSW
Roar and Snore! That's how Taronga Zoo markets its overnight glamping experience. Take in the sounds of Taronga's Zoo's nocturnal housemates while overlooking Australia's most iconic postcard scene. With the opportunity to hear the sounds of nature without leaving the city, this is surely a glamper's dream spot. Along with the unique accommodation, guests enjoy a buffet dinner and a quiet and intimate walk through the zoo. It's an unforgettable way to spend a night.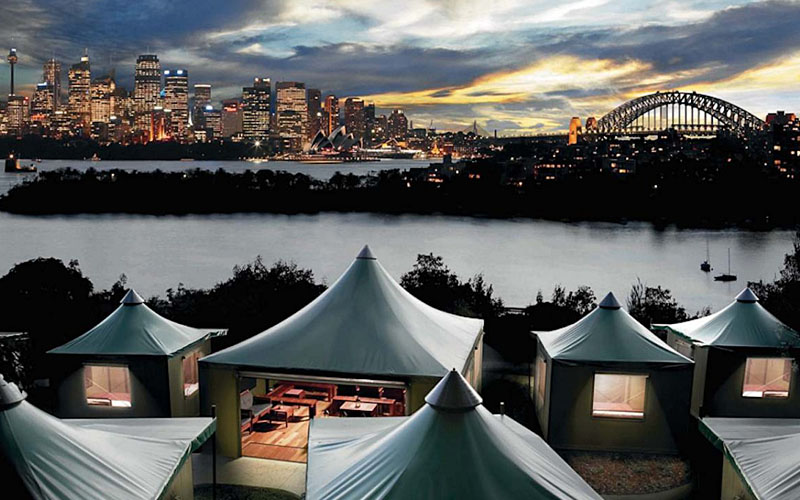 8. Wildman Wilderness Lodge, Arnhem, NT
These free-standing cabins take glamping to luxurious levels. You could be forgiven for thinking that you're lying in a bed in a chic city apartment if you don't pay too much attention. With hardwood floors and modern timber furniture, you might just begin wishing for these cabins to be your everyday home. Situated near the famous Kakadu National Park, there's plenty to see and do during the do before retiring to the sheer comfort of the lodge.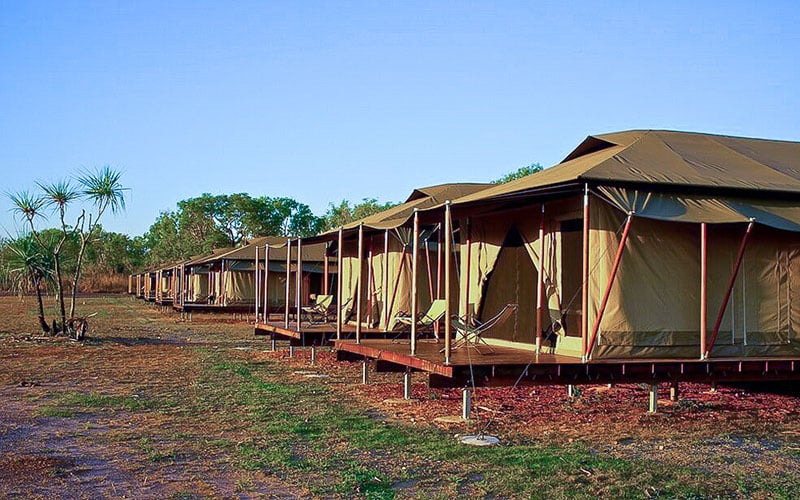 9. Ikara Safari Camp, Wilpena Pound, SA
Wilpena Pound is one of Australia's most under-appreciated natural scenes. Ikara's safari tents offer the amenities you would expect from a glamping site without any pretense. The air-conditioned getaways sit amongst national park bushland, providing a reprieve from the dusty landscape of the Flinders Ranges.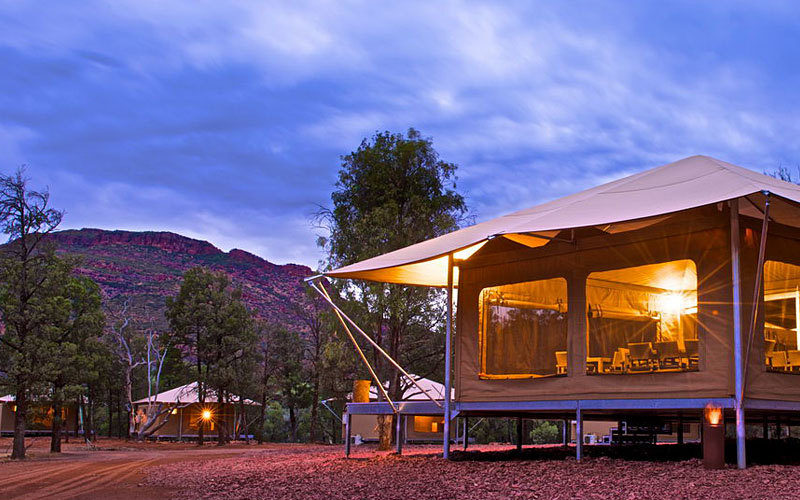 10. St Jerome's – The Hotel, Melbourne, VIC
It is a site that is both unique and quintessentially Melbourne. St Jerome's – The Hotel takes the idea of camping from the bush to the city. Now, before you think that this flies in the face of the essence of camping (i.e., to escape the city) you need to see what's on offer. Situated on the rooftop of Melbourne Central Shopping Centre, these 21 tents offer patrons the opportunity to wake up to views of the Melbourne skyline in all directions. No amenity is overlooked, with each guest receiving tablets that come pre-loaded with films and an esky stocked with beer. Of course, it's Melbourne, so there's a barista on hand making coffee.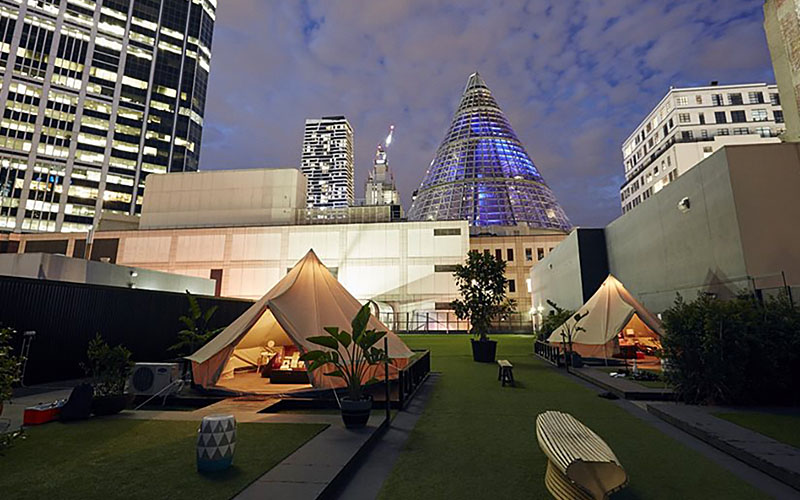 FAQs
What is Glamping?
Glamping stands for "glamourous camping" and is essentially a hotel experience, but in permanent tents with facilities like ensuites and real floors. These experiences tend to be located in beautiful, natural environments such as the mountains, forests, and even in the desert near Uluru. They're a great way to escape the urban grind without compromising on luxury.
What is the best glamping spot in Australia?
Australia is obviously blessed with some incredible natural scenery that makes the perfect spot for glamping. Some of the most breathtaking destinations include Uluru, Jervis Bay, and Karijini National Park.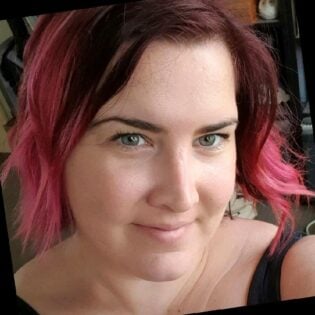 Alexandra Linde is an experienced writer holding a bachelor's degree in Journalism. She is the owner of Alexandra McKiterick Creative and has expertise in travel, fashion, fitness and lifestyle. Alex has previously written for Flightcenter, Travello, and Backpacker Deals.
SUBSCRIBE TO OUR NEWSLETTER
Subscribe to our mailing list and get interesting stuff and updates to your email inbox.