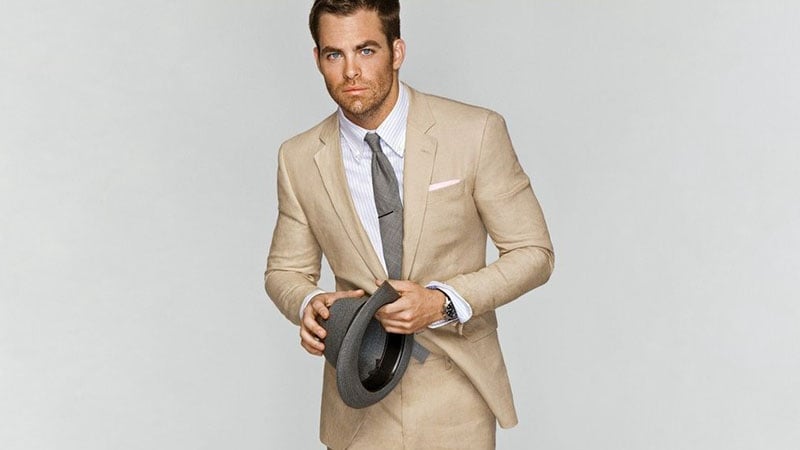 Are you feeling a little uninspired by the lineup of standard black, blue, and grey suits in your wardrobe? Well, perhaps it's time to add a new color to your closet. Khaki is highly versatile and can make a surprisingly stylish alternative to traditional suit tones. Not only can the unique color work well for a wide range of occasions and events, but it also offers a shade to suit every gent. So, if you want to update your outfit choices, there's no better option than a khaki suit. To find the perfect one for you, and learn how to wear it with aplomb, take a look at our guide below.
Khaki Suit Outfits
Light Khaki Suit
Thanks to its soft tone, a light khaki suit makes an excellent choice for the summer months. For a laid-back, warm-weather look, try choosing a lightweight style made from breathable linen. Alternatively, if you're after a more formal appearance, you should consider opting for a more structured design in thicker material. One that is well-tailored and fitted will appear especially dapper. Then, all you need to do is pair it with a formal white shirt and sharp accessories for a seriously sophisticated appearance that'll work perfectly for summer weddings.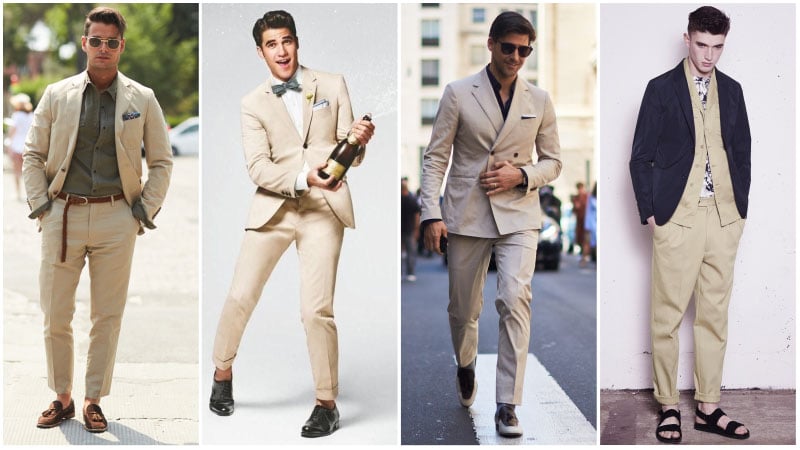 TOP BUYS
Dark Khaki Suit
While black, charcoal, and navy may be your go-to suit colors for winter, a dark khaki design can make a unique and worthy alternative. Ideal for projecting a smart and stylish appearance, a dark khaki suit is both elegant and exciting. To nail the look, you must first find the right shade of khaki for your skin tone. While tanned complexions tend to look fantastic with warm and brown-based shades of khaki, fairer skin tones typically look best with cooler and more green-dominated hues.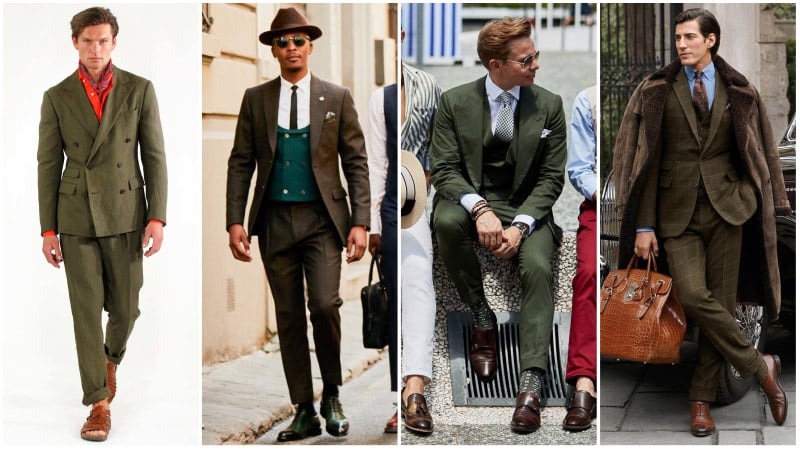 TOP BUYS
Single-Breasted Khaki Suit
Khaki suits come in many styles, including single and double-breasted designs. For a clean and contemporary appearance, you can't go past a single-breasted style. Thanks to its minimal aesthetic, a single-breasted khaki suit is versatile and easy to wear. Whether in a dark or light shade, it is ideal for a variety of events and occasions, including work, business functions, dinners, and more.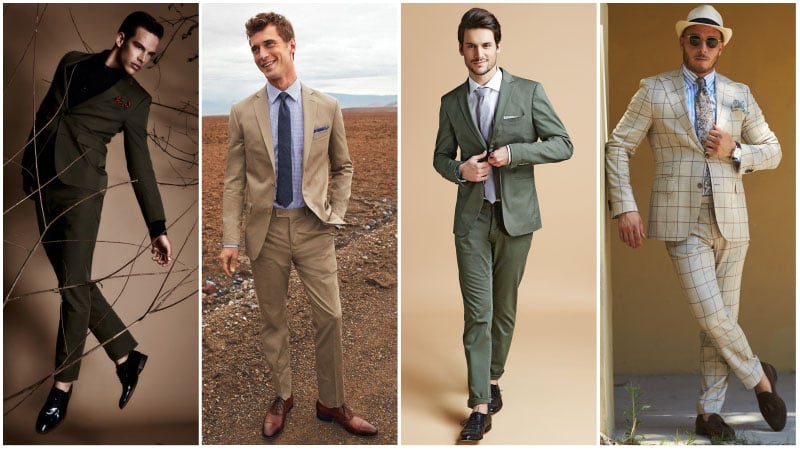 TOP BUYS
Double-Breasted Khaki Suit
A single-breasted suit may be simple to wear, but it can also be a little generic. So, if you're the kind of agent who likes to make a statement with his clothes, be sure to opt for a double-breasted design. Perfect for projecting a dapper and bold appearance, a double-breasted khaki suit looks both classic and current. But, to ensure you don't appear over-the-top while wearing one, remember to keep the rest of your outfit simple.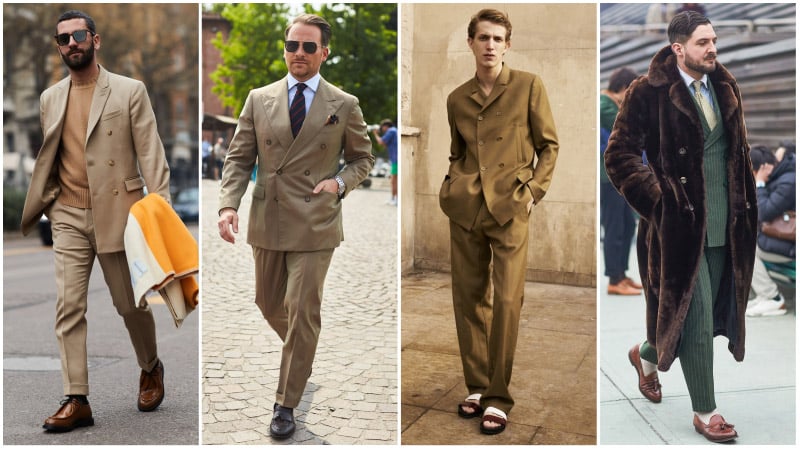 TOP BUYS
Three-Piece Khaki Suit
When it comes to menswear, a three-piece suit makes an excellent option for formal events. The look, which includes trousers, a jacket, and a waistcoat, can make any man appear polished and elegant. So, if you're looking to impress with the way you dress, be sure to add one to your wardrobe, and be sure to make it khaki. Strikingly stylish yet simple to wear, a three-piece khaki suit will help you stand out while appearing suitably sophisticated.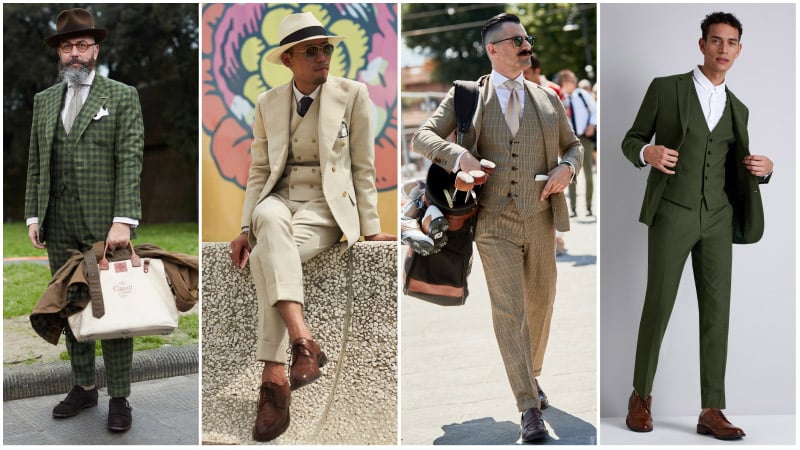 TOP BUYS
How to Wear a Khaki Suit
Khaki Suit + White Shirt
When paired with a white shirt, a khaki suit can appear utterly smart and fresh. The combination works particularly well in summer with light khaki suits but is also appropriate for winter with deeper shades. To nail the look, just remember to keep things simple and smart. To do so, try selecting stylish brown accessories. In particular, suede loafers and round sunglasses can make a fashionable choice.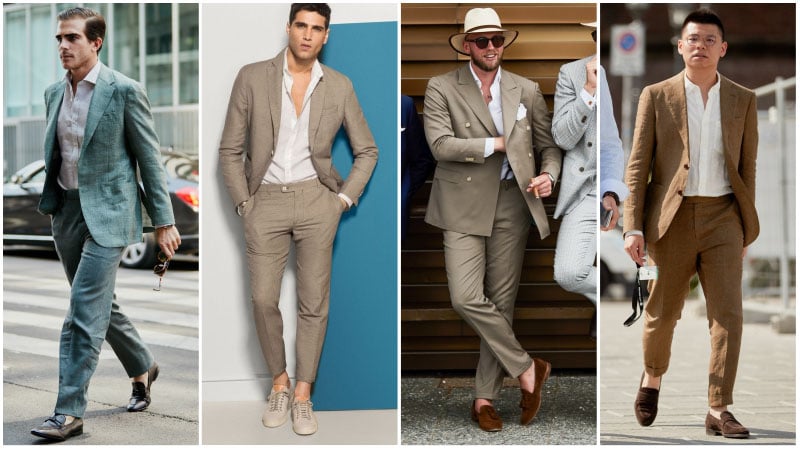 SHOP THE LOOK
Khaki Suit + Blue Shirt
The cool tone of blue works well to complement the warmth of khaki. As such, a blue shirt worn with a khaki suit can appear seriously stylish. To rock the look, try wearing a light blue shirt paired with a light, or mid-toned, khaki suit. Then, complete the look with brown leather derbies and, if you want to add a fashionable flair, a patterned pocket square. For something more relaxed, you can also try switching your standard cotton shirt for a denim design.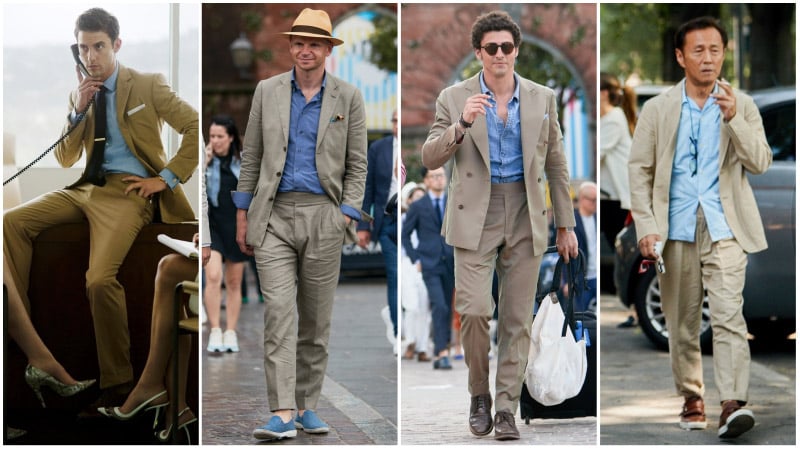 SHOP THE LOOK
Khaki Suit + Shirt and Tie
For business and formal occasions, a khaki suit worn with a shirt and tie can make a fantastic outfit choice. To stylishly don the combination, start by choosing a tailored suit in a smart design. Then, add a shirt in a neutral hue, such as white or light blue, and pick out your tie. While navy and dark blue ties often provide the most flattering options for a khaki suit, don't be afraid to experiment with other colors, such as green and burgundy.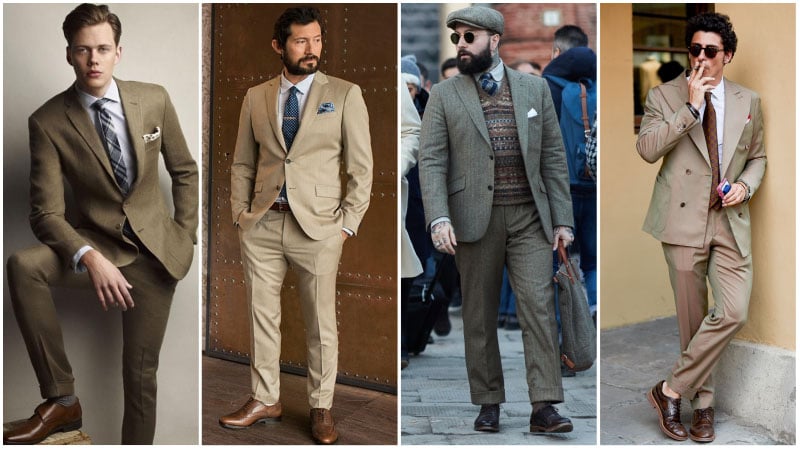 SHOP THE LOOK
Khaki Suit + Patterned Shirt
Want to have a little fun with your khaki suit? Why not try pairing it with a printed or patterned shirt? For a subtle look that can work for the office and beyond, try partnering your khaki suit with a striped or checked shirt. Alternatively, for something bolder, opt for a floral or paisley print instead. Just ensure the color of your shirt complements the tone of your suit for a stylish and balanced appearance.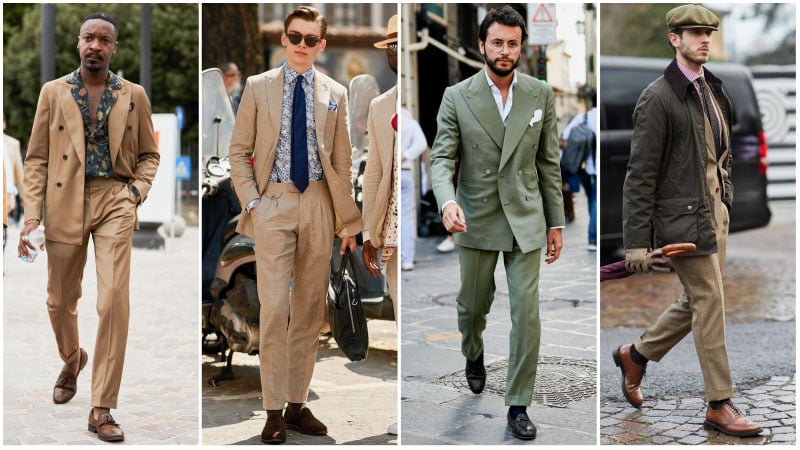 SHOP THE LOOK
Khaki Suit + T-shirt
For a fashionable, smart casual look, you can't go past a khaki suit with a T-shirt. The combination appears perfectly on-trend for right now and offers an excellent balance of polish and chill. Although there are many ways to wear the look, one of the most stylish and straightforward options is to pair a single-breasted khaki suit with a white, crew-neck T-shirt. Then, complete the outfit with a pair of white leather sneakers worn sans socks.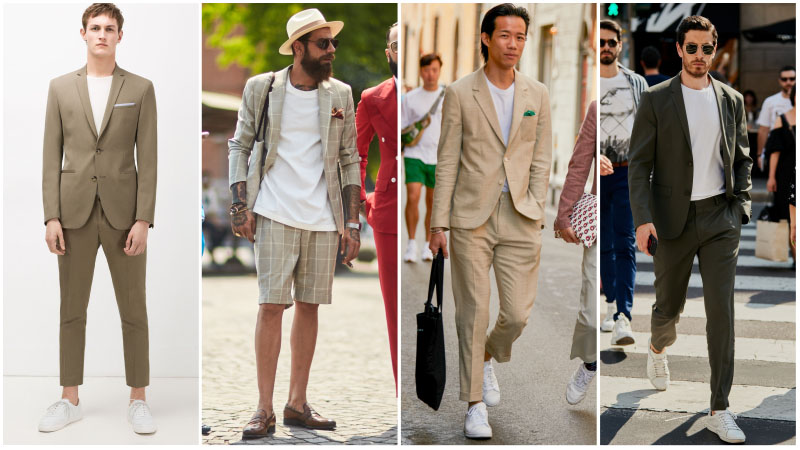 SHOP THE LOOK
FAQs
What is a khaki suit?
Khaki is a brownish-yellow color, although there are slight variations of this. It is a popular choice for both formal occasions and events because of its versatility, and it is a stylish alternative to traditional suit tones.
What do you wear with a khaki suit?
The fit and tailoring are essential if you want to look good. You can choose between a light or dark khaki suit, depending on your skin tone, and then style it accordingly. Wear it with leather oxford shoes and a formal white shirt or a blue button-down for a sophisticated appearance. If a more casual look is what you want, then a fitted T-shirt also looks good. You can accessorize with a tie; navy and dark blue options are often the most complimentary with the color.
Can you wear a khaki suit in the winter?
Khaki suits are popular options in the warmer months, making for a laid-back or sophisticated summer look. On the other hand, darker hues are considered more appropriate for the winter season.
SUBSCRIBE TO OUR NEWSLETTER
Subscribe to our mailing list and get interesting stuff and updates to your email inbox.