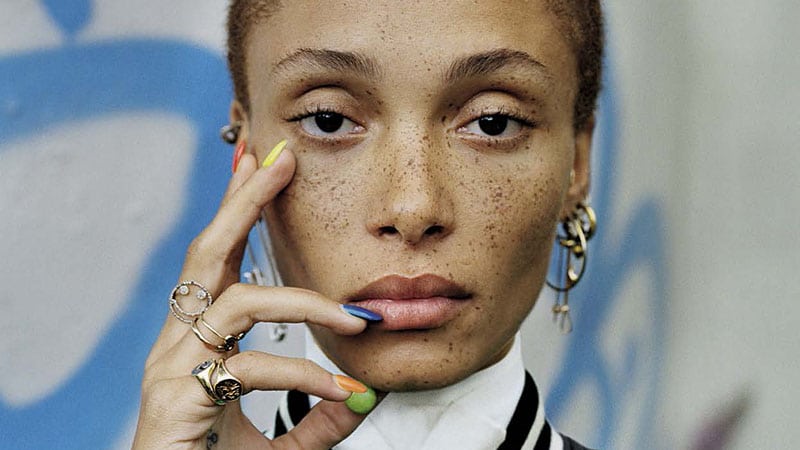 The BFC announced this year's Fashion Award winners, Chanel presented the Métier d'Art collection in Hamburg and Dior Homme designed a BMX bike. Discover these stories and more as we reveal this week's top international fashion news.
Highlights of the BFC Fashion Awards 2017
On Monday night the who-is-who of fashion gathered at the Royal Albert Hall in London to witness the Fashion Awards 2017. The annual spectacle honours exceptional achievements of established and emerging professionals within the fashion industry. This year's event was hosted by the outgoing chairman of the British Fashion Council, Dame Natalie Massenet. While Donatella Versace, as we reported previously, received the Icon of the Year award, Stella McCartney was recognised with the award for Innovation for her continued promotion of sustainable fashion. Anna Wintour moved Christopher Bailey to tears when she presented him with an award for his outstanding contributions to British fashion following his 17-year career at Burberry. Naomi Campbell led an emotionally charged tribute, honouring the legacy of Azzedine Alaïa with a stage full of supermodels who called the designer's Paris residence home over the past three decades.
One of the biggest winners of the night was London College of Fashion alumni Jonathan Anderson, who claimed both, the British Designer of the Year award in womenswear and Accessories Designer of the Year award. Dior's Maria Grazia Chiuri picked up the Swarovski Award for Positive Change. London based American designer Michael Halpern claimed the British Emerging Talent award in the womenswear category, while Charles Jeffrey topped the menswear ranking. Marco Bizzarri was honoured for leading Gucci into a new age, and Raf Simons took home the trophy for Designer of the Year. Model-of-the-moment Adwoa Aboah dazzled the crowds in a minidress embellished with colourful Swarovski crystals while accepting the award for Model of the Year. View the full list of winners and best red carpet looks here.
Chanel Shows Métier d'Arts Collection in Hamburg
On Wednesday night, Karl Lagerfeld unveiled his latest Métier d'Arts collection for the house of Chanel at the Elbphilharmonie in Hamburg under a wave of standing ovations. The show attracted a number of international celebrities, including Lagerfeld's close friend and Oscar winner Tilda Swinton and, of course, Chanel muse Kristen Steward and Lily-Rose Depp. "It's honestly, I think, the most beautiful Karl Lagerfeld Chanel collection I've ever seen," said Swinton after the show. "We're in Hamburg, which is where Karl Lagerfeld is from, so it felt like a very balanced and organic and intimate, relaxed event, and it was a real privilege to be a part of it." Indeed, it felt like the audience got to see a side of the designer which he's rarely shown before. Even though Lagerfeld himself didn't want to give into the waves of sentiment that came his way.
To him, it was merely the building's structure that caught his attention a few years ago, describing it as the "most interesting building in Europe right now." The collection itself was not only a reflection of its architecture but also a homage to the city's rich seafaring history, once called Germany's "gateway to the world." As a result, the designs referenced a multitude of sailor elements in dark blue, black and other warm, earthy tones. Oversized heavy knits were combined with delicate tulle, and rustic grid patterns showed chic accents of sparkling sequins. Excessive layering and opulent accessories as seen in previous shows were replaced by sharp tailoring and clean lines, inspired by the city's common working class attire of the early 20th century. Meanwhile, the models walked the philharmonic's aisles to the sounds of a live orchestra conducted by British cellist Oliver Coates. View the whole collection here.
Pantone Announces Colour of the Year
Once again, the Pantone Colour Institute has announced the Colour of the Year. An event which tends to infiltrate every industry from movies to interior design and even fashion. The go-to shade of 2018 will be Ultra Violet. A strong, bold blue-based hue that is as beautiful as it is meaningful. "Complex and contemplative, Ultra Violet suggests the mysteries of the cosmos, the intrigue of what lies ahead and the discoveries beyond where we are now," Pantone reveals on their website, adding that purples have long been symbolic of counterculture, unconventionality and artistic brilliance.
The colour is also said to have energising qualities. "[It's] often associated with mindfulness practices, which offer a higher ground to those seeking refuge from those seeking refuge from today's over-stimulating world." While some say that the choice of strong, moody hue is a reflection of the current global condition, we only really know one thing for sure: we will see a lot more of Ultra Violet in 2018.
Josh Goot and Christine Centenera Launch WARDROBE.NYC
Designer Josh Goot and Vogue Australia's Christine Centenera have launched a new e-commerce endeavour with a mission to disrupt and revolutionise the global fashion scene. The project goes by the name of WARDROBE.NYC and is a new direct-to-consumer luxury label that focuses on high-quality, purpose-made capsule collections. The brand's USP is the simplicity of its concept. Goot and Centenera intend to produce a small range of luxury essentials that are easily incorporated into one's everyday life and combined with other pieces. "It's a considered, cohesively styled solution that focuses on luxury without excess," Centenera explained in a press release. The pair plans to launch four collections a year, each one with a slightly different theme or aesthetic. "We like the idea of concepts specific to a season," shares Goot.
Each capsule centres around a four- and an eight-piece wardrobe, which is purchased in a bundle for either $1500 or $3000. The first release includes a blazer, a shirt, a T-shirt, a skirt, a coat, a merino knit, a silk blouse and leggings for women. Men will receive a blazer, a shirt, a T-shirt, a hoodie, a coat, a knit, a pair of pants and trousers. "We knew that we wanted the first collection to be focused on suiting," says Centenera. "I sometimes find it difficult to find what I think is the perfect blazer or the perfect tailored while shirt – something that is not defined by a specific brand, something that is high quality and nondescript." All items are designed in New York and produced in Italy. The retail price includes all shipping, returns and exchanges. First orders will be shipped starting Monday, December 11.
Dior Homme Launches BMX Bike
This weekend, all eyes were on Dior Homme when the French fashion house revealed its first-ever BMX bike at the Sole DXB streetwear festival. The French label designed the bicycle in collaboration with Bogarde, a Parisian bike retailer whose popular two-wheelers take style notes from the 1980s. As a post from Dior Homme's creative director Kris van Assche revealed earlier this year, the design took inspiration from the street culture of the 1990s, which has been one of the main inspirations for the designer as of late.
The BMX features a sophisticated chrome finish, highlighting the brand's signature colours of black and red. The Dior Homme iconic bee logo found a place on the bike handles. The bike is the first one of three designs in partnership with Bogarde. They will be available for purchase upon request in Dior Homme boutiques around the world. For the noble sum of €2,500 (AUD$3,914), buyers will not just receive some stylish new wheels but a real rarity; only 70 Dior bicycles will be produced in total.
SUBSCRIBE TO OUR NEWSLETTER
Subscribe to our mailing list and get interesting stuff and updates to your email inbox.