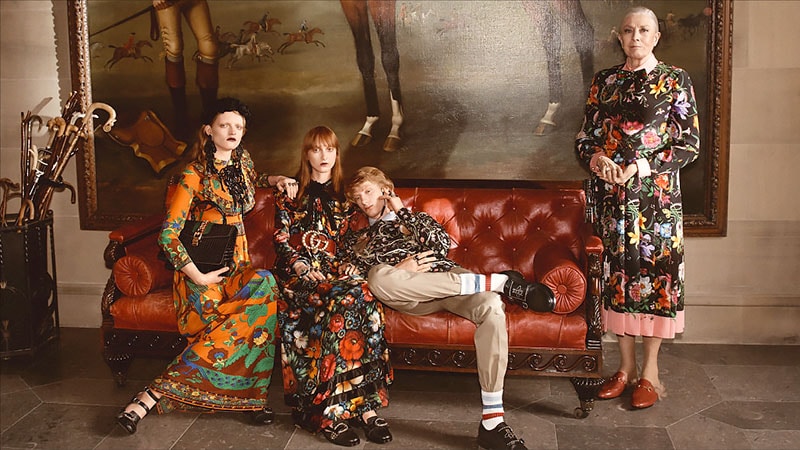 This week, Gucci goes academic, Giambattista Valli announced an activewear line and Emily Ratajkowski was accused of copying swimwear designs. Discover these stories and more as we reveal this week's top international fashion news.
Gucci Opens Research Lab in Milan
Gucci has announced a new scientific endeavour in collaboration with the Bocconi University in Milan, one of Italy's most prestigious academic institutions. Over the timeframe of three years, a small team of four professors and a lab director situated in the so-called Gucci Research Lab will investigate practices that intend to secure the future of the luxury retail sector. "I am delighted that Gucci and Bocconi University, renowned for its applied research, are collaborating on this important initiative, which is designed to reveal important insights that large and small companies can learn from," says Gucci President and CEO Marco Bizzarri in the official press release. "More than ever before a company's culture can be the differentiating factor in terms of competitive advantage." The initiative will focus on the systematics of company culture and how a brand can provide better work environment to increase employee performance.
Cornerstones of the research will include interpersonal skills like a 'start-up mentality', employee empowerment, risk-taking, quick decision making and agile processes. Every 12 months, the lab will publish an official report of their findings, which will be publicly accessible online. Whether its results will find real-life implementation remains to be seen, but with Marco Bizzarri at the helm, Gucci is leading by example. Having joined Kering in the early 2000s, he was promoted from within and has contributed to a 49% increase in revenue over the last quarter alone. For the Italian fashion house, it's not the first brush with Bocconi University. In the past, Gucci has been recruiting employees and interns through their Luxury Talent and Corporate Associate Programs. However, this new project has enabled the legacy house to finally be named an official strategic associate of the university.
Donatella Versace to Receive Fashion Icon Award
With the 2017 British Fashion Awards just around the corner, the British Fashion Council just announced that Donatella Versace will be honoured with the Fashion Icon Award. The prize recognises the designer's creative achievements, her contributions to the global fashion industry as a whole and her active support of emerging British designers in particular. The label was initially launched in 1978 by her brother Gianni Versace. After his passing in 1997, Donatella continued his legacy as the new creative director. "For 40 years, my brother an I have done what we love and that is a legacy I am honoured to continue to uphold," she says in a statement.
Prior to the incident, Donatella was looking after the brand's image and communications strategy. She is often credited with being the first one to utilise supermodels on the runway as well as in advertising campaigns. In the official release, the designer also expressed her gratitude of how positively Versace has been received over the years, thanking the global fashion community, her team as well as her brother Gianni. "We have celebrated empowerment, joy and, of course, glamour. We have championed a community of people who share our values and together with them have created truly iconic images in the world of fashion. [Gianni's] incredible spirit is in everything we do and everything we stand for." The BFC Fashion Awards are going to be held on Monday evening, December 4 in London.
Emily Ratajkowski Accused of Copying Designs
Less than a month after the launch of her inaugural swimwear collection, Emily Ratajkowski has been called to respond to accusations whether she copied designs of another brand. Lisa Marie Fernandez called the model out for two specific pieces, which, according to the resort designer have already been in production for three years. The items in question are the Poppy one-piece with a knotted front and the Leandra off-the-shoulder bikini top. Both of which bare an undeniable resemblance to Ratajkowski's Vulcan top and Cardiff swimsuit. According to the Business of Fashion, Fernandez issued her swimwear brand, Inamorata, with an official cease-and-desist letter with instructions to discontinue the production of these two styles.
Although the copyright infringement law in the United States does not cover wearables like swimwear, Fernandez calls upon two European Union Community Design Registration certificates that were registered by her brand two years ago. These protect the supply of registered designs into the EU until 2020. In total, the designer has registered 21 creations with the organisation in the EU and 20 in Australia. This may affect Inamorata as the label does ship internationally. While Ratajkowski has yet to officially comment on the matter, Vogue reported that she did publish a cryptic Instagram post of Christie Brinkley to Inamorata's profile with the caption "Pinterested this photo over 2 years ago and made a sample of it over a year ago. We all tap into vintage inspirations." The post has since been removed from the account.
Giambattista Valli to Launch Activewear Line
Red carpet favourite Giambattista Valli announced this week that he will be adding an activewear line to his synonymous label starting in early next year. The collection of 50 to 60 pieces will be unveiled to buyers in January. For the winter season, designs will include coats, puffer jackets, sweatshirts and tracksuits. In an interview with WWD, the designer revealed that he intends to begin with casual garments with technical elements, like après-ski wear, and then plans on adding a summer line that will include swim- and beachwear. "It's a capsule collection where we will express a more functional side of the brand, while remaining faithful to the atmosphere of contemporary chic that is part of its DNA," Valli says in the interview.
The capsule's core pieces will range from €1,100 to €2,500 (AUD$1,700 to AUD$3,900) and will be sold in Valli boutiques and selected speciality stores. It will also be presented on the runway along with his other designs. "I love the idea of introducing new materials to activewear by applying the house's know-how in handling certain fabrics to this segment," he added. "It's extremely Valli, extremely sophisticated, extremely luxurious — but on the other hand, today's customer mixes Uniqlo with luxury brands." Giambattista founded Maison Valli in 2004. His flirty and sculptural designs quickly gained popularity amongst celebrities such as Amal Clooney, Julianne Moore, Nicole Kidman and Diane Kruger. The activewear line is part of a new business-minded effort to develop the brand into a "360-degree universe."
Cyber Monday Breaks Shopping Records
For the first time in shopping history, Cyber Monday outdid the Black Friday sales marathon. According to Adobe Insights, which monitors 80 percent of online transactions from 100 major retailers in the US, the final sales tally ranked up to the record-breaking sum of USD$6.59 billion (AUD$21.91 billion). This makes Cyber Monday 2017 the officially largest online shopping day in history. A large number of purchases were made using mobile devices, such as smartphones. "This year, mobile shopping was dominant both in the morning and afternoon, and desktop only staged a comeback in the evening when people were home," shares Taylor Schreiner, director of Adobe's Digital Insights division. While post-Thanksgiving shopping frenzy Black Friday also hit record numbers, it fell a little short in comparison to the Cyber Monday sales. The biggest winner of the weekend was Amazon.
SUBSCRIBE TO OUR NEWSLETTER
Subscribe to our mailing list and get interesting stuff and updates to your email inbox.