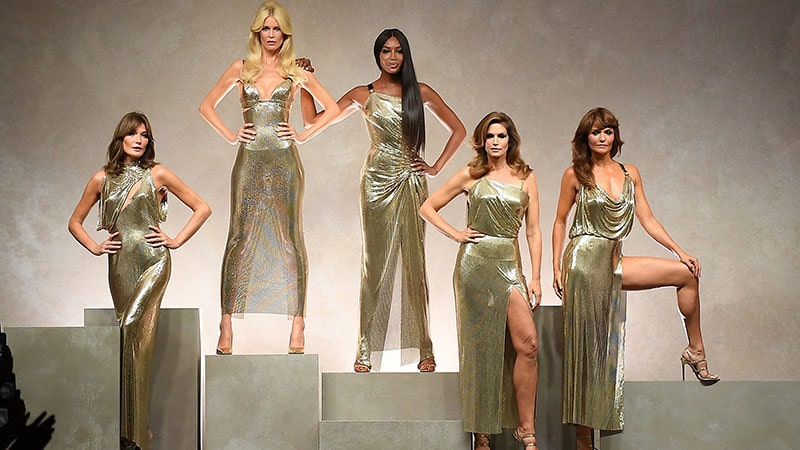 This week, Getty Images banned overly retouched model photos, Donatella paid homage to Gianni Versace at Milan Fashion Week and Isabel Marant introduced her first menswear collection. Discover these stories and more as we reveal this week's top international fashion news.
Getty Images Bans Retouched Model Photos
In a statement this week, Getty Images announced the ban of images that severely photoshopped to alter a model's physical appearance. As of October 1, the clause will be added to any photographer's contract signing up to work with the photo agency. "Our perceptions of what is possible is shaped by what we see," so Getty in a statement on its website. "Positive imagery can have a direct impact on fighting stereotypes, creating tolerance, and empowering communities to feel represented in society." These news broke only months after Getty launched a campaign to diversify its stock images in collaboration with photographer Campbell Addy.
Over the past few years, many celebrities have spoken out against excessive photoshopping and for body positivity and diversity in magazines. Among them are stars like Kerry Washington, Lady Gaga, Zendaya and Lorde. Most recently, model Emily Ratajkowski voiced her displeasure on a magazine cover that retouched her signature pout and cleavage. "Everyone is uniquely beautiful in their own ways. We all have insecurities about the things that make us different from a typical ideal of beauty," she shares on Instagram. "I hope the fashion industry will finally learn to stop trying to stifle the things that make us unique and instead begin to celebrate individuality." The policy change is made in accordance with the French law that requires a photographer to disclose whether to what extent a model's body has been retouched. Minor edits like removing blemishes or changing a hair colour will still be accepted.
Highlights of Milan Fashion Week
This week, the global fashion elite pilgrimed to Milano as its third major stop along the seasonal fashion week journey. Surprisingly, the highlights of this major event remained almost entirely on, as opposed to off, the runway. Moschino opened with yet another mind-blowing presentation of their Spring 2018 collection. While Jeremy Scott is known for his obscurely playful and couture-esque designs, this collection carried an almost sentimental, romantic vibe. Model of the moment, Kaia Gerber, and Gigi Hadid closed the show, disguised as giant flower bouquets. A nostalgic atmosphere also surrounded the Versace show, as Donatella Versace took the opportunity to honour the anniversary of her brother's untimely passing. The collection revisited some of the Gianni Versace's most iconic prints. The nineties revival was complete, when the original supermodels, Cindy Crawford, Claudia Schiffer, Naomi Campbell, Helena Christensen and Carla Bruni, closed the show to George Michael's 'Freedom'.
At the end of yet another long and exciting week for the fashion crowds, Milan's mayor invited for an evening at the Green Carpet Fashion Awards. The event, which has been dubbed the "Oscars of Fashion" celebrated designers, artisans and innovators for their passioned pursuit of sustainability in the industry. "As public figures we are exposed and we can contribute to spreading the message of sustainability," said Giorgio Armani. "It is crucial to think how to preserve the environment for our future generations," agreed Silvia Venturini Fendi. Over the course of one hour, eleven statuettes, designed by Chopard, were handed out by celebrities. Amongst others, the night was also attended by Miuccia Prada, Anna Wintour, Ellen von Unwerth and Gucci's Alessandro Michele in the company of Dakota Johnson.
RELATED: The Best Street Style From Milan Fashion Week Spring/Summer 2018
Isabel Marant Introduces First Menswear Line
On Thursday, Isabel Marant presented her first menswear collection as part of her Spring 2018 fashion show. The notion of adding the line came along when she started noticing the popularity of her designs among the other sex. "It's very on for girls to borrow their boyfriend clothes, but actually it's my husband borrowing my clothes," she said. "So I just wanted to show the reverse point of view: saying that men could also borrow womenswear." In that fashion, Marant uses the same fabrics one will find in her womenswear collection but tailor them to the male body type. "We have a lot of boys working for us, and they order pieces from the women's line in much bigger sizes, but sometimes the sleeves are too short [or] you have sweaters where the neckline doesn't really work for men," the designer said of her development process.
To Marant, adapting her designs to suit men seemed like a natural progression. "I like the grey area of wardrobing, where pieces are exchanged," she said in a statement following her show at Paris Fashion Week. As inspiration behind the looks the credits music icons like David Bowie, Kurt Cobain and Mick Jagger. "I love androgynous but at the same time very masculine men," reveals Marant. "[Their] attitude oscillates constantly between the provocative and the iconic. This is the man I have in mind when I create." The Spring/Summer 2018 collection will feature a selection of knitwear, T-shirts, shorts, pants and jackets. In addition to that, her more affordable Étoile line will feature a men's range, too.
Hugh Hefner Dies At 91
Hugh Hefner, the founder of Playboy, has passed away at the age of 91. According to a statement made by Playboy, he took his last breath at his iconic home, surrounded by his family on Wednesday night. Hefner, whose fortune is an estimated US$40 million (AUD$51 million), credited his puritanical upbringing for his career. "At a very early age, I began questioning a lot of that religious foolishness about man's spirit and body being in conflict, with God primarily the spirit of man and the Devil dwelling in the flesh," Hefner remarked in a 1974 Playboy interview. "There was no drinking in my home. No discussion of sex. And I think I saw the hurtful and hypocritical side of that from very early on."
Hefner started his publishing career at the tender age of nine, producing a neighbourhood newspaper. In 1953, when domestic intimacy was kept hidden behind a curtain of shame, he published the first issue of Playboy. Featuring Hollywood icon Marylin Monroe and the editorial promise of "humour, sophistication and spice" on the cover, the magazine sparked a new kind of conversation around the topic. Throughout its publishing career of over 60 years, countless celebrities graced its cover. Among them were a number of mentionable fashion moments courtesy of model legends Cindy Crawford, Claudia Schiffer, Naomi Campbell, Elle MacPherson and Kate Moss. By the way, the iconic Playboy bunny symbol was reportedly inspired by a print that decorated Hef's childhood blanket.
Louis Vuitton Named Best Luxury Brand 2017
Global brand consultancy Interbrand has published its annual list of the 100 most valuable brands in the world. Entitled Best Global Brands, the report analyses and ranks brands based on their financial performance, consumer influence and their ability to command a premium price for the products or services on offer. While Apple, Google and Microsoft occupy the top three, Louis Vuitton held its position as best luxury brand as the overall number 19. Hérmes climbed two spots to 32, securing its spot as the top-growing luxury brand for the second year in a row. While Gucci climbed one spot to 51 under the creative lead of Alessandro Michele, its Italian colleague Prada dropped to place 94 from 81. Burberry also took a dive of three places, landing at number 83. Ralph Lauren, on the other hand, dropped out of the ranking entirely this year, having previously held place 98.
While still represented in this year's report, jewellery giants Cartier and Tiffany took a hit, too. Cartier fell from 62 to 65 while Tiffany lost seven places and found itself at 81. The report is published as the luxury retail sector is facing the challenges of changing consumer behaviour and the rise of digitalisation.
SUBSCRIBE TO OUR NEWSLETTER
Subscribe to our mailing list and get interesting stuff and updates to your email inbox.