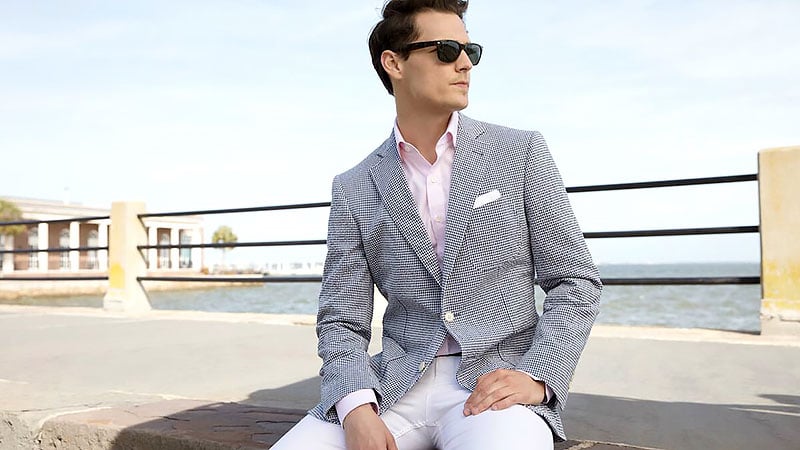 It's officially summer, and though we patiently wait all year for the warmer months to approach, there's one downfall. Of course, that's the sweltering heat while you're trying to survive a business day. If you're wearing a shirt to work, you're bound to sweat. Don't worry though; the fabric seersucker will save your life in the warmer months. This breathable, lightweight, puckered cloth is comfortable and breezy. If you haven't heard of the fabric, then here is your guide to everything you need to know about it, including how to style it to perfection.
What is Seersucker?
Seersucker is a type of textured fabric that can have a bold or subtle striped appearance. The texture is achieved during the weaving process when warp yarns that run up and down the body are interwoven at different tensions. This causes a puckering effect that is enhanced when the fabric is washed during the finishing process. Seersucker fabrics are traditionally cotton-based but due to advances in weaving technology, can also consist of synthetic fibers such as polyester, nylon, or spandex.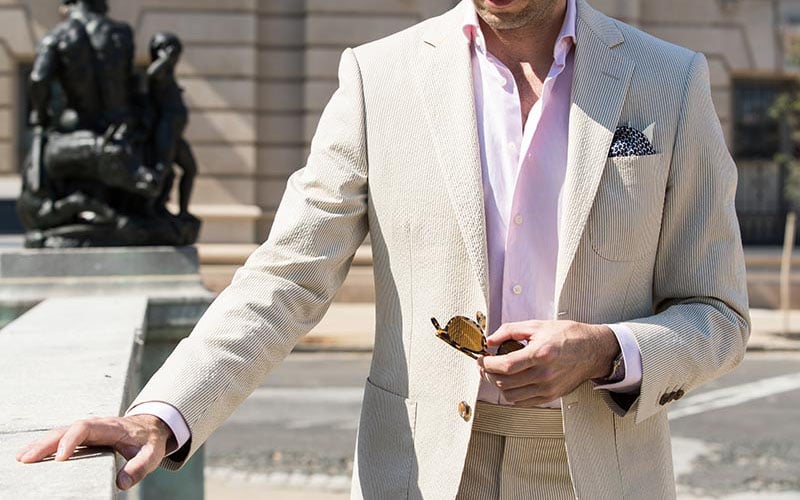 The History of Seersucker
The seersucker fabric was invented in India and soon became known by its Persian sobriquet, shir o shekar, which means 'milk and sugar'. It was named this due to its crease-free combination of smooth and rough pinstripes. Though technically the fabric is already creased, it's not in the same way that most fabrics would. Its natural puckering creates pockets of space which allow for air circulation and breathability.

Due to this, the fabric became popular in warmer climates. It was worn across the British colonies at the beginning of the 20th century. Then, as the cloth made its way to America, it was worn by laborers. In the Summer months, their workwear included shirts, chor jackets, overalls, and peaked hats that were all made from a heavy-duty version of the material. Finally, in 1909, the fabric was introduced to the sartorial world by the American seersucker makers, Haspel. It became the ultimate summer suit fabric which was wildly popular across the hazy American southern states.
Today, some brands are evolving the fabric with check patterns. These work as separates or a complete suit, making the material more versatile. Seersucker has always been better recognized for its technical features, though there's no harm in trying to make it trendier.
When to Wear Seersucker
Seersucker is the perfect summer fabric that can be worn for many dress codes. It's also the ideal material to wear when traveling as the crease-free style won't let you down after a long flight. Seersucker comes in suits, jackets, shirts, pants, shirts, and hats. Due to its texture and print, it can look a little more laid back and is an easier-to-wear alternative to linen.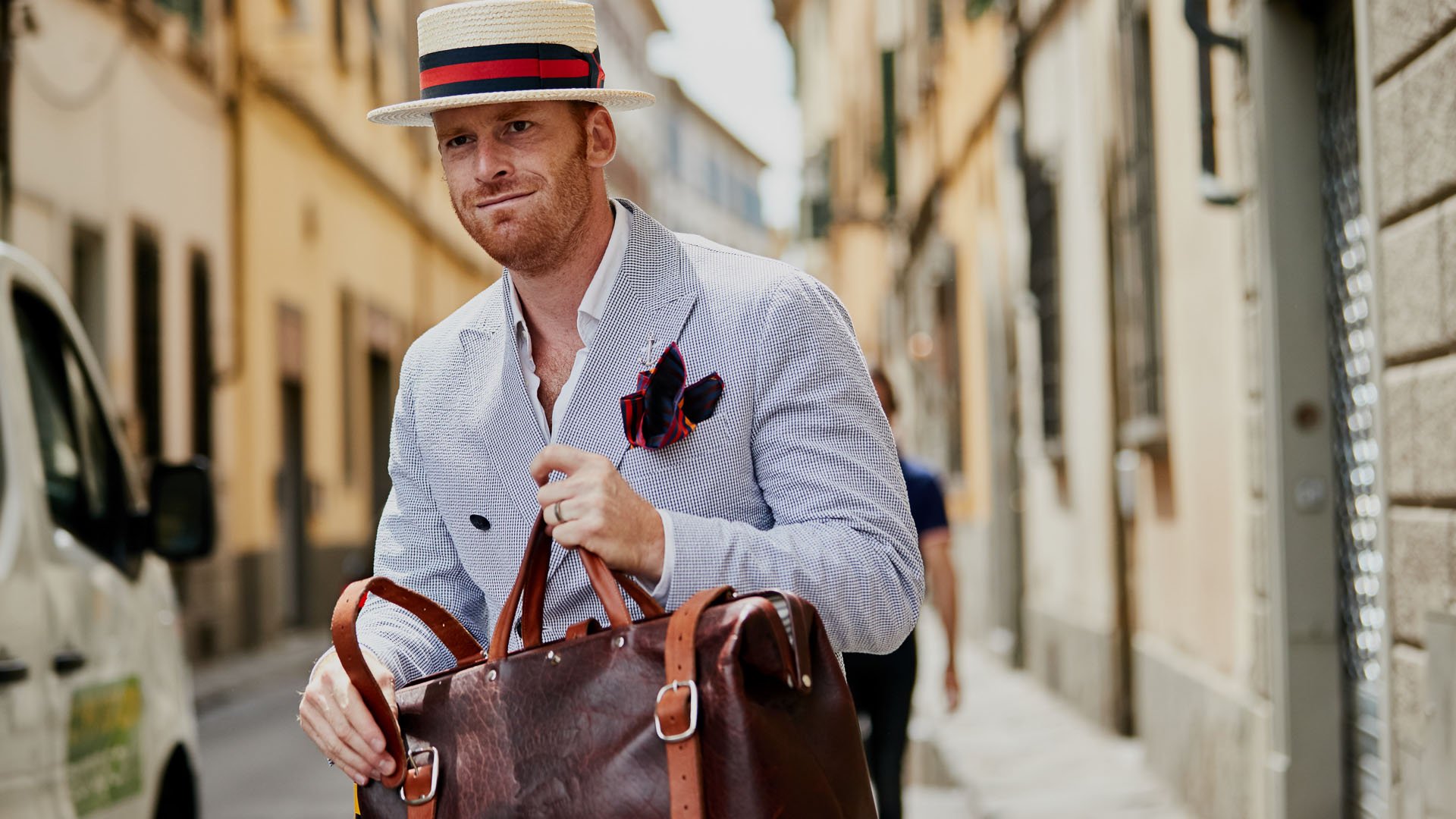 Seersucker Clothing
Seersucker Suit
The Seersucker suit is sold in flattering cuts to meet modern standards. Light blues, greys, and whites are the original colors of the cloth, which look as sophisticated today, as ever. It's the perfect addition to your outfit for an outdoor summer wedding or those hot office days.
Shop the Look
Seersucker Shirt
Seersucker shirts are a must for outdoor afternoons, sitting poolside and especially surviving the commute to work on the train. Save yourself the embarrassment of the underarm or lower back shirt sweat this summer. You can pair seersucker shirts with pleated trousers and a slim belt. For those extra long, hot days, a casual pair of chino shorts will also work nicely.
Shop the Look
Seersucker Pants
You'll be so thankful for your seersucker pants when you're walking in the overwhelming heat. They can be worn for any occasion, including to the office or even to a festival. Pair them with a downplayed shirt or a T-shirt for the perfect summer look.
Shop the Look
Seersucker Jacket
The seersucker jacket comes in an array of different colors, plus it's a great lightweight option for those long hot days and warm summer nights. The jacket pairs nicely with some fitted slacks and dress shoes, and is a perfect transitional item to take you from day tonight.
Shop the Look
Seersucker Shorts
Seersucker shorts make a great addition to your summer wardrobe. If you're not keen on wearing seersucker head to toe, then shorts are a good way to introduce the fabric to your wardrobe. Stick to colors such as white or navy for a classic look.
Shop the Look
How to Wear Seersucker
Treat it like other cotton or wool versions of the same garment. It doesn't need to be styled any differently.
Go for a slimmer fit. The puckering of the material adds bulk, while it doesn't drape as much as other fabrics.
Avoid wearing a matching seersucker tie or pocket square. Instead, try a fabric that compliments the material.
Stay away from white or two-tone shoes. Contemporary shoes suit this look most, really modernizing the look.
FAQs
Can you wear a seersucker suit at night?
A Seersucker jacket can be worn during the day or on warm summer nights. It is the perfect piece to pair with slacks and dress shoes and is a fantastic transitional item.
Is seersucker good for summer?
Seersucker is a popular choice for summer because it is breathable and lightweight. The puckered fabric creates pockets of space, which aids air circulation. It is not surprising then that this is a staple for men who want to wear suits in warm weather.
Is seersucker cooler than cotton?
Seersucker is the perfect choice for summer and is considered cooler than flat cotton items. It is important to remember to treat your garment the same way you would do with cotton or wool, meaning it doesn't have to be styled differently.
SUBSCRIBE TO OUR NEWSLETTER
Subscribe to our mailing list and get interesting stuff and updates to your email inbox.