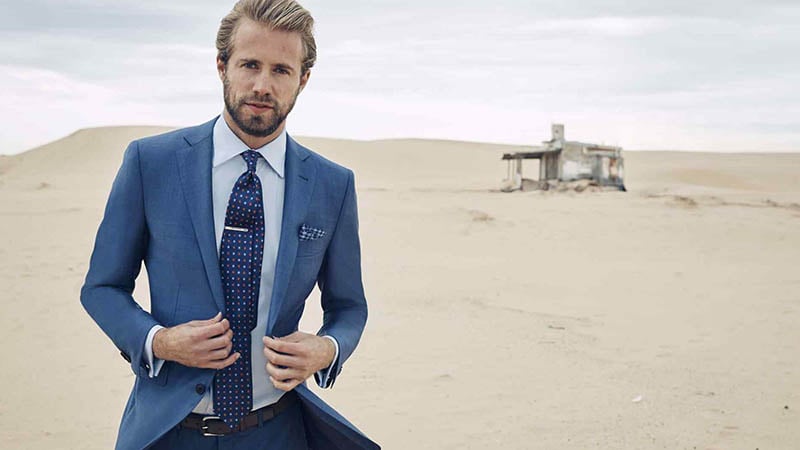 If you're not sure what a tie clip is or how to wear one, you're not alone. Today, many modern men don't understand this classic accessory. But, if you want to add a traditional and dapper touch to your wardrobe, this simple accessory is one you should embrace. All you need to know is how to rock one like a true gentleman, and we can help. In this guide, we break down what a tie clip is, where it goes, the different styles, and when to wear one.
What is a Tie Clip?
A tie clip or tie bar is a small piece of metal designed for use with a tie. Its purpose is to keep your tie in place by securing it to your shirt placket. Today, however, tie clips are also used for aesthetic reasons, such as adding a fashionable accent to an outfit. As such, there are many different options and designs available.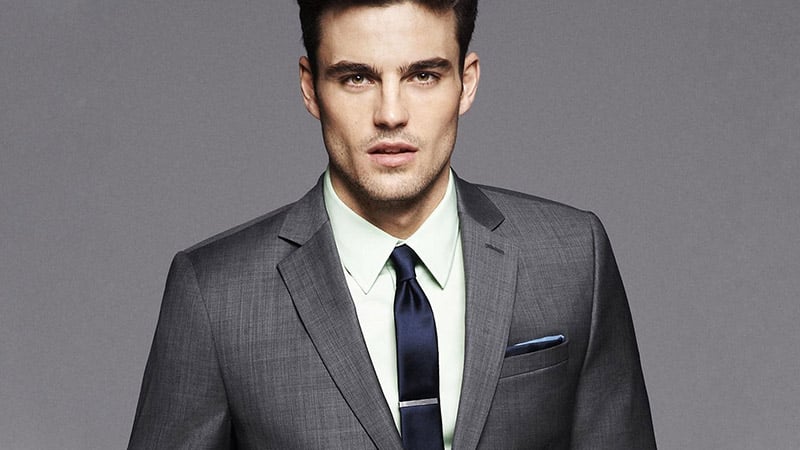 Where Does a Tie Clip Go?
For a polished and proper look, the placement of your tie clip should be just right. If it's too low or too high, it could throw off your entire look. Ideally, your tie clip should sit around the middle of your sternum, between the third and fourth buttons on your shirt. It should be attached from right to left to capture both your tie and shirt placket.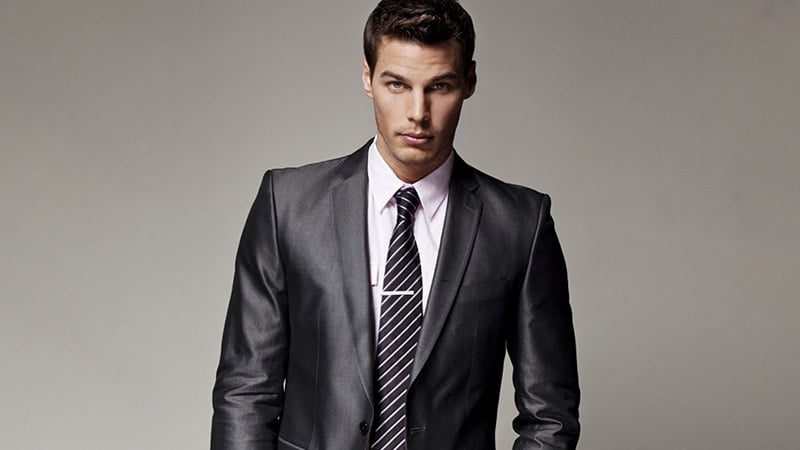 When to Wear a Tie Clip
Smart Casual
If you're donning a smart casual look, such as jeans with a shirt, tie, and blazer, you can feel free to have a little fun with your tie clip. So, instead of subtle and formal options, look out for unique statement designs. Something that complements your outfit and speaks to your style will work well. But, make sure your choice isn't too over-the-top for where you'll be wearing it.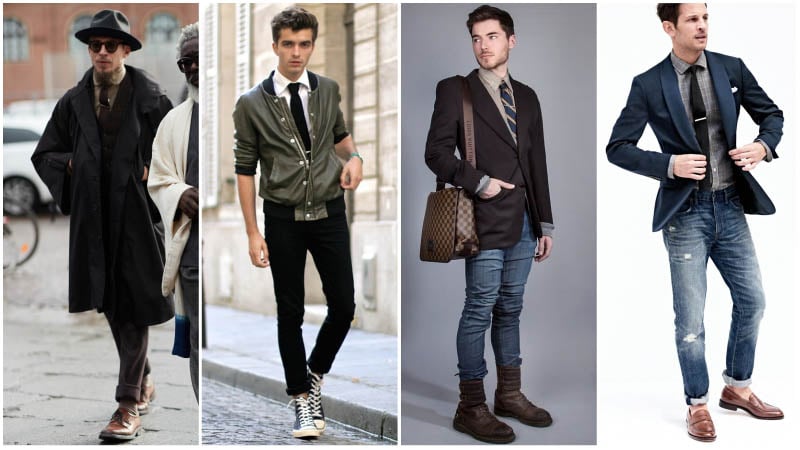 SHOP THE LOOK
Formal
Tie clips are an excellent addition to formal outfits. So, if you have a wedding, fancy dinner, or business event coming up, consider accenting your usual suit, shirt, and tie combination with a tie clip. To nail the look, opt for a more understated and elegant clip. A simple silver design always works well. However, one with a touch of color or a unique texture can also be suitable.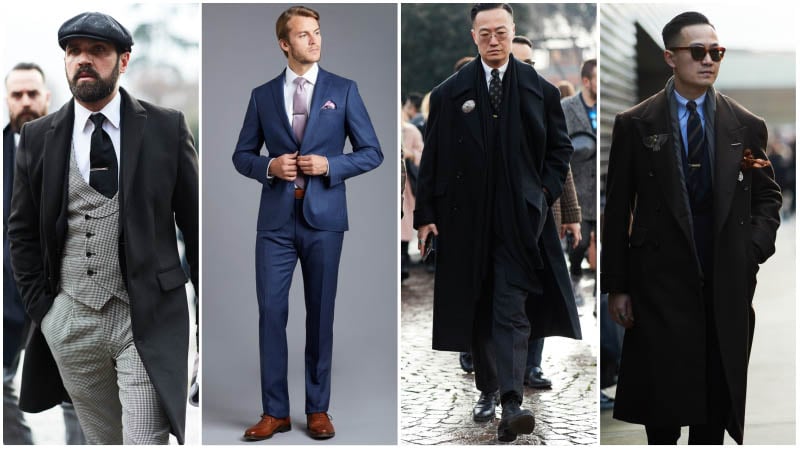 SHOP THE LOOK
Types of Tie Clips
Tie Tacks
Tie tacks serve the same purpose as tie clips and bars. However, they are slightly different. A tie tack features a pin, which is used to pierce the tie, along with a backing to secure it in place. The back is attached to a short chain with a T-bar at the end, which slides through the third or fourth buttonhole to anchor the tie to the shirt. Tie tacks are ideal for ties made from coarser materials, such as wool or cashmere, as they are less likely to leave a noticeable pinhole.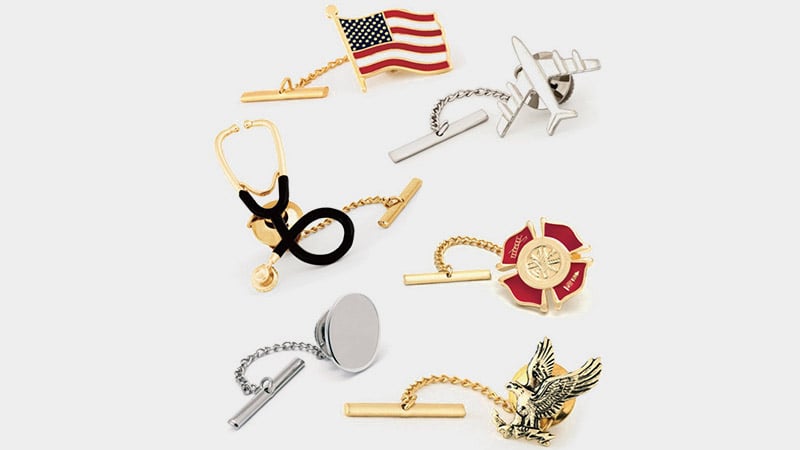 TOP BUYS
Slide Clasp Tie Bars
Slide clasp tie bars do not feature a hinge and are extremely simple to use. They are made from folded metal and feature a U-shape bend and two ends that lightly press together. Working like a standard money clip, this type of tie bar slides onto your tie and shirt. The thickness of your tie and the pressure of the two ends pressing together are then able to keep it in place.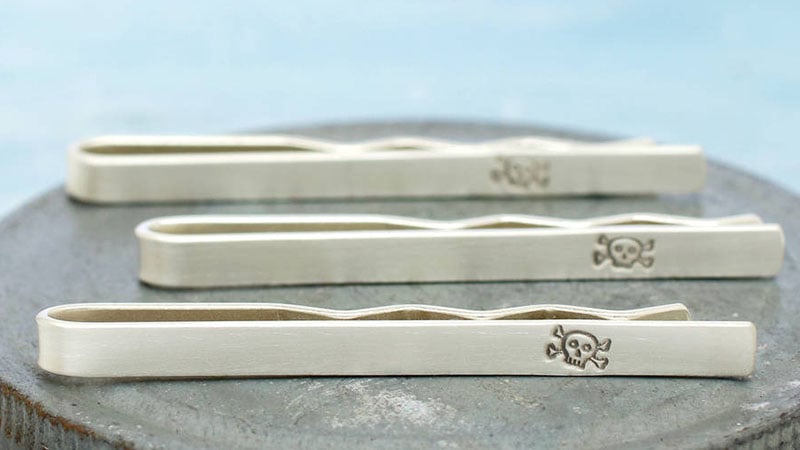 TOP BUYS
Hinged Tie Clips
Hinged tie clips are like a much more sophisticated take on a clothes peg. They feature two bars attached by a hinge, and the wearer need only squeeze one end to separate the bars and open the clip. The wearer is then able to place the clip on their tie and shirt before releasing to secure it in place. As hinged tie clips apply more pressure than slide clasps, they generally tend to stay in place more easily.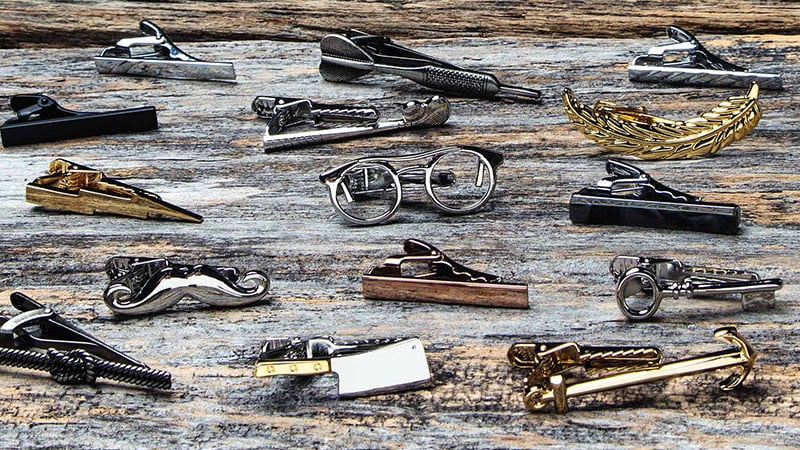 TOP BUYS
Skinny Tie Clips
Your tie clip should always be less bulky than your tie. So, if you're donning a skinny tie, as many modern men choose to do for formal occasions, be sure to opt for a thin tie clip. Also, it's essential to ensure your tie clip isn't wider than your tie. If it is, it'll likely appear awkward and inappropriate. As for style, it's generally best to match the sleek look of a skinny tie with a minimalistic clip.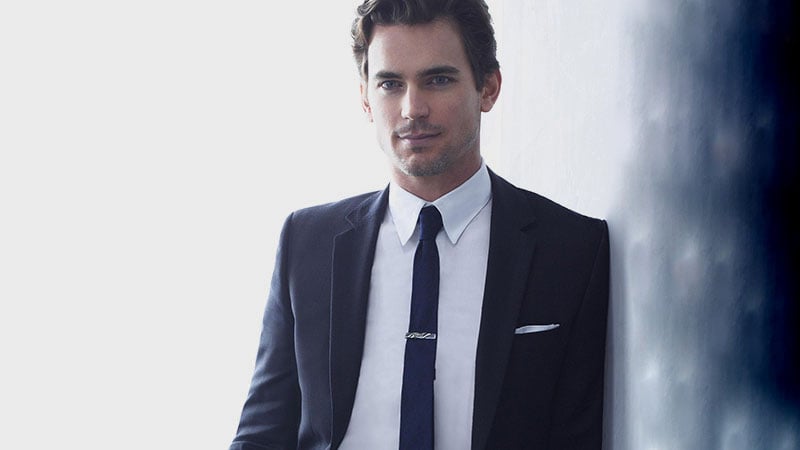 TOP BUYS
Thick Tie Clips
If you like to wear large and traditional ties, you'll need a tie clip to match. So, be sure to choose one that's thick enough to provide balance. Also, remember to ensure its width suits your needs. Not only will this look more aesthetically pleasing, but it'll also do a better job of holding your tie in place. If your tie features a dense fabric, you can also experiment with bulkier tie clips and unique three-dimensional designs.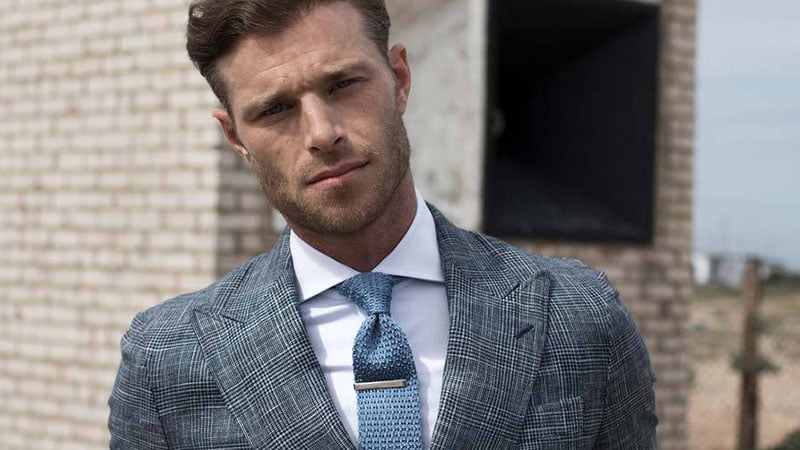 TOP BUYS
Statement Tie Clips
Whether colored, patterned, debossed, adorned with a badge, or a unique shape, a statement tie clip can undoubtedly be eye-catching. To rock one of these small yet bold styles, make it a focal point by teaming it with a tie that won't compete for attention. To do so, steer clear of any bold patterns, prints, or contrasting hues. Instead, opt for a stylishly understated tie in a subtle, solid color.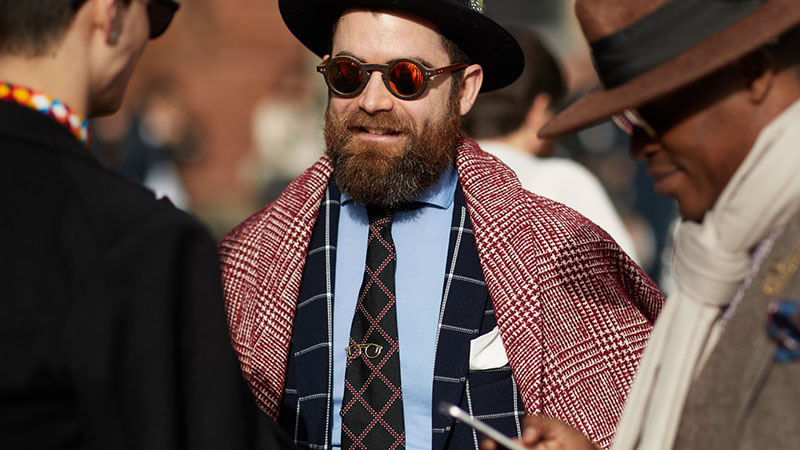 TOP BUYS
Silver Tie Clips
A silver tie clip is perfect for achieving a sleek and stylish look. The classic and understated color always makes a good choice and can suit a variety of occasions and outfits, including business, smart casual, and formal looks. Silver tie clips also look great with a wide range of ties. Of course, their cool-tone appears most flattering when teamed with styles in cool colors, such as blue, navy, and grey.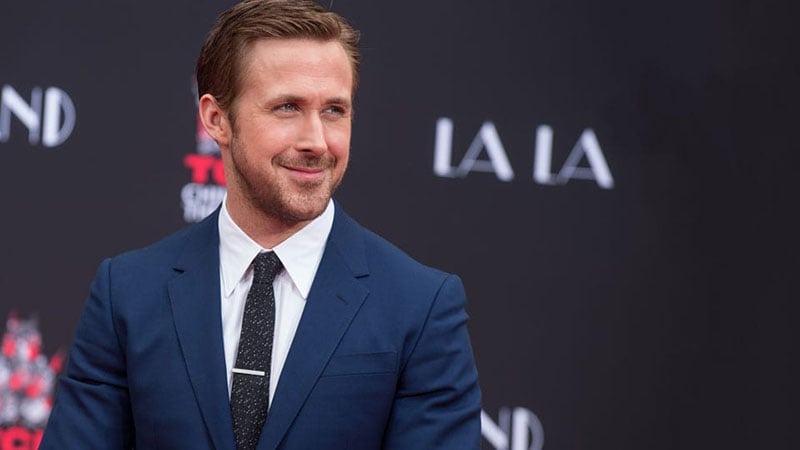 TOP BUYS
Gold Tie Clips
For a little touch of luxury, why not try a gold tie clip? Although gold clips are less versatile than silver styles, they can still make an excellent wardrobe addition. Thanks to their warm tone, gold tie clips pair exceptionally well with ties in rich colors, such as red and dark green. Don the combination of special events or whenever you want to appear particularly elegant and dapper.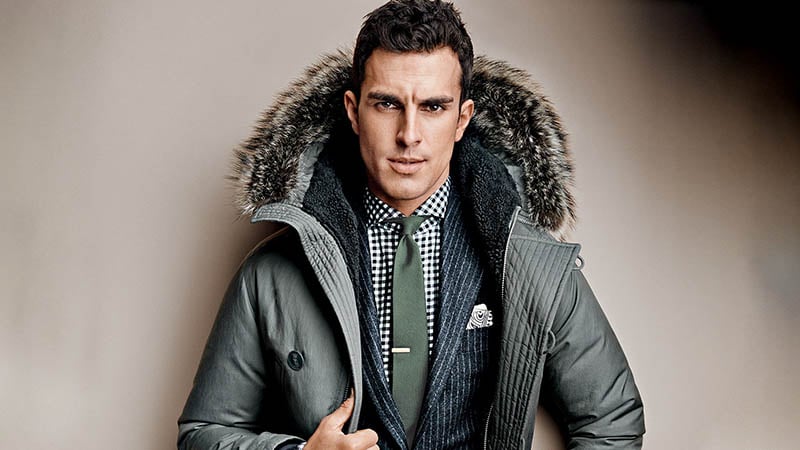 TOP BUYS
How to Wear a Tie Clip
Select thin tie clips for skinny ties and large tie clips for wide ties.
Choose a hinged tie clip to hold a thicker tie in place.
Balance a patterned tie with an understated tie clip or enhance a solid style with a bold clip.
Wear a sleek and minimal tie clip for formal outfits.
When wearing smart casual attire, have fun with statement tie clips that suit your personality.
FAQs
Are tie clips in style?
A tie clip is a classic accessory and one that is not often worn by modern men, but they should be. The tiny piece of metal adds a fashionable accent to an outfit, but it is also functional and can help keep your tie in place.
What is the difference between a tie clip and tie bar?
The difference between a tie clip and a tie bar is that one grasps the tie while the other slides over the tie and shirt. Both are used to secure your tie to your underlying shirt front and keep it neat and straight.
Are clip-on ties unprofessional?
Many people will agree that a clip-on tie is not a great option as there are few styles to choose from. A tie clip, on the other hand, is an excellent addition to formal outfits. It will keep your tie in place, creating a neat and impressive overall appearance. It is also advisable to choose an understated and elegant clip, like a simple silver option.
Can you wear a tie clip with a skinny tie?
Skinny ties are popular choices for formal occasions, and they can benefit from a tie clip. The key is to opt for a very thin one because you want your tie clip to be less bulky and not as wide as your tie.
SUBSCRIBE TO OUR NEWSLETTER
Subscribe to our mailing list and get interesting stuff and updates to your email inbox.