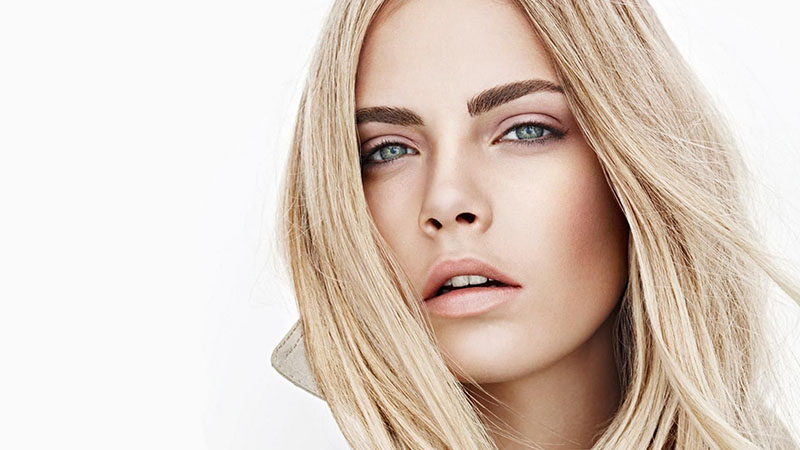 Have you ever dreamt of having perfectly-groomed eyebrows? You know, the thick, full, and perfectly arched type that would make even Cara Delevingne jealous. Well, we're here to make that dream a reality. No, not by sending you to a team of professionals. Instead, we're going to teach you how to master the skill of shaping your own eyebrows, so you can have picture-perfect brows every time you leave the house. From finding the right shape to filling in and trimming, here's your cheat sheet for wielding tweezers and eyebrow pencils like a pro.
How to Find the Right Eyebrow Shape
Before beginning to tweeze any hairs or fill in your brows, you must visualize the shape that you aim to create. Finding the best shape to suit your face is a matter of simply following your bone structure and natural eyebrow arch. If over-plucking has made this difficult, however, some easy guidelines will make finding your right shape a breeze.
Each brow should begin at a spot straight above the upper bridge of your nose. To achieve this, hold a pair of flat tweezers or a pencil vertically against the top of your nose on one side. Where the tweezers intersect with your brow line is where your first eyebrow should start. Mark this spot with an eyebrow pencil and repeat the process on the other side.
Next, you will need to find the place where your arch should occur. To do so, mark the location along your brow that is three-quarters of the way back from the nose bridge. From this spot, the tail of your eyebrow should gradually taper off, following the angle of your eye. For symmetrical brows, ensure that the top of each arch and bottom of each tail occur at the same point.
Finally, mark the thickness of the front of your brow by creating a straight line on the bottom. Start at the beginning of your brow and finish at the inner arch. This area is often thinner than it should be and may need filling in once your brows are complete.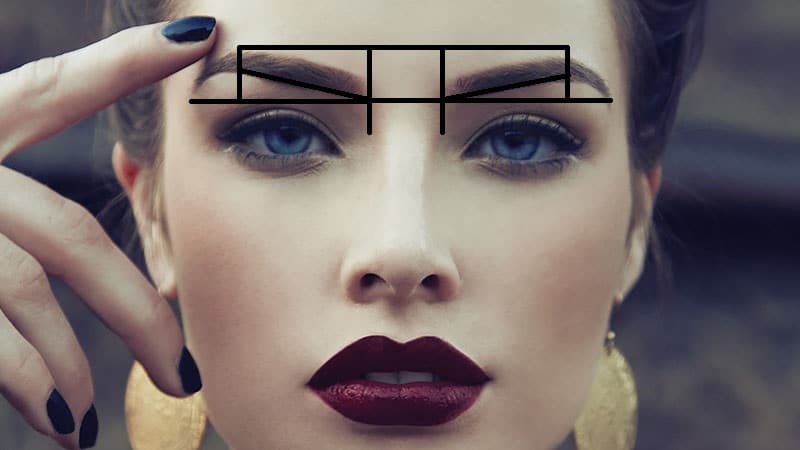 How to Fill in Your Eyebrows
Makeup can be used to add depth and fill in gaps after trimming brows, but it's always best to fill in your brows before trimming as well. By doing so, you'll provide yourself with a clearer shape, making it harder to over-pluck.
Start by choosing a quality pencil with a fine or slanted tip, to ensure defined edges.
Then, keeping within the spots you marked earlier, begin filling in the front of your brows, holding the pencil at a perpendicular angle. Use light, short strokes, following the direction of the hairs to fill in your brows. As you move on to the arch, begin to hold the pencil at an upwards angle for a thinner line.
Once you have filled in your ideal shape, comb your brows using a spoolie. Brush in an upwards and outwards motion to create the appearance of volume and lift for your brows.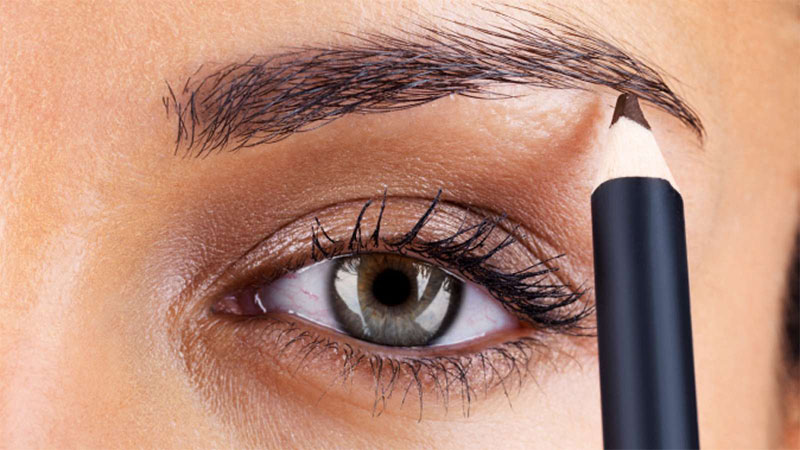 How to Shape Your Eyebrows
Once you have completed filling in and brushing your brows, it's time to break out the tweezers. Start by choosing good quality tweezers with a slanted tip to target unwanted follicles easily. Just remember, do not over-pluck! You can always do some more plucking later if need be, but if you take too much, you may have to wait weeks to get your perfect brows back.
The idea is only to tweeze stray hairs that lie outside of your filled-in brow shape. Unless you're a professional, focus your plucking efforts on the bottom of your brows. This space is where the most noticeable strays lie and is the easiest area to target. If you feel you must tweeze the tops of your brows, be super careful. If you accidentally tweeze into your arches, it will drag the eyebrows down instead of lifting them up.
As you are tweezing, take a step back now and then to see how the overall look is progressing. Doing so will help you keep a proper perspective on the shape and stop over-plucking in areas that you've zeroed in on.
Once you've completed shaping your brows, trim long hairs only if necessary. Thick, feathery eyebrows are extremely popular at the moment so only trim if some hairs are substantially longer than others. Use a spoolie to brush hairs upwards and use beauty scissors to carefully and sparingly snip lengthy strands.
Now just re-fill your brows with a pencil and dust with translucent powder to set. Voilà! Perfect brows!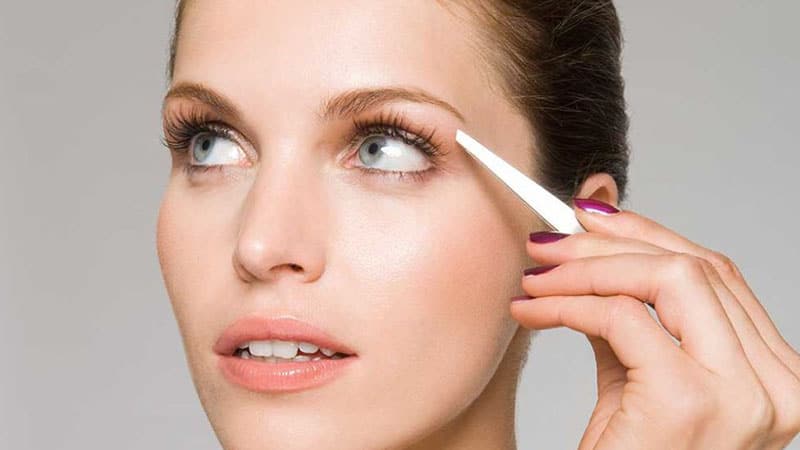 Best Eyebrow Shaping Products
To create perfect brows, it's essential to start with the right tools for the job. Choose only the best shaping products and you'll find that half the hard work is done for you.
Eyebrow Pencil
Choosing a good, quality eyebrow pencil over a cheap one can mean full, natural-looking brows instead of dark, messy blobs above your eyes. Opt for reputable makeup brands for tested formulas which will yield positive results. Choose a pencil that sits in between powdery and waxy and that features a fine tip. This combination will ensure clean and natural-looking brows that stay in place. Find the right color for your brows by choosing a pencil that is a couple of shades lighter than your exact hair match.
TOP PICKS
Tweezers
Tweezing your eyebrows may feel like an arduous process, but it provides you with a precision that threading and waxing can't. So if you want perfectly shaped brows, you better get friendly with your tweezers. By investing in high-quality, durable, tweezers, you'll find that grooming becomes much easier. Choose a pair with clean edges and a slanted tip to make narrowing in on stray hairs simple.
TOP PICKS
Spoolies
While many of today's best brow pencils come with a spoolie attached, it's still a good idea to have separate quality spoolies on hand. These small brushes are the key to achieving natural-looking brows. While pencil will add the color and extra volume you desire, it's the spoolie that will make your brows appear like 100% natural hair. By brushing through the product and creating texture, a spoolie will put the finishing touch on your perfect brows.
TOP PICKS
Wax and Pomade
For unruly brows, simple tweezering and pencilling may not be enough to create your desired brow shape. Tame and shape wild brows with the help of an eyebrow wax or pomade. The creamy formula makes an excellent base for makeup, leaving you with well groomed, natural-looking brows. Choose between pigmented and clear waxes to best suit your needs. To apply pot-based varieties, use an angled brush to outline and fill-in brows before brushing with a spoolie.
TOP PICKS
Powder
If you're new to filling in your brows, you may find pencils a bit hard to navigate. Pencils can be perfect for drawing in individual hairs, but if you're inexperienced, you may end up overdoing it. In this case, a powder is your safe alternative. Easy to use, layer, and wipe off if necessary, the powder provides all-over brow coverage that will gently fill any gaps. To avoid unnatural-looking brows, look for duo powder kits that you can blend and always brush with a spoolie afterward.
TOP PICKS
FAQs
How do you shape your eyebrows?
Every woman has a different preference for their eyebrow shape, and they know what looks good on their face. In general, what you need to shape your eyebrows are tweezers and knowledge of what looks good. For some, a natural look really just requires a little maintenance, and you can remove the hairs beneath your brow line and in between the eyes. Your eyebrows should be on your brow bone. If you have a more specific look in mind, you can also use a shaping tool for precision.
What is the best method for eyebrow shaping?
The best method for eyebrow shaping is maintaining your natural shape. You want to remove the hairs that grow beneath your eyebrow to keep it looking neat, and you can do this with an angled tweezer. It is worth remembering that your eyebrows are meant to be on your brow bone.
How do you get the perfect eyebrow shape naturally?
To achieve the perfect eyebrow shape naturally is to follow the shape of your natural growth. Do not overpluck, but rather focus on removing the stray hairs from your brow line. You can also give the illusion of the perfect shape by using an eyebrow pencil and brow powder, which can add definition and even it out. To ensure growth, you want to eat a healthy and balanced diet, drink lots of water, and consider using an eyebrow serum.
Is it possible to reshape eyebrows?
If you do not like your natural eyebrow shape, or you want to alter it in some way, this can be done. All you need to do is let them grow out enough so that you can identify the shape you want and use the correct tools to achieve it. These include a tweezer, eyebrow razor, and eyebrow gel to lay the hairs flat.
How can I shape my eyebrows at home?
You can shape your eyebrows at home. Use a spoolie brush to brush them up and trim the hairs that are too long. Tweezer the stray hairs that are growing away from the brow line and inbetween your eyes. You can also use an eyebrow gel to lay the hairs flat first, helping you touch them up easily and avoid overplucking.
SUBSCRIBE TO OUR NEWSLETTER
Subscribe to our mailing list and get interesting stuff and updates to your email inbox.