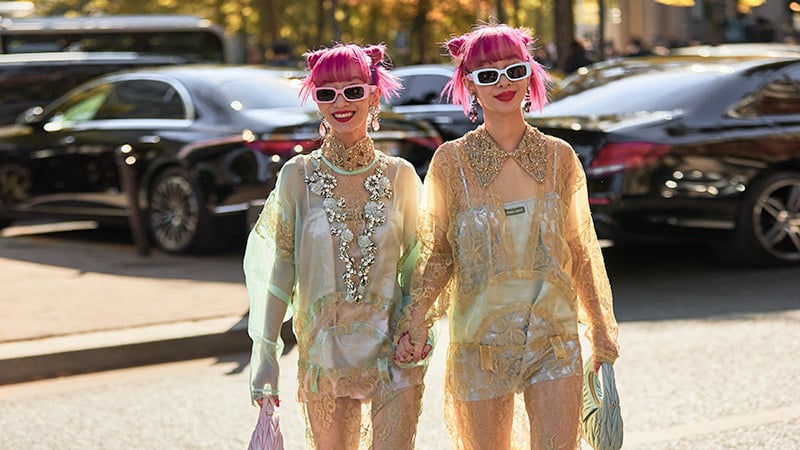 Say goodbye to pared-back styles and hello to bright hues and edgy silhouettes. This season, it's all about bringing back nostalgic trends with a modern and fresh twist. We're going big this year, from cargo pants to sheer dresses and funky accessories! Experiment with different fabrics, textures, colors, and styles – add layers and play with a wider color palette. If your wardrobe needs a refresher, this is the list for you. To inspire you, we have gathered the best street style trends from Spring/Summer 2023 fashion weeks.
1. Cut Out Dresses
From weddings to the runway, cut-out dresses have been all the range for a few years, and it's not going anywhere. Rather than the traditional torso-based cut-outs we're used to seeing, expect to try a silhouette with skin showing on the side of your frame, underboob and rib cage, or the entire side of your body. These body-skimming designs are daring but can be paired back with the help of a longline cardigan or coat. To take a look from day to night, swap out a pair of chunky boots or sneakers for sky-high heels or sandals, and put your hair in a slicked-back bun for an elegant feel.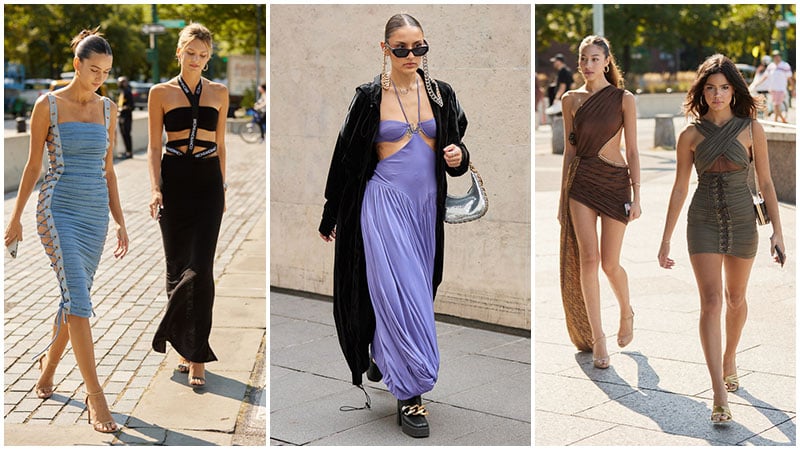 Get the Look
2. Cargo Pants
The Y2K fashion is back, baby! While five years ago, you may not have expected cargo pants to be one of the biggest fashion week trends, the trendsetters are here to prove them cooler than ever. Worn with a plain white singlet, this trend is laidback but still elevated. Swap out sneakers for a pair of stilettos or chunky boots for extra height to avoid looking like you're on a fishing trip. Another important element to incorporate is layers – bright colors are a fun addition to the military-style khaki. Still, you can stay within the palette by adding similar hues in the form of cardigans or jackets.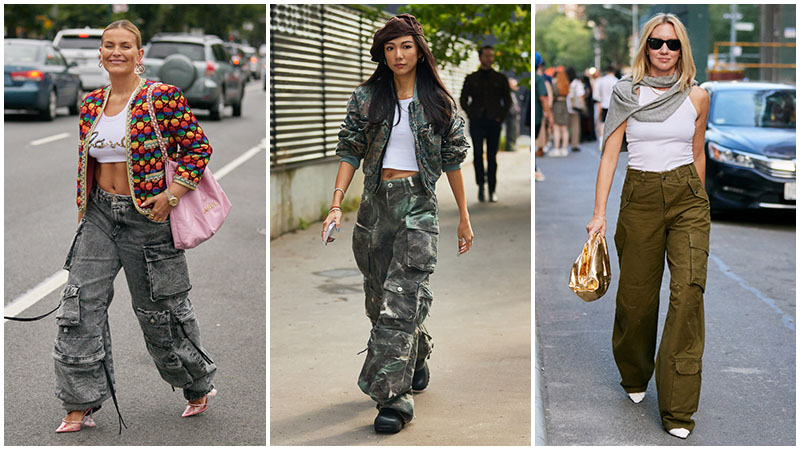 Get the Look
3. White All Over
What's chicer than an all-white outfit? Taking its inspiration from the '60s, this futuristic and effortless trend creates clean lines and is the perfect outfit choice for any season. Be it hot or cold, this aesthetic is paired back and timeless, and thanks to its versatility, you can style it any way you like. Love a pair of jeans, boots and a shirt? You've got it. How about a turtleneck or a mini dress and a matching coat? Mixing and matching textures easily makes every ensemble multidimensional and complex.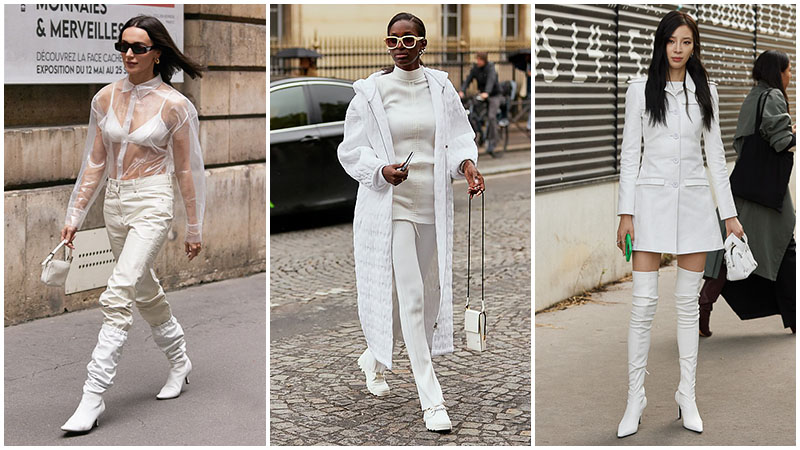 Get the Look
4. Neon Accessories
Shades brighter than the sun have been in and out of style in recent years, but they are back with a bang. While we do not see as many garments in these neon hues this season, it's all about accessories. Think footwear, handbags, sunglasses, and jewelry. Add fresh life to your neutral shades by incorporating these vibrant pieces into the mix – a pair of yellow heels will reinvigorate an oversized blazer or plain black trousers. The key to pulling this look off is matching your accessories – keep the pieces in a similar, if not the same, color family for a holistic feel.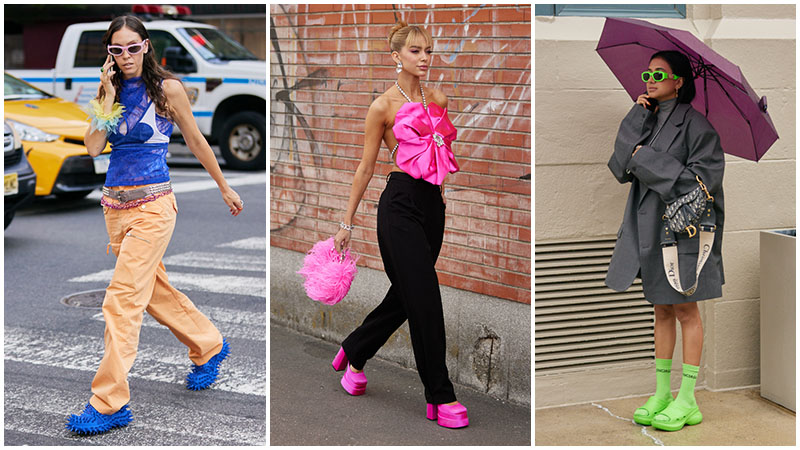 Get the Look
5. Ballerina Flats
Balletcore has officially arrived on the scene. From the early 00s to today, ballet flats have been a contentious style that you either love or hate. No matter your thoughts, the trend is here for the season and can be worn in many ways. Stay true to the aesthetic with a maxi skirt that hits your ankle with a wrap-around cardigan or a long-sleeved shirt – pale shades like white, pink, cream, and baby blue are perfect for this trend. Alternatively, you can try a mix of aesthetics, including the '80s-inspired legwarmers scrunched downwards with a longline skirt and blazer.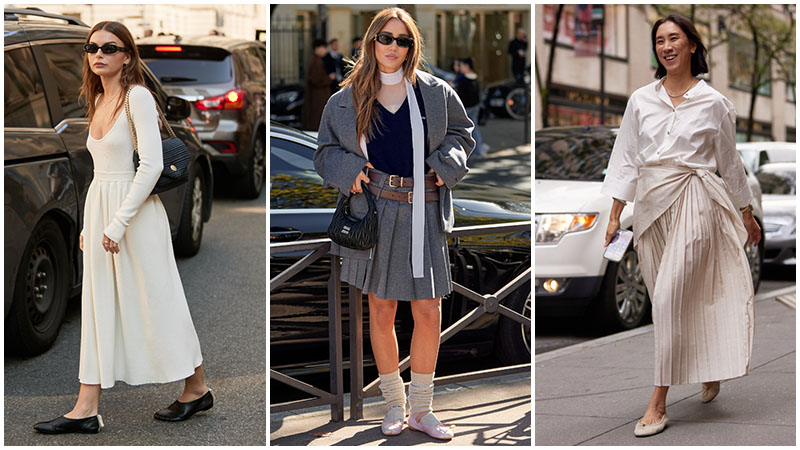 Get the Look
6. Matching Print Sets
There's nothing quite like a matching print set. Not only are they super cute, but they're also easy to wear almost anywhere. You can rock this look effortlessly without needing to find a complementary color. Try a striped suit, a jacket, and a mini skirt set, or a longline tunic with an identical pair of trousers. What makes these outfits so special is the streamlined effect it gives your body – you can instantly elongate your limbs and develop a funky silhouette. Rock it with accessories in complementary hues, such as socks, shoes, or a bag, or throw something in the opposite shade. Moreover, you can mix and match with other styles later if you wish – it's multiple looks in one.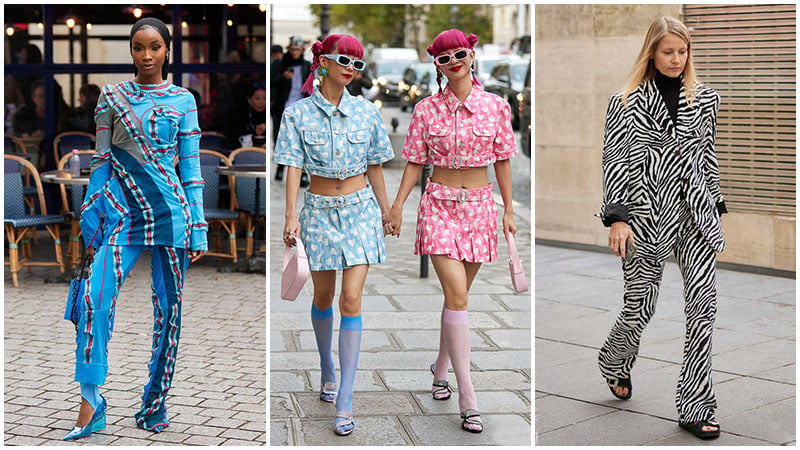 Get the Look
7. Sheer Dresses
Inspired by Dior and Prada, sheer dresses are back in a big way this season. You can style this trend in so many ways, whether it be influenced by the New Look from 1947 or a grunge-infused aesthetic. Pair these see-through designs with a plain white singlet for a laidback and effortless '90s style, and throw on a bomber jacket for an extra cool touch. Alternatively, you can channel an old Hollywood feel with a corset silhouette and A-line skirt, with minimal jewelry and delicate heels. Play with textures for a multi-faceted look – it's a refreshed take on a classic fabric.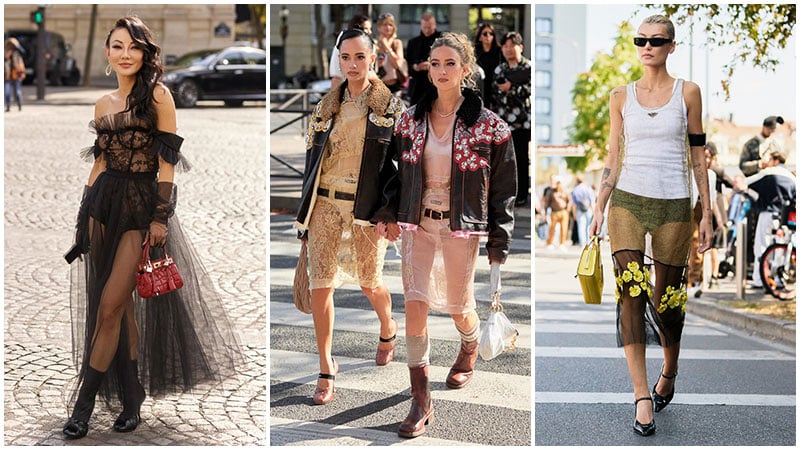 Get the Look
8. Bright Multi-Color Knits
As the temperatures cool, we naturally lean into our neutral shades – but this year, why not go the opposite route and say goodbye to old gray knit sweaters? This season it's all about bright colors and fun patterns, celebrating loud hues and vibrant prints. Worn with blue jeans, shorts, or a mini skirt, they add a new layer of unexpected styling that is fun and unique. The beauty behind this trend is its versatility – layer it with a white T-shirt or a turtleneck underneath, or keep it clean with nothing at all. You'll bring the sunshine daily, even if it's freezing outside.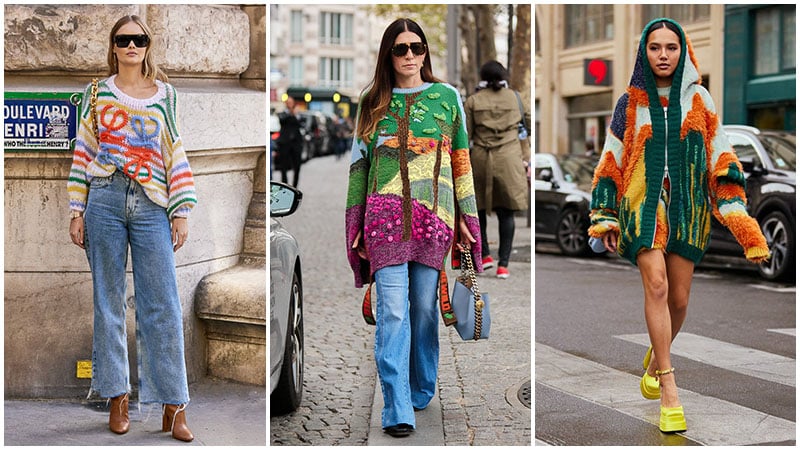 Get the Look
9. Exaggerated '80s Shoulder Pads
Calling all Dynasty fans! The '80s shoulder pads are making a comeback this season, and we're excited about it. This trend is exaggerated, but it creates an over-the-top, futuristic, and artsy silhouette. Most commonly seen in blazers, this style creates the appearance of enormous shoulders, which alludes to a tiny waist. Wear this trend with a mini skirt in a complementary shade, a suit, or a pair of simple jeans – the outerwear will instantly transform your outfit into something spectacular.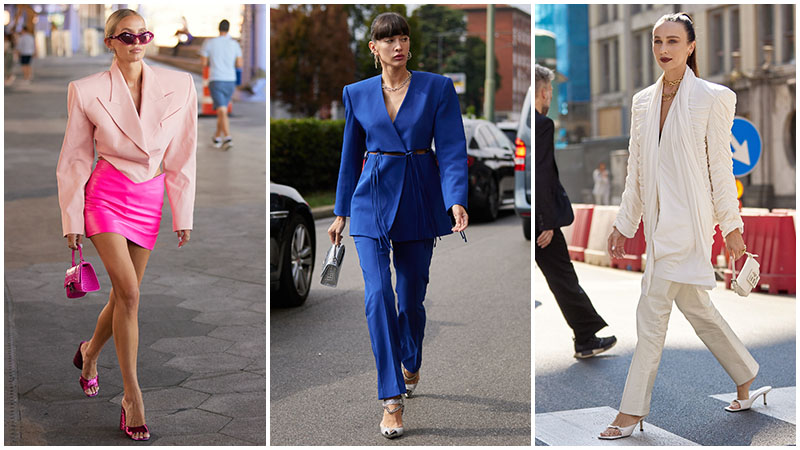 Get the Look
10. Cut Out Trousers
Not for the faint of heart, these cut-out trousers are daring and fashion-forward. Featuring plenty of skin, they're a great way to experiment with the trend in a new way. You rock these at any point of the year, and their versatility makes them great for experimenting. Let the pants be the show's star by pairing them with a classic T-shirt and a bomber jacket or blazer. Alternatively, you can show off extra skin by rocking a crop top in a contrasting shade for an edgier feel.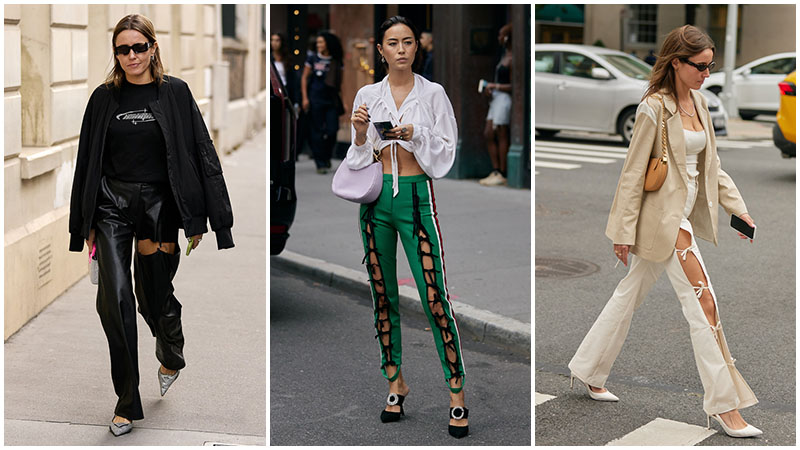 Get the Look
SUBSCRIBE TO OUR NEWSLETTER
Subscribe to our mailing list and get interesting stuff and updates to your email inbox.