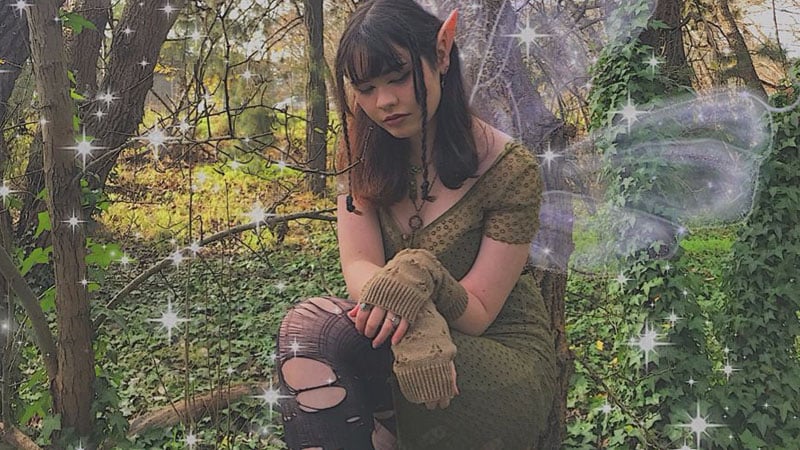 Ethereal and edgy, Fairy Grunge has taken over the internet. Born out of different styles, this aesthetic is unlike anything seen before. While you may not have gossamer wings in real life, this fashion trend will have you feeling beyond beautiful, but with a dark side twist. Take a walk through the forest and escape the world for a little while, and do it in style. Here are 10 Fairy Grunge outfits you should try for a truly magical aesthetic.
Fairy Grunge Clothes
What do you get if you combine '90s, Y2K, and grunge fashions with a fantasy twist? The latest trend emerging from TikTok is fairy grunge, which features elements of the '90s aesthetic with mythology. Often sporting natural hues, lace, and wings (virtually, of course), it's a juxtaposition of traditionally feminine and rougher aesthetics. You can see elements of pop culture from the '00s, such as Twilight and Japanese style 'Mori Girl'. The color palette associated with this trend seeks inspiration from the earth – green, brown, cream, and black. You'll usually find lovers of this trend in the forest, with wings edited on and sparkling colors scattered around.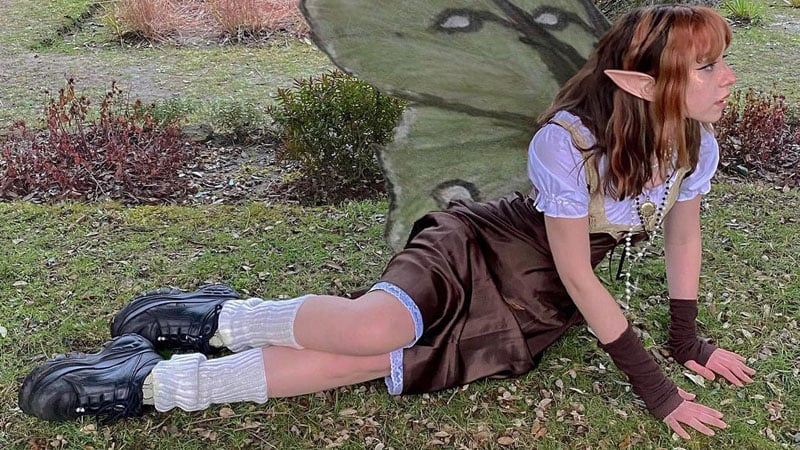 Fairy Grunge Outfits
Fairy Grunge Dresses
The Fairy Grunge aesthetic is driven by the rough and famously anti-fashion movement in the '90s, even in its dresses. Slip silhouettes in satin are popular choices, as you can layer them with cardigans, sweaters, and other pieces in the condition of the weather. If it's a little chilly in the forest, opt instead for a velvet or velour design. Depending on your preferences, you can wear something short or long – the former is ideal if you want to add stockings or socks, whereas longer lengths can feel flowy and ethereal.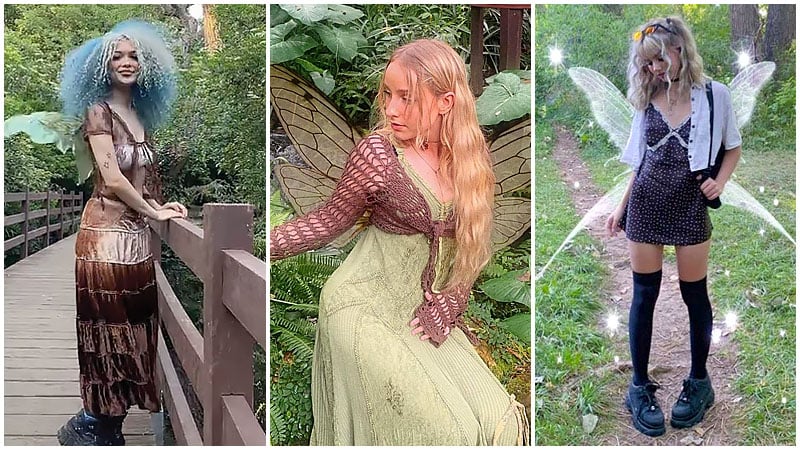 Get the Look
Fairy Grunge Skirts
A staple of the '90s, these skirts are essential for creating the Grunge Fairy aesthetic. Usually long and flowing, there are many ways to style the look, which often include layering jumpers and chunky footwear. During the warmer months, swap out a chunky knit for a camisole – if you can find a neutral option with lace and bows, you're on the right track. However, as the temperatures start to fall, dip your toes into thick and comfy knitwear, and source something with stripes, a pattern, and natural shades like green, brown, or sand. Throw in a random feminine color like pink or purple for a fairy-like twist.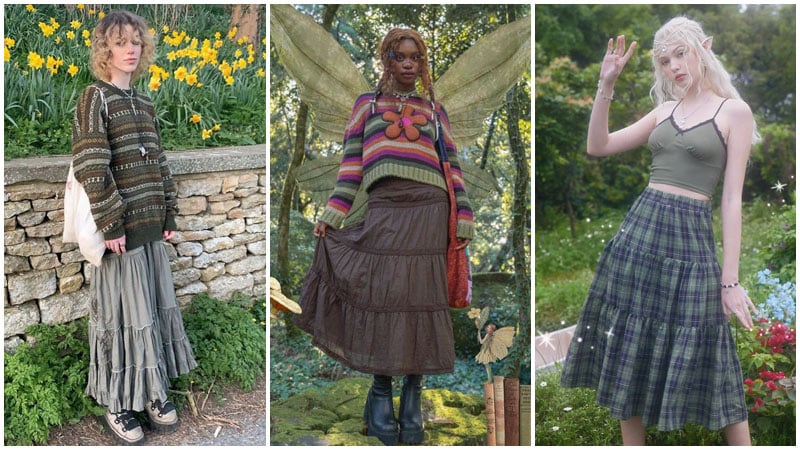 Get the Look
Fairy Grunge T-Shirts and Blouses
Channeling the skateboard culture of the '90s, the t-shirts and tops in the Fairy Grunge aesthetic are a blend of hyper-feminine and androgynous. Depending on your preferences, you can try an oversized style that hits your hips or mid-thigh. Add a mini skirt with lace trimming and stockings for a feminine twist, with other '90s trends like fingerless gloves and chunky boots or sneakers. For something a little closer to your frame, try an updated style like a top with cut-outs on the chest or at the midsection. This is a good opportunity to add other colors into the mix, such as black, white, or baby pink – however, stick to the aesthetic-driven palette to stay true to the trend.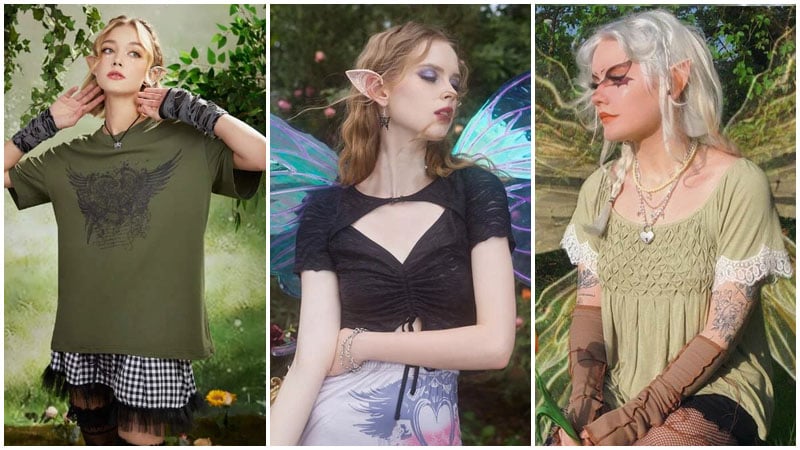 Get the Look
Fairy Grunge Lace Tops
While there is a large focus on the grunge side of this aesthetic with the color palette, chunky footwear, and nostalgic elements, the mythical side can be channeled with soft and hyper-feminine motifs. This is apparent with the lace tops often worn in the aesthetic. Early '00s-inspired camisoles with a delicate trim in sage green or chocolate brown are perfect choices for multi-tiered skirts or cargo pants. You can up the ante with flowing lace sleeves, which resemble intricate designs seen on wings.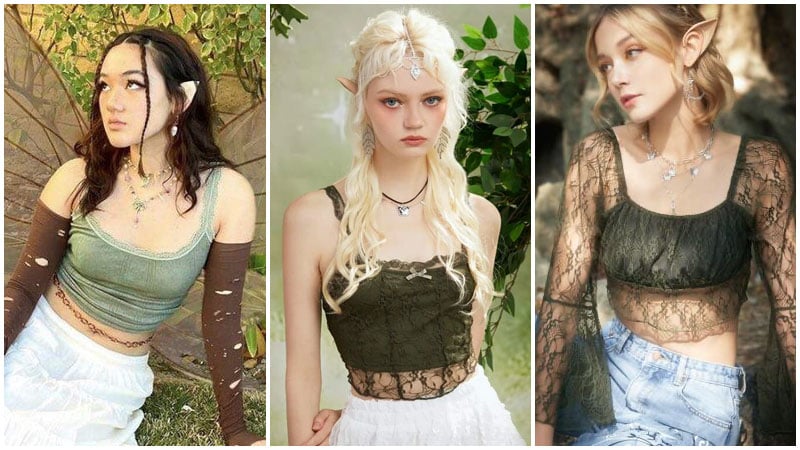 Get the Look
90s Fairy Grunge
While the Fairy Grunge aesthetic is driven by the anti-fashion movement of the '90s, you'll often see a blurred line between its authentic origins and a Y2K influence. To channel the former aesthetic, turn to the biggest trends of the time, such as oversized printed t-shirts, ripped tights, and dark, chunky footwear. The same goes for the color palette – this era was typically made up of deeper shades such as bottle green, brown, gray, and black.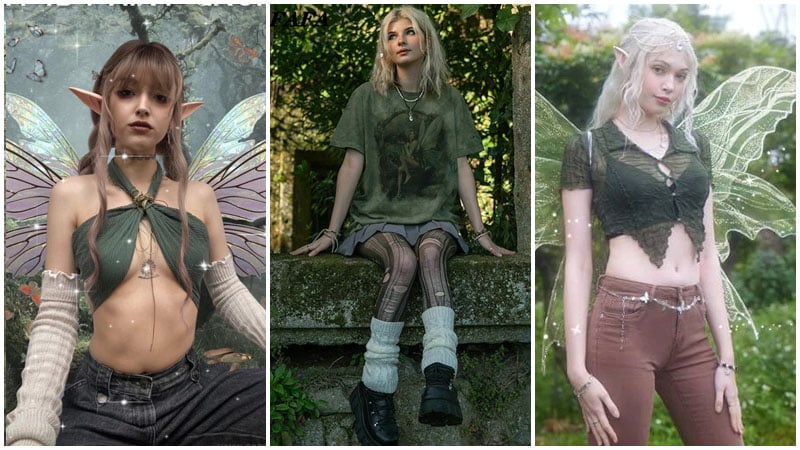 Get the Look
Y2K Fairy Grunge
If you lean in favor of the style found in the Y2K aesthetic, this is the perfect way to dress in the Fairy Grunge aesthetic. This includes a closer alignment with the trends of the early 2000s, such as camisoles, flared trousers, and cargo pants. You can also find influences here from the 2008 film, Twilight, namely Alice Cullen, who sported a hyper-feminine touch, even draped in dark colors. To capture the look perfectly, layer a singlet over a plain white T-shirt and play with shades for a more authentic feel.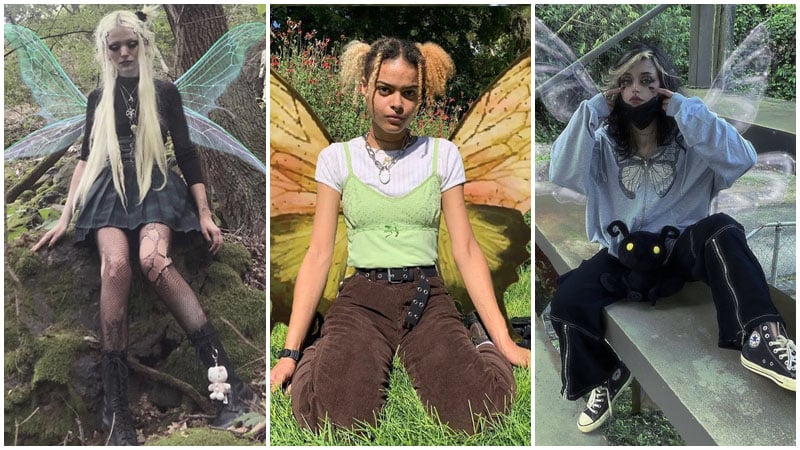 Get the Look
Fairy Grunge Jackets
If you're spending a lot of time taking photos in the forests, you'll need to stay warm. The outerwear in this aesthetic stays true to the same 90s, and 00s feel, sticking to cool-toned neutral shades like khaki, check, and brown tones. As the two eras of this core are rooted in layering, it's the perfect opportunity to try out something new. A jacket will keep you protected from the elements but is light enough to wear other pieces underneath without feeling bulky or overheating.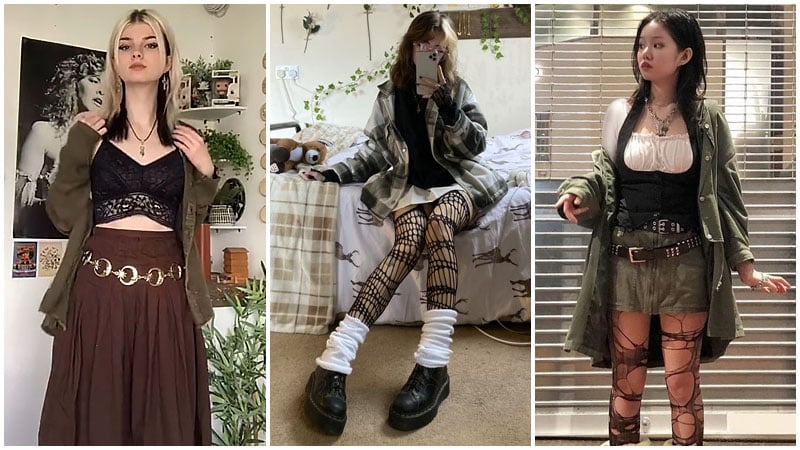 Get the Look
Fairy Grunge Stockings
Fairy Grunge takes leaves from many pages of inspiration, one of which is its love for dainty and delicate stockings. Usually worn in cooler months like fall or winter, this added layer complements the ethereal and mysterious elements of fairies. Lean into the grunge side by ripping or shredding the fabric – add oversized socks and chunky sneakers to complete the look.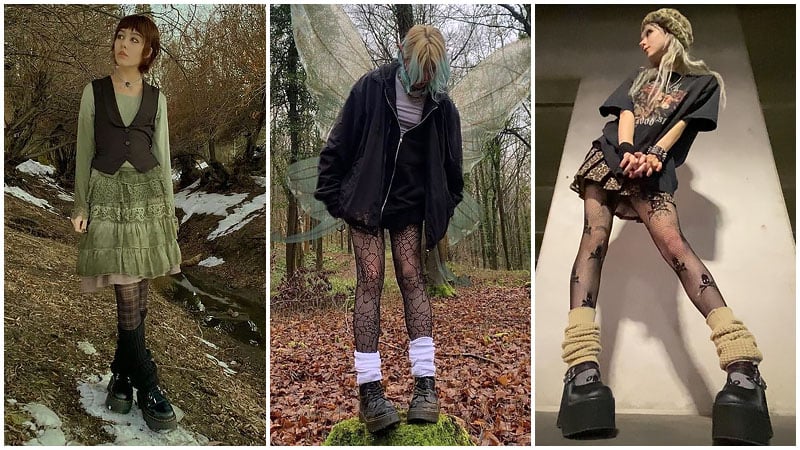 Get the Look
Fairy Grung Gloves
The gloves trend has taken over pretty much all aesthetics online, and the Grunge Fairy trend is no exception. To capture this look effortlessly, opt for '90s style gloves without fingers that sit at the forearm or higher. Blend into ballet core with pastel pinks and soft fabric – it will tie in a more feminine and fairy style. However, if you want to stay true to the grunge focus, instead, try fishnet fabric in dark shades like black or gray.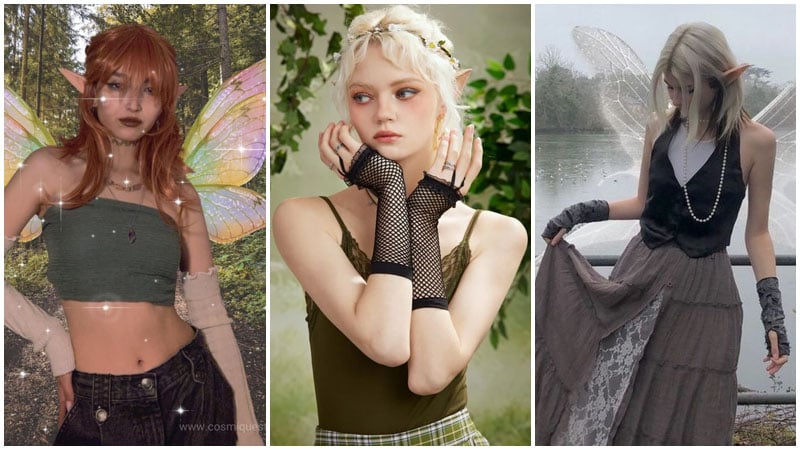 Get the Look
Fairy Grunge Shoes
Nothing says Grunge Fairy quite like a pair of chunky boots or shoes. If you're going out walking amongst the trees and in the forest, you're best suited to wearing protective footwear that offers stability and comfort. Dark hues like black and brown are the most popular choices, as they work with myriad different clothes. Work in chunky socks and tights for a grunge element, and add long flowy skirts for a feminine twist.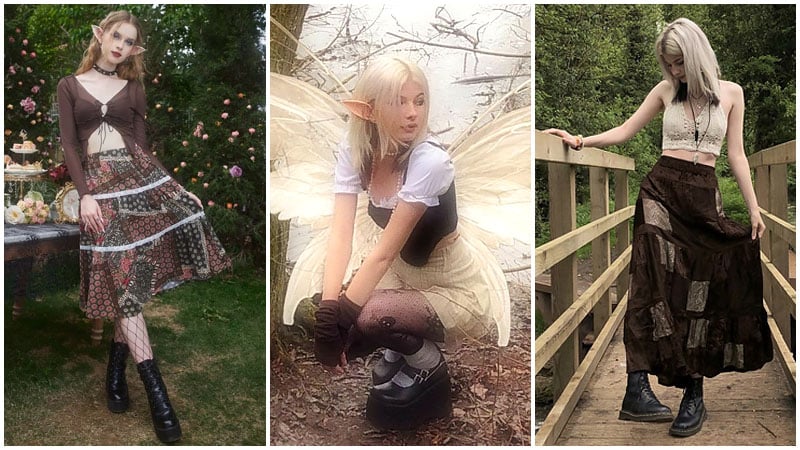 Get the Look
Fairy Grunge Aesthetic FAQs
What is fairy grunge?
Fairy Grunge is a subculture that originated on TikTok. It typically consists of elements from the '90s and early '00s, such as oversized T-shirts, mini skirts a chunky boots and shoes. But unlike traditional grunge, it features soft and feminine touches, such as lace, florals and mythological edits in photos.
How to be fairy grunge?
To create a Fairy Grunge aesthetic, opt for clothes that you would have worn in the '90s, such as oversized t-shirts and mini skirts. Mix and match different textures and fabrics like lace and fishnets for a blend of feminine and edgy. Stick to colors that you would find in the woods, like brown, green and cream. For a more Y2K twist, you can add soft shades like pink or baby blue. To complete the look, take photos in bushy areas like a forest and take photos of yourself exploring. Add fairy elements like wings and a crown in the edit, as well as sparkles if you please.
How do you style Fairy Grunge outfits?
A typical Fairy Grunge outfit includes classic pieces from the '90s, including slip dresses, tiered maxi skirts and oversized T-shirts. Play with layering to ensure you stay warm, and play with colors for extra depth. Mix and match different elements like lace, fishnets, ripped fabrics and denim to make the perfect blend of the two aesthetics together.
Is fairy grunge subculture?
Fairy Grunge is considered one of the most popular subcultures that has come from TikTok. Often noted as an aesthetic, it takes elements from other subcultures such as the grunge movement of the '90s and the hyper-feminine trends from the '00s, blending them together to make a unique and standalone style.
Where to buy fair grunge clothes?
The beauty behind this trend is its accessibility. You can find clothes that suit this aesthetic almost everywhere, from online stores to thrift stores. Search online for style inspiration and visit your local thrift store for the pieces. Don't be afraid to find clothes that are a little too large or small and rework them to make a whole new outfit.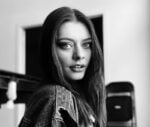 Alexandra Feiam is an experienced fashion writer who holds a degree in journalism. She has an impressive portfolio and expertise working as the Editor at Power Retail and Commercial Content Editor at Newscorp. Ally has been writing for The TrendSpotter since 2018, and her work has been featured in notable publications such as The Herald Sun, Arirang TV South Korea, Kidspot, The House of Wellness, and The Daily Telegraph.
SUBSCRIBE TO OUR NEWSLETTER
Subscribe to our mailing list and get interesting stuff and updates to your email inbox.