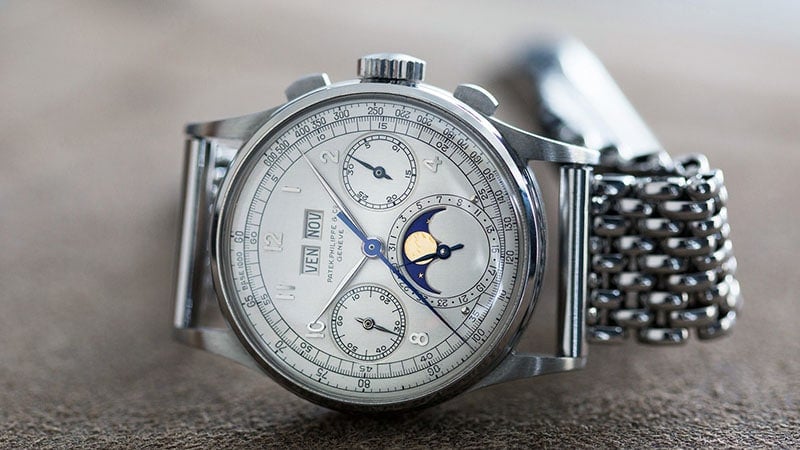 While we are all aware that a good watch will set you back a decent amount, some timepieces make even a $20,000 price tag seem like chump change. Whether they're covered in diamonds or exquisitely created for royalty, these dominating watches are the most expensive in the world. Easily reaching into the multi-million dollar category, these incredible creations can cost as much as 55 million US dollars. Of course, the price isn't the only reason to admire these luxurious timepieces. Below we have researched the world's most expensive watches that have survived the test of time.
1. Graff Diamonds Hallucination | $55 Million
The title of the most expensive watch in the world goes to Graff Diamonds for the incredible, Hallucination. Worth a whopping $55 million, the Hallucination is a masterpiece with over 110 carats of coloured diamonds set into a bracelet of platinum.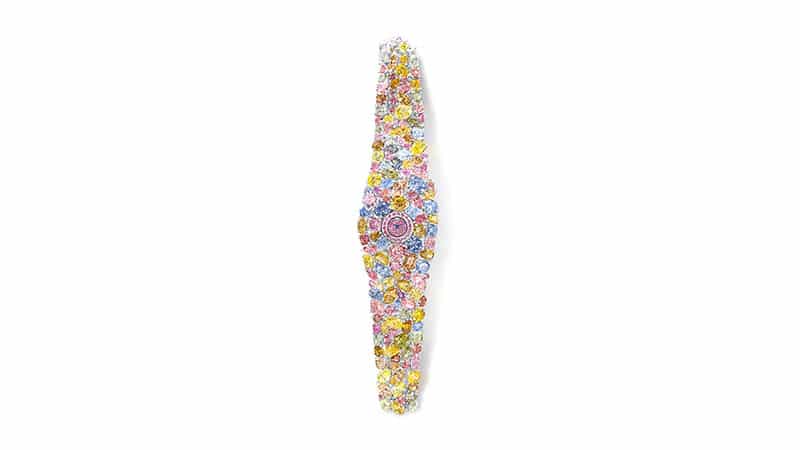 2. Graff Diamonds The Fascination | $40 Million
As well as holding the position for the most expensive watch ever, Graff Diamonds is also behind the second most pricey timepiece. Dubbed The Fascination, this $40 million watch consists of 152.96 carats of white diamonds and includes a centre, 38.13-carat, pear-shaped diamond that can detach into a ring.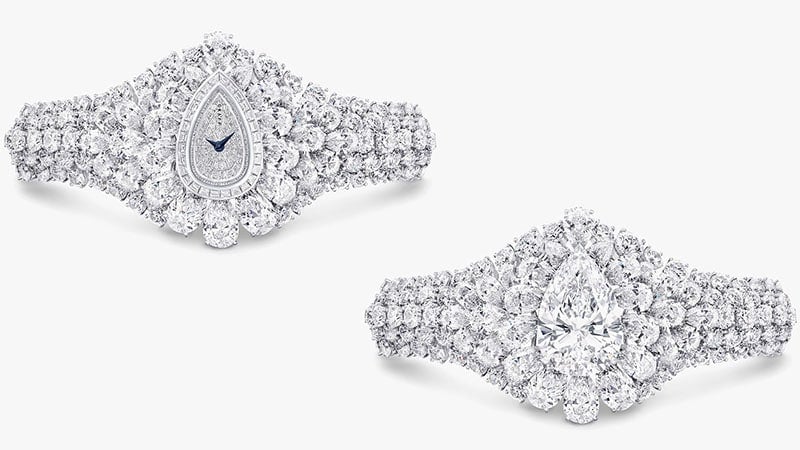 3. Breguet Grande Complication Marie Antoinette | $30 Million
This pocket watch from Breguet has a compelling story behind it. Commissioned by a mystery admirer of Marie Antoinette in 1783, no time or budget limitations were given. The only instructions were that it should use gold wherever possible, and there should be as many and as varied complications as possible. It took 44 years to create and was completed 34 years after Marie Antoinette's execution and four years after Abraham-Louis Breguet's death. Its incredible intricacy and backstory make this an appealing buy for collectors with the money.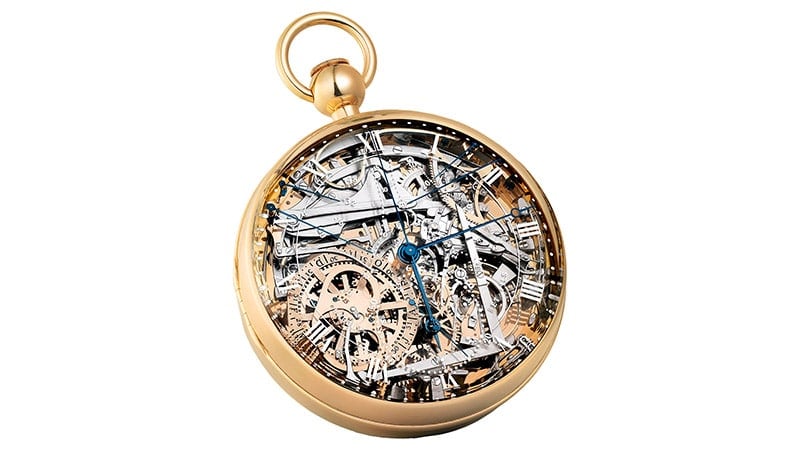 4. Jaeger-LeCoultre Joaillerie 101 Manchette | $26 Million
Less a watch and more a piece of stunning jewelry, the Jaeger-LeCoultre Joaillerie 101 Manchette was a gift for Queen Elizabeth II's Diamond Jubilee (her 60th year of reign). This beautiful bracelet features a combination of diamond-set and polished white gold links with a miniature caliber 101 movement. The unique design and intricate details certainly mean this is a timepiece fit for a queen!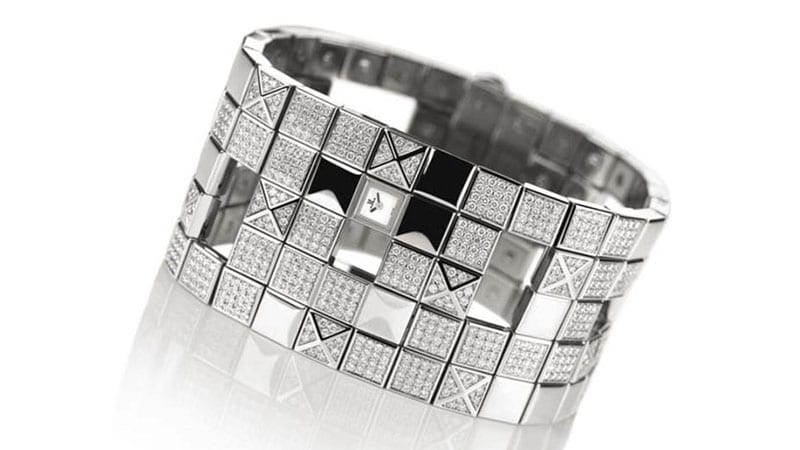 5. Chopard 201-Carat Watch | $25 Million
This incredible watch's name tells you exactly why it's worth $25 million. Created by Chopard, the 201-Carat Watch consists of a 15-carat pink diamond, a 12-carat blue diamond, and an 11-carat white diamond as well as a further 163 carats of white and yellow diamonds.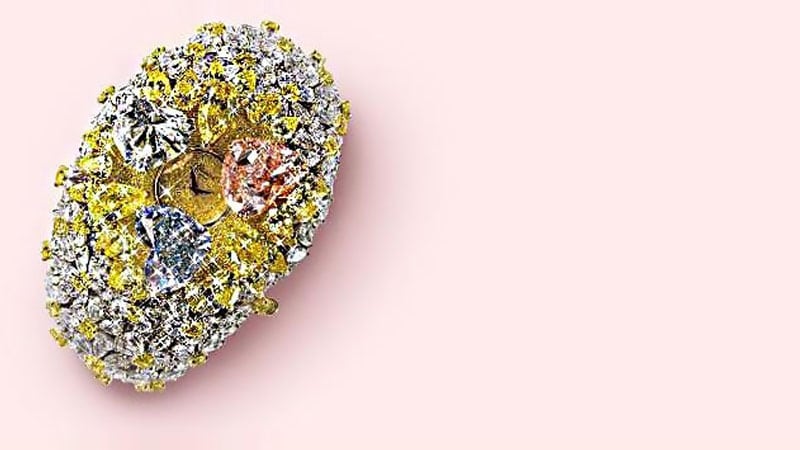 6. Patek Philippe Henry Graves Supercomplication | $24 Million
The wold's most expensive Patek Phillipe watch is the Supercomplication created for Henry Graves Jr. Worth $25 million, this intricate timepiece features 24 complications and includes functions such as a perpetual calendar, minute repeater with Westminster Chimes, sunrise and sunset times, and a celestial chart based on the night sky above Graves' home in New York.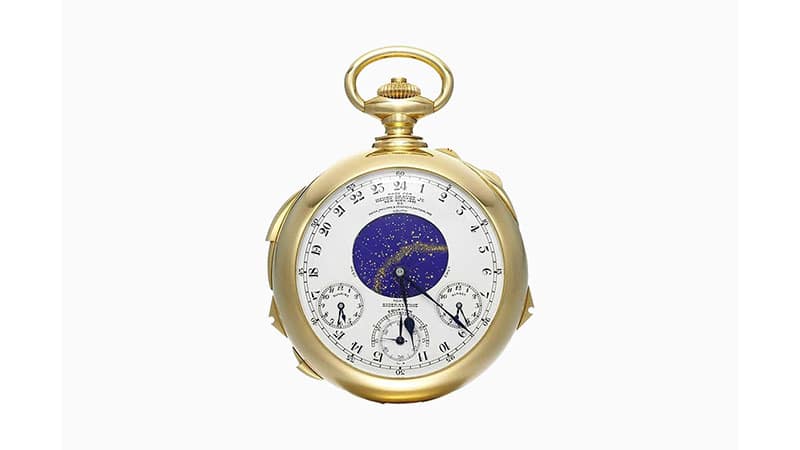 7. Rolex Paul Newman Daytona Ref. 6239 | $18.7 Million
Actor, director, race car driver, purveyor of delicious condiments, and owner of some of the most famous blue eyes in the world, Paul Newman, was the original owner of this Rolex watch. The style was first introduced in 1963 and is considered the definitive racing watch. Paul's wife, actor Joanne Woodward gifted the watch to him in 1969, with an inscription of "Drive Carefully" on the back. He would wear this watch in dozens of races over the next 15 years. Consequently, it's Paul's undeniable cool-guy status, Hollywood history, and sweet story that makes this watch such a coveted timepiece.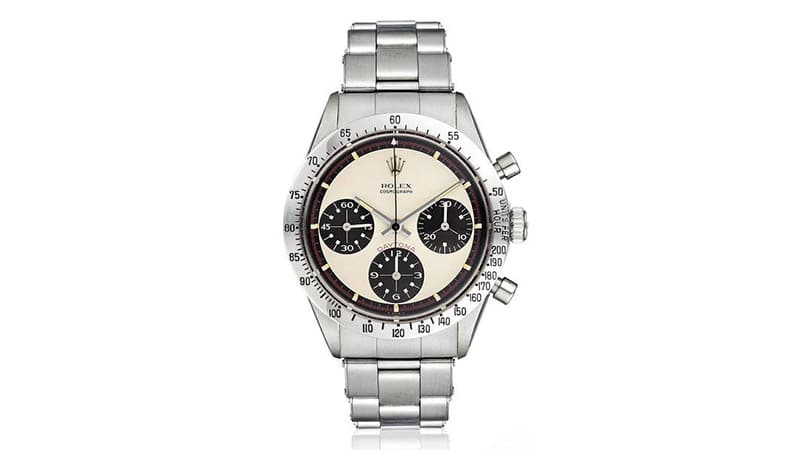 8. Jacob & Co. Billionaire Watch | $18 Million
This Jacob and Co. timepiece isn't called the Billionaire Watch for no reason. If you can swing the $18 million, you'll receive a seriously luxurious watch complete with 260 carats of emerald-cut diamonds and a stylish skeleton face.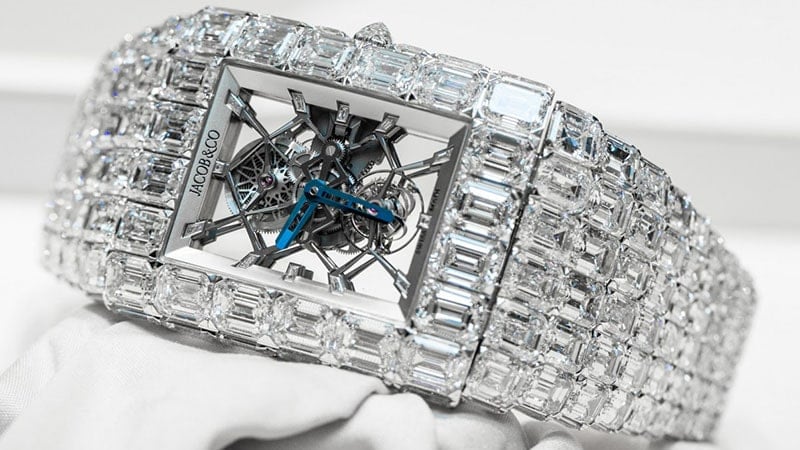 9. Patek Philippe Stainless Steel Ref. 1518 | $12 Million
The Patek Philippe Stainless Steel Ref. 1518 was a history-making timepiece because it had the first-ever perpetual calendar and chronograph. As such, this alone makes it a collector's item. However, this watch was also part of a four-piece series and made from stainless steel, not commonly used in luxury timepieces. Combined, these elements make this an exceedingly rare watch from one of the leading horology houses.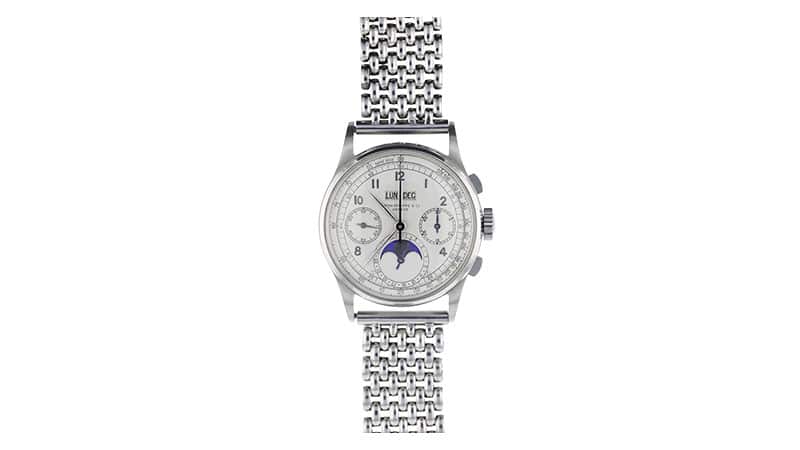 10. Patek Philippe Ref. 1518 in Stainless Steel | $11 Million
Recently auctioned off for just over US$11 million, the Patek Philippe 1518 comes in at number seven on the list of the world's most expensive watches. The timepiece, which is number one in a limited edition four-piece series, is rare because of its casing. While most Patek luxury watches are made of yellow or rose gold, this one features stainless steel.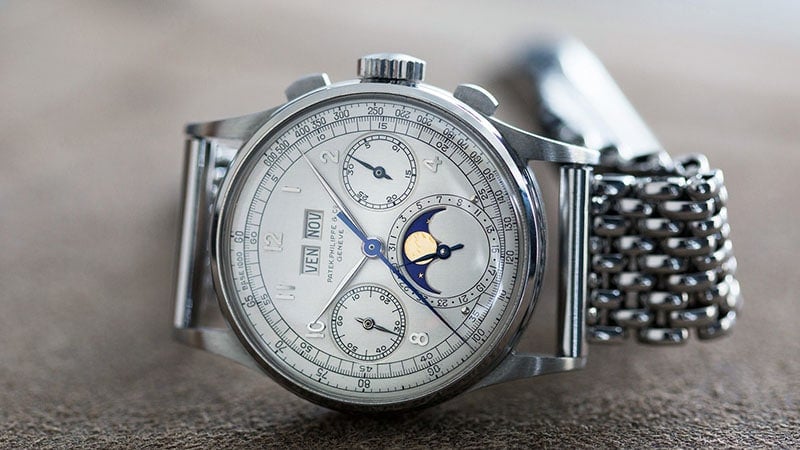 11. Patek Philippe Gobbi Milan 'Heures Universelles' Ref. 2523 | $9 Million
Multiple design features make the Patek Philippe Gobbi Milan' Heures Universelles' Ref. 2523 so coveted. Firstly, only seven of this style were released in pink gold, and it's the only one in existence to have its blue enamel dial signed by both the maker and retailer – Patek Philippe and Gobbi Milano. Additionally, it has a revolutionary world time system (Heures Universelles), which really showcased the design and craftsmanship of the Golden Age of watchmaking. Made in 1953, it's also all in original condition, adding to the exclusivity.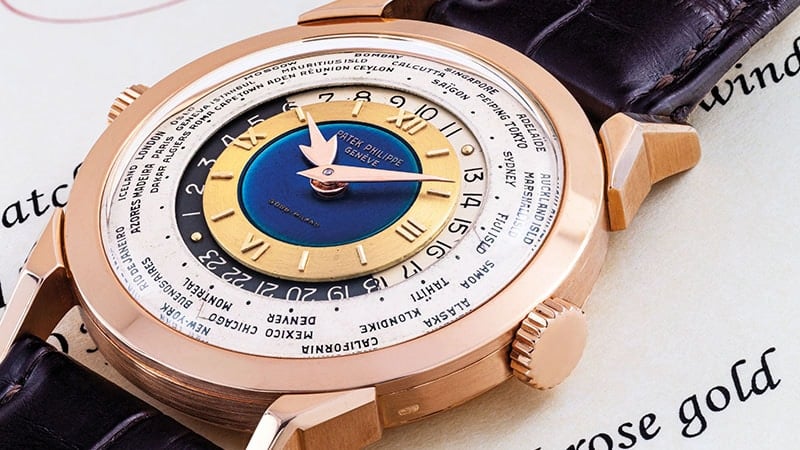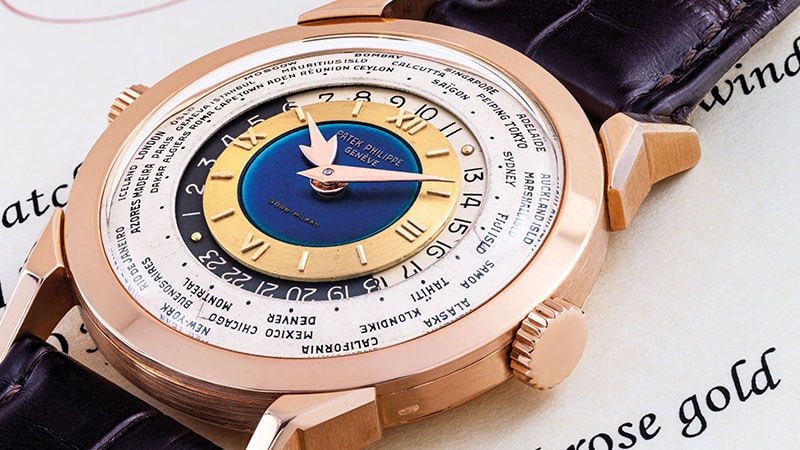 12. Vacheron Constantin 57260 | $8 Million
The numbers in the Vacheron Constantin 57260 are exceptional. It's the world's most complicated watch with 57 complications, 2,826 individual components, and 242 jewels. It also weighs a massive 957 grams, is responsible for ten patents, took three watchmakers eight years to make, and had 85 different prototypes — all for one private collector. Some of the unique features of this watch include a Judaic calendar, a night alarm that silences the watch between 10:00 pm and 8:00 am, and a double retrograde split-seconds chronograph. It truly is a spectacular timepiece.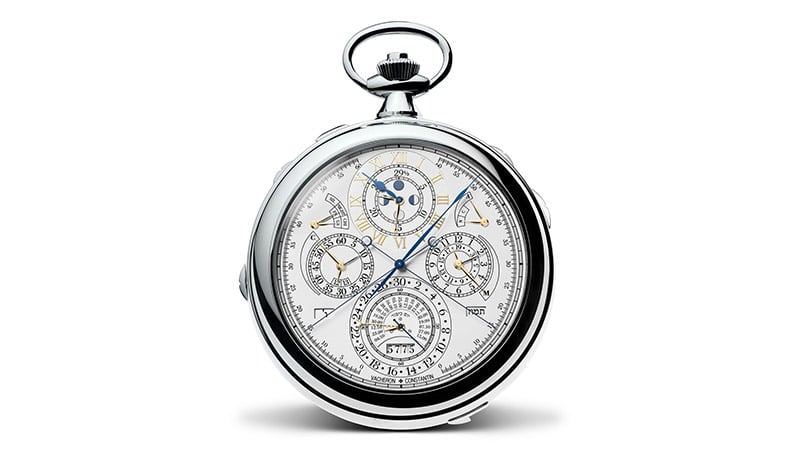 13. Patek Philippe Two-Crown Worldtime Ref. 2523 Eurasia Dial | $7.7 Million
Another ultra-rare Patek Phillipe, the Two-Crown Worldtime Ref. 2523 Eurasia Dial in yellow gold, is one of only three ever created. It features a previously unknown cloisonné enamel dial depicting a map of Eurasia. Alone this is incredible because of the pure mastery required for this method of enameling. However, other factors that set it apart include the world timer, 41-city ring, and dual crowns. Consequently, this watch is justifiably and accurately described as a 'grail' timepiece.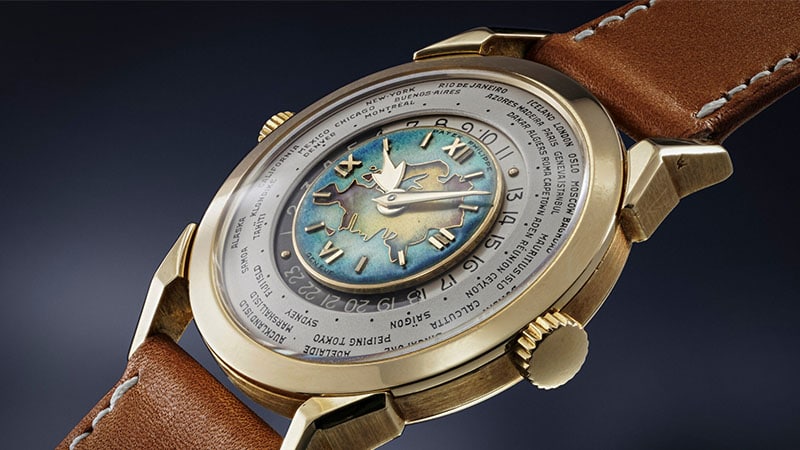 14. Patek Philippe White Gold Calibre 89 | $6.9 Million
Featuring the Calibre 89 with 33 complications, this is one of the most complicated watches in the world. First created for Patek Philippe's 150th anniversary, this 18-karat white gold iteration is a huge timepiece. It measures 88.2 millimeters in diameter and 41.07 millimeters thick. Of course, it had to be such a large size to fit all the functionality because it has everything you could need. This includes sunrise and sunset timers, a second time zone, an astronomical calendar, moon phases, a flyback chronograph, and even a thermometer.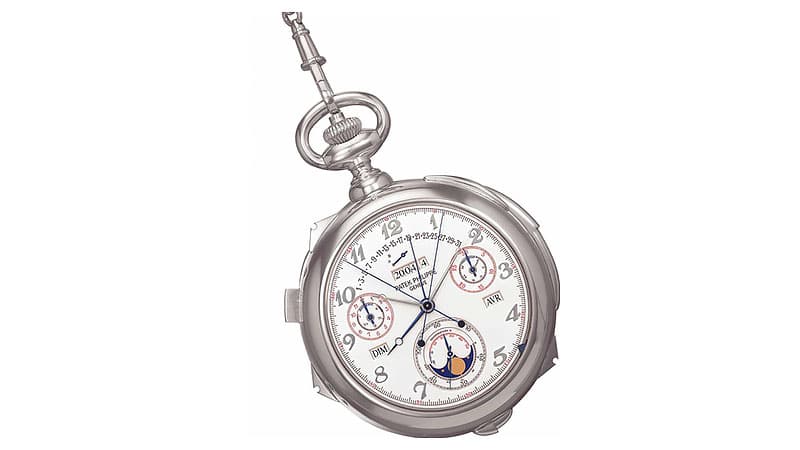 15. Patek Philippe Gold Chronograph Ref. 1527 | $6.8 Million
There's not a huge amount known about the Patek Philippe Gold Chronograph Ref. 1527. As such, its mystery plays a role in its appeal. What is known is that when it first launched in the 1940s, it was comparatively Avant-Garde, with larger proportions than other similar designs. Another known fact is that it's one of only two watches of this kind made, making it a true rarity, while the 18-karat gold buckle adds even more value.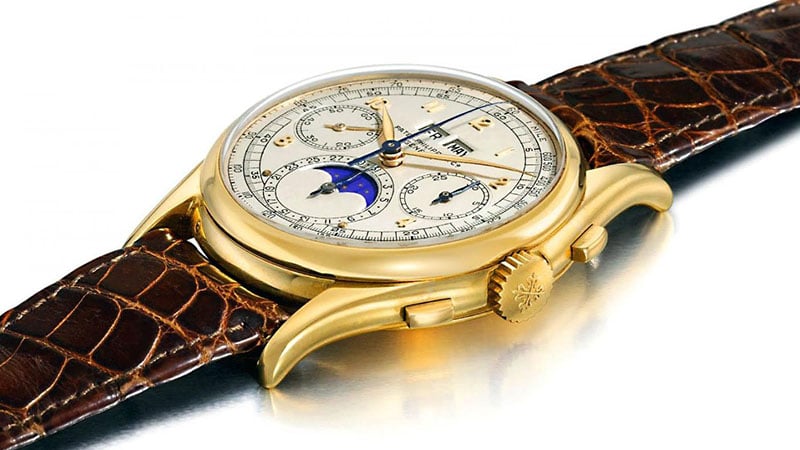 16. Patek Philippe Titanium Ref. 5208T-010 | $6.6 Million
One of the main factors contributing to a watch's high selling price is rarity. That's why the Patek Philippe Titanium Ref. 5208T-010 is on the list. It's the first and only titanium iteration of the Reference 5208 Triple Complication wristwatch – a metal not commonly used in luxury watches. The design also features a minute repeater, a monopusher chronograph, and an instantaneous perpetual calendar. Plus, the display back gives you an insight into the workings of the watch and the caliber R CH 27 PS QI movement, as well as the special finissage techniques.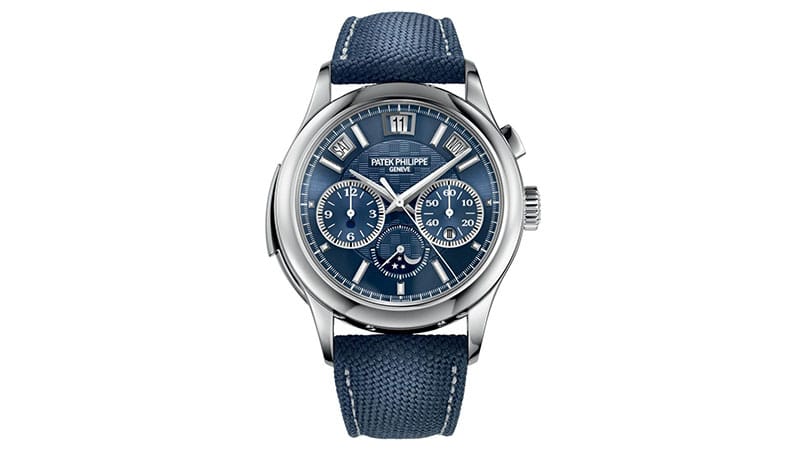 17. Rolex Daytona Unicorn Ref. 6265 | $6.1 Million
Bearing the nickname, The Unicorn, this is the only known vintage white gold Rolex Daytona. While the use of white gold in the 70s was common in the more glamourous Day-Date watch, its use in a more robust sports design was unusual. Additional features of this timepiece include a black dial with matching white gold indexes and contrast white sub-dials. It's also returned to Rolex a couple of times for services; however, beyond that, much about this watch remains a mystery.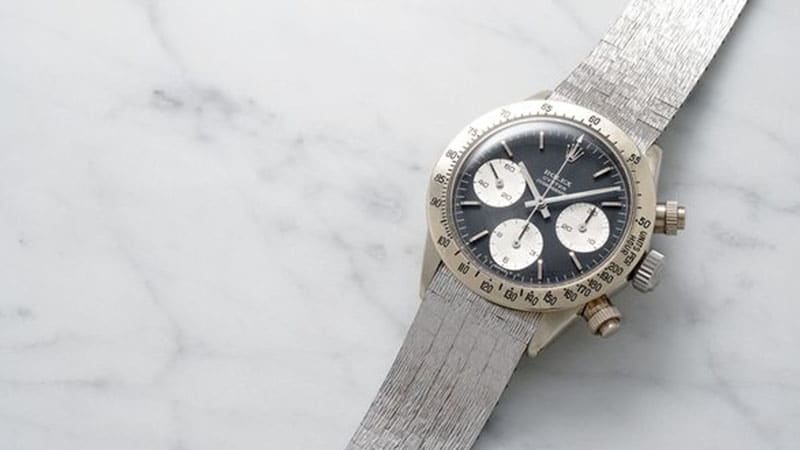 18. Patek Philippe Yellow Gold Calibre 89 | $6 Million
Like its sister piece, the white gold Calibre 89, the yellow gold is also a beast. It weighs in at just over 1 kilo and features the same 33 complications. These include world times for 125 cities, a split-second chronograph, altimeter, compass, perpetual calendar, and sunrise and sunset times. There were four Calibre 89s made. In addition to the white and yellow gold, there was also a pink gold and platinum iteration made at the same time, adding to the rarity and complexity of the piece.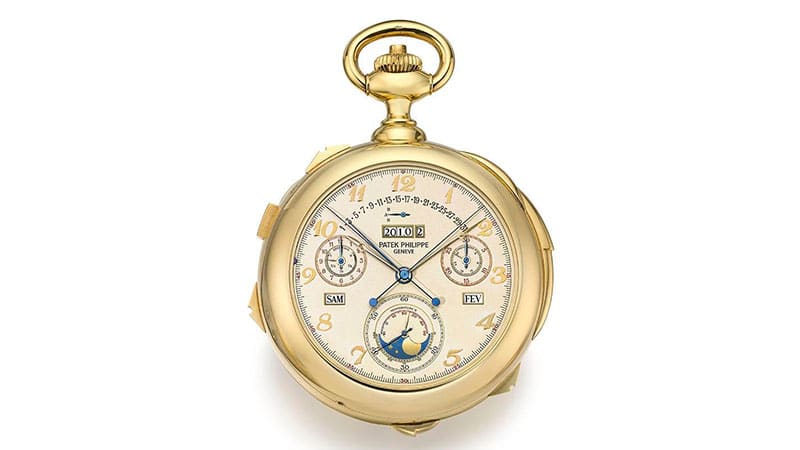 19. Hublot Big Bang | $5 Million
If you appreciate bling and have a spare $5 million, you may want to consider purchasing a diamond Hublot Big Bang watch. Featuring 1280 diamonds with at least three carats each, this glitzy timepiece is a lesson in luxury. Every stone on the watch was even cut by the same New York jeweller with over 40 years experience to ensure they each bear the same cut signature.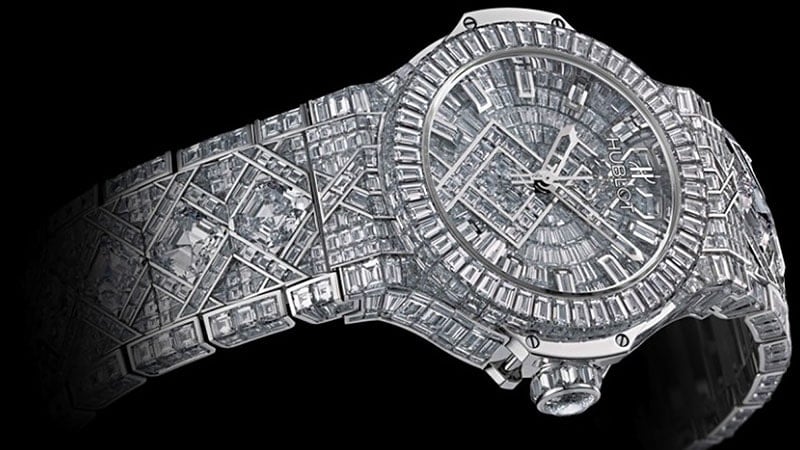 20. Louis Moinet Meteoris | $4.6 Million
How rare a watch is can dictate its price so, at $4.6 million, you can be sure that the Louis Moinet Meteoris is pretty rare. In fact, only four of these watches were created, and they each contain something very special. As well as being beautifully crafted, each Meterois watch impressively includes moon rock.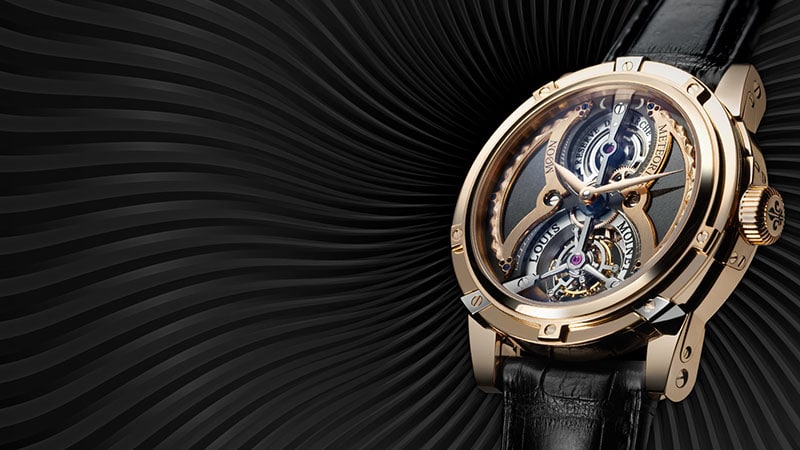 21. Breguet Antique Number 2667 | $4.5 Million
The charming Breguet Antique Number 2667 pocket watch can be yours for a mere $4.5 million. As well as featuring a stylish, traditional design, this watch also boasts a luxurious 18k yellow gold case and not one, but two oscillating bodies.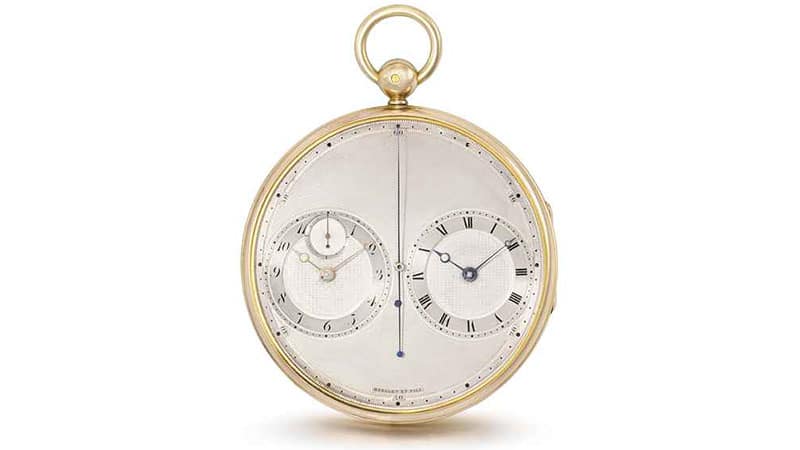 22. Rolex Daytona Ref. 6263 Oyster Albino | $4 Million
Currently, the most expensive Rolex ever sold is the Daytona 6263 Oyster Albino, which went for a cool $4 million in 2014. The watch, which features a stainless steel case, received its unusual name from its white chronograph subdials. Apart from its unique design, this timepiece is also valuable because of its rarity. Only four were ever made.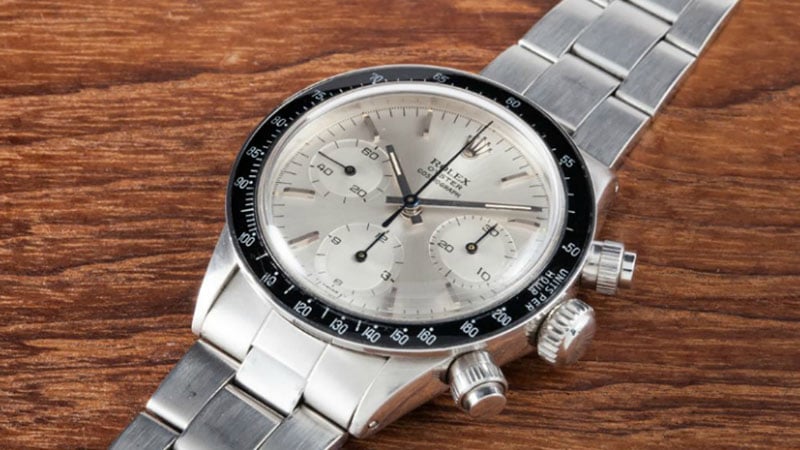 23. Franck Muller Aeternitas Mega 4 | $2.7 Million
Want to know what the most complicated wristwatch in the world looks like? Just check out the Aeternitas Mega 4 from Franck Muller. This intricate timepiece features a jaw-dropping 1483 components as well as a record-breaking 36 complications. While you'll have to pay around $2.7 million to make this watch your own, the high price may just be worth it. Designed to withstand the test of time, the Aeternitas Mega features a calendar that follows a 1000-year cycle renewable to infinity.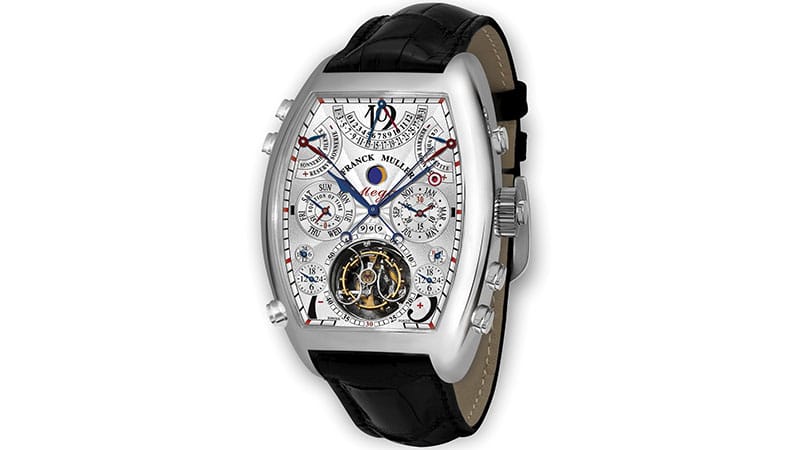 24. Lange & Söhne Grand Complication | $2.5 Million
Lange & Söhne's Grand Complication watch debuted in 2013 and is currently the brand's most expensive watch. Priced at $2.5 million, this wristwatch, which takes approximately a year to make, gets its value from its multiple complications. Housed inside its large gold case, which measures a staggering 50mm in diameter and 20mm thick, is a perpetual calendar with moonphase, split-seconds chronograph with flying seconds, and a grande and petite sonnerie with minute repeater. In total, this timepiece's intricate movement contains 876 parts.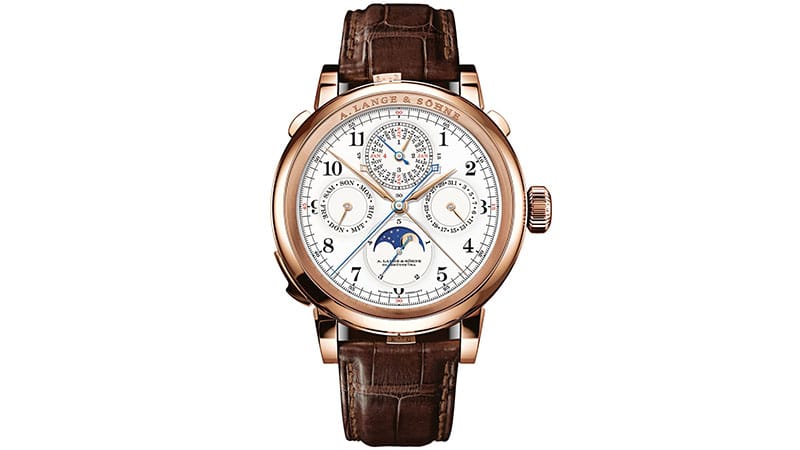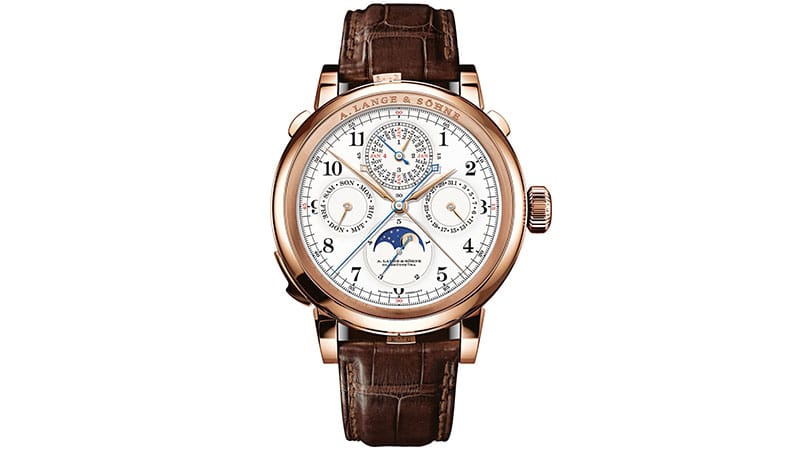 25. Jaeger-LeCoultre Hybris Mechanica Grande Sonnerie | $2.5 Million
The Hybris Mechanica Grande Sonnerie by Jaeger-LeCoultre features a manual winding, mechanical movement that includes 1406 parts. All these parts, of course, work together seamlessly and make this technical timepiece worthy of a reported value as high as $2.5 million. Naturally, as its name suggests, this wristwatch offers its wearer a grande sonnerie as well as a petite sonnerie, minute repeater, and silent modes. It also plays one of the longest melodies ever recreated by a Grand Sonnerie, featuring a Westminster chime reproducing the sounds of Big Ben.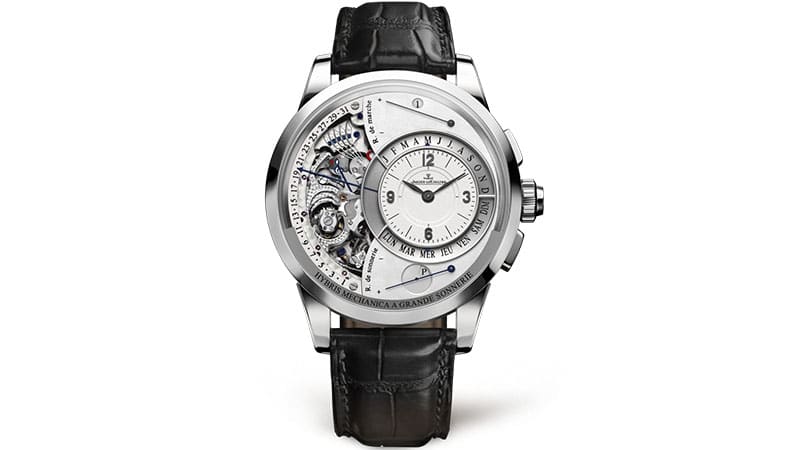 26. Rolex Antimagnetique Ref. 4113 from 1942 | $2.4 Million
A Rolex will always warrant a reasonably high price tag, so how much does an extraordinarily rare one cost? Well, this remarkable, Antimagnetique Ref. 4133 sold for around $2.4 million last May at an auction in Geneva (almost double what it was excepted to fetch). The split-seconds chronograph features an oversized design with a 44mm stainless steel case. The wristwatch, which was made in 1942, is one of only twelve Ref. 4113 ever created.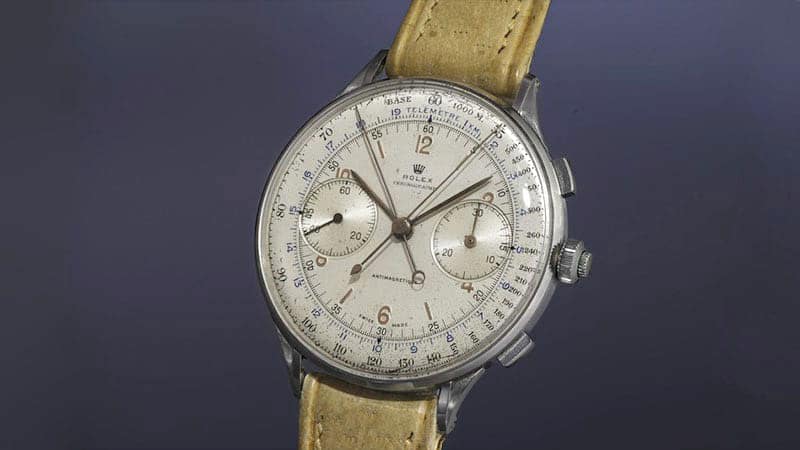 27. Richard Mille RM 56-02 Sapphire | $2 Million
Building on earlier designs, Richard Mille created the RM 56-02 Sapphire Tourbillon. More complicated and stylish than the watches before it, this timepiece today merits a $2 million price tag. While its appearance is about as cool and unique as a watch can be, it's the craftsmanship that gives this luxury piece its high value. The detailed case design and extraordinarily complex movement are both forged out of pure sapphire with the latter also suspended in the air by cables.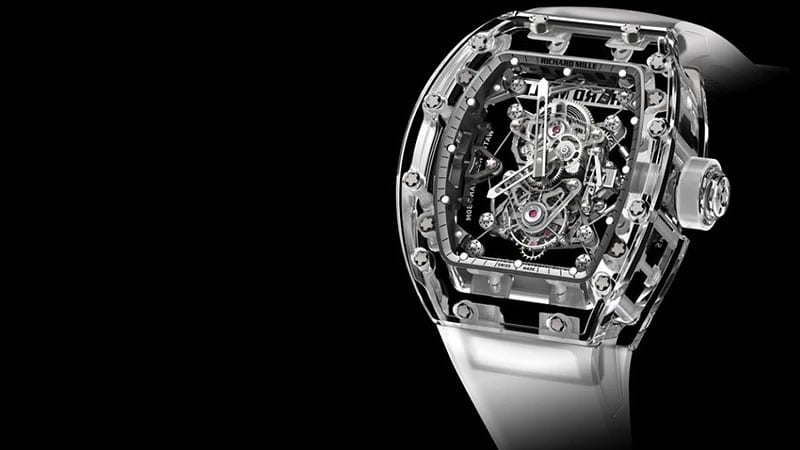 28. Greubel Forsey Art Piece 1 | $1.5 Million
While Art Piece 1 by Greubel Forsey could easily fetch a high price for its mechanical properties, such as its 30° inclined double tourbillion, its $1.5 million value comes from its design. The artistic and wondrous timepiece features a nano-sculpture. The sculpture, which is hidden inside the watch, is only visible thanks to a minuscule optical system at the watch's crown that acts as a microscope. Designs created so far include a ship, mask, Coca-Cola bottle, and hummingbird.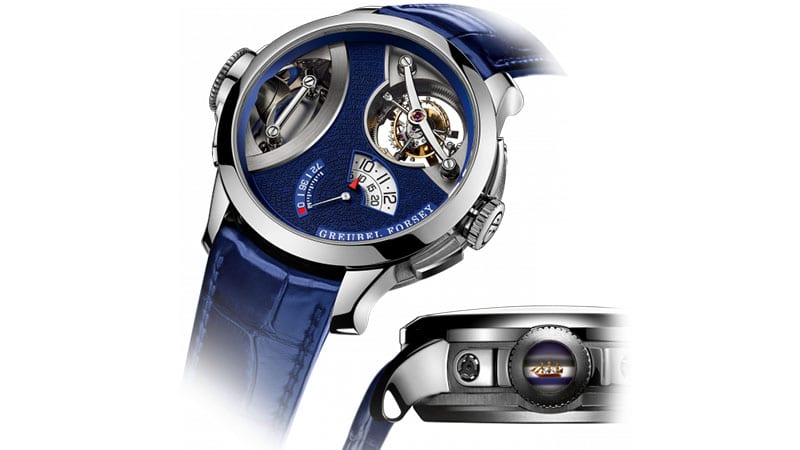 29. Vacheron Constantin Tour de I'Ile | $1.5 Million
The Tour de l'Ile was debuted by Vacheron Constantin over ten years ago, in 2005. The timepiece, which was built to commemorate the brand's 250th anniversary, was, at the time, the most complicated wristwatch in the world. Although the Tour de l'Ile no longer holds that title, it's still an impressive watch that commands a $1.5 million value. The double-sided design features a tourbillon movement as well as a minute repeater, perceptual calendar, sunrise and sunset times, moonphase, and dual time zones.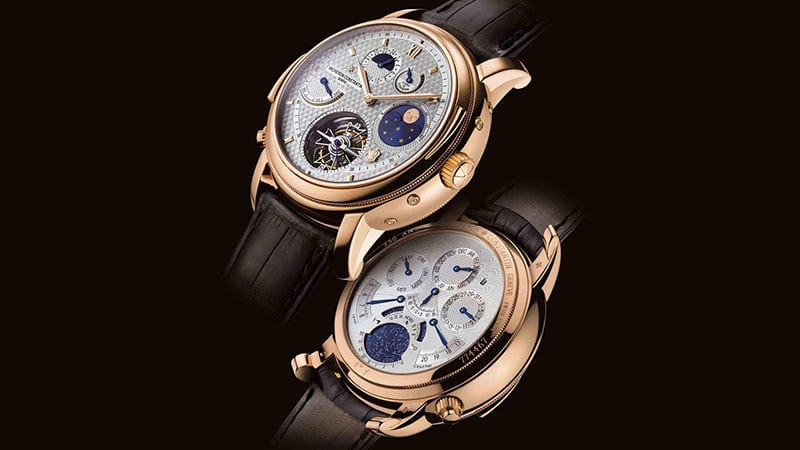 If you liked this article, check out the best luxury watch brands that you need to know!
Expensive Watches FAQs
What brand of watch is the most expensive?
Graff Diamonds produce the most expensive watches in the world, including the Hallucination. It's worth 55 million dollars and is encrusted with 110 carats of colored diamond, set in a platinum bracelet.
What Makes Watches So Expensive?
The high cost of watches comes from decorations such as precious metals and gems like platinum and diamonds. The other part of the cost comes from the expert craftsmanship required to make quality watches. A huge amount of research and development goes into new styles and technology, plus the cost of components such as movements can be high. Supply is also generally lower, particularly in luxury brands, which drives prices up through scarcity and demand.
What are the most popular luxury watches?
The most popular luxury watch brands include Rolex, Patek Philippe, Breguet, Vacheron Constantin, and Audemars Piguet.
SUBSCRIBE TO OUR NEWSLETTER
Subscribe to our mailing list and get interesting stuff and updates to your email inbox.