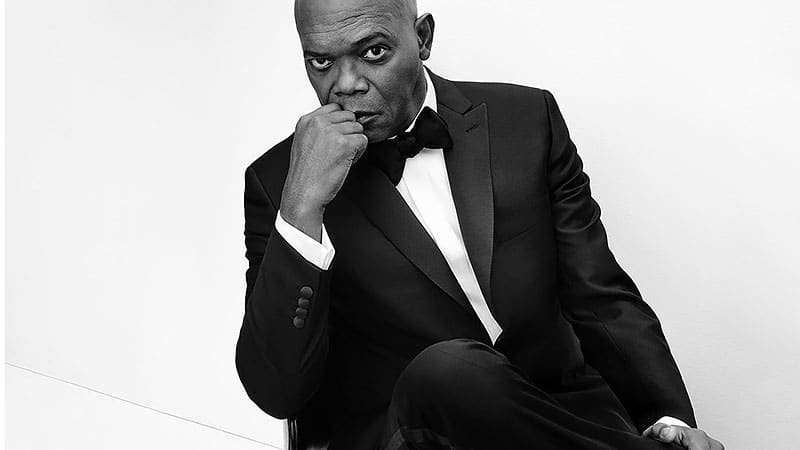 When it comes to men's clothing, nothing is more impressive than the suit. Although it has varied slightly over time, the suit has remained the pinnacle of style for centuries. Today, it continues to lend gents all over the world a sense of sophistication that other garments cannot. Of course, not all suits are created equal and purchasing one that'll look great on you requires knowledge of shape, fit and fabric. Luckily, we're here to help with a handy cheat sheet. So, if you're after a suit that sits just right look no further than these best suit brands for men.
RELATED: 40 Best Online Clothing Stores for Men
1. Burberry
Established in 1856, Burberry quickly became famous for its outdoor attire, classic trenchcoat, and signature plaid patterning. Fast-forward just over a century and this British luxury fashion house introduced suits into their empire. Blending old and new worlds, Burberry's suits take inspiration from the classics when it comes to fabrics and techniques while incorporating modern tailoring and silhouettes.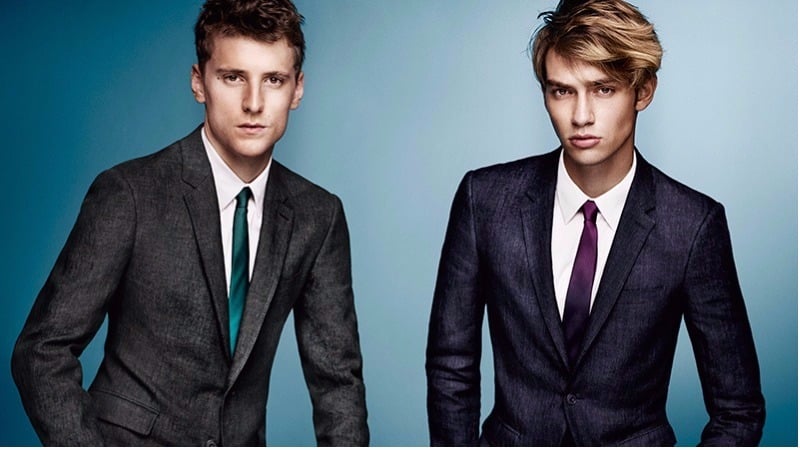 2. Dolce & Gabbana
In the mid-1980s, two aspiring Italian designers founded what would later become one of the country's most recognizable luxury fashion houses. Seven years later, Dolce and Gabbana presented their first menswear collection and have been creating lust-worthy suits ever since. Whether you're seeking bold jacquard prints, embroidered silk, or a dark suit with a razor-sharp silhouette, Dolce and Gabbana are masters of tailoring.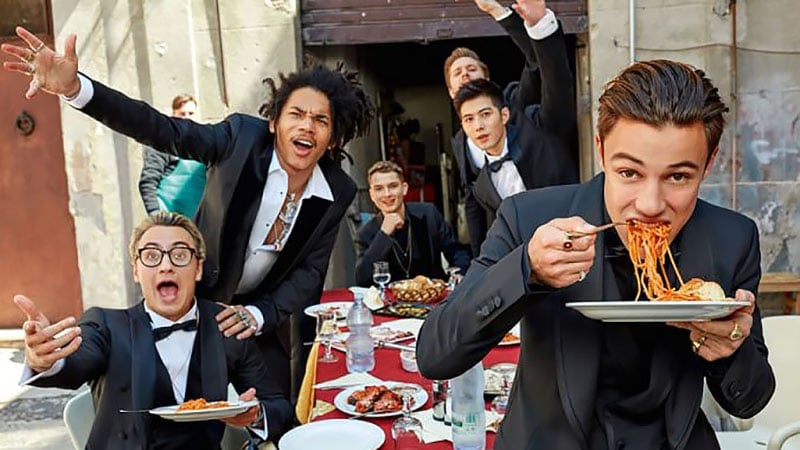 3. Gucci
If you're seeking a suit in bold colors or a jacquard print, Gucci is your go-to. Looking for a suit jacket featuring bright piping, embroidery, or unique details? This genius design house has that too. Eclectic, extravagant, and always at the forefront of high fashion, the world's biggest-selling Italian brand are masters when it comes to tailoring. If, however, you're after something a little more traditional, they also design suits in sleek, classic colors and cuts.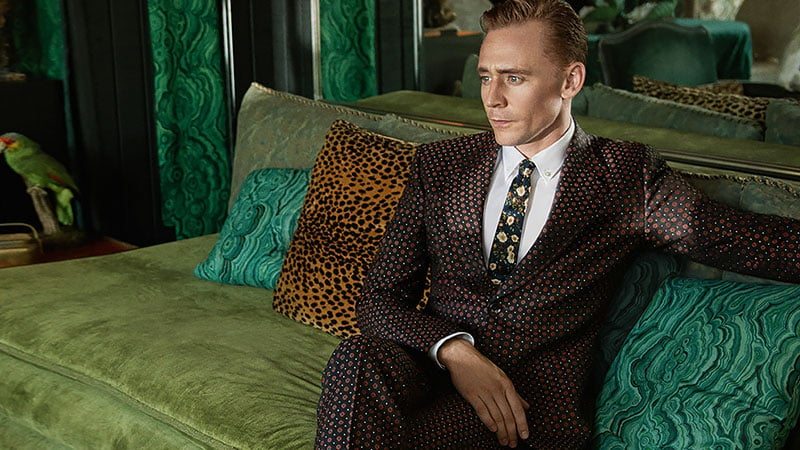 4. Brioni
For men who like their martinis shaken not stirred, a Brioni suit is the ultimate in men's tailoring. Available in exquisitely cut ready-to-wear styles or entirely customized bespoke pieces, these suits exude luxury. Founded in Rome in 1945, Brioni has dressed Daniel Craig and Pierce Brosnan's James Bonds, showcasing their collections at the men's runway shows, the trunk presentations, and ready-to-wear Haute Couture runways. With thousands of hours of work put into each suit, these timeless designs epitomize men's high fashion.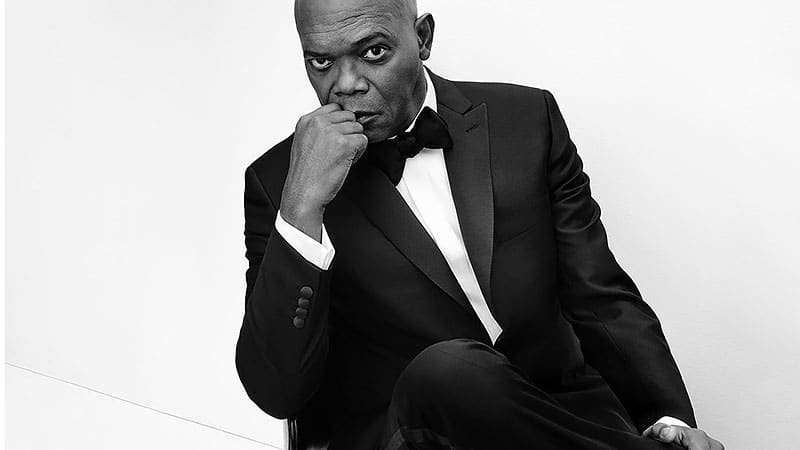 5. Saint Laurent
For gentlemen seeking a slim-cut suit with a well-fitted waist and a thin-lapelled jacket, make your way to Saint Laurent. This iconic French brand was founded by the late creative genius Yves Saint Laurent back in the 60's. Since then, they have provided men with nothing less than expert tailoring and sleek, luxury garments. While Saint Laurent suits traditionally stick to a lean silhouette, the label isn't afraid to experiment with innovative fabrics and bold prints.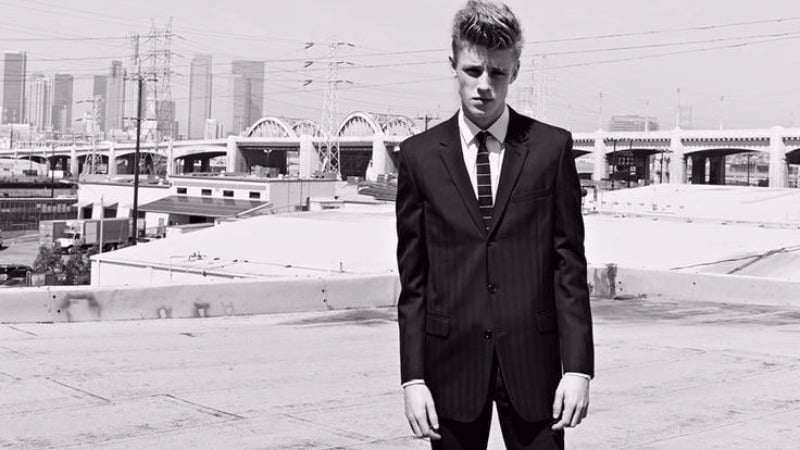 6. Givenchy
Born in one of the fashion capitals- Paris, Givenchy brings all the qualities of classic French elegance to the world of men's tailoring. Providing sleek, structured, and sophisticated suits, Givenchy is never one to shy away from the avant-garde. Whether you want a classic colored suit-jacket or a tuxedo printed with stars, a Givenchy suit will always make a statement.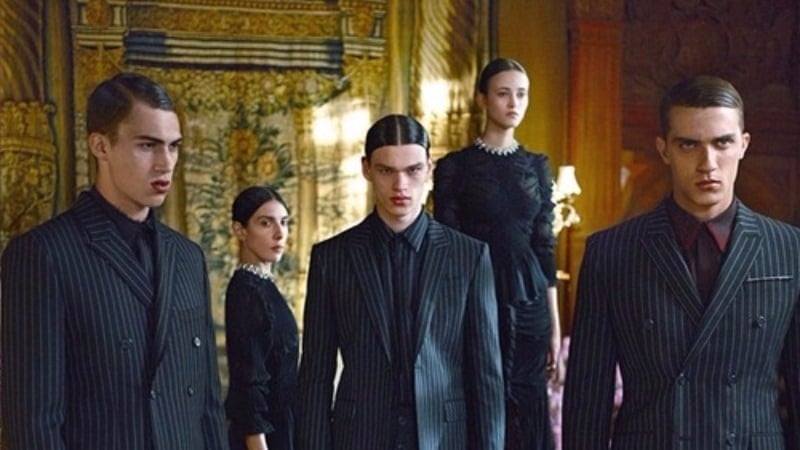 7. Prada
Across the world, Prada is synonymous with luxury. While the label is undoubtedly avant-garde and boundary-pushing, their suits still retain a sense of understated, classic elegance. Masters of tailoring, Prada ensures their suits are made to the highest of standards. To own, or simply try on one of these pieces, is to understand why the brand has been a favorite of the royal family, and the world, for over a century.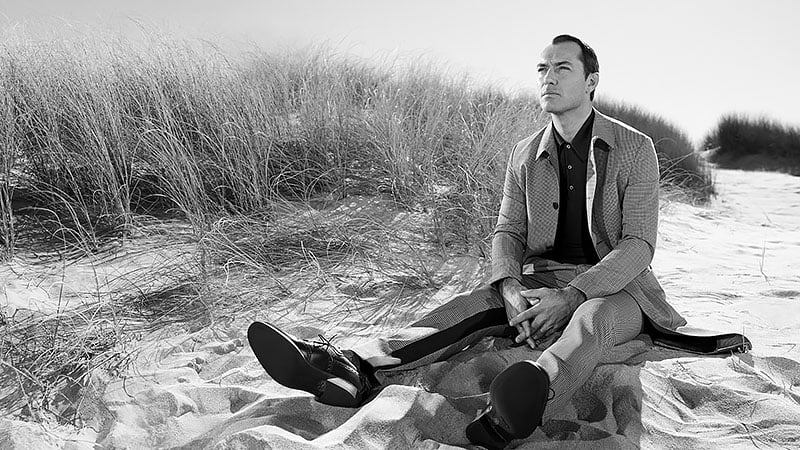 8. Valentino
For a timeless suit that epitomizes elegance, Valentino offers personal made-to-measure tailoring. Create the perfect suit for any occasion with an armory of sumptuous fabrics at your disposal. For a truly personalized suit that may be passed on to future generations, have your name hand-embroidered inside your suit pocket or your initials stitched onto the left side of your shirt.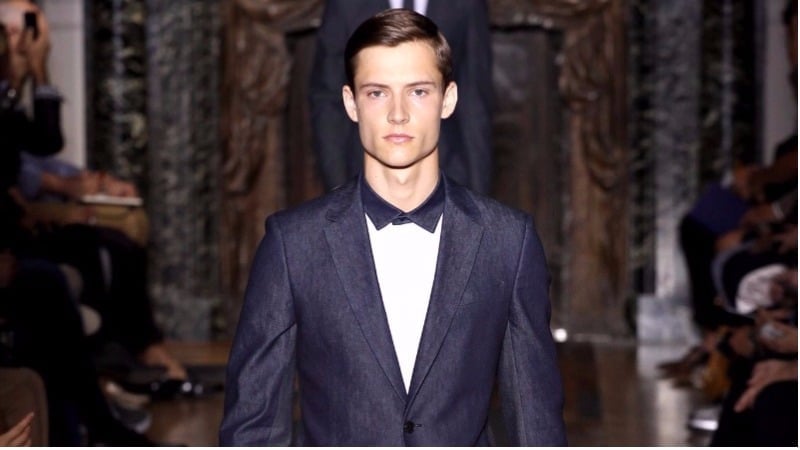 9. Dries Van Noten
Belgian designer, Dries Van Noten, is the third generation of his family to enter the world of tailoring. Boasting luxurious fabrics and a masterful blending of elegance and avant-garde, a suit from this designer is one of a kind. This label stands out for its ability to play with tweed and patterns, as well as master the traditional suave colors of inky black and polished navy.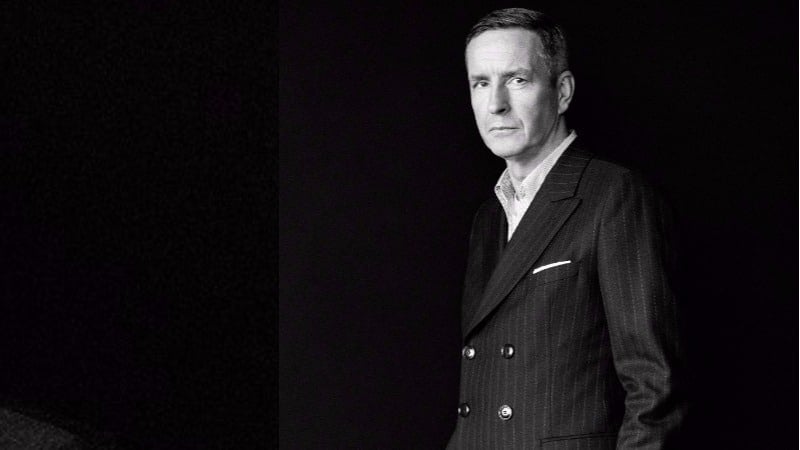 10. Jil Sander
Sometimes, it takes a woman to know what's best for a man. The minimalist fashion house, Jil Sander, which was founded by a talented German woman of the same name in the late 1960's, expertly demonstrates this fact. Focusing on neat, sleek cuts and classic colors, the aesthetic of this brand is subtle yet sophisticated. For men seeking a no-nonsense suit, which showcases minimalist, masculine tailoring, Jil Sanders is the designer you are dreaming of.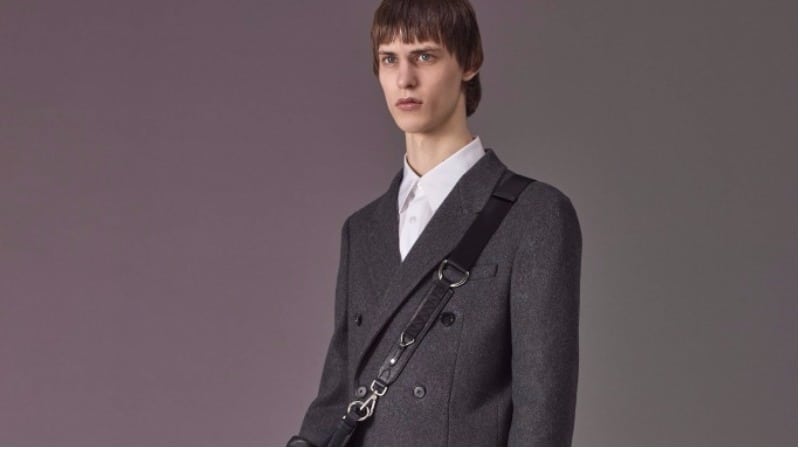 11. Boglioli
Leading Italian suit designer Boglioli offers expertly crafted lightweight suits that boast old-world charm and allure. Offering luxurious silk-wool blends, deconstructed jackets, standout corduroy, and their signature garment-dyed garments, their suits are unique and sophisticated.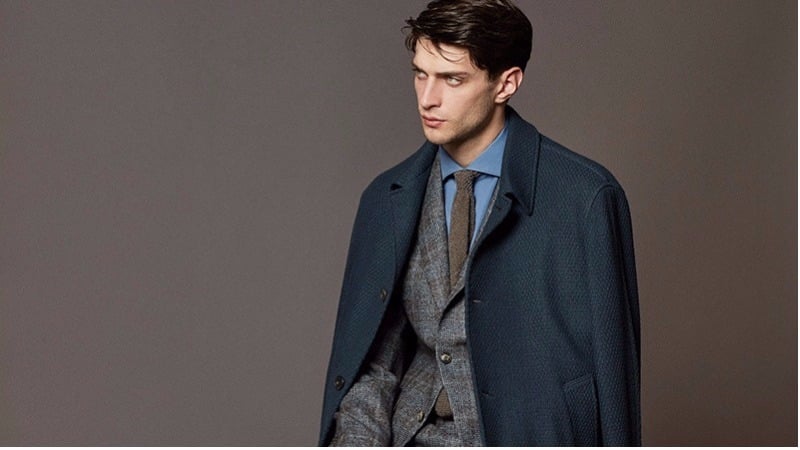 12. Ermenegildo Zegna
For expertly crafted suits made of the finest fabrics, Ermenegildo Zegna is a leader in its field. This Italian luxury brand keeps its suit colors classic and sophisticated, allowing its high-quality fabric to take center stage. With headquarters in the leading fashion capital of Milan, the brand grows its famous wool down in their Australian mils. Renowned and respected by menswear connoisseurs across the world, this luxury wool is also used by brands such as Brioni, Tom Ford and more.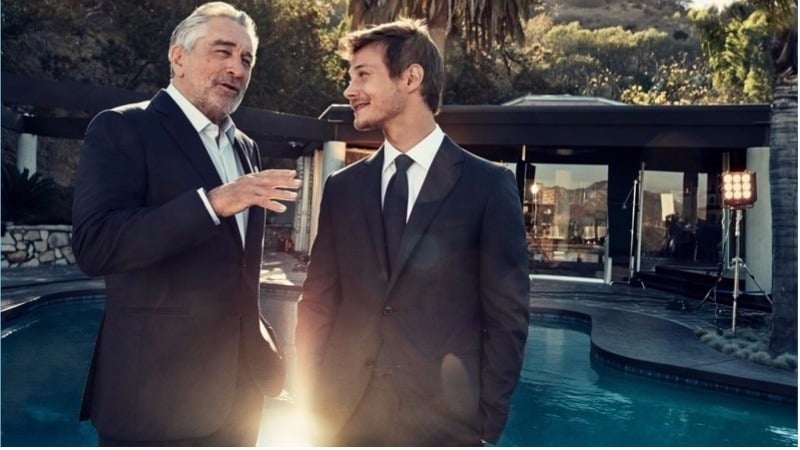 13. Dsquared2
Created by the powerhouse duo of Toronto-born twins, Dan, and Dean Caten, Dsquared2 blends edgy Canadian iconography with world-class Italian tailoring. These made-in-Italy suits masterfully contrast laidback and extravagant style in a new, distinctive form of luxury. With their current collection taking inspiration from the world's leading cities including Paris, London, and Tokyo, these dapper suits are at the forefront of global fashion.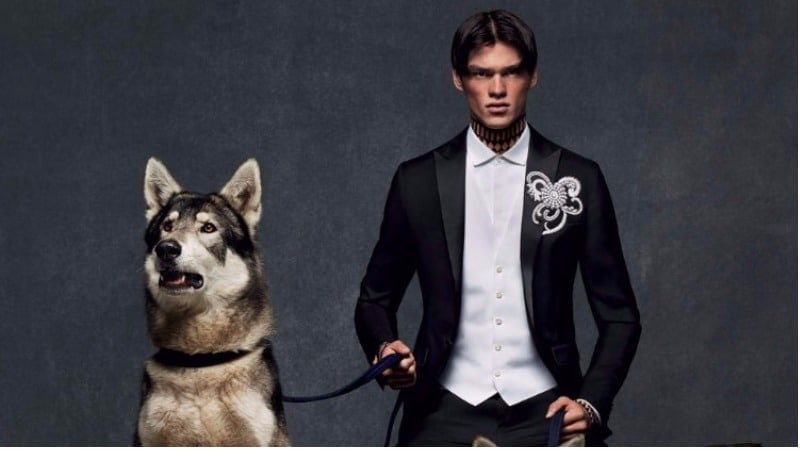 14. Bottega Veneta
With an atelier located in an 18th-century Italian villa, it is no wonder that Bottega Veneta's suits are timeless and inherently luxurious. Only the highest quality materials make it to the cutting table when it comes to their clothing, resulting in lasting, stunning suits. While they are masters of the classics, this label is also known to inject modern, playful colors into their designs.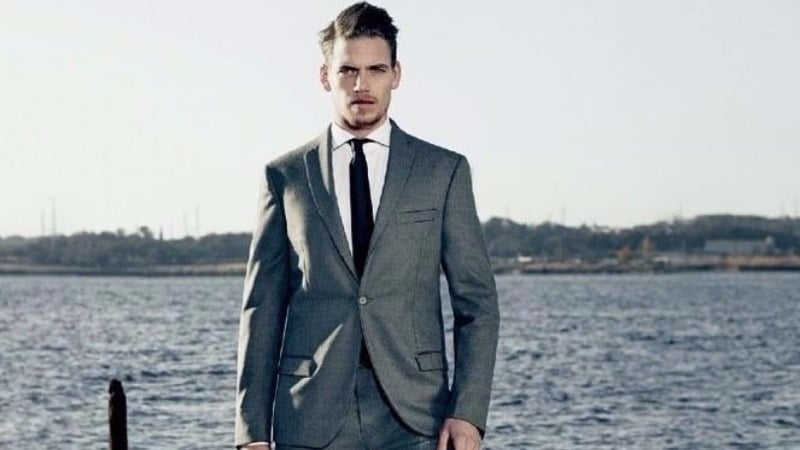 15. Etro
Famous for its bold use of print and color, Etro is a luxury Italian label that has mastered the art of menswear. Sharp silhouettes meet stunning materials, including wool, silk, and cashmere in these covetable garments. In addition to this, sleek jackets are often lined with bold prints, providing a hidden, unique edge to your suit. Available in pinstripes, checks, prince of wales patterns or monochrome, these timeless pieces are an invaluable addition to any wardrobe.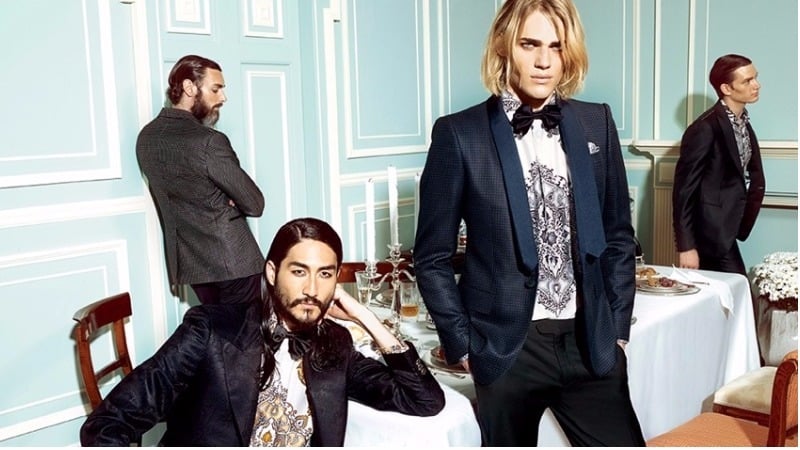 16. Alexander McQueen
If you are looking for a suit brand that is focused on superb quality and excellent fit, then look no further than Alexander McQueen. The British brand was founded by designer Alexander McQueen in 1992, with its creative director being Sarah Burton. There are simple, classic pieces in muted colors, or you can opt for a daring pink wool-crepe suit jacket with an interesting placement of fitted with zips. Or embrace heritage tailoring with the Prince of Wales-check wool-blend blazer. There is something to suit every preference, with various fits and sizes available. It is a luxury brand and comes with a hefty price tag, but the pieces are built to last.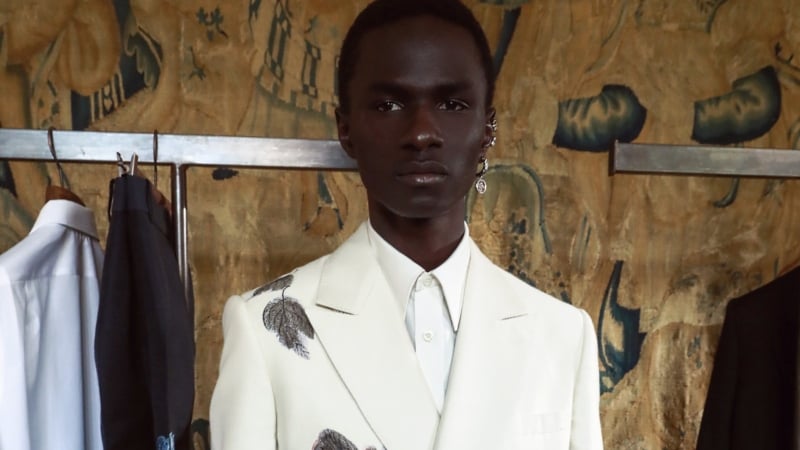 17. Brunello Cucinelli
Brunello Cucinelli is the eponymous brand of the designer of the same name and was launched in 1978 in Italy and is known for its timeless and sophisticated pieces. The company sells a wide range of menswear, including suits, which are celebrated for their high-quality craftsmanship. There are timeless designs in classic colors to stylish pinstriped two-piece suits, allowing you to find something to suit your preference.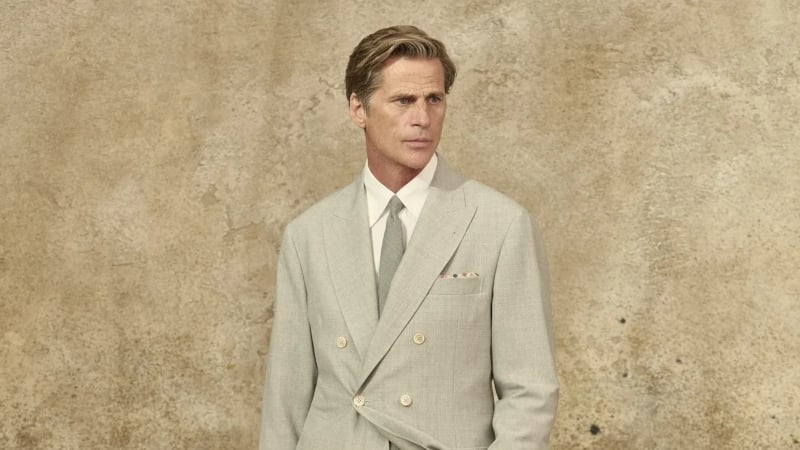 18. Neil Barrett
Neil Barrett is an Italy-based label founded by the British designer Neil Barrett. It seemed he was always destined to go into the world of fashion, with his grandfather and great-grandfather being master tailors. The brand was born in 1999, with the first runway showing taking place the following year in Pitti Uomo, Florence. The designs are simple and sophisticated, with suits that can be dressed up or down. They are available in a range of fits and sizes and colors to suit your preference, from classics like black to slightly more daring hues like salmon.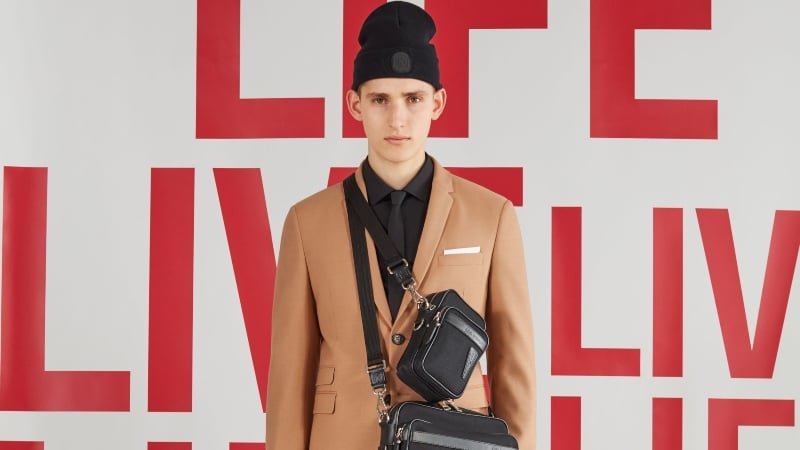 19. Philipp Plein
Philipp Plein is the eponymous brand founded by a German fashion designer of the same name. It was launched in 1977 and has become known for its high-quality garments that are designed to fit well and built to last. It is an excellent choice for your next suit, and there are several pieces on offer, depending on your preference. These include classics or the more daring pieces featuring the famous skull motif or designed with interesting patterns and fabric; for example, the evening jacket decorated with sequins.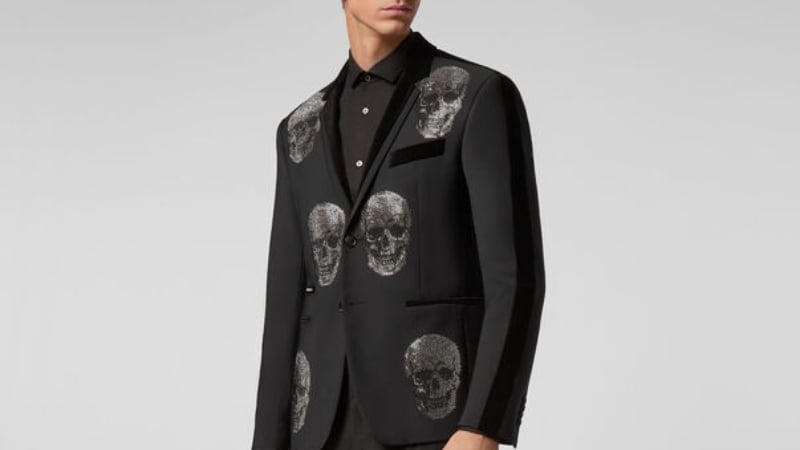 20. Zegna
Ermenegildo Zegna is an Italian luxury fashion house known for its superb quality and excellent craftsmanship. The suits on offer come in a range of colors and fits, from relaxed to tailored. The designs are not as bold, bright, and daring as some of the other brands, instead bringing you staples that can be worn anywhere. You can add your personal touch to your suit with a choice of silk tie or patterned pocket square; they come in a range of colors and prints to suit your preference.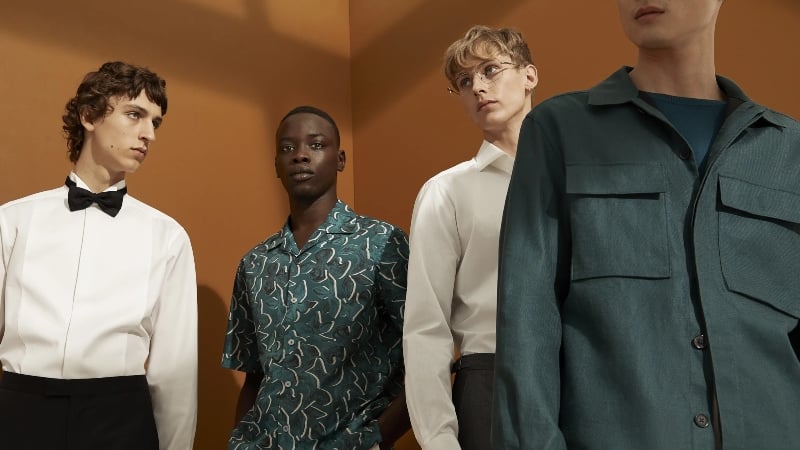 21. Thom Sweeney
Thom Sweeney is a British tailor celebrated for its excellent craftsmanship. The suits are superb and can be dressed up or down, making them ideal for all occasions. Founded by Thom Whiddett and Luke Sweeney, Savile Row trained tailors who decided to combine their skills and create one of the best places to purchase bespoke tailoring. There are two locations in Mayfair, London, and the other in Soho, New York.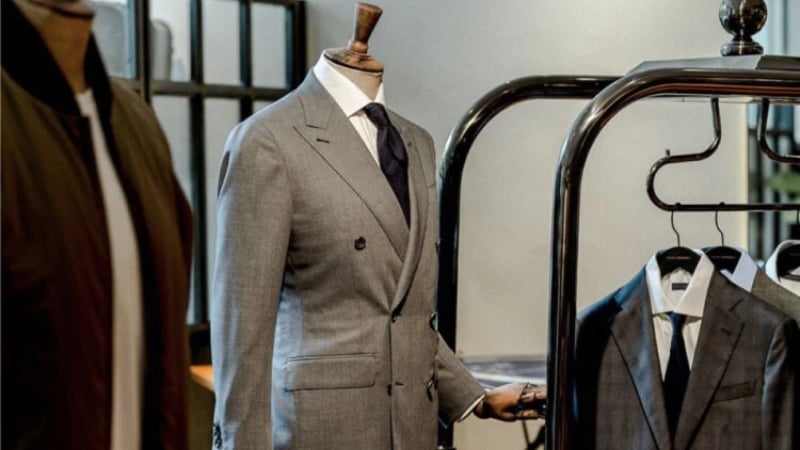 22. Kingsman
It appears that when it comes to mysterious suit-wearing spies, James Bond is no longer the only man in the game. In conjunction with the release of 'Kingsman: Secret Service', British e-tailer Mr Porter teamed up with the film's costume designer to create a bespoke 'Kingsman' fashion label. This genius team took inspiration from the movie, which sees Kingsman special agents operate under the disguise of Savile Row tailors. The collection, however, is not simply movie memorabilia. Each of the double-breasted suits is sleek and expertly crafted, with a structured, typically British silhouette.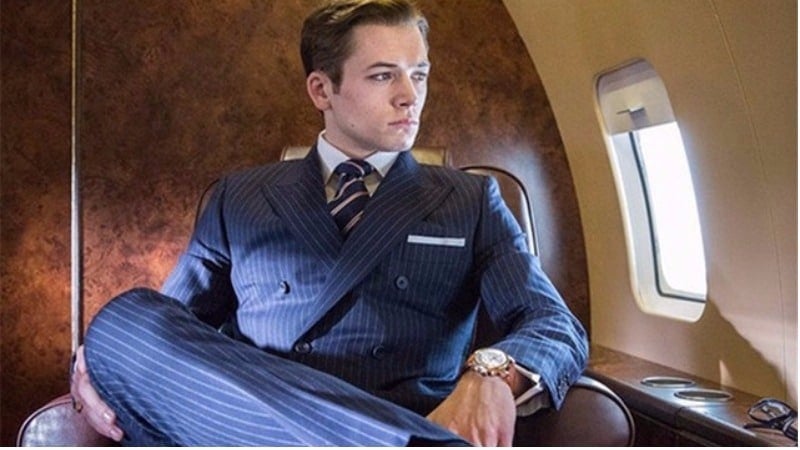 23. Suitsupply
Although this label was established in 2000 and may be new on the scene, their impeccable designs and affordable prices place it in league with the best. In their offering of refined, sharp suits, Suitsupply has something for every man's tastes. Choose between pure wool, alpaca, cashmere, silk or more, before selecting from a wide range of patterns or classic colors. Does a shawl collar suit you better than a notch or peak lapel? Don't worry, they offer all three. With this versatility and choice, these suits are in high demand.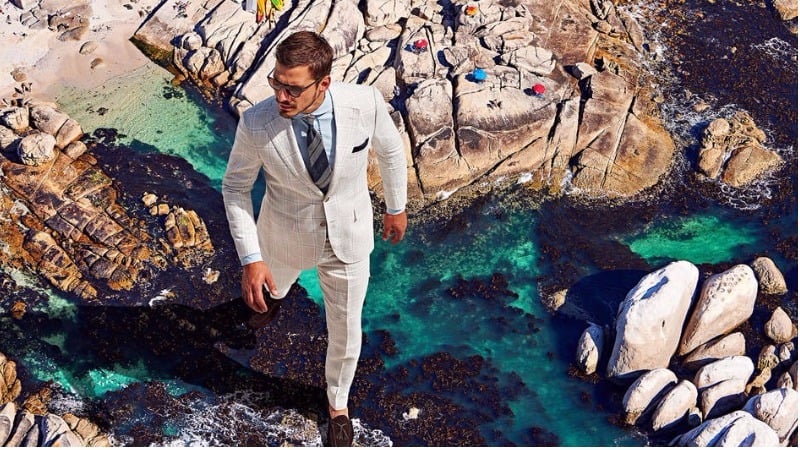 24. L.B.M 1911
In 1911, 16-year-old Luigi Bianchi left home to follow in the footsteps of his father and grandfather and study the craft of tailoring. Over a century onwards and the luxury label that resulted from his hours of hard work is the epitome of casually cool men's suits. L.B.M 1911 suits consequently exude a nonchalance that comes only with expert craftsmanship. These suits are characterized by their reinterpretation of 70's style and color palettes with modern cuts and innovative textiles.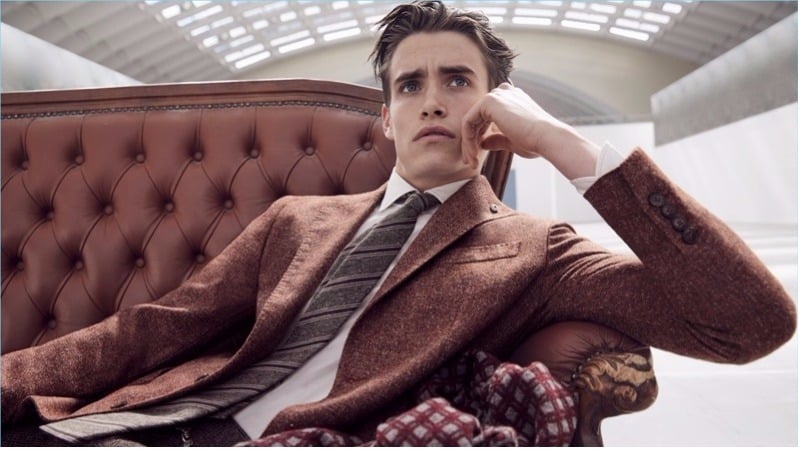 25. Brunello Cucinelli
Nicknamed the 'King of Cashmere', Brunello Cucinelli is a man of luxury and refined taste. As such, this sophisticated aesthetic is evident in the high-quality Italian-made suits created for his namesake brand. In addition to looking suave in a classic colored Brunello Cucinelli suit, you can also feel great knowing that this ethical brand donates 20% of its profits to charity.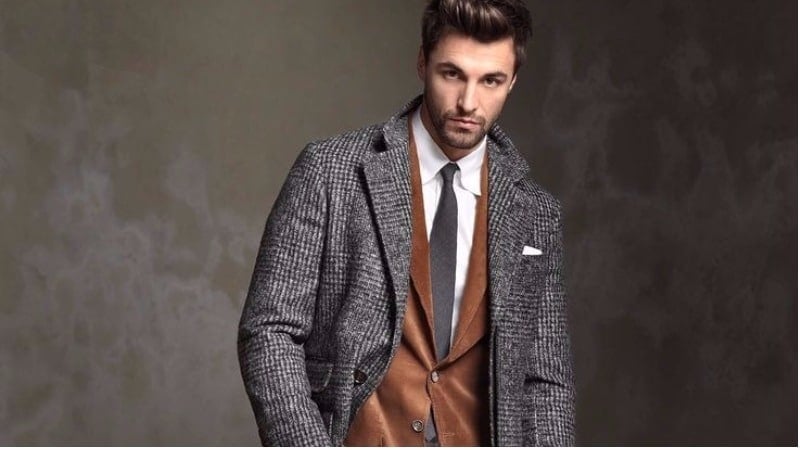 26. Paul Smith
For a classic suit with a fun, eclectic twist, Britain's Paul Smith brings a quirky edge to men's tailoring. Taking inspiration from everything from high art to everyday life, these designs offer a fresh take on the traditional.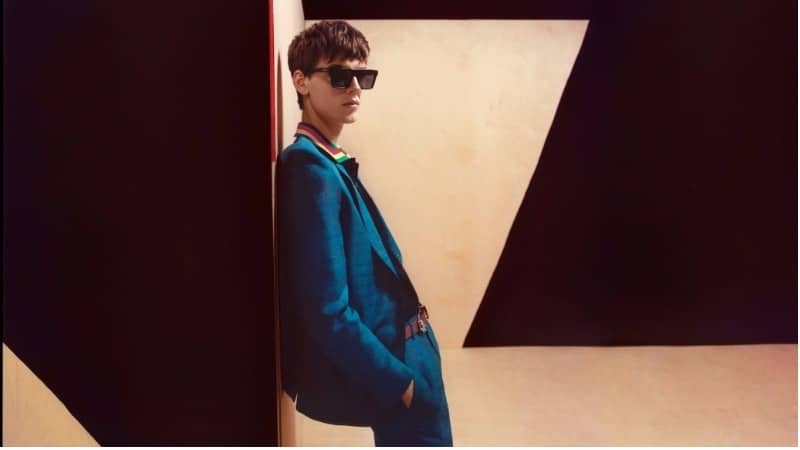 27. Tom Ford
As the former creative director of Gucci and Yves Saint Laurent, Tom Ford has perfected the art of creating luxury clothing. Tom Ford is a master when it comes to creating high-quality, fashion-forward suits. His slim-cut tuxedos and suits and decadent dinner jackets are available in a range of eye-catching fabrics and styles are both sophisticated and sleek. From velvet to satin, leopard print to shining swirls, any Tom Ford design is sure to make a statement.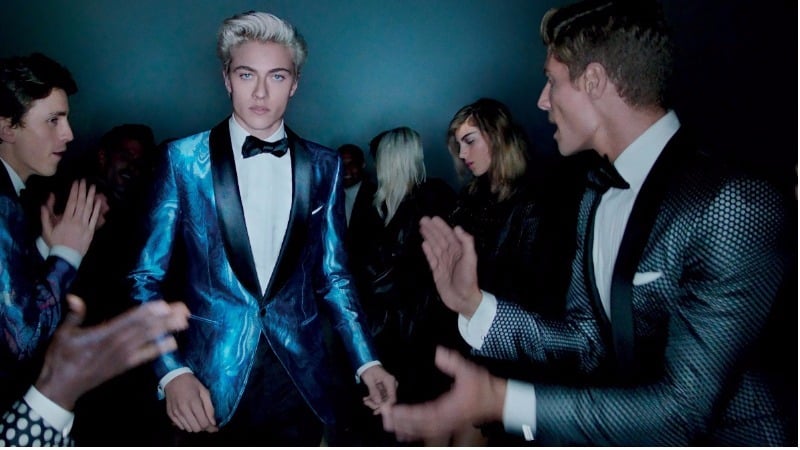 28. Hugo Boss
For a sleek suit that exudes masculinity and elegance, Hugo Boss is a favorite suit brand for men across the globe. Available in classic, no-nonsense colors, the luxury label offers suits for every occasion. For the office, select a comfortable and sophisticated regular fit. If you're seeking a contemporary suit that fits sculpts to the contours of the body, then the slim fit is for you. Finally, extra slim cuts are available for a razor-sharp evening ensemble.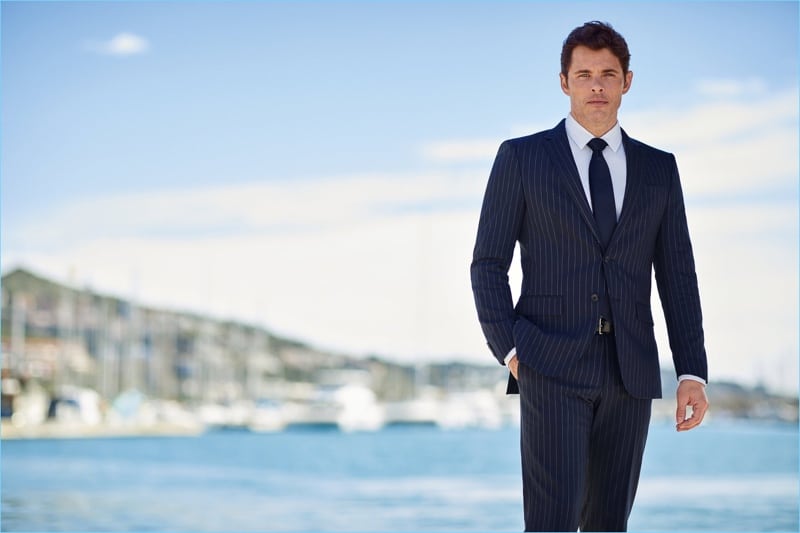 29. Acne Studios
What began as a leading Swedish denim brand has since evolved into one of the world's best suit companies. Specializing in modern, innovative colors and shapes, Acne Studio's aesthetic is always on-trend. With a wide range of styles on offer to suit a variety of silhouettes, this brand has a loyal following of clients internationally.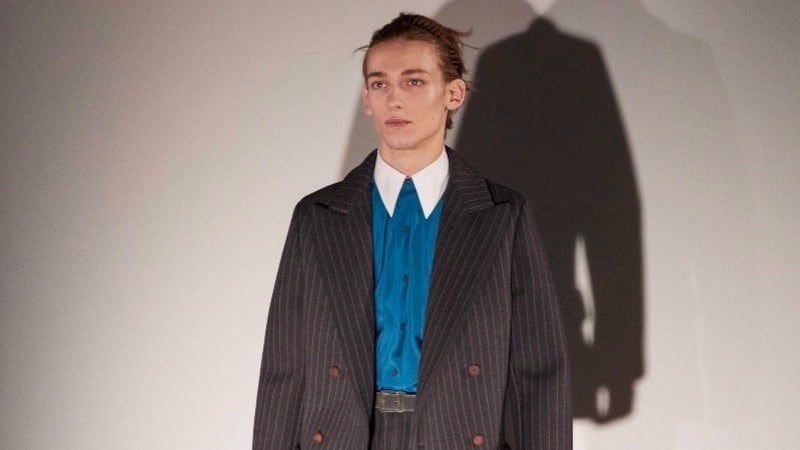 30. Ralph Lauren Purple Label
Established in 1967, Ralph Lauren is a luxury brand that has proved itself in the world of high fashion. Accordingly, its Purple Label suits are examples of masterful craftsmanship and tailoring. Sourcing only the finest materials and fabrics, these suits are available as ready-to-wear or in personalized made-to-measure styles.
SHOP: Ralph Lauren Purple Label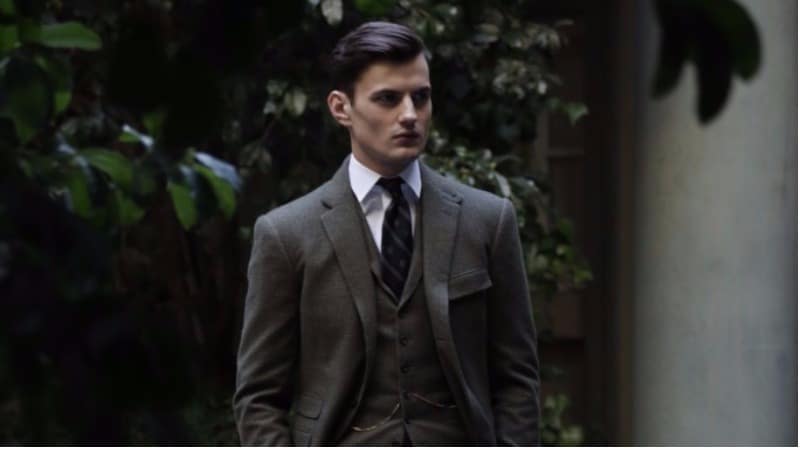 31. Lanvin
A Lanvin suit may be instantly recognized by its minimalist, form-fitting design that draws attention to the masculine physique of its wearer. As one of the leading, original French fashion houses, Lanvin is a pioneer of design. Consequently, their menswear is created from the best materials available internationally. For men seeking subtle, luxurious details and dark, classic shades, make a trip to these stand-out tailors.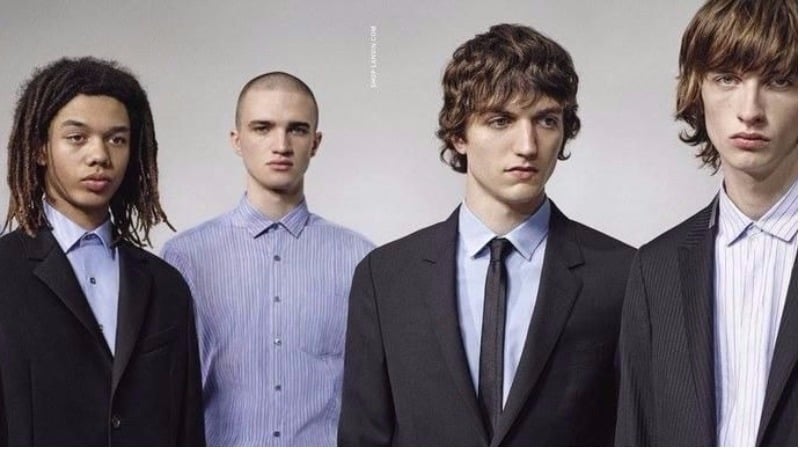 32. Reiss
When it comes to masterful cuts, high-quality fabrics and on-trend design, Reiss stands out from the crowd. With a focus on ensuring each client's needs are met, they offer ready-to-wear suits in modern, classic, or slim fits featuring traditional horn buttons. Alternatively, they also offer personalized tailoring services and fully customizable suits. This ability to fully customize your suit from the cut and the lining down to the stitching and the buttons have made Reiss a favorite of celebrities and royals alike.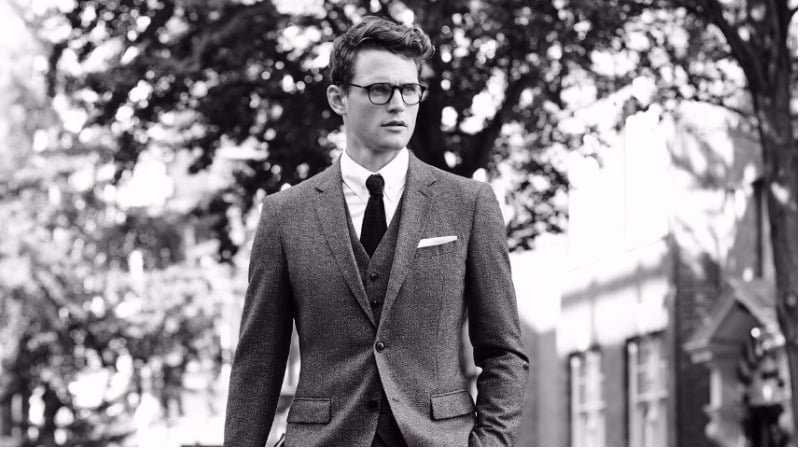 33. Thom Browne
Established in 2001, Thom Browne is an American-led brand that creates contemporary, stylish suits. Functionality meets impeccable form in these designs. Well-cut and drawing from traditional techniques, they typically feature cropped hems, making them perfect for both the office and an elegant night out.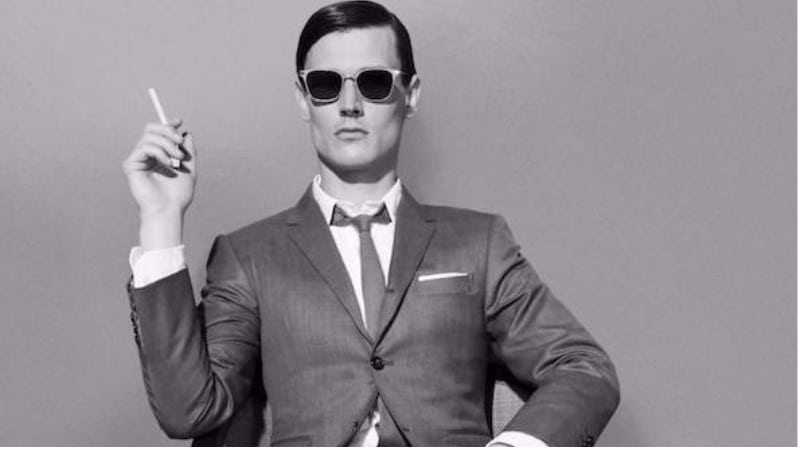 34. Dunhill
For a masculine, superbly tailored suit, Dunhill is Britain's answer to luxury bespoke menswear. What sets bespoke suits apart from ready-to-wear or made-to-measure equivalents is that the tailor drafts a new pattern for each individual client. With the option to purchase a suit made exclusively to fit you, this brand caters to customer's personal needs, with exquisite results.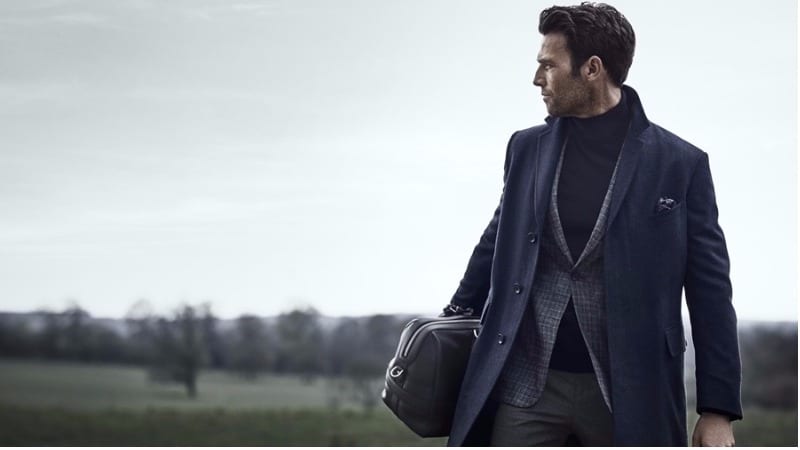 35. Canali
For more than 80 years, Canali has created exceptional suits, which boast the covetable Made in Italy label. Sold in more than 100 countries across the world, these internationally recognized suits are distinctive and handcrafted from the finest materials. For a unique jacket that is made just for you, Canali also offers a bespoke 'Su Misura' tailoring service.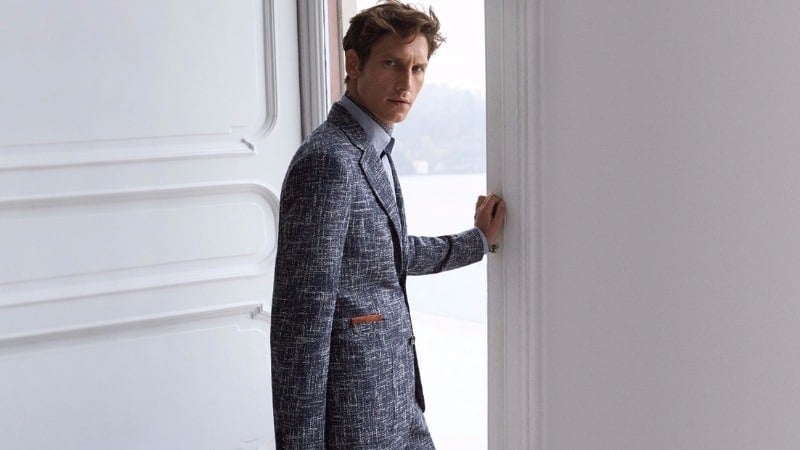 36. Brooks Brothers
Having provided suits to 40 out of the 45 American Presidents, as well as the cast of Mad Men and even the Muppet's own Kermit the Frog, the Brooks Brothers are seasoned suit professionals. Additionally, as the United State's oldest clothing retailer, they are responsible for introducing the ready-to-wear suit to American men. Experts in tailoring, their designs provide modern twists on historical classics.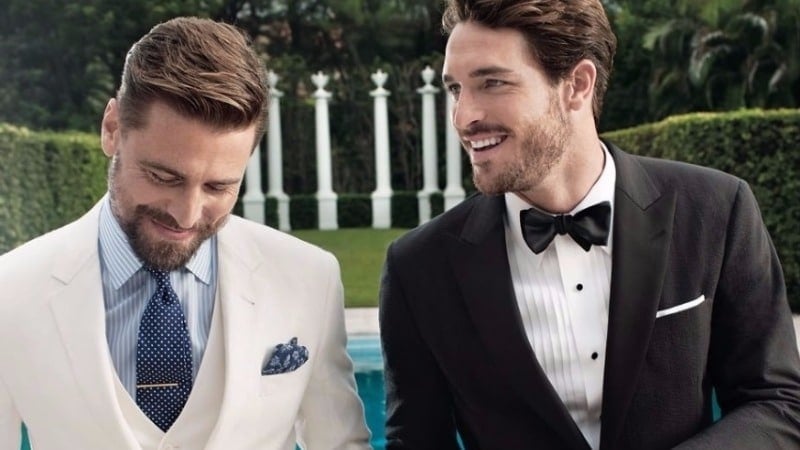 37. Hackett
The old-world nostalgia brought about by British suitmaker, Hackett, invariably leads many to believe this brand goes back many generations. In fact, the young company was founded in 1979 and has since then created suits fit for the perfect English gentleman. Available in classic colors, or daring stripes and checks, these suits are ideal for men seeking elegance. Their silhouettes draw on military and sportier cuts making them a unique addition to any man's wardrobe.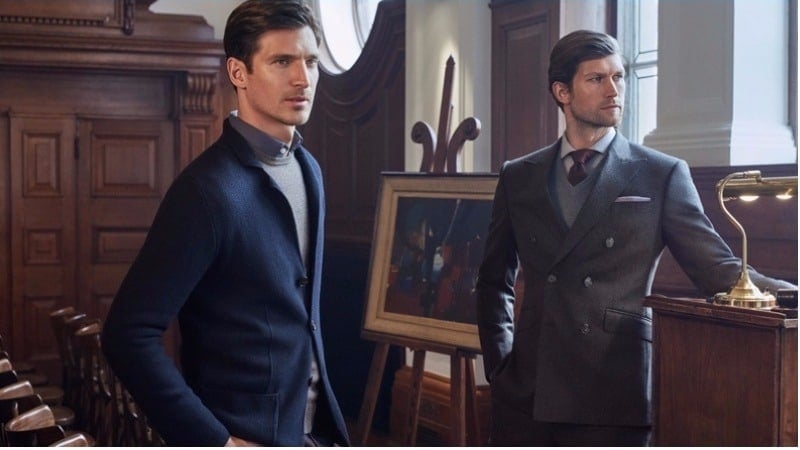 38. Kiton
In the 18th century, aristocratic gentlemen traveled to Italy to study art and culture. During this time, Kiton's master craftsmen created made-to-measure suits, which are as coveted today as they were during that time. Deriving its name from the Ancient Greek ceremonial garment, the 'chitone' the brand exemplifies social distinction and impeccable quality. Made-to-measure suits take approximately 25 hours of labor and feature glossy silk lining stitched perfectly to fit the contours of the wearer. As a result, a Kiton suit is amongst the world's most expensive.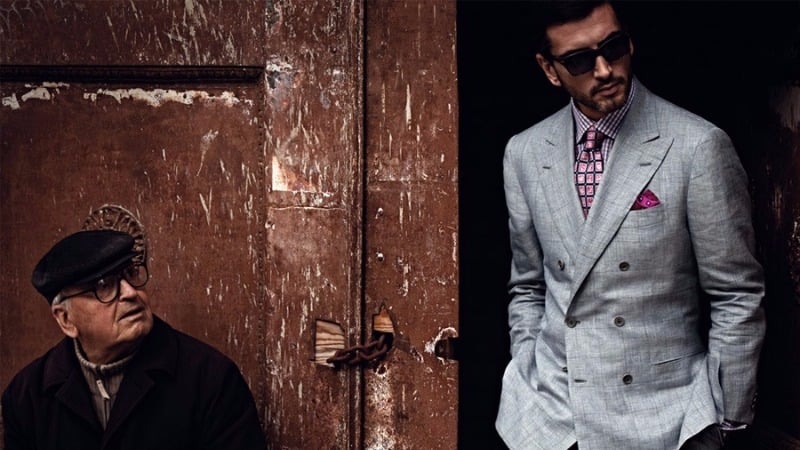 39. Corneliani
For more than seventy years, Corneliani has provided men with high-end suits that take inspiration from modern architecture and design. These structurally innovative pieces exude elegance and are available is exclusive made-to-measure styles. Perfected over generations, this luxury tailoring service involves 150 steps from start to finish. With over 750 different weaves and colors available, Corneliani makes any man's dream suit a reality.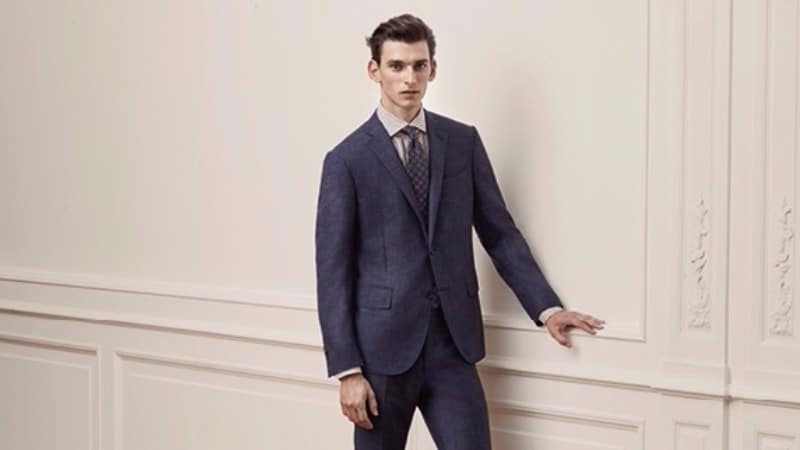 40. Richard James
Renowned for its clean-cut, tailored silhouettes, Richard James is a quintessentially British luxury brand. Holding a place on London's elite Savile Row, its designs respect English tailoring tradition while pushing the boundaries of contemporary innovation. Bringing together artisans from Britain and Italy, Richard James' forte is single-breasted suit jackets. In addition to sleek construction, this leading men's tailor has mastered the creation of suits in both neutral hues and bright, seasonal colors.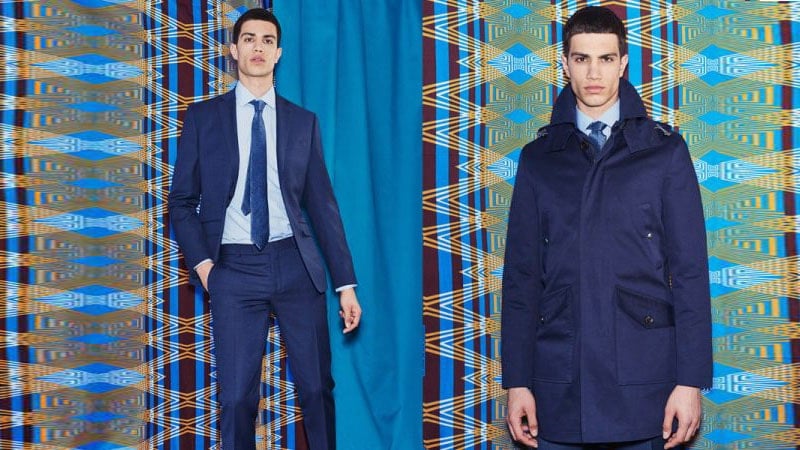 Men's Suit Brands FAQs
What are the best suit brands?
There are many top-quality suit brands, but some of the leaders in the industry are Burberry, Dolce & Gabbana, and Gucci.
What suits are in style now?
Like any fashion trend, suit trends come and go. Cuts such as a classic and modern suit never go out of style, as they're a staple that fits most body types. Fabrics and colors tend to be the biggest variations in trends. Embrace different shades such as pastels and browns, or go for a bold pattern from brands like Gucci.
Which company makes the best suits?
There are several companies that are known for their expert craftsmanship and high-quality designs. These include brands like Alexander McQueen, British designer Neil Barrett, and Zegna. For those who want more daring designs with suits made to be noticed, consider brands like Philipp Plein that experiment with fabrics and bold prints and colors. There are also companies like Thom Sweeney that offer bespoke tailoring.
Which suit is the best in the world?
It is hard to determine which is the best suit in the world because this is based on personal preference, but with this being said, several brands are celebrated for their quality craftsmanship. These include Burberry, Ermenegildo Zegna Bespoke, Gucci, and Brioni.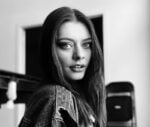 Alexandra Feiam is an experienced fashion writer who holds a degree in journalism. She has an impressive portfolio and expertise working as the Editor at Power Retail and Commercial Content Editor at Newscorp. Ally has been writing for The TrendSpotter since 2018, and her work has been featured in notable publications such as The Herald Sun, Arirang TV South Korea, Kidspot, The House of Wellness, and The Daily Telegraph.
SUBSCRIBE TO OUR NEWSLETTER
Subscribe to our mailing list and get interesting stuff and updates to your email inbox.